Restaurant quality French Onion Soup is so easy to make at home with Slow Cooker Caramelized Onions.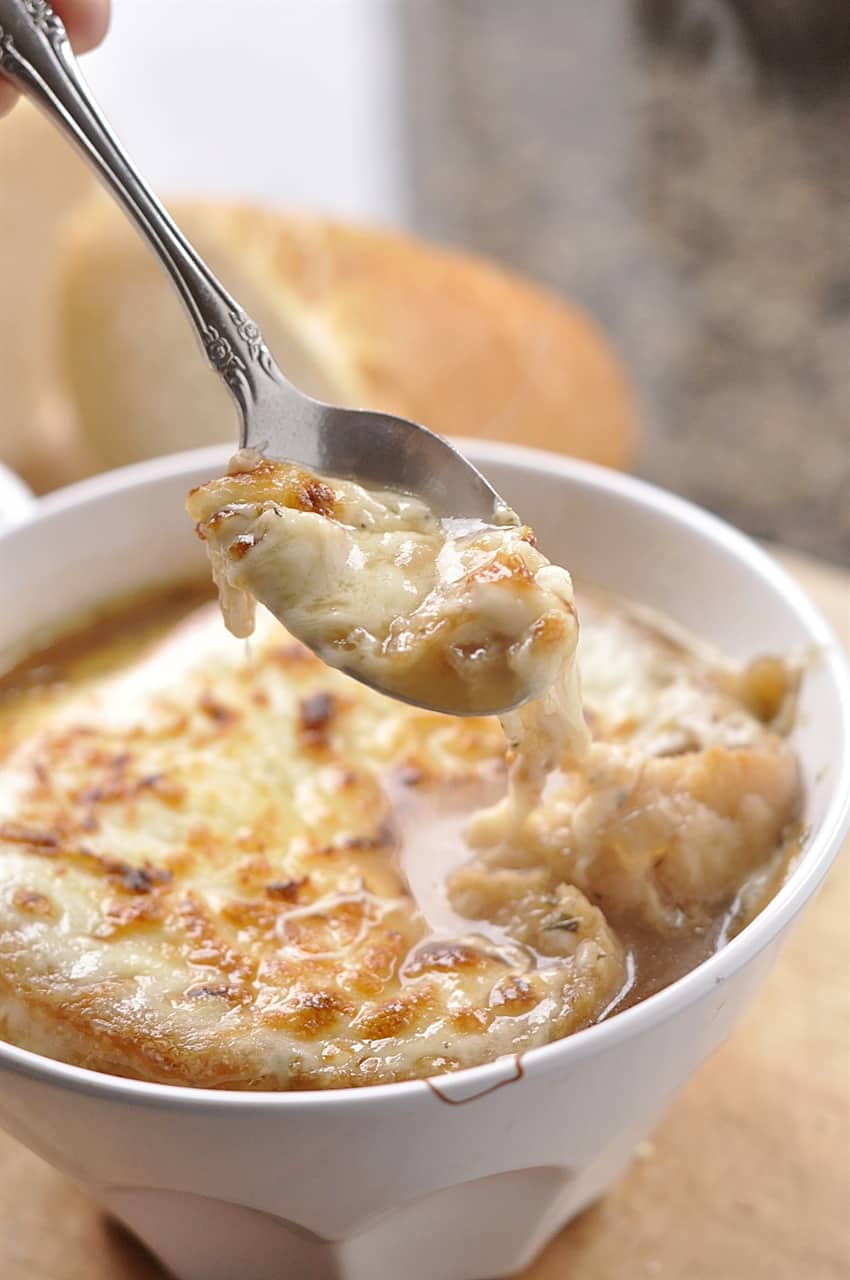 Homemade French Onion Soup
The very first thing I ate after arriving in Paris last Spring was French Onion Soup. Of course in Paris it is not called French Onion Soup, it is called Soupe à l'oignon. No need for the French part because you're in France!
Whenever I go to a restaurant that has French Onion Soup on the menu I order it, even here in the United States. I love it but I had never made it at home because I thought it was just too hard to make. I am happy to report that I was wrong!!
Remember those Slow Cooker Caramelized Onions I shared a few weeks ago? Well, they make a perfect onion soup and make it so easy.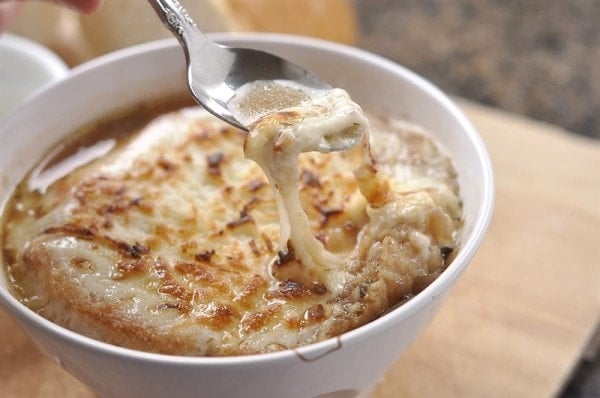 What is French Onion Soup?
French Onion soup is made with a base of meat stock or broth and onions. It is served "gratineed" which means it is topped with a slice of bread covered in cheese. Place it under the broiler to melt the cheese and you have Soupe à l'oignon. Translation: delicious!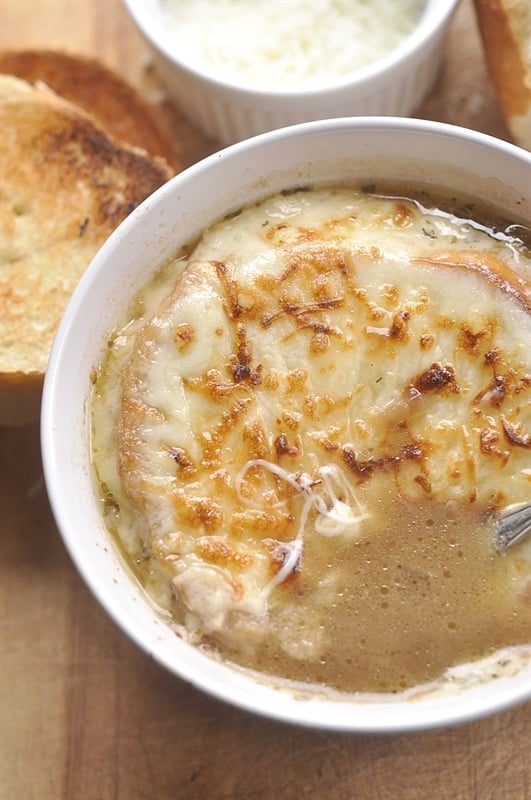 How to Make French Onion Soup
Broth. I used half beef broth and half chicken broth. You can use broth from a can or you can make your own.
Caramelized onions. I used my slow cooker to make my caramelized onions but they can also be made on the stove top in a pan. Add in as much caramelized onions as you like but I use 1/4 cup of onions to 2 cups of broth.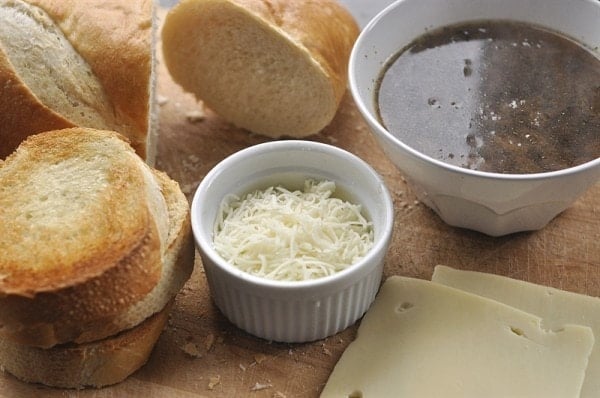 Baguette. Use a crusty French baguette. Slice the baguette into about 3/4 inch thick slices. Brush the bread with a little olive oil and placed it under the broiler to toast.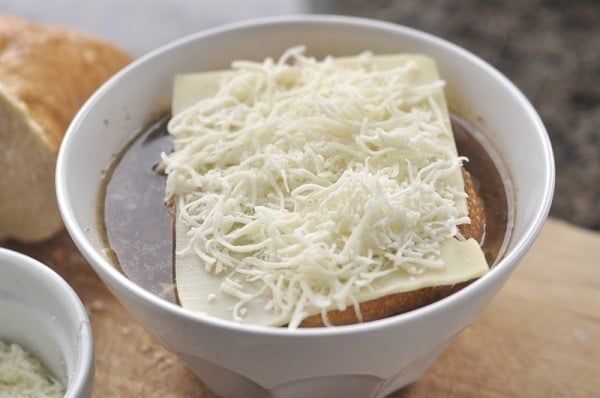 The Best Cheese to Use For French Onion Soup
Traditionally it is made with Gruyere and Parmesan cheese but I have also made it with Swiss and Mozzarella.
Cheese. Place the toasted bread on top of the soup in a bowl. Cover the bread with a slice of Swiss or Gruyere cheese and then sprinkled with grated Parmesan or Mozzarella cheese. My favorite part of French onion soup is the cheesy part on top. Lots of ooey, gooey cheese!
Broil. Place the bowl onto a cookie sheet and place it under the broiler. Watch it carefully and pull it out when the cheese has melted and gotten bubbly and golden brown on top.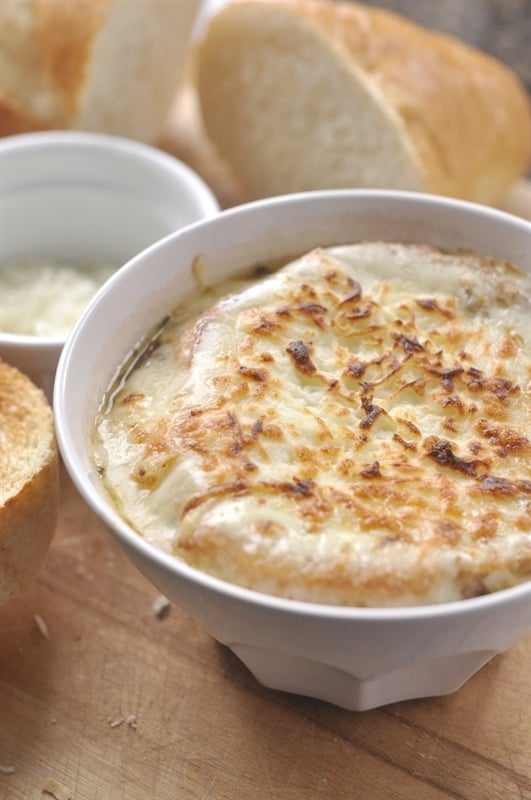 Can I Freeze It?
This soup is best frozen without the bread and cheese on top. Store the soup in the refrigerator in an airtight container for 3-4 days or in the freezer for up to 3 months. Thaw soup and reheat before adding bread and cheese on top.
Then grab a spoon and dig it!! Just close your eyes and imagine yourself sitting at a little sidewalk cafe in Paris! Oh la la!!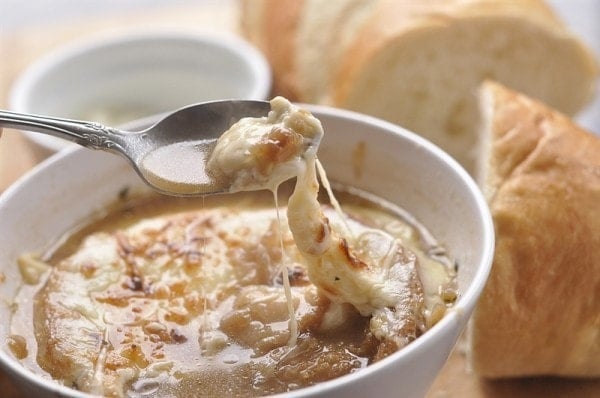 From some other tastes from France try these:
For all my other favorite kitchen products and tools visit my Amazon Store.
Did you know I wrote a cookbook? Check out the Holiday Slow Cooker Cookbook for 100 delicious recipes.
Be sure and follow me over on You Tube for weekly cooking demos
French Onion Soup Recipe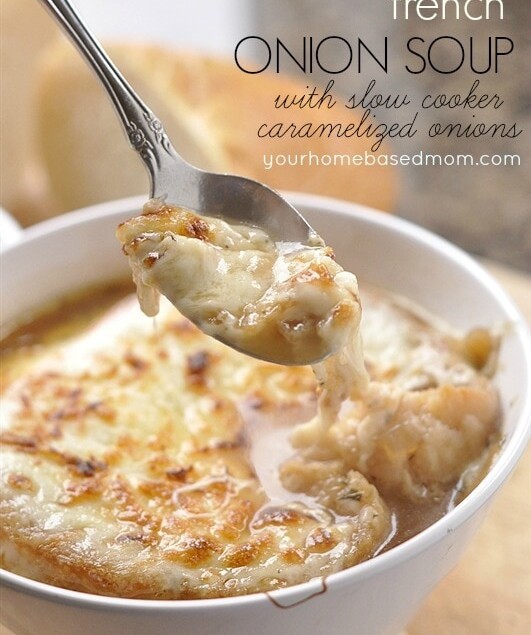 French Onion Soup
Restaurant quality French Onion Soup is so easy to make at home with Slow Cooker Caramelized Onions
Ingredients
1 cup caramelized onions
4 cups chicken broth
4 cups beef broth
1 Tbsp Worcestershire sauce
1 tsp parsley
1/4 tsp thyme
1 bay leaf
1 Tbsp balsamic vinegar
salt and pepper to taste
4 slices French baguette
olive oil
8 slices Swiss cheese
1/2 cup shredded Mozzarella cheese
Instructions
Mix together broths, Worcestershire sauce, seasonings.

Add in caramelized onions

Simmer for 20 minutes.

Remove bay leaf and reduce heat.

Add in vinegar and season as necessary with salt and pepper.

Cover and keep on low heat until ready to serve.

Slice french bread,

Brush with olive oil and place on cookie sheet.

Place under broiler until golden brown

Place slice of bread on top of bowl of soup.

Cover with 2 slices of Swiss cheese

Add 1/8 C of shredded Mozzarella Cheese

Place under broiler until cheese is melted, bubbly and beginning to brown.
Tips & Notes:
For directions on how to make caramelized onions go to https://www.yourhomebasedmom.com/slow-cooker-caramelized-onions/
Nutrition Facts:
Calories: 317kcal (16%) Carbohydrates: 26g (9%) Protein: 20g (40%) Fat: 15g (23%) Saturated Fat: 9g (56%) Polyunsaturated Fat: 1g Monounsaturated Fat: 4g Cholesterol: 42mg (14%) Sodium: 2147mg (93%) Potassium: 515mg (15%) Fiber: 2g (8%) Sugar: 4g (4%) Vitamin A: 396IU (8%) Vitamin C: 22mg (27%) Calcium: 413mg (41%) Iron: 2mg (11%)
* Disclaimer: All nutrition information are estimates only. Read full disclosure here.