Whether you are entertaining a crowd of just feeding your family, knowing how to make shish kabob is a perfect  and fun way to feed everyone.
Check out more of my favorite shish kabob recipes Chili Lime Chicken Pineapple Skewers, Herbed Shrimp, and Teriyaki Meat Marinade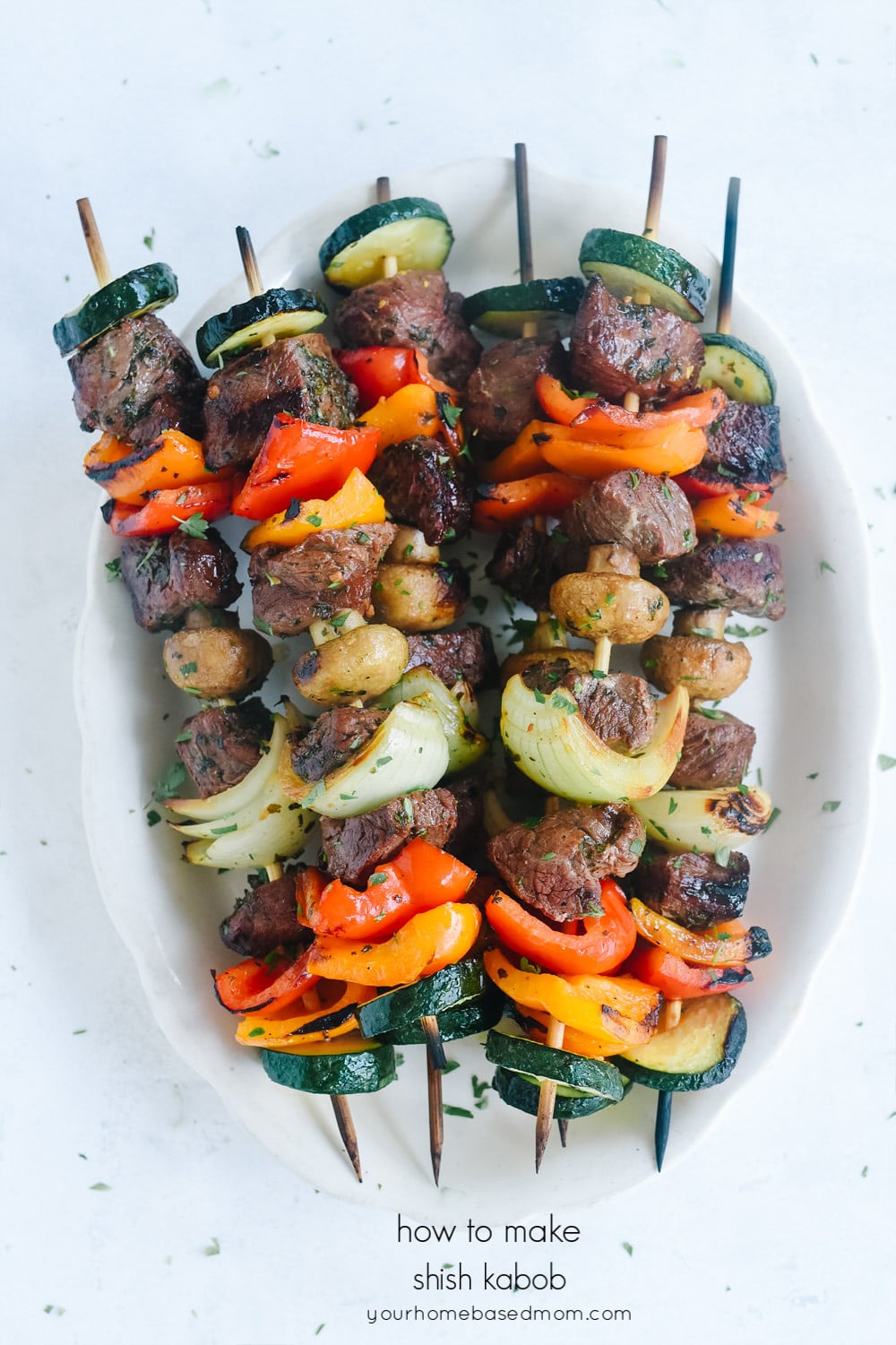 So is it kabob or kebab? Here in America, it is typically spelled kabob (the way it is pronounced) but the dictionary will tell you the correct spelling is kebab. But however you spell it, it is delish!
What is Shish Kabob?
Shish Kabob is basically meat on a stick that is roasted over a fire! You can use any kind of beef, chicken or sturdy fish and just add in your favorite veggies and even fruit.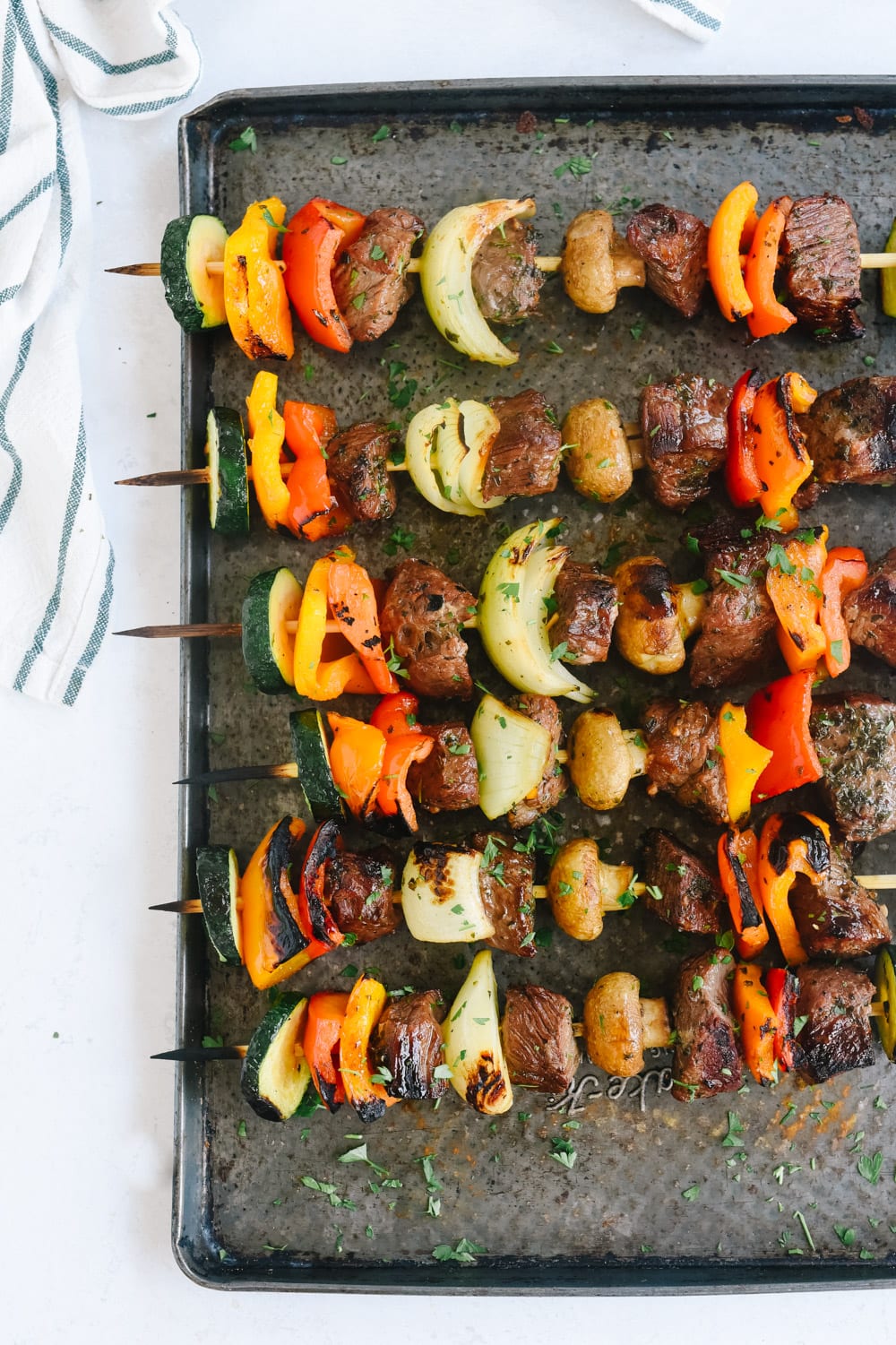 How to Make Shish Kabob
Start with your skewer. You basically have two choices, a bamboo wooden skewer or a metal skewer. You can pick up both at your local grocery store or on Amazon. I use both. If I am making a lot of shish kabob I will use bamboo if don't have enough of the metal.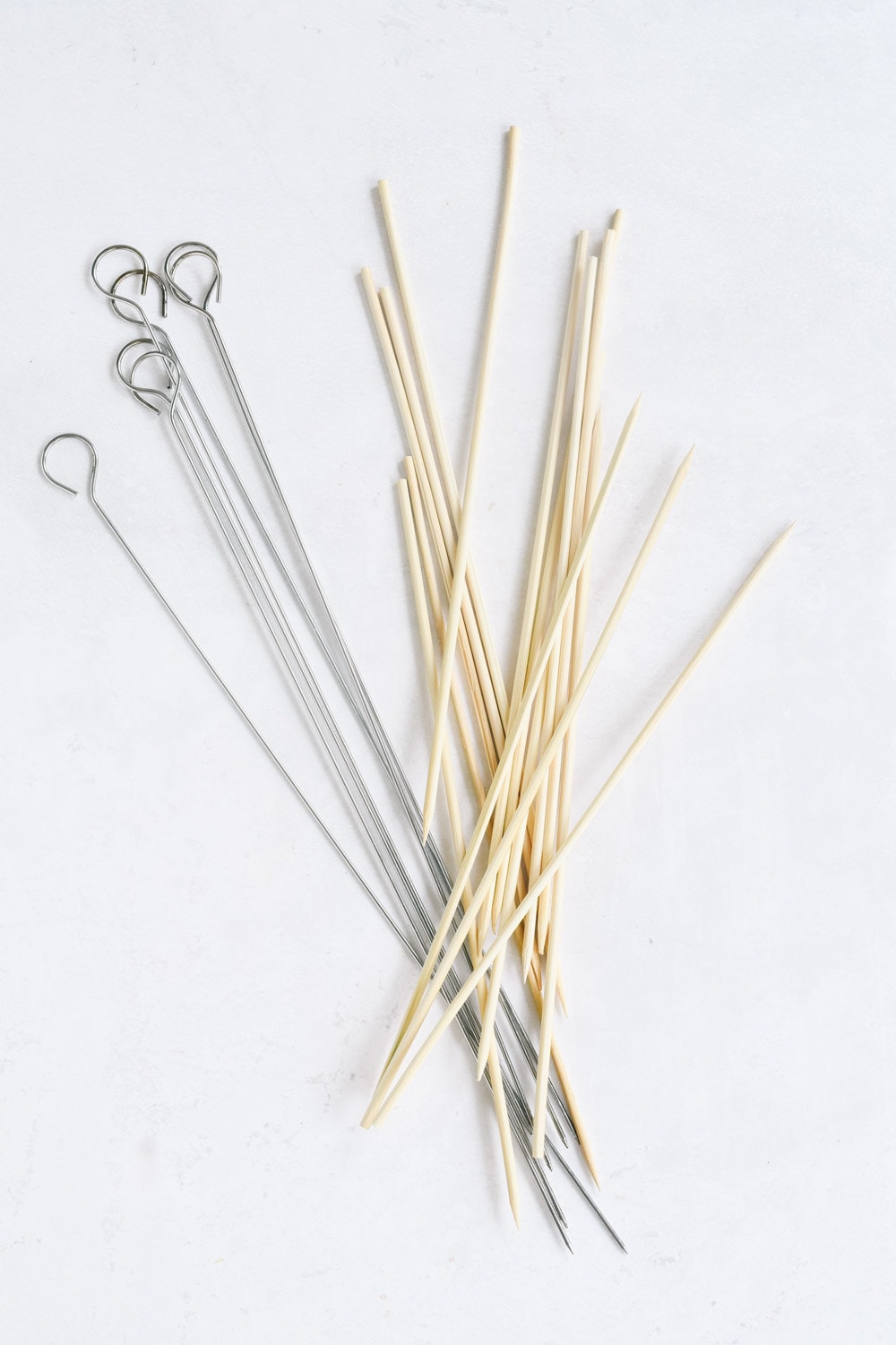 The advantages of the metal skewers are they are reusable. The disadvantage of metal skewers is they get hot and you need to use tongs when turning them or taking them off the grill.
The advantages of the bamboo skewers are they are inexpensive. The disadvantages are you need to soak them for about 30 minutes before using them so they don't totally burn up. They will still char and blacken, even with soaking.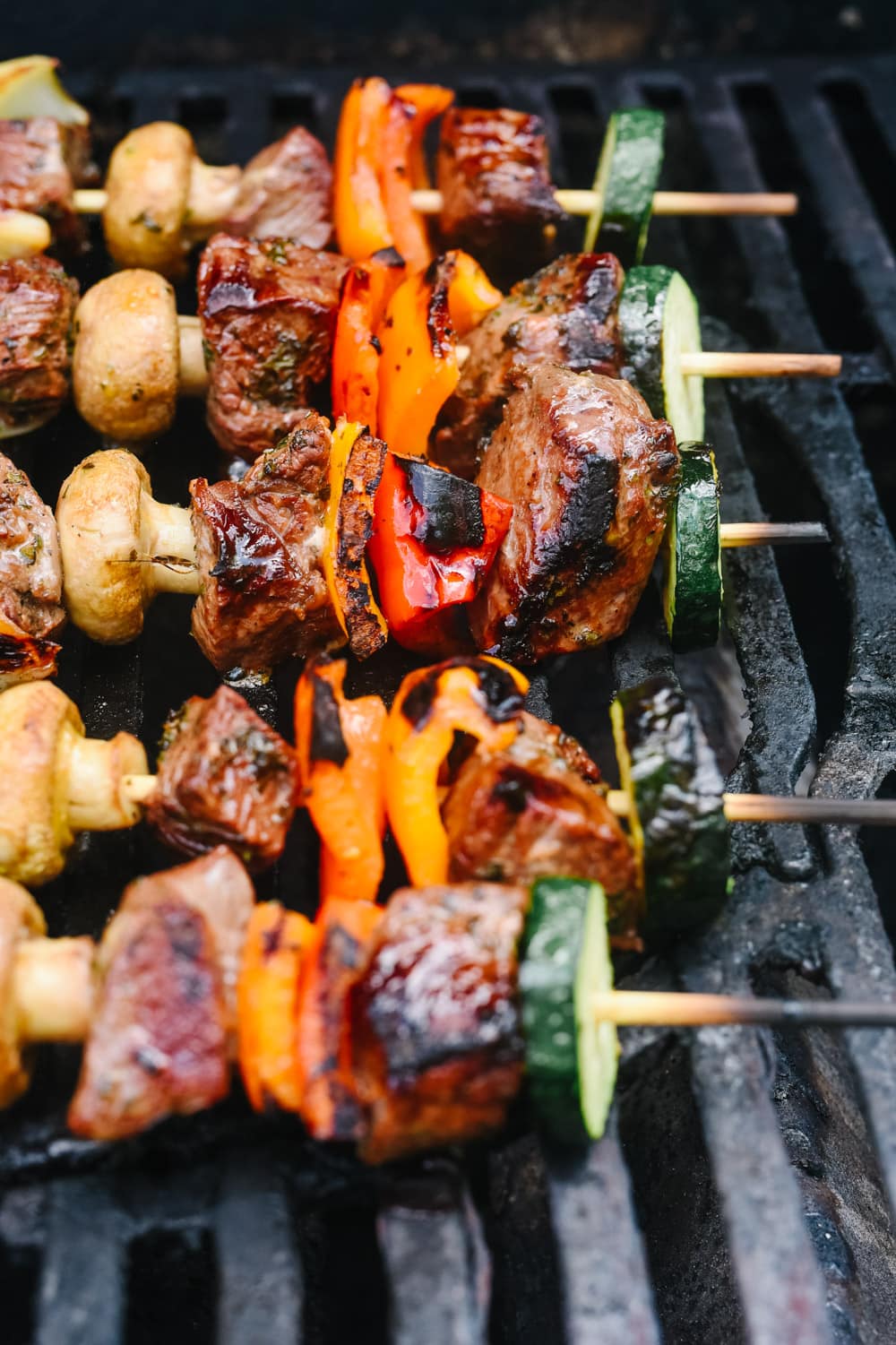 Choose your meat and marinade. My favorite beef to use for shish kabob is sirloin steak, which is a moderately priced cut of meat. You can use more expensive cuts such as filet mignon or rib eye but I find that when you marinate the less expensive cuts like sirloin they work just great. Chicken, lamb and sturdy seafood such as shrimp or scallops work well too. Cut into your meat into bite size pieces, about 1-1/12 inches.
Shish Kabob Marinade
I marinate my beef for at least 4-6 hours and often overnight. Chicken only needs to marinate 4-6 hours. This is one of my favorite marinades for beef shish kabob.
You can find my favorite marinade for chicken shish kabob here.
Place your marinade and meat into a zippered plastic bag and refrigerate. I don't place my veggies in the marinade, I just add some olive oil and coarse salt to them .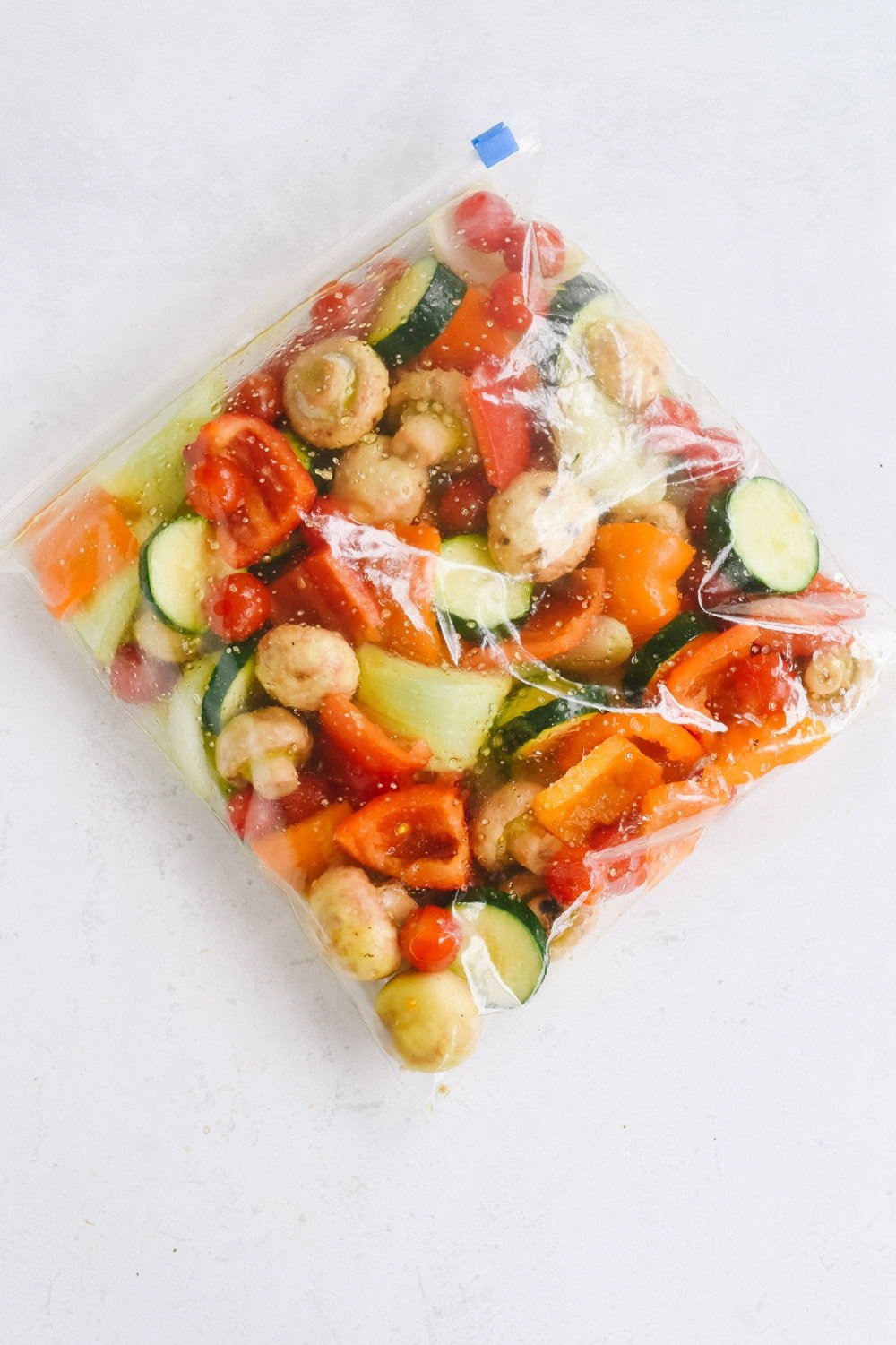 Shish Kabob Ingredients
In addition to the meat, here is a list of some of my favorite fruits and vegetables to use for shish kabob.
Bell Peppers
Mushrooms
Zucchini
Tomatoes
Onions
Pineapple
Mango
Potatoes (precooked)
Corn on the Cob (cut into small rounds)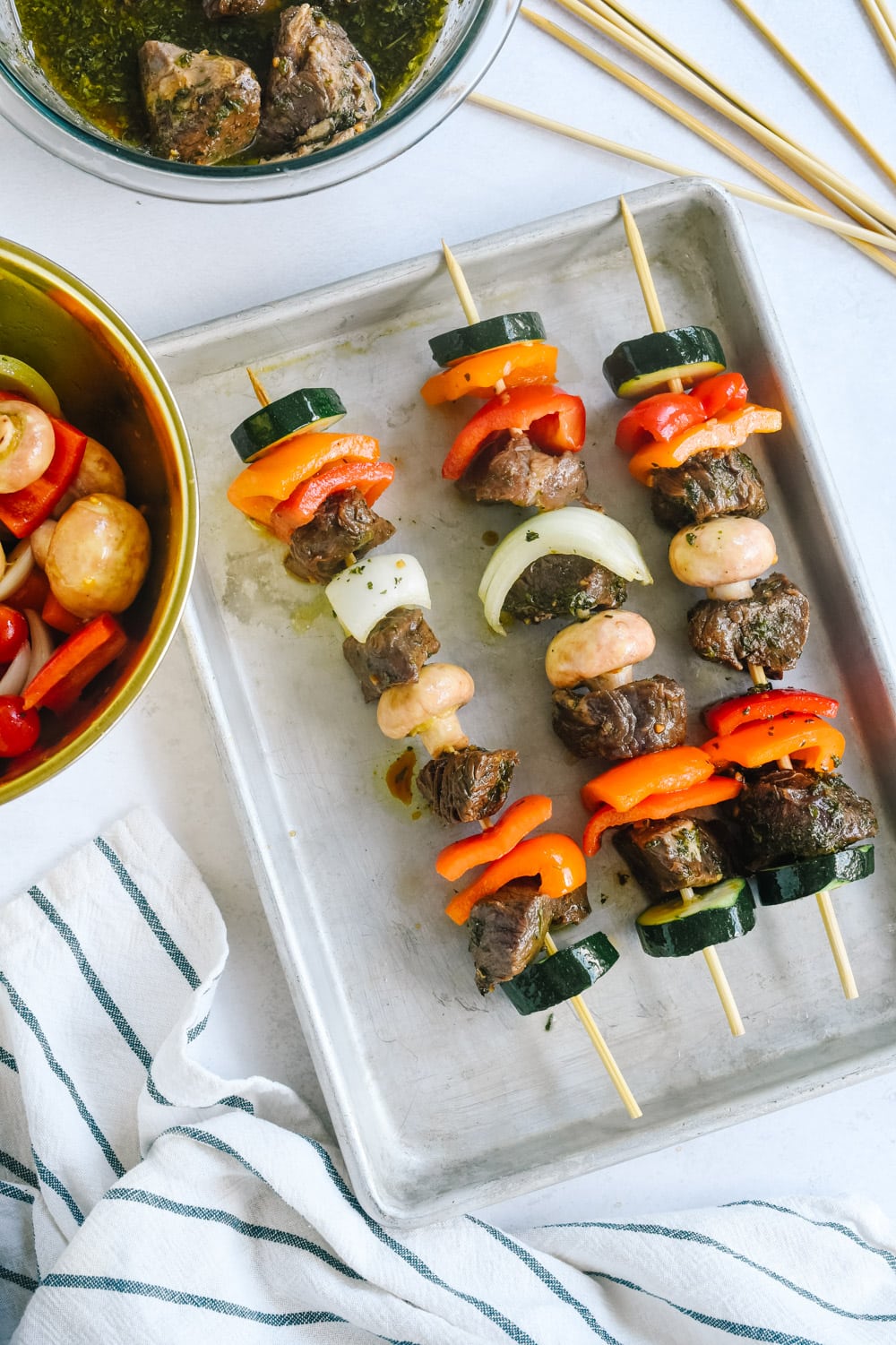 Add your meat and veggies onto the skewers. After your meat has marinated, add meat and veggies onto skewers. I like to alternate veggies with meat and be sure and leave a little air space between the meat and veggies so that the meat cooks all the way through. This is especially important if you are putting two pieces of meat together on a skewer, leave a little space.
You can prep this part several hours a head of time and then just cover them and put them in the refrigerator until ready to grill.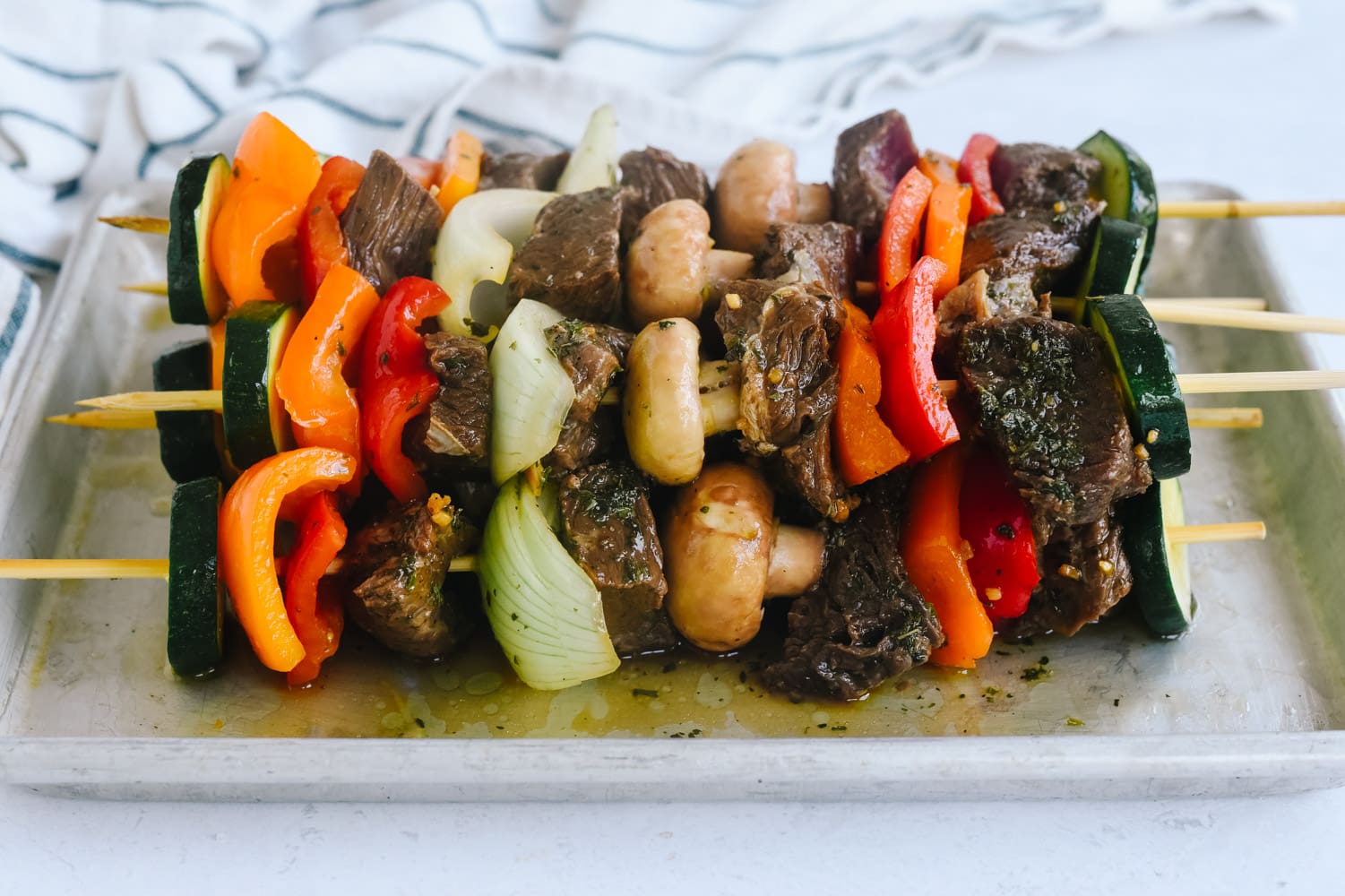 Shish Kebob Recipe Tips
1. Cook your meat to a medium, to medium rare temperature which is 145-160 degrees F. If you like your meat well done I recommend making skewers of just meat and just veggies, and not combining them on the same skewer.  This way your veggies won't burn before your meat is to the temperature of your liking.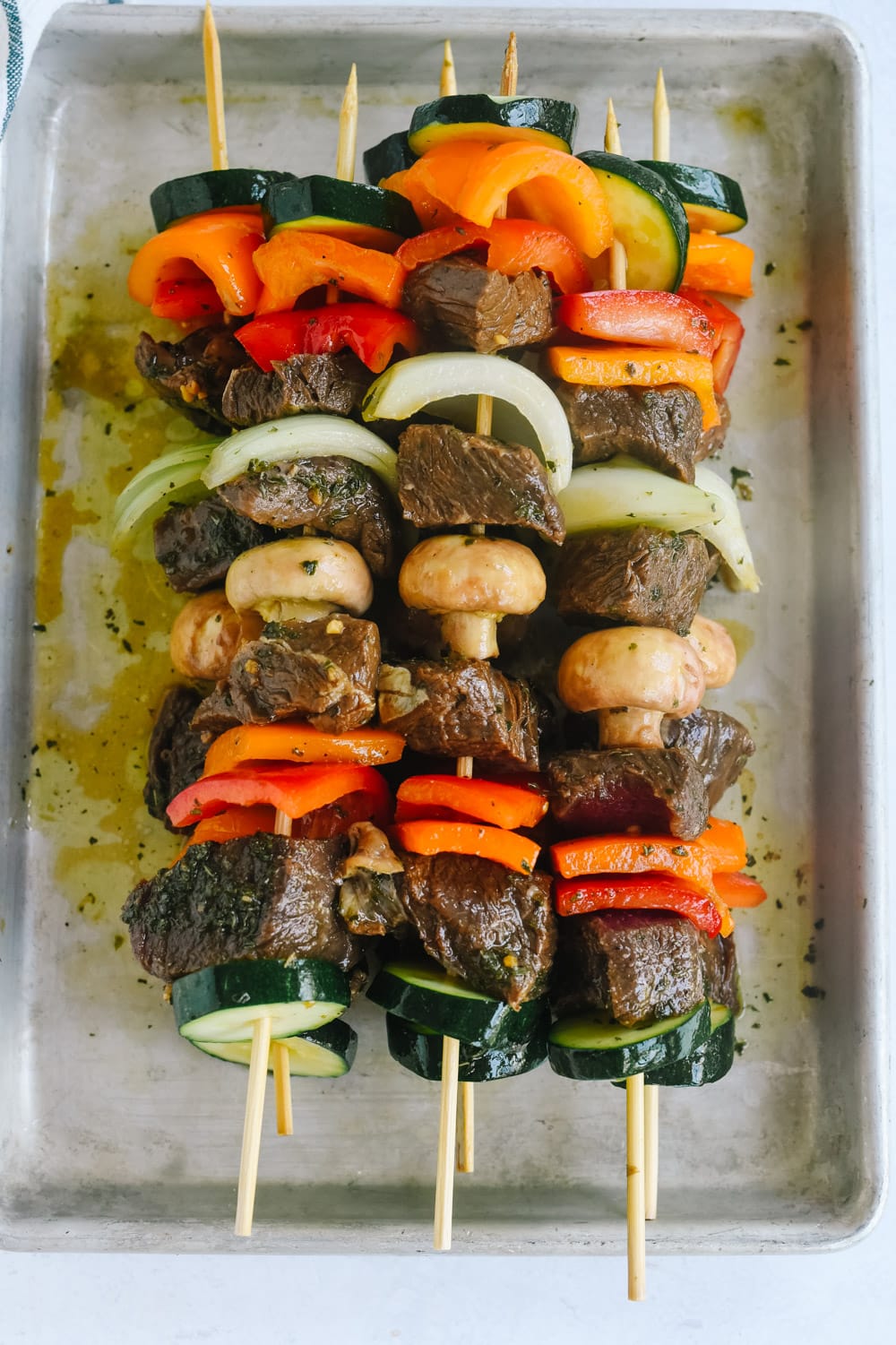 Veggies generally only take a few minutes on the grill where meat can take 5-6 minutes per side depending on the size of the meat and what temperature you want your meat cooked to.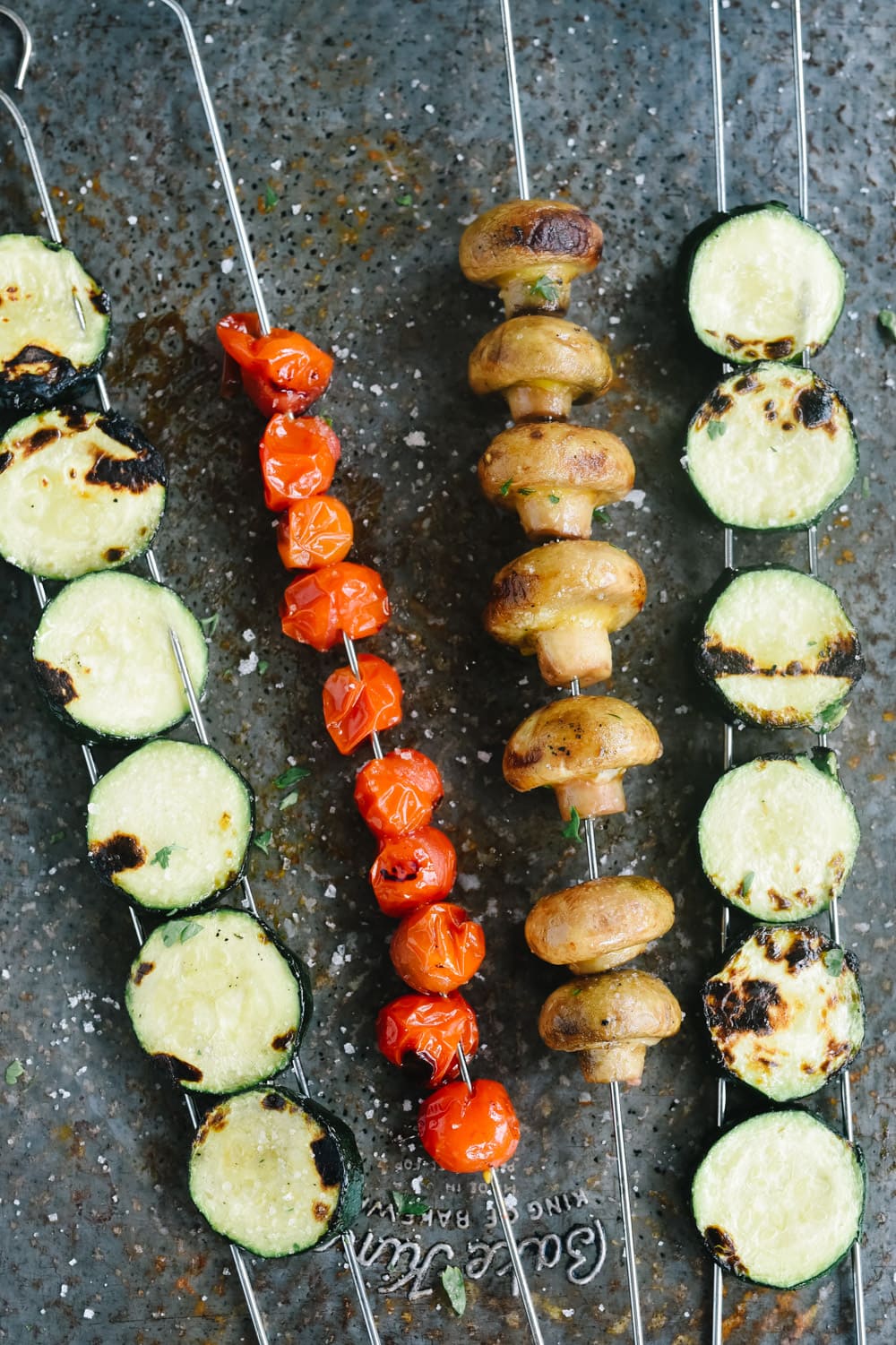 2. When I am grilling veggies like zucchini I double skewer them.  This makes it easier to turn them on the grill to get both sides cooked. This prevents them from turning round and round on the skewer.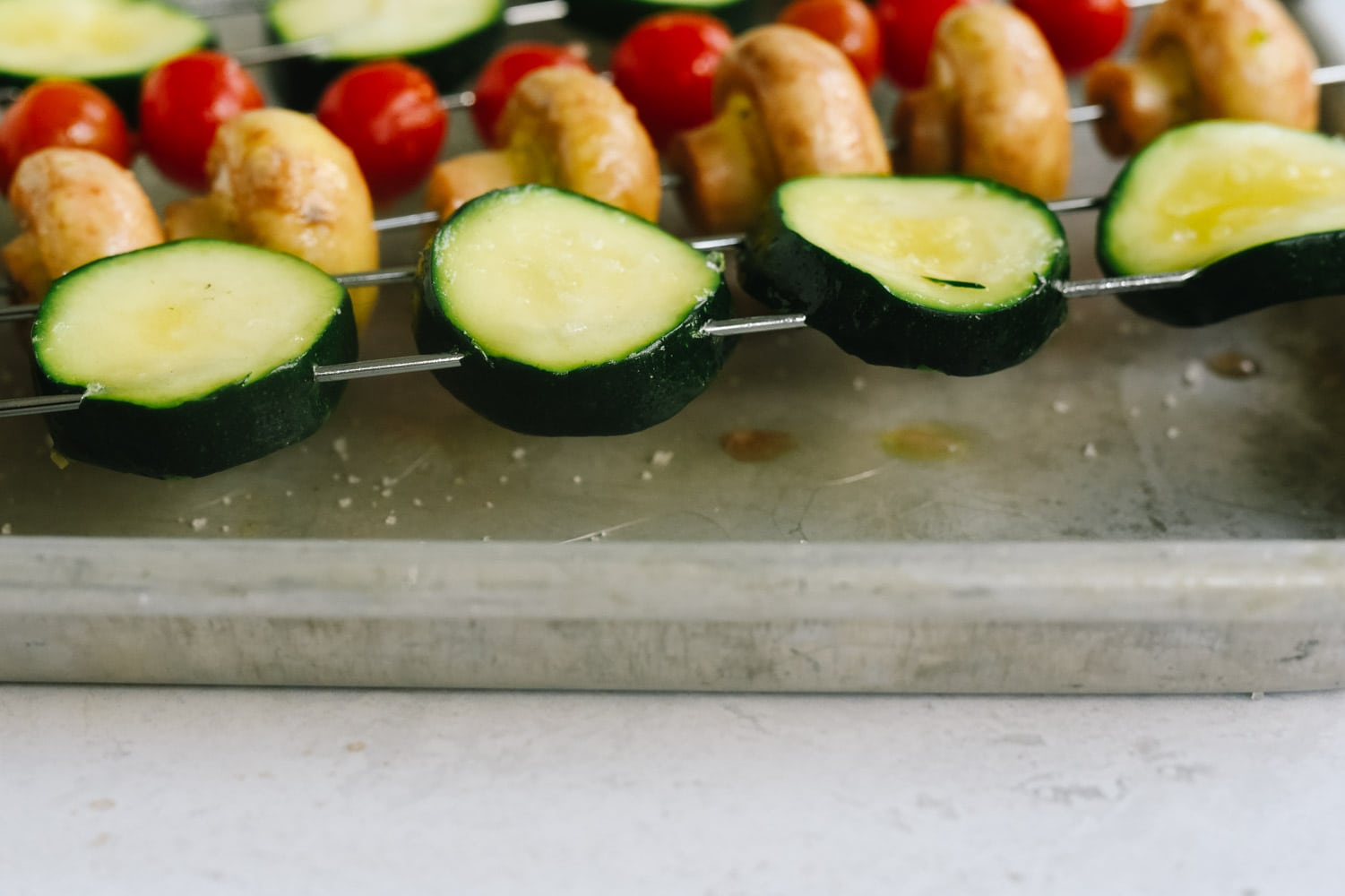 What do I serve with Shish Kabob?
One of my favorite things to serve with shish kabob is rice pilaf.  Another favorite is roasted potatoes.  Because your protein and veggie are all on the skewer, all you need to do is add in a starch.  I'll add a little sprinkle of parsley just to pretty it up a little.
For all of my other favorite kitchen products and tools visit my Amazon Store. 
Did you know I wrote a cookbook?  Check out the Holiday Slow Cooker Cookbook for 100 delicious recipes.