Indian style Naan bread is soft and chewy and so easy to make at home.  It's the perfect accompaniment to so many meals.

What is Naan Bread?
Similar to pita bread or flat bread, naan bread is a soft, thick bread.  It is usually cooked in a clay tandoori oven and served warm with butter.  It is traditionally served with Indian foods and used to scoop up foods such as tiki masala, chicken korma and others.  Making it at home is easy and you can do it without a clay oven!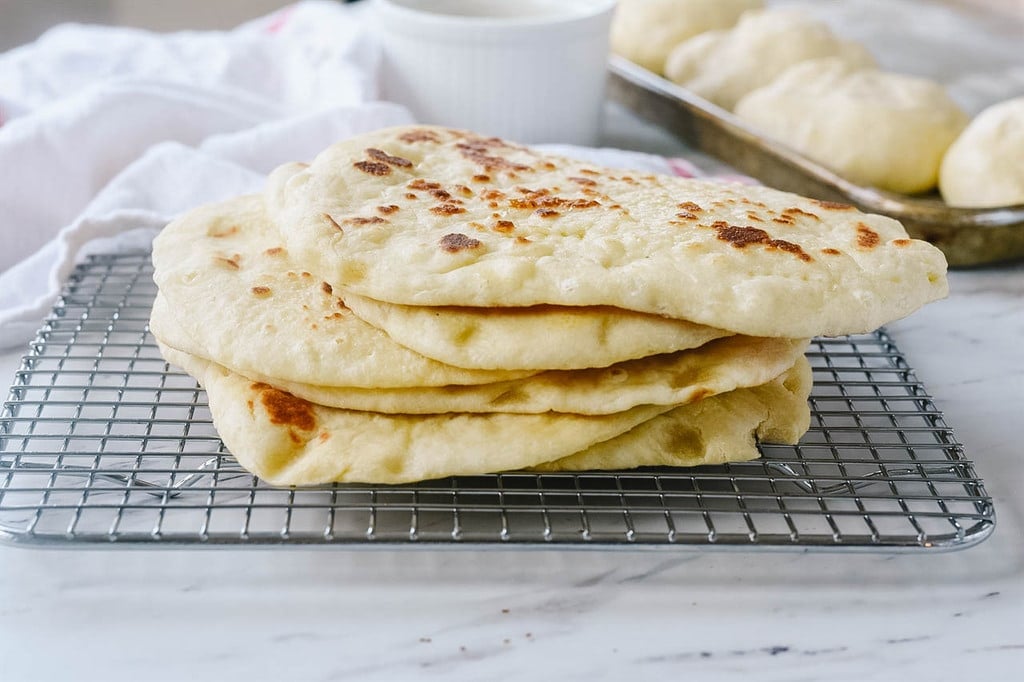 How to Make Naan
Naan bread uses yeast.  For those of you who are scared of the word, don't be!  I used instant or rapid rise yeast in this recipe so you don't have to worry about proofing your yeast in water first.  With instant yeast you can add it right in with your dry ingredients, add your liquid and knead.  So easy and pretty much fail proof. The only thing you need to be careful of is, is that your water is not too hot when you add it in, usually around 100 degrees F is perfect.
Allow your dough to rise, covered with plastic wrap, for about an hour.  If my house isn't very warm, I like to turn my oven onto about 100 degrees, let it preheat and then turn the oven off.  Then, place your covered dough into the oven and let it rise there.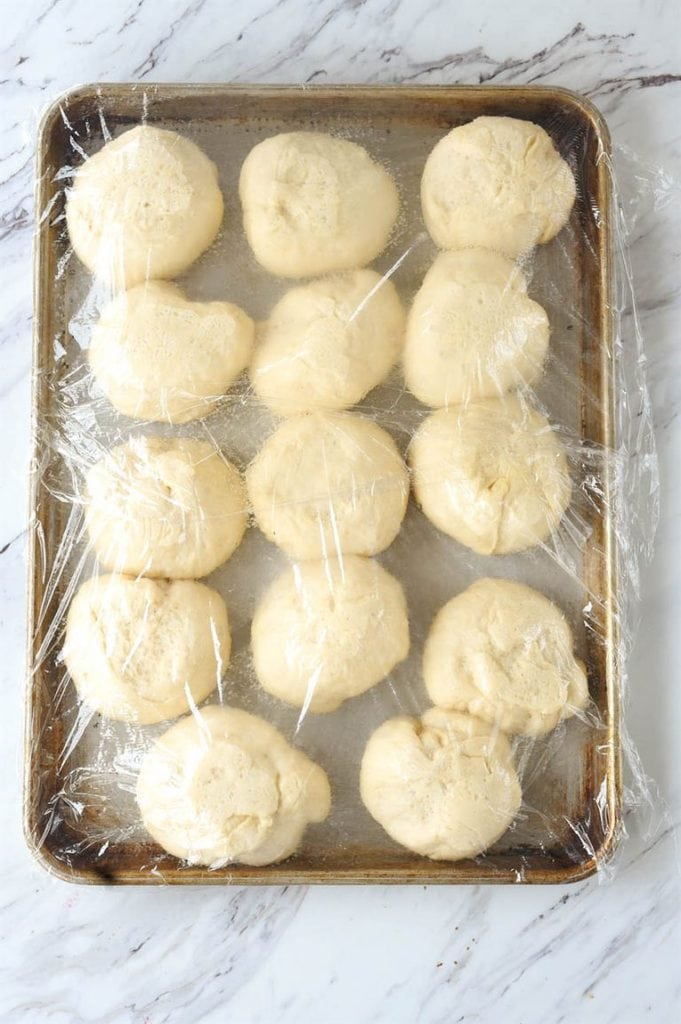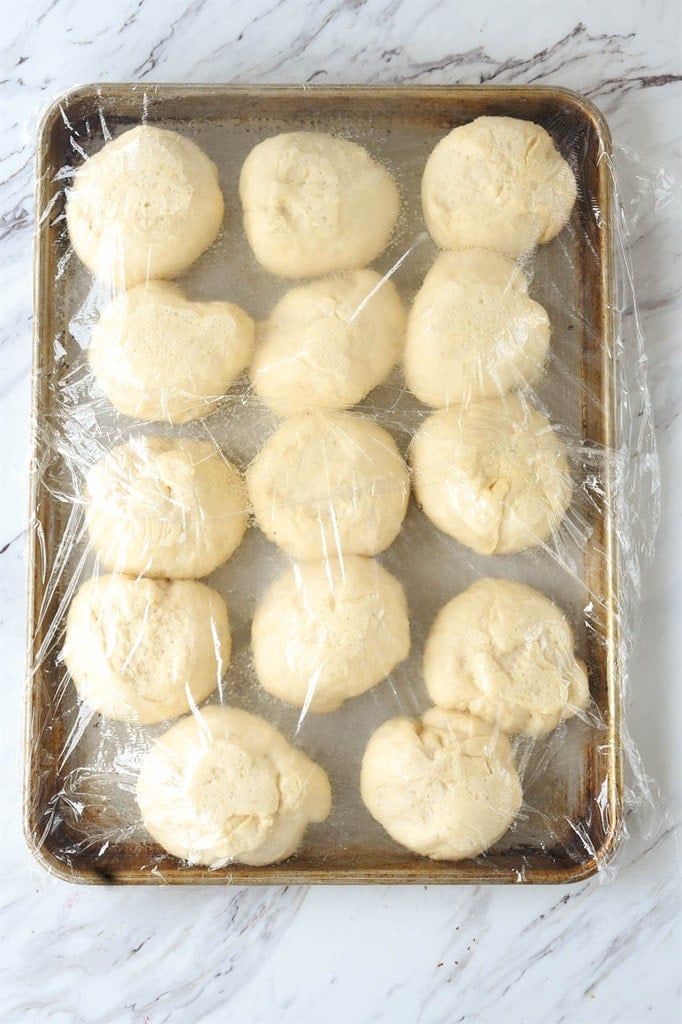 Divide your dough into 14 equal pieces.  I often use my food scale to make sure they are approximately the same size.  This is not crucial.  You will just end up with different sizes of naan bread, it will still taste delicious.  Place the balls of dough on a greased baking sheet and cover with plastic wrap again.  You want to make sure no air gets in as this will dry out the dough.  Let it rise for another 30 minutes.
Since not too many of us have a clay oven at our house I experimented with several different ways of baking the naan bread.  I used my cast iron skillet, I put my pizza stone in a 500 degrees F. oven and baked it on there and I also used my electric griddle.  I liked using my electric griddle the best!  Roll out each ball of dough thinly.  Shape doesn't really matter.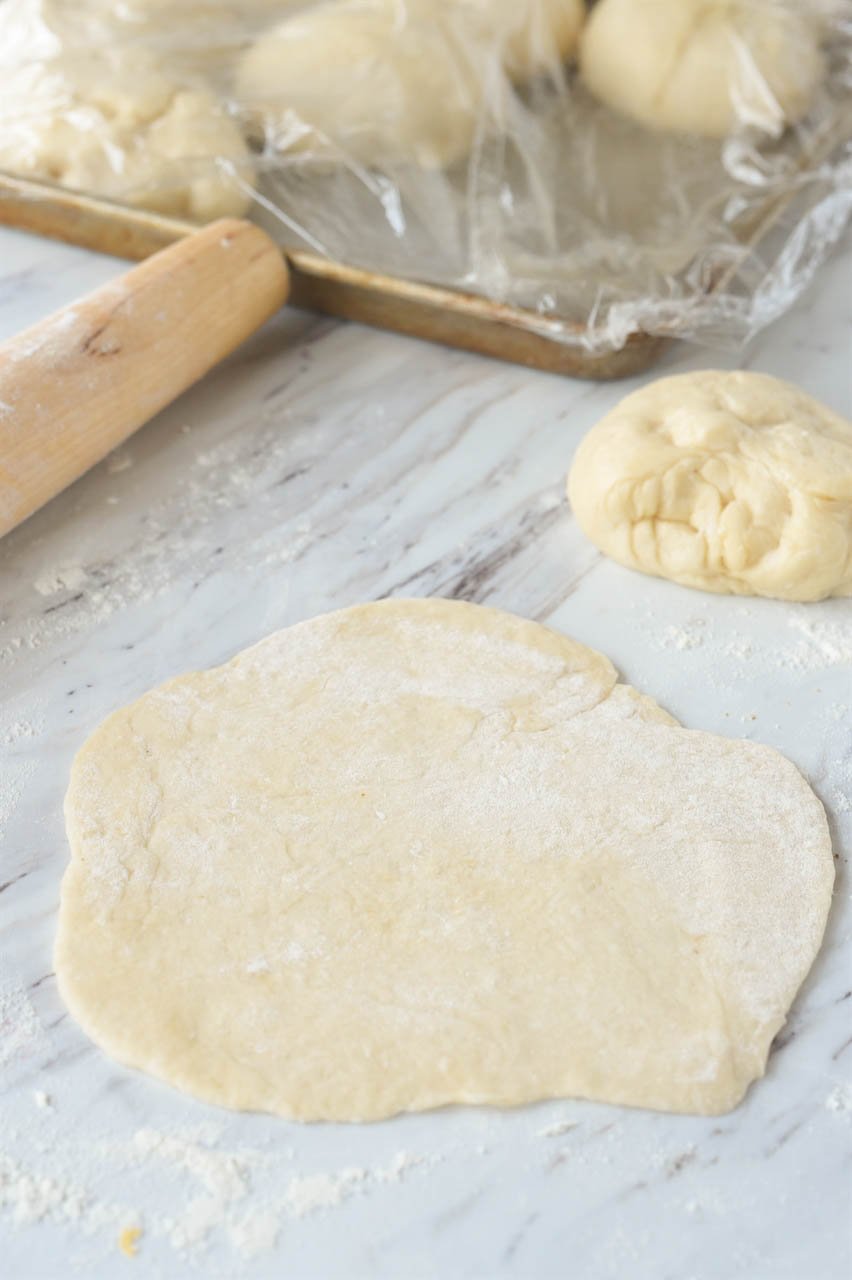 How to Cook Naan
Heat your griddle to about 350 degrees F.  Brush your dough with melted butter on both sides and place it on the griddle, cook it for a minute or two on each side.  It cooks quickly. The dough will begin to puff up and bubbles will form on the surface and those bubbles will get golden brown.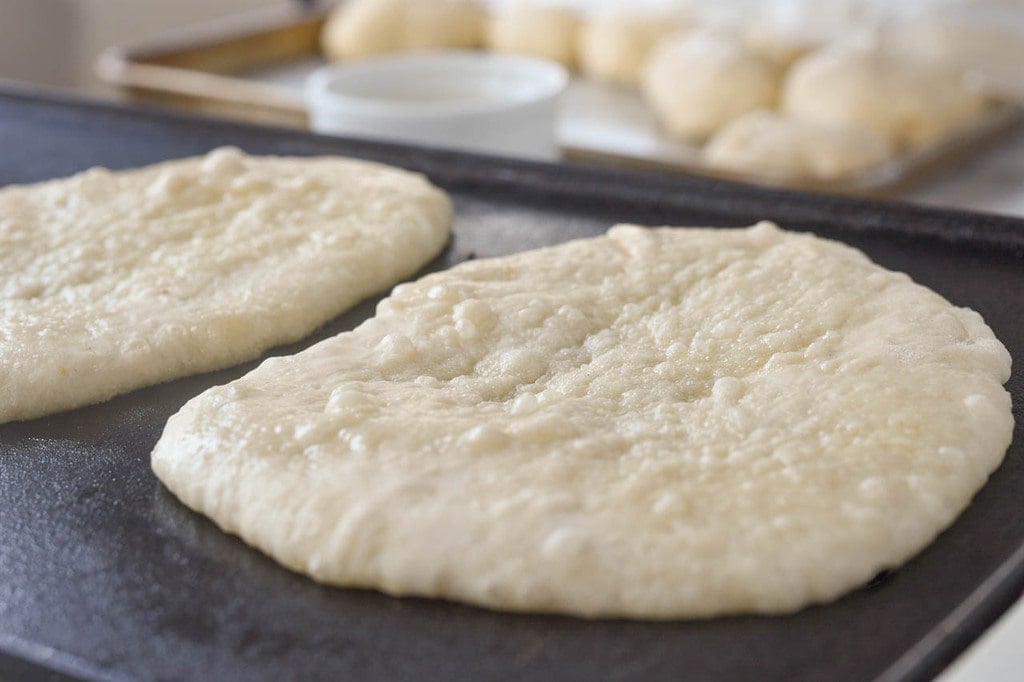 After removing the naan from the griddle, cover it with a dish towel to keep it warm and from drying out. I prefer to eat my naan bread warm and fresh off the griddle but it can be stored in a air tight bag or container and reheated to use later.  It freezes well too.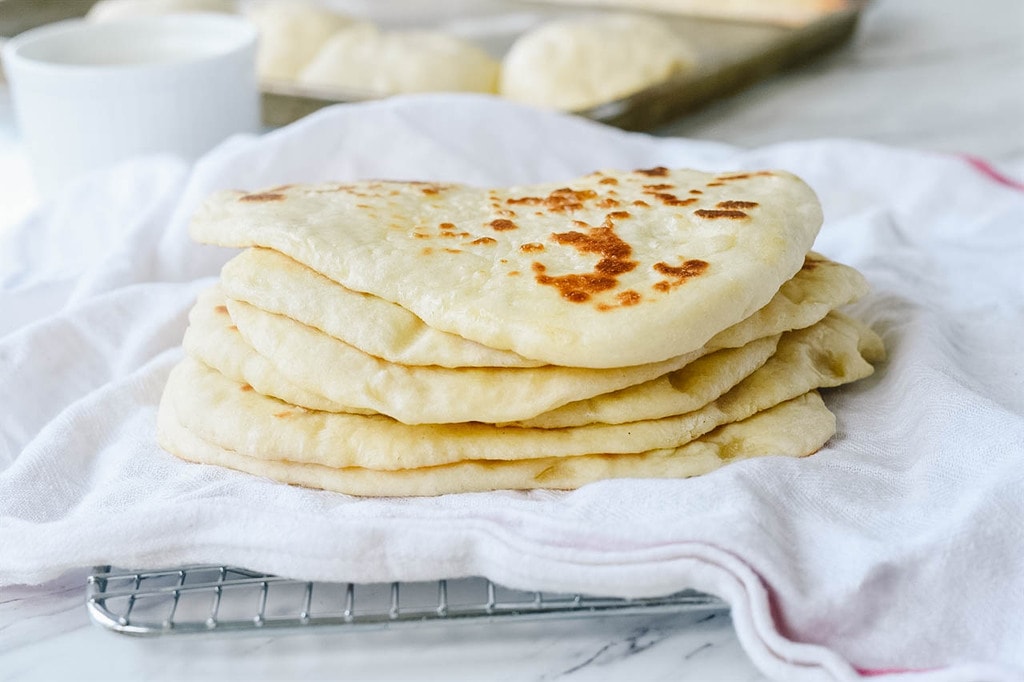 How to Reheat Naan Bread
It can be reheated in the microwave or I prefer to heat it up my oven at about 350 degrees, spritz the naan bread lightly with water and place it right on the oven rack.  It will only take a minute or two to heat up.  If you are putting it in the oven frozen, it may take a minute longer.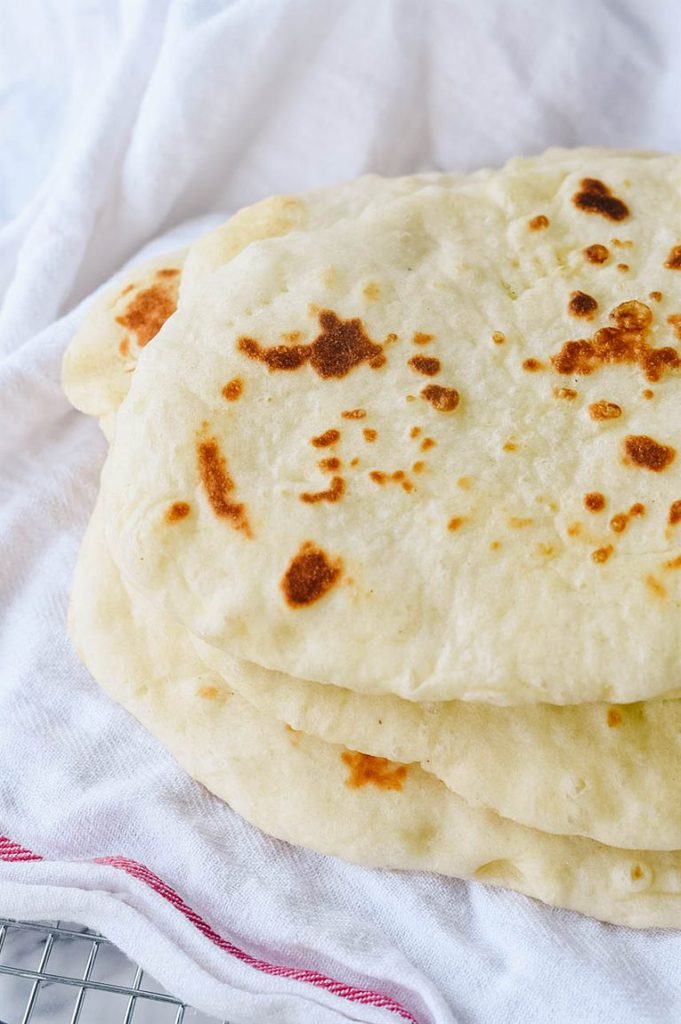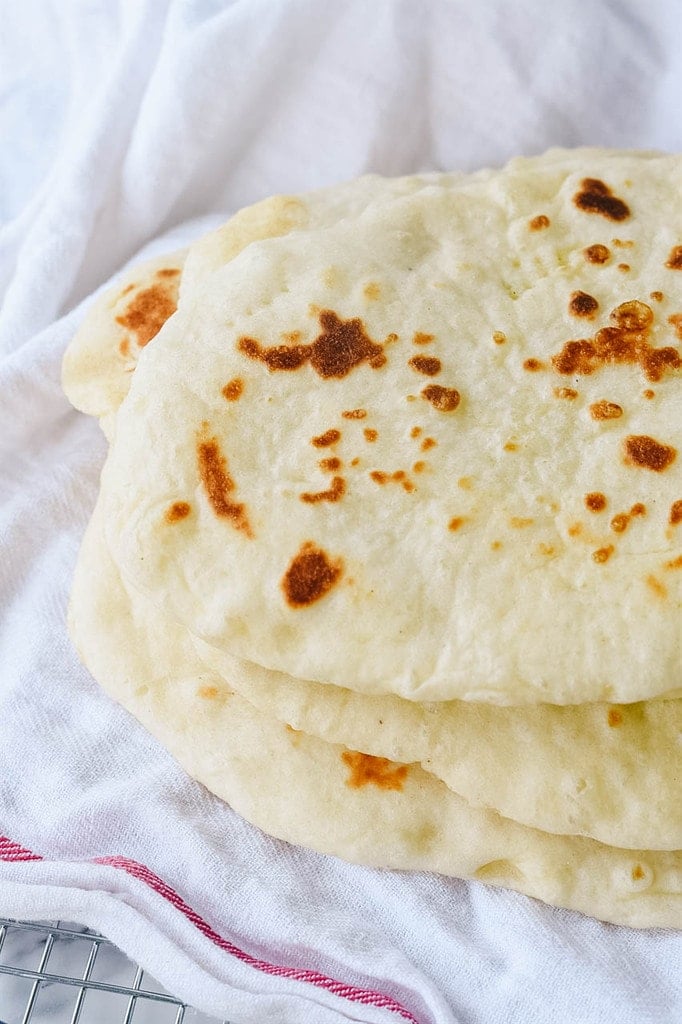 What to serve with Naan Bread
Naan Bread Recipe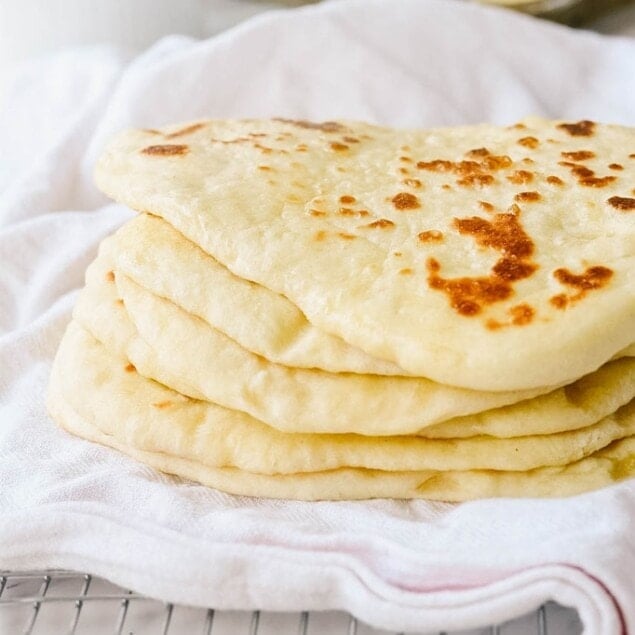 Naan Bread
Indian style Naan is soft and chewy and so easy to make at home. It's the perfect accompaniment to so many meals.
Ingredients
2 1/4 tsp rapid rise yeast
1 egg lightly beaten
4 1/2 cups bread flour
2 Tbsp sugar
2 tsp salt
1 cup warm water
1/2 milk room temperature
1/4 cup butter melted
Instructions
In a mixer bowl combine yeast, flour, salt, and sugar.

Add in egg, water and milk and mix together. Knead for about 5-6 minutes or until dough is smooth. You may need to add in a little additional water to form a nice soft dough

Place dough into an oiled bowl and cover tightly with plastic wrap. Let rise for an hour.

Punch down dough and form 14 balls of dough. Place balls of dough onto a greased baking sheet and cover with plastic wrap and allow to rise for about 30 minutes, or until doubled in size.

Heat electric griddle to 350 degrees F. Roll out dough thinly and brush both sides with melted butter. Place dough on grill and cook for 2-3 minutes or until puffy and lightly browned. Flip and cook on other side until browned, another 2-3 minutes.

Keep cooked naan covered with a towel to keep it warm and to prevent it from drying out. Serve warm.
Nutrition Facts:
Calories: 187kcal (9%) Carbohydrates: 31g (10%) Protein: 5g (10%) Fat: 4g (6%) Saturated Fat: 2g (13%) Cholesterol: 20mg (7%) Sodium: 367mg (16%) Potassium: 50mg (1%) Fiber: 1g (4%) Sugar: 1g (1%) Vitamin A: 120IU (2%) Calcium: 9mg (1%) Iron: 0.4mg (2%)
* Disclaimer: All nutrition information are estimates only. Read full disclosure here.
Need some help figuring out what's for dinner tonight?
Come join our Facebook Group!  Join hundreds of others who love sharing dinner time ideas.  You don't want to miss out on the fun!

You'll find lots of ideas for dinner from all our awesome members and you can share your ideas too!  Join the Family Dinner Table today.