This Lite pasta is full of delicious veggies and topped with sausage.  Delicious and lite!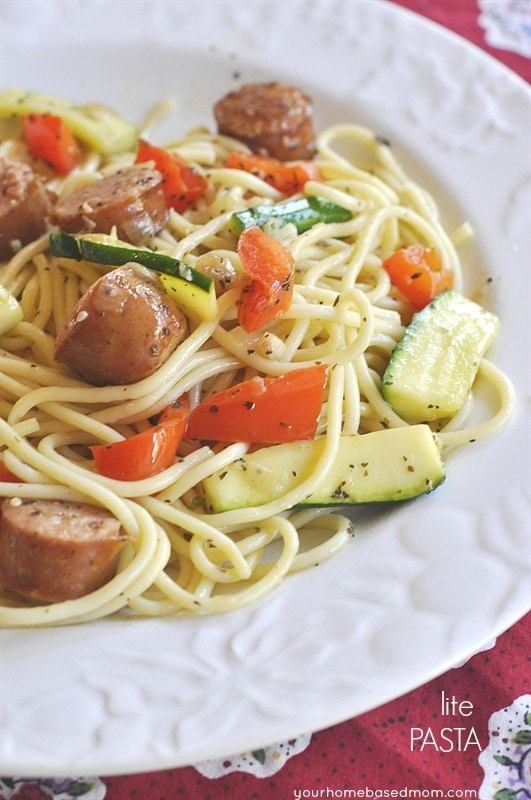 A few weeks ago Johnsonville Sausage sent me a box full of some of their smoked/cooked sausage.
There were all kinds of fun flavor combinations – Jalapeno & Cheese Smoked Sausage,Smoked Turkey Sausage, New Orleans Style Sausage, and Polish Sausage.
I decided to play it on the safe side for dinner so I went with the Polish Sausage.  My friend Jeannena has a great pasta recipe that uses sausage that I had been wanting to make so I knew this was the perfect opportunity to give it a try.
The pasta is quick and easy to put together.  If you still have some zucchini left in the garden this is a perfect way to use it up. The recipe also calls for red peppers but it would be fun to experiment and throw in a few other vegetable too – maybe some broccoli, carrots, snow peas? The vegetables are cooked so they stay crisp.  Add them in with the sausage, a little olive oil and seasoning and you have a lovely dinner.  Tessa commented at dinner how "light" the pasta was yet flavorful.  Guess that's why it is called Lite Pasta!
I put the rest of the sausage into the freezer to save for our Halloweenie Roast, it will be perfect for all those little ghosts and goblins!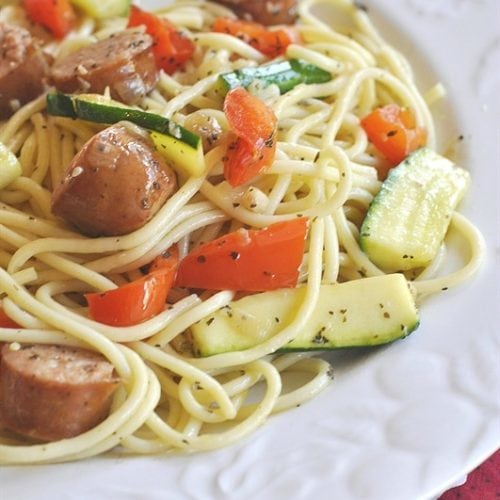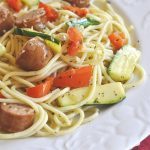 Print
Lite Pasta
Ingredients
1 16

oz.

spaghetti - cook in salted water

Drain, & rinse in hot water (keep warm).

1 to 2

pounds

polish sausage

sliced

6

Tbsps.

olive oil

2

cloves

garlic

pressed

1

red bell pepper

cut in cubes

1

medium onion

cut in wedges

3-4

small

hot dog size zucchini, cut in strips

4

tsps.

chicken bouillon granules;

2

tsps.

basil

2

tsps

salt

or less

2

dashes cayenne pepper

I left this out
Instructions
Heat oil; add sausage and stir fry

Add onion & red pepper; spinkle in remaining spices & stir fry

Add zucchini last so that it does not overcook

Onion and red pepper take a longer time to cook

Toss with pasta

Serve warm