Italian Herb Breadsticks are the perfect accompaniment to any meal but my favorite way to enjoy them is dipped in soup!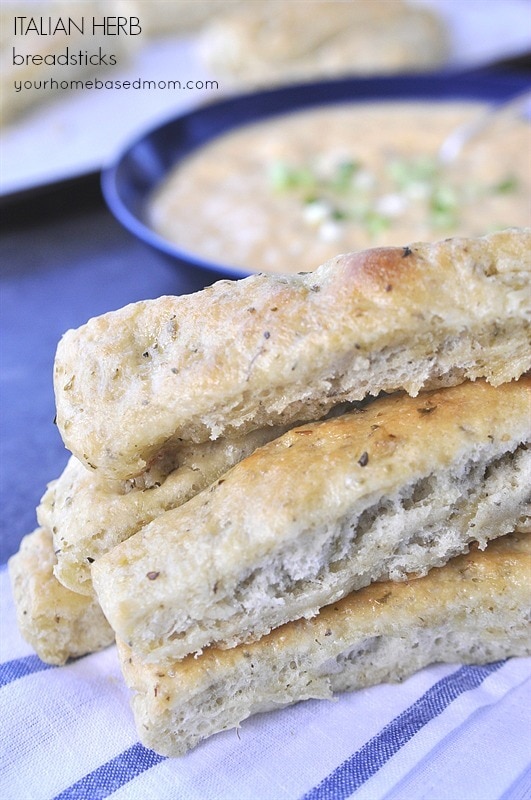 This post is sponsored by Idahoan® Premium Steakhouse® Potato Soup but all opinions are my own.
I am a bread lover and a pan of hot, fresh, breadsticks is the perfect companion to your favorite soup in my book. These Italian Herb Breadsticks are soft and come together quickly thanks to Rapid Rise Yeast.  Thanks to the Italian seasoning,  they are packed with lots of flavor too.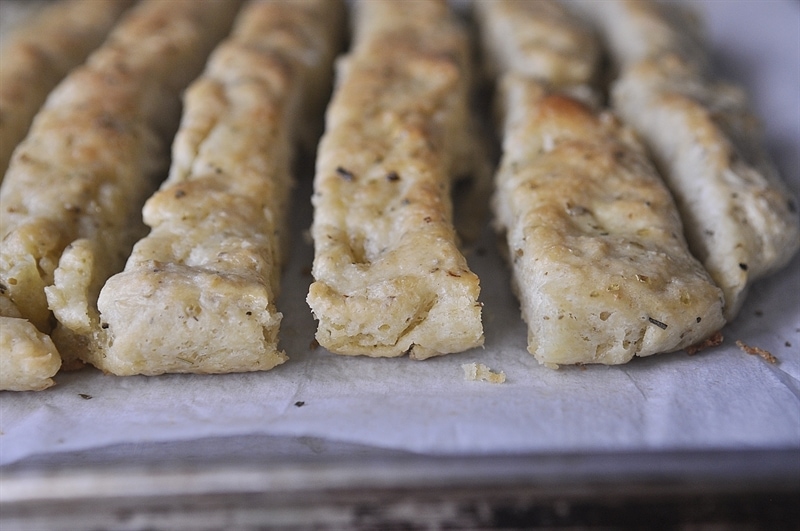 They bake in the oven for about 25 minutes so while they are baking you can quickly put together a delicious pot of soup thanks to  Idahoan® Premium Steakhouse® Potato Soup it only takes a few minutes and you  have a delicious bowl of soup to go along with those fresh breadsticks.  I paired the breadsticks with the Loaded Potato Soup that  gives you restaurant quality soup in just minutes.  This soup is filled with real Idaho red potatoes and red potato skins for a hearty soup that is full of flavor and texture.
The thick, rich soup is the perfect thing to dip your breadstick into!

I like to top my soup with a little freshly chopped green onion for even more flavor and some nice color.  Of course a breadstick or two on the side is required.
The breasticks come together easily by lining a glass 9 x 13 pan with parchment paper and then spreading your soft and slightly sticky dough in the bottom of the pan.  Use a pizza cutter to cut through the dough creating 1 inch wide long breadsticks.  After baking you will cut again along these same lines.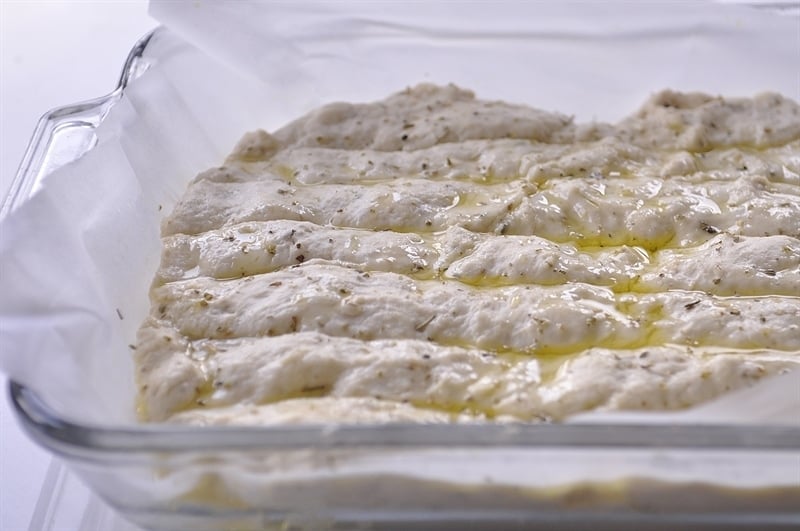 After baking, brush them with some melted butter and sprinkle with some more Italian herbs and then get ready to dunk!
You cancheck out all the varieties of Idahoan® Premium Steakhouse® Potato Soups that are available (Creamy Potato, Loaded Potato, Cheddar Broccoli and Three Cheese Chipotle) and follow @IdahoanFoods and #IdahoanSteakhouseSoups on Twitter, Facebook and Instagram.
Now you can recreate the steakhouse experience right in the comfort of your home, thanks to the delicious Idahoan® Premium Steakhouse® Potato Soups.
Printable Recipe for Italian Herb Breadsticks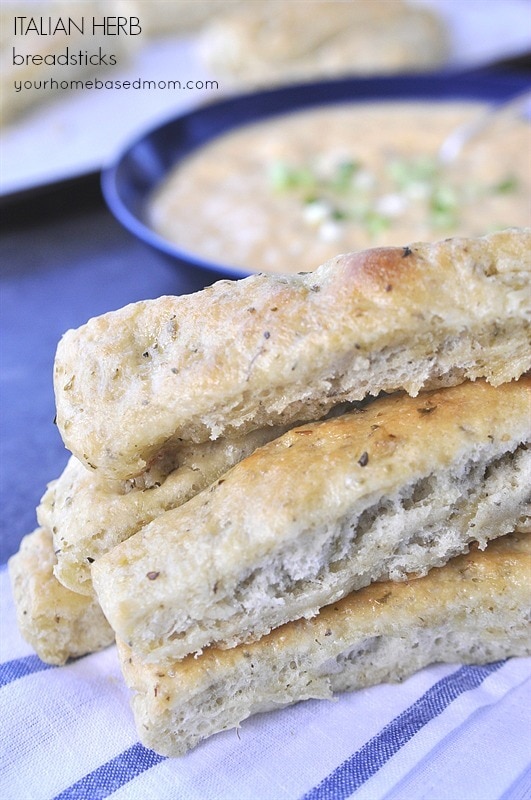 Herb Bread Sticks
Ingredients
3

Tbsp

olive oil

divided

1 1/2

cups

warm water

1 1/4

tsp

salt

3 1/2

cups

all purpose flour

1

Tbsp

rapid rise yeast

3

tsp

Italian Seasoning

divided

2

Tbsp

butter

melted
Instructions
Line a 9 x 13 glass pan with parchment paper.

Cover parchment paper with 2 Tbsp olive oil

Mix together water, salt, flour, yeast and 2 tsp of Italian Seasoning.

Dough will be sticky be manageable.

Spread dough into bottom of parchment lined pan. Add some oil to your fingertips if needed to handle the dough.

Using a pizza cutter cut 1" wide lines strips down the long side of the pan.

Cover with a cotton towel and allow to rise for 50-60 minutes or until it has about doubled in height.

Preheat oven to 375 degrees F.

Drizzle dough with addtional tablespoon of oil and remaining 1 tsp o seasoning.

Bake for 25 minutes or until lightly golden brown.

Remove from oven and lift breadsticks from pan using the edges of the parchment paper.

Place on a cooling rack.

Allow to cool a few minutes and then cut through the breadsticks on the scored lines. Use the pizza cutter for this.

Place the cut breadsticks onto a cookie sheet. Allow a little space between them. Return to oven and bake for 5-10 more minutes (the longer the time, the stiffer the breadsticks will be)

Remove from oven, brush with melted butter and serve.

Stay Updated!
Need more recipes and creative ideas? Sign up and get a FREE copy of my ebook! Do you think your friends would love this too? Please share my blog with them. Thanks!