These gluten free brownies are everything a brownie should be – moist, chewy and chocolatey.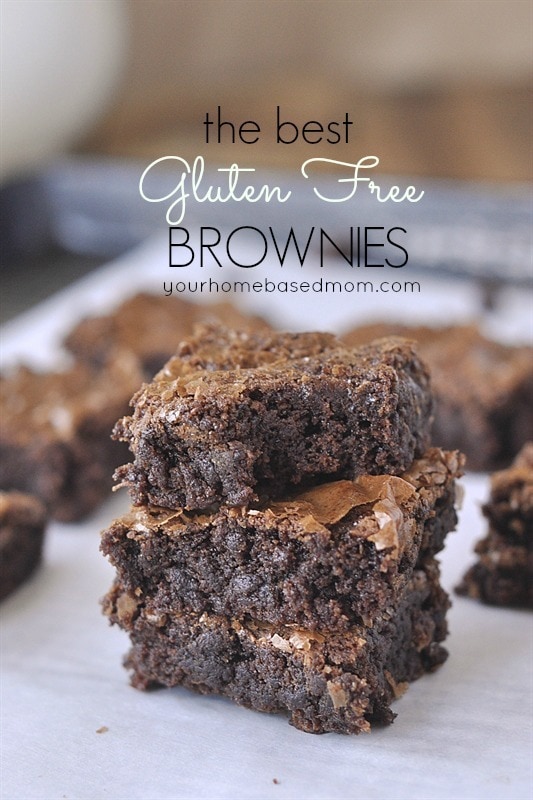 As I mentioned the other day our gluten free journey continues.  This time with my husband.  The good news is, it is helping.  He has done so well with his new way of eating (and lost about 10 pounds as a bonus) that I decided to make him a treat this weekend.
You see, one of the downsides of being married to a food blogger is even when you can't eat the stuff she still keeps making it  – for the blog!  So this last week he has had to watch me make cookies, cinnamon rolls, yeast rolls and a few other yummy things that he hasn't been able to eat.  Torture. But don't worry, I am not eating all of it myself either.  My neighbors have had a lot of deliveries the past week!!
I am so proud of my husband for his self control.  So to reward him I decided to make him a treat this weekend of gluten free brownies.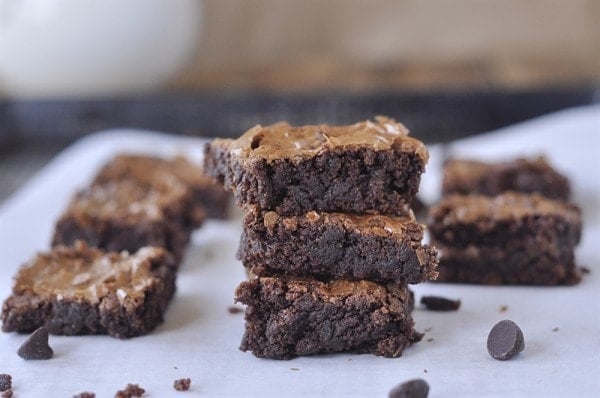 Now I have to tell you, these gluten free brownies were pretty darn good.  In fact, I think if I hadn't told my husband they were gluten free, he wouldn't have known.  I like my brownies moist and chewy, not too cake like and that's exactly what these brownies were.  Who needs store bought brownie mixes when you can make delicious ones just as quickly and easily from scratch.  If you've ever bought gluten free mixes you know how expensive they are!
The only bad thing about this recipe is that it only  makes a 8 x 8 but if you want more just double it and use a 9 x 13 pan.
I can honestly say these are THE BEST gluten free brownies I have had or made.
For this recipe I used a combination of semi sweet and milk chocolate chips which I really liked.  I melted combined sugar, butter and a little cream and melted that on the stove top  Cook this over medium heat until it boils and then add in your chocolate chips until they are melted.  It may look like your chocolate is seizing up but trust me it will be o.k.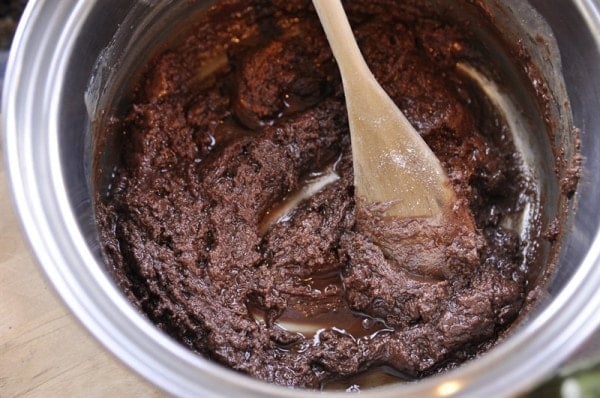 Add in your eggs and vanilla and keep stirring.  Then add in the flour, baking soda and salt and stir until smooth.  Pour that into your greased 8 x 8 pan. I used my favorite gluten free flour mix that pretty much never fails me!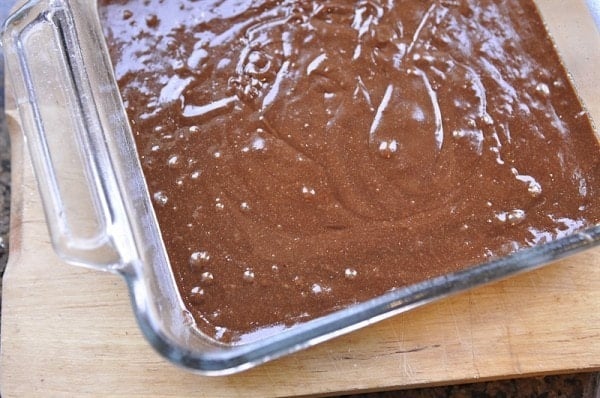 Then just bake at 325 for about 25 minutes or until a tooth pick comes out clean.  Don't overbake.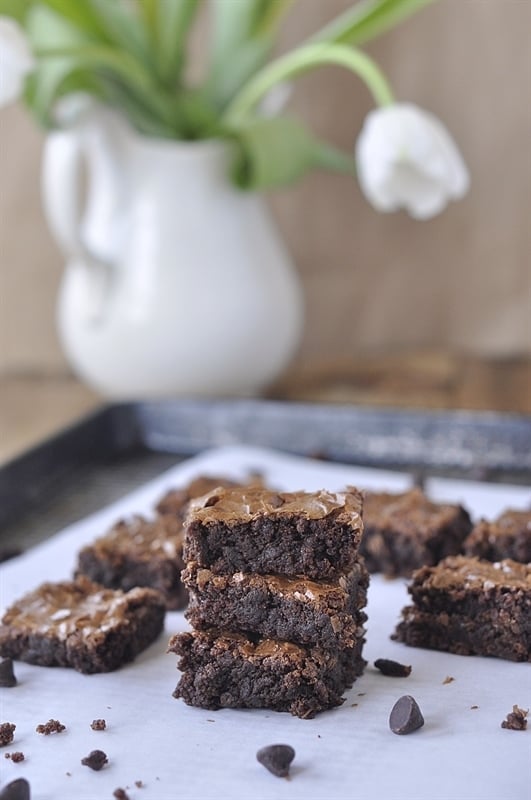 Just so my husband wouldn't be tempted to eat them all at once I cut them into squares and then wrapped them up individually in plastic wrap and froze them.  So when he wants to reward himself for being a good boy he can grab one out of the freezer and indulge!
For other gluten free goodness try:
Gluten Free Chocolate Chip Cookies – Gluten Free Biscuits –Gluten Free Banana Bread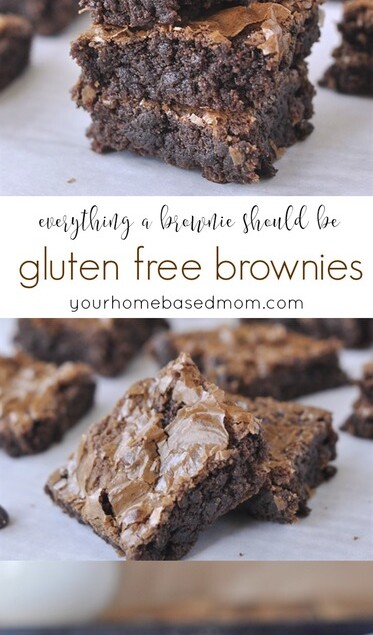 Gluten Free Brownies
Delicious chocolate brownies that are gluten free!
Ingredients
1/2 C granulated sugar
2 Tbsp butter
2 Tbsp whipping cream or half & half
1 C semi sweet chocolate chips
1 C milk chocolate Chips
2 eggs
1 tsp vanilla extract
2/3 C gluten free flour mix
1/4 tsp baking soda
1/4 tsp salt
Instructions
Preheat oven to 325 degrees

Grease an 8 x 8 pan

In a saucepan combine sugar, butter and cream.

Cook over medium heat until it comes to a boil.

Remove from heat and stir in chocolate chips and stir until melted.

Add in eggs and vanilla.

Add in flour, baking soda and salt.

Stir until mixture is smooth.

Pour into greased pan.

Bake for 25 minutes or until a toothpick comes out clean. Do not overbake.
Nutrition Facts:
Calories: 253kcal (13%) Carbohydrates: 31g (10%) Protein: 3g (6%) Fat: 13g (20%) Saturated Fat: 7g (44%) Trans Fat: 1g Cholesterol: 39mg (13%) Sodium: 111mg (5%) Potassium: 98mg (3%) Fiber: 2g (8%) Sugar: 24g (27%) Vitamin A: 176IU (4%) Vitamin C: 1mg (1%) Calcium: 38mg (4%) Iron: 2mg (11%)
* Disclaimer: All nutrition information are estimates only. Read full disclosure here.