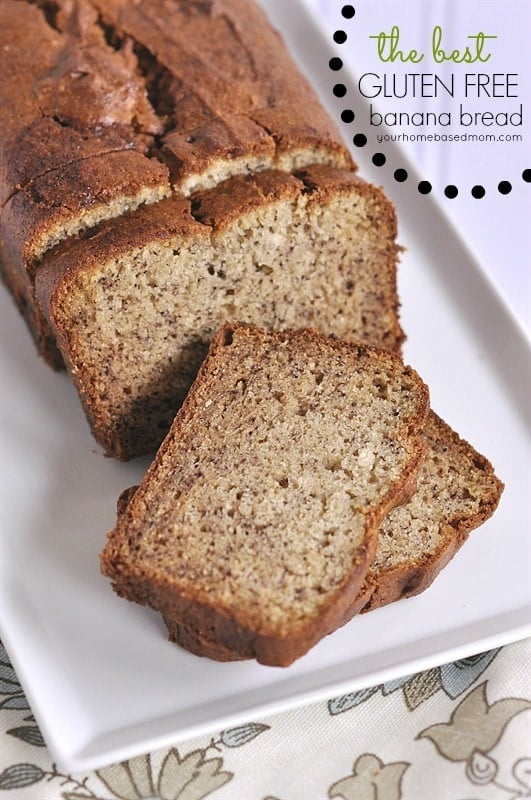 One thing you requested to see more of  in 2014 when I asked was gluten free recipes.  So when my gluten free daughter Cali was home for Christmas break I did a little playing around with some our family's favorite recipes and making a gluten free version.  Last year I shared with you the gluten free flour mix we love to use and it was one of my Top Posts for 2013.   It's been pinned about 70,000 times!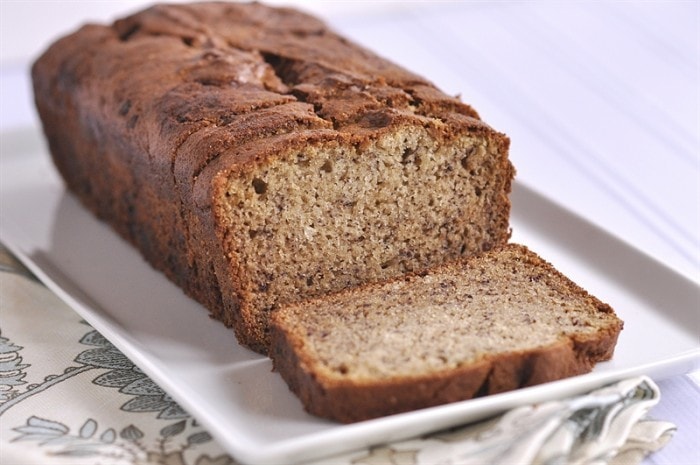 Like I always say when I post a gluten free recipe, don't discount this recipe because you aren't gluten free.  I am sure you know at least one or two people that are gluten free and wouldn't it be fun to take them a treat they could eat!
I love the versatility of this gluten free flour mix and it works so well in substituting it for regular flour in lots of things.  I have found that this flour mix works perfectly in a straight across substitution for regular flour.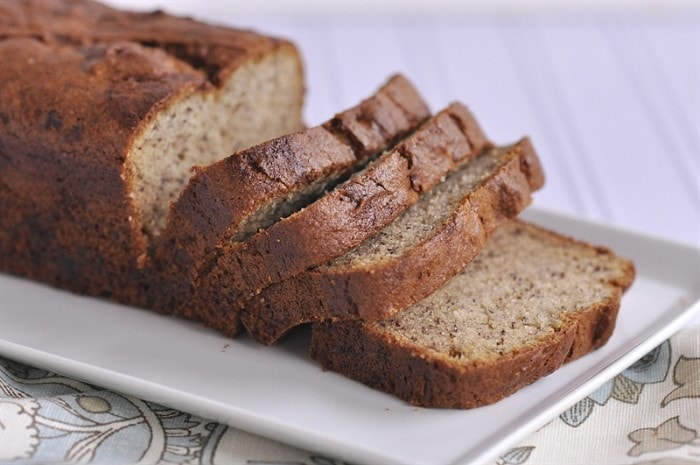 The mix contains coconut flour, oat flour, rice flour, tapioca flour, xanthum gum and cornstarch. I realize that some people who are gluten free can't have oat flour (although the brand I use is gluten free).  Feel free to try this recipe with your favorite gluten free flour mix (I also like Bob's Red Mill brand)  if you aren't able to eat everything that is in the flour mix.
I have shared with you The Best Banana Bread recipe before – it's an old family favorite and many, many of you who have tried it agree with me that it is truly THE BEST banana bread. So moist!
So over the Christmas break I decided to try gluten free banana bread and replace the regular flour in our favorite banana bread recipe with my gluten free flour mix.  One of my gluten free friends gave me the secret of adding in a little extra xanthum gum when using a gluten free flour mix (even though there is already some in there) and it worked beautifully.  In fact you will be hard pressed to tell this bread is gluten free!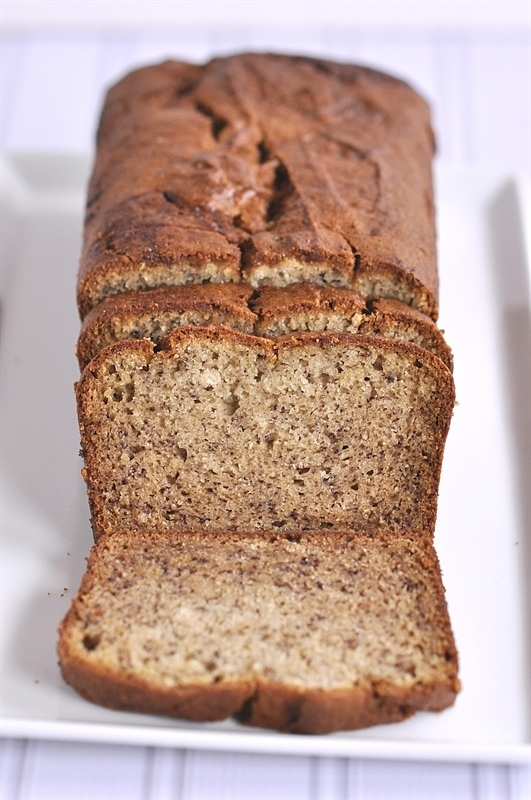 The bread is light, moist and doesn't have the grittiness that a lot of gluten free baked items do.
The recipe uses sour cream so if you are also dairy free (as my daughter is) you can easily substitute the sour cream with apple sauce.  I made it with apple sauce and with sour cream and they were both delicious.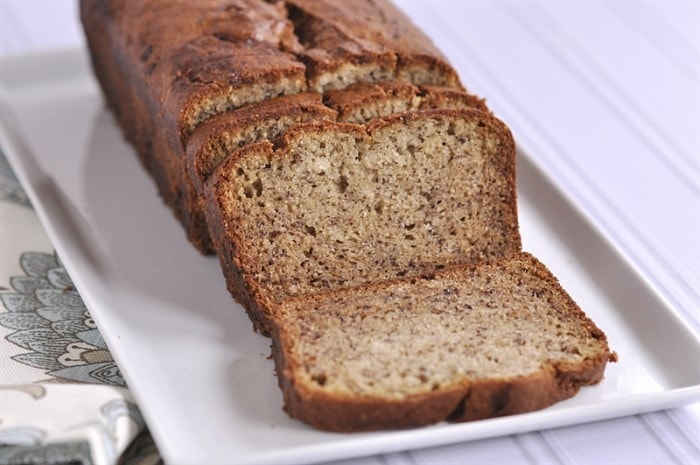 For other gluten free recipes check out these:
Gluten Free Biscuits – Gluten Free Chocolate Chip Cookies – Gluten Free Pancakes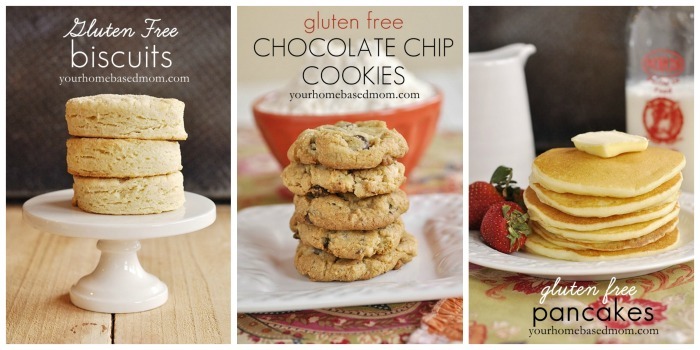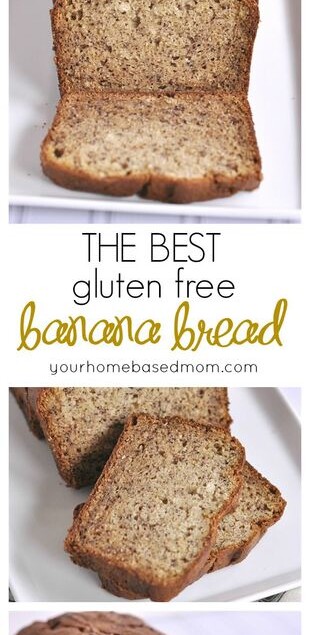 The Best Gluten Free Banana Bread
Ingredients
1 cup sugar
1/2 cup oil
2 eggs
1 cup mashed ripe bananas
1/2 cup sour cream or applesauce
1 tsp. vanilla
1 1/2 cup gluten free flour mix
1 tsp. baking soda
1/2 tsp. salt
1 tsp xanthum gum
Instructions
Heat oven to 350 degrees

Grease and flour bottom only of a loaf pan (or use 3 small loaf pans)

In large bowl, beat together sugar and oil

Add eggs, bananas, sour cream and vanilla; blend well

Lightly spoon flour into measuring cup; level off

Add flour, baking soda and salt; stir just until dry ingredients are moistened

Pour into prepared pan

Bake at 350 degrees for 50-60 minutes (about 40 minutes for smaller loaf pan) or until toothpick inserted in center comes clean

Cool 5 minutes; remove from pan

Cool completely

Wrap tightly and store in refrigerator

Makes 1 loaf