Instant Pot Quinoa is one of my favorite things to make in my electric pressure cooker. You get fluffy, perfectly cooked quinoa every time.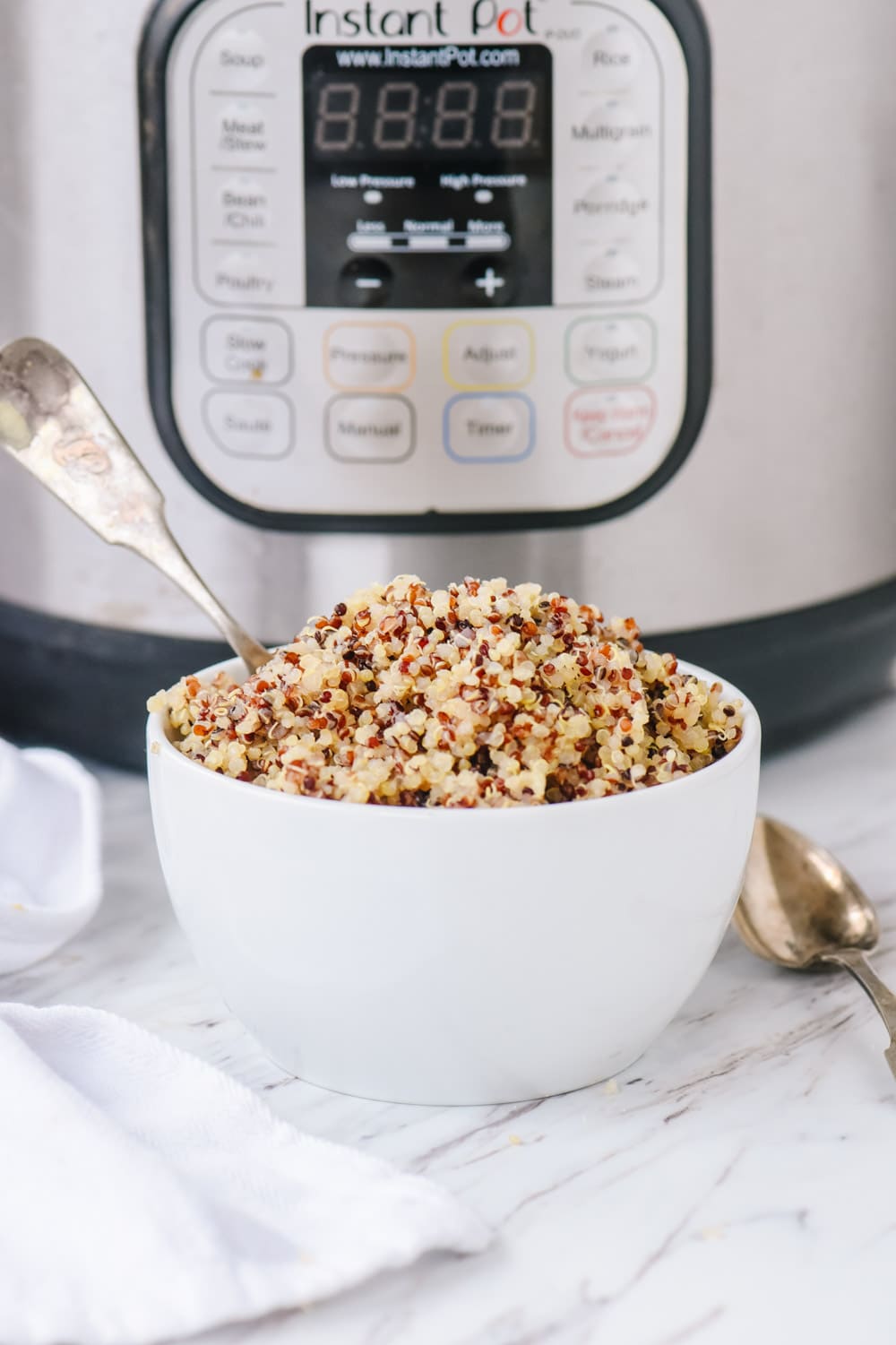 What is Quinoa?
Although most people think it is a grain, quinoa is actually a seed. It has been around for over 7,000 and was originally grown in the Andes. Quinoa is considered a "superfood" because of it's high nutritional value. It is a great source of protein as well as other nutrients.
There are different colors of quinoa, mainly, white, red and black. I used a quinoa blend for this recipe but any color of quinoa will work. Quinoa is easily available in most grocery stores.
How to Make Quinoa in an Instant pot
Quinoa Use a 1:1 ratio. One cup of liquid to one cup of quinoa. This will produce about 3 cups of cooked quinoa. You need less liquid when making quinoa in the Instant Pot than on the stove top because less liquid evaporates in the pressure cooker.
Rinse Place your quinoa in a strainer and run under the water to rinse. Most packaged quinoa has been rinsed already but I always run it under water to be sure. The rinsing removes the saponin which can cause a bitter taste.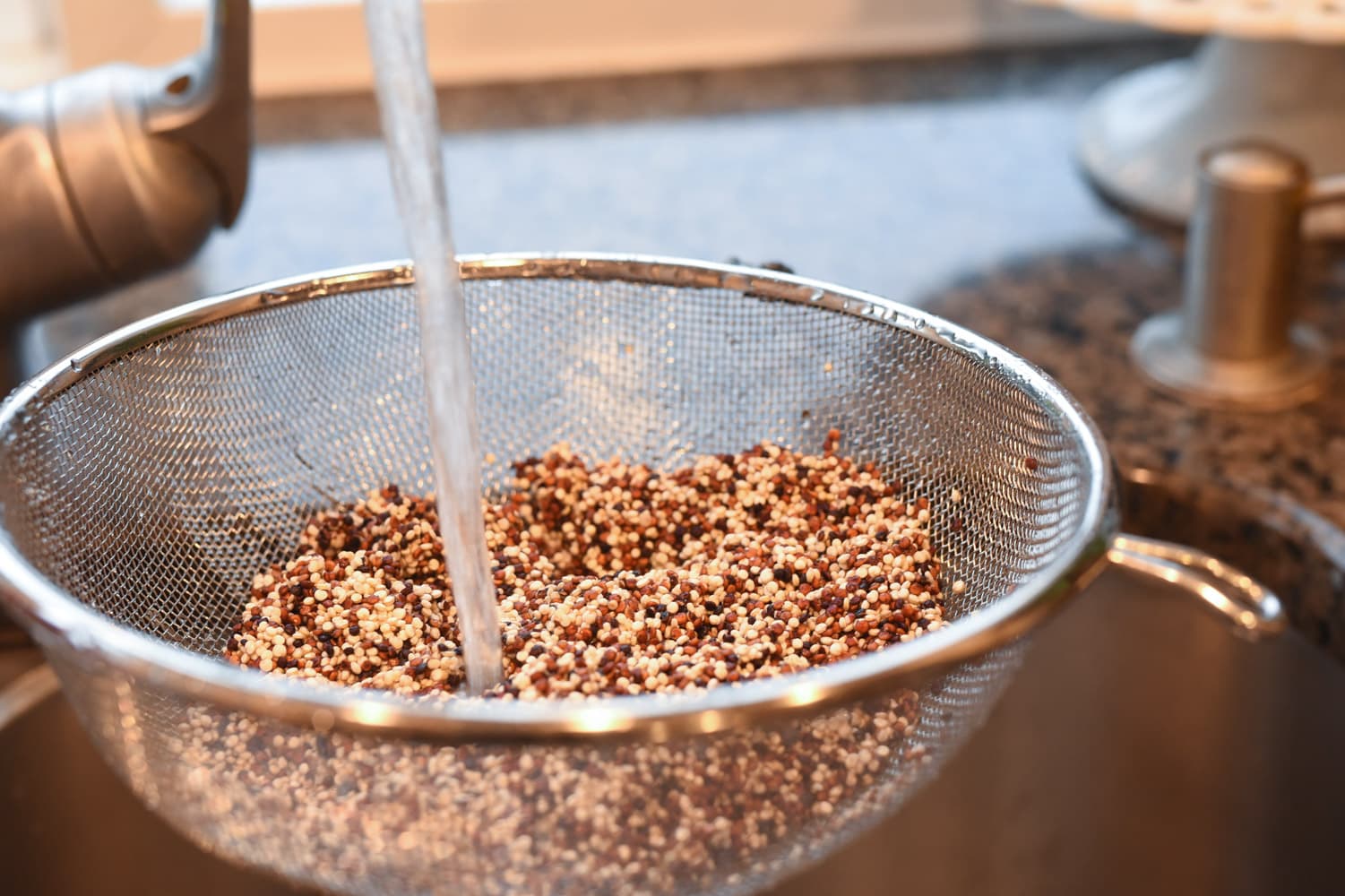 Liquid I used water but you can also add a little extra flavor to your quinoa by using chicken or beef broth.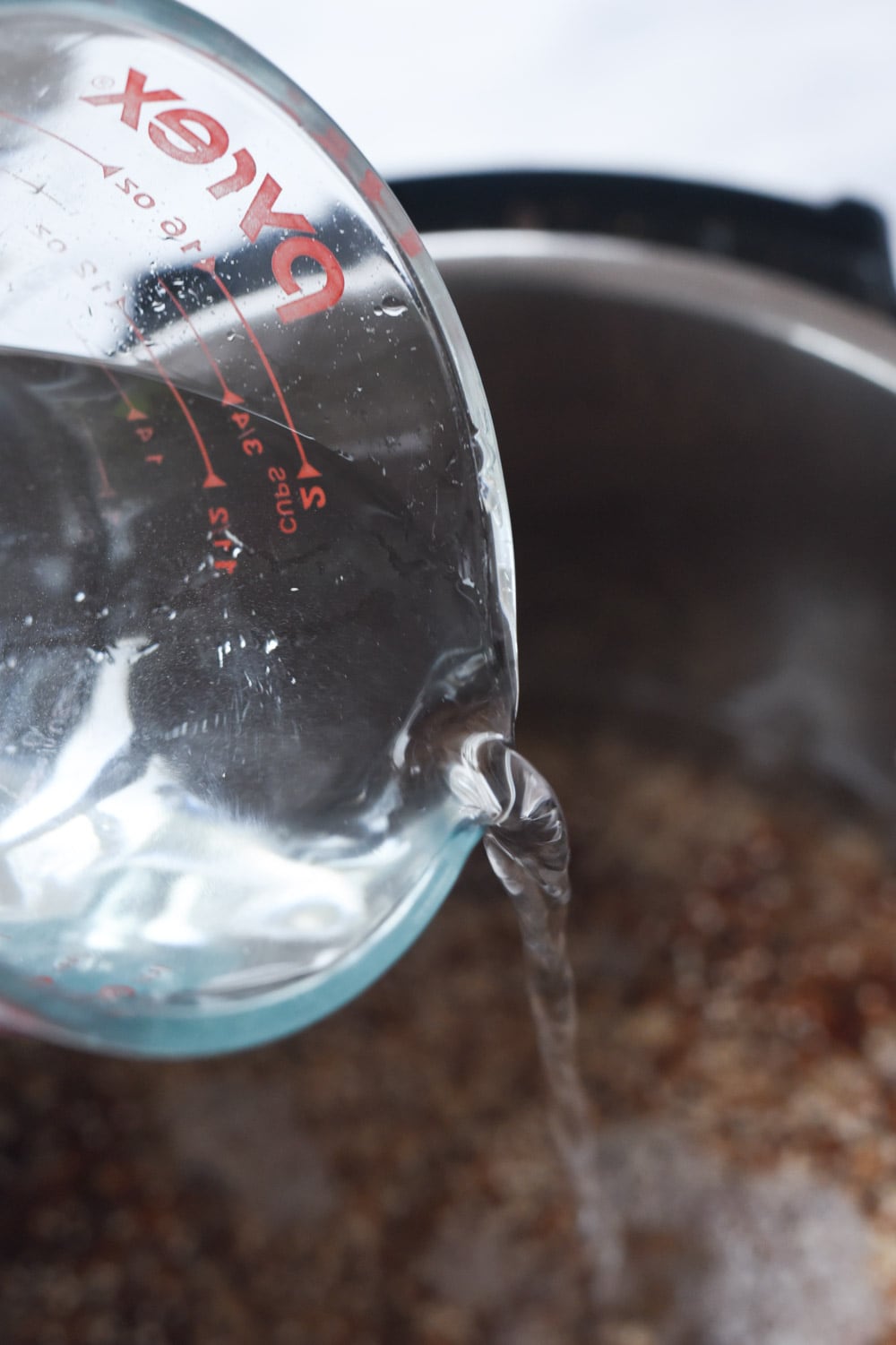 Cook Set your Instant Pot to one minute on high pressure. It will take about 10 minutes to come up to pressure (depending on much quinoa you are making) and then do a 10 minute natural release.
Fluff Open your Instant Pot, fluff your quinoa with a fork and you are ready to go!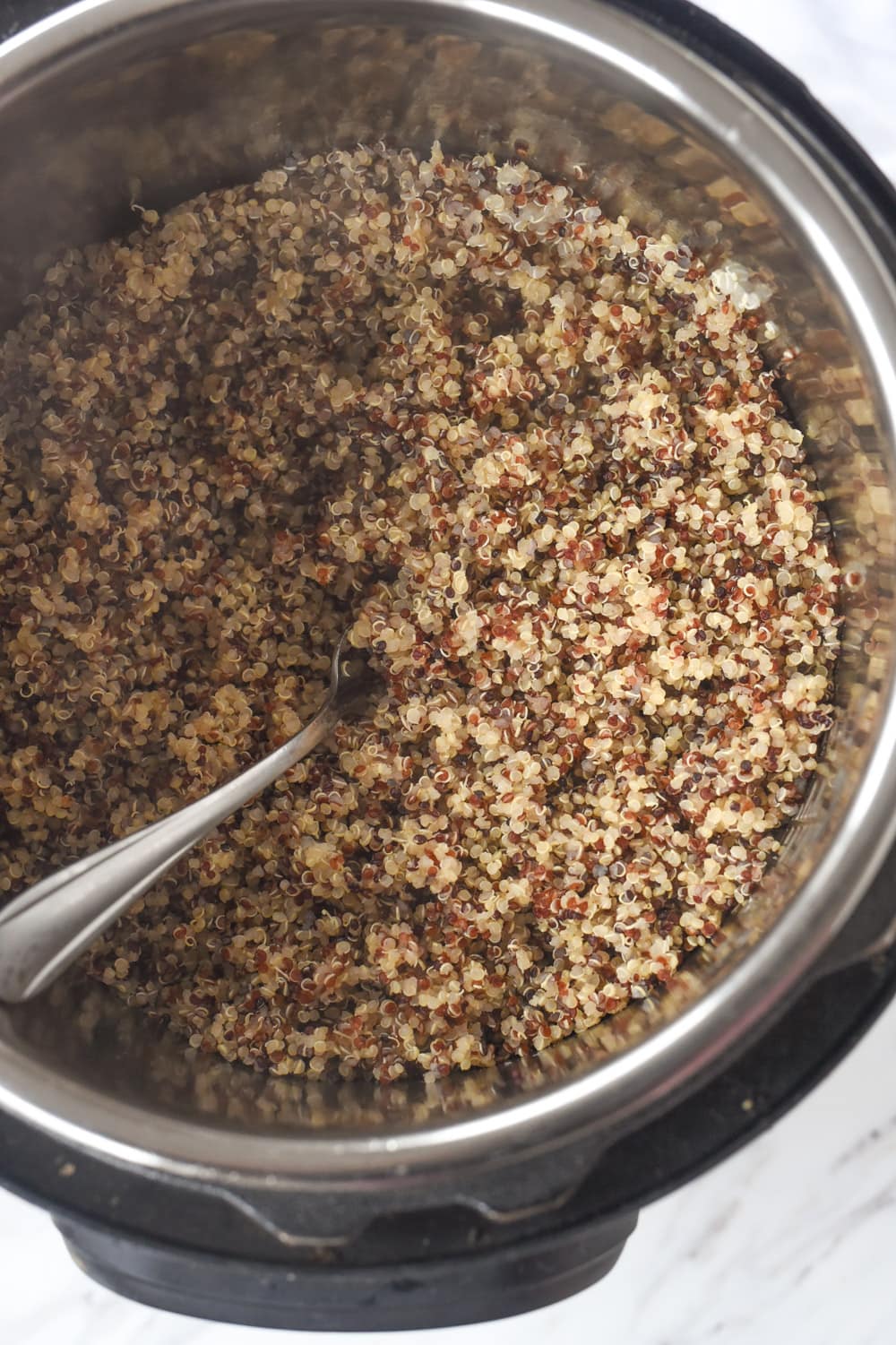 Can I Make Quinoa on the Stove Top?
Absolutely! Increase your water to quinoa ratio to 2:1. You will have more evaporation on the stove top and need more water. Place you rinsed quinoa in a pan with the water, bring the water to a boil, cover and reduce the heat. Cook for 15 -20 minutes. Turn off heat and let sit for 5 minutes and then fluff.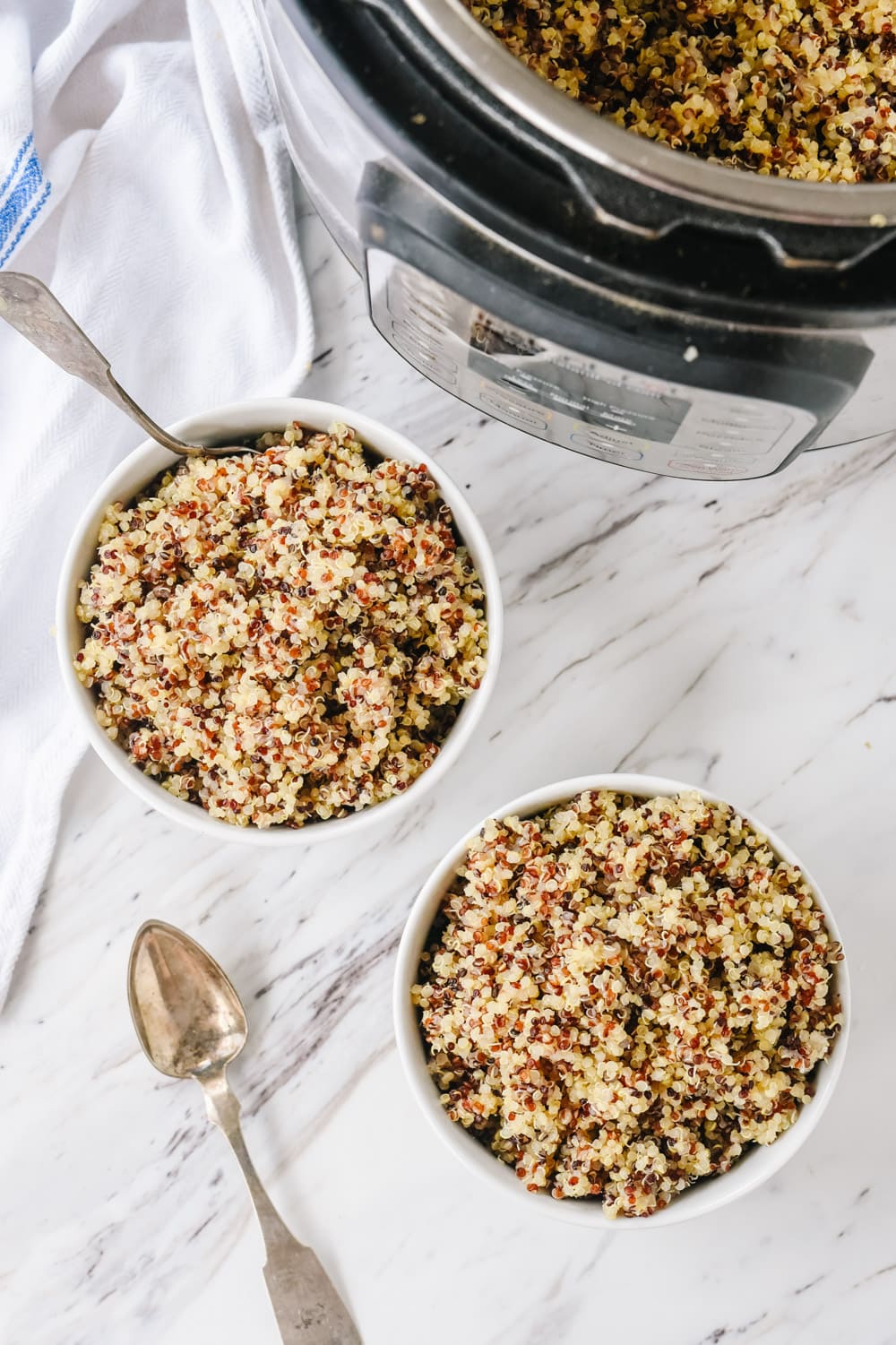 Can I Double the Recipe?
Yes, you can double or triple it. It will just take longer for the pressure cooker to come up to pressure with more quinoa in it.
Can I Freeze Quinoa?
I love to make a big batch of quinoa and freeze it in airtight containers so I can pull it out when I need it.
Allow quinoa to cool before freezing.
Place in labeled zippered freezer bags.
Divide into 2 cup portions, can freeze in bigger portions if wanted.
Flatten the bag and get as much air out as possible. Freeze the bags flat.
To reheat, just allow the quinoa to thaw at room temperature and warm in microwave or in a pan on the stove top. Quinoa can be enjoyed cold, room temperature or warm.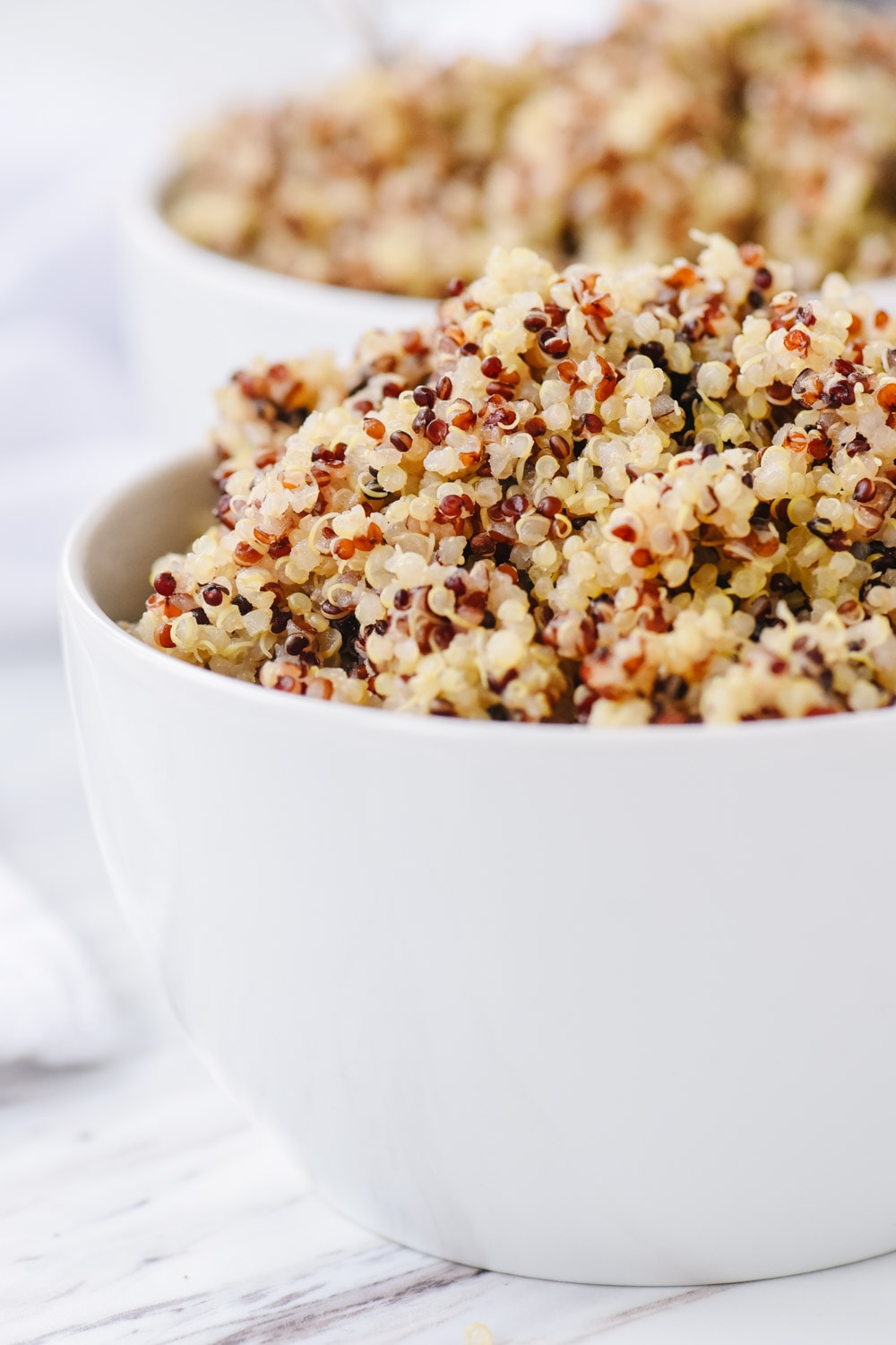 What Can I Make with Quinoa?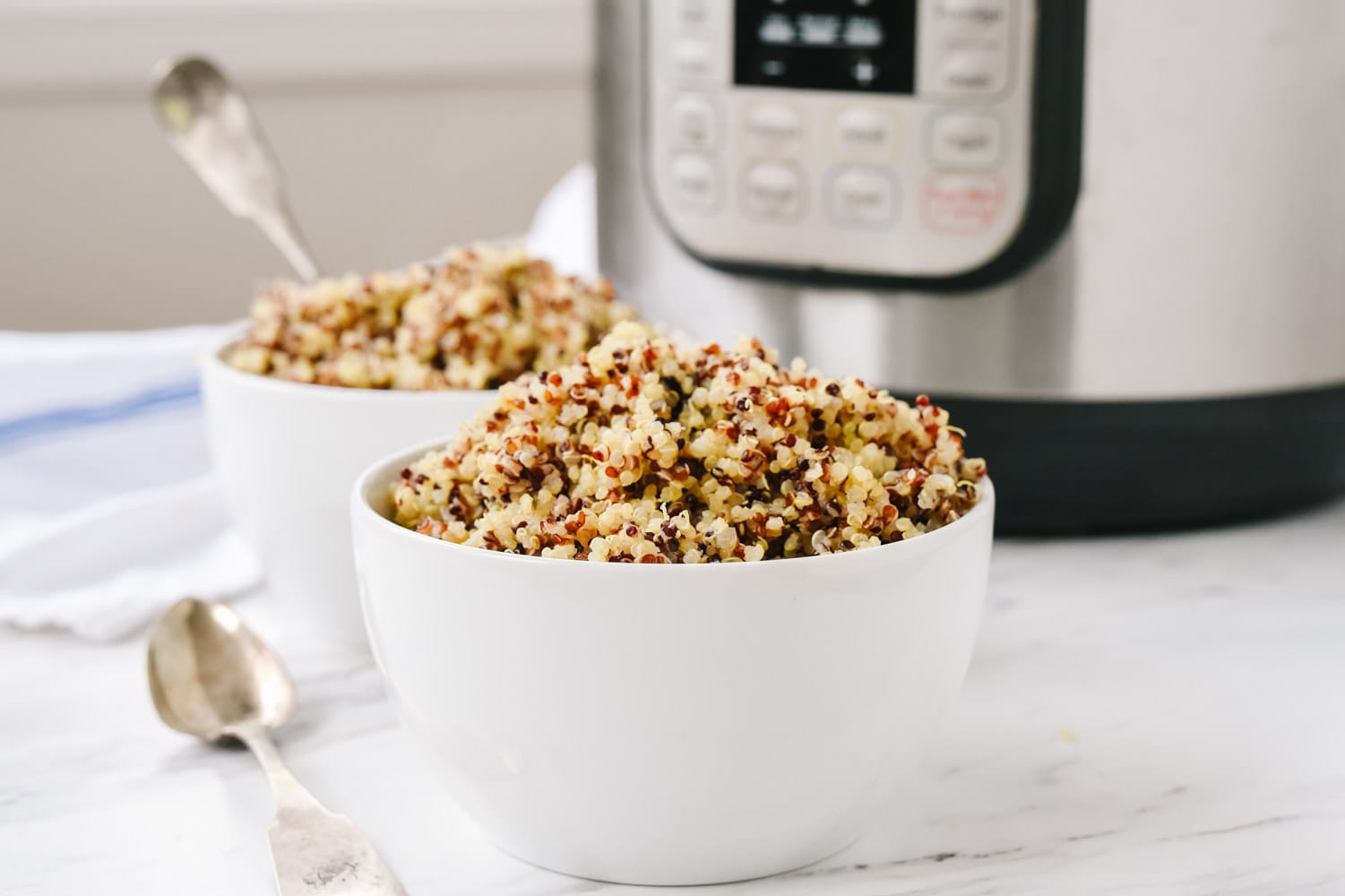 Some of my other favorite things to make in my Instant Pot:
For all of my other favorite kitchen products and tools visit my Amazon Store.
Did you know I wrote a cookbook? Check out the Holiday Slow Cooker Cookbook for 100 delicious recipes.
Quinoa in Instant Pot Recipe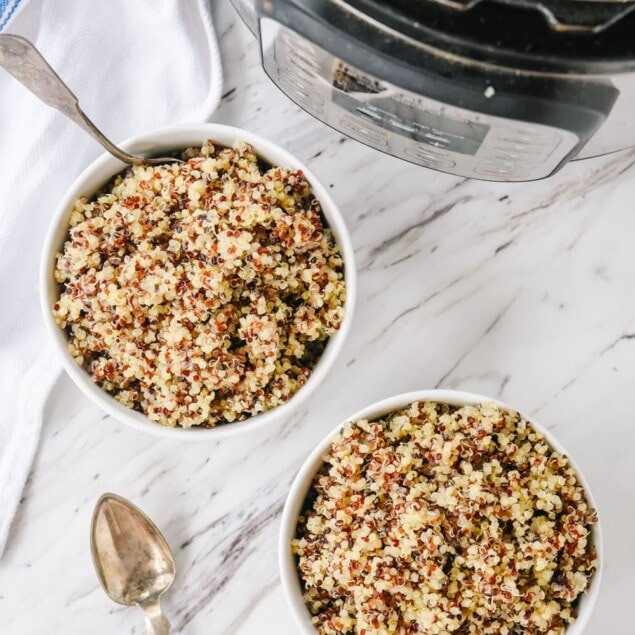 Instant Pot Quinoa
Instant Pot Quinoa is fluffy, perfectly cooked quinoa made in minutes, without needing to soak your quinoa.
Ingredients
1 cup water
1 cup quinoa
pinch of salt
Instructions
Place water, quinoa and salt into pressure cooker.

Add lid and place valve to sealing.

Set to high pressure for 1 minute.

Do a 10 minute natural release.
Nutrition Facts:
Calories: 104kcal (5%) Carbohydrates: 18g (6%) Protein: 4g (8%) Fat: 2g (3%) Saturated Fat: 1g (6%) Sodium: 4mg Potassium: 160mg (5%) Fiber: 2g (8%) Calcium: 13mg (1%) Iron: 1mg (6%)
* Disclaimer: All nutrition information are estimates only. Read full disclosure here.