Chicken Wild Rice Soup is warm and filling, the perfect comfort soup on a cold night.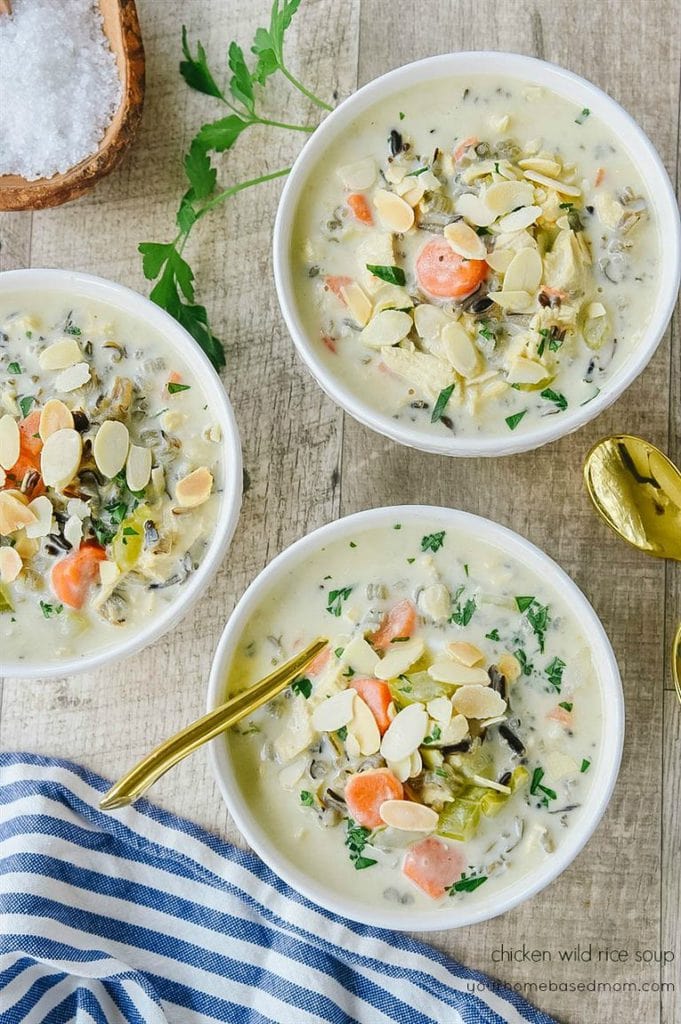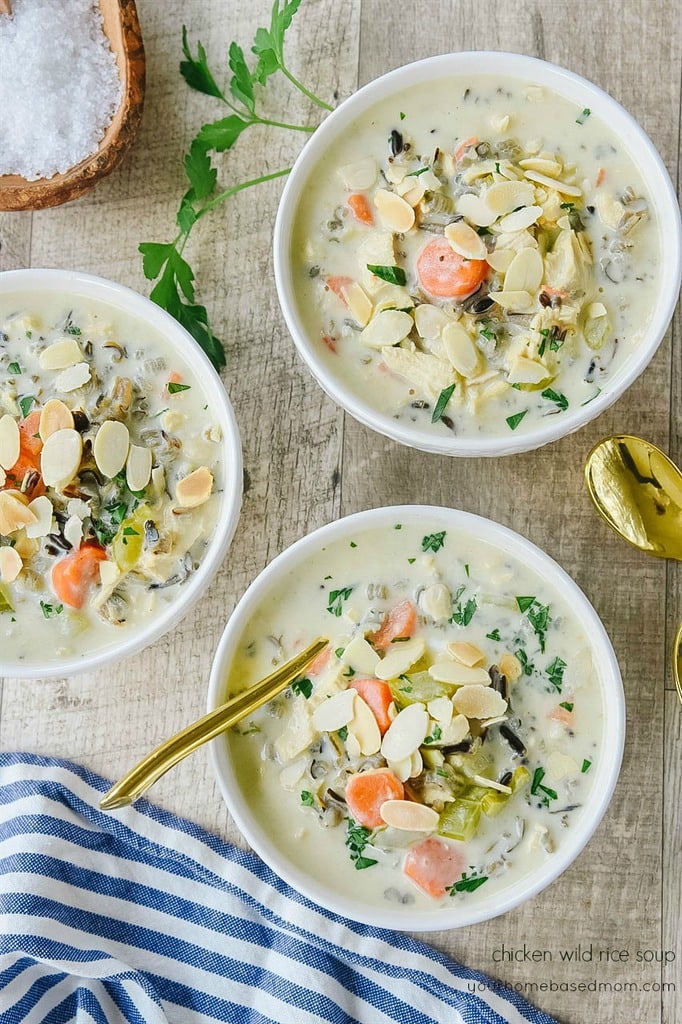 Over the last 20 years I have probably made 25 or more business trips to Minnesota. Each time I have gone, I have enjoyed a bowl of Chicken Wild Rice Soup. It is a Minnesota kind of soup. I'm not sure why the people of Minnesota make the best Chicken Wild Rice Soup, but they do! Whether I am there in the summer or winter there always seems to be a bowl of Chicken Wild Rice Soup at every dinner or restaurant I go to. I think it is pretty much the national soup of Minnesota.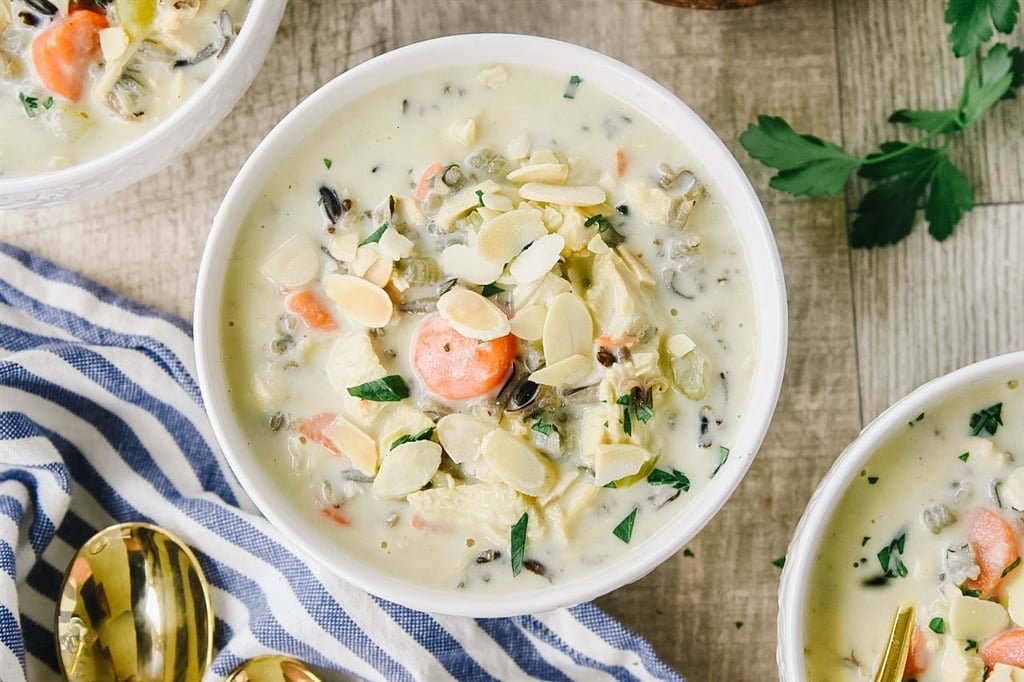 How to Make Wild Rice?
Like brown rice, wild rice takes longer to cook than regular rice and you need to allow for about 40 minutes of cooking time.  It also takes more water. Three cups water to one cup of rice.
One cup of uncooked wild rice will yield between 3 and 4 cups of cooked rice.
Rinse rice in cold water before cooking.
I prefer to boil wild rice which is the traditional way of doing it.  Bring a pan of water to a boil and add 1/2 tsp of salt and rice.  Cover pan and turn down to a simmer and cook for 40 minutes.  Not all the water will evaporate so drain the rice with a colander
In addition to using it in soup, wild rice can be used as a side dish, served warm or cold. 

Why is wild rice so expensive?
Wild rice is significantly more expensive than white or brown rice. The reason is, it has to be gathered by hand thus making the process more involved and expensive. Wild rice is actually the seed of an aquatic grass that grows wild in the waters of Minnesota, Wisconsin, and Canada.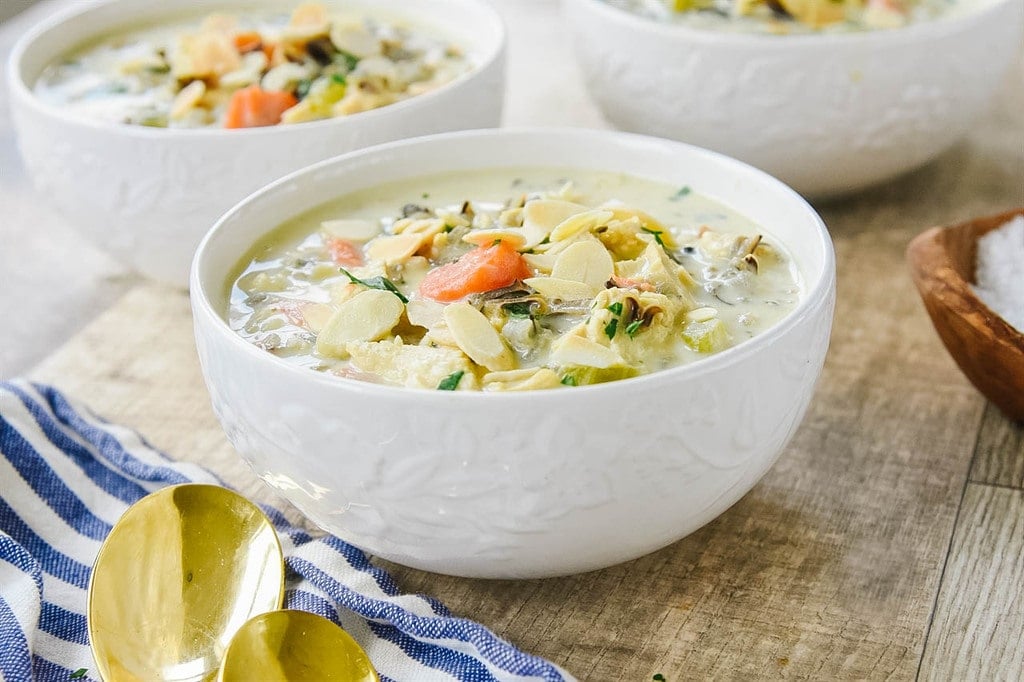 Wild rice has a nutty flavor and a chewy texture and I love the addition of it in soup. I have also added sliced almonds to the chicken wild rice soup because I love the additional texture that it adds. And I always add a few more to the top as garnish, for good measure.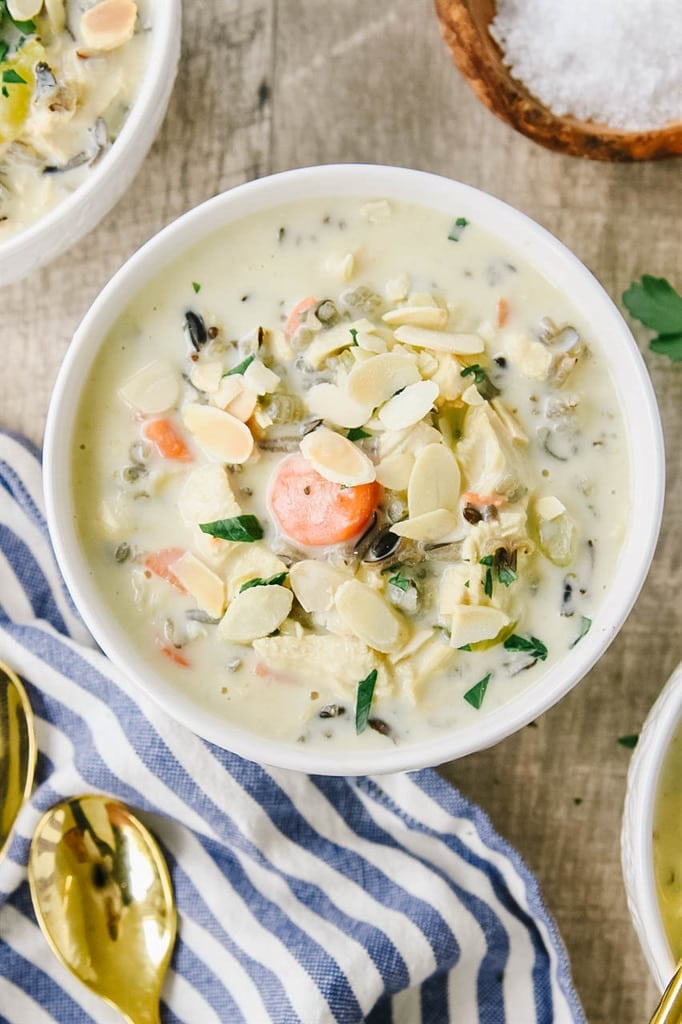 Other favorite chicken recipes:
Chicken and While Rice Soup Recipe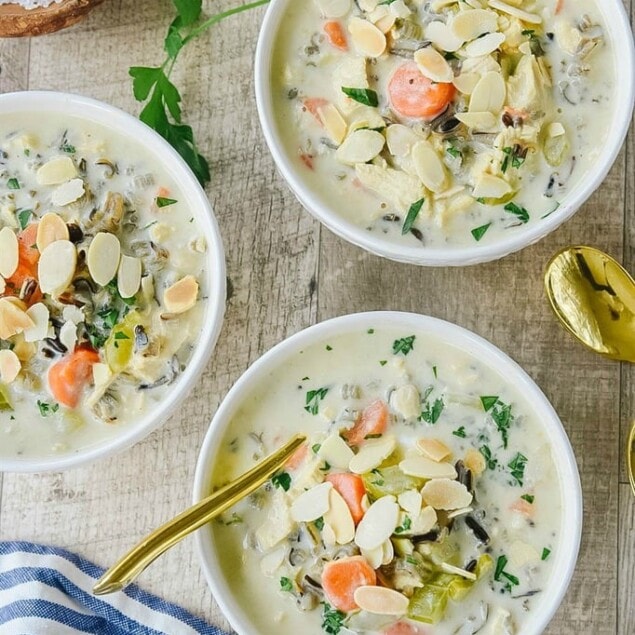 Chicken and Wild Rice Soup
Creamy and full of flavor, chicken and wild rice soup makes a perfect family meal on a cold night.
Ingredients
2 skinless boneless chicken breasts, cooked and cubed (seasoned with salt, pepper and oregano before cooking)
2 Tbsp. olive oil
1/2 finely chopped onion
1/2 C chopped celery
1/2 C sliced carrots
3/4 C all purpose flour
8 C chicken broth
2 C cooked wild rice cook according to package instructions
1/2 tsp garlic salt
1 tsp curry powder
1/2 tsp mustard powder
1 tsp dried parsley
1/2 tsp black pepper
1 C slivered almonds
2 C half and half
Instructions
Pour olive in sauce pan and saute onion, celery and carrots for about 5 minutes.

Add in the flour and stir well.

Gradually pour in broth and stir constantly. Bring to a boil, reduce to simmer.

Add the cooked rice, cooked chicken, garlic salt, curry powder, mustard powder, parsley, black pepper and almonds.

Heat through and then pour in half an half.

Let simmer about 1 hour. Do not let it come to a boil.

Garnish top of soup with additional almonds if desired.
Nutrition Facts:
Calories: 261kcal (13%) Carbohydrates: 20g (7%) Protein: 11g (22%) Fat: 15g (23%) Saturated Fat: 4g (25%) Cholesterol: 39mg (13%) Sodium: 854mg (37%) Potassium: 429mg (12%) Fiber: 2g (8%) Sugar: 1g (1%) Vitamin A: 1270IU (25%) Vitamin C: 14.5mg (18%) Calcium: 99mg (10%) Iron: 1.7mg (9%)
* Disclaimer: All nutrition information are estimates only. Read full disclosure here.