The Harvest Bowl Salad is Full of Delicious Fall Flavors
Looking for a new yummy fall salad?  This Harvest Bowl Salad has it all – great texture, flavor and color.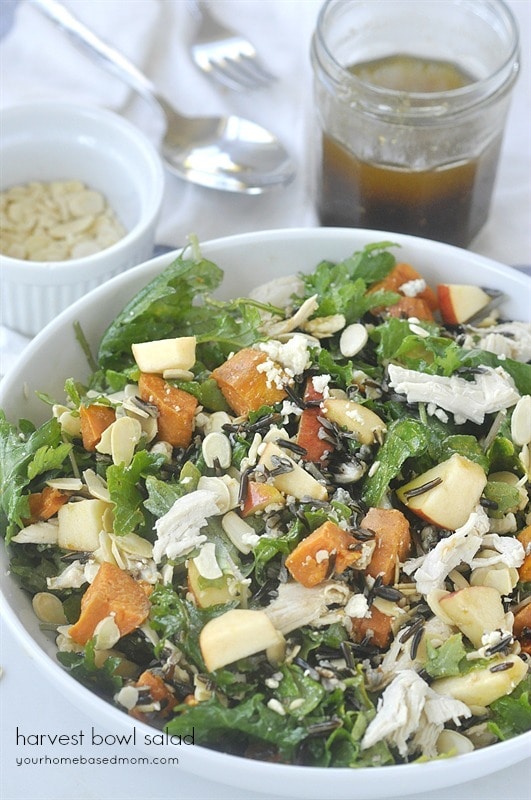 Over Memorial Day weekend this year my husband and I made a trip to visit our youngest daughter in New York City.  I just realized I haven't posted about all the fun places we ate and visited on that trip yet!!   I did share all the yummy NY ice cream spots we ate while we were there here.
One of the places we ate while we were there, and one of my daughter's favorite spots to eat is SweetGreen .  It is one of those restaurants that you feel healthier just walking into the place.  They make simple, seasonal, healthy salads and grain bowls to order, in-house from scratch, using whole produce delivered that morning. Fresh, fresh, fresh!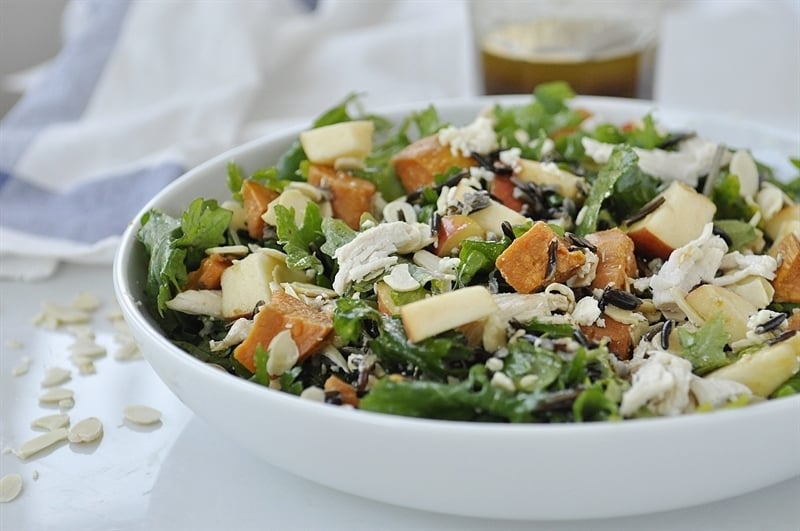 One of the salads that is a favorite is their Harvest Bowl.  It is what my daughter gets everytime this time of year and it is the perfect fall salad.  It is a combination of kale, sweet potatoes, wild rice, apples, almonds and gorgonzola.  They actually use goat cheese in the restaurant but I'm not a fan so I used gorgonzola instead.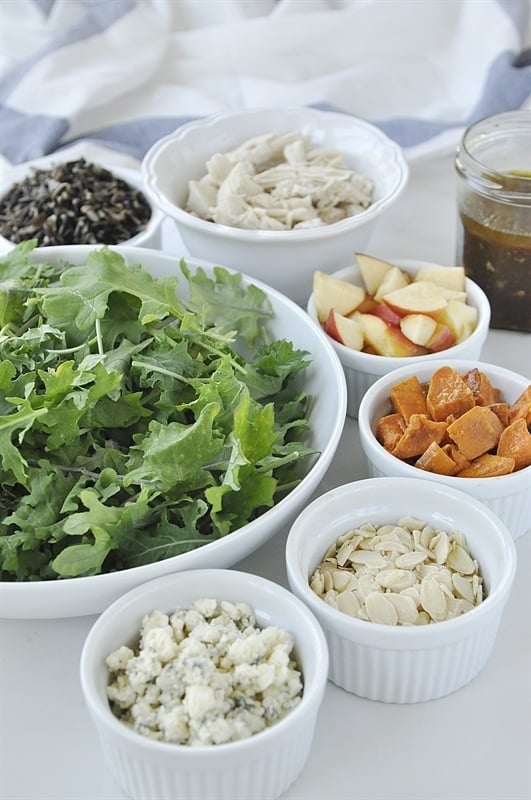 It is all mixed together and then dressed with a balsamic vinaigrette.  I used my favorite balsamic vinaigrette recipe.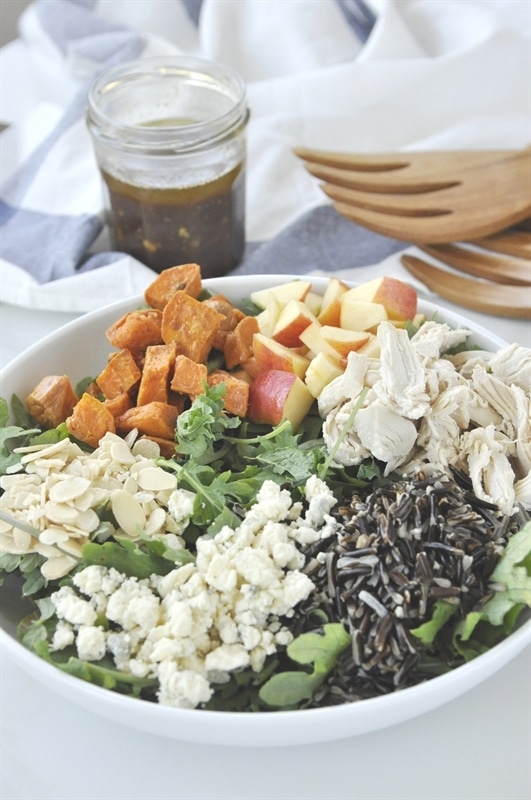 How to prepare a Harvest Bowl
Because there is a little prep work with the sweet potatotes, wild rice and chicken I recommend making up a big batch of each of them at the beginning of the week and then you can enjoy this salad all week long!
I just roasted my sweet potatoes in a little olive oil and salt and pepper, cooked some chicken and shredded it or you can use the slow cooker shredded chicken and made a batch of wild rice.  You could also easily sub quinoa if you prefer.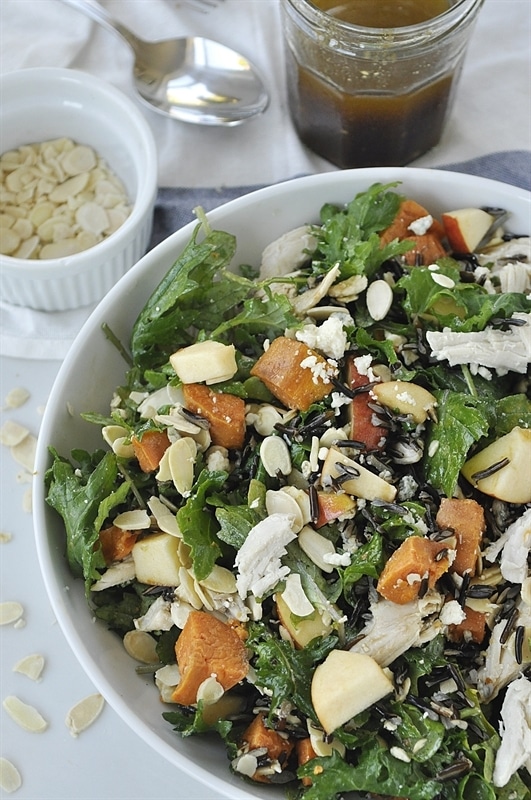 This salad is so good!  I am going to be making it over and over again this fall.  It works as a main dish or a side dish and I feel so healthy, just looking at it!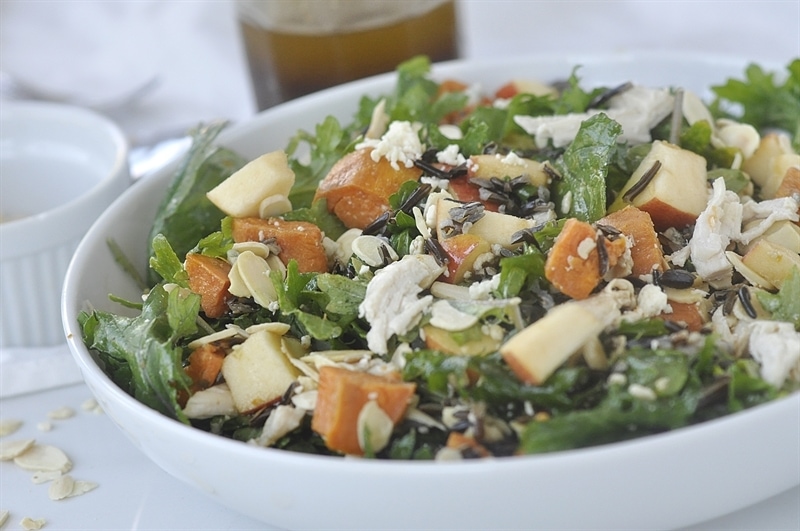 Harvest Bowl Recipe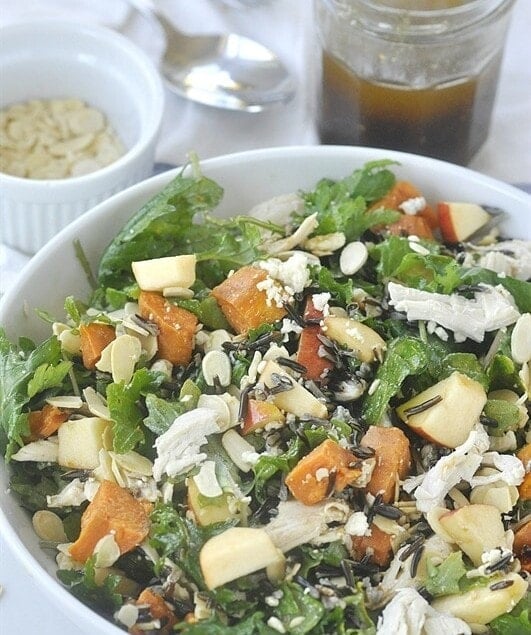 Harvest Bowl Salad
Ingredients
1 bag of baby kale
1 - 2 cups of wild rice cooked (cook according to directions on package)
1 large sweet potato peeled, cubed and roasted
1/2 cup toasted slivered almonds
1/2 cup gorgonzola cheese
1 -2 apples diced
1 chicken breast cooked and shredded
Balsamic Vinaigrette
Instructions
Combine all ingredients except dressing in a bowl.

Add dressing and stir to coat.
Sweet Potatoes
To roast sweet potatoes, lightly coat cubed potatoes in olive oil and sprinkle with salt and pepper. Roast in a 400 degree F oven until soft. Turn several times.