This In-n-Out Burger copycat version may just be better than the real thing!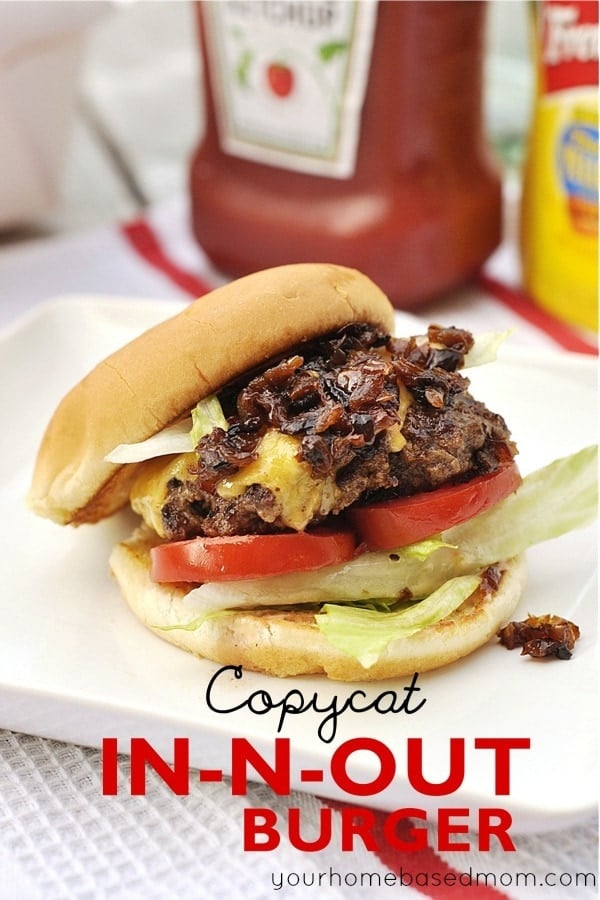 For more pretty & delicious be sure and follow me on Instagram.  You can follow me here and here.
I grew up with a mother who was born and bred in California and thus a huge fan of In-N-Out Burgers.  I on the other hand was born in California but raised in Wisconsin, a state with no In-N-Out within a 1,000 miles or more.  It wasn't actually until I was an adult myself and on a trip to California that I experienced my first In-N-Out burger.  If my mother ever took me as a child I don't remember.  From that time forward anytime I am in a state with an In-N-Out (California,Nevada, Utah and Texas) my internal hamburger radar manages to find one and I partake.
Several years ago I was in California with a friend from back East who had never experienced In-N-Out so I was able to introduce her and share her first In-N-Out experience with her – we are now bonded for life.
Given the fact that I live in Oregon and the closest In-N-Out is in another state I was pretty excited when I ran across a copycat recipe for an In-n-Out burger in the Food Network Magazine.
Now, I know there are those of you out there that don't think In-N- Out is so great and I respect that but for you fellow In-N-Out fans, today's post is for you!
I have no idea if this is how they really make their burgers but it is a good burger.  In fact, my husband thought it was better than In-N-Out.
You start with the secret sauce – a combination of mayo, ketchup, pickle relish and a little white vinegar
.

You must have the sauce. I use to order my burger without the sauce because I can be a bit of a plain jane. For years I ordered my burgers "dry" – that means only meat and the bun. Yes, I know, boring. But once I tried the sauce, I have never gone back!
Next I made the caramelized onions that go on top – unfortunately my photos for that got deleted – oops!  Finely chop your onion and then cook them in vegetable oil.  Cover them and allow them to cook slow for about 30 minutes until they are golden and soft.  Watch your heat and don't let them burn.  Uncover them once they h ave started to brown and caramelize and cook for about 5 more minutes.  Add in 1/2 C water and simmer until the water evaporates.  These can be made ahead of time and set aside.
Next you will want to toast your buns.  This is one of the things I love about an In-N- Out Burger – the buns are toasted.  Heat up your electric griddle
 and brush it lightly with some vegetable oil.  Place your buns split side down on the griddle

and toast until golden brown.
Then spread a tablespoon of the special sauce on the bottom bun.


Set these aside and it's time to cook the burgers.  The recipe calls for ground beef chuck (at least 60% lean)  This is different than regular ground beef.


I made my patties thicker than In-N-Out does so if you want a more authentic experience, make then thinner.
Add a sprinkle of salt and pepper to both sides.


Place your patties on your hot griddle (these hamburgers are not put on a BBQ grill) Cook for 3-5 minutes, depending on the thickness of your patty and your desired doneness. Spread the patty with 1 1/2 tsp of mustard on the uncooked side and then flip.


Top the cooked side with a slice of cheese. In-N-Out uses American cheese and I just couldn't bring myself to do that so I used Tillamook Cheddar Cheese. You decide how authentic you want to be.


Cook to your desired doneness.
Top the buns you have set aside with lettuce and tomato. Add the hamburger patty and top that with your caramelized onions.


Total Goodness!


For a more complete experience you can even put it into a little paper container and pretend you are in California eating the real thing.

Yea, I'm a happy camper!  In-N-Out whenever I want. Maybe you could even eat it sitting in your car.
For some other yummy burger recipes check out these:

In-N-Out Burger Copycat Recipe
Ingredients
2

Tbsp

vegetable oil and more for brushing griddle

2

large onions

finely chopped

salt

1/4

C

mayo

2

Tbsp

ketchup

1

Tbsp

sweet pickle relish

1/2

tsp

white vinegar

1 1/2

tsp

mustard

2

lbs.

ground chuck

60%

4

hamburger buns

pickles

I left off

1

C

shredded iceberg lettuce

4-8

slices

of tomato

pepper

8

slices

of American cheese

I used cheddar
Instructions
Heat oil in pan and add onions.

Cook onions covered, over medium heat for 30 minutes or until onions begin to turn golden brown and caramelize. Watch them so they don't burn.

Remove lid and cook for 5 more minutes and then add 1/2 C water. Allow water to evaporate.

Set aside, onions can be made several days ahead of time and refrigerated.

Mix together the mayo, ketchup, relish and vinegar in a bowl and set aside.

Form meat into 8 patties about 4 inches wide and 1/2 inch thick.

Heat griddle and lightly brush with vegetable oil.

Toast the buns on the griddle, split side down.

After they are toasted golden brown spread the bottom bun with 1 Tbsp of the mayo mixture.

Top with tomato and lettuce.

Salt and pepper both sides of hamburger patties and cook on the griddle for 3-5 minutes.

Spread top of patty with 1 1/2 tsps mustard and flip.

Top patty with cheese and allow to cook until desired doneness.

Add hamburger to bun and top with caramelized onion.
Nutrition Facts
In-N-Out Burger Copycat Recipe
Amount Per Serving (8 g)
Calories 0
* Percent Daily Values are based on a 2000 calorie diet.

Get my Weekly Menu Plan for FREE!
Receive my FREE "What's for Dinner?" Meal Planning Course, a copy of my FREE ebook that includes my most popular recipes and my FREE weekly Meal Plan.