This copycat In N Out Burger recipe may just be better than the real thing! Give it a try and see!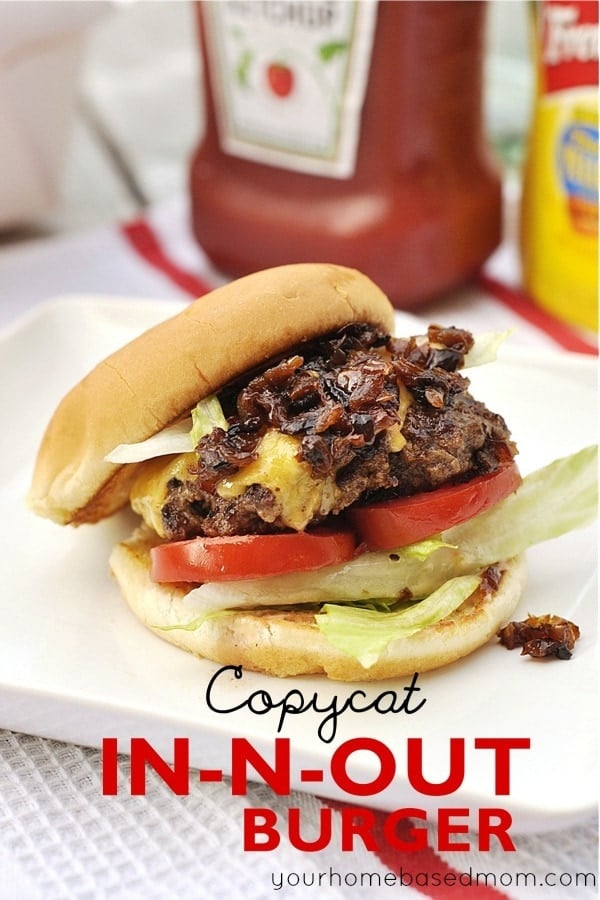 What is In N Out?
I grew up with a mother who was born and bred in California and thus a huge fan of In-N-Out Burgers.  I was raised in Wisconsin, a state with no In-N-Out within a 1,000 miles or more.  It wasn't until I was an adult myself on a trip to the west coast that I experienced my first In-N-Out burger.  From that time forward anytime I am in a state with an In-N-Out, my internal hamburger radar manages to find one.
Given the fact that I live in Oregon I was pretty excited when I ran across a copycat recipe.  Now, I know there are those of you out there that don't think In-N-Out is so great and I respect that but for you fellow fans, today's post is for you.  I have no idea if this is how they really make their burgers but it is a good burger.  In fact, my husband thought it was better than the real thing.
Ingredients Needed
Hamburger. The restaurant uses fresh beef chuck (at least 60 percent lean), no frozen meat. I have used an 80/20 hamburger blend also.
Buns. Must be buttered and toasted. This is one of things that makes this burger so good.
Cheese. The restaurant uses American cheese but I have substituted Cheddar Cheese.
Lettuce. Iceberg Lettuce torn into pieces.
Pickles. I always leave them off but if you are a pickle lover use dill pickles.
Salt and Pepper
Tomato. Fresh, sliced tomato
Onions. One of my favorite parts of the burger. You are going to caramelize them in some oil!
Special Sauce. See recipe below.
Yellow Mustard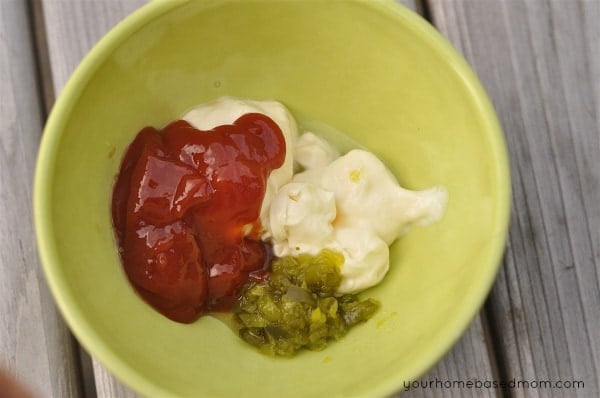 The first thing that makes the burger unique is the special sauce.
In N Out Burger Special Sauce Ingredients
One of the most important parts of an In N Out burger is the Special Sauce!  It is so easy to make and so delicious that you will want to add it to all of your burgers!  It is a combination of:
Mayonnaise
Ketchup
Sweet Pickle Relish
White vinegar
How to caramelize onions
The caramelized onions are an important part of an In n Out Burger!
Finely chop your onion and add into a frying pan with oil. Stir and saute for a few minutes.
Cover them and allow them to cook slow for about 30 minutes until they are golden and soft. Watch your heat and don't let them burn.
Uncover them once they have started to brown and caramelize and cook for about 5 more minutes uncovered.
Add in 1/2 C water and simmer until the water evaporates.
These can be made ahead of time and set aside.
How to Make a Copycat In N Out Burger
After you have your In-N-Out Sauce made and your onions caramelized, it is time to start on the other ingredients to make the perfect Copycat In-N-Out burger!
Toast the Buns.  This is one of the things I love about an In-N- Out Burger!  Heat up your electric griddle and brush it lightly with some vegetable oil.  Place your buns split side down on the griddle and toast until golden brown.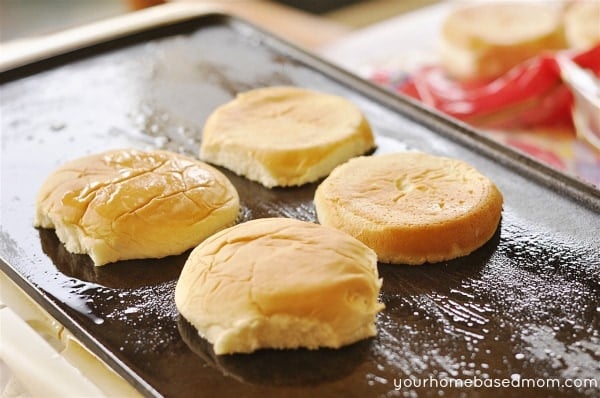 Form your hamburger patties.  I made my patties thicker than In-N-Out, but you can make them thinner for a more authentic experience.  Add a sprinkle of salt and pepper to both sides.
Place your patties on your hot griddle (these hamburgers are not put on a BBQ grill)
Cook for 3-5 minutes, depending on the thickness of your patty and your desired doneness.
Spread the patty with 1 1/2 tsp of mustard on the uncooked side and then flip.
Top the cooked side with a slice of cheese. In-N-Out uses American cheese but I used a nice slice of cheddar.  Again, make it with the cheese you love, or use American for an authentic In-N-Out burger!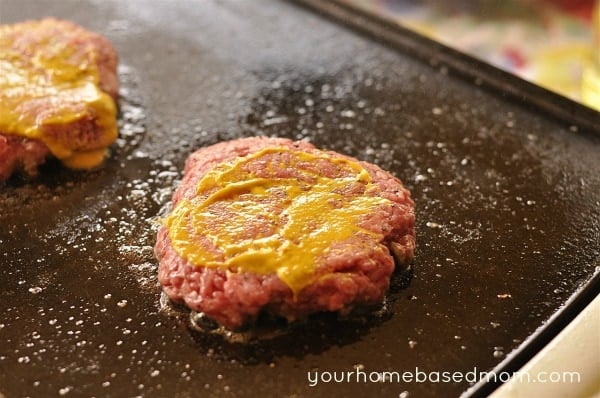 Assemble your Burger
After cooking to your desired doneness you are ready to assemble your burger
Spread some of the burger sauce on your bun.
Add lettuce, tomato, hamburger patty and caramelized onions.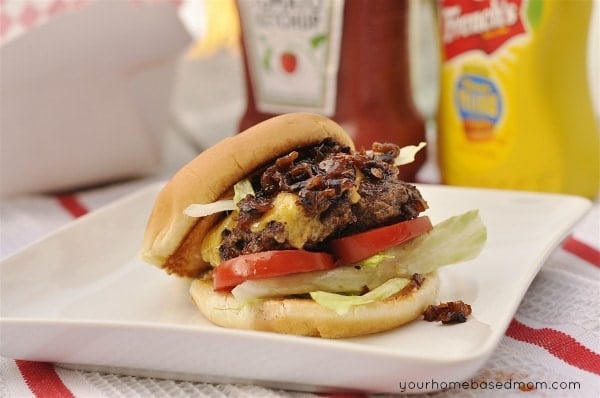 For a more complete experience you can even put it into a little paper container and pretend you are in California eating the real thing! But checkered paper or not, it will taste like you are there!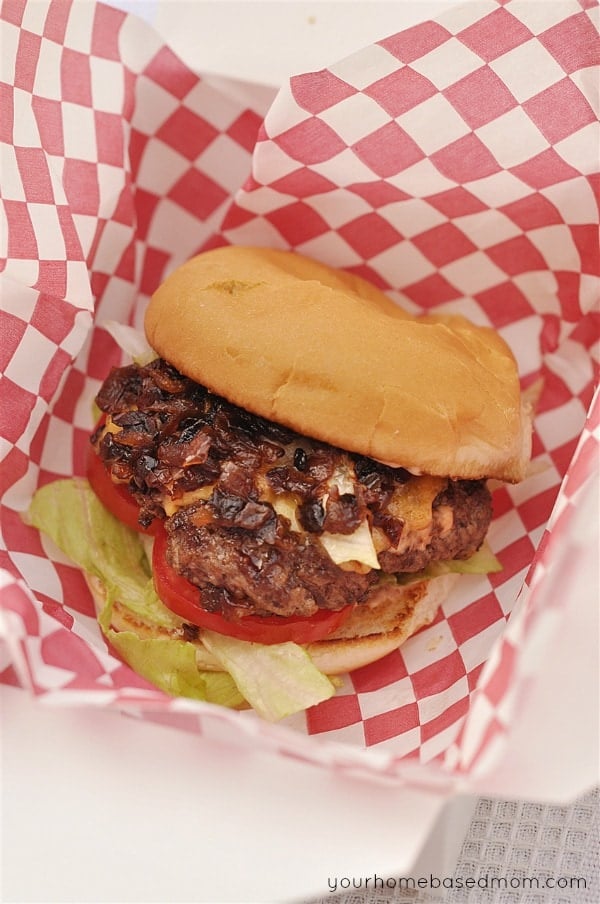 Frequently Asked Questions
For more delicious burgers try these:
Can I grill the hamburger?
The burger will have a different flavor to it if you grill it. The In n Out burger is cooked on a griddle. If you want a more authentic flavor, use a griddle.
What kind of hamburger should I use?
The recipe calls for ground beef chuck (at least 60% lean)  This is different than regular ground beef. 
If you can't find beef chuck use a 70/30 or 80/20 ground hamburger.
What is Animal Style Double Double?
A popular order at In N Out is the Animal Style Double Double. It has two beef patties, two slices of cheese, special sauce, pickles, tomatoes, lettuce, and caramelized onions, on a toasted bun.
Be sure and follow me over on You Tube for weekly cooking demos.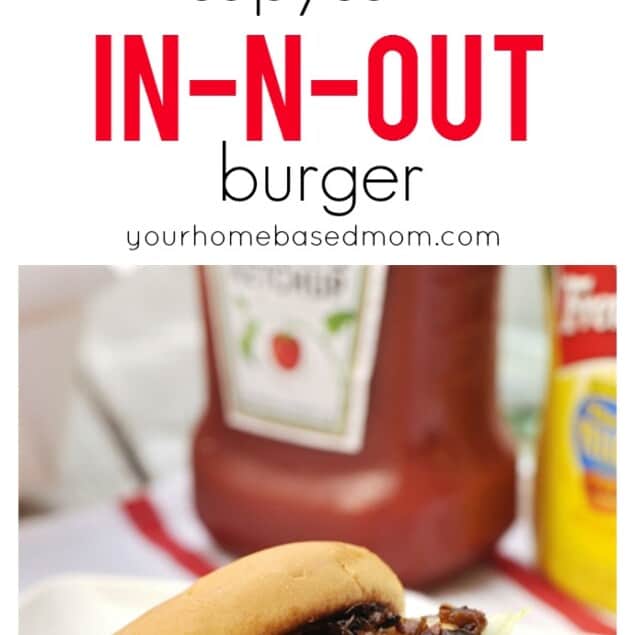 Copycat In-N-Out Burger Recipe
A copycat In N Out Burger Recipe so good, it might be better than the real deal.
Ingredients
2 Tbsp vegetable oil and more for brushing griddle
2 large onions finely chopped
salt
1/4 cup mayo
2 Tbsp ketchup
1 Tbsp sweet pickle relish
1/2 tsp white vinegar
1 1/2 tsp mustard
2 lbs. ground chuck 60%
4 hamburger buns
dill pickles I left off
1 cup iceberg lettuce bun size pieces
4-8 slices tomato
pepper
8 slices American cheese I used cheddar
Instructions
Heat oil in pan and add onions.

Cook onions covered, over medium heat for 30 minutes or until onions begin to turn golden brown and caramelize. Watch them so they don't burn.

Remove lid and cook for 5 more minutes and then add 1/2 C water. Allow water to evaporate.

Set aside, onions can be made several days ahead of time and refrigerated.

Mix together the mayo, ketchup, relish and vinegar in a bowl and set aside.

Form meat into 8 patties about 4 inches wide and 1/2 inch thick.

Heat griddle and lightly brush with vegetable oil.

Toast the buns on the griddle, split side down.

After they are toasted golden brown spread the bottom bun with 1 Tbsp of the mayo mixture.

Top with tomato and lettuce.

Salt and pepper both sides of hamburger patties and cook on the griddle for 3-5 minutes.

Spread top of patty with 1 1/2 tsps mustard and flip.

Top patty with cheese and allow to cook until desired doneness.

Add hamburger to bun and top with caramelized onion.
Nutrition Facts:
Serving: 8g Calories: 524kcal (26%) Carbohydrates: 16g (5%) Protein: 26g (52%) Fat: 38g (58%) Saturated Fat: 16g (100%) Cholesterol: 104mg (35%) Sodium: 645mg (28%) Potassium: 459mg (13%) Fiber: 1g (4%) Sugar: 5g (6%) Vitamin A: 400IU (8%) Vitamin C: 4.6mg (6%) Calcium: 286mg (29%) Iron: 3.2mg (18%)
* Disclaimer: All nutrition information are estimates only. Read full disclosure here.