These quick and easy breadsticks start with frozen bread dough to create a not to be forgotten breadstick covered in garlic, cheese and butter.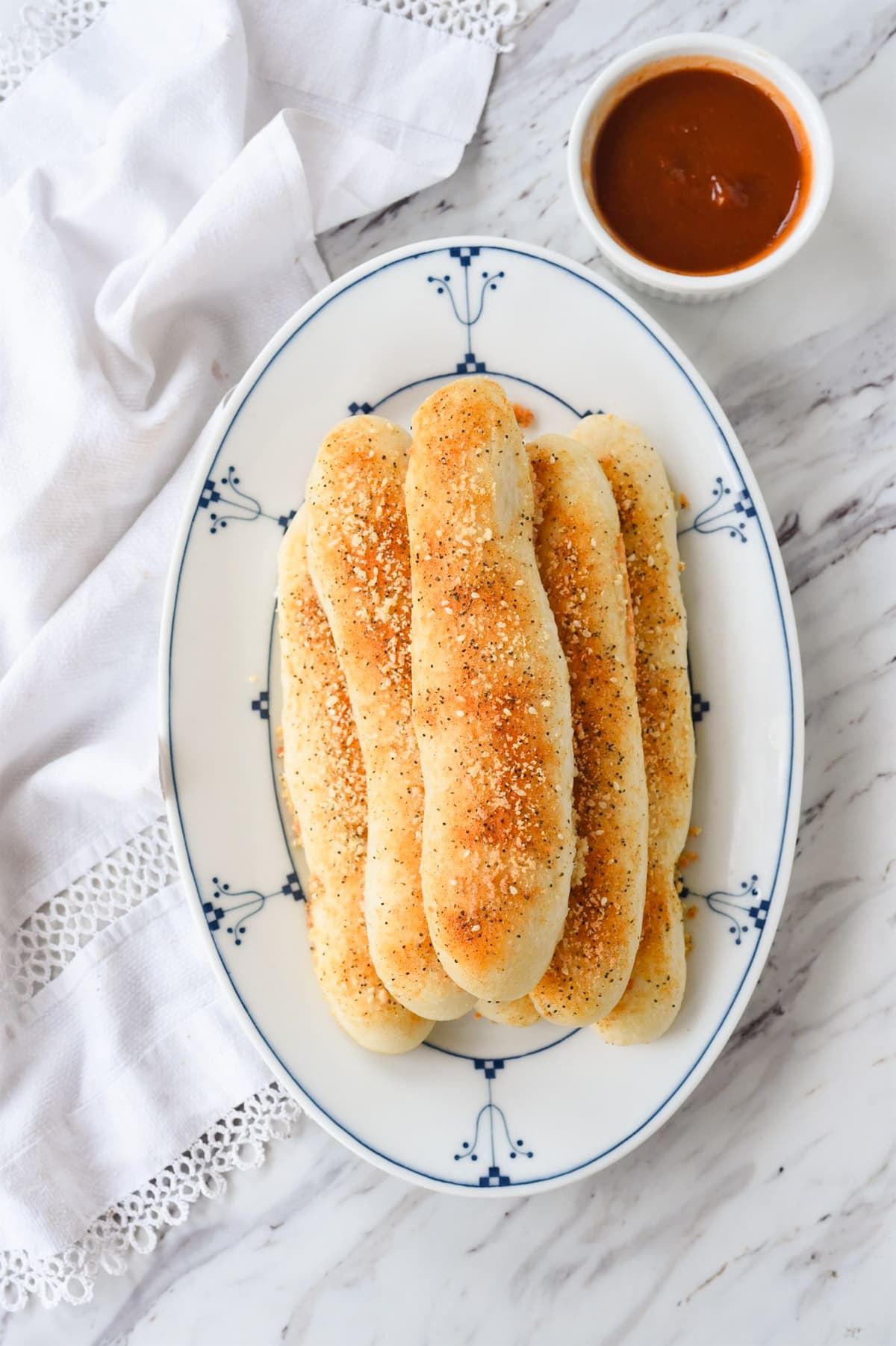 Why You Are Going to Love This Recipe!
I made them twice this week and they are so good I had to give part of the second batch of easy breadsticks away because I knew I would have no self control and eat them all. Jim delivered them to some friends in the neighborhood. We got a thank you email from the wife and another one from the husband telling us they were the best bread sticks ever! The husband requested the recipe!
Ingredients Needed
Frozen rolls. I use the Rhodes frozen dinner rolls.
Butter. I use salted butter but you can use unsalted if you prefer.
Parmesan Cheese. The grated or powdered form that comes in the green round container.
Seasoning. A combination of sesame seeds, paprika, salt, poppy seed, celery seed, garlic powder and black pepper.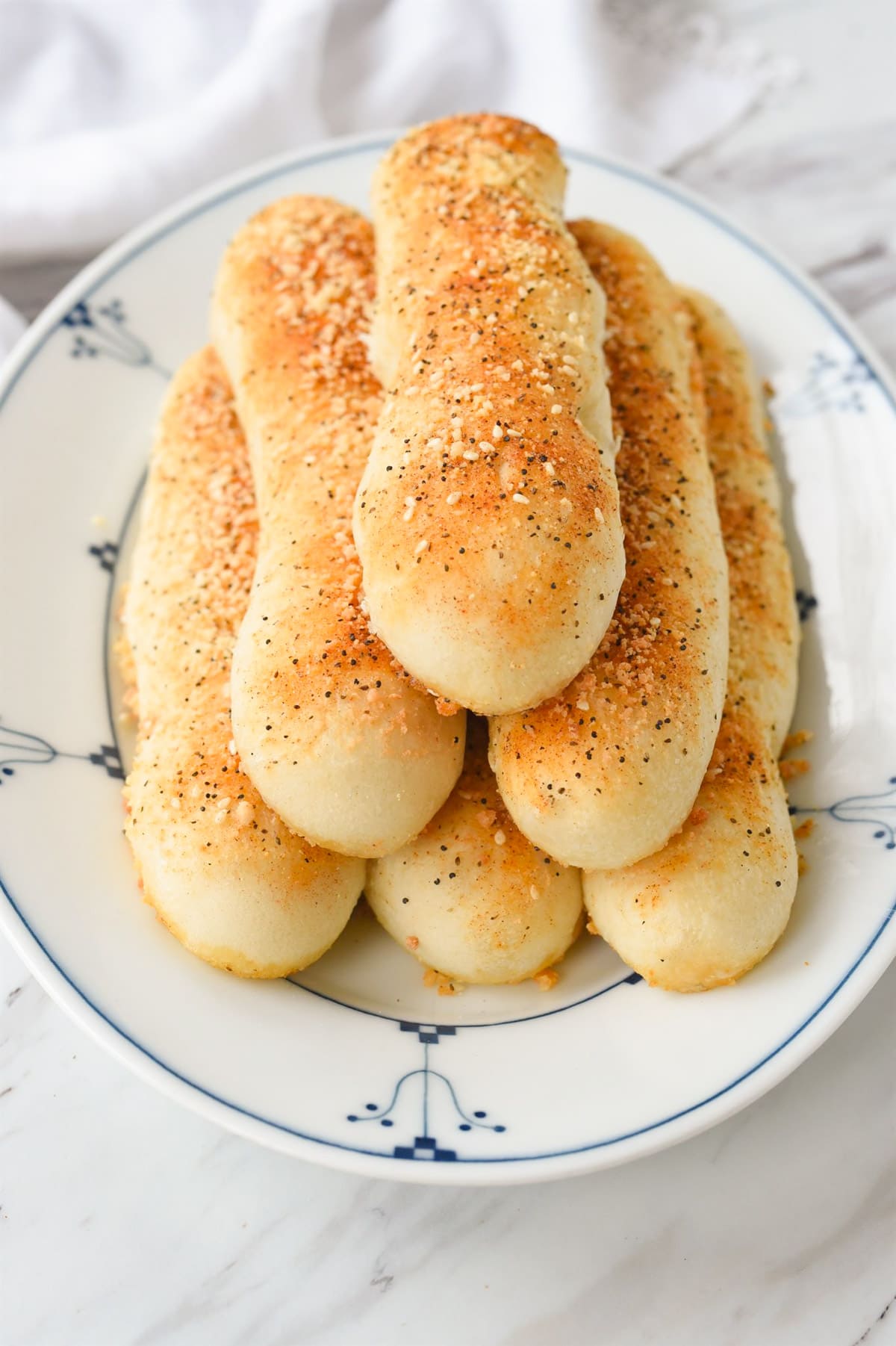 How to Make Easy Breadsticks
This recipe makes 12 homemade breadsticks but you can easily make less or make more. I can comfortably fit 12 breadsticks on my baking sheet.
Thaw 12 frozen rolls according to the directions on the package.
Melt 1/4 cup of butter and spread it onto the baking sheets.
Sprinkle powdered Parmesan cheese over butter, about 1/2 cup.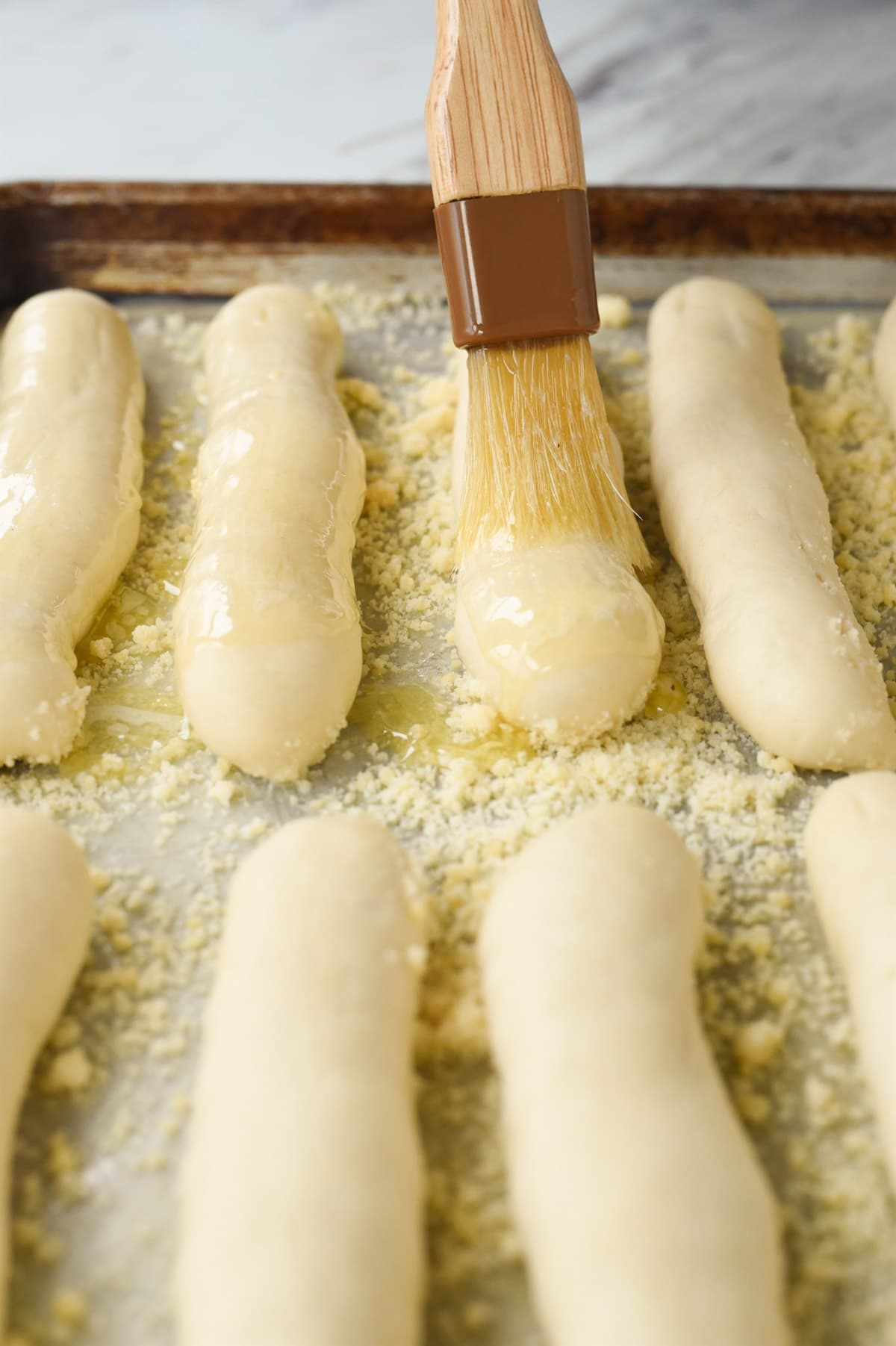 Form each roll into a breadstick, rolling it out to about 10 inches long, they will spring back to about 7-8 inches.
Lay the breadsticks on top of the butter and cheese., cover with a cloth and let them rise.
After they have doubled in size give them another brush of butter using remaining 1/4 cup of melted butter.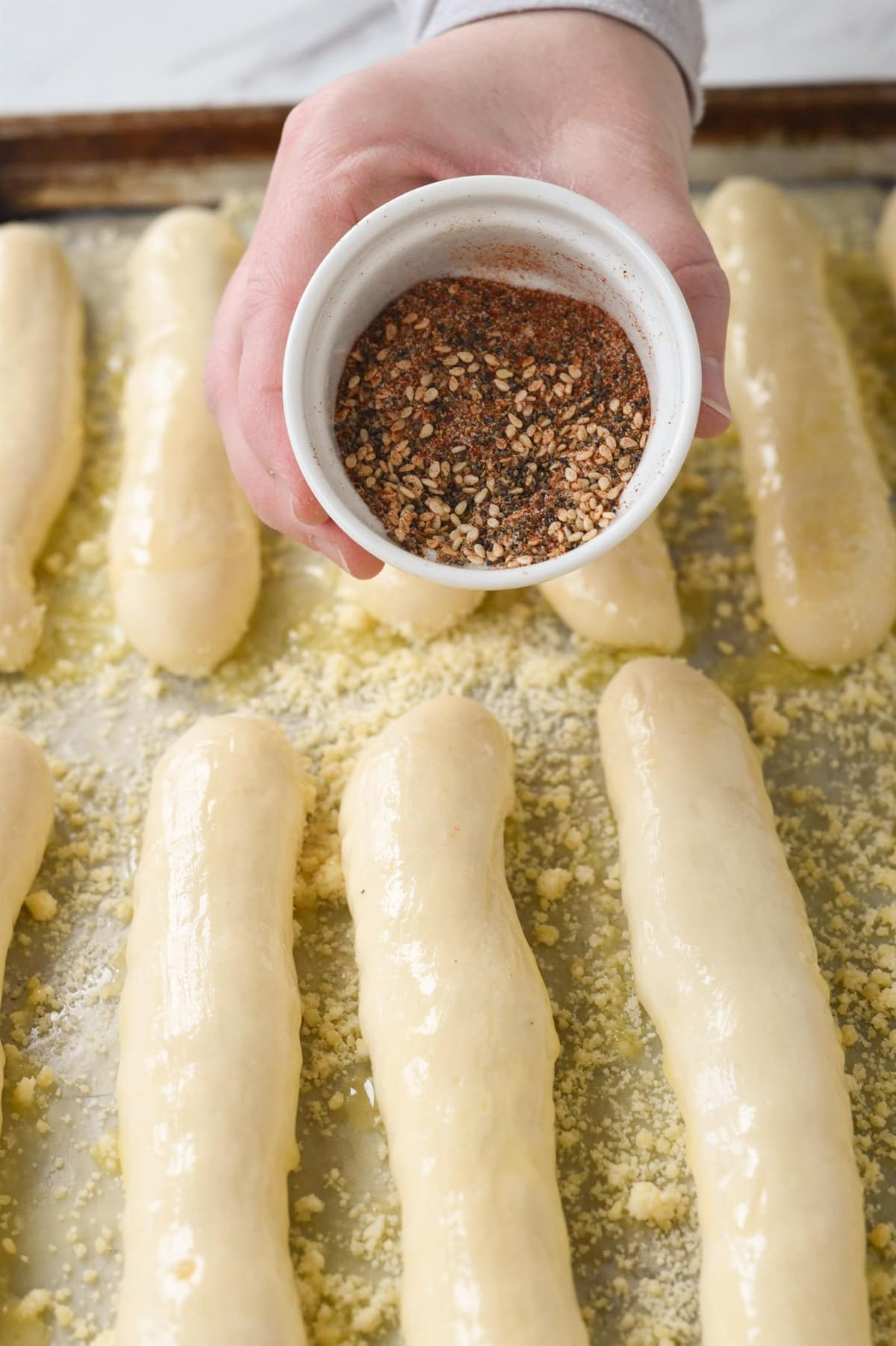 Sprinkle easy breadsticks with spice mixture.
Sprinkle with more Parmesan cheese.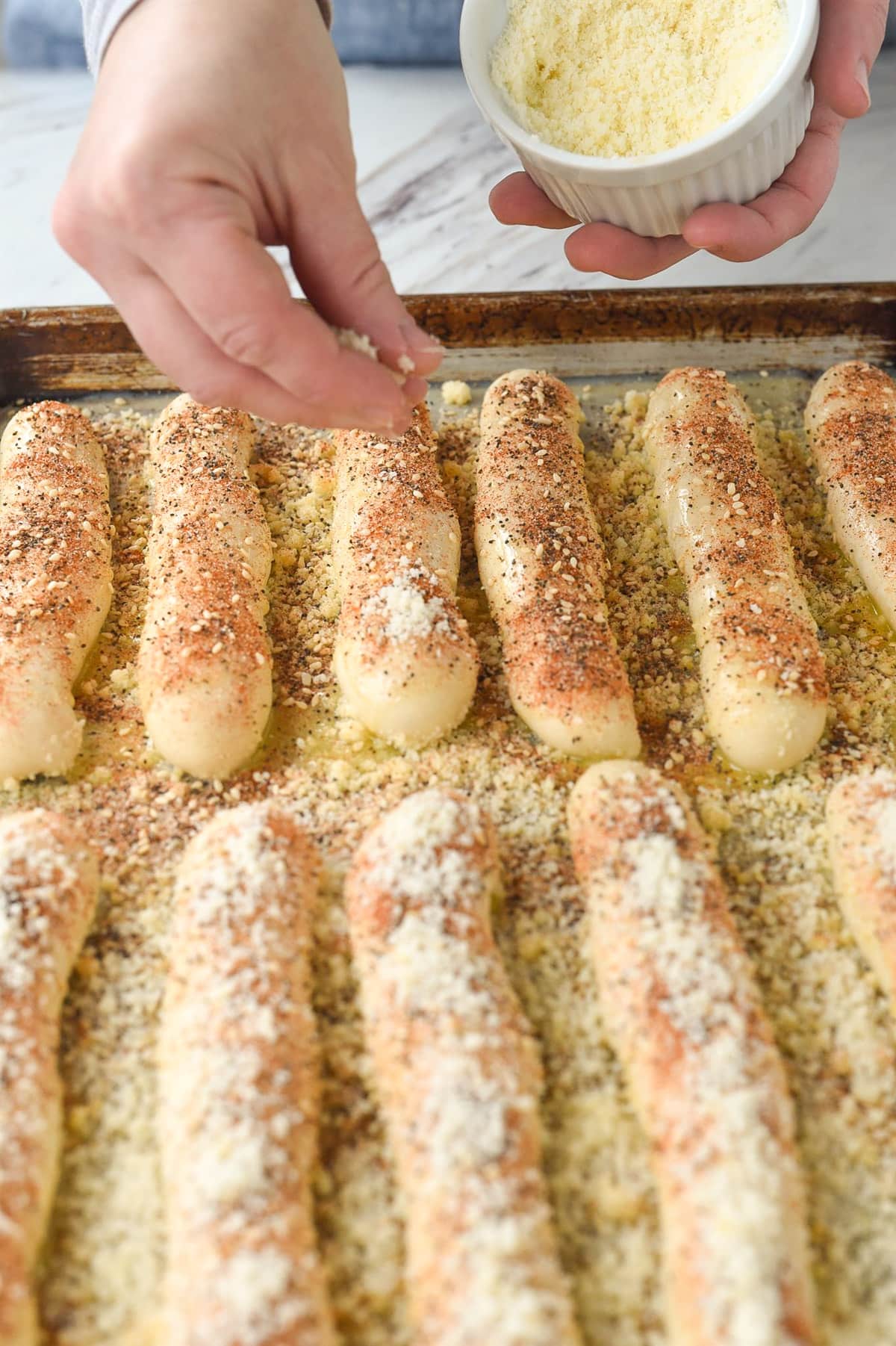 Bake in a 350 degree F oven and let them bake until they are golden brown. Just like this!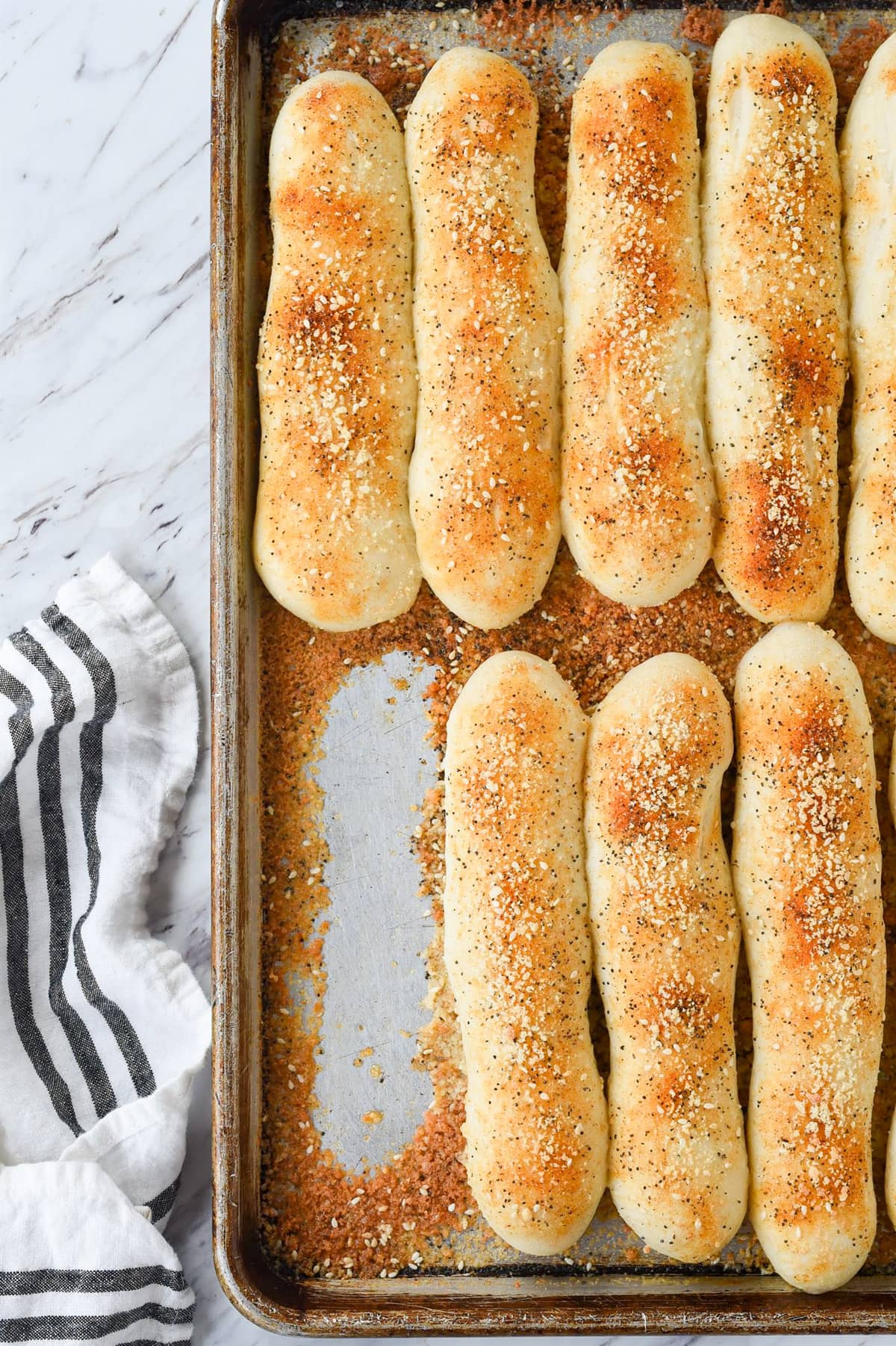 Tips from Leigh Anne
If you have leftover frozen rolls, try one of these recipes:
Frequently Asked Questions
Can I freeze these breadsticks?
To freeze the breadsticks, allow them to cool completely and then place in an airtight freezer bag. Remove as much air as possible from bag. They will keep in the freezer for 2-3 months. Allow to thaw at room temperature before reheating.
How do I reheat breadsticks?
Wrap them in foil and then put them into a 250 degree F oven for about 10 minutes. You can also microwave them for a few seconds.
Can I make my own dough instead of using frozen dough?
Absolutely, just use your favorite roll recipe. The frozen dinner rolls each weigh about 1.3 ounces each.
Can I use freshly grated Parmesan instead?
You can of course, but, I have also made these easy breadsticks with freshly grated Parmesan cheese and find that I like the powdered cheese better.
I don't have all those seasonings what else can I use?
To make it more simple, you can use some Italian seasoning along with some garlic salt but the flavor will differ. I really love the combination of the sesame seeds and poppy seeds together.
My favorite way to serve Easy Breadsticks is with a bowl of marinara sauce for dipping.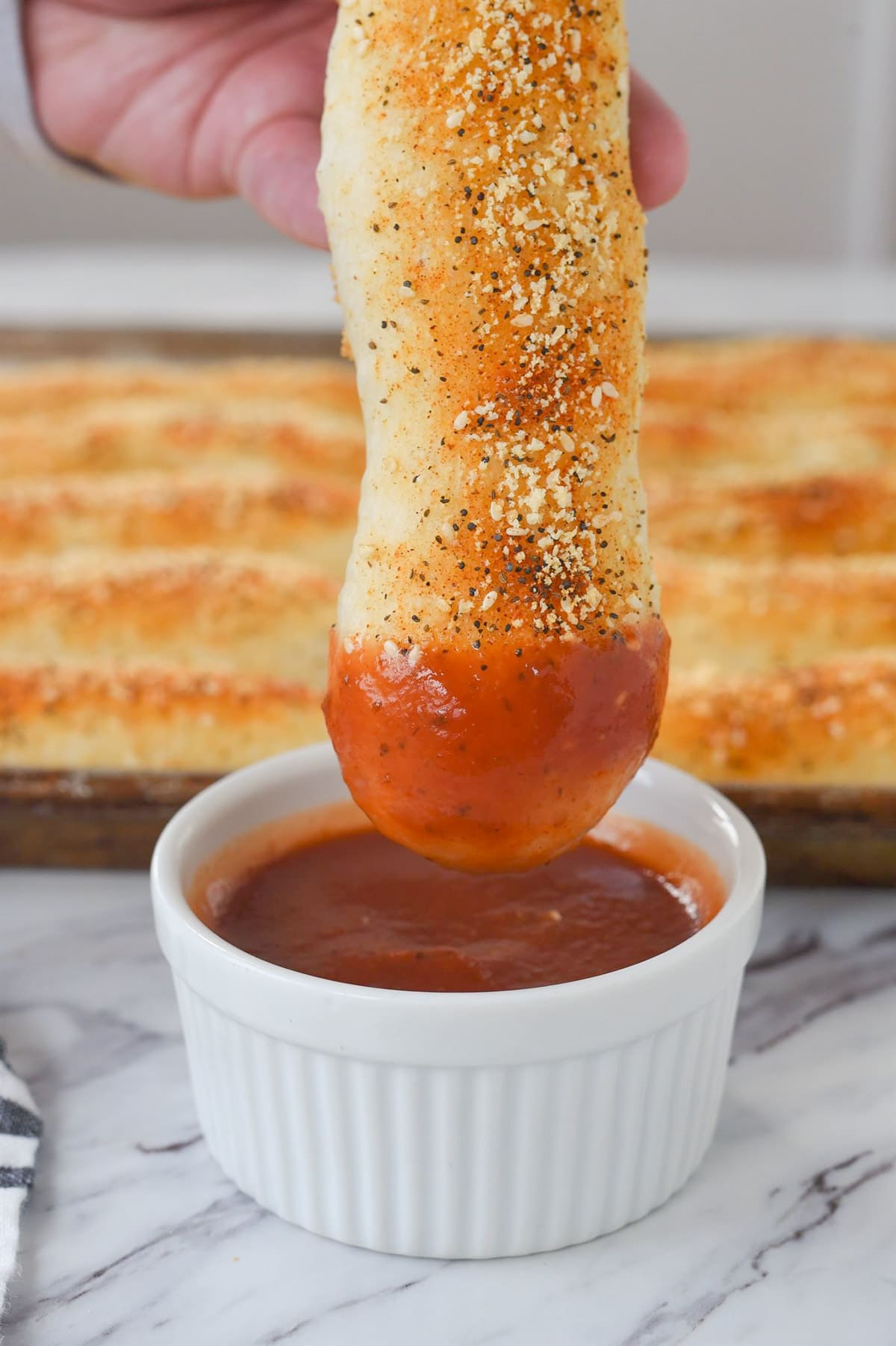 Pair Easy Breadsticks with
For more yummy breadstick recipes try these:
Be sure and follow me over on You Tube for weekly cooking demos.
Easy Breadsticks
These quick and easy breadsticks start with frozen bread dough to create a not to be forgotten breadstick covered in garlic, cheese and butter – delicious!
Ingredients
12 frozen rolls
1/2 cup butter melted
1 cup Parmesan cheese grated or powdered
2 tsp sesame seeds
1 tsp paprika
¾ tsp salt
½ tsp poppy seed
½ tsp celery seed
¼ tsp garlic powder
¼ tsp coarse ground black pepper
Instructions
Thaw rolls at room temperature

Melt butter and spread half of it onto cookie sheet

Sprinkle 1/2 C cheese onto butter on cookie sheet

Shape each roll into a breadstick and place on cookie sheet on top of butter and cheese

Allow to rise until double in size

Using a pastry brush use the remaining melted butter on the breadsticks

Mix together seasonings and sprinkle over top of breadsticks

Sprinkle the breadsticks with the remaining 1/2 cup of cheese

Bake at 350 degrees for about 15 minutes.
Tips & Notes:
You can use freshly grated Parmesan cheese if you like but I found that I like the powdered cheese better. The breadsticks can be frozen for several months when stored in an airtight freezer bag.  Thaw at room temperature and rewarm in a 250 degree F. oven, wrap them loosely in foil.
Nutrition Facts:
Calories: 222kcal (11%) Carbohydrates: 20g (7%) Protein: 7g (14%) Fat: 13g (20%) Saturated Fat: 7g (44%) Cholesterol: 26mg (9%) Sodium: 572mg (25%) Potassium: 61mg (2%) Fiber: 2g (8%) Sugar: 1g (1%) Vitamin A: 384IU (8%) Calcium: 183mg (18%) Iron: 2mg (11%)
* Disclaimer: All nutrition information are estimates only. Read full disclosure here.