These Copycat Olive Garden Breadsticks are soft and fluffy on the inside just like the real deal. You can enjoy them whenever you want when you make them at home.
Breadsticks are he perfect accompaniment to so many meals but I think my favorite thing to serve them with is soup. They are perfect for dipping! This Pasta e Fagioli soup is also a copycat recipe and the bread sticks are perfect to serve with it. Another favorite soup to serve them with is this Sausage and Tortellini Soup that I've been making for years! And another great option is this Italian Sausage Soup.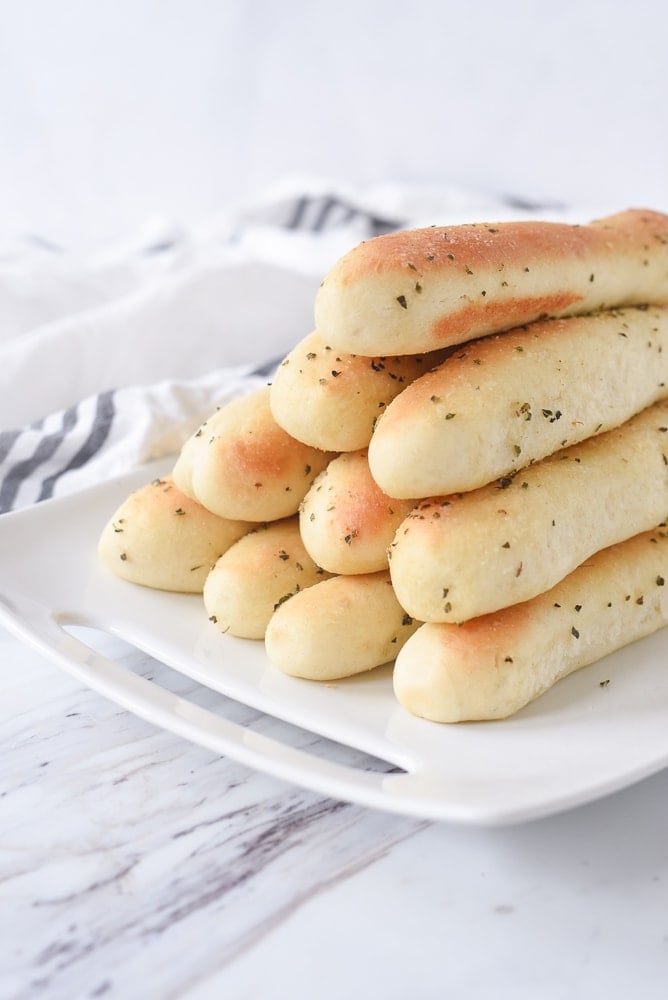 I was struggling yesterday, trying to figure out what to have for dinner. I hadn't done any meal planning for the week and that always makes for problems! Even for someone who puts out a weekly meal plan, meal planning can have its challenges! If you haven't signed up for my weekly meal plan yet – please do! It's free and if you just scroll down to the bottom of this recipe you can sign up and it really does help make life easier..
Go To Dinner Ideas
One of my go to meals is some kind of pasta. I often have some of my homemade meat sauce in the freezer and that is a family favorite. If don't have any sauce on hand I will often make this Herb Pasta or this Brown Butter Pasta because neither require any meat and I always have the ingredients in my pantry.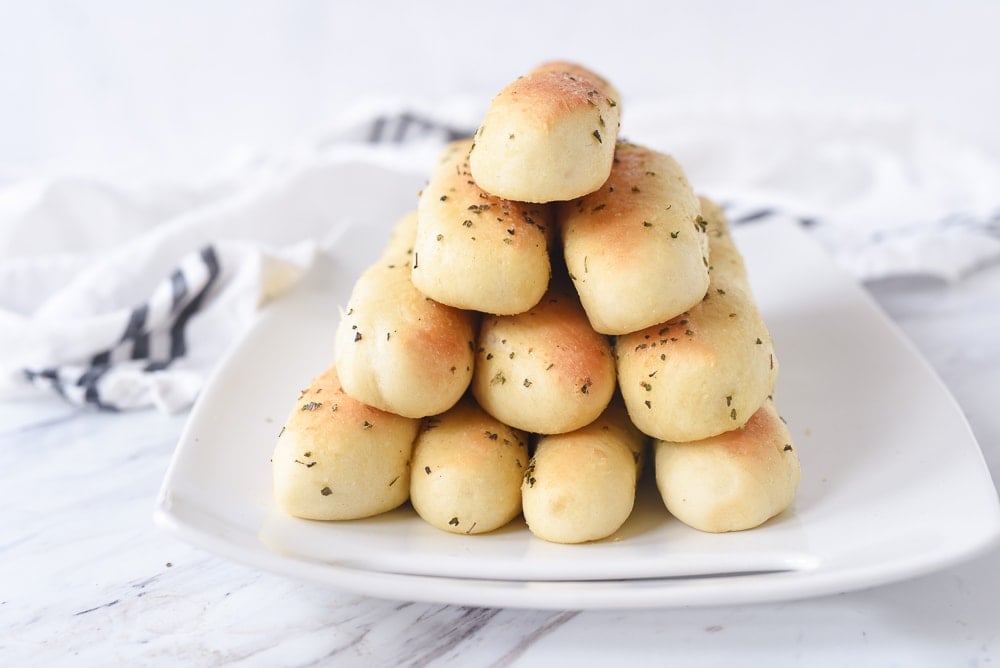 Copycat Olive Garden Bread Sticks
I did end up pulling some spaghetti meat sauce out of the freezer but decided to dress up the dinner a bit with a batch of homemade bread sticks. I have been experimenting with different bread stick recipes for over a year now. Trying to find just the right one. I have to admit I am a fan of those yummy bread sticks they serve at Olive Garden so when I came across a copycat recipe for Olive Garden bread sticks I had to try it.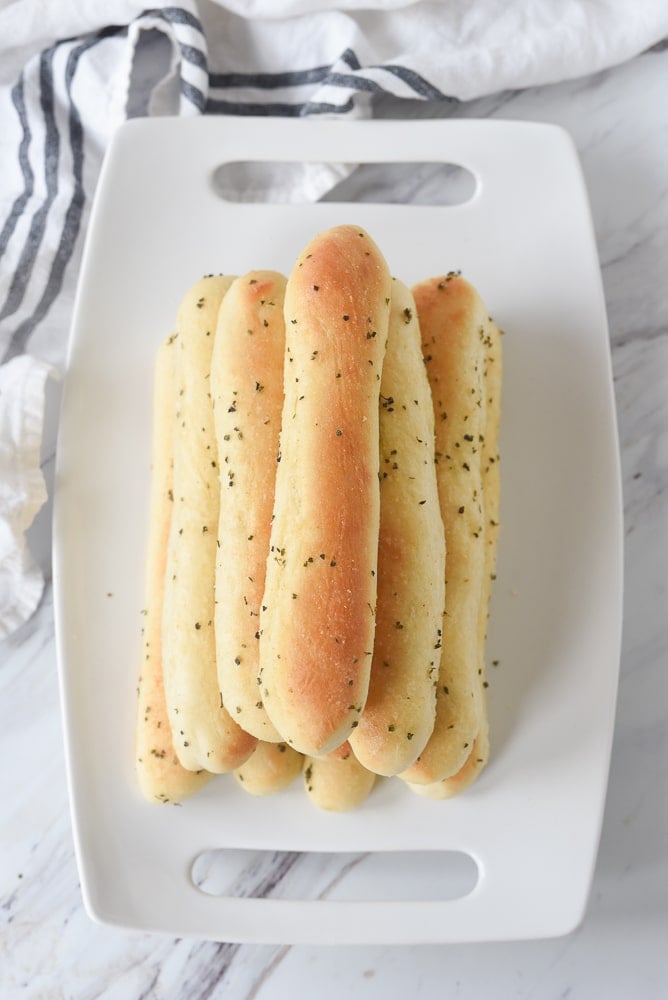 How to Make Olive Garden Bread Sticks
The recipe makes about 16 bread sticks which is too many for my reduced size family so last night I cut the recipe in half and it still worked great. Eight bread sticks was enough for dinner and a few for leftovers too.
Mix the dough in a stand mixer or by hand. Divide dough into two pieces and roll each piece into a foot long roll. The dough does not need to rise before doing this.
Cut each roll of dough into 8 pieces.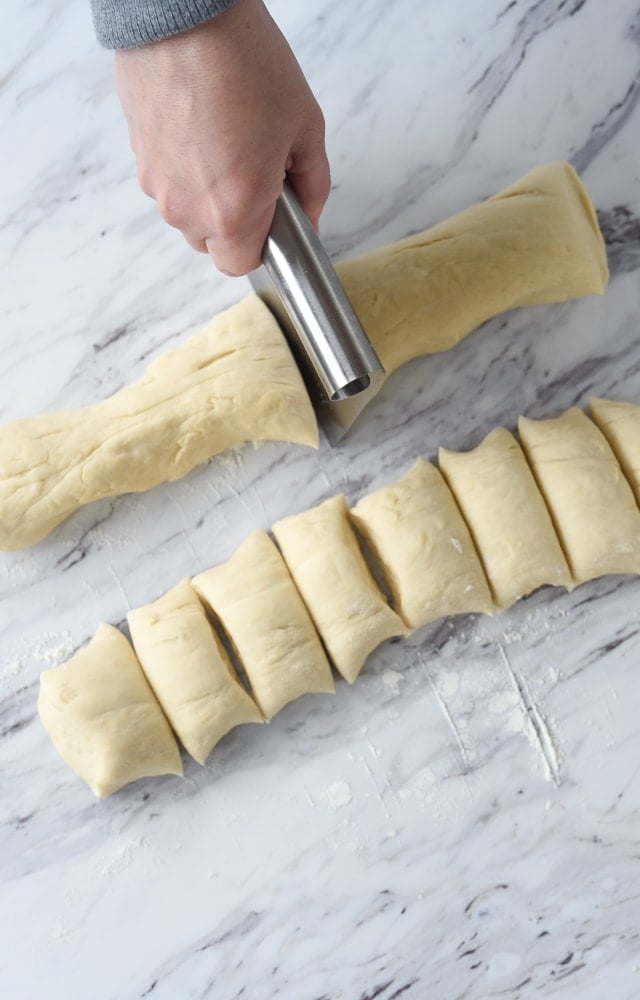 Roll each piece into a nice 7 inch long bread stick.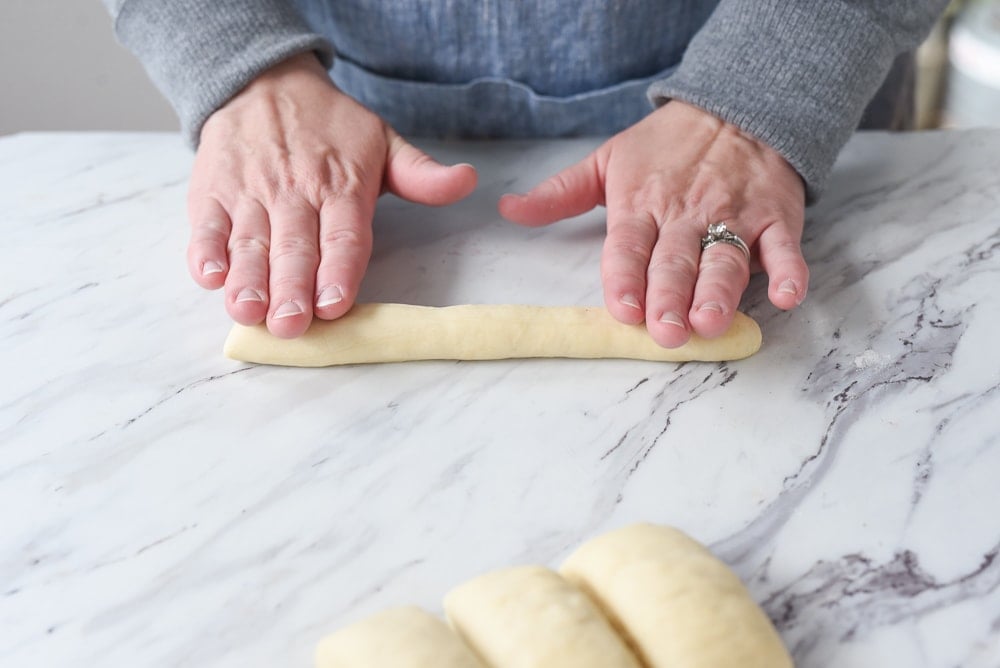 Allow breadsticks to rise in a nice warm place for 30 minutes. I put my breadsticks into my oven which I have preheated to 150 degrees and then turned off. Cover them and let them rise.
After they have risen brush with half the mixture of melted butter, garlic powder, salt and oregano.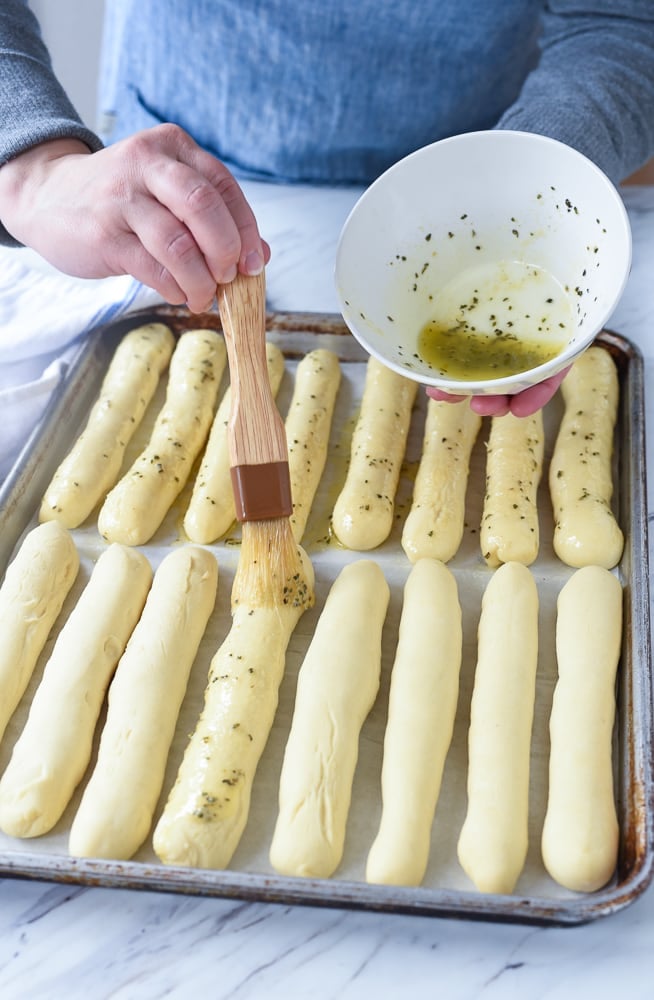 Bake at 400 degrees F. for 12-15 minutes or until golden brown.
Brush with remaining melted butter mixture after taking them out of the oven.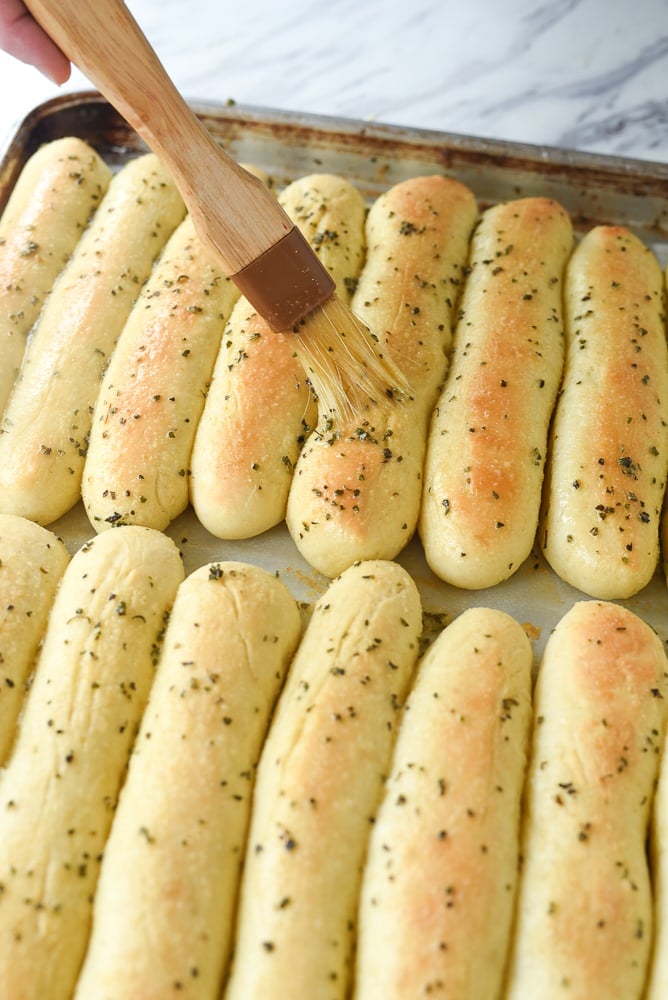 They are now ready to enjoy. Of course, like any bread, they are best eaten warm right out of the oven!! Not bad for an uninspired day!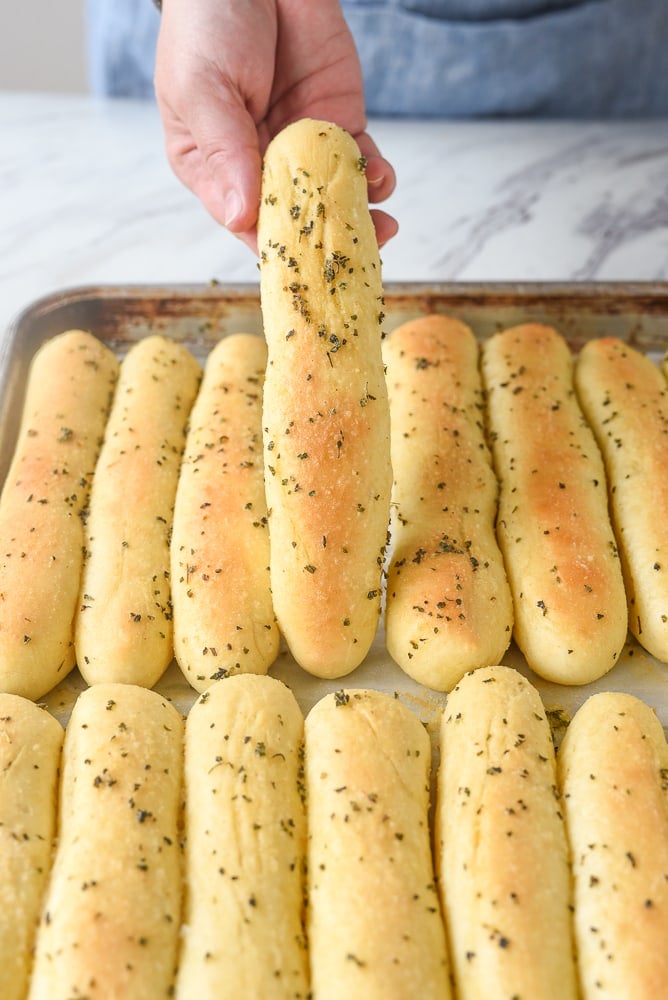 Breadstick Variations
Add a sprinkle of powdered Parmesan cheese before baking
Use an Italian Seasoning blend on them or your favorite herb. You can even use fresh herbs instead of dry.
Do a sweetened version by adding the butter and then a sprinkle of cinnamon sugar.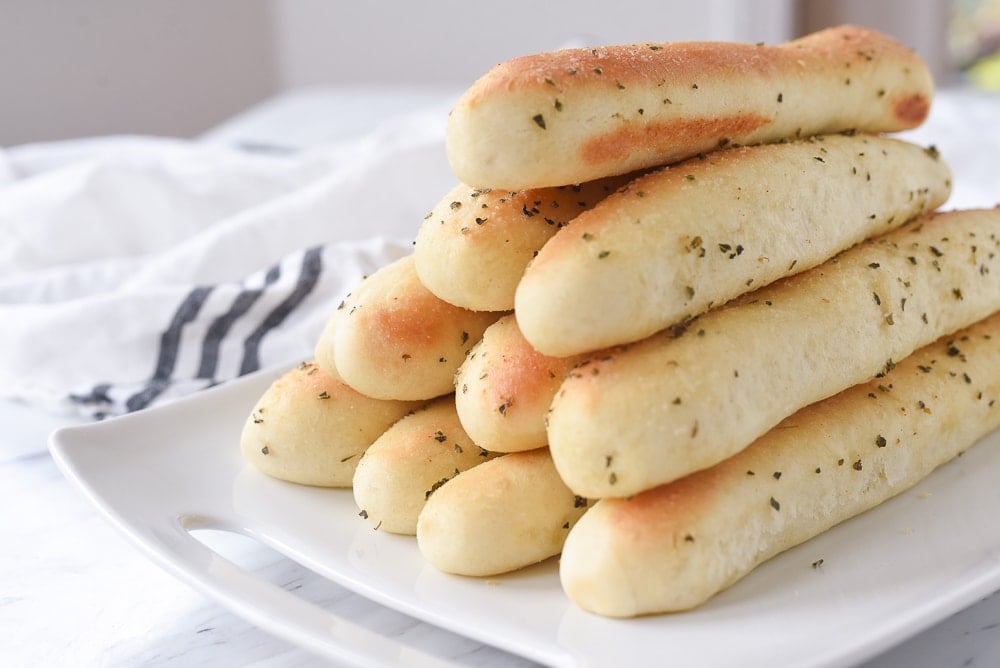 I serve the breadsticks with:
For all of my other favorite kitchen products and tools visit my Amazon Store.
Did you know I wrote a cookbook? Check out the Holiday Slow Cooker Cookbook for 100 delicious recipes.
Olive Garden Breadstick Recipe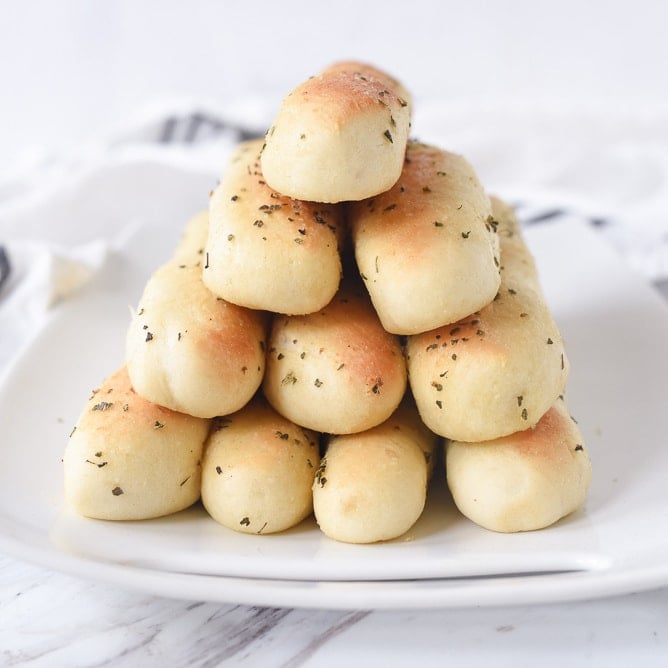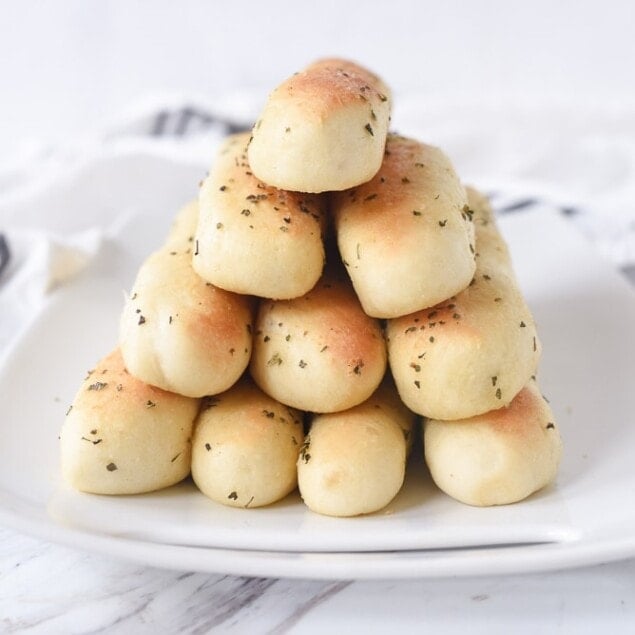 Olive Garden Bread Sticks
These Copycat Olive Garden Bread Sticks are soft and fluffy on the inside just like the real deal. You can enjoy them whenever you want when you make them at home.
Ingredients
2 1/4 tsp dry active yeast
1 1/4 cups warm water divided
4 1/4 Cups flour
2 Tbsp butter softened
2 Tbsp sugar
1 Tbsp salt
Topping:
3 Tbsp butter melted
1/2 tsp salt
1/4 tsp garlic powder
1/2 tsp oregano
Instructions
To make the dough place 1/4 c warm water in a bowl and sprinkle yeast on top, stir and allow to sit for 5 minutes until foamy..

Add the sugar, butter, salt and 4 cups flour into a mixer. Add in yeast mixture, remaining water and mix until a sticky dough forms.

Add some additional flour (1/4 cup or more) and continue mixing until a nice soft, smooth dough forms.

Place on floured counter top and roll into a 2 foot long logs.

Cut each log into 8 even pieces. Roll each piece into a 7 inch long breadstick.

Place the breadsticks on a parchment lined cookie sheet. Place breadsticks about 1- 1 1/2 inches apart. Cover with a cloth and let rise in a warm place for about 45 minutes.

Preheat oven to 400.

Make the topping and brush the breadsticks with 1/2 the mixture before baking.

Bake until lightly golden brown, about 12-15 minutes.

After you remove from the oven brush with the remaining butter mixture.
Nutrition Facts:
Calories: 164kcal (8%) Carbohydrates: 28g (9%) Protein: 4g (8%) Fat: 4g (6%) Saturated Fat: 2g (13%) Cholesterol: 10mg (3%) Sodium: 542mg (24%) Potassium: 52mg (1%) Fiber: 1g (4%) Sugar: 2g (2%) Vitamin A: 111IU (2%) Calcium: 6mg (1%) Iron: 2mg (11%)
* Disclaimer: All nutrition information are estimates only. Read full disclosure here.
Originally posted Feb. 4, 2011