I have a hard time walking by one of those pretzel places at the mall. The smell alone is enough to stop me in my tracks. My favorite flavor is the pretzel with cinnamon sugar on it and the cream cheese frosting that comes on the side that you can dip your pretzel into – yum!
I decided to recreate the taste at home but instead of a pretzel I went with a cinnamon sugar breadstick with cream cheese drizzle. I like the yeasty softness of a breadstick over a pretzel although I love me a good pretzel too.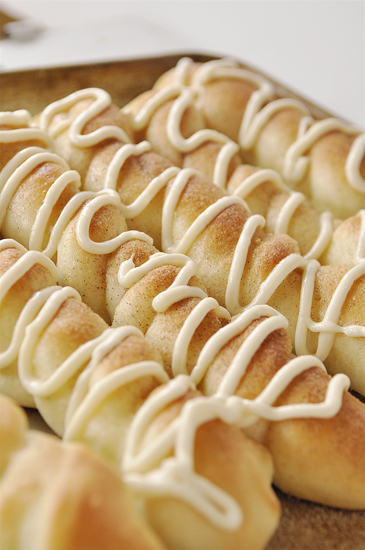 You start out with a nice batch of dough. Remember the trick to working with yeast is to make sure your water is the right temperature – not too hot and not too cold – just right. About 105-110 degrees is perfect. It needs to raise about 30-40 minutes. I speed up the process a bit by preheating my oven to 150 degrees and then turning it off. I place my covered bowl of dough into the oven and it loves that nice warm environment.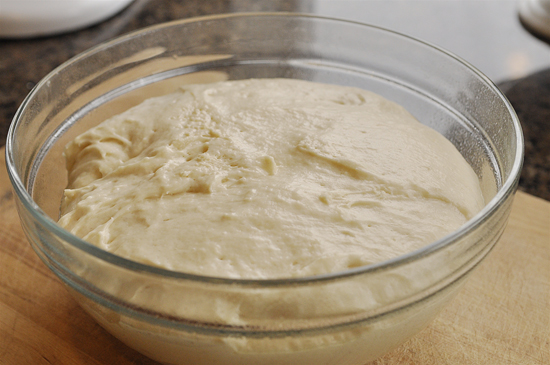 Roll the dough out into a 8 x 14 rectangle or there about.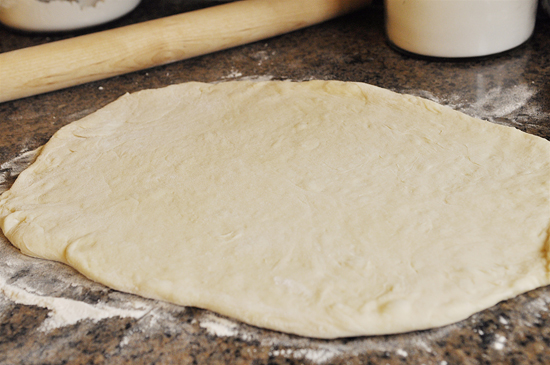 I use my pizza cutter to cut the dough into about 8-10 even pieces, about 1 1/4 – 1 1/2 inches side.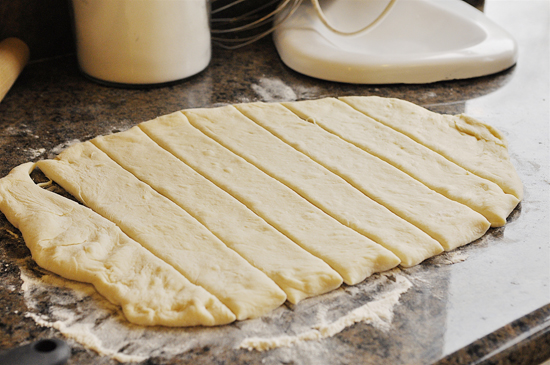 Then roll them up like a snake.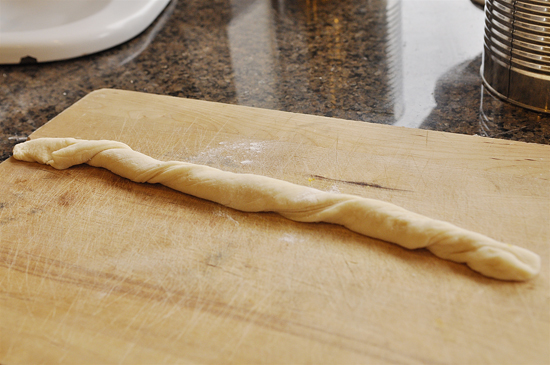 I then drap it over my finger in the middle, it will unroll but having done that helps to twist it together easier.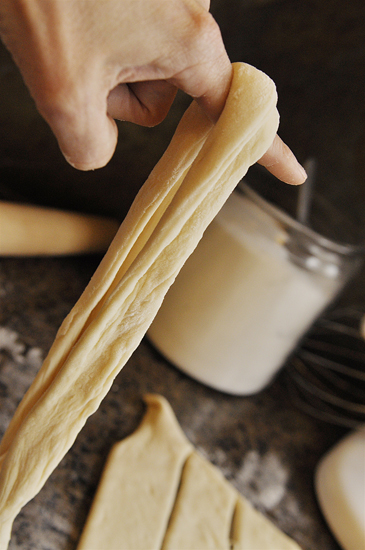 Twist the breadstick together in half.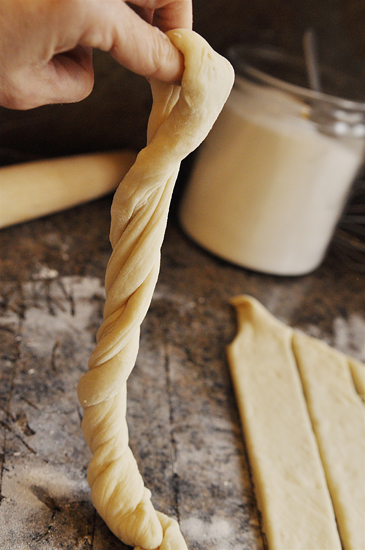 Place on a greased cookie sheet and allow them to rise for about another 40 minutes or until about double in size.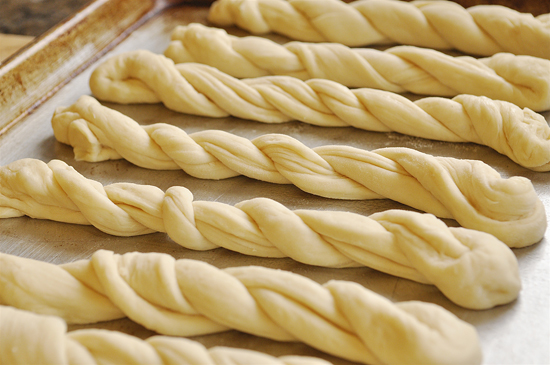 They are big!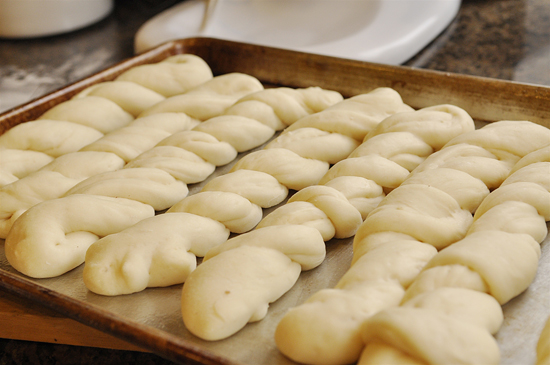 Bake them at 400 degrees for about 10 minutes or until golden brown.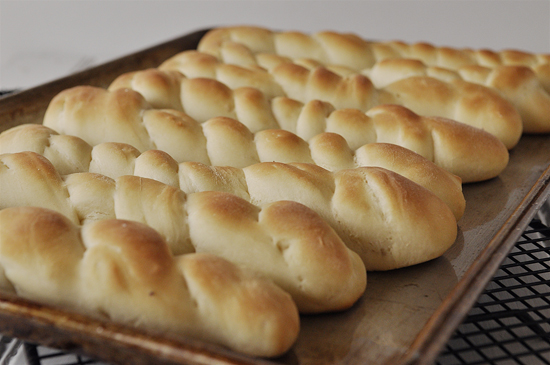 Brush them with some melted butter and give them a nice dusting of cinnamon sugar.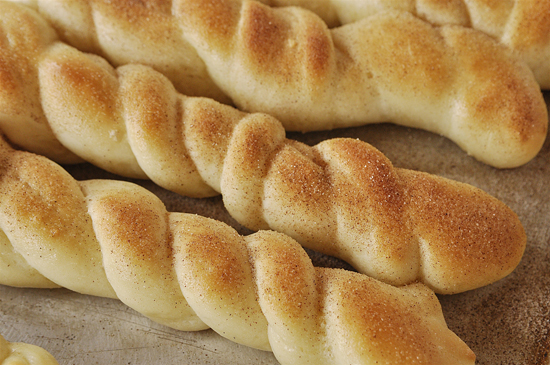 Mix up your cream cheese drizzle and put it into a ziploc bag and clip one of the corners off. Drizzle the cream cheese down the breadstick. The more the better!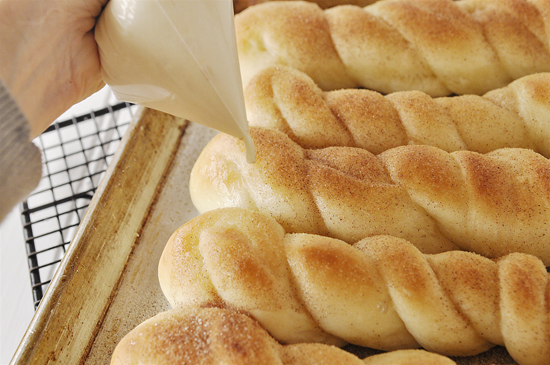 Since the breadsticks aren't quite as sturdy as a pretzel, they are not as easy to dip and the drizzle worked better.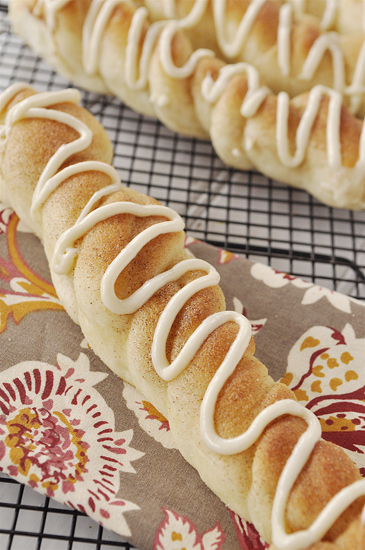 Cinnamon Sugar Breadsticks Recipe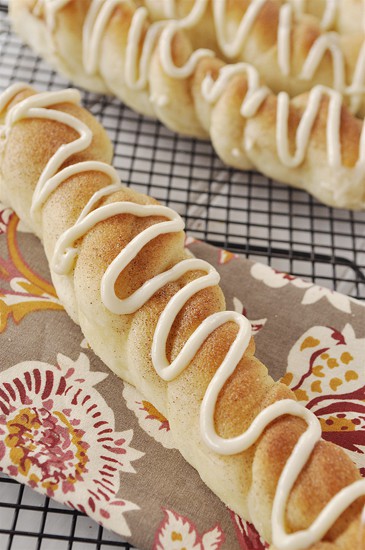 Cinnamon Sugar Breadsticks with Cream Cheese Drizzle
A sweet cinnamon and sugar treat.
Ingredients
2 1/4 tsp yeast
1/4 C sugar divided
1 C warm water divided
1 1/2 Tbsp oil
1 egg
1 /2 tsp salt
2 1/4 C flour
1/4 C butter melted
Cinnamon Sugar mixture
6 Tbsp sugar mixed with 1 tsp cinnamon
Cream Cheese Drizzle
4 ounces cream cheese
1 1/4 C powdered sugar
1 - 2 Tbsp whipping cream
1 tsp vanilla
Instructions
In mixer dissolve yeast, 1/2 Tbsp sugar and 1/2 C warm water.

Allow yeast to proof.

Add in oil, egg salt, 1 1/2 C flour and remaining sugar and water.

Mix until smooth.

Stir in remaining flour to form a soft dough.

Knead until smooth and elastic.

Place into a greased bowl and cover.

Let rise in a warm place for about 40 minutes or until doubled.

Punch down the dough and put onto floured counter.

Roll into a 8 x 14 rectangle.

Using your pizza cutter cut into about 10 pieces. Roll each strip like a snake.

Then hang the dough over your finger in the middle and twist the two ends together.

Place on a greased cookie sheet and allow to rise for another 20 minutes or until doubled.

Preheat oven to 400 and bake for 10 minutes or until golden brown.

Brush with melted butter and sprinkle with cinnamon sugar.

Drizzle with cream cheese glaze (see below)
Cream Cheese Drizzle:
Soften cream cheese and mix everything together.

Beat until a good consistency for drizzling.

Place in a ziploc bag and snip off the corner.

Drizzle over warm breadsticks.
Nutrition Facts:
Calories: 3164kcal (158%) Carbohydrates: 495g (165%) Protein: 45g (90%) Fat: 113g (174%) Saturated Fat: 54g (338%) Cholesterol: 410mg (137%) Sodium: 859mg (37%) Potassium: 604mg (17%) Fiber: 10g (42%) Sugar: 273g (303%) Vitamin A: 3180IU (64%) Calcium: 191mg (19%) Iron: 14.5mg (81%)
* Disclaimer: All nutrition information are estimates only. Read full disclosure here.