You see, I have been on a quest for the BEST biscuit for a while now. I started out looking for the best biscuit in local Portland restaurants and then decided I wanted to be able to recreate them at home.
I love me a good biscuit and I have baked my way through quite a few recipes in the attempt to create a tall, flaky, soft biscuit!
How to Make the Best Biscuits
The combination of sour cream and lots of baking powder in the recipe makes a nice flaky and soft biscuit.
The trick to a nice tall biscuit is to roll your dough out to about 1 inch thick.
I used my trusty old biscuit cutter but you could also use the rim of glass dipped into flour.
One of the best things about this recipe is that they freeze really well.  With our reduced size family we can't eat a whole batch of biscuits.
Flash freeze the biscuits on a cookie sheet until frozen solid.
Then just pop them into a large ziploc baggie.  You can now have The best biscuits anytime you want!
We decided to make our own breakfast sandwiches for dinner this week.  Everyone agreed they tasted just as good as the ones we enjoyed at the Portland restaurants and way better than the ones you get at McDonald's and I'm sure they have to be healthier too.
Best Biscuit Sandwich Options:
We put together an egg, cheese and sausage version.  I just cut discs of Jimmy Dean Sausage and cooked it up in the frying pan.
You could use a fried egg but since we aren't big fried egg fans here I used scrambled eggs instead and they worked great.
We also did a bacon version.
One thing the recipe does not have you do is baste the top of the biscuit with melted butter. I did this several times during the baking process.  I saw them do this at Pine State Biscuits so I decided to give it a try and it made them even better.
Best Biscuits Recipe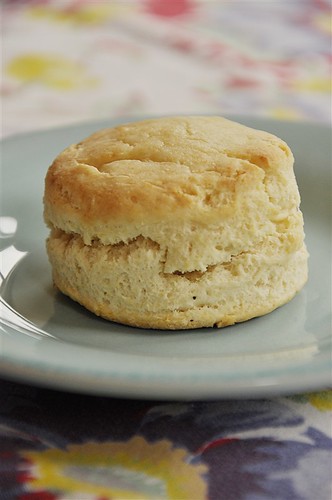 The Best Biscuits
Ingredients
4 C flour
2 Tbsp baking powder
1 1/2 tsp salt
1 tsp sugar
1/2 tsp soda
1/2 C butter
16 oz sour cream
3-5 tsp water
Melted butter
Instructions
Combine dry ingredients in a bowl or your food processor

If using food processor, pulse until butter is small and well blended pieces or cut in butter by hand using a pastry cutter

Add in the sour cream and water and mix well

Pulse again until well mixed

Add more water if it is too dry (just a little at a time.)

Knead a few times on the counter and roll out to 1 inch thick

Use a biscuit cutter to cut or dip a drinking glass into flour and cut

Freeze individually on a cookie sheet

After they are frozen, place in a freezer bag to store

Use as needed

Place on an ungreased cookie sheet

Bake at 400 for 15-17 minutes or until top is golden

Twice during the baking process baste the tops of the biscuits with melted butter