Nothing beats homemade strawberry jam made with fresh berries! This jam only uses three ingredients without added pectin.
Some of my favorite things to serve strawberry jam on are these amazing scones, homemade biscuits and in or on ice cream!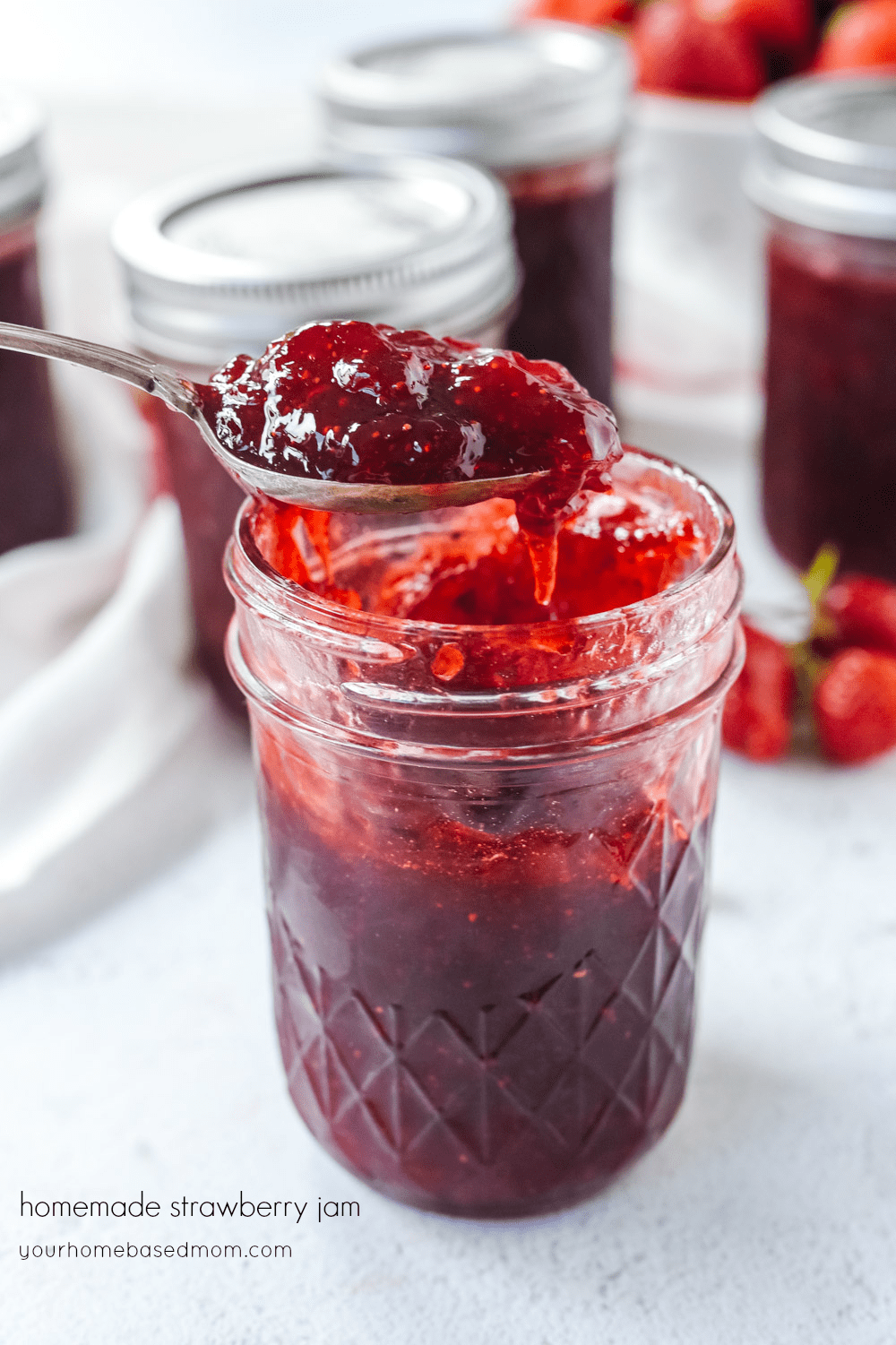 I have made homemade strawberry jam for years.  In the past, I have always made freezer jam using the powdered pectin you can buy at the store. Last year when I was in France attending The Academy France we did a fun photo shoot making strawberry jam.  We made a cooked strawberry jam that only uses fresh berries, sugar and lemon juice, without added pectin.  The jam is cooked on the stove top and then can be canned or frozen. It was delicious and I loved that I didn't have purchase and add in additional pectin.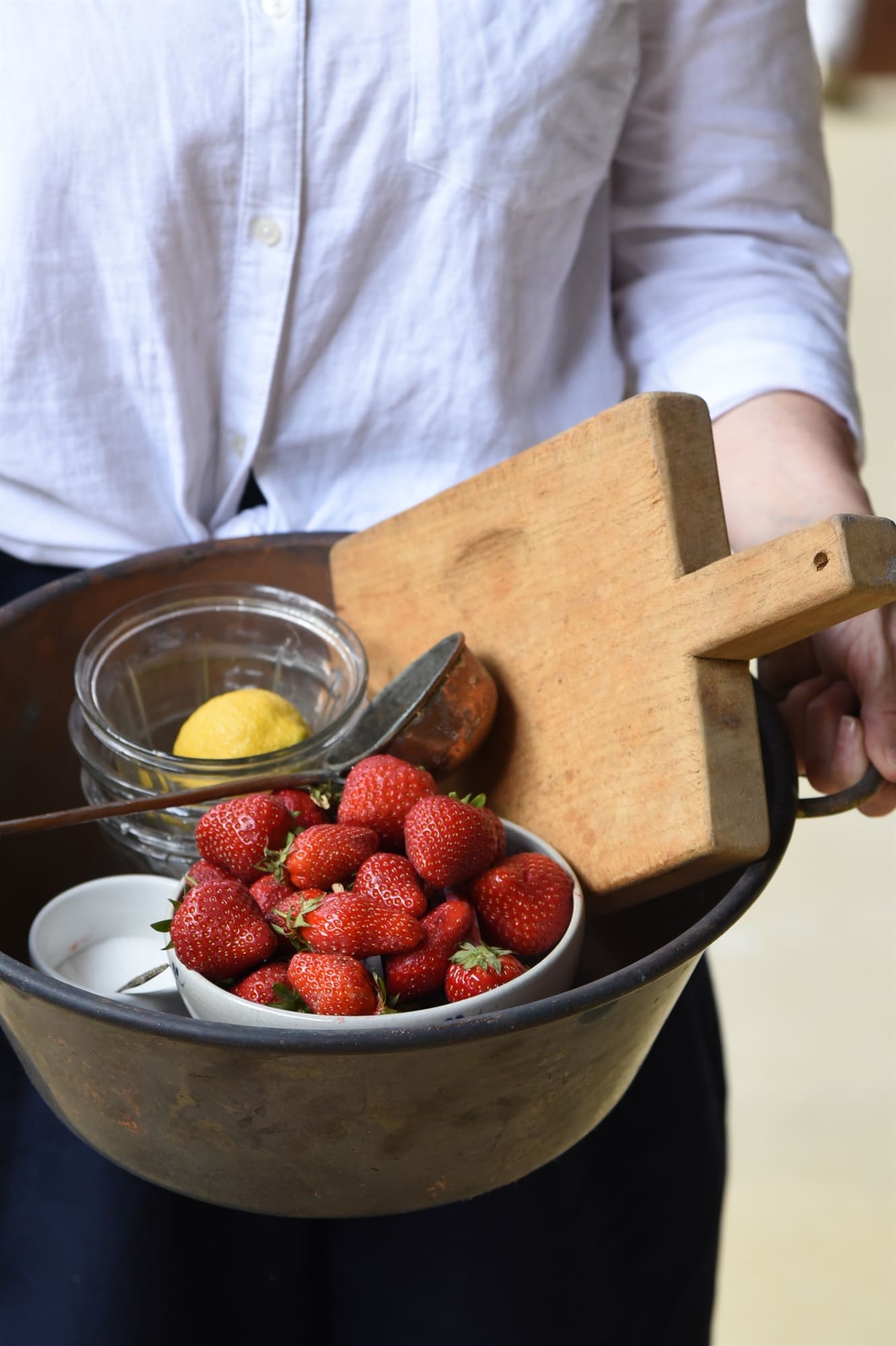 Berries have natural pectin when they are cooked so they are perfect for a cooked jam. We used strawberries but you could also use your favorite combination of berries. Jam made without pectin has a softer consistency than jam made with pectin and I think it is perfect for spreading on toast!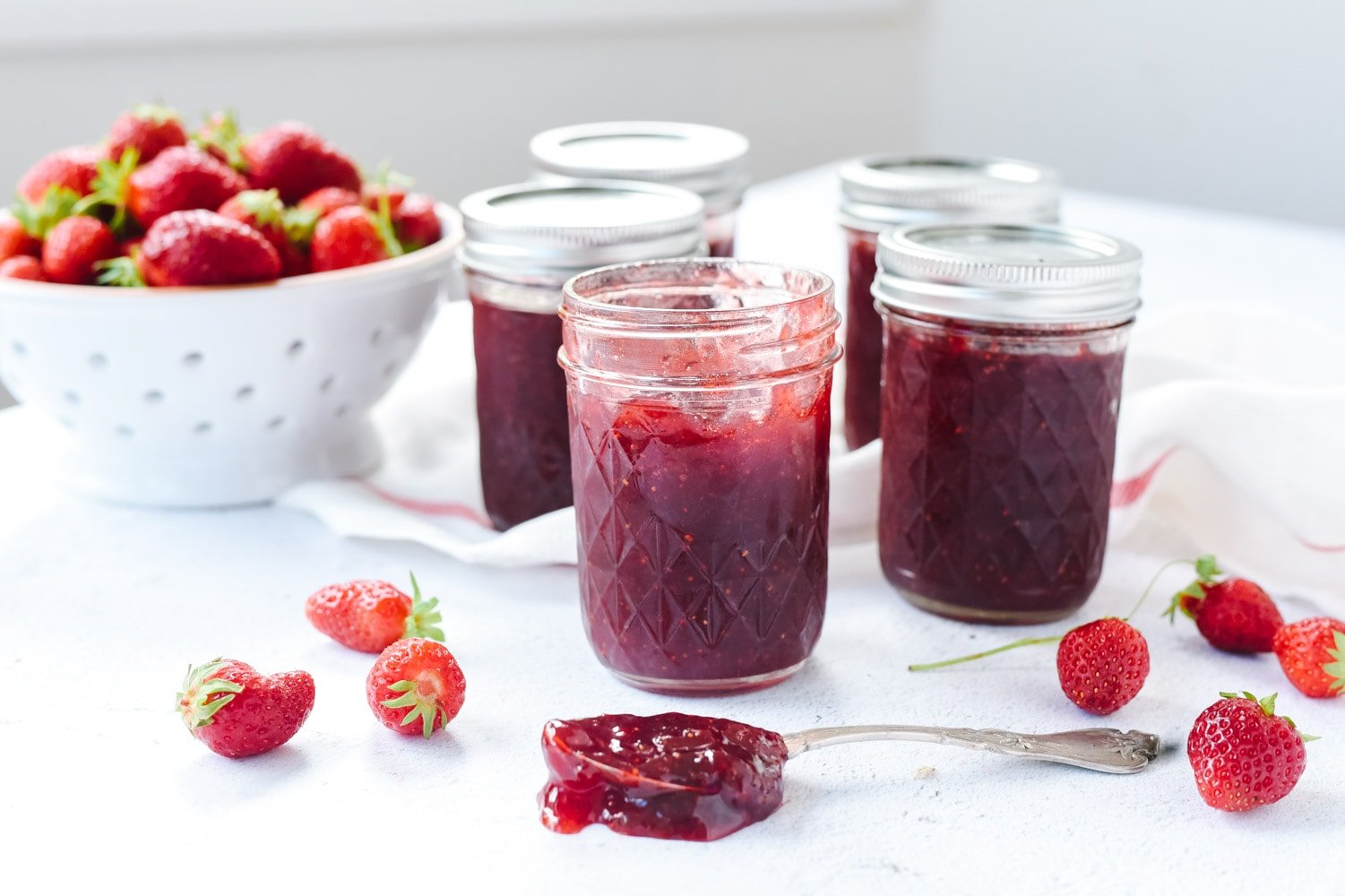 How to Make Homemade Strawberry Jam
Wash, hull and dice your strawberries into small pieces.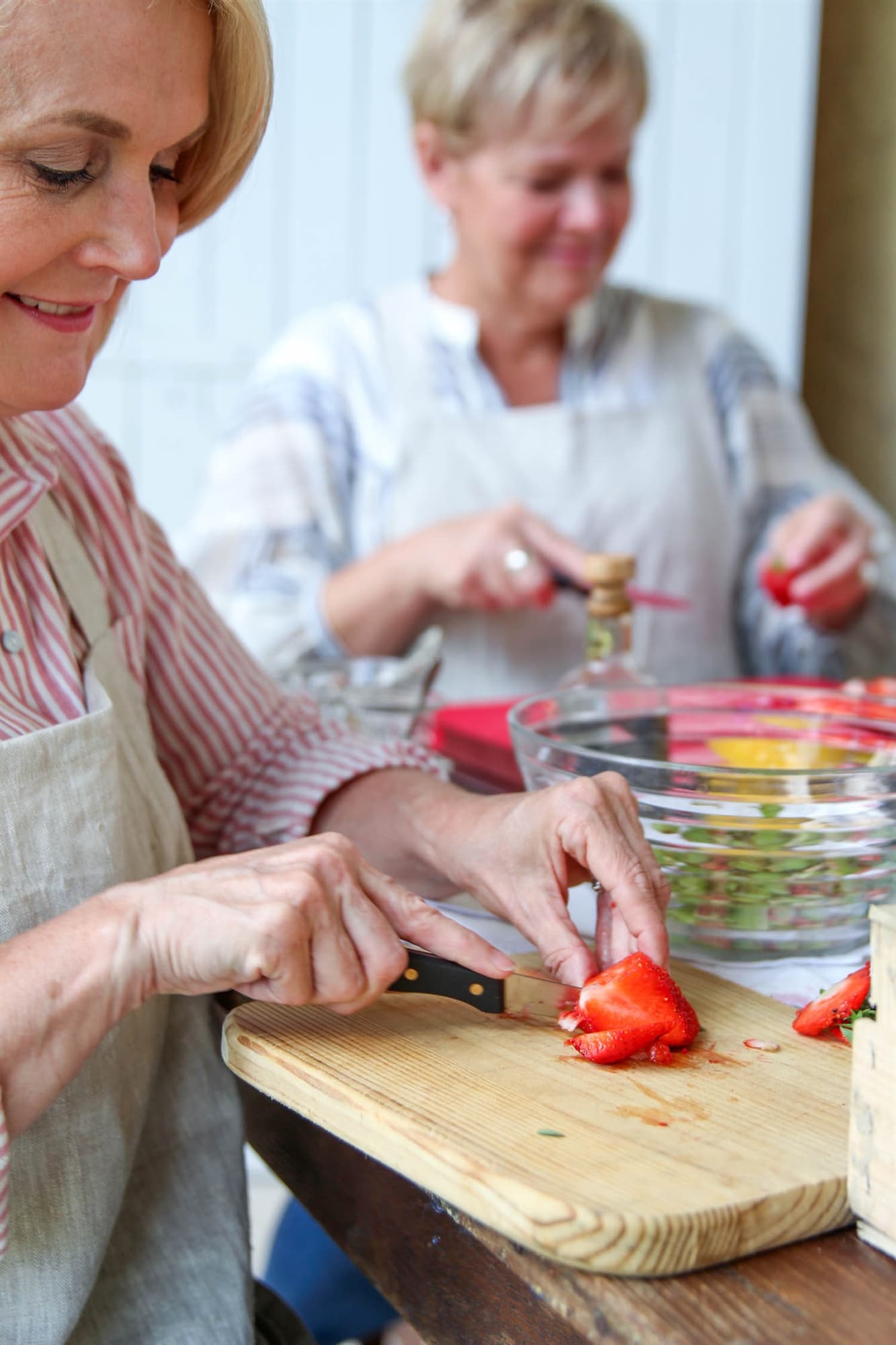 Measure fruit by weight, for this recipe we are using 2 pounds of strawberries, diced. You will need 4 cups of sugar and 1/4 cup of lemon juice. Use a 1:2 ratio of fruit to sugar. For every pound of fruit, use 2 cups of sugar.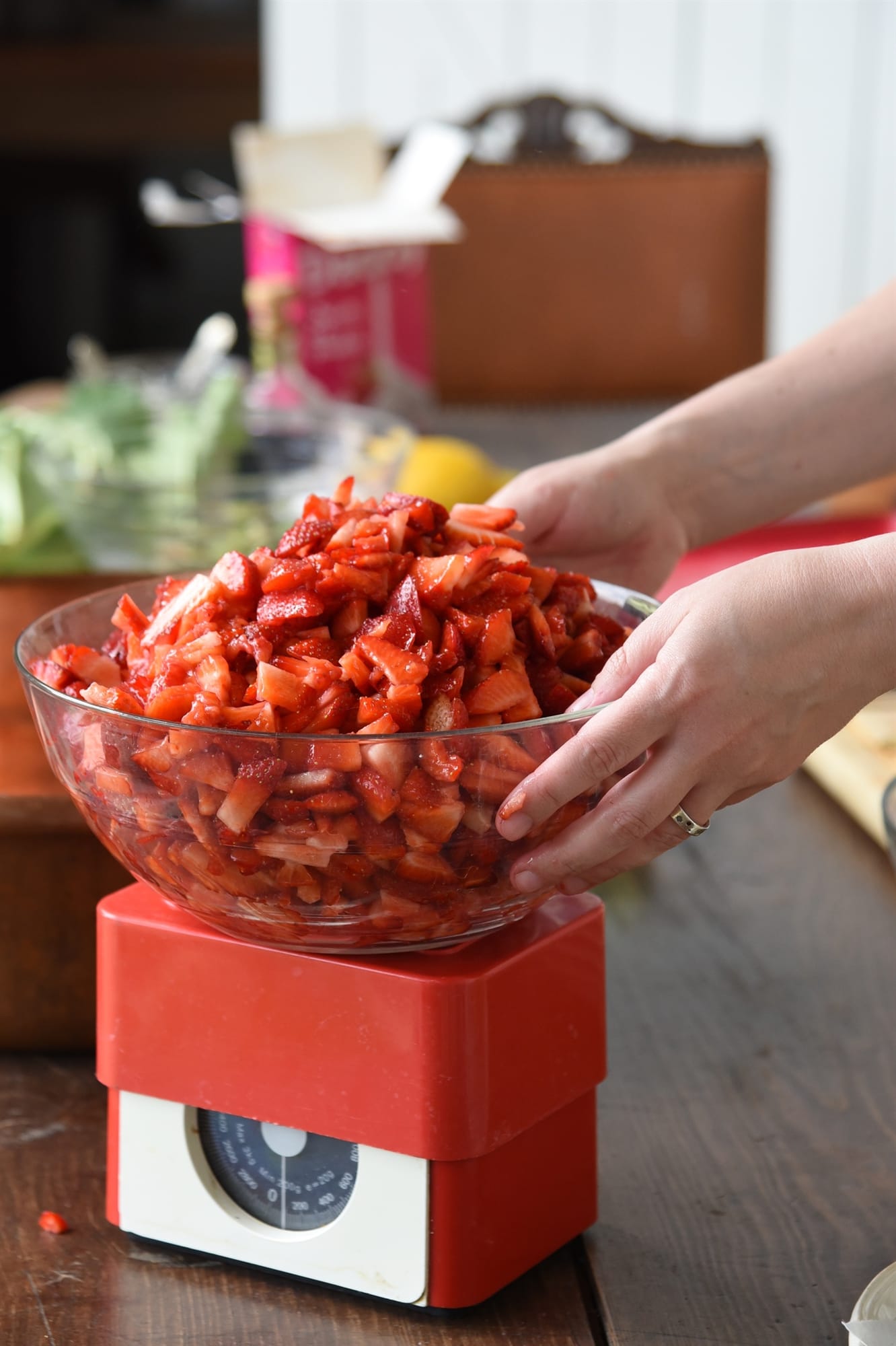 Combine your strawberries, sugar and lemon juice into a heavy bottomed, large pan. Since we were in France, we used an old confiture pan which is a French jam making pan. I found one at a flea market and brought one home with me but any heavy bottomed pan will work!
Stir! The hardest part of making homemade jam is stirring. Making jam without pectin takes longer than freezer jam because the jam has to cook and thicken.
Bring the berry mixture to a boil and then stir the for about 30 minutes at a low boil.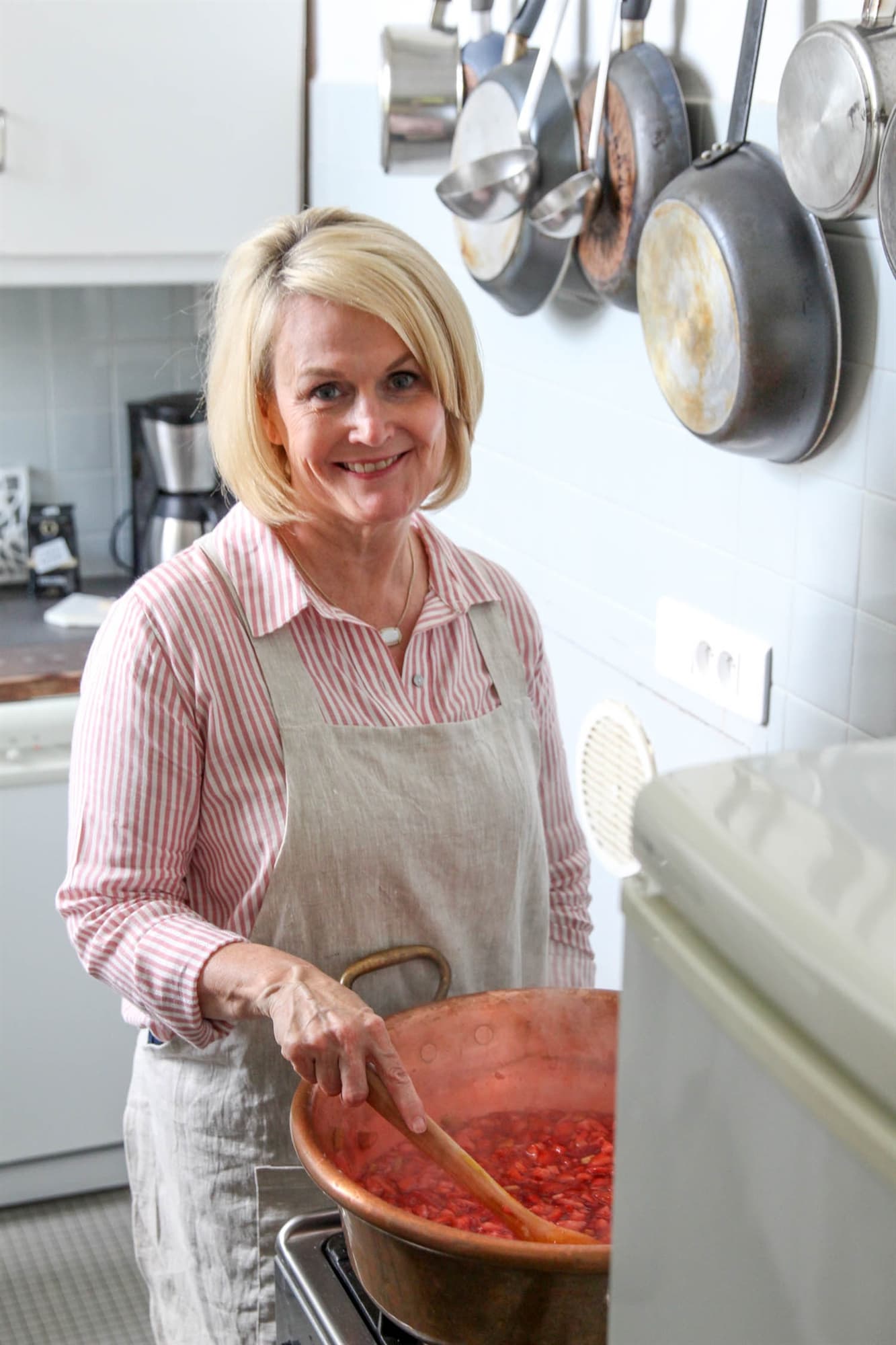 The jam will darken and thicken as it cooks.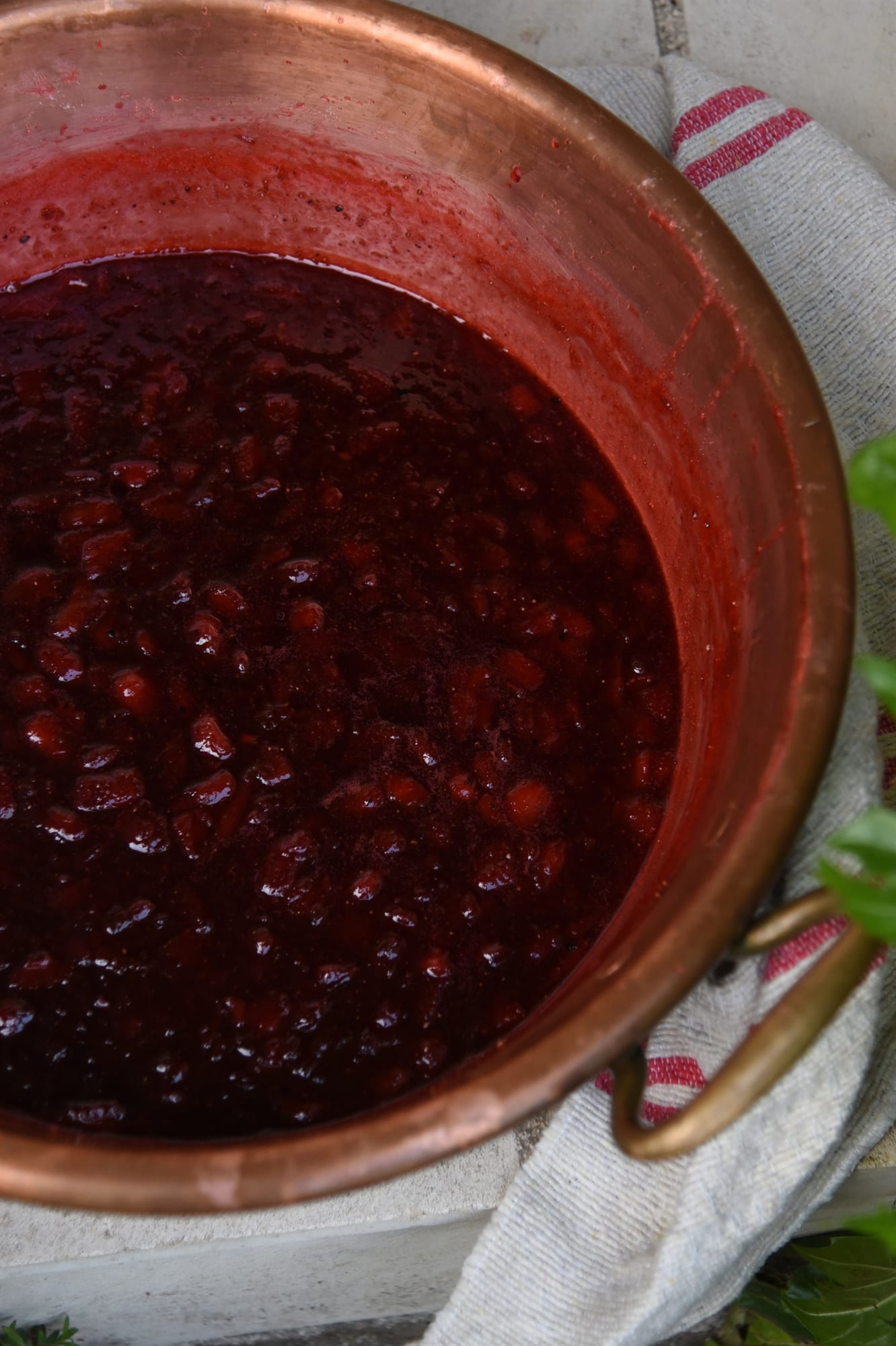 How Do I Know When My Jam is Done?
Here's the trick! Coat the back of a spoon with jam and run your finger through the middle of it. If the jam stays separated, it's done.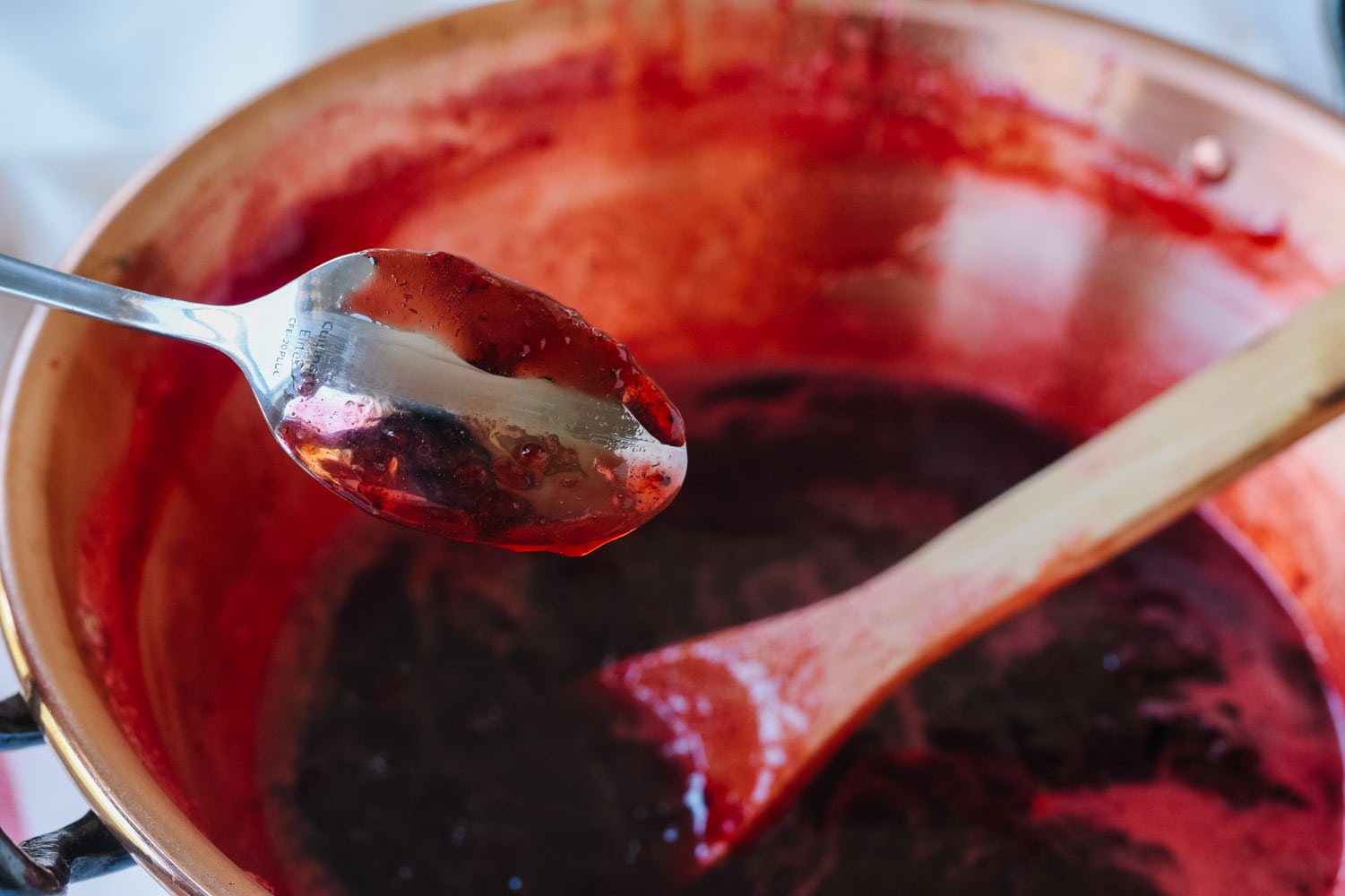 This batch will fill six half pint jars or 3 pint jars. Be sure to wash and sterilize your jars and lids before filling with jam (just run them through the dishwasher). Fill the jars leaving about 1/2 inch of air space at the top. Put your lids on and allow the jam to cool completely before refrigerating or freezing. I do not can my jam but if you are a canner, you can do that. I prefer to just freeze mine.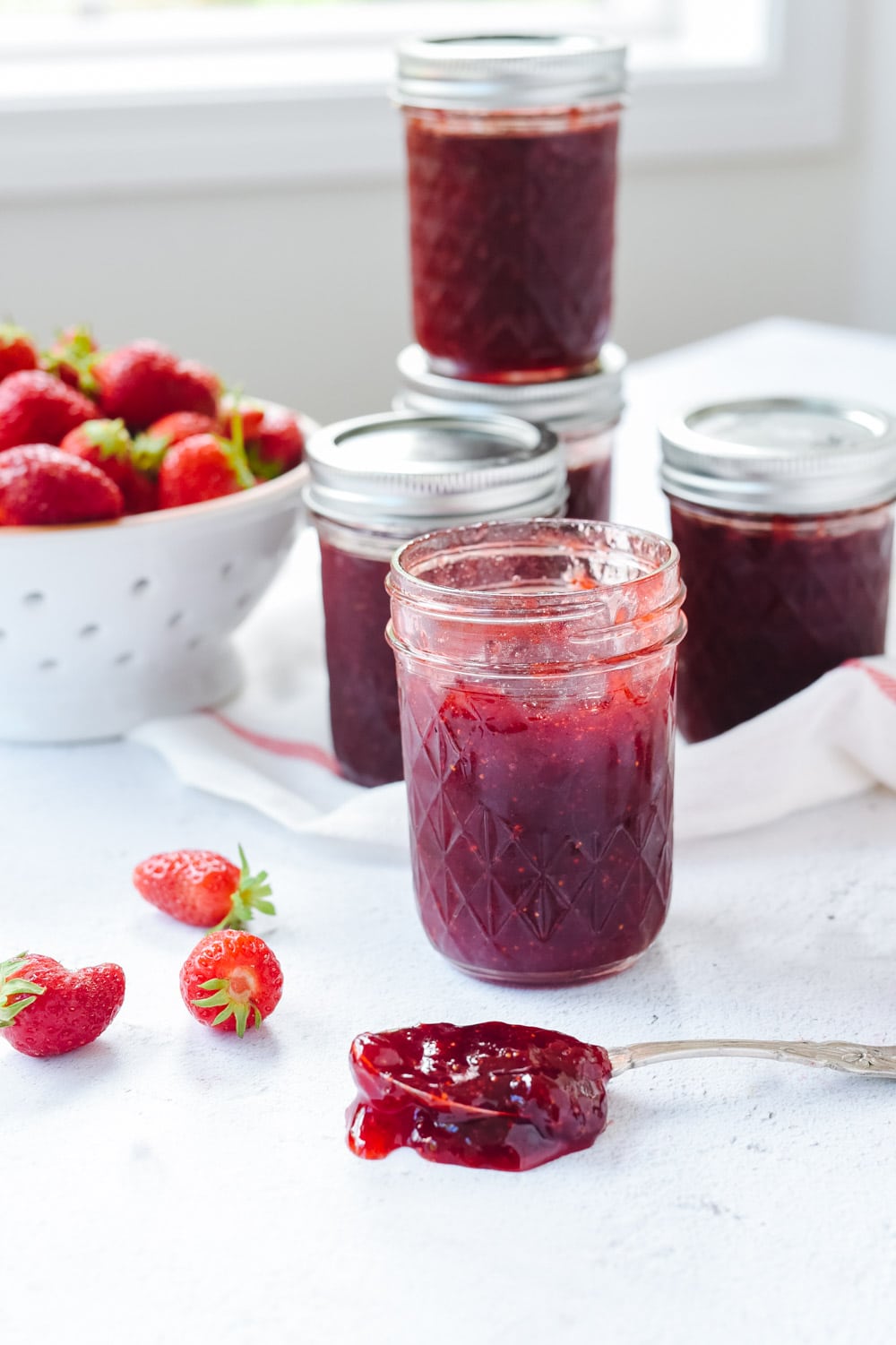 How Long Will My Jam Last?
In the refrigerator it will last several weeks and in the freezer it will last up to three months. Remember it doesn't have all the preservatives store bought jam does so it won't last as long in the refrigerator.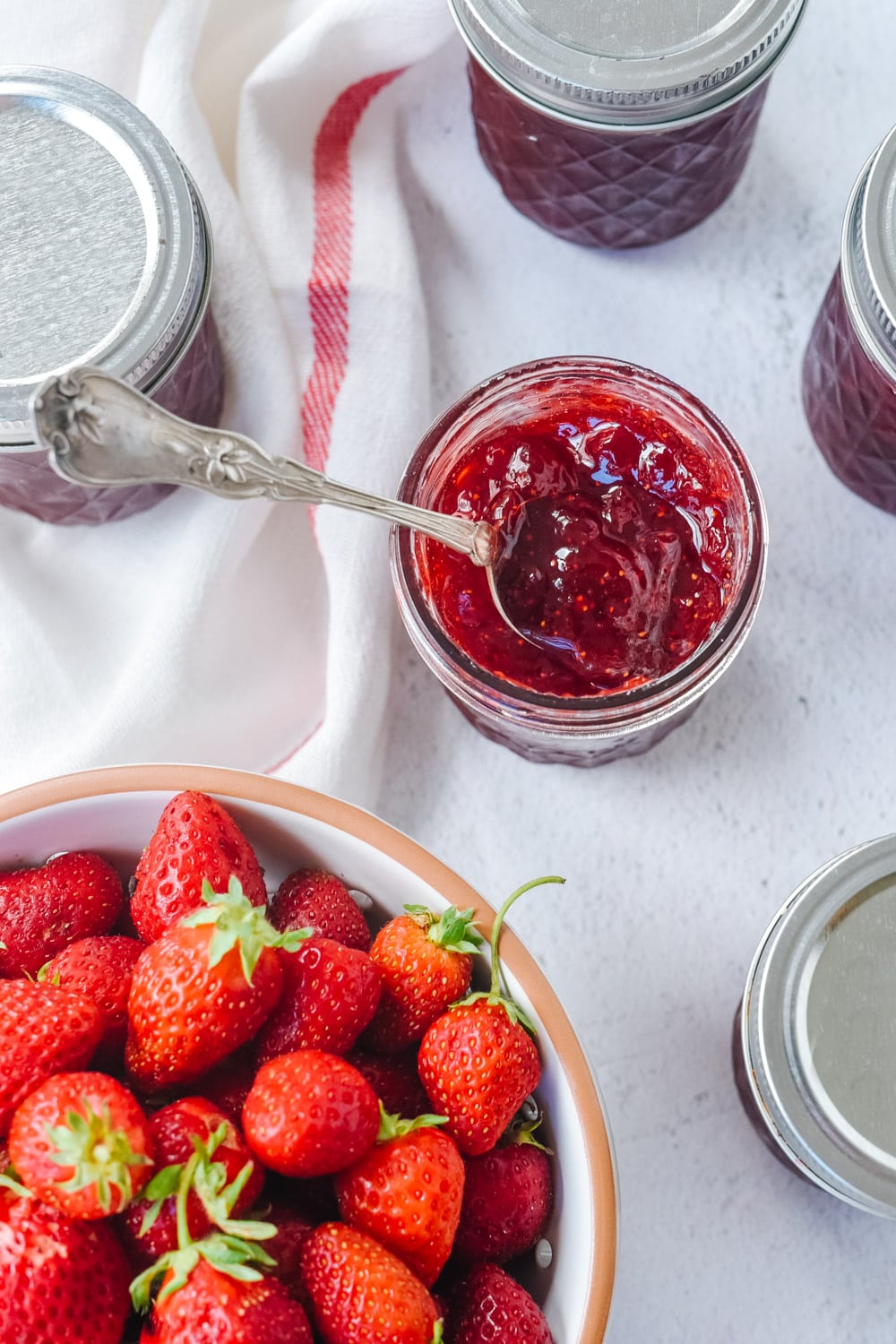 Enjoy your jam on toast, waffles, biscuits, pancakes, sandwiches or by the spoonful!
For all of my other favorite kitchen products and tools visit my Amazon Store.
Did you know I wrote a cookbook? Check out the Holiday Slow Cooker Cookbook for 100 delicious recipes.
Be sure and follow me over on You Tube for weekly cooking demos!
Homemade Strawberry Jam Recipe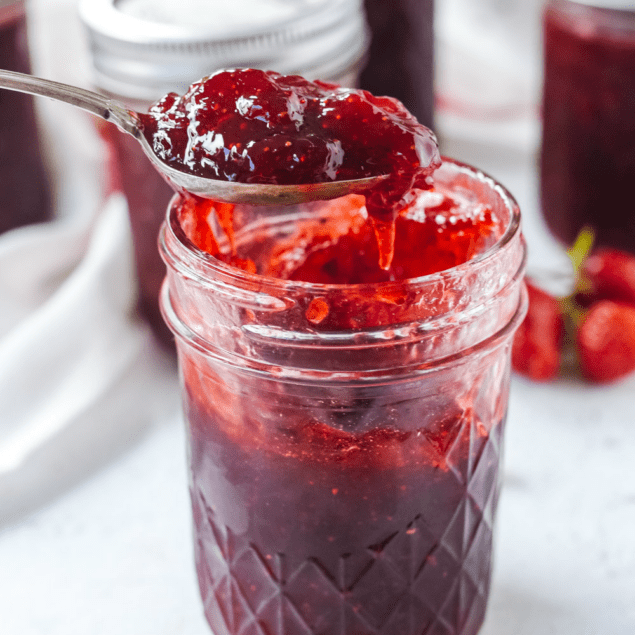 Homemade Strawberry Jam without pectin
Nothing beats homemade strawberry jam made with fresh berries!  This jam only uses three ingredients and no store bought pectin.


Ingredients
2 lbs. strawberries hulled and diced or sliced
4 cups sugar
1/4 cup lemon juice freshly squeezed
Instructions
In a large, heavy bottom pan, combine all ingredients and stir to combine.

Bring to a boil over medium heat and continue to cook and stir at a low boil for about 30 minutes or until jam darkens and thickens.

Dip the back of a spoon into the jam and then run your finger through the jam. If it stays separated and doesn't run back together,, the jam is done.

Pour jam into sterilized containers, add lid and allow to cool at room temperature. Refrigerate or freeze as desired.
Tips & Notes:
Makes 3 pints
Nutrition Facts:
Calories: 35kcal (2%) Carbohydrates: 9g (3%) Protein: 1g (2%) Fat: 1g (2%) Saturated Fat: 1g (6%) Sodium: 1mg Potassium: 15mg Fiber: 1g (4%) Sugar: 9g (10%) Vitamin A: 5IU Vitamin C: 5.8mg (7%) Calcium: 2mg
* Disclaimer: All nutrition information are estimates only. Read full disclosure here.
Need some help figuring out what's for dinner tonight?
Come join our Facebook Group! Join hundreds of others who love sharing dinner time ideas. You don't want to miss out on the fun!

You'll find lots of ideas for dinner from all our awesome members and you can share your ideas too! Join the Family Dinner Table today.