Jam Diagonals, also know as Split Second Cookies, are a fun version of a thumbprint cookie. Fill them with your favorite flavor of jam.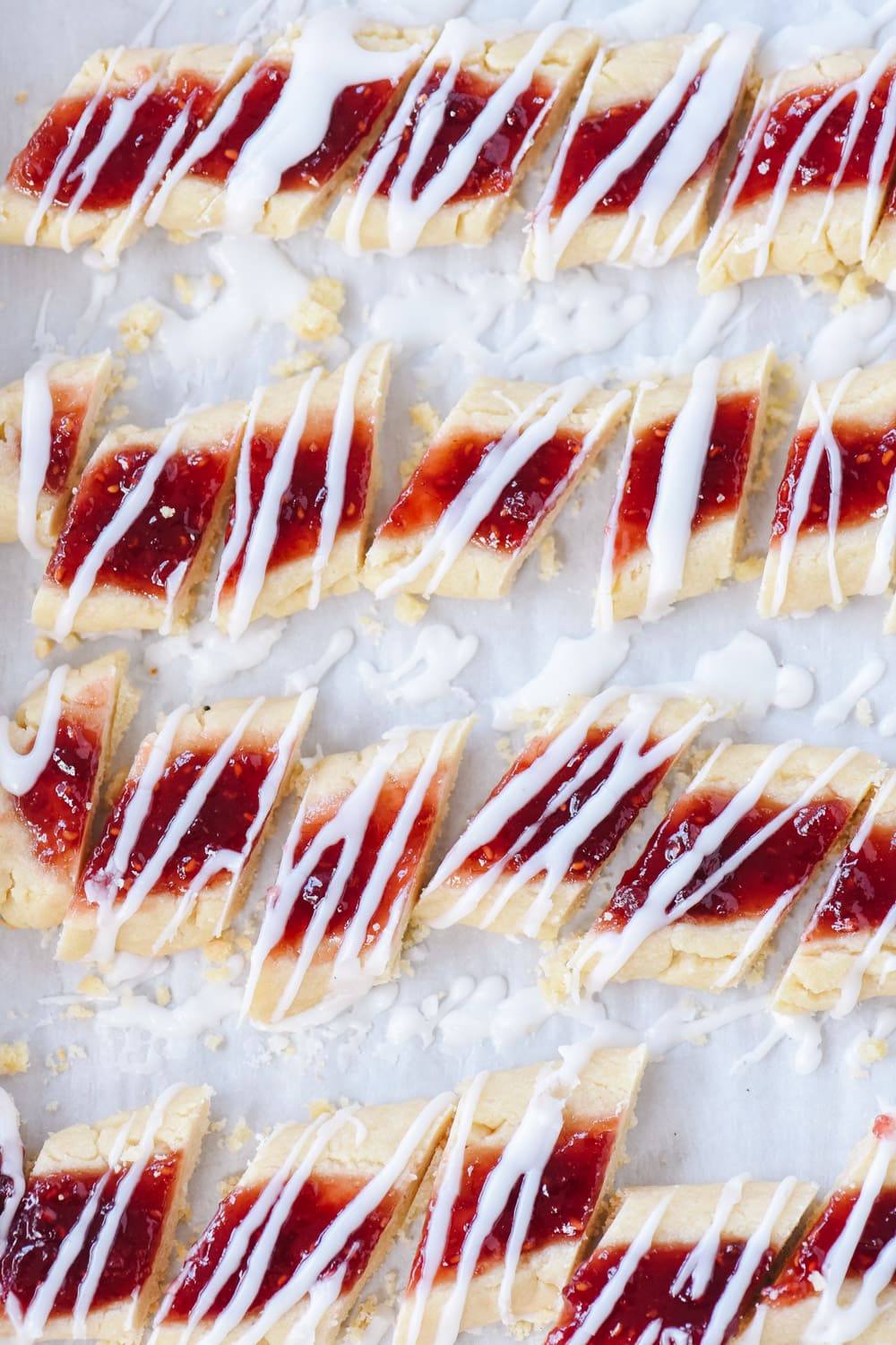 Split Second Cookies
Jam Diagonals or Split Second Cookies are an oldie but a goodie. The recipe comes from the mid 1950's and was a winner in the Pillsbury Bake Off. It was inspired by the winner's Scandinavian heritage.
I first had this cookie at a luncheon I attended several years ago. I was helping in the kitchen and these cookies were being served as dessert. After I ate one of them I decided I just needed to stay right there in the kitchen, within easy reach of the Jam Diagonals. Let's just say I ate more than my fair share!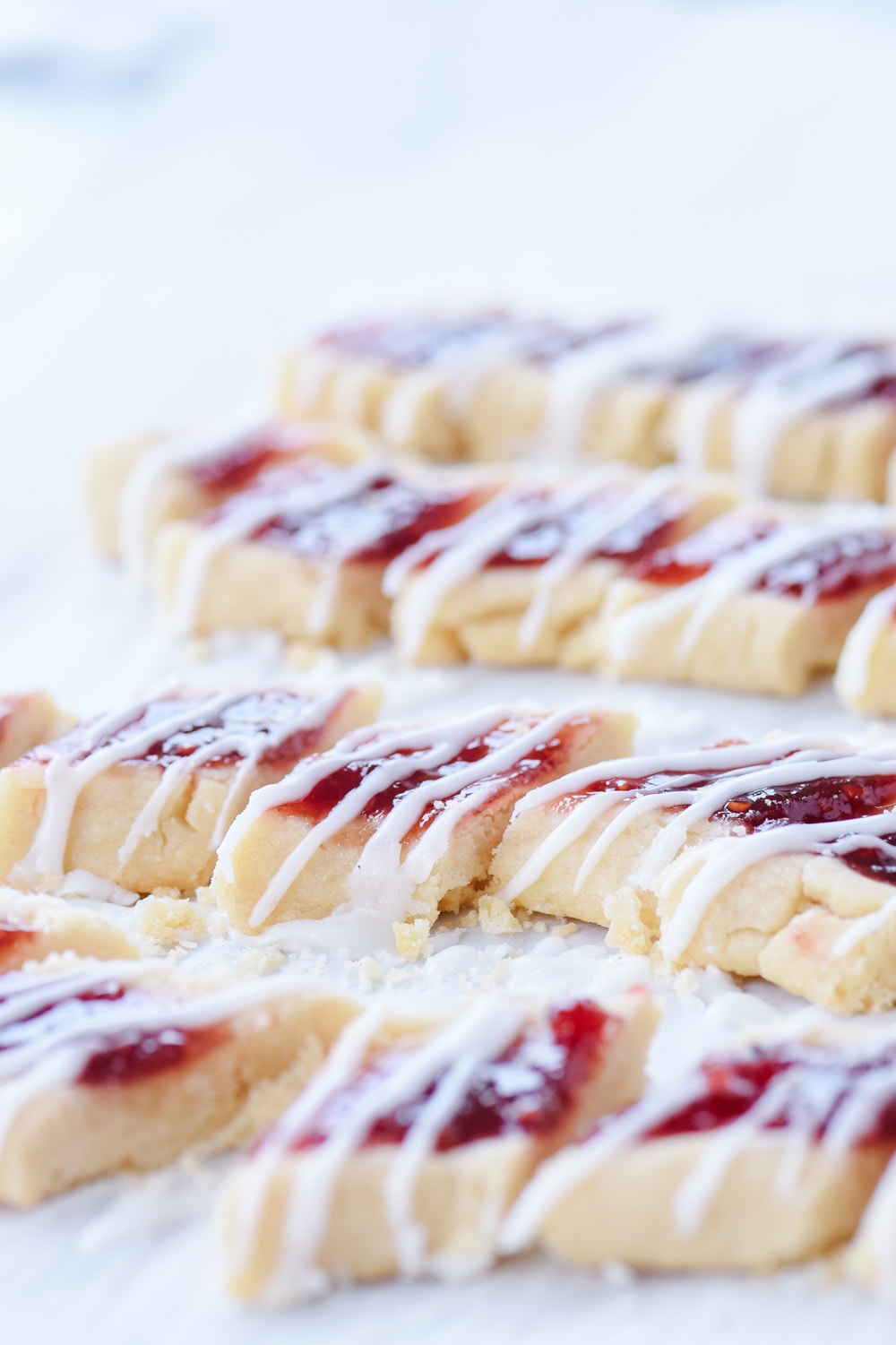 I'm not really sure why they are called split second cookies but my guess is they were a cookie that you had the ingredients on hand and could whip up a batch in a hurry. But I really think they are called that because they disappear in a split second!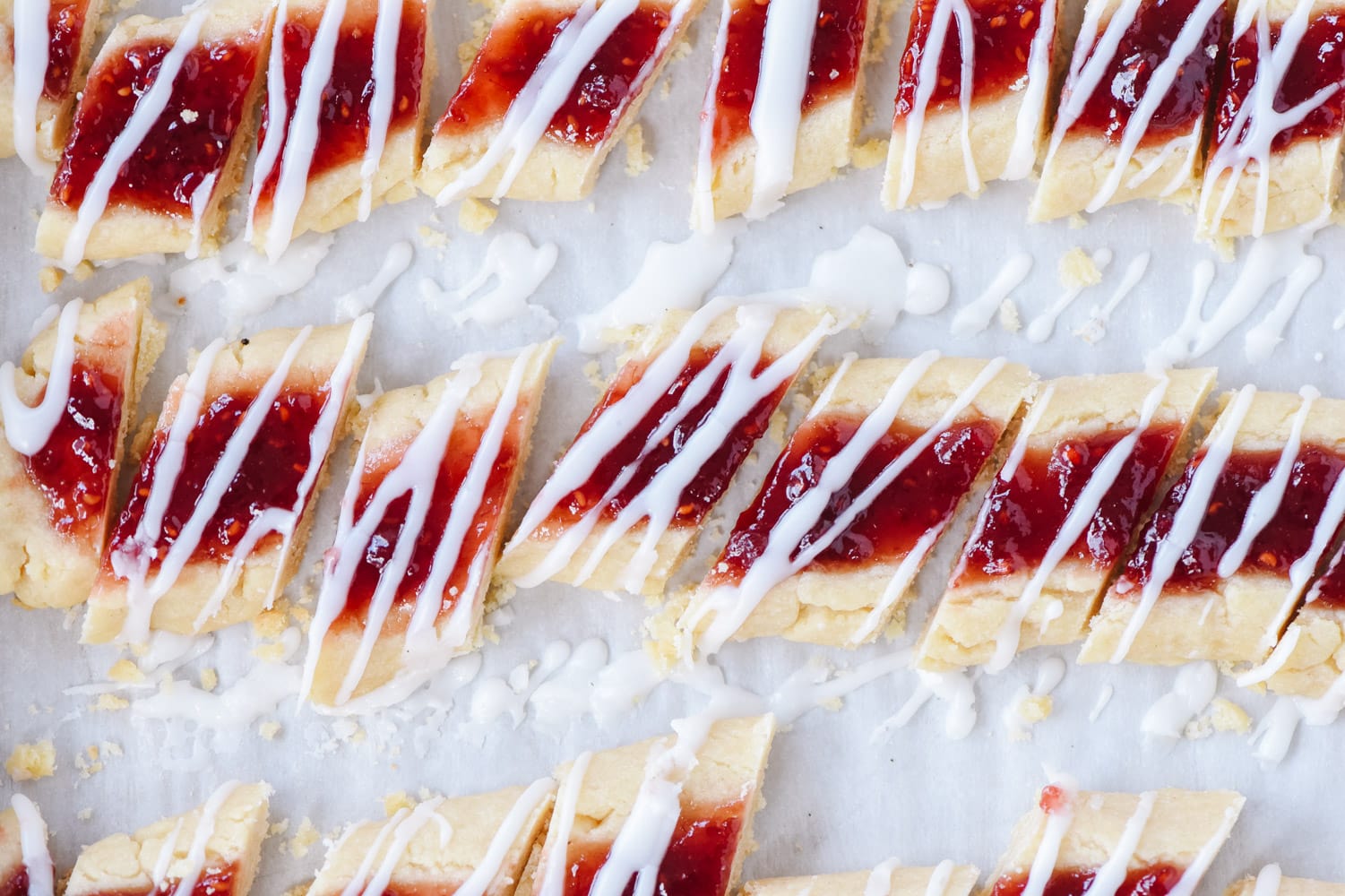 How to Make Jam Diagonals
The base of the cookie is shortbread type cookie. Divide the dough into four pieces and roll each piece into a 9″ rope.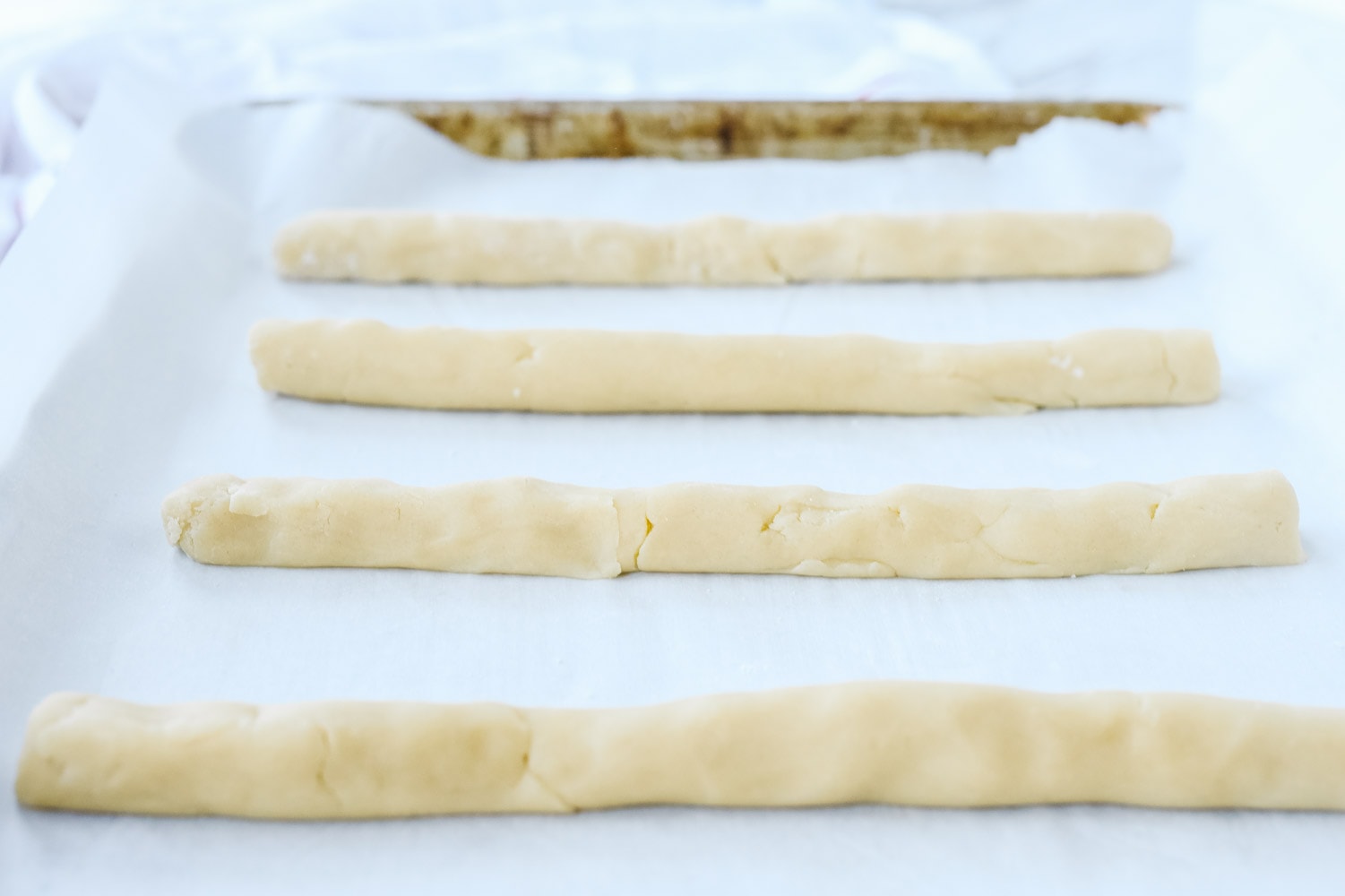 Use your finger or the handle of a wooden spoon to form the indentation in the dough where the jam will go. Don't make it too wide as it will widen as it bakes. The dough should be about 1″ wide after making the indentation.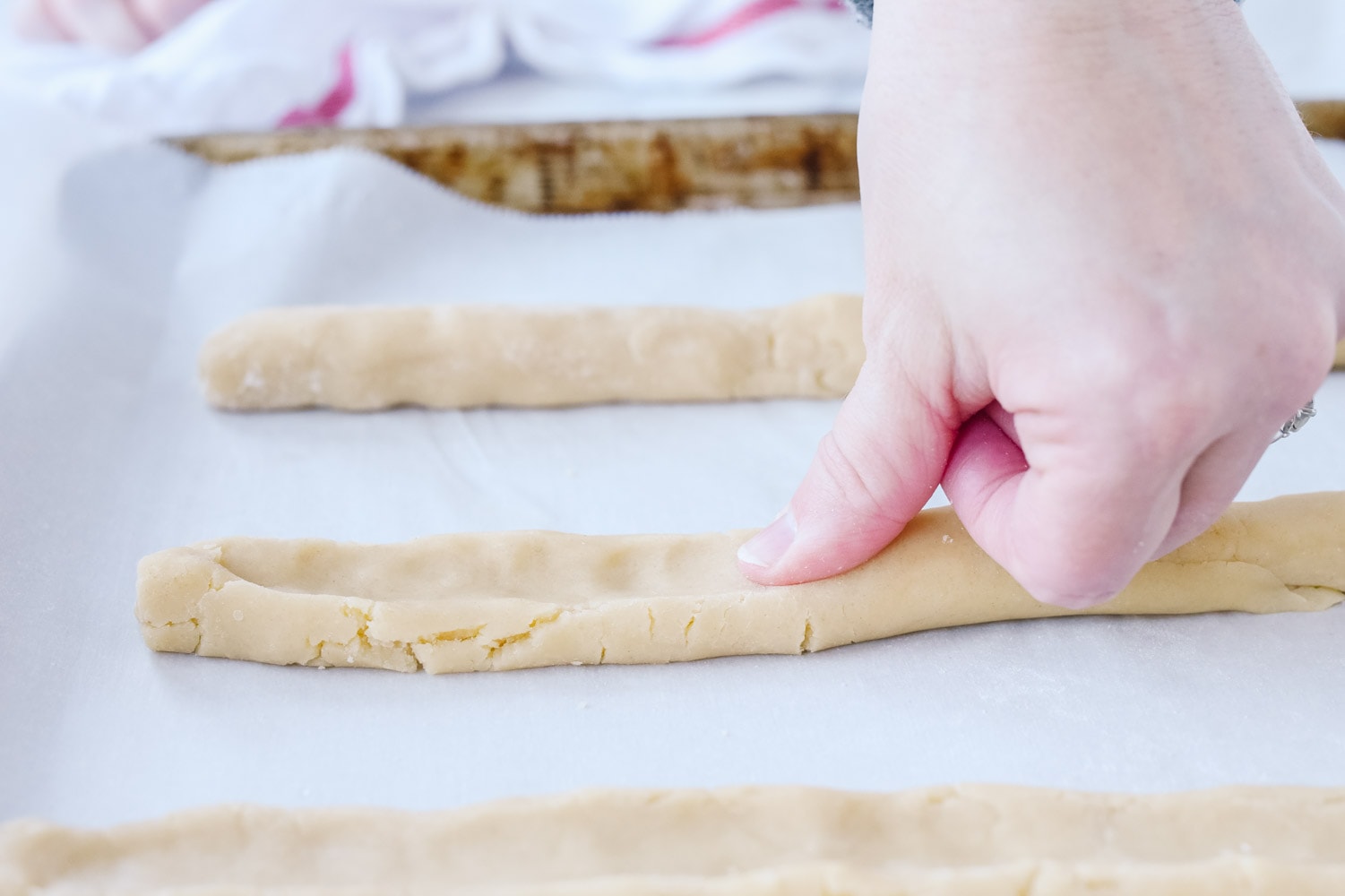 Use your favorite flavor of jam, I like raspberry. Don't over fill with jam as it will run over the edges and then the cookies does not look as pretty.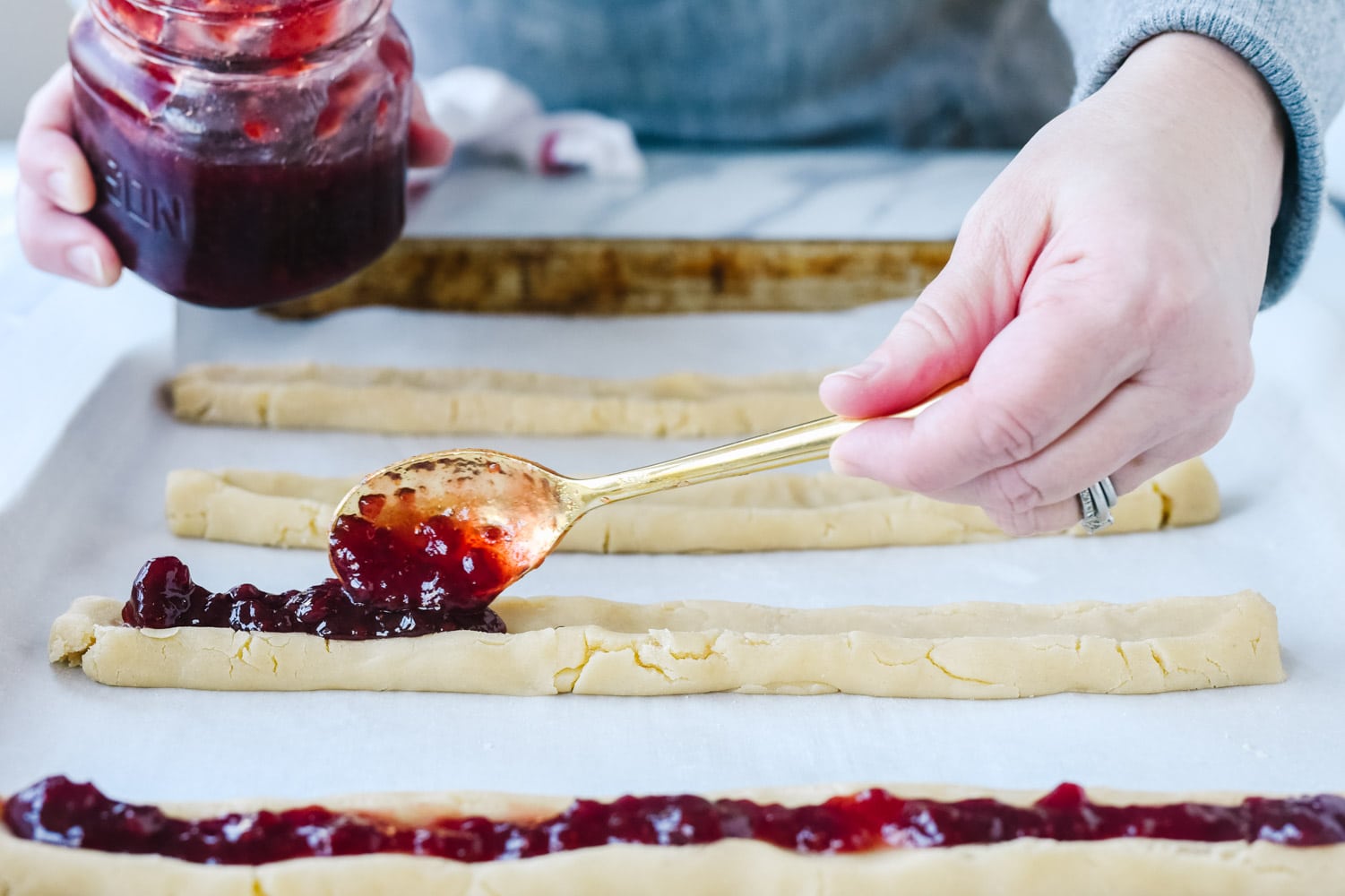 After they are cool, drizzle with the lemon glaze and cut them into one inch pieces cut on the diagonal. They look cuter cut that way and then they live up to their name of jam diagonals! The lemon glaze adds a lot of flavor so don't skip it.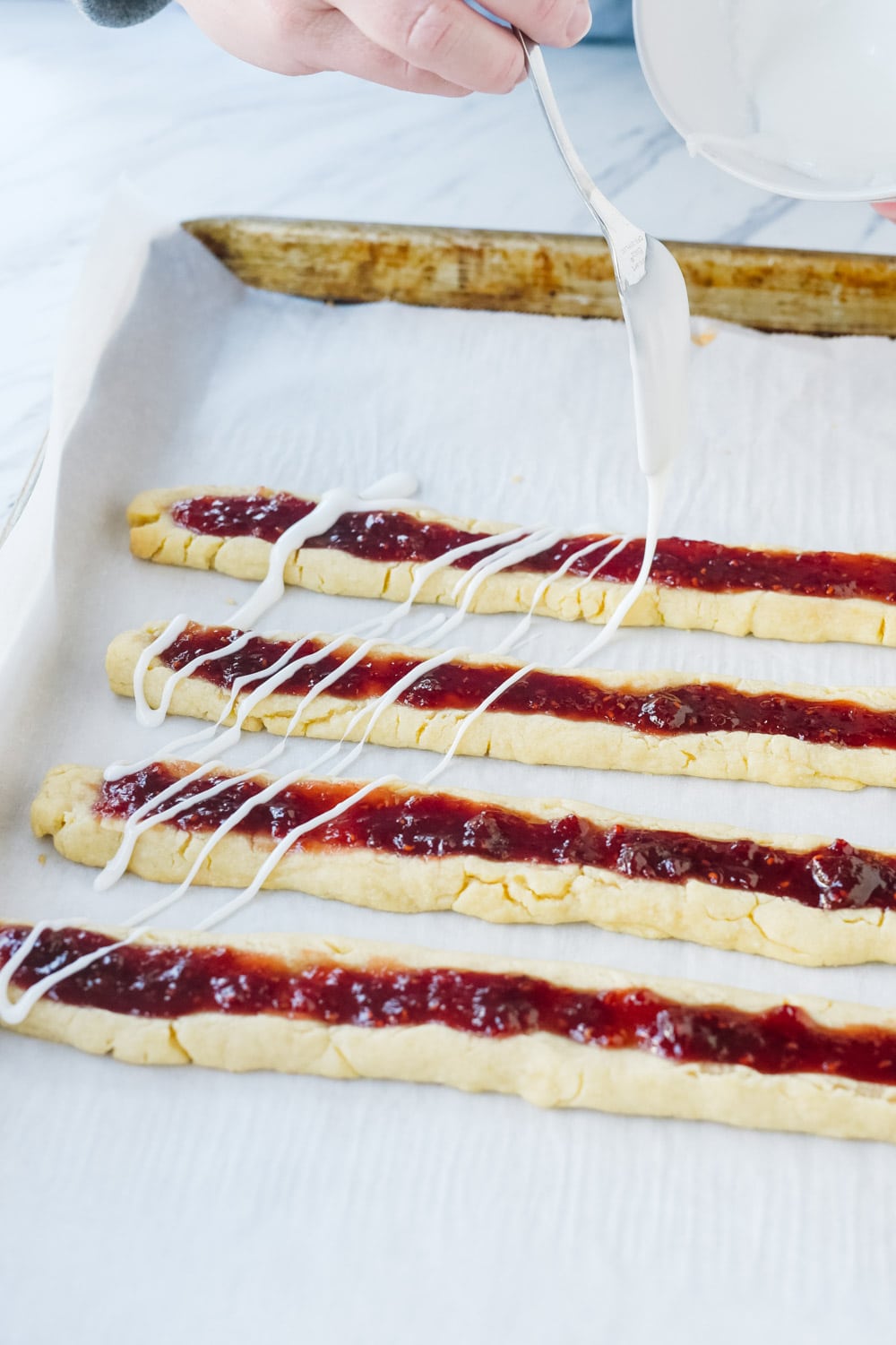 They are a pretty, dainty little cookie and believe me you are going to eat more than one! And they would make a lovely little tea cookie too or a wonderful addition to a Christmas cookie plate. Even a fun Valentine treat. They are pretty much perfect anytime!
You are going to be tempted to eat more than your fair share, trust me.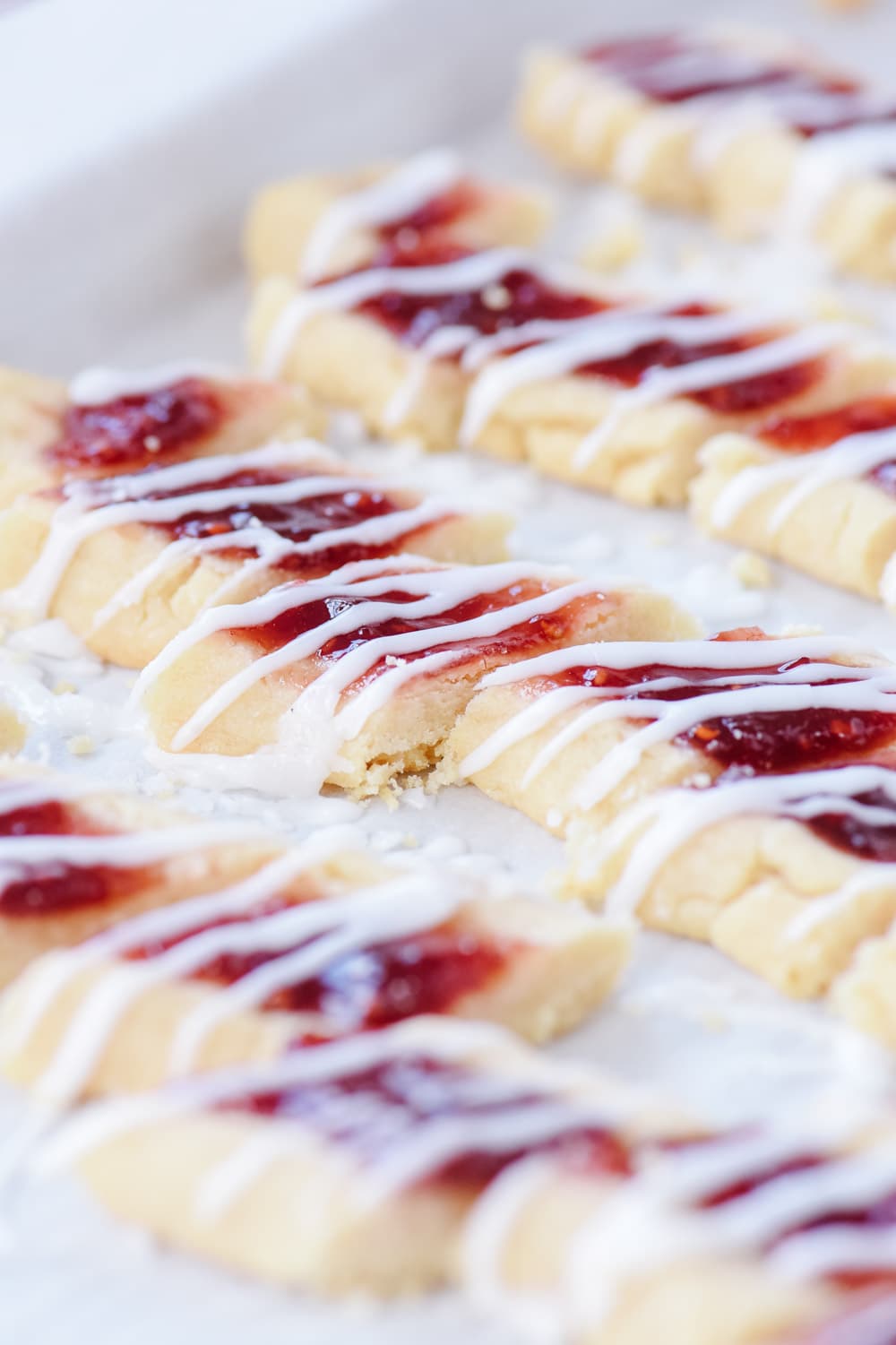 Some of my other favorite jam filled cookies include:
For all of my other favorite kitchen products and tools visit my Amazon Store.
Did you know I wrote a cookbook?  Check out the Holiday Slow Cooker Cookbook for 100 delicious recipes.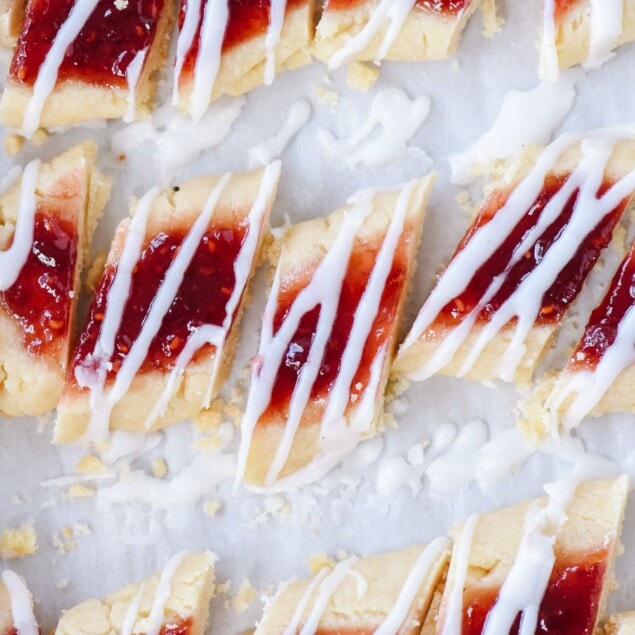 Jam Diagonals or Split Second Cookies
Split Second Cookies are a fun version of a thumbprint cookie.  They are also known as Jam Diagonal cookies.  Fill them with your favorite flavor of jam.
Ingredients
1/2 cup butter softened
1/4 cup granulated sugar
1 egg
1 tsp vanilla
1/8 tsp salt
1 1/4 cup flour
1/3 cup raspberry jam
Glaze
3/4 cup powdered sugar
4-5 tsp lemon juice to a good drizzling consistency
Instructions
Cream butter and sugar together. Add in egg, vanilla until creamy and fluffy

Gradually stir in flour and salt until blended. Divide dough into fourths.

On lightly floured surface, with hands, roll each fourth into a 9″ rope.

Place 3″ apart on greased cookie sheet.

With finger or handle of woode spoon, make 1/2" depression down center of each rope.

(Ropes will flatten to about 1″ wide strips).

Fill depressions with jam, using a small spoon.

Bake in a preheated 350 degree oven for 12-15 minutes or until golden.

Cool on cookie sheet.

For frosting, blend powdered sugar and lemon juice until smooth and carefully spread over jam. As soon as frosting is set, cut each piece diagonally into 12 piece.
Nutrition Facts:
Calories: 48kcal (2%) Carbohydrates: 7g (2%) Protein: 1g (2%) Fat: 2g (3%) Saturated Fat: 1g (6%) Cholesterol: 8mg (3%) Sodium: 25mg (1%) Potassium: 7mg Fiber: 1g (4%) Sugar: 4g (4%) Vitamin A: 64IU (1%) Vitamin C: 1mg (1%) Calcium: 2mg Iron: 1mg (6%)
* Disclaimer: All nutrition information are estimates only. Read full disclosure here.