Spiced Cranberry Jam is delicious and so pretty when it is all dressed up in a pretty jar for holiday gift giving.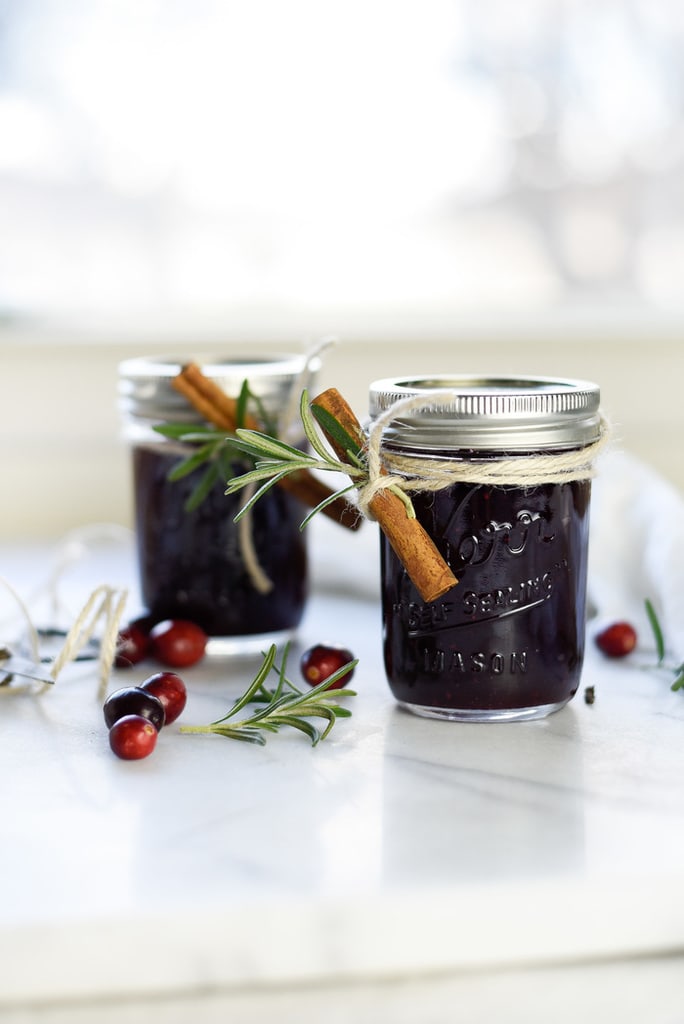 I am excited to welcome Chloe from Boxwood Avenue to the blog today.  She is a first time guest poster and she is our final guest of Bake Craft Sew.  I am excited for you to meet Chloe and check out her beautiful work!  Her photography is amazing and I love reading all about her farmhouse living.  Welcome Chloe!!

Be sure and check out all the other ideas that have been shared this month as part of Bake Craft Sew, here on the blog and also over at my friend Cindy from SkiptomyLou who has sewing ideas, and Mique from Thirty Handmade Days, will isposting craft ideas.   Of course you are going to find lots of great baking ideas here!  All the ideas you are going to need for creating fun and delicious food treats for all your friends and neighbors.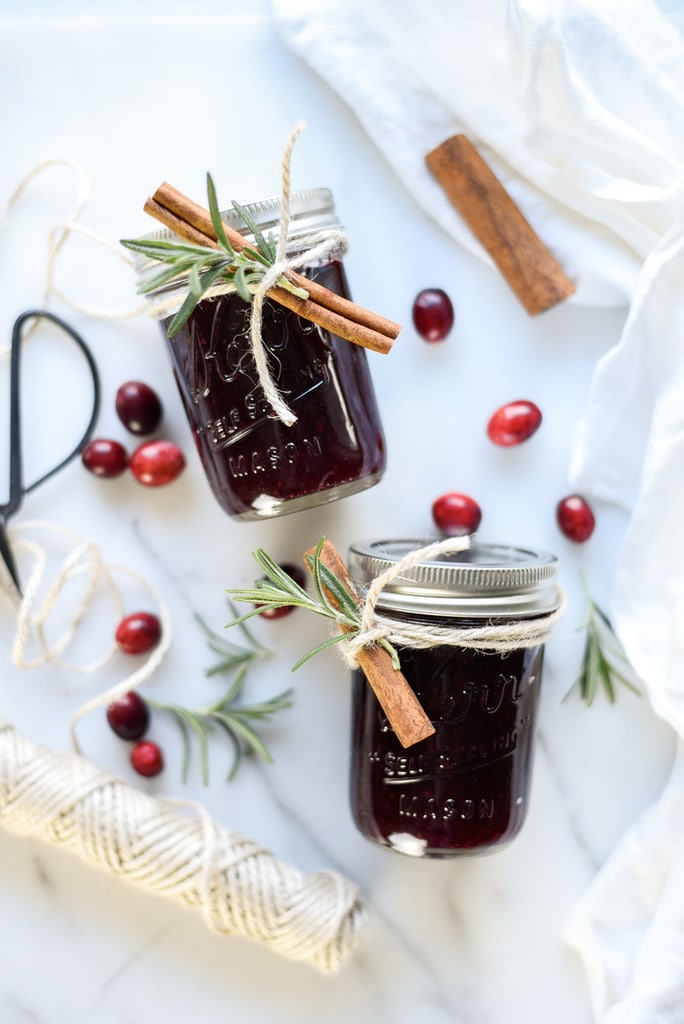 Hello! My name is Chloe Mackintosh, I am visiting from Boxwood Avenue, I write about country living on a cattle ranch in northern California; I share recipes, farmhouse ideas, and DIY projects. I'm so excited to be here today teaching you how to make an easy edible holiday gift!
Cranberry jam is a wonderful treat to enjoy around the holidays, and while it's popular during the thanksgiving holiday, it remains delicious throughout the entire season!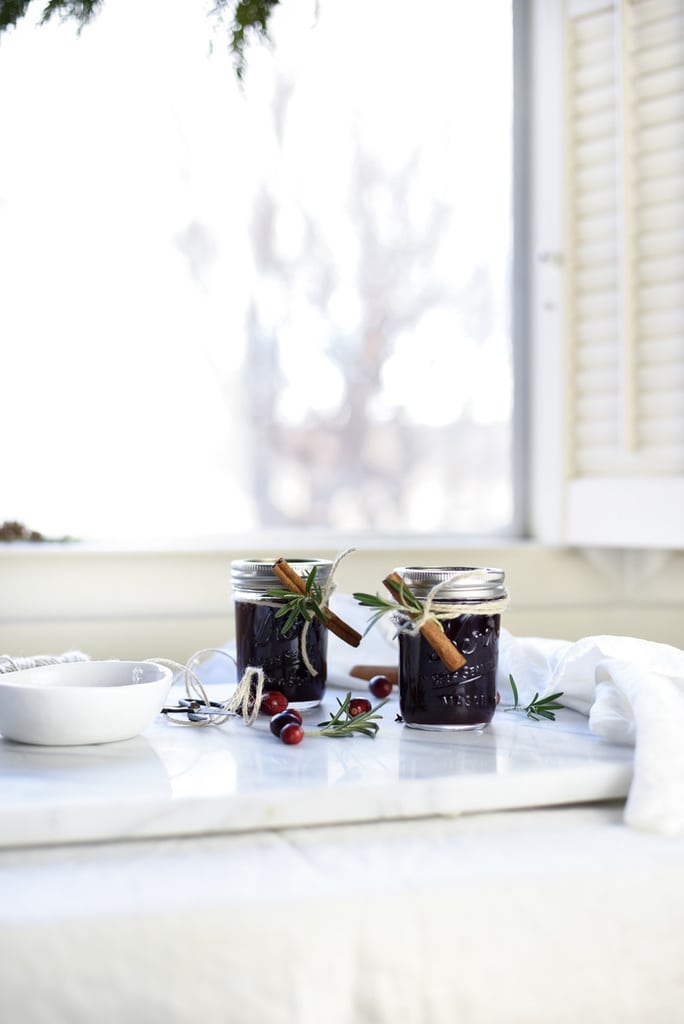 One of my favorite things to make are handmade gifts; I am a firm believer that a gift made with love is much more meaningful than something purchased. Preserves are an easy way to keep a steady supply of handmade gifts on hand all year long! During the holiday season cranberries can easily be found at grocery stores, so why not take advantage of it and preserve some into jam? Cranberry jam can be used on cookies, in cakes, piped into doughnuts, and of course, enjoyed with roast turkey.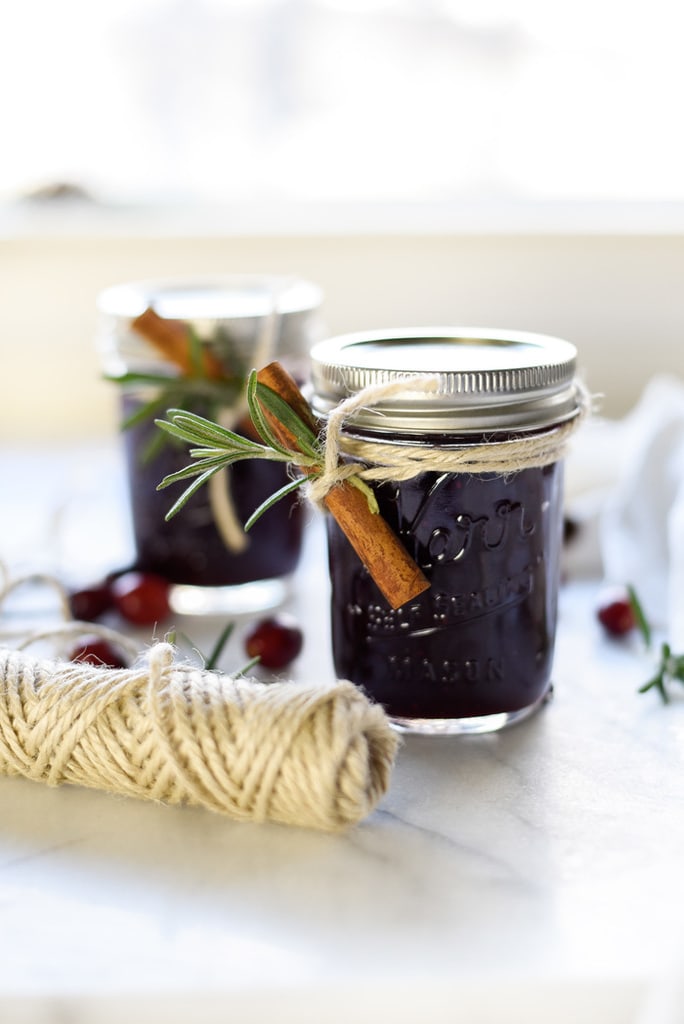 Cranberries are full of natural pectin, making it an easy recipe for those who aren't terribly comfortable putting their own fruit up. Although the recipe on the back of most cranberry bags calls for just 1 cup of sugar, I like to sweeten it up a bit more and add 1.5 cups of sugar per bag of berries.
I skipped adding fruit juice, which is generally called for in cranberry jam recipes, but you certainly could use orange or apple juice. To flavor the jam, I used a few cinnamon sticks and sprigs of rosemary. Adding cinnamon and rosemary is an unexpected twist from the usual orange zest.
Spiced Cranberry Jam Recipe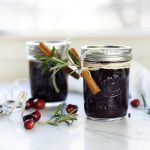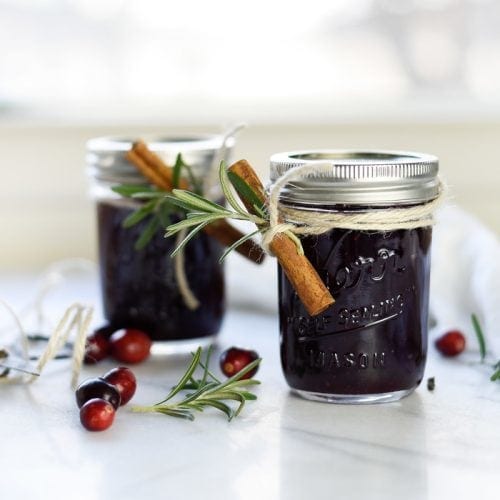 Print
Spiced Cranberry Jam
Homemade spiced cranberry jam is the prefect holiday treats
Ingredients
24

oz

cranberries

6 cups total

3

cups

sugar

½

cup

water

or fruit juice of choice

2

cinnamon sticks

4

springs

rosemary

Canning supplies & jam jars
Instructions
Wash berries and discard any mushy or rotten fruit.

Stir together berries, sugar, rosemary, cinnamon sticks, and water in a saucepan and bring to a full rolling boil that does not cease when stirred. Continue to stir and let the mixture boil for 2-3 minutes.

Reduce heat to medium and allow the mixture to cook for an additional 10-15 minutes, or until it does not slide off the spoon when raised above the pan.

Prepare a water bath, and sanitize jars and lids (soapy water or dishwasher).

Remove cranberries from the heat, and push through a sieve (a pasta strainer will work too) into a medium bowl. Discard the skins, rosemary, and cinnamon, which will be left in the sieve.

Carefully ladle the jam into the clean jars (2 bags made 2, 8 oz. jars for me). Wipe rims, and screw lids on 'finger tight'.

Process in a boiling water bath for 15 minutes, adjusting for altitude. Make sure the jars are covered by at least 1" of water during this process.

Remove from the water bath once the jars are fully processed. Use twine, fresh cinnamon sticks & rosemary to add a festive tough to the gifts.
Nutrition
Calories:
73
kcal
|
Carbohydrates:
18
g
|
Sugar:
18
g
|
Calcium:
2
mg
Get my Weekly Menu Plan for FREE!
Receive my FREE "What's for Dinner?" Meal Planning Course, a copy of my FREE ebook that includes my most popular recipes and my FREE weekly Meal Plan.