Make the most amazing Christmas dessert with this Gluten Free Cranberry Clementine Cake with White Chocolate Ganache. There are more uses for cranberry sauce than just garnishing turkey!
Today is the last day of our Bake Craft Sew Decorate series.  I hope you have enjoyed all the amazing and yummy recipes that have been shared.  I know I have quite the list of things to make!  Brielle from Breezy Bakes helps us close it out for this year with this amazing cake.  I love that it is gluten free but I guarantee you, even if you aren't gluten free you are going to want to make this – it looks delicious! I know the gluten free people at my house are going to love it.
Please be sure and visit Brielle at her blog and then check out all the other fun things that have been shared as part of Bake Craft Sew Decorate. Visit my friends Mique who is sharing Craft ideas and Cindy who is sharing Sew ideas and Mallory and Savannah at Classy Clutter who are sharing decorating ideas!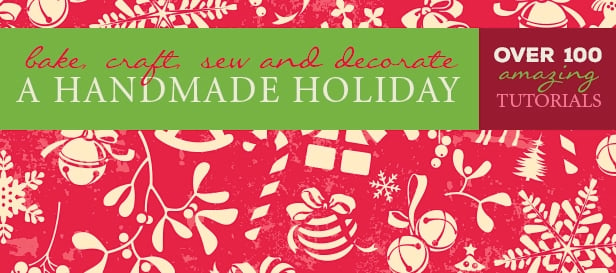 Why HAPPY HOLIDAYS to you!!! Can you believe we are in the midst of Christmas chaos?! Isn't it lovely??? I'm Brielle from Breezy Bakes and I am so excited to be a part of this year's Bake Craft Sew Decorate. What an amazing bunch of talented ladies bringing you some super fun ideas. I hope you enjoy my holiday recipe and head on over to my site to see all my gluten free creations that are just as amazing as their gluten filled counterparts. I'll even betcha!
Thanksgiving and Christmas are two holidays that never cease to remind me of how much I have evolved…ahem…matured over the last 32 years of my life.
From seeing the obnoxious curly haired, spaced out teeth, thick glasses girl in all of our holiday home videos to glancing in the mirror now, I'd say time is on my side. I'm not even exaggerating here.
I've shown pictures of my young self to the teenagers at the high school where I used to work, as well as to the youth at our church, just to prove to them that life does get better. I've gotten a couple of responses along the lines of, "Wow miss! Is that even you?! You were U-G-L-Y!"
That's the great thing about teenagers…they have NO filter. Kind of refreshing, kind of heart stabbing.
But my looks aren't the only thing that has refined over the years. My palate has taken a much more sophisticated direction as well.
Here's what a typical holiday family dinner consisted of at my house: turkey or ham, stuffing, cranberry sauce, homemade rolls, green bean casserole, sweet potatoes, mashed potatoes, gravy, seven layer salad, pumpkin pie, pecan pie, whipped cream, and ice cream.
Here was my reaction to most of those items for the majority of my childhood: ew, bleh, ick, gross, gag, cough, WAH!!!
So most holidays this is what my plate looked like: turkey, mashed potatoes, roll, another roll, another roll, just one more roll, and ice cream.
Perfect meal, right?!
NO!!!!
Now being all adult like and sophisticated and pushing into the MID-30's…I can now see the error of my naive ways. Holiday food is DELICIOUS!!! I missed out for so many years.
Besides having developed a love affair with stuffing, which literally made me dry heave as a kid, I have come to truly love cranberries.
Cranberry pie? YES!
Cranberry cupcakes? Bring it on!
And especially cranberry sauce. Relish? Sauce? I don't care. Either one tastes good to me. A holiday meal just isn't complete without a little pucker of cranberry.
Now I'm all about switching up your holiday desserts. I've had about enough pumpkin and pecan pies to last me a lifetime. Not saying they aren't yummy and all, but holidays are for FUN and what's more fun than discovering new and amazing foods that make your taste buds do a little hokey pokey in your mouth?
That is why you NEED to make this Gluten Free Cranberry Clementine Cake with White Chocolate Ganache for your next holiday gathering.
First of all, we all know someone that is gluten free, right? It's pretty much inevitable nowadays that you will have at least somebody at your Christmas party/potluck that has an allergy, and most likely it will be a gluten allergy.
Well your mission, if you choose to accept it, is to run up to that person, grab them by the shoulders and scream all crazy-like into their face, "You can have your cake and eat it too!!!"
Of course they will think you are insane, but you will hands down be their ultimate hero this holiday season for providing them with the best Christmas cake they have ever had.
Let me break it down to you.
It's a clementine white chocolate cake made with a combination of gluten free flours, most of which is coconut flour. Coconut flour yields a soft, tender crumb and adds a bit of sweetness to cakes. Delish.
But then the batter also has fresh squeezed clementine juice and rind in it to bring out this tangy citrusy flavor. It's all those memories of getting clementines in your stockings baked into this one lovely cake.
And then white chocolate! Yes, melted white chocolate gets folded into the batter at the very end.
But wait! As if that isn't good enough, you swirl in some whole cranberry sauce just before baking to create these beautiful marbled cakes that get stacked on top of each other, each with a layer of clementine flavored white chocolate ganache.
I mean really??? REALLY!
Does it get any better than that?
It does actually. It does because this cake is gorgeous. Not only do you get to please all your guests with the flavor of this cake, but you get to secretly listen to all the "Oooohs" and "Awwwws" of people walking by the dessert table just eyeing your beautiful creation.
I'm all about what's in it for me when I bake, and I'm telling you, what's in it for you is praise, praise, PRAISE!
So take the next step in your holiday evolution, step out of the box of making pies, and give this sophisticated dessert a try. This is one cake that tastes just as good as it looks!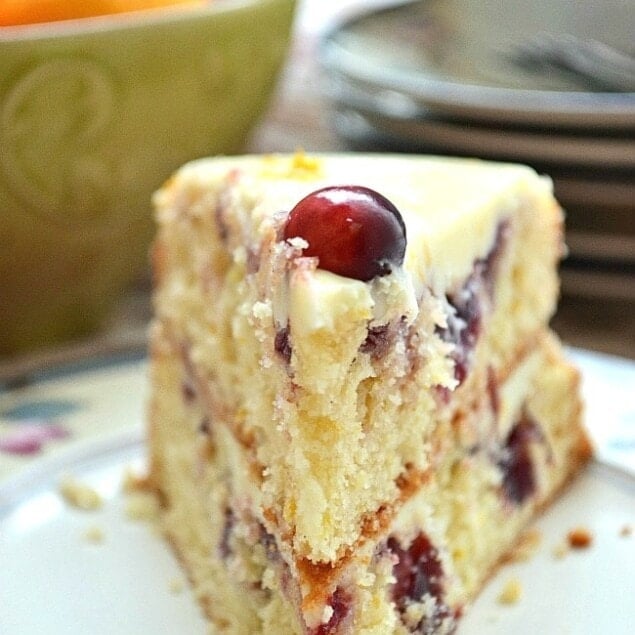 Gluten Free Cranberry Clementine Cake with White Chocolate Ganache
Make the most amazing Christmas dessert with this Gluten Free Cranberry Clementine Cake with White Chocolate Ganache. There are more uses for cranberry sauce than just garnishing turkey!
Ingredients
For the cake:
2 sticks butter room temperature
1 1/2 cups granulated sugar
3 eggs
1/2 teaspoon almond extract
1 teaspoon salt
1 1/2 teaspoons baking powder
1/2 teaspoon baking soda
1/4 teaspoon xanthan gum
3/4 cup coconut flour
1/2 cup brown rice flour
1/3 cup sweet sorghum flour plus more for dusting pan
2/3 cup potato starch
1/4 cup tapioca starch
1/3 cup fresh squeezed clementine juice about 4 clementines
2 teaspoons clementine zest
1/2 cup milk I used 2%
1/2 cup plus 2 tablespoons white chocolate chips
1 cup whole cranberries canned cranberry sauce
For the ganache:
3 tablespoons clementine juice
3 tablespoons heavy whipping cream
2 cups white chocolate chips
1 teaspoon clementine zest
Instructions
Preheat oven to 350 degrees. Grease and lightly flour (using sorghum flour) 2 round cake pans. Set aside.

In a stand mixer or using a large mixing bowl with handheld mixer, cream together butter and sugar until light and fluffy, about 3-5 minutes. Add eggs one at a time, beating on low for 30 seconds after each addition. Add almond extract and mix until incorporated.

In a separate small mixing bowl, sift together salt, baking powder, baking soda, xanthan gum, coconut flour, brown rice flour, sorghum flour, potato starch, and tapioca starch. Add half of this dry mixture to batter and mix on low until smooth.

Add milk, clementine juice, and zest to batter and mix until incorporated. Add remaining sifted dry ingredients to the batter and mix until smooth.

In a microwave safe bowl, heat white chocolate chips at 50% power for 45 seconds. Remove and stir. Continue stirring until smooth. If chocolate isn't smooth after at least a minute of stirring, return to the microwave at 50% power for 15 second intervals.

Fold melted white chocolate into the batter and mix until evenly distributed.

Pour half of cake batter into one pan, and the other half into the other. Stir cranberry sauce to break up and jelly pieces. Drop dollups of cranberry sauce scattered over the tops of each cake, about 1/2 cup total for each cake. Using a knife, swirl cranberry sauce into batter for marbled effect.

Bake cakes at 350 degrees for 30-35 minutes or until tops spring back at the touch of a finger and toothpick inserted into middle of cakes comes out clean. Make sure to test in a spot without cranberries.

Remove from oven and allow to cool in pans on a cooling rack for 15-20 minutes. Carefully flip cakes out of pans, invert right side up, and allow to completely cool on cooling racks before assembling.

To make the ganache, mix together 3 tablespoons clementine juice with 3 tablespoons heavy cream in a microwave safe dish. Heat on high for 45 seconds. Remove from microwave and stir. Pour 1 cup white chocolate chips into heated mixture and stir until chocolate melts and is completely smooth. Add in additional cup of chocolate chips and stir until coated with melted mixture. Return to microwave and heat at 50% power for 30 seconds. Remove and stir for 1 minute. Return to microwave for additional 15 second intervals, stirring in between, until ganache is smooth. Stir in 1 teaspoon of clementine zest. Allow ganache to cool to touch.

To assemble cake, place one cake on a platter and pour 1/2 ganache over the top in the middle of the cake. Spread ganache up to 1/4" away from the edge. Place second cake on top. Pour remaining ganache over the top in the middle of the cake. Spread ganache to the edge of the cake.

Decorate cake as desired and serve at room temperature. Store cake covered in fridge for 3-5 days or in freezer for up to 3 months.