Nothing beats a creamy, delicious homemade Caesar Salad dressing.  Made without raw eggs, this dressing has just the right balance of flavors!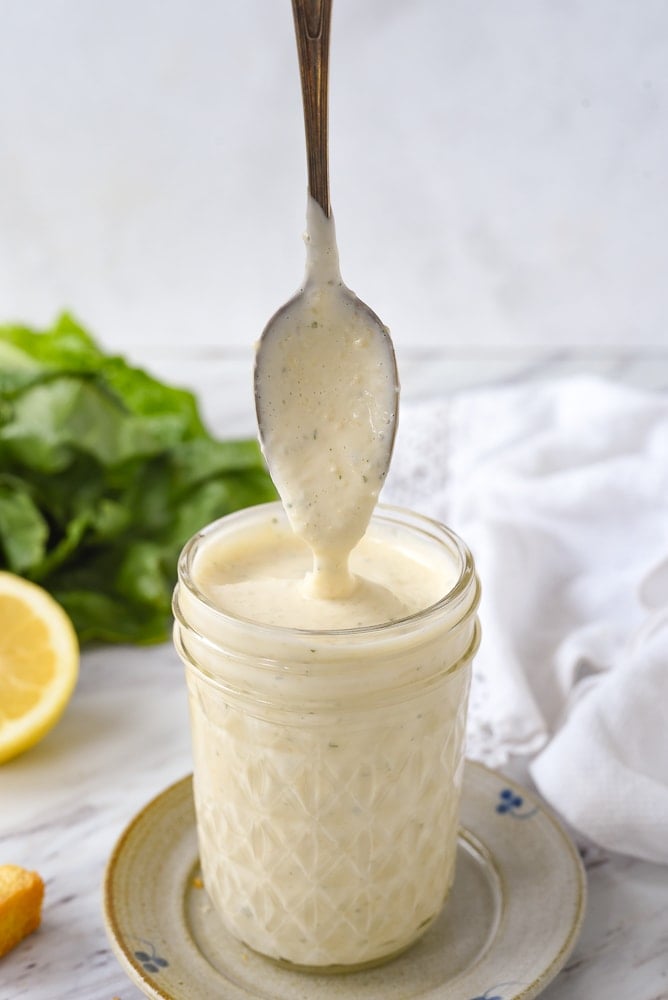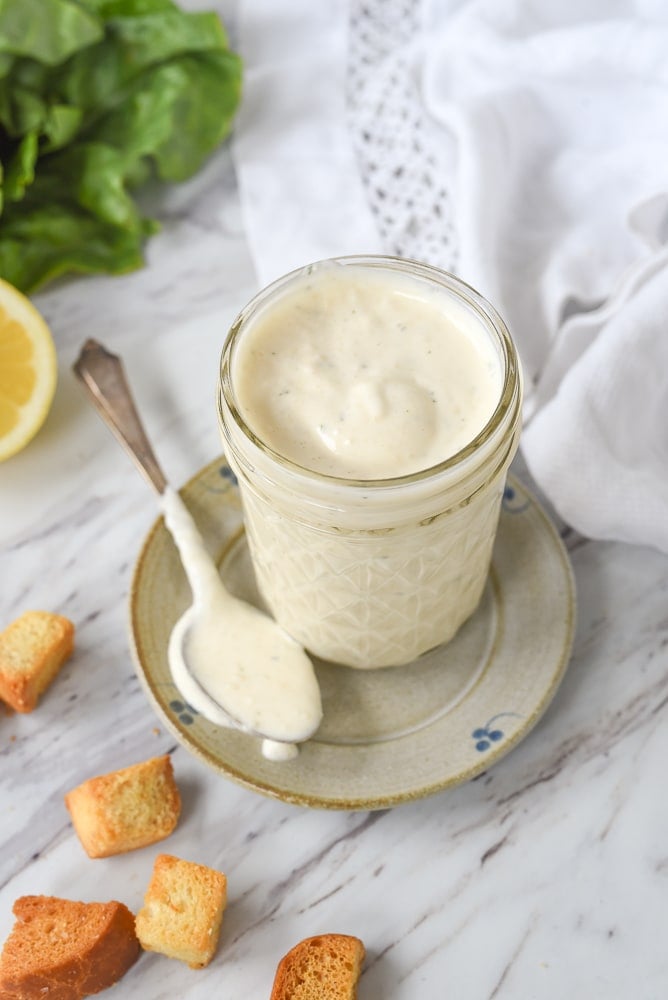 A Caesar Salad is one of my favorite salads to order whenever I see it on the menu. Nothing beats a good one in my opinion. I had really never made one at home until recently. With the pandemic and not visiting restaurants like we usually do I was craving a good Caesar Salad. I've always bought Caesar salad dressing before and there are a couple of good store brands that I like but since we all know that homemade is always better than store bought I decided to make a homemade version.

Homemade Caesar Dressing
There are two things I love about this recipe, first, there are no eggs in it. Because I used mayonnaise as the base, and there are eggs in mayonnaise, I didn't add any additional eggs. This eliminates the problem of and worry of raw eggs in the dressing.
Usually when I order a Caesar Salad I ask for them to leave the anchovies out. This is a common ingredient in Caesar salad and can give it a fishy taste if there is too much of it in the dressing. I'm not a big fan of anything that is too fishy but I do like a little bit of that tang that the anchovies can give the dressing. I used a small amount of anchovy paste. It can be found in the grocery aisle with all the canned meats such as tuna, chicken etc. Go easy on it at first and add more according to your personal taste.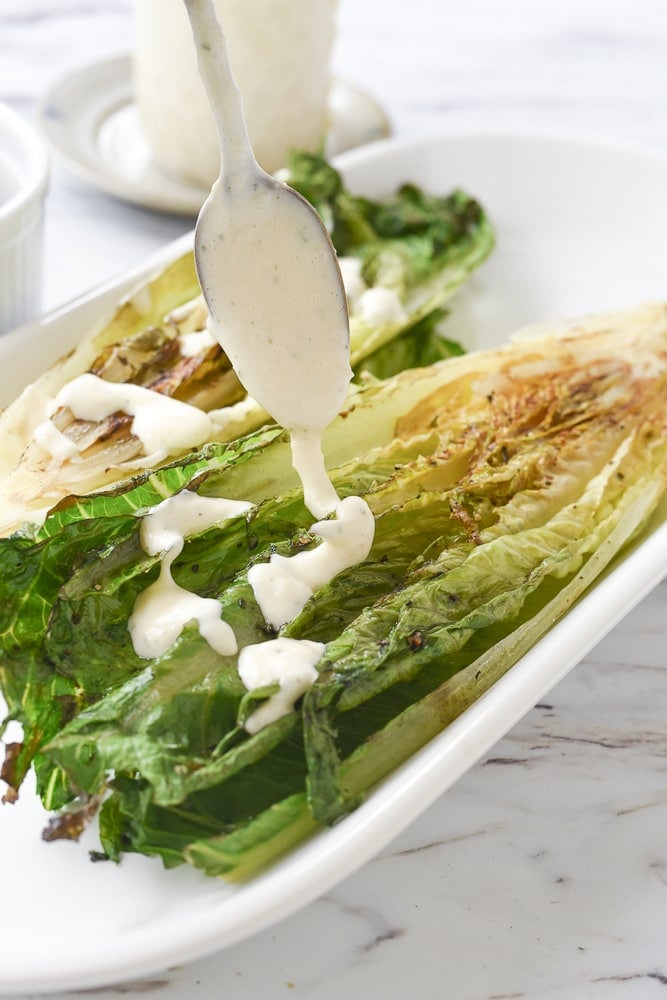 Caesar Salad Dressing Ingredients
Anchovies – I always use anchovy paste, especially since I am not a big fan of anything fishy! The dressing really does benefit from the flavor though. I only use 1/4 -1/2 tsp.
Cheese – I use Parmesan or a Parmigiano-Reggiano. Use a good quality cheese, preferably one from Italy for the best flavor. The cheese is used in the dressing and then a sprinkle on top to finish off the salad.
Mayonnaise – Use a full fat mayonnaise, no reduced fat versions!
Garlic – Use fresh garlic for the best flavor. I love to use cheater garlic, the pre chopped stuff you buy in the produce department but for this I always chop my own.
Lemon Juice – Again, fresh is best!
Parsley – I do use dried parsley for this but you could always use fresh if you have it.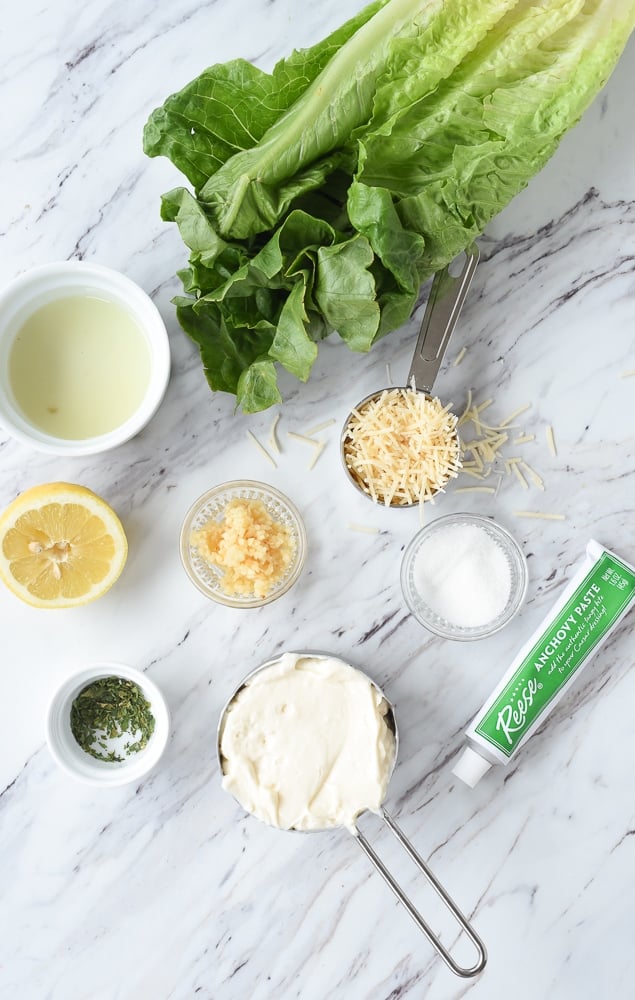 How to Make Caesar Salad Dressing
Combine all your ingredients except for the water into a blender. I like using my small personal size blender for this since the recipe only makes about a cup of dressing and it kind of gets lost in my big blender.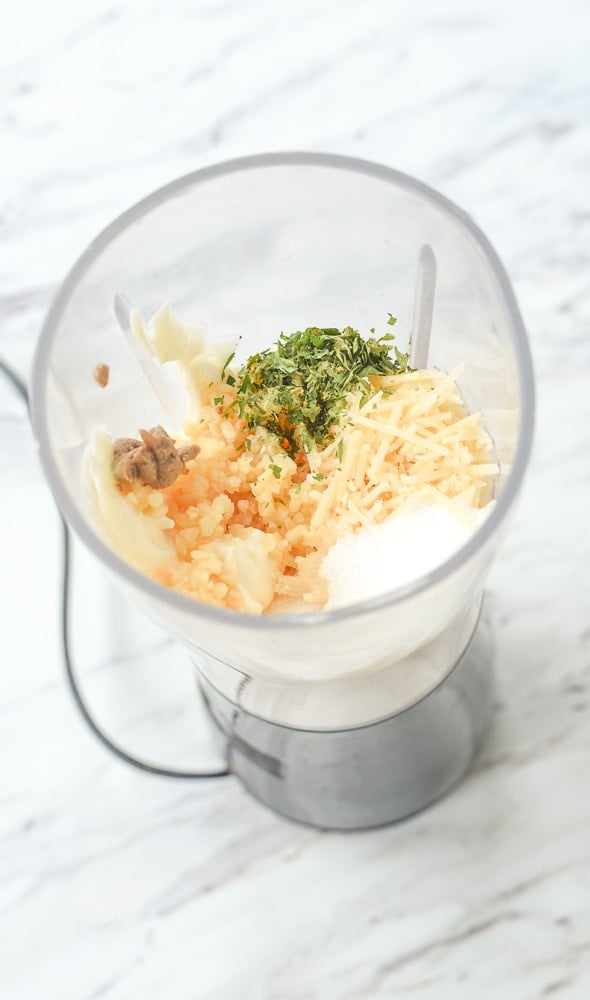 Blend well to get all the ingredients combined and the cheese blended in, you want the dressing nice and smooth and creamy, and no chunks of cheese. If the dressing is too thick, add a little water to get desired consistency. Just add a teaspoon at a time.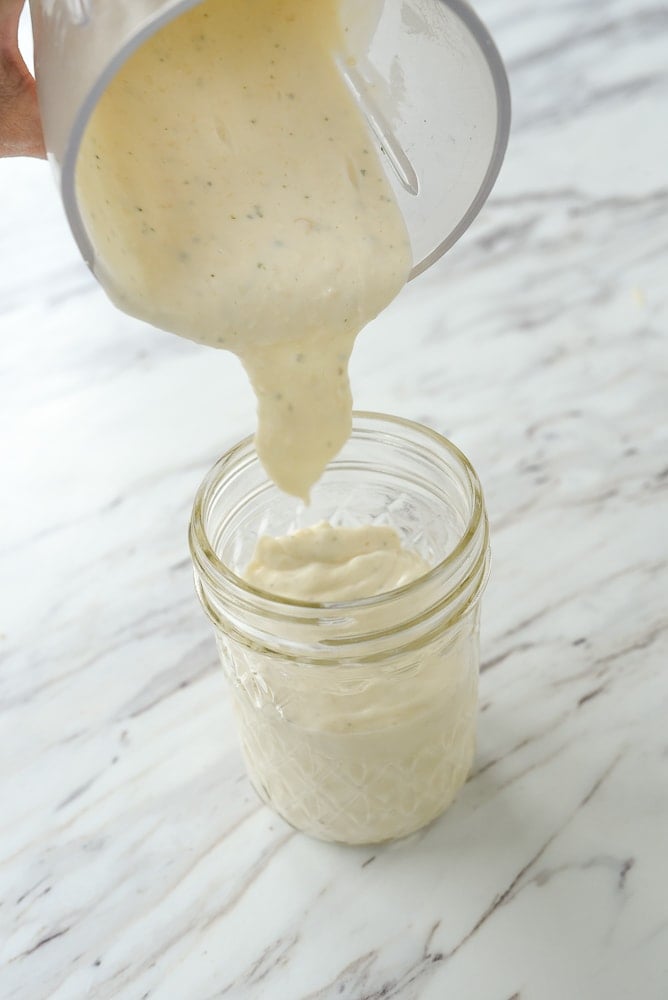 Keep the dressing in an airtight container in the refrigerator. It will last for about a week in the refrigerator. It is also great for dipping fresh veggies into!!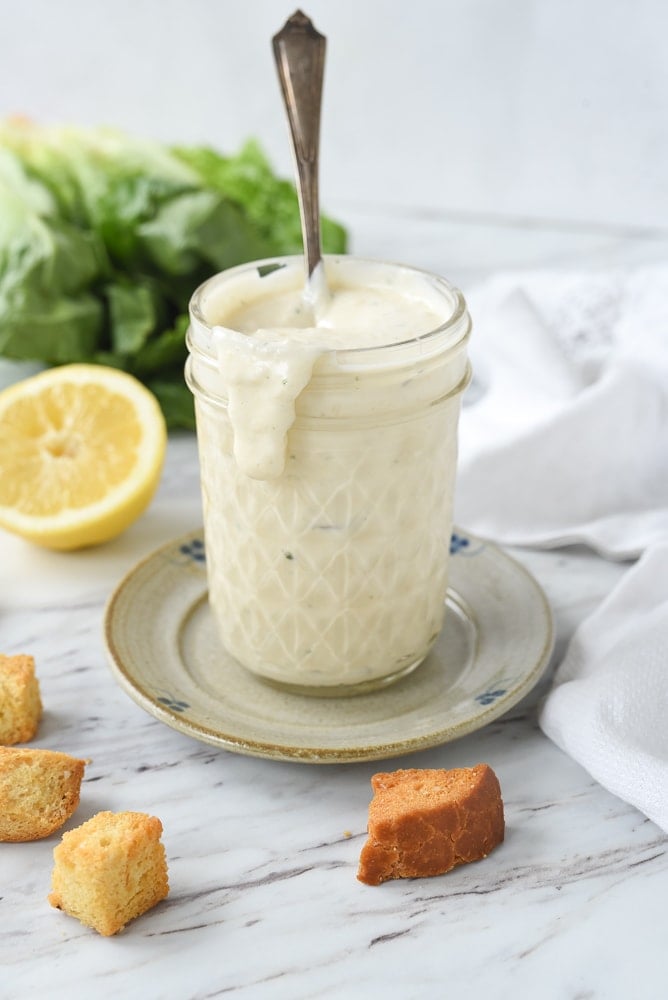 A good homemade crouton is essential for the perfect Caesar Salad too so check out how easy it is to make them here.
Some of our favorite salads include these:
For all of my other favorite kitchen products and tools visit my Amazon Store.
Did you know I wrote a cookbook? Check out the Holiday Slow Cooker Cookbook for 100 delicious recipes.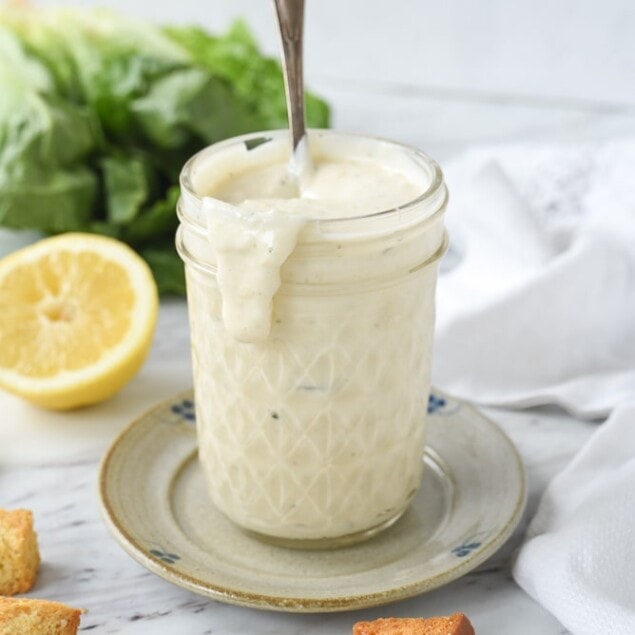 Caesar Salad Dressing
Nothing beats a creamy, delicious homemade Caesar Salad dressing.  Made without raw eggs, this dressing has just the right balance of flavors!
Ingredients
1 cup mayonnaise
1/3 cup Parmesan cheese or Parmigiano-Reggiano, freshly grated
3-4 cloves garlic minced
1/2 tsp anchovy paste more to taste
2 tsp sugar
1 1/2 Tbsp lemon juice fresh
1/2 tsp parsley dried, 1 tsp fresh
salt and pepper to taste
water as needed to thin
Instructions
Combine all ingredients except for water into a blender and blend until smooth.

Add water a teaspoon at a time, if needed to thin dressing.

Store in an airtight container in the refrigerator for up to a week.
Nutrition Facts:
Calories: 214kcal (11%) Carbohydrates: 2g (1%) Protein: 2g (4%) Fat: 22g (34%) Saturated Fat: 4g (25%) Cholesterol: 15mg (5%) Sodium: 259mg (11%) Potassium: 10mg Sugar: 2g (2%) Vitamin A: 51IU (1%) Vitamin C: 1mg (1%) Calcium: 54mg (5%) Iron: 1mg (6%)
* Disclaimer: All nutrition information are estimates only. Read full disclosure here.