Flaky Herbed Biscuits are tender, light, and so full of flavor!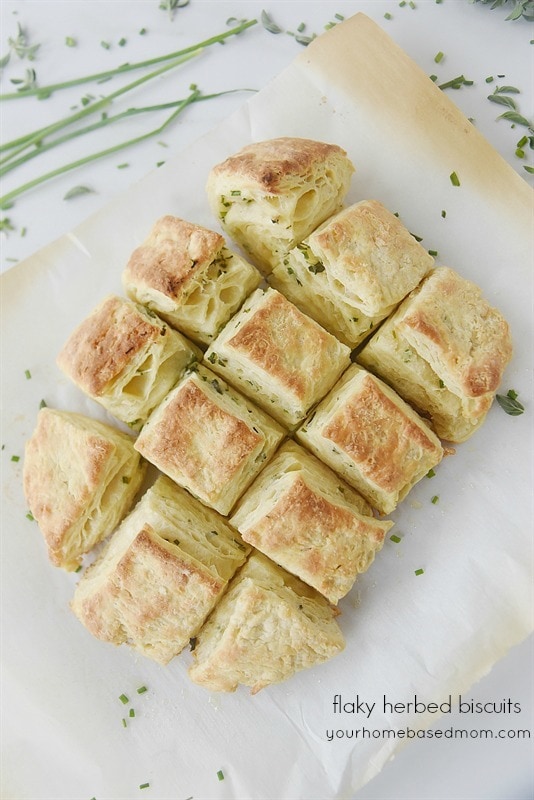 Today I'm excited to share with you a few tricks for creating delicious, light and flaky herbed biscuits. I am also excited to give you a little sneak peek of a collaboration I am doing with Cents of Style. A few weeks ago, I flew to Utah to be a part of a photo shoot for their exciting new spring collection "A Fresh Cut." My daughter and I had a blast trying on and modeling all the beautiful new clothes that will be part of this line. You'll get a sneak peek at a couple of the items in this post and be sure and check back tomorrow for more photos and info on the collection and where you can find it. How cute is that sweatshirt with the flowers on the shoulders! I also love the sweater I am wearing and it comes in other colors too!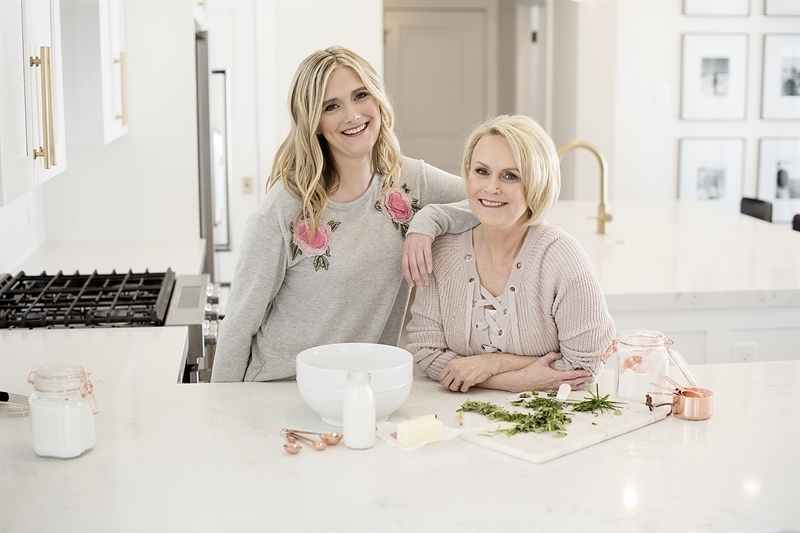 Not only did I get to hang out with my darling daughter and the great team over at Cents of Style but I got to do a little cooking in this amazing all white kitchen that belongs to Cents of Style owner, Courtney Brown. Check out those cute booties I got to wear and may have brought home with me!!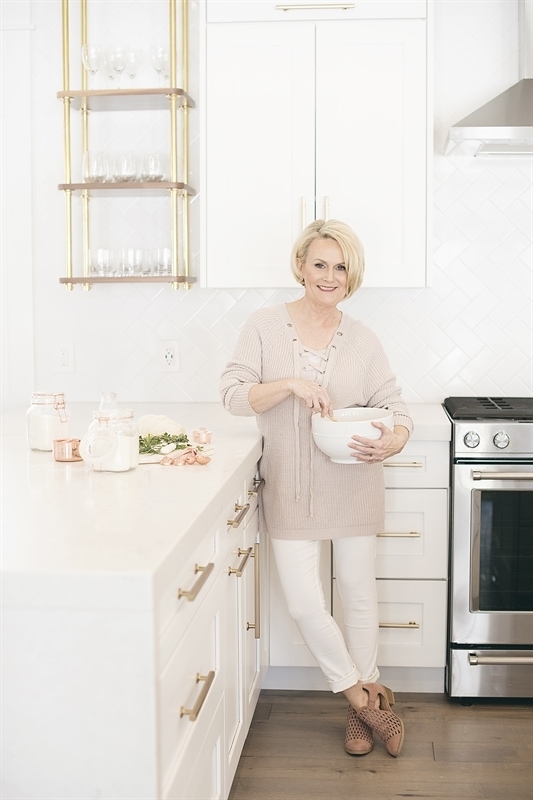 Now for those biscuits – there is a little bit of a trick to making flaky biscuits and one of the tricks is to be gentle with the dough. Don't use a mixer, just stir the dough gently with a wooden spoon and don't over mix.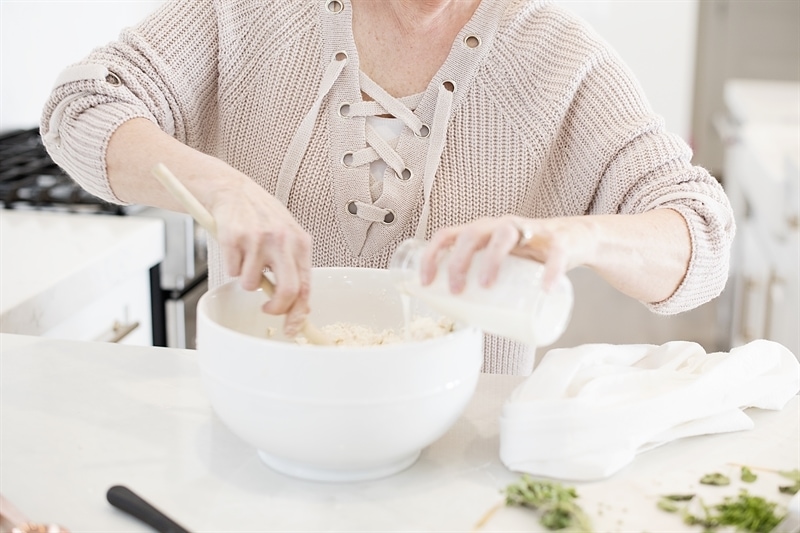 The next trick is to handle the dough as little as possible.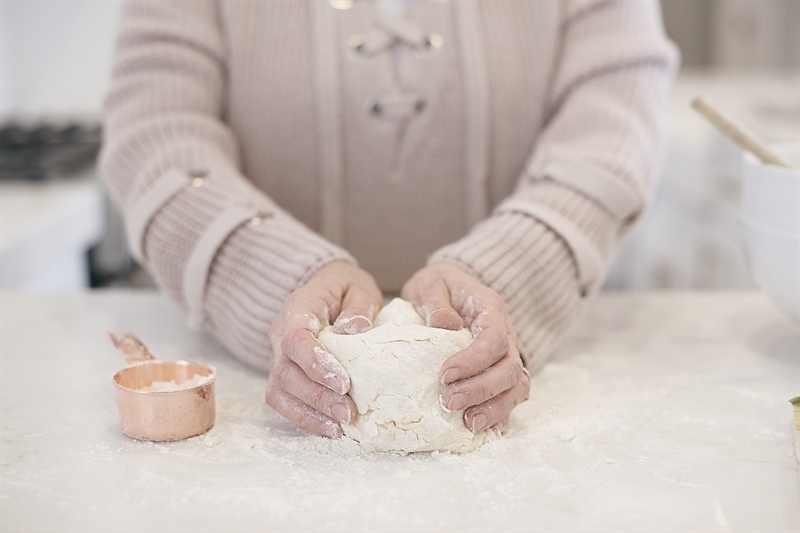 For this recipe I used a combination of chives and oregano but you can use your favorite combination of fresh herbs. Just use fresh herbs, not dried.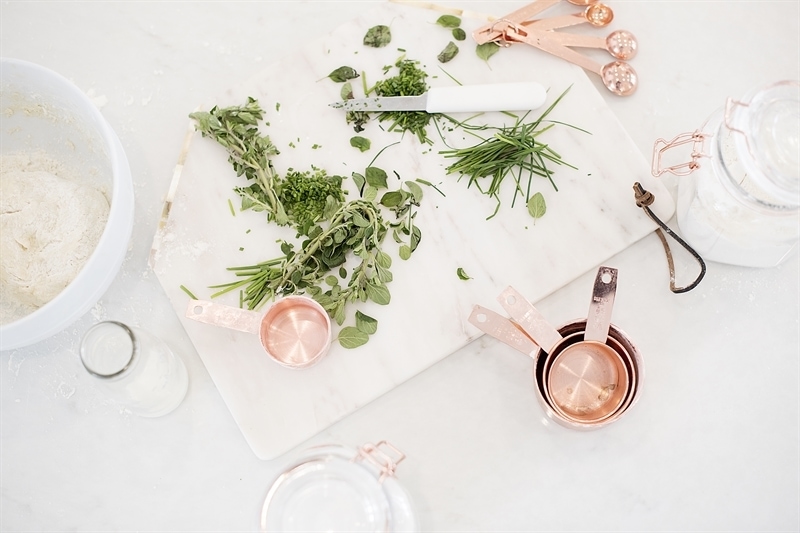 Another trick to this recipe is folding the dough several times to create those nice flaky layers. After forming the dough into a 6 x 8 inch rectangle, sprinkle it with half of your herb mixture. Gently press the herbs into the dough.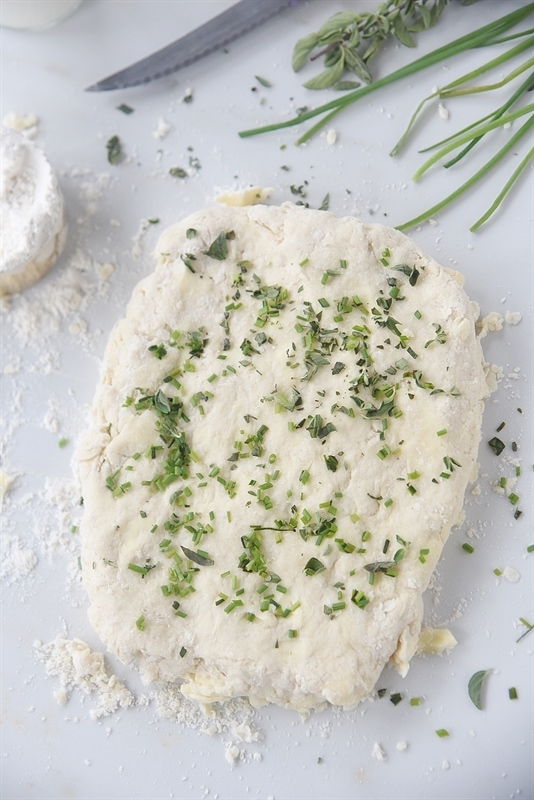 Then fold and rotate and press out the dough several times. This is where those flaky layers will come from.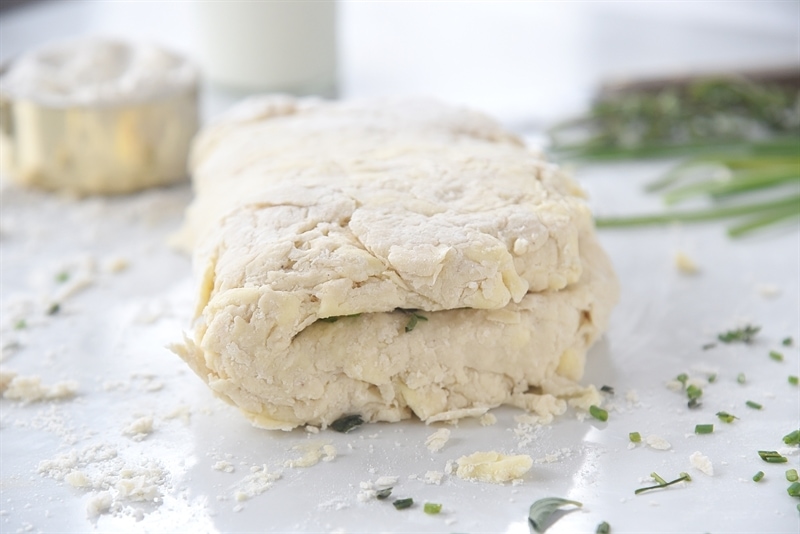 After folding and rotating several times you will end up with a 6 x 8″ rectangle. Cut that into 12 pieces.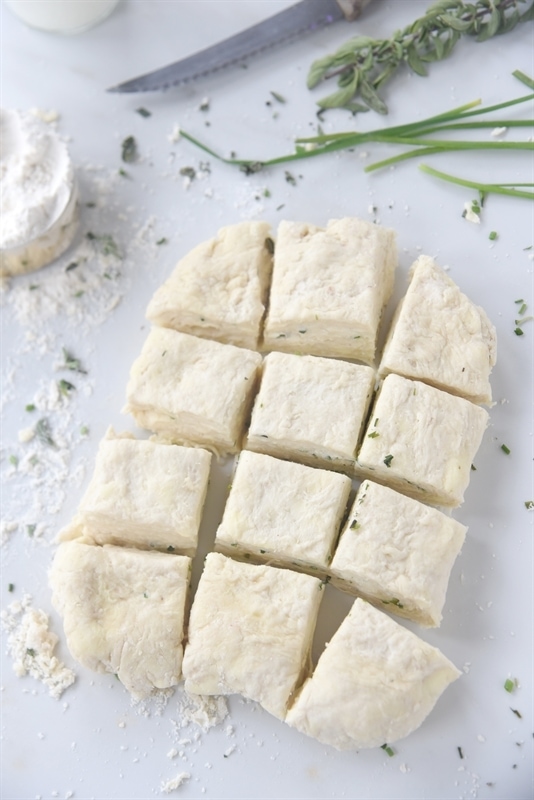 Place the pieces close together on a parchment covered baking sheet and bake until golden brown.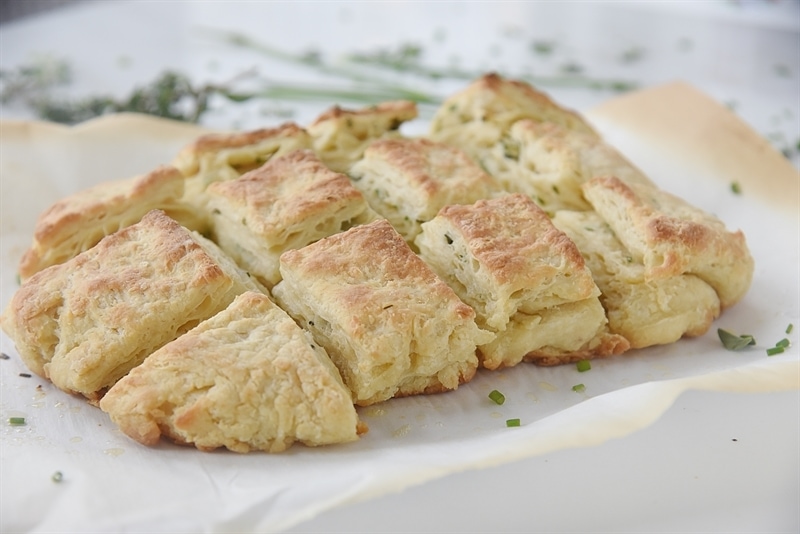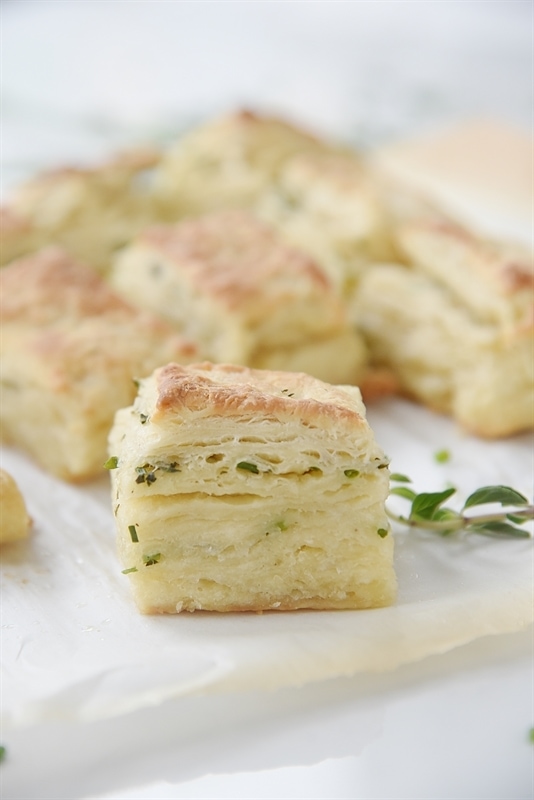 Just look at those lovely, light, flaky layers of herbed biscuit!
These biscuits are the perfect accompaniment to just about any meal but are especially perfect with a bowl of soup or a nice fresh salad.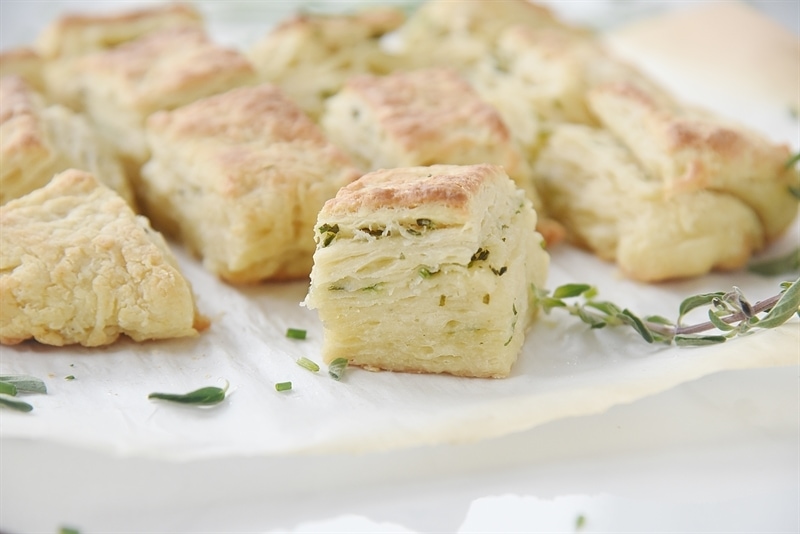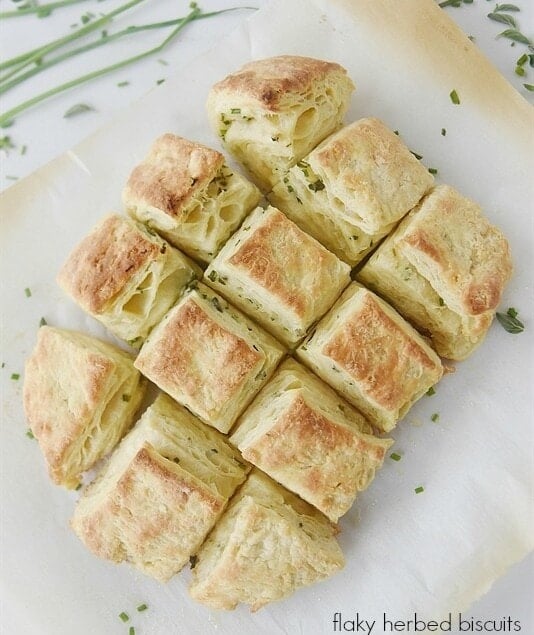 Flaky Herbed Biscuits
Flaky homemade biscuits with chives and oregano.
Ingredients
2 1/2 cups unbleached all-purpose flour plus more for work surface
1 Tbsp. baking powder
1 Tbsp. sugar
1 tsp. kosher salt
8 Tbsp. butter cold, cut into 1/4-inch cubes
1 cup whole milk cold
1 Tbsp. fresh chives finely chopped
1 Tbsp fresh oregano finely chopped
Instructions
Preheat oven to 425°.

Sift the flour, baking powder, sugar and salt into a large mixing bowl.

Add the butter and cut it into the dry ingredients, using a pastry blender or 2 knives, until the butter pieces are pea-size and distributed throughout.

Make a well in the middle of the flour mixture and add in half the milk. Using a spatula, stir to combine. Add remaining milk and stir until a shaggy dough begins to form. Make sure all the liquid is mixed in.

Place dough onto a lightly floured work surface.

Press the dough into a 1/2-inch-thick rectangle, about 8 by 6 inches, with the shorter sides at the top and bottom. Mix together the chives and oregano and sprinkle 1 tablespoon of the herbs across the surface of the dough and press them in lightly.

Fold the dough in half onto itself, pulling from the top short side of the rectangle to the bottom.

Shift the dough clockwise a quarter-turn, Press the dough back into a rectangle, about 6 1/2 inches by 5 1/2 inches. Fold and turn this way 2 more times, pressing the dough out into a rectangle with the same dimensions each time. Be gentle with the dough.Go easy on the dough: Don't knead it vigorously as you would bread dough. The less you press it, the lighter and flakier the resulting layers will be.

Sprinkle the remaining herbs across the surface of the bread. Fold the dough in half, rotate again, and press into a rectangle one last time, 8 inches by 6 1/2 inches and 1/2 inch thick.

Use a sharp knife (not serrated) to cut the biscuits into 12 squares (cut 3 rows by 4 rows). Avoid using a sawing motion or dragging the knife through the dough,

Set the biscuits on a parchment lined baking sheet, snuggly situated next to each other with no space between, back into the rectangle shape. Bake for 20 to 25 minutes, turning the pan halfway through, until the tops are golden brown.
Nutrition Facts:
Calories: 184kcal (9%) Carbohydrates: 25g (8%) Protein: 3g (6%) Fat: 8g (12%) Saturated Fat: 5g (31%) Polyunsaturated Fat: 1g Monounsaturated Fat: 2g Trans Fat: 1g Cholesterol: 21mg (7%) Sodium: 251mg (11%) Potassium: 182mg (5%) Fiber: 2g (8%) Sugar: 2g (2%) Vitamin A: 391IU (8%) Vitamin C: 1mg (1%) Calcium: 69mg (7%) Iron: 2mg (11%)
* Disclaimer: All nutrition information are estimates only. Read full disclosure here.