Flavored Butters are so easy to make and make a wonderful gift.  They taste delicious too!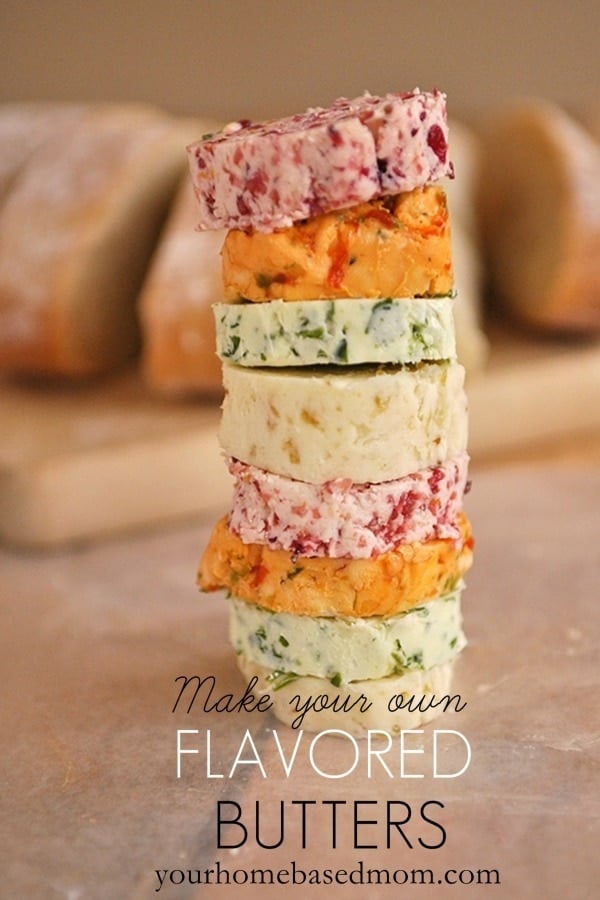 One of my favorite things about the holidays is all the yummy holiday treats.
For those of you who might be looking for a holiday treat to give to friends and neighbors that isn't sweet I've got a great idea for you today. Flavored Butters.
I love butter and eat bread so that I can eat butter. Margarine was never allowed at my house growing up (and it was the sixties and seventies when margarine was totally in!) My dad was a butter man. So I learned at a young age to appreciate the fine flavor of butter. No generic butter at our house. Be sure and buy a quality brand, we like Darigold. A good quality butter will give you better results and flavor in cooking and baking. You get a higher melting point and a better quality to your baked goods. Darigold uses a European vacuum style churn to create a high quality better butter.
Flavored Butters
I decided to dress up the butter a little bit and create some flavored butters. I am going to give a collection of flavored butters along with a loaf of homemade bread to some of our friends for the holidays!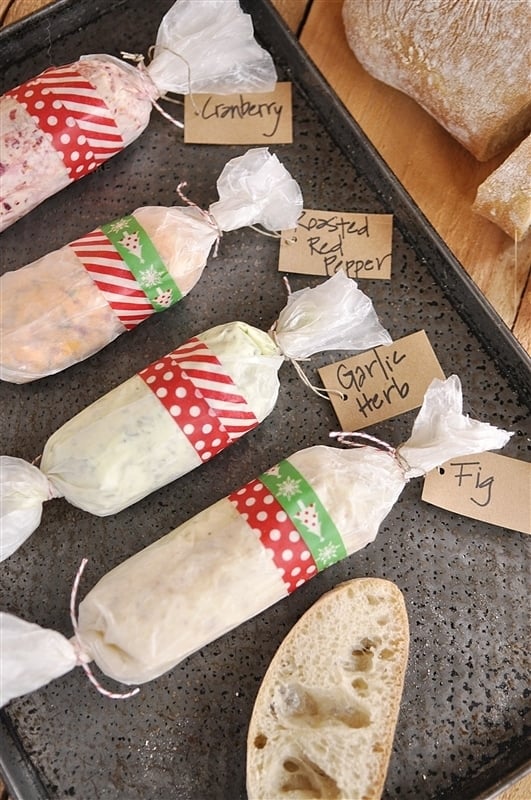 Flavored butters can be used in a variety of ways, depending on the flavor of the butter. I like to make both sweet and savory. I think any flavor butter is good on a piece of bread but you can also use them on meat, fish, chicken to add a lovely flavor. After you grill a steak put a bit of garlic herb butter on top and let it melt in – so good!
I came up with four different flavor combinations for flavored butters but use your imagination and I know you will come up with lots more!
How To Make Flavored Butter
Fig Butter
One of the easiest flavored butters to make is just a combination of butter and your favorite jam. I used Fig jam to make a flavored butter. Just add in 1/4 C of jam to 1/2 C butter. I just used my little food processor to make the butters. Just pop everything in and then pulse! Orange marmalade or raspberry jam would be delicious too.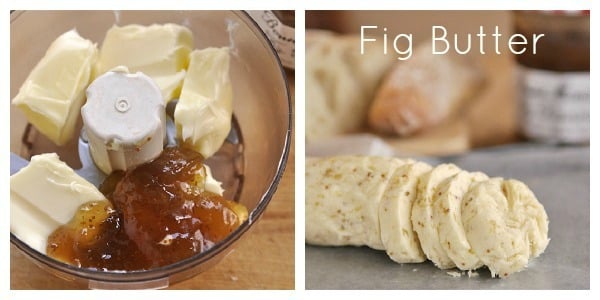 Cranberry Butter
The second flavor I made was also sweet, Cranberry Butter. Cranberry butter is a combination of fresh cranberries, maple syrup, orange zest and of course butter! We loved this one. It would be yummy on pancakes or waffles too!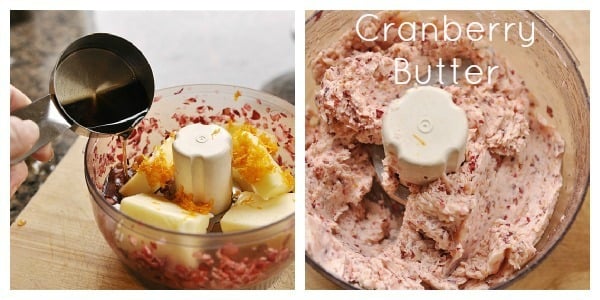 After I process the butter I but it onto a piece of wax paper and form it into a log.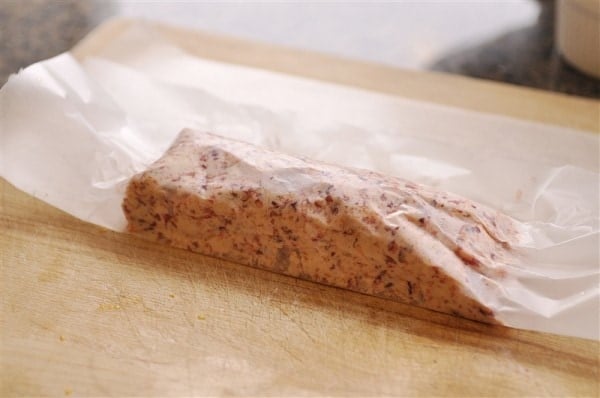 Roll it up in the wax paper and twist the ends.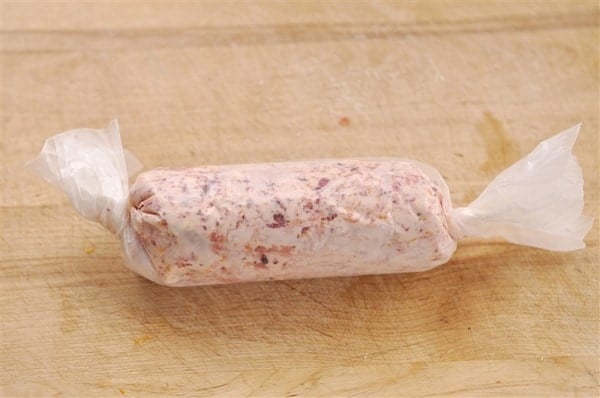 Add a bit of washi tape around it to dress it up a bit and add a tag and you have a nice little, delicious gift for some lucky person!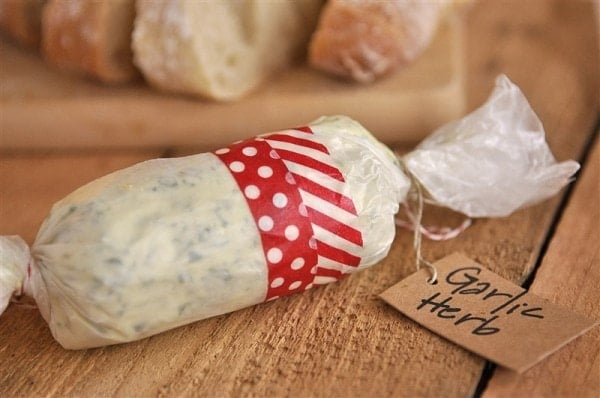 Garlic Herb Butter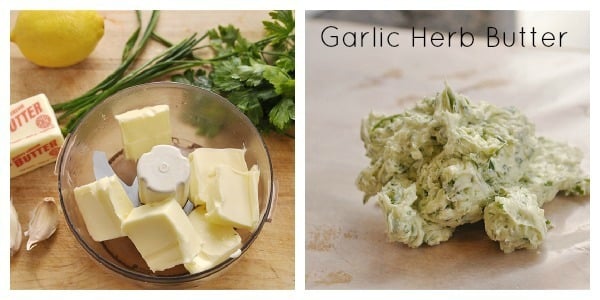 I also made two savory butters.  The Garlic Herb Butter is delicious and wonderful on warm bread or on top of a piece of meat or fish.  I used some fresh chives and parsley from my garden but you could use your favorite combination of herbs and I am sure dry herbs would work also but fresh is always better!!
Roasted Red Pepper Butter
The second savory one is amazing. The color and the flavor! I used a combination of roasted red pepper, salt and green onions.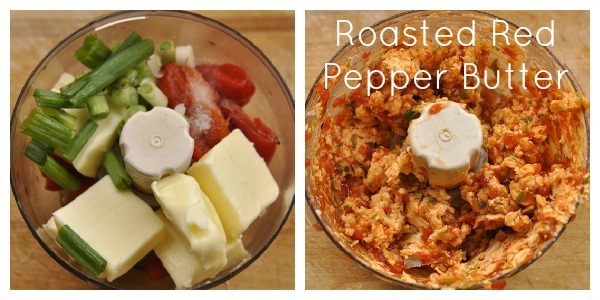 Because of the liquid in the roasted red pepper this butter doesn't hold together as well as the others. I did make it into a log but had to freeze it so that I could cut it without it totally falling apart and it was still pretty crumbly. Next time I would just put it in a bowl and use it from there instead of trying to make it into a log.
I cut a slice or two of each butter and combined them together for a flavored butter sample pack!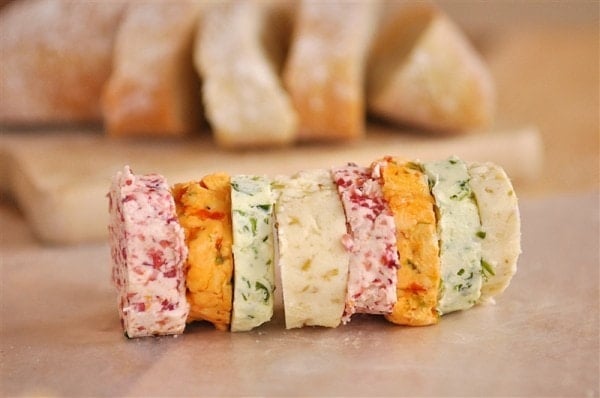 Did you know butter could be so pretty!! Just roll it up in wax paper and you have a pretty and delicious and unique holiday gift!
So now let me know what flavors you've thought of!
Check out more of my favorite recipes: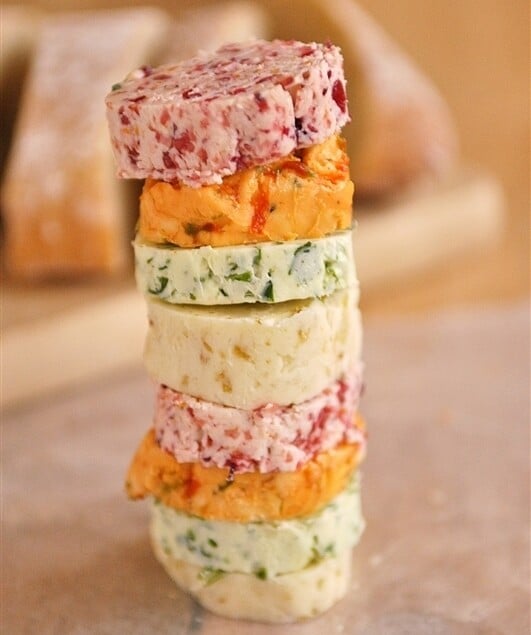 Flavored Butters
Flavored Butters are so easy to make and make a wonderful gift.  They taste delicious too!
Ingredients
Fig Butter
1/4 cup fig preserves
1/2 cup butter softened
Cranberry Butter
1/3 cup fresh cranberries
1/4 cup maple syrup
1/2 cup butter softened
1 Tbsp orange zest
Garlic Herb Butter
2 cloves garlic
2 Tbsp fresh parsley
2 Tbsp fresh chives
1 Tbsp fresh lemon juice
1/2 cup butter softened
Roasted Red Pepper Butter
1/4 cup chopped roasted red pepper drain off liquid
2 green onions chopped
1/8 tsp salt
1/2 cup butter softened
Instructions
For all butters, combine ingredients in food processor and pulse.

Place onto a piece of wax paper and form into a log.

Wrap in wax paper and twist ends.

Refrigerate
Nutrition Facts:
Calories: 38kcal (2%) Carbohydrates: 1g Protein: 1g (2%) Fat: 4g (6%) Saturated Fat: 2g (13%) Cholesterol: 10mg (3%) Sodium: 37mg (2%) Potassium: 3mg Fiber: 1g (4%) Sugar: 1g (1%) Vitamin A: 130IU (3%) Vitamin C: 1mg (1%) Calcium: 3mg Iron: 1mg (6%)
* Disclaimer: All nutrition information are estimates only. Read full disclosure here.