Herb Compound Butter is simple to make and adds amazing flavor to whatever you put it on.
Other kinds of compound butter we love are Honey Butter, and also these Flavored Honey Butters.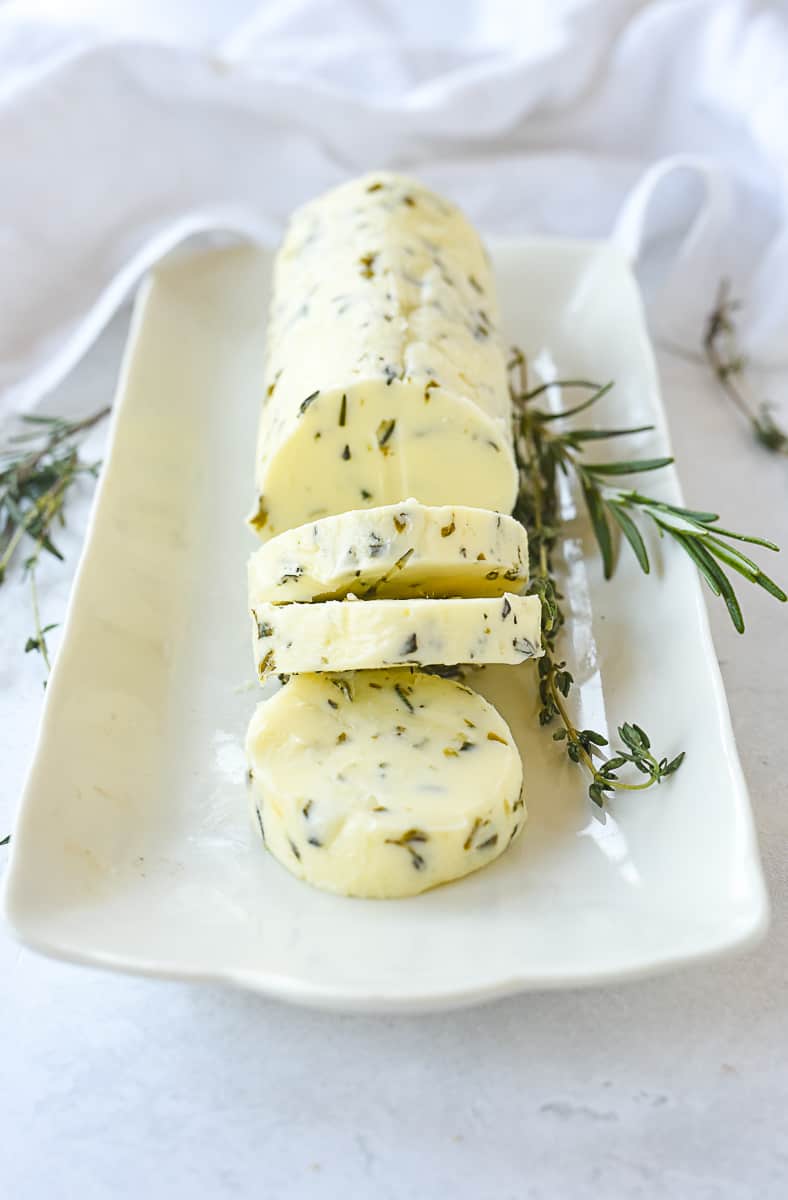 What is Compound Butter?
It's simple. It is a combination of butter and something else. In today's recipe it is butter and fresh herbs but the possibilities are endless. Maybe you've eaten at a restaurant that served yummy garlic butter, that is a compound butter.
I've got lots of other combinations here, including cranberry, fig, and red pepper.
Another example of compound butter is honey butter. I use my mother in law's old recipe! Dress up the honey butter with fruit and I've got some great combinations here.
Herb Compound Butter
My favorite though is compound herb butter.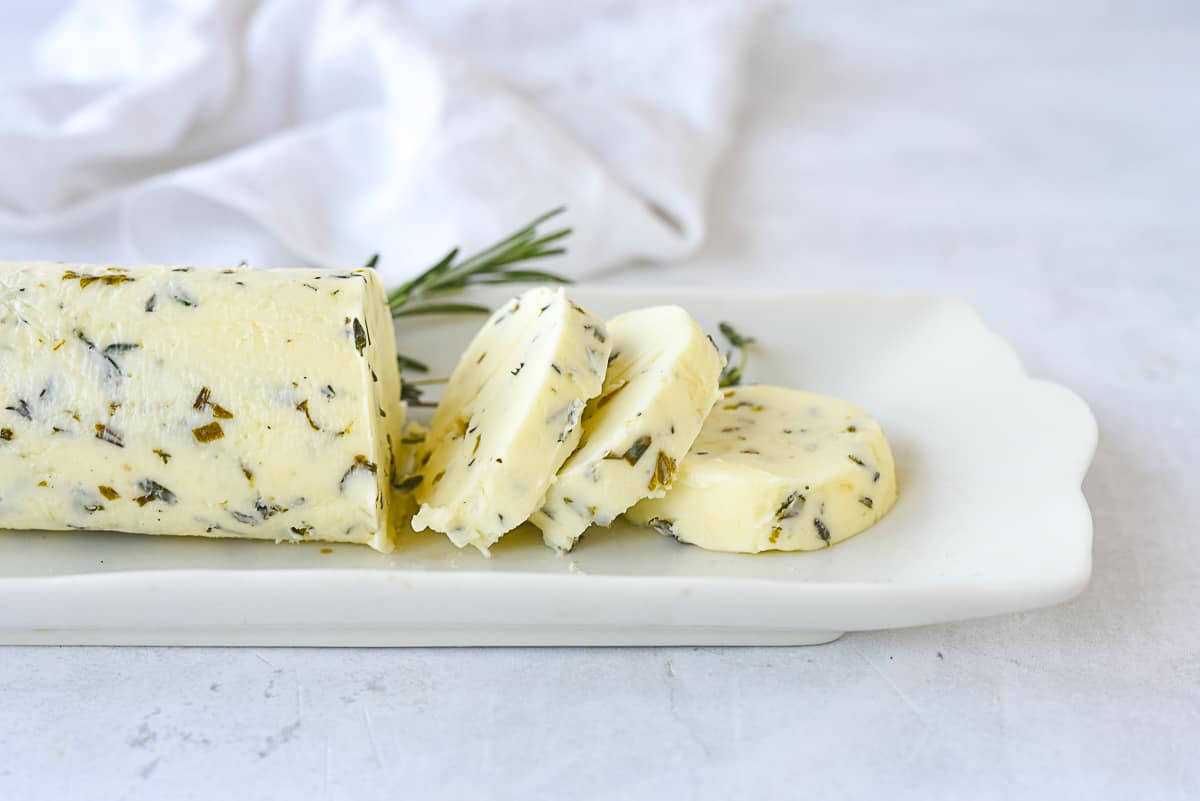 How do I use Compound Butter?
You can use it on anything you would put normal butter on. I like savory butter on bread, vegetables, beef, chicken or shrimp. scones, The sweet butters are amazing on scones, biscuits, Possibilities are pretty much limitless.
I think my favorite way to use the herb butter is on a steak, it takes the flavor of your steak to a whole new level. My favorite way to use it is with my Perfect Steak Recipe.
How to Make Compound Butter
Butter. Softened butter is when you can push your finger into the butter and it leaves an indentation but your finger doesn't go all the way through.
Herbs. Use 4-6 Tbsp. of fresh herbs. I like a combination of chives, rosemary and thyme.
Lemon Juice. This adds great flavor to the butter. Use 2 Tbsp of fresh lemon juice. If you aren't a lemon fan, leave it out.
Stir butter and herbs to combine.
Place butter on a piece of wax paper and roll into a log.
Twist the ends of the paper and then place butter in refrigerator.
Butter is ready to use after it has firmed up. If it gets too hard just let it sit at room temperature for a while.
We love to eat it with No Knead Bread or melt some on top of a burger or steak – yum! You almost don't need any other condiments on your meat when you add the herb butter.
Use your imagination and you can come up with all kinds of wonderful combinations for your compound butter, sweet or savory which do you prefer?
For all of my other favorite kitchen products and tools visit my Amazon Store.
Did you know I wrote a cookbook? Check out the Holiday Slow Cooker Cookbook for 100 delicious recipes.
Herb Compound Butter Recipe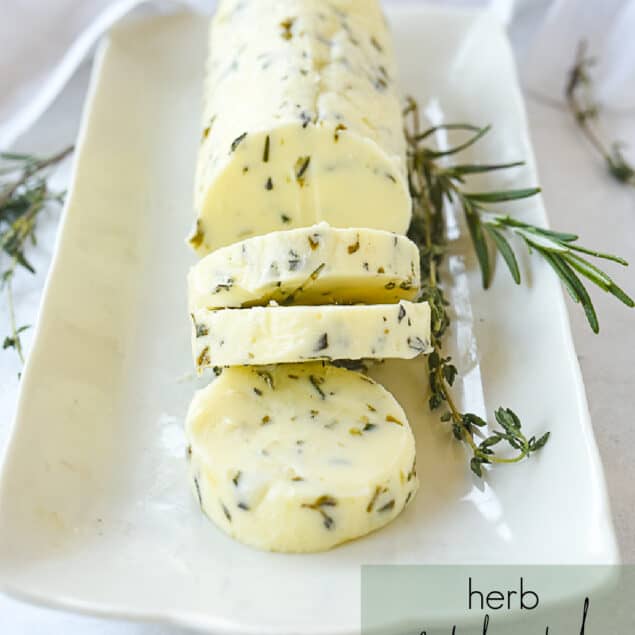 Compound Butter
Herb Compound Butter is simple to make and adds amazing flavor to whatever you put it on.
Ingredients
1/2 cup softened butter
2 Tbsp fresh thyme leaves
2 Tbsp chopped fresh chives
1 Tbsp fresh chopped rosemary
2 Tbsp fresh lemon juice
Fresh ground pepper to taste
Instructions
Add ingredients to softened butter. Stir to incorporate.

Wrap in wax paper and refrigerate until butter firms up.
Nutrition Facts:
Calories: 70kcal (4%) Carbohydrates: 1g Protein: 1g (2%) Fat: 8g (12%) Saturated Fat: 5g (31%) Cholesterol: 20mg (7%) Sodium: 68mg (3%) Potassium: 7mg Fiber: 1g (4%) Sugar: 1g (1%) Vitamin A: 292IU (6%) Vitamin C: 3mg (4%) Calcium: 7mg (1%) Iron: 1mg (6%)
* Disclaimer: All nutrition information are estimates only. Read full disclosure here.
Originally posted July 14, 2009