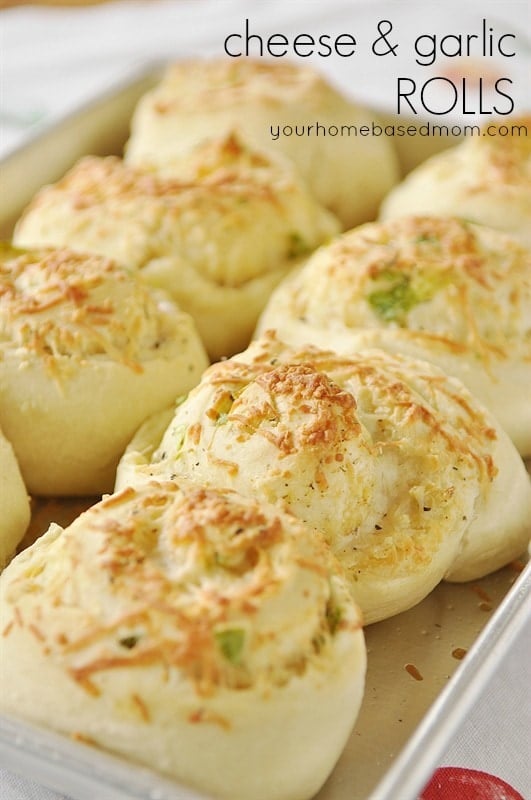 So I may have mentioned a time or two here on the blog how much I like fresh baked bread in any form.  Maybe.
Well today I am going to mention it again.  I love fresh baked bread, especially fresh baked Cheese & Garlic Rolls.
Sundays seem to be my day of choice for bread baking.  After we go to church we stay home for the rest of the day.  I love Sundays.  It truly is a day of rest from the busyness and cares of the rest of the week.  One of my favorite things to do is spend some time in my kitchen making a big mess.  You see, at our house, dad always does the dishes on Sunday.   He always has.  It's a tradition.  Even when he may have lots of church meetings he insists I leave the dishes and he does them when he gets home.  What a guy!
So, I usually take full advantage and cook up a storm.  I love to cook but I especially love to cook when I don't have to clean up the mess.  Some type of homemade bread or roll is usually part of the Sunday dinner menu.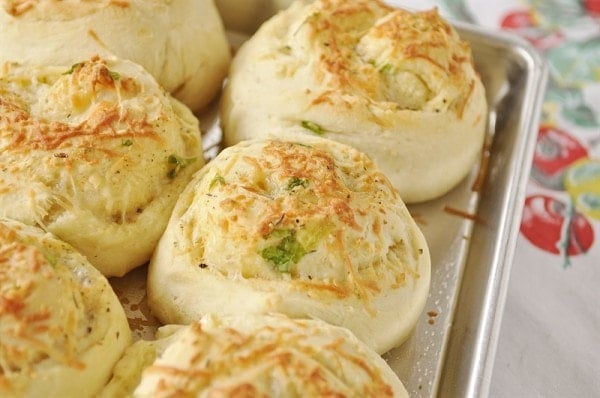 Combine some fresh baked bread with herbs and cheese and you've pretty much got heaven.  At least it is my idea of heaven.  I'm sure hoping they have fresh baked bread in heaven.
After following the typical bread making steps – proofing the yeast and letting the dough rise I rolled it out into a rectangle that measures about 10 x 12.  This recipe makes 8 large rolls.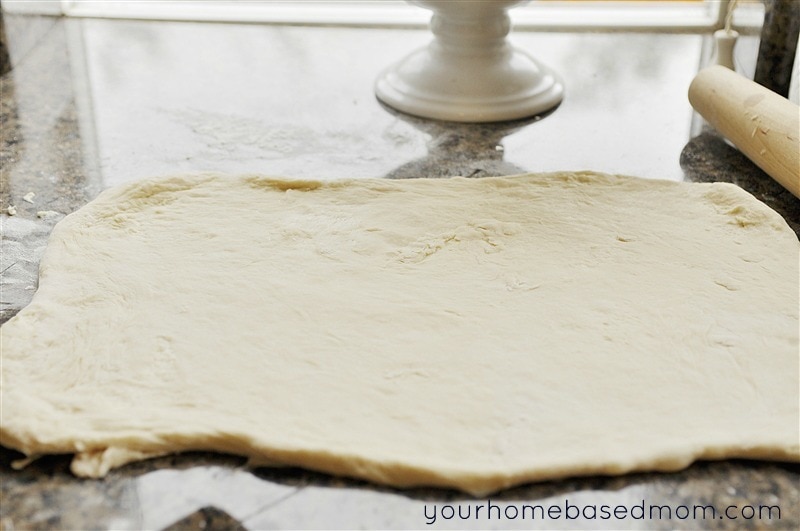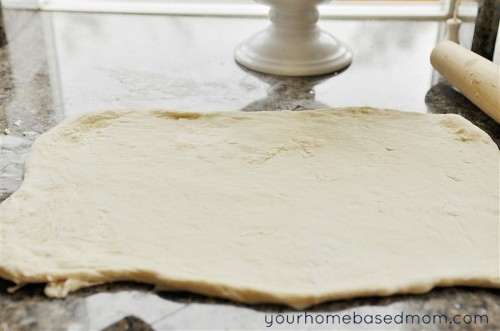 Be sure you've got plenty of flour on your counter to keep that dough from sticking when you go to roll it up.  Brush it with some melted butter, crushed garlic, grated Parmesan cheese, some freshly chopped parsley and a little Italian Seasoning.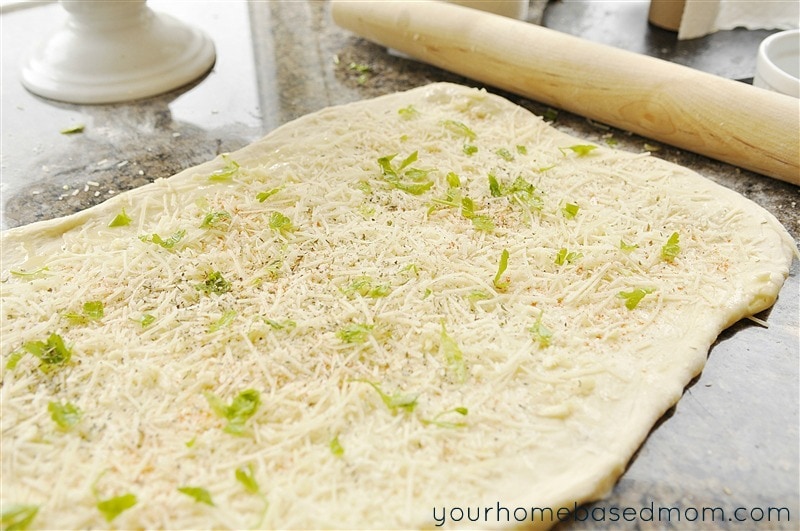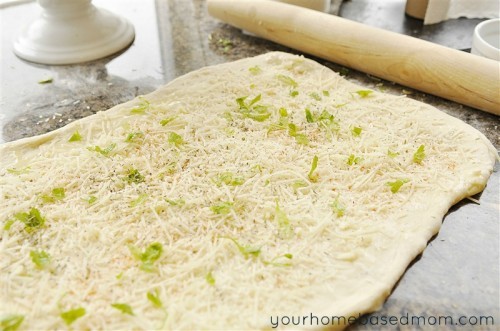 Roll the dough up jelly roll style and then slice into 8 pieces.  This makes 8 large rolls.  If you'd like to make them smaller just roll your dough out larger and then cut them smaller.  They will be delicious large or small.
Place them on a greased cookie sheet and allow them to rise for about 15 minutes or so.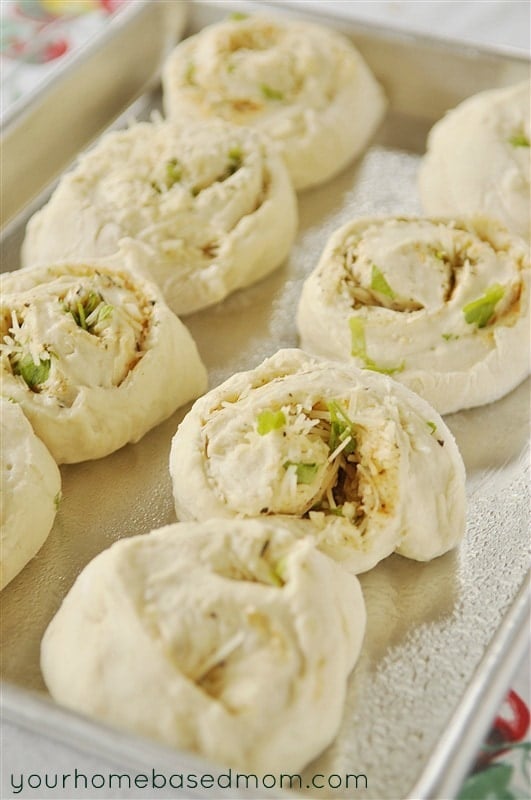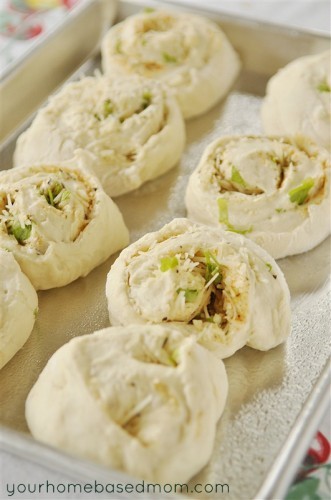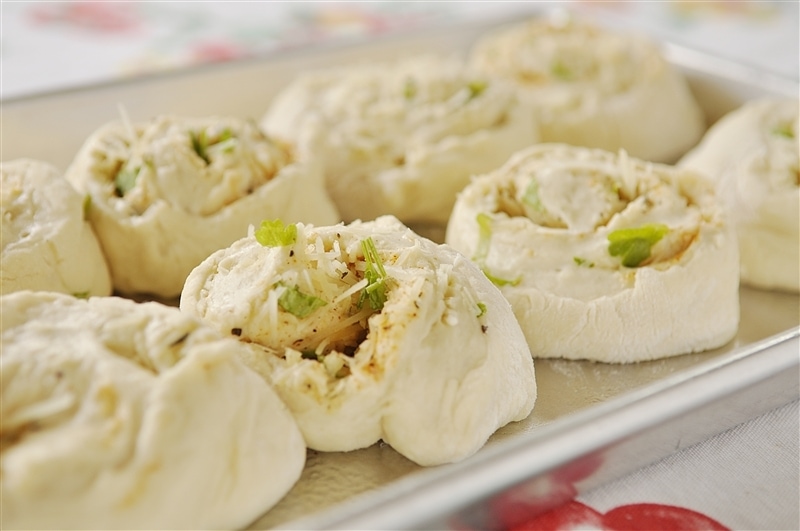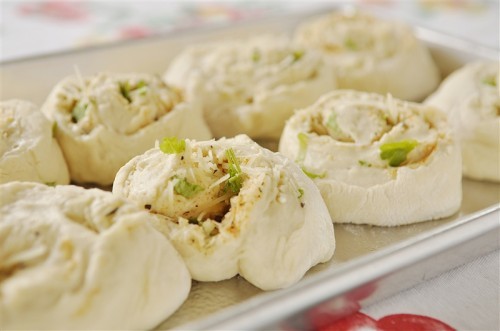 Before baking give them a nice little brush with some more melted butter and then another sprinkle of Parmesan cheese.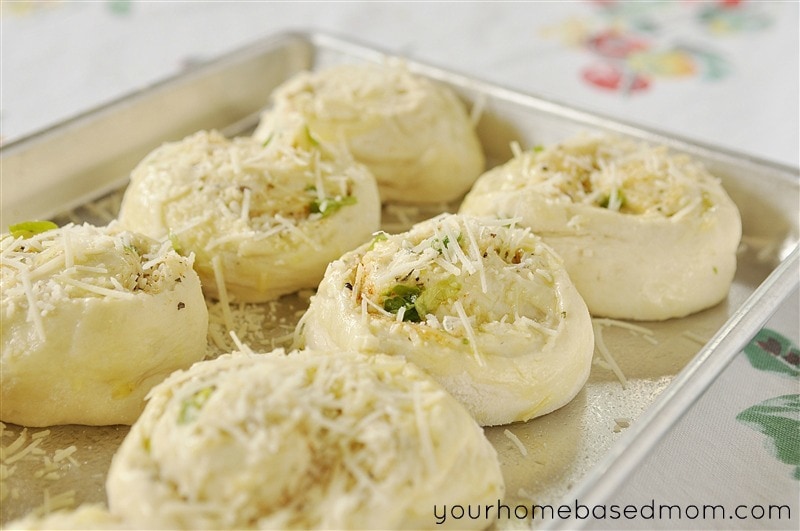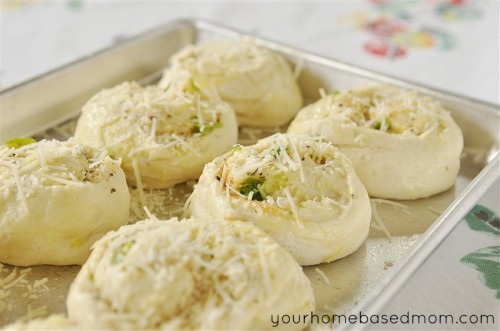 They are now ready for the oven.  Bake at 400 degrees for about 20 minutes or until the tops are golden brown.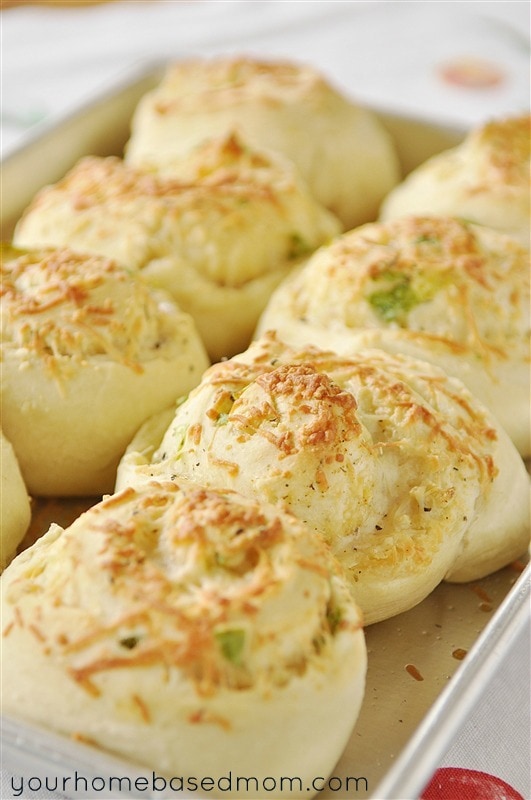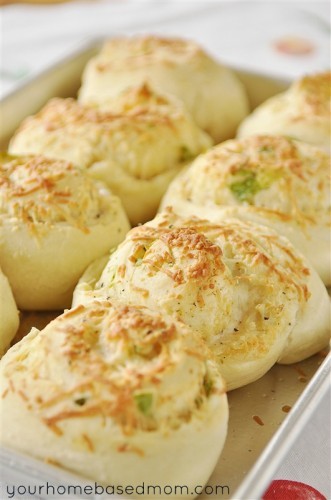 Breath in the amazing aroma and then EAT!  They are quite lovely right out of the oven but are also wonderful the next day!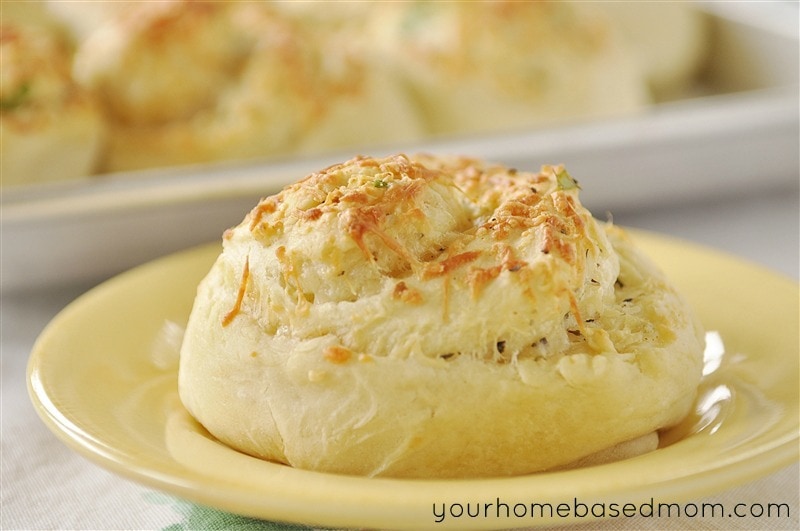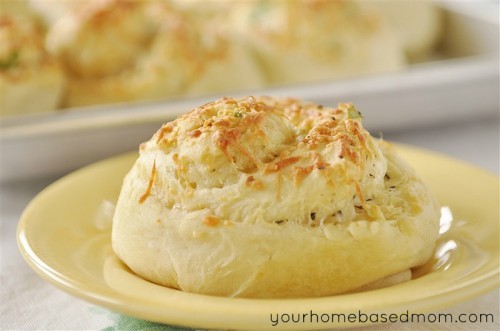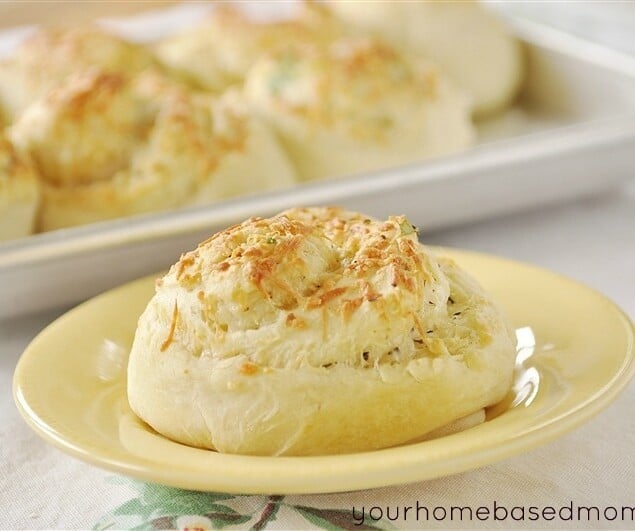 Cheese & Garlic Rolls
Ingredients
1 package active dry yeast
1 tsp sugar
1 C warm water 105-110 degr3ees
1 tsp salt
1 Tbsp olive oil
1 egg
2 C flour
3 Tbsp melted butter
2 cloves garlic minced
1/2 freshly grated Parmesan Cheese
1 tsp Italian Seasoning
2 Tbsp freshly chopped Italian parsley
more cheese for sprinkling on top
Instructions
Mix together yeast, sugar and warm water in a bowl. Allow to sit until bubbly.

Add in salt, olive oil and egg into yeast mixture.

Add in flour until a loose and somewhat sticky dough is formed. It should pull away from the sides of the bowl.

Cover with a towel and allow to rise until double in size. About 1 hour.

Turn dough onto a floured surface and roll out into a 10 x 12 rectangle.

Brush with 1 1/2 Tbsp. melted butter.

Add garlic, cheese, parsley and seasoning

Roll up into a log, Seam side down.

With a sharp knife cut into 8 pieces and place on a greased cookie sheet.

Allow to rise for about 15 more minutes.

Brush with remaining melted butter and sprinkle with more cheese.

Bake at 400 degrees for about 20 minutes or until golden brown.