Bacon Wrapped Meatloaf is a dressed up version of a favorite comfort food. Lightly seasoned and covered with bacon and a delicious ketchup balsamic glaze it is a fun twist on a classic dish.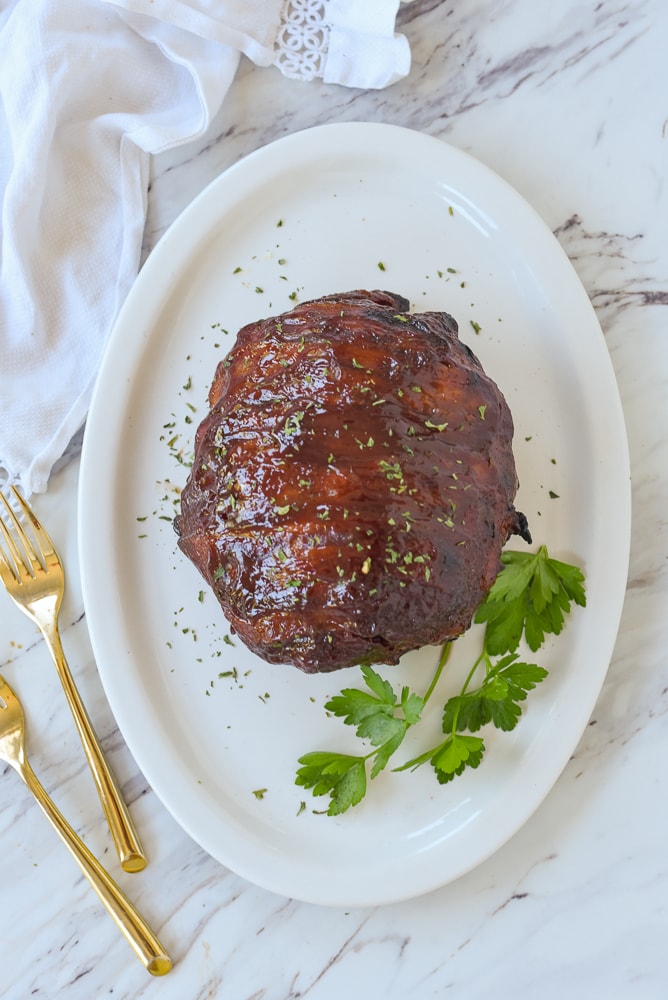 Comfort Food
I grew up eating meatloaf so it is a comfort food for me. The best part of having meatloaf for dinner though was having a meatloaf sandwich the next day! My 90 year old mother's favorite meal is still meatloaf and she makes it regularly.
I find that meatloaf often has a bad reputation but, made correctly, meatloaf is amazing comfort food. I always make my mom's meatloaf and her recipe is the basis for today's bacon wrapped meatloaf. We're going to add a special twist to the meatloaf today and dress it up a bit with some bacon. Everything's better with bacon, right!?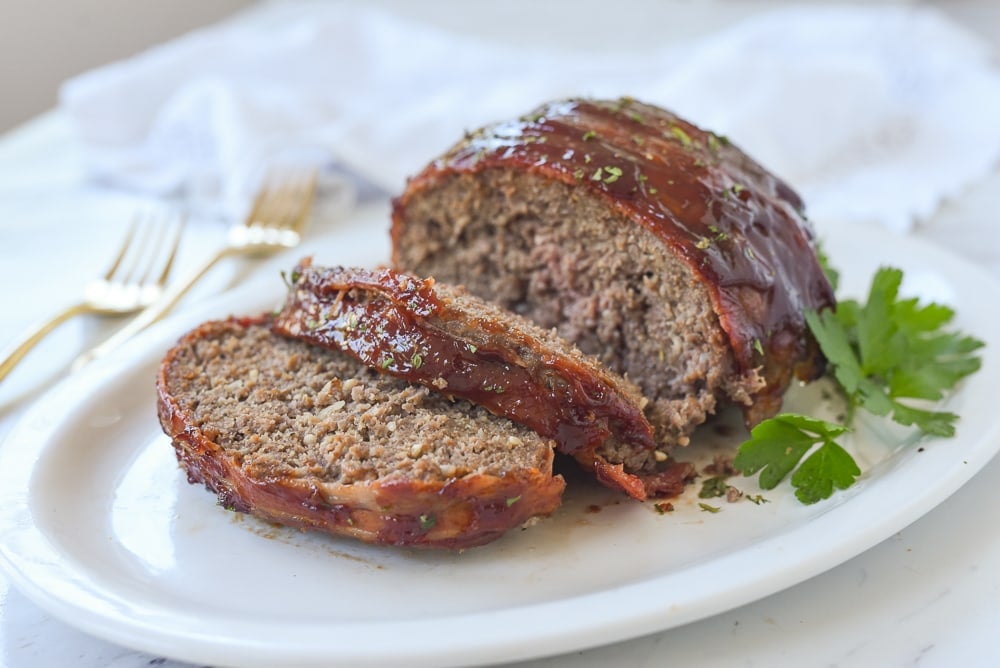 How to Make Bacon Wrapped Meatloaf
Hamburger. I like to use a 90/10 hamburger so that I don't have too much grease cooking off the meatloaf. You can add in some ground pork, chicken or turkey if you like.
Seasoning. I always use salt and pepper and some Italian Seasoning. I also use mayo, Worcestershire sauce and ketchup.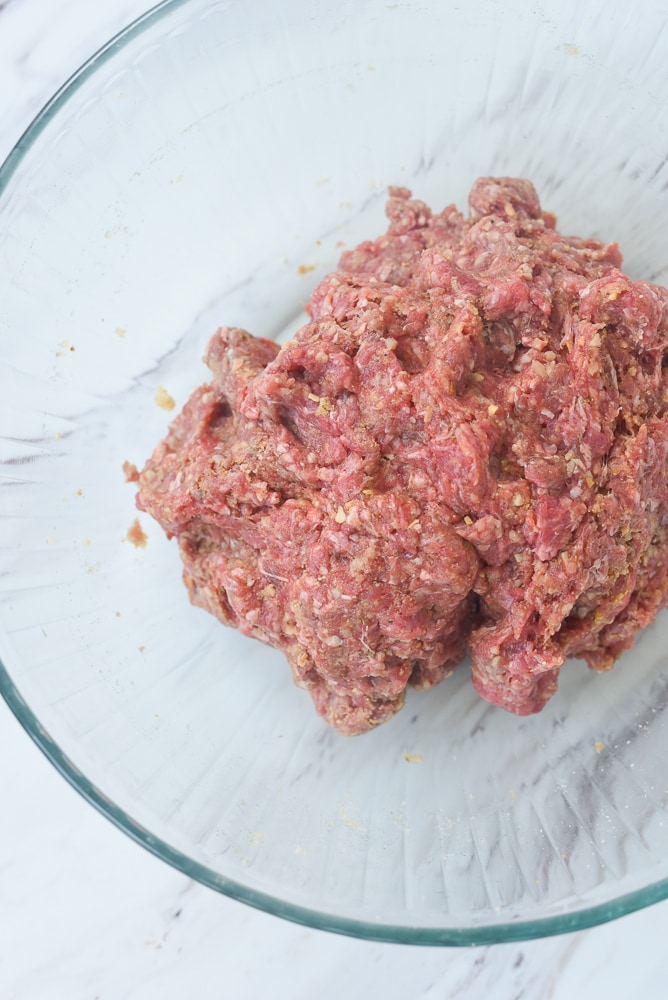 Breadcrumbs. Use regular dry breadcrumbs or panko crumbs. If you use seasoned breadcrumbs, just leave the Italian seasoning out.
Eggs. These act as a binder for the meatloaf and hold all the ingredients together. They prevent the meatloaf from falling apart.
Bacon. Use a thin cut bacon so that it cooks completely, evenly and gets crisp.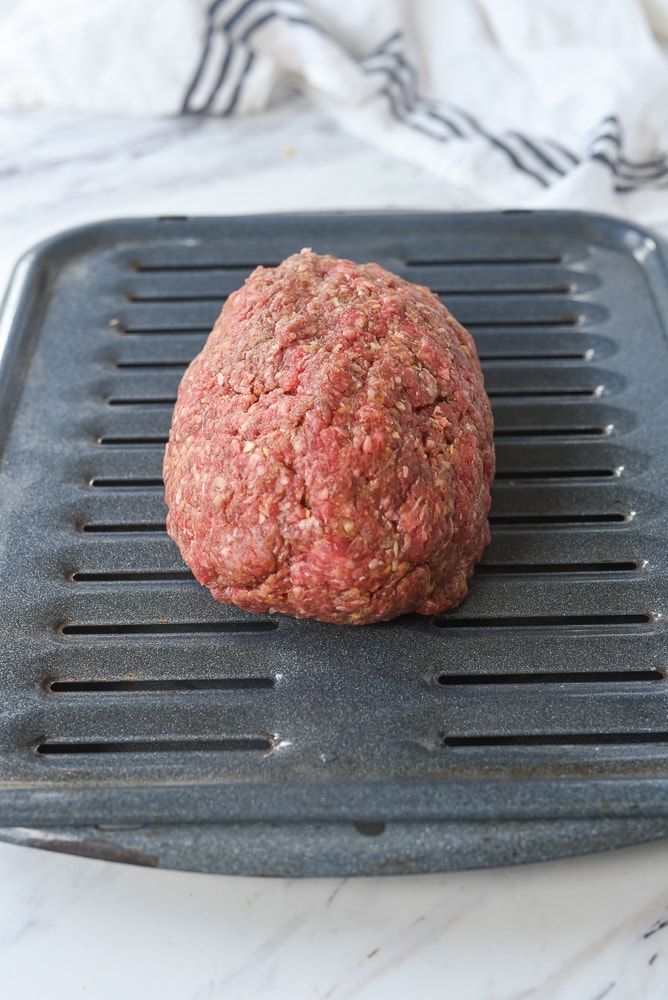 After you have mixed together your meatloaf ingredients and formed it into a loaf, place it on a broiler pan. The grease that cooks off will drain through the broiler pan and your meatloaf won't be sitting in it's own fat as it cooks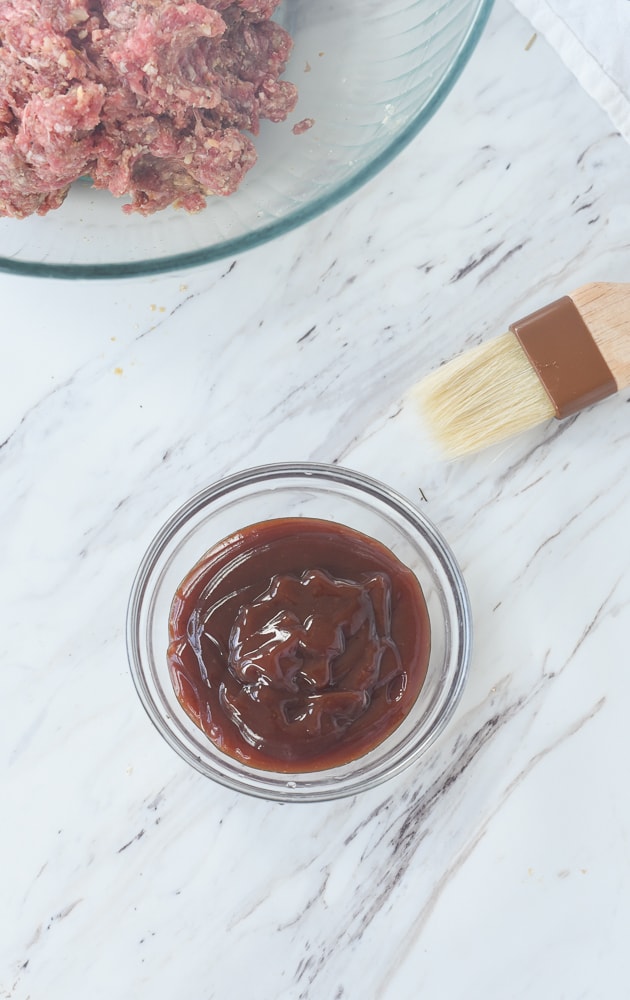 Wrap meatloaf with thin slices of bacon covering the entire meatloaf but not overlapping the bacon. Tuck the ends of the bacon under the meatloaf.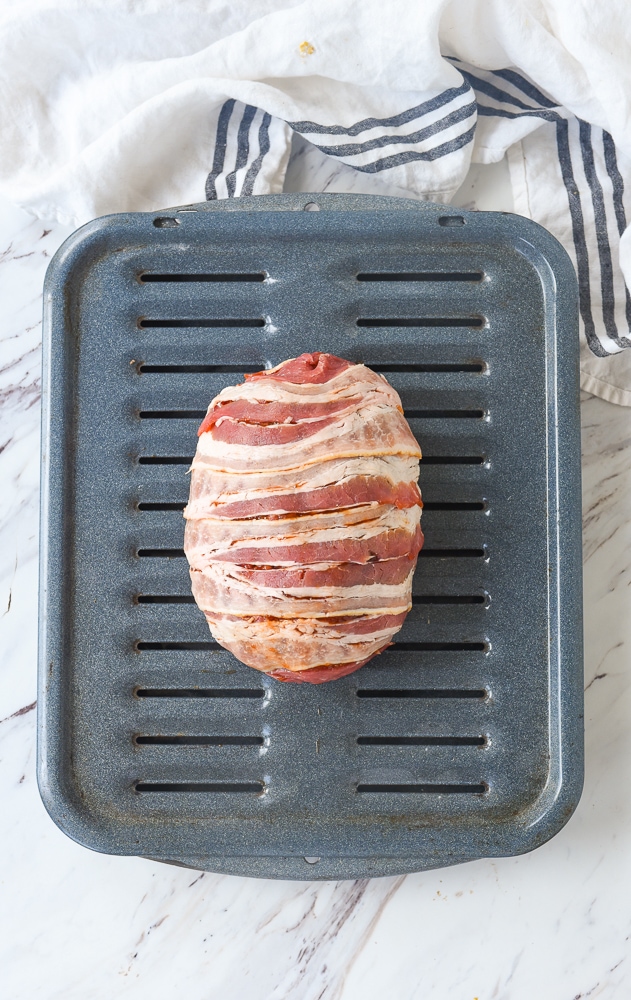 Ketchup Glaze
This is the best part of the meatloaf as far as I'm concerned. Ketchup Glaze is a mixture of ketchup, balsamic vinegar and brown sugar. It is used as a topping on the meatloaf and is delish!
Add a thin layer of ketchup glaze to the shaped meatloaf and then cover the meatloaf with bacon, in a single layer. Add another light layer of the ketchup glaze over the top of the bacon.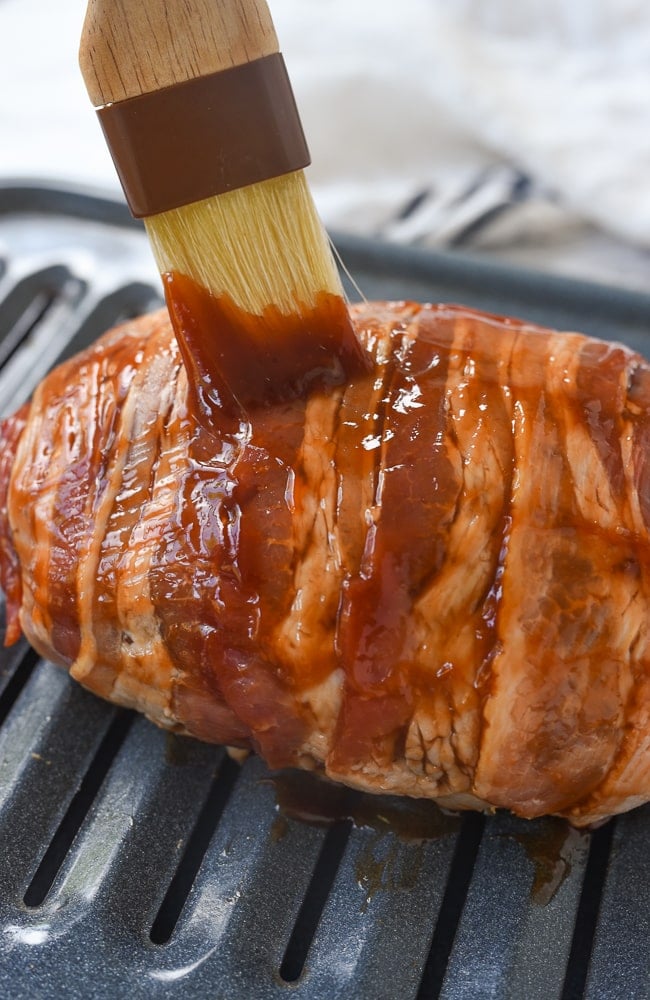 Bake the meatloaf at 350 degrees F for about 40 minutes.
Remove from the oven and cover with the remaining ketchup mixture.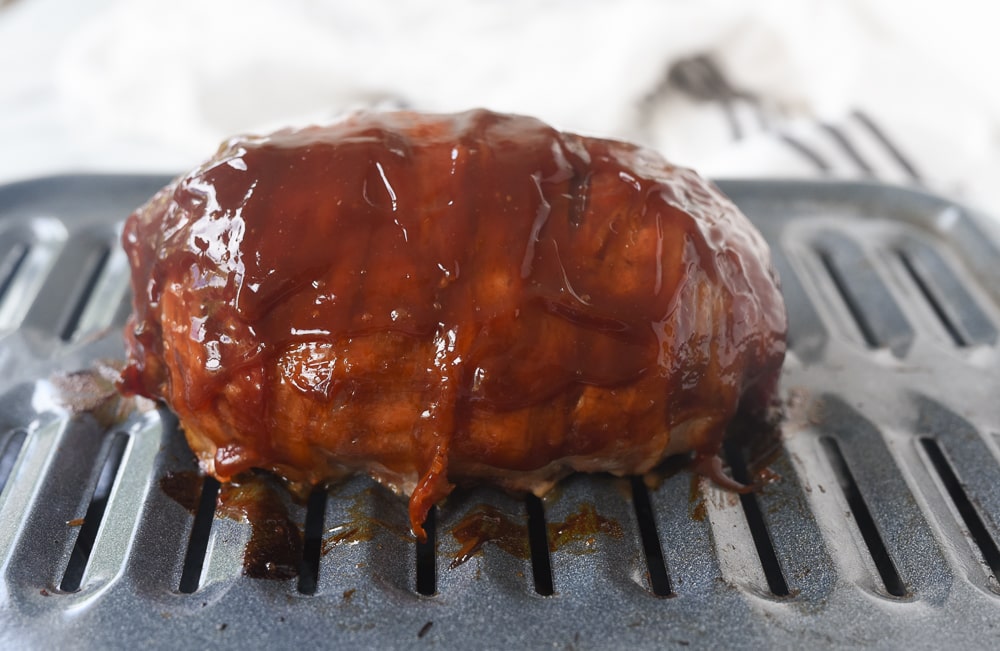 Increase oven temperature to 400 degrees F. and bake for another 12-15 minutes until ketchup glaze as set up. If the bacon appears to be burning, cover the top of the meatloaf with foil.
Cook to desired temperature, I cook mine to about 155 degrees F. I always use my favorite Therma Pen to check the temperature.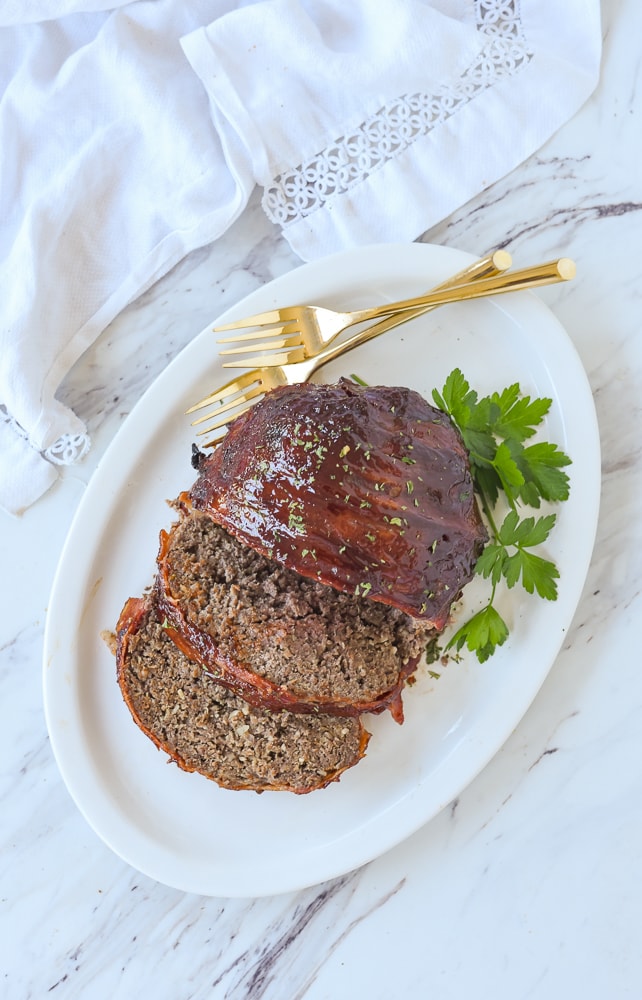 Some favorite side dishes to serve with meatloaf:
Be sure and follow me over on You Tube for weekly cooking demos.
Try some of our other favorite family dinner ideas: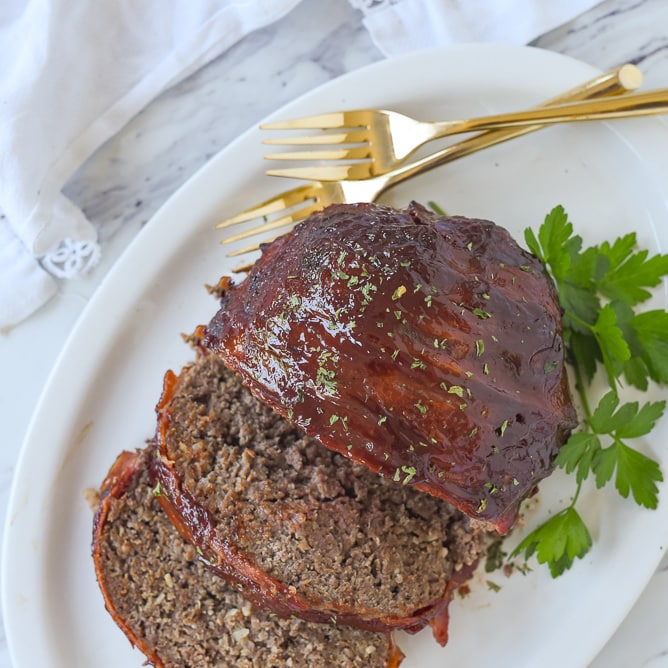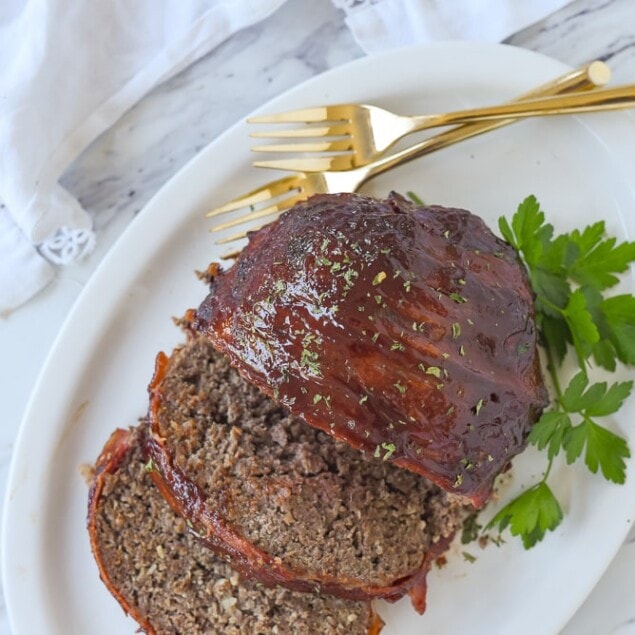 Bacon Wrapped Meatloaf
Bacon Wrapped Meatloaf is a dressed up version of a favorite comfort food. Lightly seasoned and covered with bacon and a delicious ketchup balsamic glaze it is a fun twist on a classic dish.
Ingredients
Meatloaf Ingredients
2 lbs ground beef extra lean
4 tsp garlic
2 Tbsp minced dried onion
1/2 tsp freshly ground black pepper
1 tsp salt
2 eggs beaten
1 cup bread crumbs
1 tsp Italian seasoning
2 Tbsp ketchup
2 Tbsp mayonnaise
2 Tbsp Worcestershire sauce
8-10 thin bacon slices
Meatloaf Glaze
1/2 cup ketchup
2 Tbsp brown sugar
1 Tbsp balsamic vinegar
Instructions
Preheat oven to 350 degrees

Place all meatloaf ingredients except for the bacon and Ketchup Glaze ingredients in a large mixing bowl and mix to combine.

With clean hands, mix the ingredients until combined well

Form the mixture into a loaf shape and place on a broiler pan, this will allow the fat from the meat to drain

Lay bacon slices over the top, tucking them underneath the meatloaf

Make the tomato gravy

Pour the ketchup into a small bowl, add brown sugar and balsamic vinegar

Stir the mixture until well combined

Brush a light coating of ketchup glaze over meatloaf. Add strips of bacon in a single layer, not overlapping. Brush with another light coat of tomato gravy.

Bake for 45 minutes. Remove from oven and brush with remaining ketchup glaze. Increase heat of oven to 400 degrees F. and bake for another 15-20 minutes of until internal temperature reaches 155-160 degrees F.
Nutrition Facts:
Calories: 478kcal (24%) Carbohydrates: 23g (8%) Protein: 29g (58%) Fat: 30g (46%) Saturated Fat: 12g (75%) Cholesterol: 176mg (59%) Sodium: 1086mg (47%) Potassium: 546mg (16%) Fiber: 1g (4%) Sugar: 20g (22%) Vitamin A: 507IU (10%) Vitamin C: 2mg (2%) Calcium: 220mg (22%) Iron: 3mg (17%)
* Disclaimer: All nutrition information are estimates only. Read full disclosure here.
Originally published on February 5, 2010