Easy Classic Meat Loaf should be a part of everyone's cooking repetoire and it makes a killer sandwich!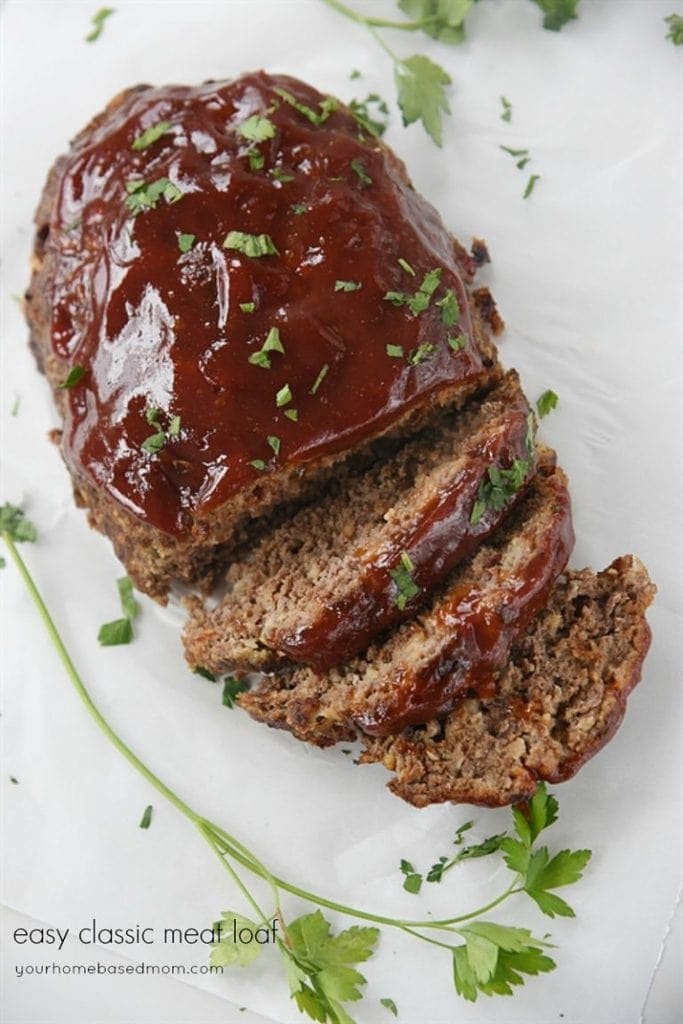 Easy Classic Meat Loaf is just what the name says, easy and classic.  Our family has a funny relationship with meat loaf.  It has actually been about 15 years since I have made it.  You see, our family had a traumatic meat loaf experience about 15 years ago and no one has eaten it since, until this past week.  I decided it was time we get over our PTMLS  (post traumatic meat loaf syndrome) and give it a try again.
Here's the story:  About 15 years ago I was in a dinner group.  There were four of us and we took turns cooking dinner for all four families once a week.  We would each cook one night a week for all four families and then deliver dinner to the other 3 families.  It was awesome and 99% of the time we loved what was delivered to us on the other three nights.  But then there was that one night, the meat loaf night.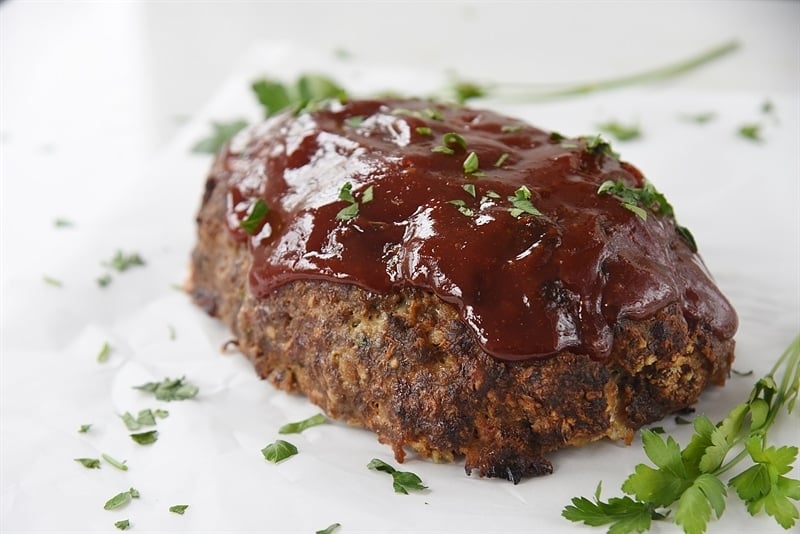 Now we had always liked meat loaf and it made a regular appearance at our dinner table until "the meat loaf" was delivered.  I'm not sure what went wrong with, but "the meat loaf" was not the color or texture that it should have been.  Let's just say, the meat loaf went untouched and it never graced our dinner table again.  I don't think any of my children have eaten meat loaf since then, I know I haven't.  In fact, when I told them I was making meat loaf they all brought up "the meat loaf" experience.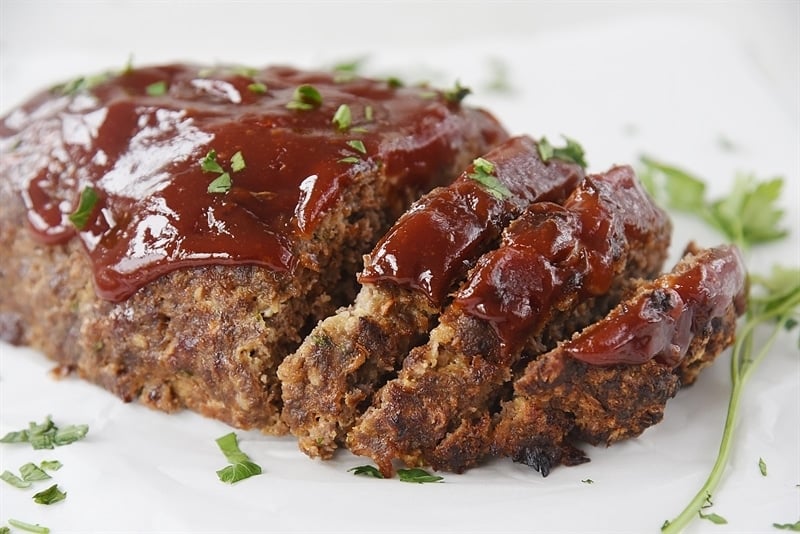 I went back into my recipe archives and found my old recipe for meat loaf and decided it was time to bring back the meat loaf!  One of the best things about making meat loaf is having leftovers for sandwiches.  I remember as a girl having meat loaf sandwiches the day after my mom made it for dinner.  I liked it with ketchup!
This meat loaf is everything it should be.  It has great color, great texture and great flavor.  A topping of ketchup, brown sugar and balsamic vinegar dresses it up a bit and there is no need to add ketchup to that sandwich.
Here are some tips:
I used panko crumbs because that is what I had on hand but you can also use regular bread crumbs or seasoned bread crumbs. If you use seasoned bread crumbs leave out the Italian seasoning.
Bake the loaf on a roaster pan.  This will allow the grease from the meat to drain away from the meat and you won't end up with your meat loaf sitting in a puddle of grease.
Add the ketchup mixture at the end and bake for an additional ten minutes.  Just bake it long enough for the sauce to set.
Some other favorite classic recipes from my childhood you might like:
Spaghetti Sauce with Meat Sauce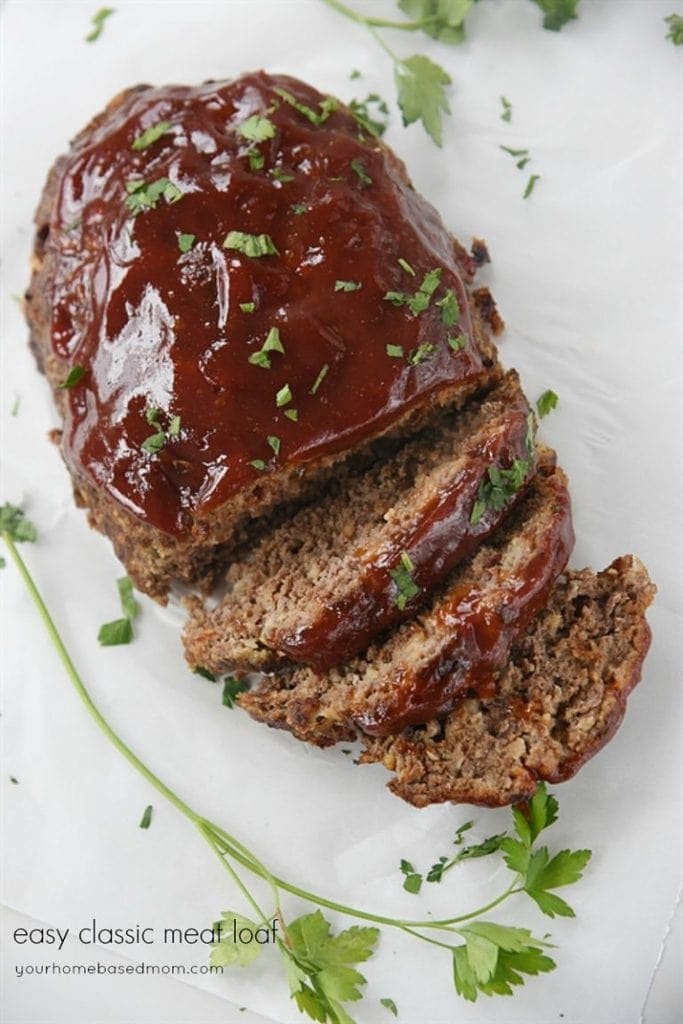 Easy Classic Meat Loaf
Ingredients
Meat Loaf
2

lbs.

extra lean ground beef

2

Tbsp

dried minced onion or 1 cup fresh onion

chopped

4

tsp

garlic

minced

1

tsp

salt

1/2

tsp

black pepper

2

eggs

lightly beaten

1

cup

panko crumbs

1

tsp

Italian seasoning

2

Tbsp

steak sauce

2

Tbsp

ketchup

2

Tbsp

mayonnaise

2

Tbsp

worcestershire sauce
Topping
1/2

cup

ketchup

2

Tbsp

brown sugar

1

Tbsp

balsamic vinegar

fresh parsley for garnish
Instructions
Preheat oven to 350 degrees

Combine all meat loaf ingredients. Mix to combine.

Shape meat into a loaf and place on a

broiler pan

(or some pain that has drainage)

Bake for 40 minutes. Increase heat to 400 degrees and bake for an additional 15 minutes or until internal temperature of meat is 160 degrees F.

In a bowl combine the topping ingredients. Pour over the top of the meat loaf and bake for an additional 10 minutes.

Garnish with chopped fresh parsley.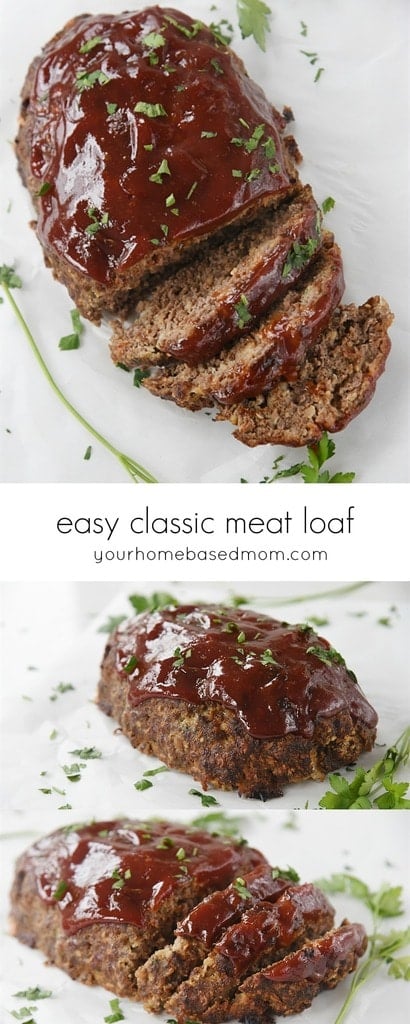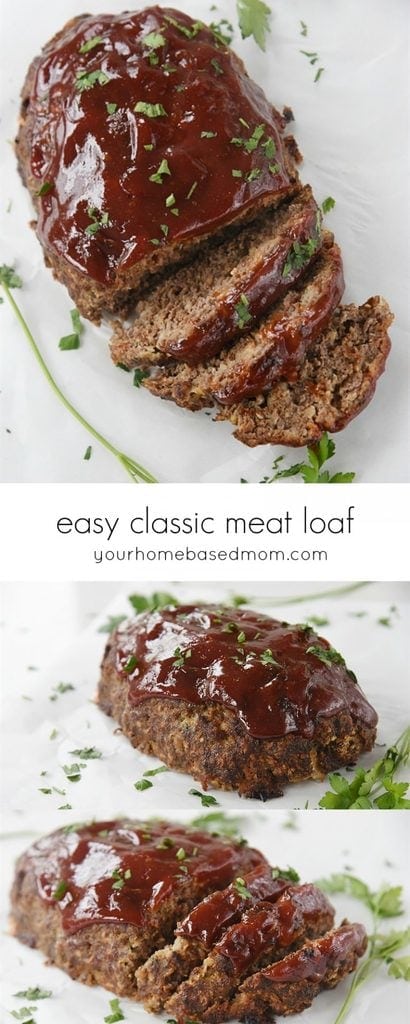 Get my Weekly Menu Plan for FREE!
Receive my FREE "What's for Dinner?" Meal Planning Course, a copy of my FREE ebook that includes my most popular recipes and my FREE weekly Meal Plan.