These delicious chicken enchiladas are made quick and easy with leftover or store bought rotisserie chicken. And the addition of the homemade enchilada sauce makes them a crowd pleaser.
Be sure and watch the how to video at the end.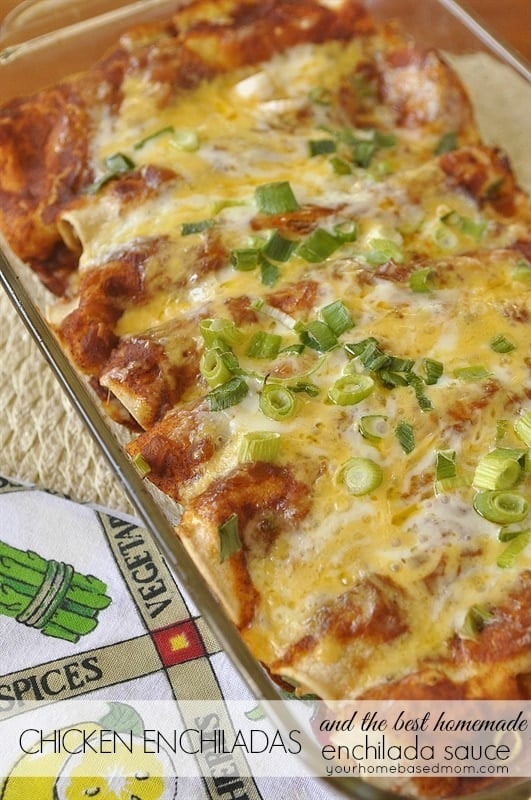 I love a good enchilada. And I love a quick and delicious meal. I love to make these enchiladas with leftover chicken or a rotisserie chicken purchased at the store to cut the cooking time in half! And I prefer my enchiladas made with corn tortillas. But if you prefer flour tortilla, feel free to switch them out.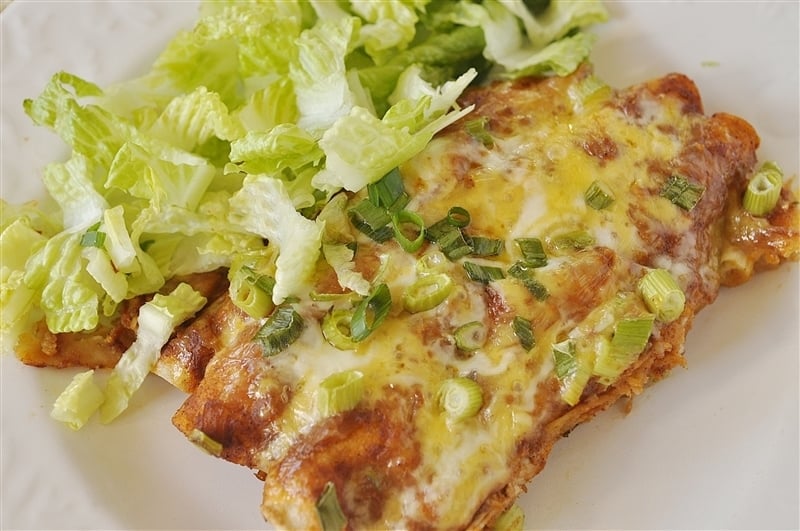 Start by shredding your cooked chicken and combining it with enchilada sauce. You can use your favorite store bought enchilada sauce, but homemade enchilada sauce is easy to make and so yummy! The first step is to use the chicken from your rotisserie chicken and combine it with some enchilada sauce Then add in some cheese, cilantro and chopped green chiles.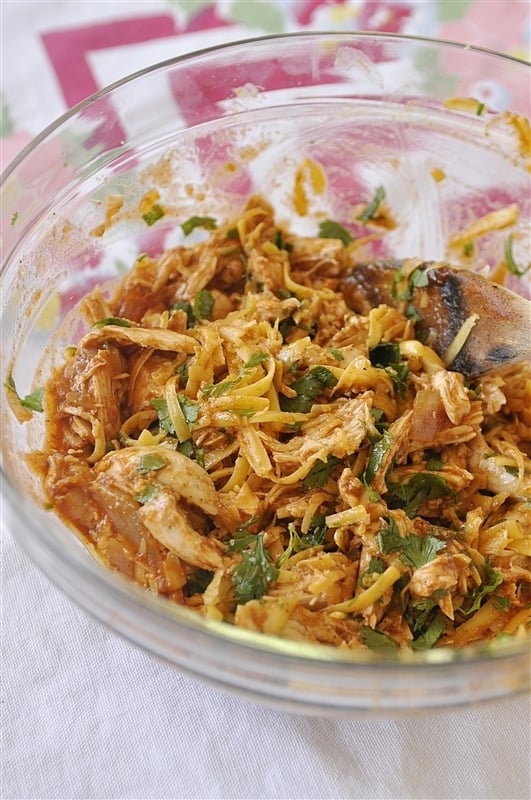 Then, soften the tortillas by wrapping them in a paper towel and microwaving them for about a minute. This will help you roll the enchiladas. You want them nice and warm and soft. Place about 1/3 cup of filling in the middle of each tortilla and roll.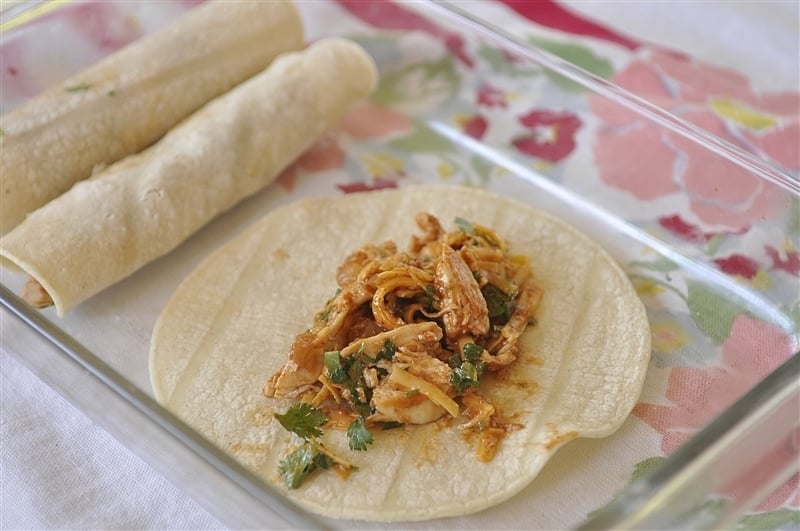 Fill the pan with your rolled chicken enchiladas.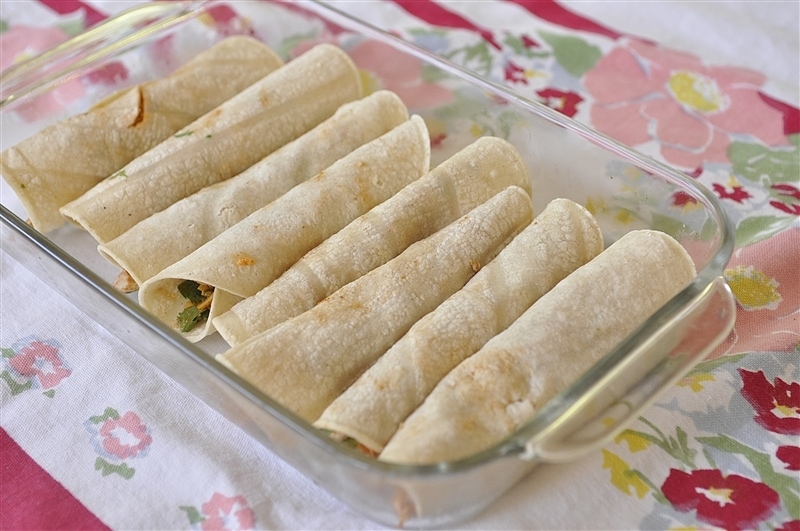 And cover the top of the enchiladas with the remaining enchilada sauce, cheese and green onion.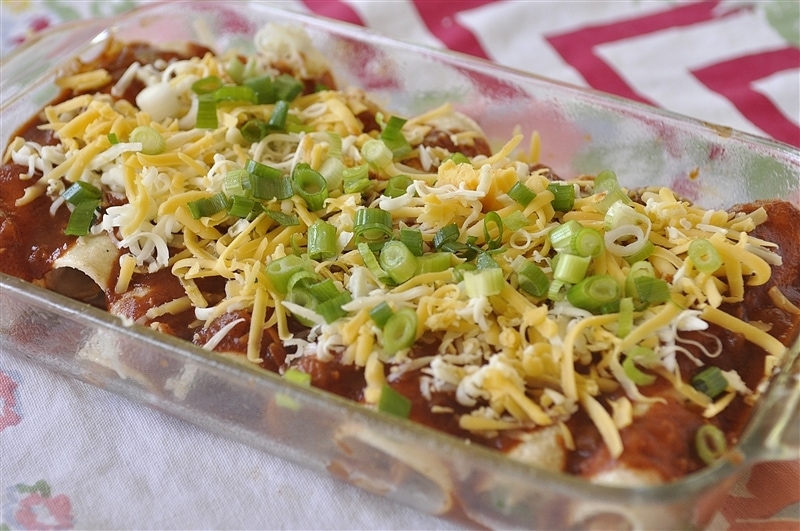 Bake for 20 -25 minutes, until your cheese is wonderfully melted and gooey.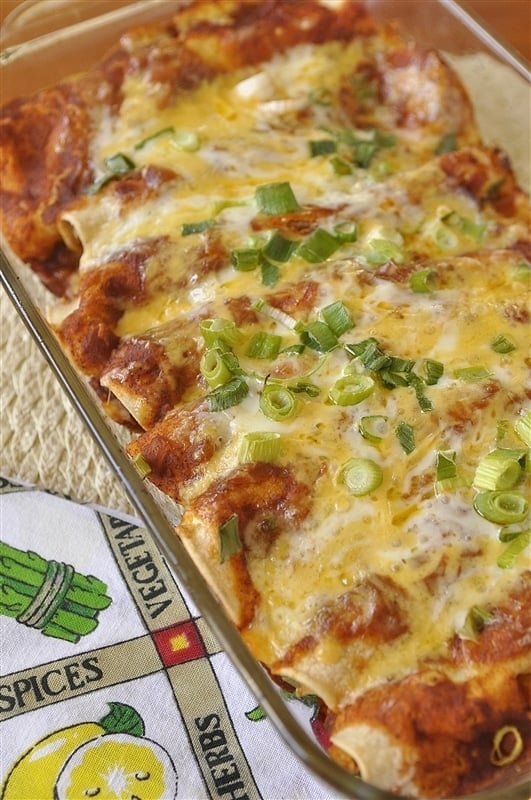 Serve with your favorite side and enjoy a yummy plate of homemade enchiladas!
Check out these easy chicken recipes: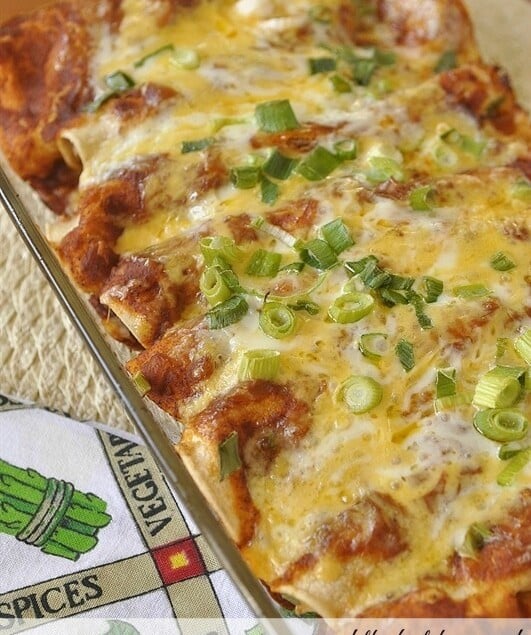 Chicken Enchiladas and Homemade Enchilada Sauce
Delicious chicken enchiladas with homemade enchilada sauce.
Ingredients
3 C shredded rotisserie chicken
3 C shredded cheddar cheese or a combination of cheddar and jack cheese
2-3 C enchilada sauce canned or homemade
1 can chopped green chiles drained
1/3 C chopped fresh cilantro
12 soft corn tortillas
Homemade Enchilada Sauce
1 Tbsp olive oil
1/2 onion minced
3 Tbsp chili powder
3 garlic cloves minced
2 tsp cumin
2 tsp sugar
2 – 8 oz. cans tomato sauce
1/2 C water
salt and pepper
Instructions
Preheat oven to 400 degrees.

Combine the shredded chicken with 2 cups of the cheese and 1/2 cup of the enchilada sauce, chilies and cilantro.

Add salt and pepper to taste.

Soften the tortillas in the microwave by placing them on a paper towel covered plate and then plastic wrap on top. Microwave on high for 1 – 1/2 minutes, depending on how many tortillas you are softening at once.

Instead of microwaving, I like to fry them lightly in some hot oil for about 5 seconds on each side. This will help the tortilla hold up better and not get mushy. Blot them between paper towels to remove excess oil.

Spray a 9 x 13 pan with cooking spray.

Fill each tortilla with about 1/4-1/3 cup of chicken mixture and roll up, placing seam side down into the pan.

Pour 1 cup of enchilada sauce over the top of the rolled up enchiladas and add the remaining cheese.

Cover with foil and bake for 20-25 minutes or until heated through.

Remove foil and bake for about 5 minutes more or until cheese is bubbly and begins to brown. May serve with additional sauce if desired.
Homemade Enchilada Sauce
Heat oil in skillet.

Add in onion and salt and cook until onions are softened. About 5 minutes.

Stir in the chili powder, garlic, cumin and sugar.

Cook for a few minutes or until it smells really good.

Add in tomato sauce and water. Bring to a simmer and cook until slightly thickened. About 5 minutes.

Season to taste with salt and pepper.
Nutrition Facts:
Calories: 341kcal (17%) Carbohydrates: 17g (6%) Protein: 23g (46%) Fat: 19g (29%) Saturated Fat: 8g (50%) Cholesterol: 74mg (25%) Sodium: 611mg (27%) Potassium: 255mg (7%) Fiber: 3g (13%) Sugar: 4g (4%) Vitamin A: 1225IU (25%) Vitamin C: 1.5mg (2%) Calcium: 244mg (24%) Iron: 2.1mg (12%)
* Disclaimer: All nutrition information are estimates only. Read full disclosure here.