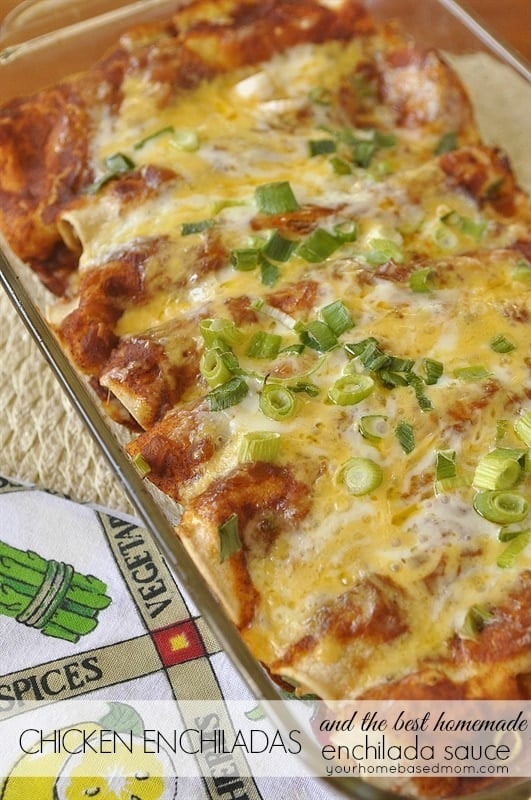 Today's recipe is the fourth in the series of recipes I promised you that make quick and easy summer meals because they start with a rotisserie chicken.  You can pick one up at Costco or your local grocery store and dinner is halfway made.
I love a good enchilada.  I prefer my enchiladas made with corn tortillas .  That is what I used for this recipe but if you prefer a flour tortilla it will work also.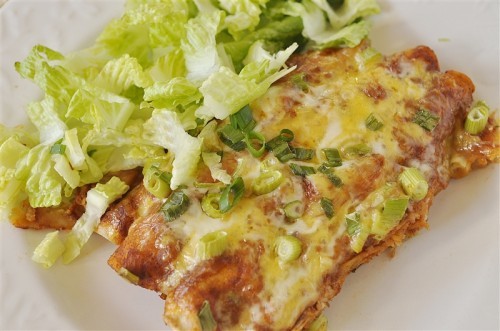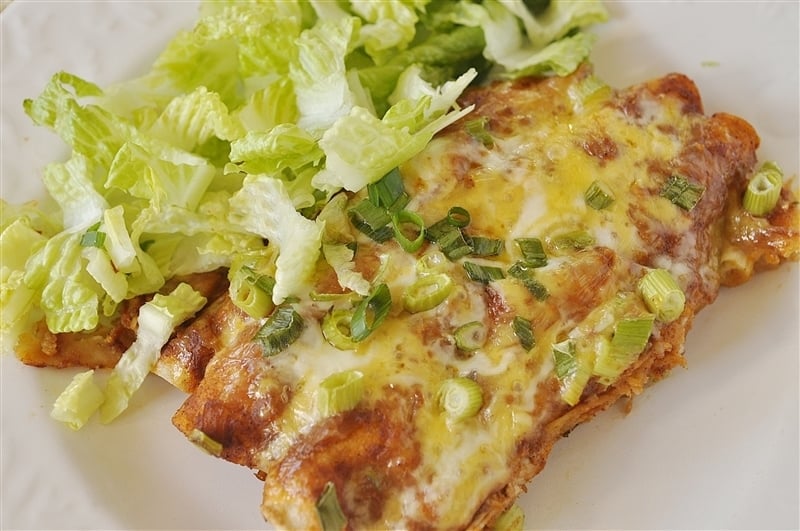 The first step is to use the chicken from your rotisserie chicken and combine it with some enchilada sauce (I made mine from scratch but you can use canned, recipe below), cheese, cilantro and chopped green chiles.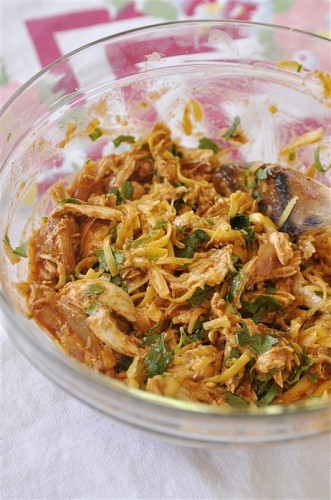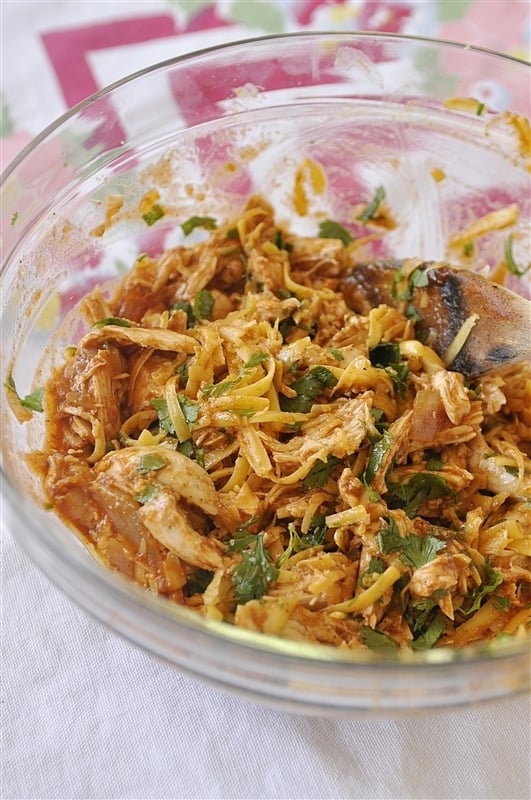 The next step is to soften then tortillas.  If you try to roll up your enchiladas without softening them first you will end up with a mess.  To soften mine I just wrap them in paper towels.   Then just microwave them for a 1-1 1/2 minutes (depending on how many you are heating up at one time)  You just want them nice and warm and soft.
Then place them in your baking dish and place about 1/4-1/3 cup of filling in the middle of each tortilla.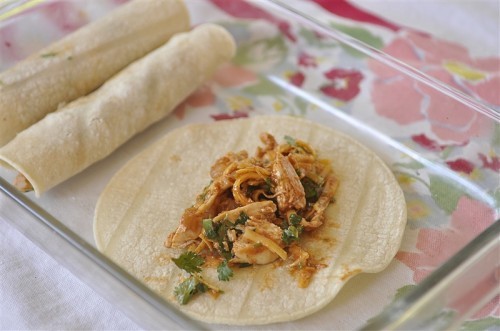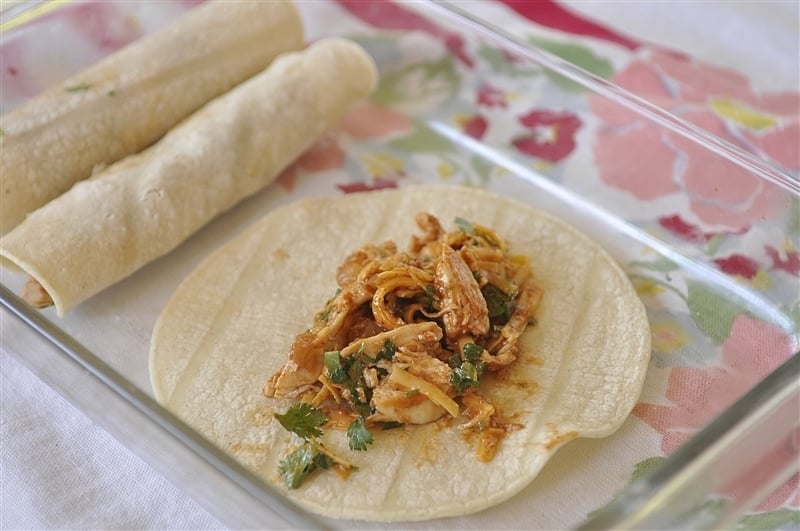 Roll them up and fill up the pan.  The recipe will make about a dozen or so, depending on how full you fill them.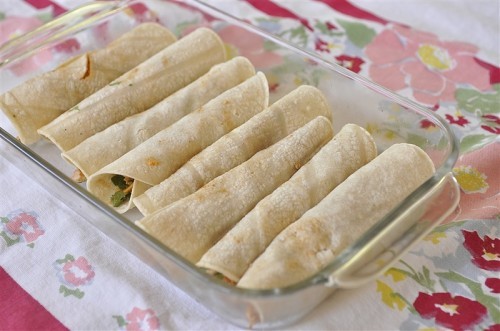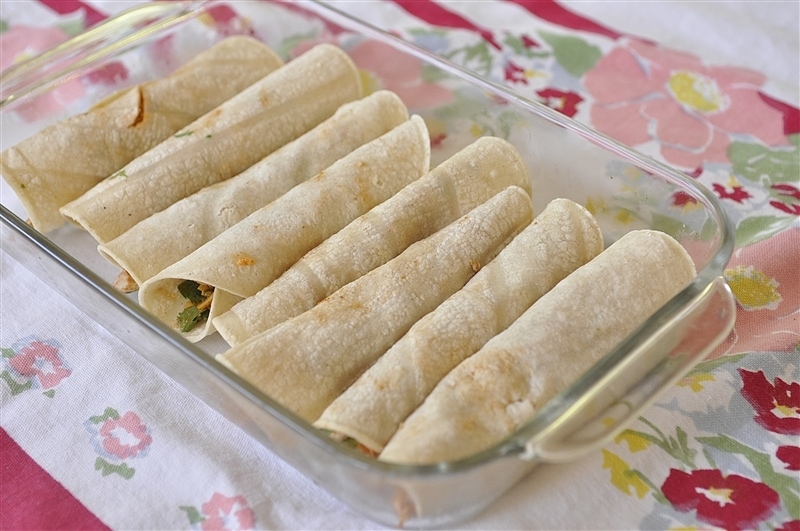 Then cover the top of the enchiladas with the remaining enchilada sauce, cheese and green onion.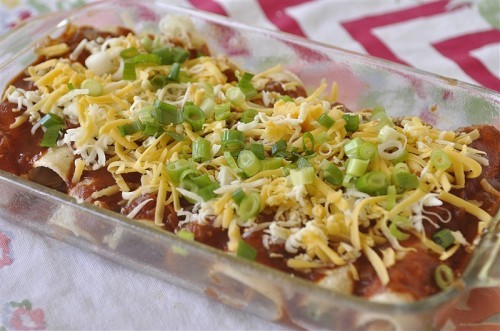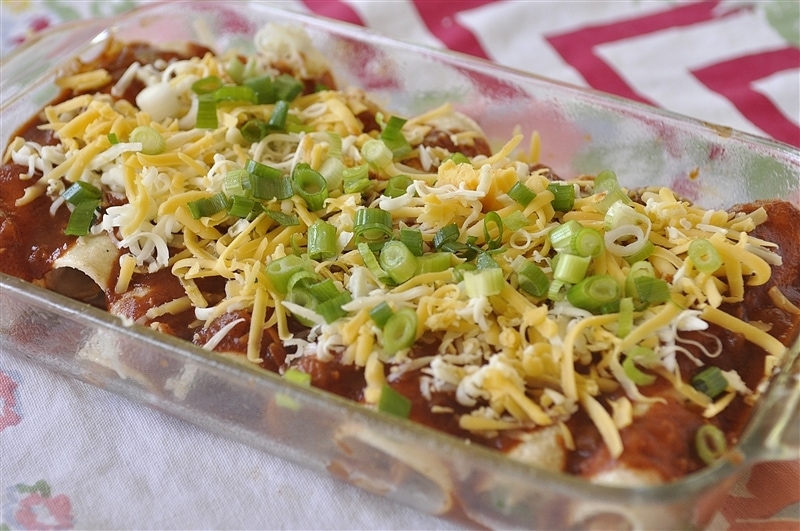 Bake for about 20 -25 minutes or until they are heated through and your cheese is wonderfully melted and gooey.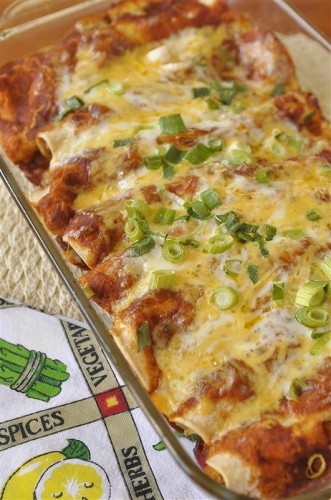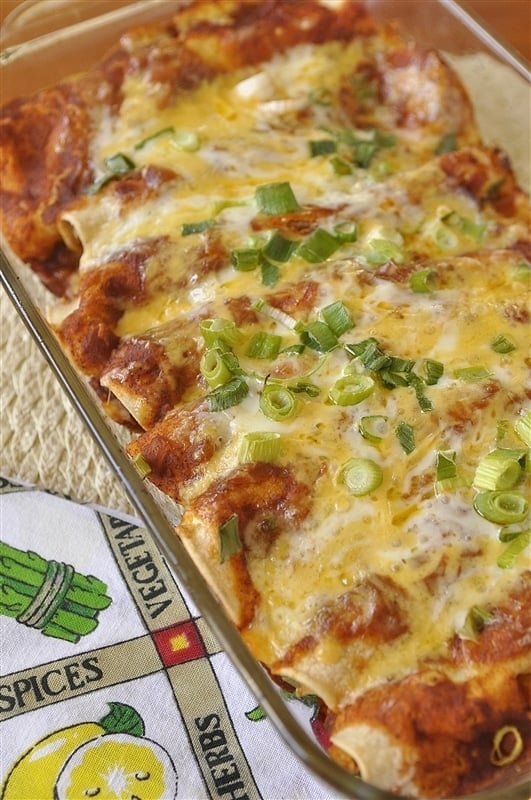 I like my enchiladas with a nice plate of crisp, lettuce.  The crunch goes great with the warm, gooey cheese!  The real reason I do it though is while I was in college I would splurge once a week and buy my lunch at the Cougareat on campus.  There was a Mexican place that made cheese enchiladas and always served them with some shredded lettuce.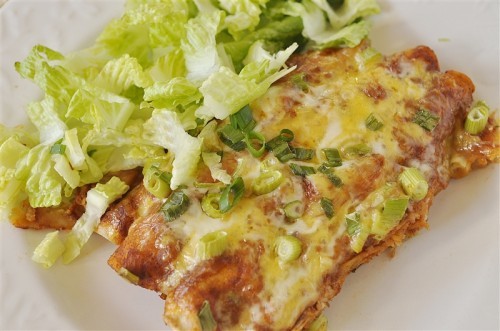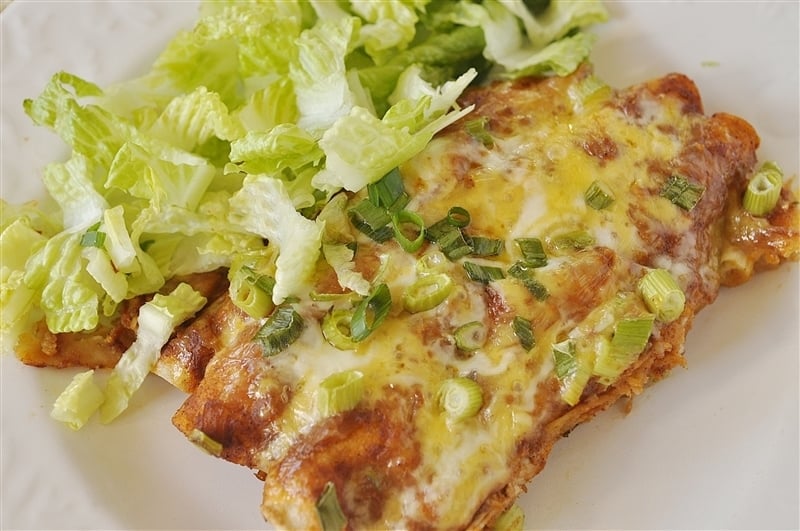 If you missed the other rotisserie chicken recipes you can find them here:
Yummy Bowl and Sauce
Layered PoppySeed Salad with Raspberry Vinaigrette
Chicken Enchiladas and Enchilada Sauce
Ingredients
3

C

shredded rotisserie chicken

3

C

shredded cheddar cheese or a combination of cheddar and jack cheese

2-3

C

enchilada sauce

canned or homemade

1

can chopped green chiles

drained

1/3

C

chopped fresh cilantro

12

soft corn tortillas
Enchilada Sauce
1

Tbsp

olive oil

1/2

onion

minced

3

Tbsp

chili powder

3

garlic cloves

minced

2

tsp

cumin

2

tsp

sugar

2 - 8

oz.

cans tomato sauce

1/2

C

water

salt and pepper
Instructions
Preheat oven to 400 degrees.

Combine the chicken with 2 cups of the cheese and 1 cup of the enchilada sauce, chilies and cilantro.

Add salt and pepper to taste.

Soften the tortillas in the microwave by placing them on a paper towel covered plate and then plastic wrap on top.

Microwave on high for 1 - 1/2 minutes, depending on how many tortillas you are softening at once.

Spray a 9 x 13 pan with cooking spray.

Fill each tortilla with about 1/4-1/3 cup of chicken mixture and roll up, placing seam side down into the pan.

Pour 1 cup of enchilada sauce over the top and the remaining cheese.

Cover with foil and bake for 20-25 minutes or until heated through.

Remove foil and bake for about 5 minutes more or until cheese is bubbly and begins to brown. May serve with additional sauce if desired.
Enchilada Sauce
Heat oil in skillet.

Add in onion and salt and cook until onions are softened. About 5 minutes.

Stir in the chili powder, garlic, cumin and sugar.

Cook for another 10 minutes or until it smells really good.

Add in tomato sauce and water. Bring to a simmer and cook until slightly thickened. About 5 minutes.

Season to taste with salt and pepper.
Get my Weekly Menu Plan for FREE!
Receive my FREE "What's for Dinner?" Meal Planning Course, a copy of my FREE ebook that includes my most popular recipes and my FREE weekly Meal Plan.