Instant Pot Shredded Chicken is easy, delicious and the perfect way to meal prep.  It freezes wonderfully and is ready when you need it.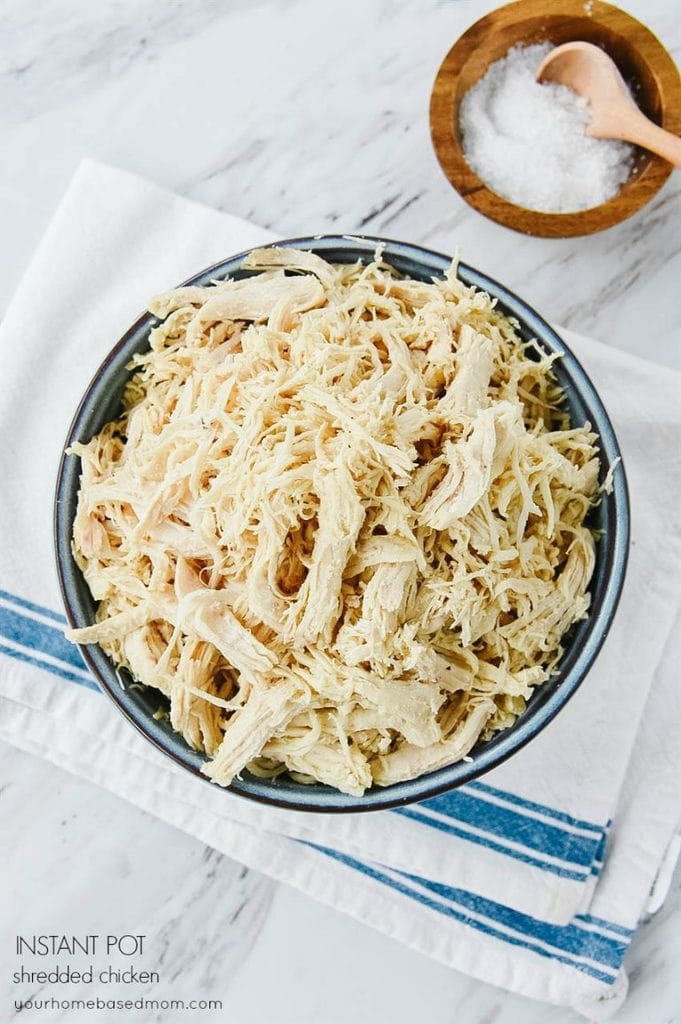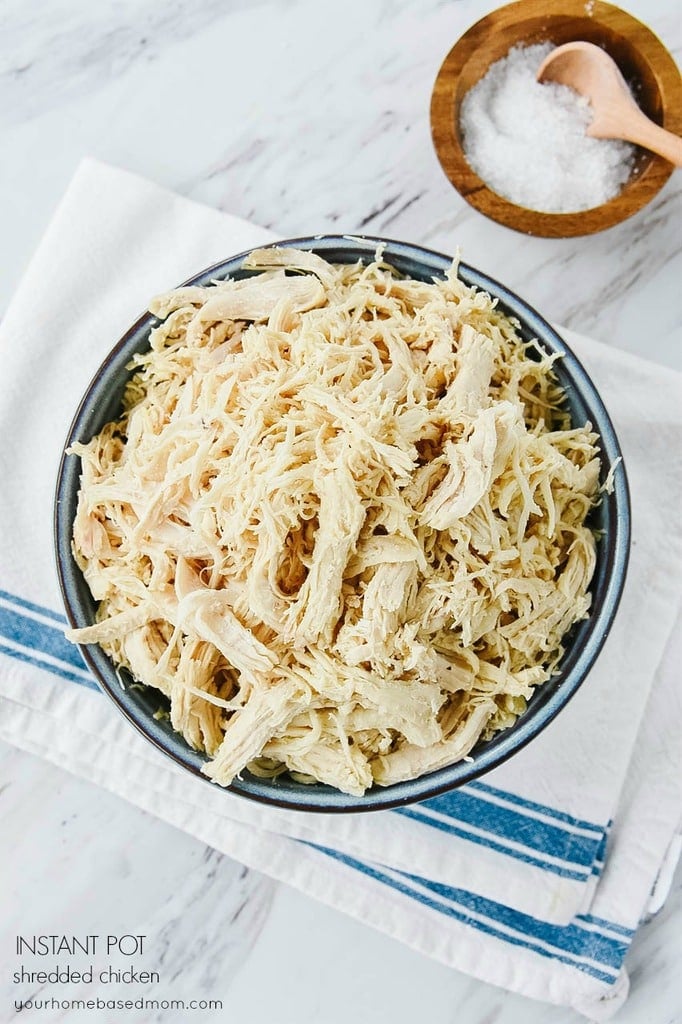 Meal Prep Tips
To make meal prep easy, I love to keep a container of shredded chicken in my freezer. It is the ingredient in so many of our favorite quick and easy family favorite recipes. Today I want to share with you how I make shredded chicken. I'm not sure this really qualifies as a recipe. It is more of a "technique." You are going to love how easy this is. Make up a big batch of instant pot shredded chicken at the beginning of the week and use it all week long in your meal planning.
Recipes that Use Shredded Chicken
A couple of our favorite ways to use it are chicken noodle soup and chicken enchiladas and it is perfect for salads like this BBQ Chicken Salad. There are so many possibilities!
If you don't have an Instant Pot, don't worry! You can also do this in your crock pot by following these directions, or even in your microwave.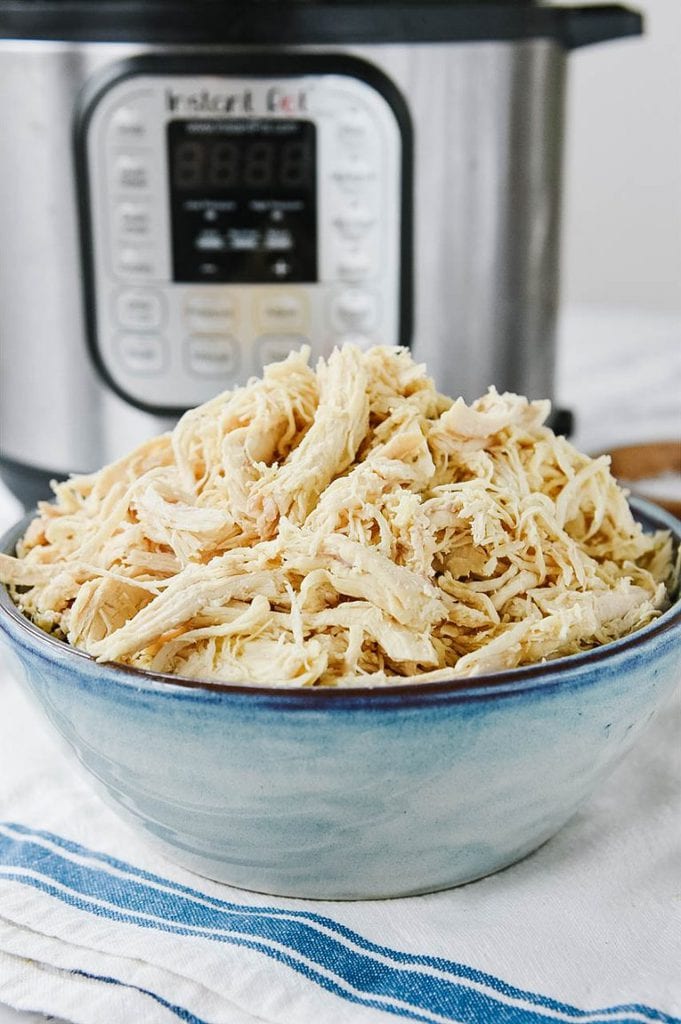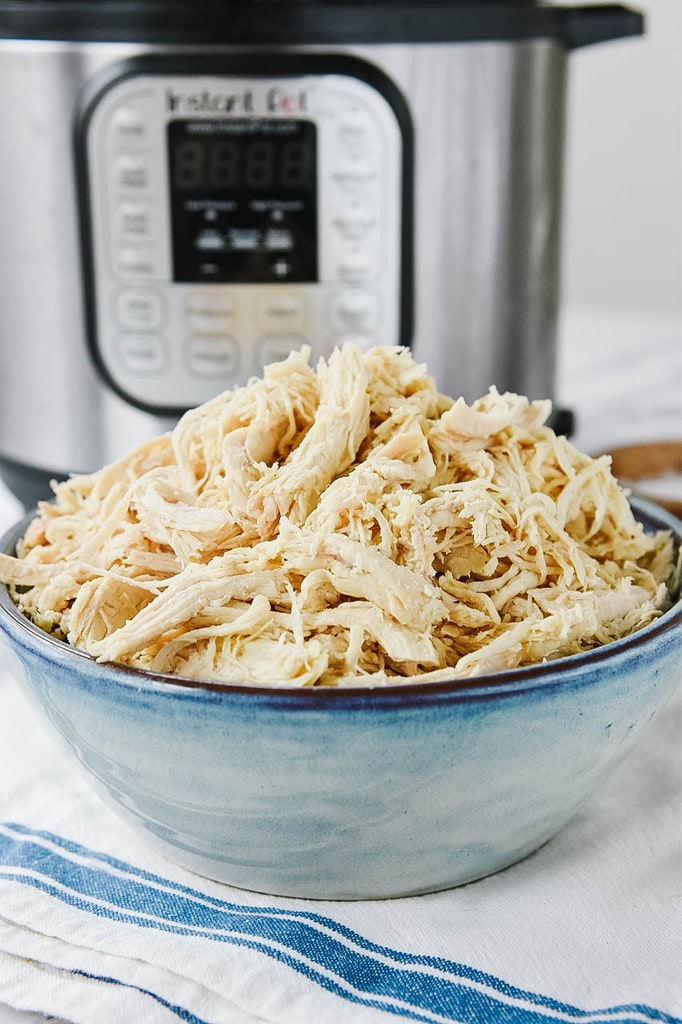 How to Cook Shredded Chicken in the Instant Pot
Use chicken breasts that are similar in size and weight. I usually buy the skinless, boneless chicken breast pack at Costco and have found that those breasts are large, and weigh about 10 oz each. If you are using smaller chicken breasts you can decrease your time by a couple of minutes (see recipe below). I used six of the large 10 oz. chicken breasts. Do not overfill your Instant Pot, it should not be filled more than 2/3 full. If you are using 8 oz. breasts, cook for 8 minutes, 6 oz. breasts, cook for 6 minutes.
Use one cup of water or chicken broth. Broth will add more flavor to the chicken.
Season the chicken with salt, pepper and some garlic powder if you like.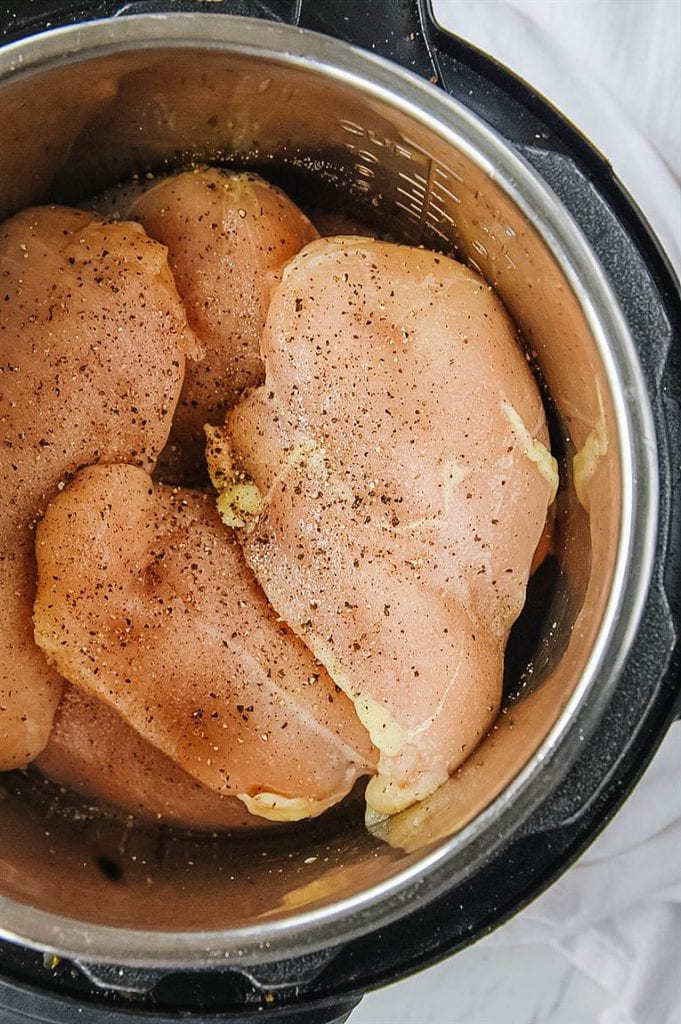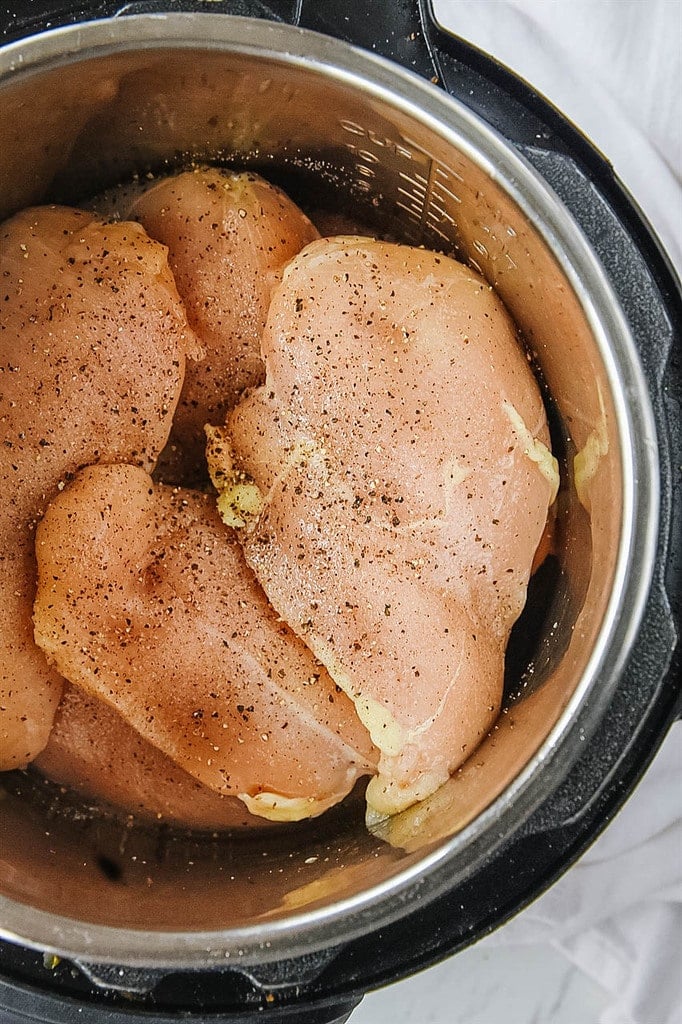 Set the Instant Pot to manual high pressure and set timer for 10 minutes. Remember it will take 10-15 minutes to come to pressure, depending on how full the pot is. Allow for a 10 minute natural release. It will take a total of 30-40 minutes.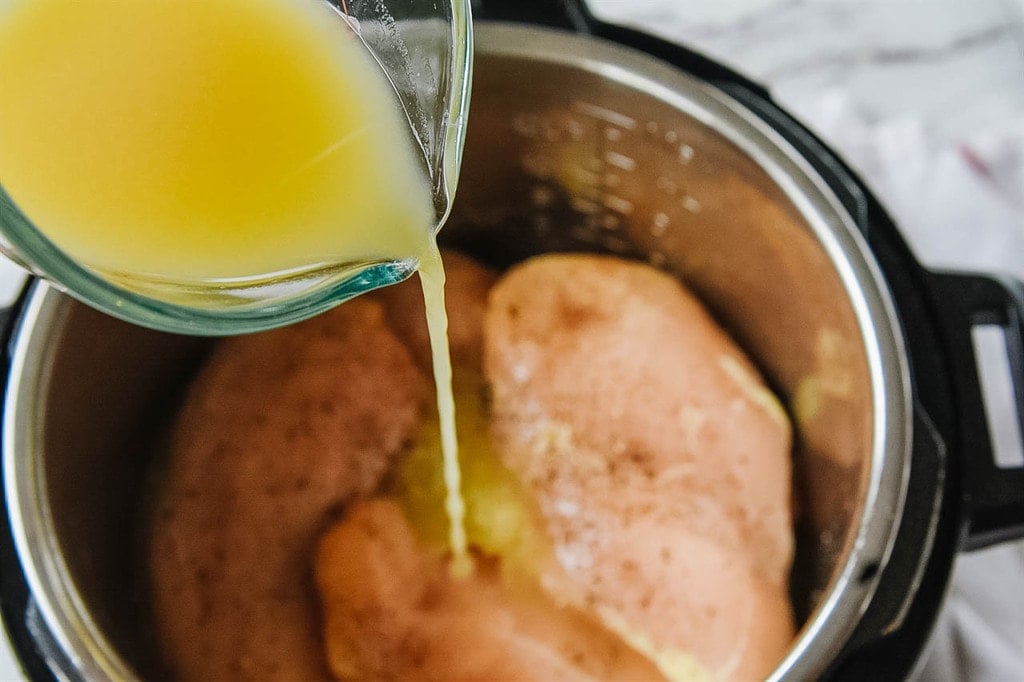 Use a thermometer to check the temperature and doneness of the chicken. It should be 165 degrees F. If it is not cooked all the way, put the lid back on and set timer for a couple more minutes.
How to Shred Instant Pot Shredded Chicken
The first way to shred chicken is to use two forks and pull the meat apart. The chicken should be really tender and pull apart easily. You can drain off most of the liquid from the Instant Pot and then shred the chicken right in the pot. I like to reserve some of the liquid and add it back into the chicken when I am done shredding to keep the chicken moist. If it is easier, remove the chicken to a baking sheet or pan and shred it there. You just end up with an additional dirty dish this way.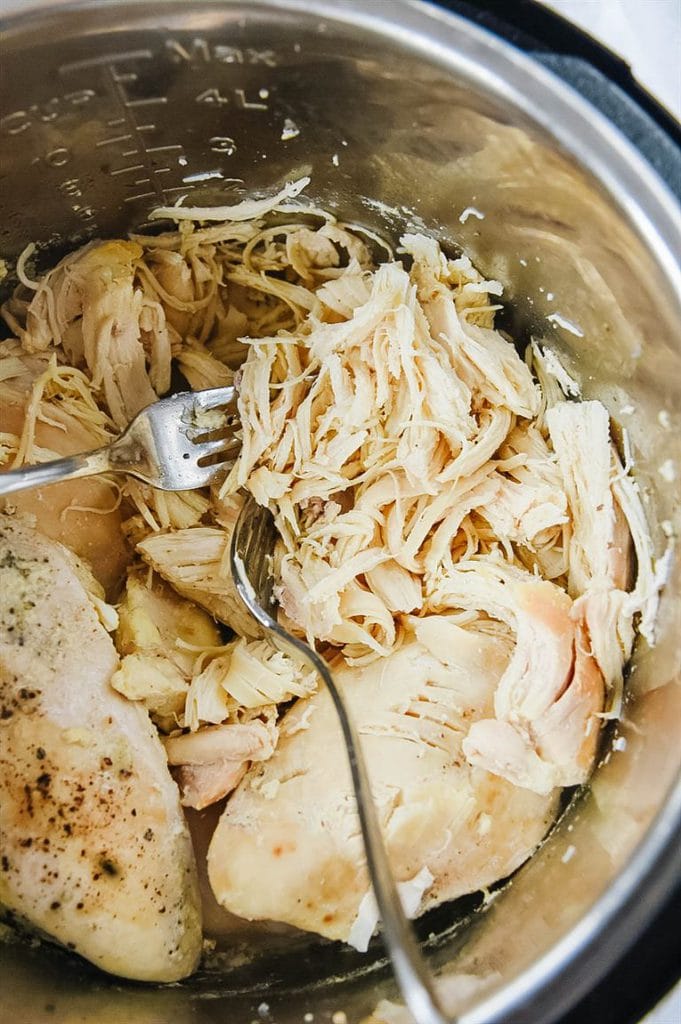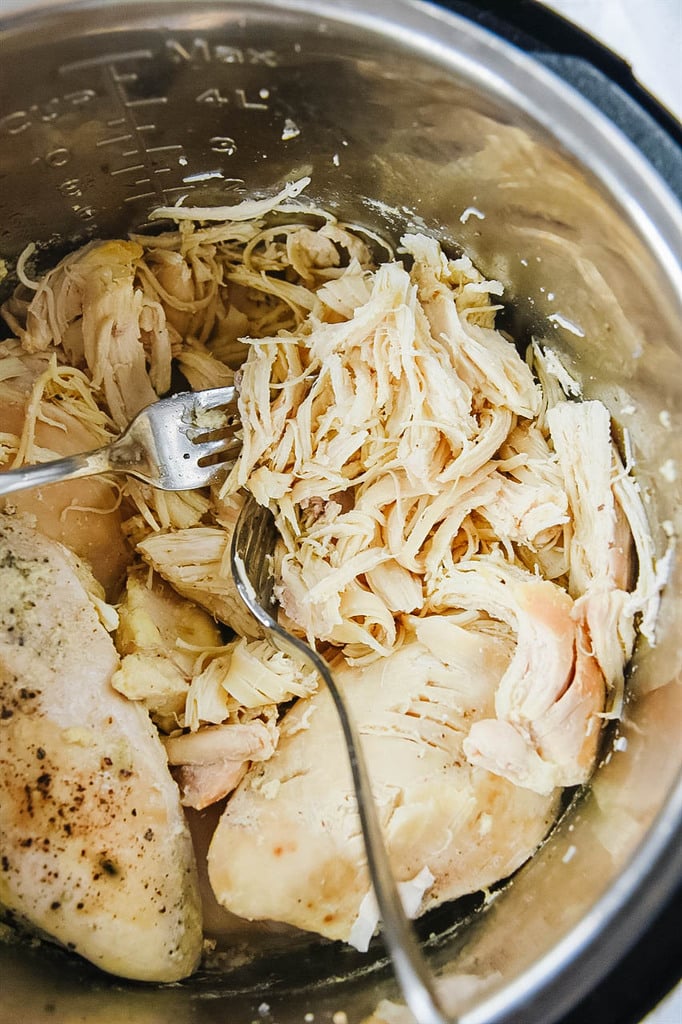 2. The second way is to use your hand mixer. Drain most of the liquid like the first method and then just put your mixer into the Instant Pot and let it do the work. Add some of the liquid back in.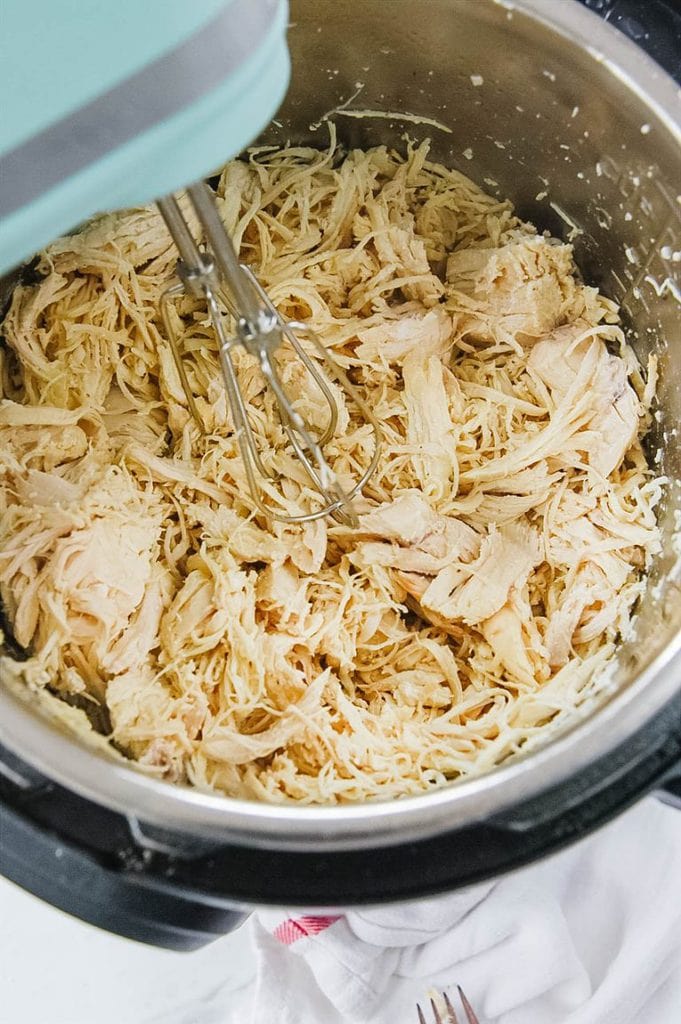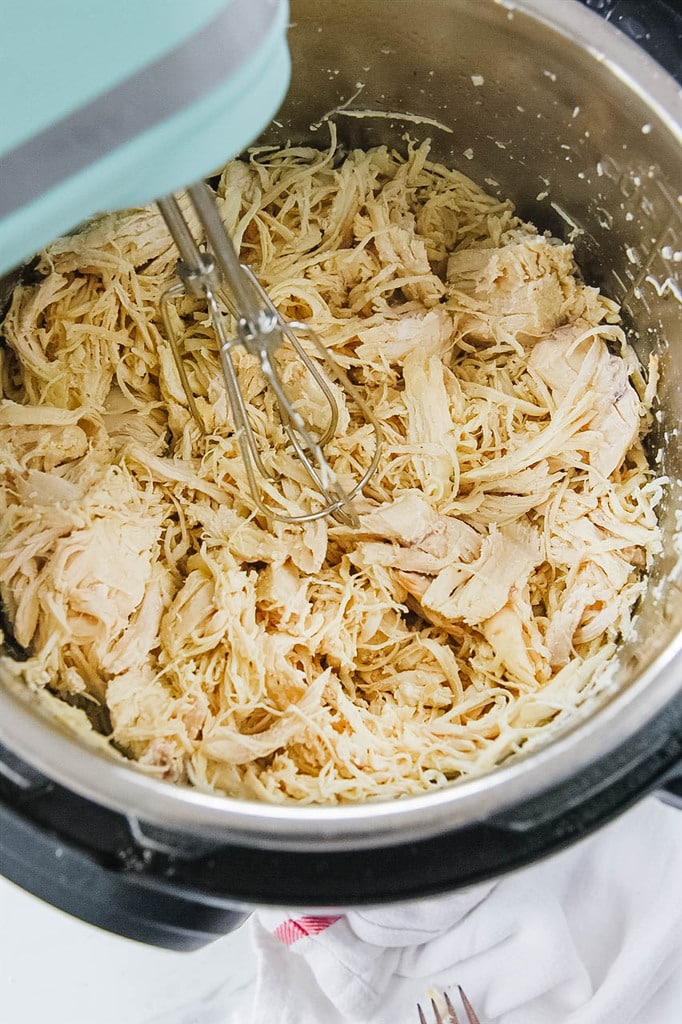 If you are not using all the chicken right away. Store it in an airtight container and freeze it.
How long will Instant Pot Shredded Chicken last in the freezer?
You can store the shredded chicken in an airtight container or bag for about four months. I like to freeze it in 1-2 cup quantities, just perfect for throwing into soup or adding to a salad.
Check out more of my instant pot recipes:
For all my other favorite kitchen products and tools visit my Amazon Store.
Did you know I wrote a cookbook? Check out the Holiday Slow Cooker Cookbook for 100 delicious recipes.
Be sure and follow  me over on You Tube for weekly cooking demos.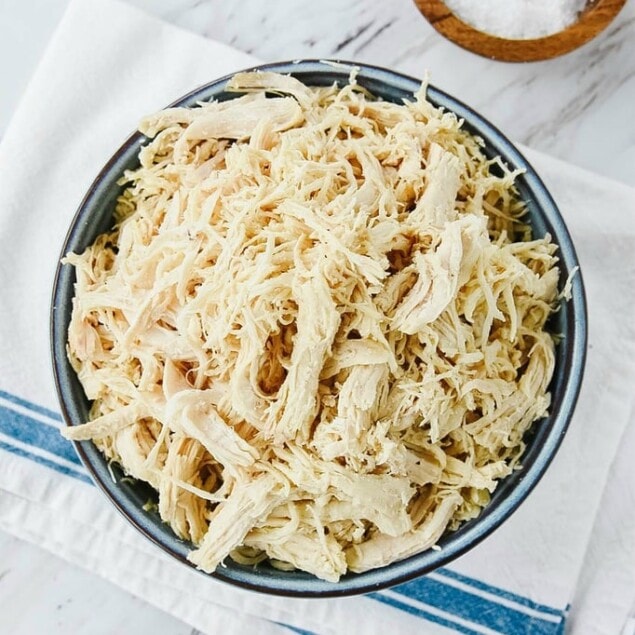 Instant Pot Shredded Chicken
Instant Pot Shredded Chicken is easy, delicious and the perfect way to meal prep. It freezes wonderfully and is ready when you are.
Up to Pressure:
10

minutes
Ingredients
6 boneless, skinless chicken breasts
1 cup chicken broth or water low sodium
1 tsp salt
1/2 tsp pepper
1 tsp garlic powder optional
Instructions
Place chicken breasts into Instant Pot. Season with salt and pepper.

Pour in liquid.

Put on lid and set to manual, high pressure for 10 minutes. Allow to natural release for 10 minutes.

For 8 oz. chicken breasts, cook for 8 minutes. For 6 oz. chicken breasts, cook for 6 minutes. Meat should be at 165 degrees F to be fully cooked.
Nutrition Facts:
Calories: 68kcal (3%) Protein: 12g (24%) Fat: 1g (2%) Cholesterol: 36mg (12%) Sodium: 265mg (12%) Potassium: 229mg (7%) Vitamin A: 15IU Vitamin C: 0.7mg (1%) Calcium: 3mg Iron: 0.3mg (2%)
* Disclaimer: All nutrition information are estimates only. Read full disclosure here.