Honey Lime Chicken Enchiladas are a fun twist on a traditional enchilada. The honey lime marinade gives the chicken a unique and delicious flavor.
For more delicious enchilada recipes try these: Homemade Enchilada Sauce, Street Enchiladas, and Chile Verde Enchiladas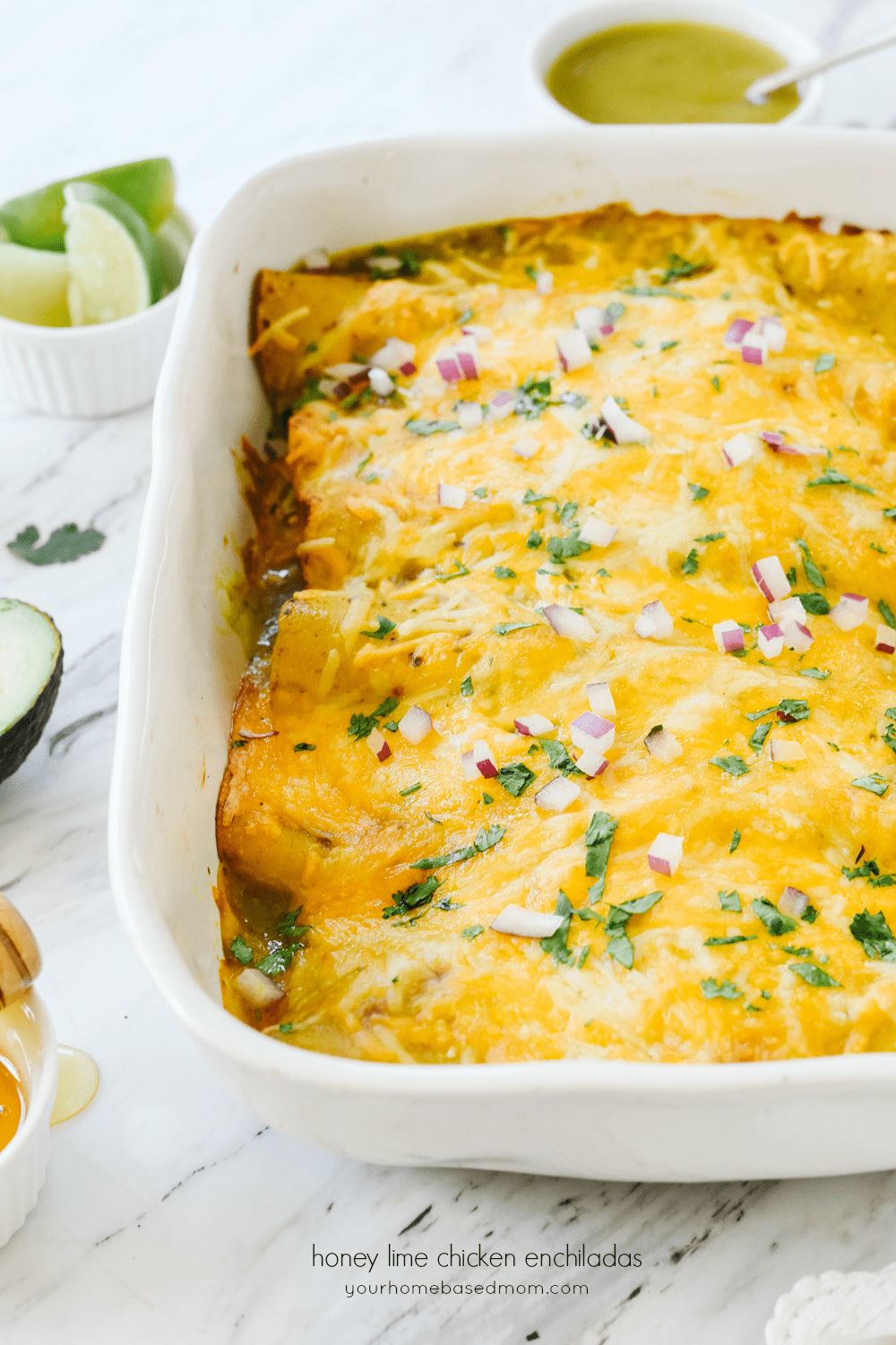 Enchiladas are my favorite Mexican dish, I have loved them ever since I was a little girl. My mom use to make her red enchilada sauce from scratch and my favorite filling was cheese and black olives. I loved to find those black olives hiding in the middle of my enchilada. You can find my recipe for red sauce enchiladas here. Enchiladas are pure comfort food for me. Whenever we go out for Mexican food I always order the enchiladas.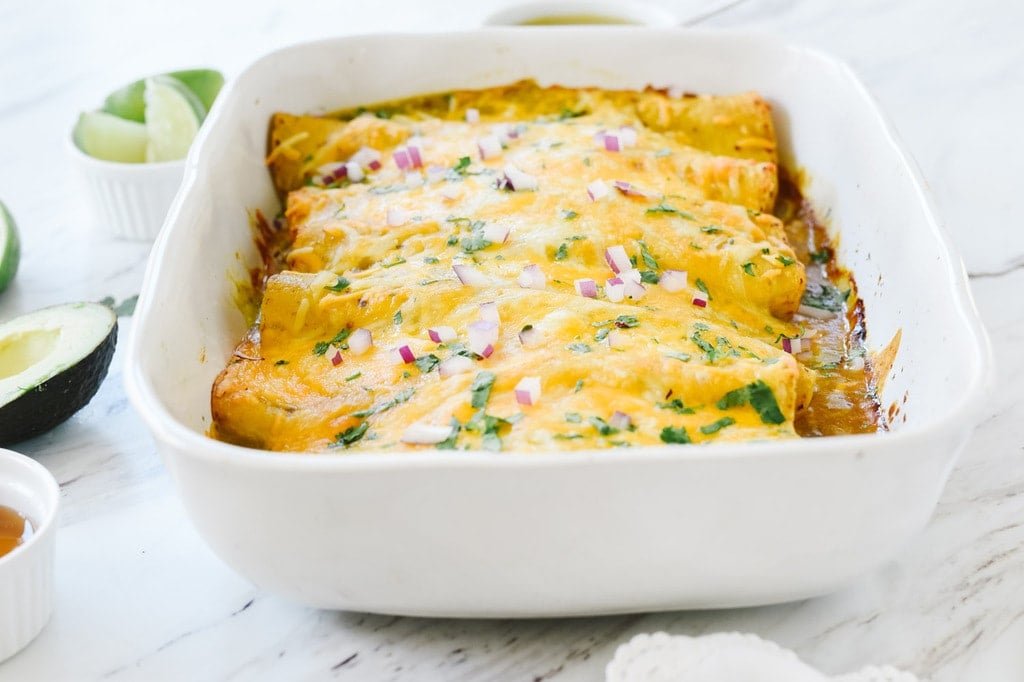 Chicken Enchiladas
Today's recipe for Honey Lime Chicken Enchiladas is a fun twist on that traditional enchilada made with red sauce. This recipe is a quick and easy dinner recipe and a great use for leftover shredded chicken. The sweetness of the honey balances out the tartness of the lime juice for a delicious combination. I love that this recipe doesn't use any cream like many other recipes for honey lime chicken enchiladas as I am not a fan of cream sauces.
If you don't have leftover shredded chicken in the fridge be sure and check out my posts on how to make it in the slow cooker, the Instant Pot, or in the microwave.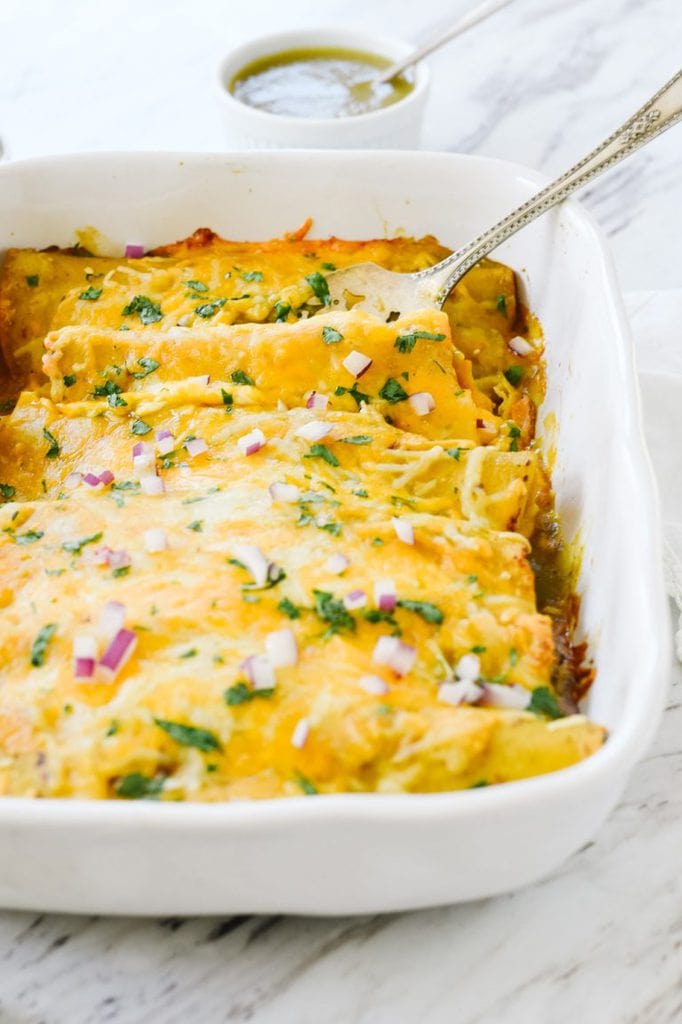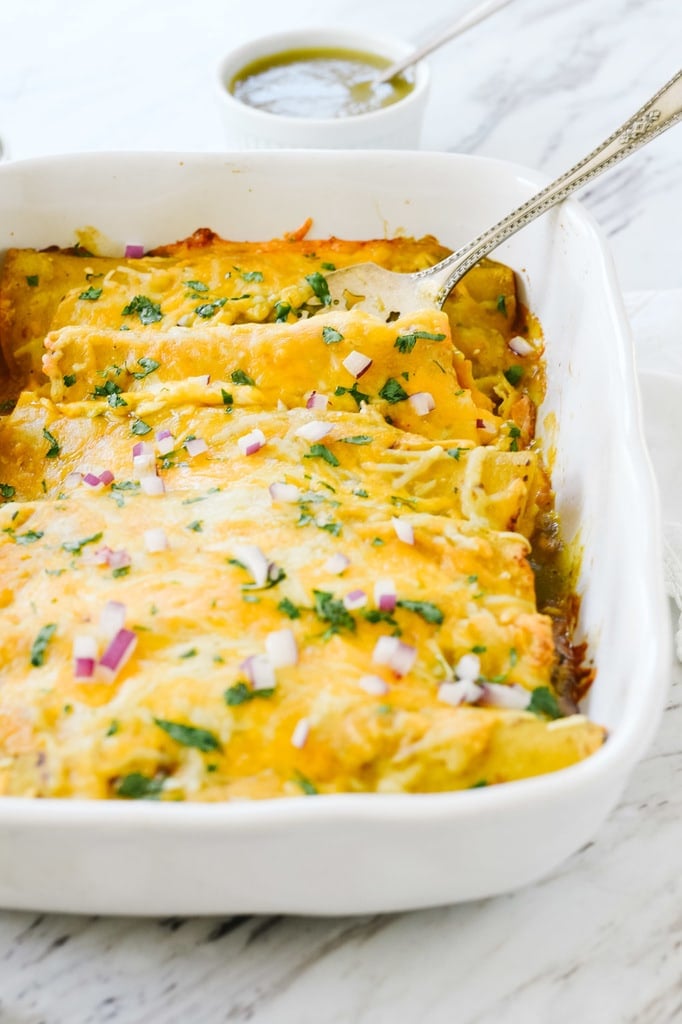 Honey Lime Chicken Marinade
The most important step to making the honey lime chicken enchiladas, is marinating the chicken. Mix honey, lime juice, chili powder and garlic powder together and add the shredded chicken. Cover the chicken and refrigerate. Allow the cooked chicken to sit in the honey lime marinade for at least 30 minutes, but if you can make it the night before and let is sit in the fridge overnight, the flavor will be that much better!
Can Enchiladas be Made with Corn or Flour Tortillas?
The answer is definitely both and it is mainly a matter of taste. I personally prefer a corn tortilla as I think they give the enchilada more flavor than a flour tortilla but both will work.
How To Quick Fry Tortillas
I like to quick fry my corn tortillas in a little oil before assembling the enchiladas. This helps keep the tortilla from getting too soggy. No one likes a soggy enchilada and I think it also gives the enchilada more flavor.
Add a few tablespoons of oil into a skillet and head over medium high heat. Once the oil is hot, add in the tortilla and fry for about 10 seconds on both sides. Then blot the tortilla between a layer of paper towels. I don't do this with flour tortillas as they tend to be more substantial and not fall apart or get soggy as easily.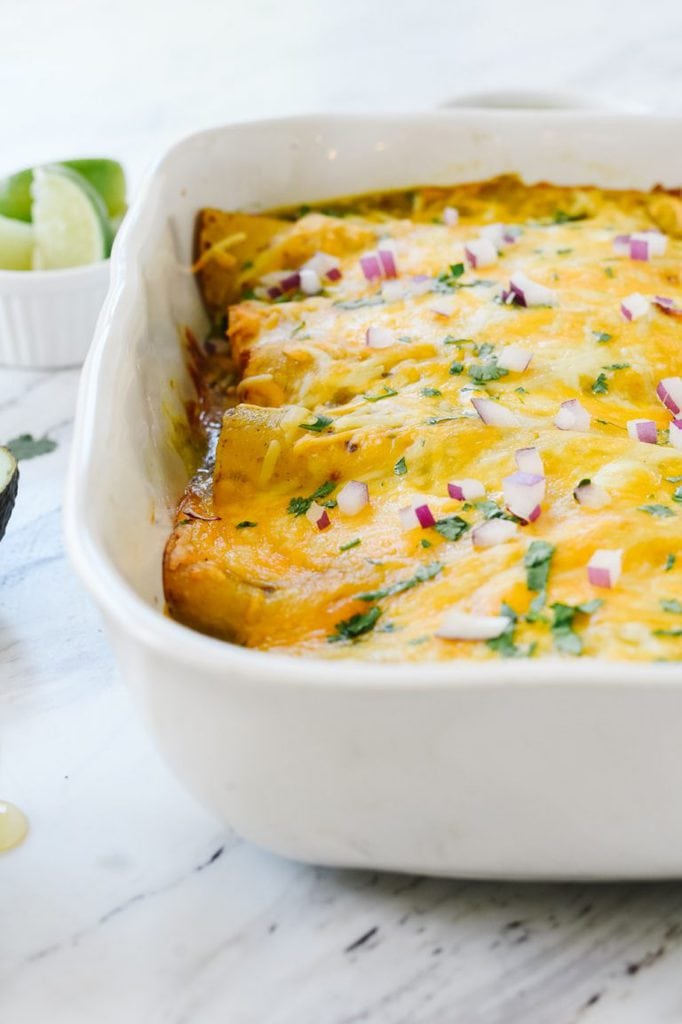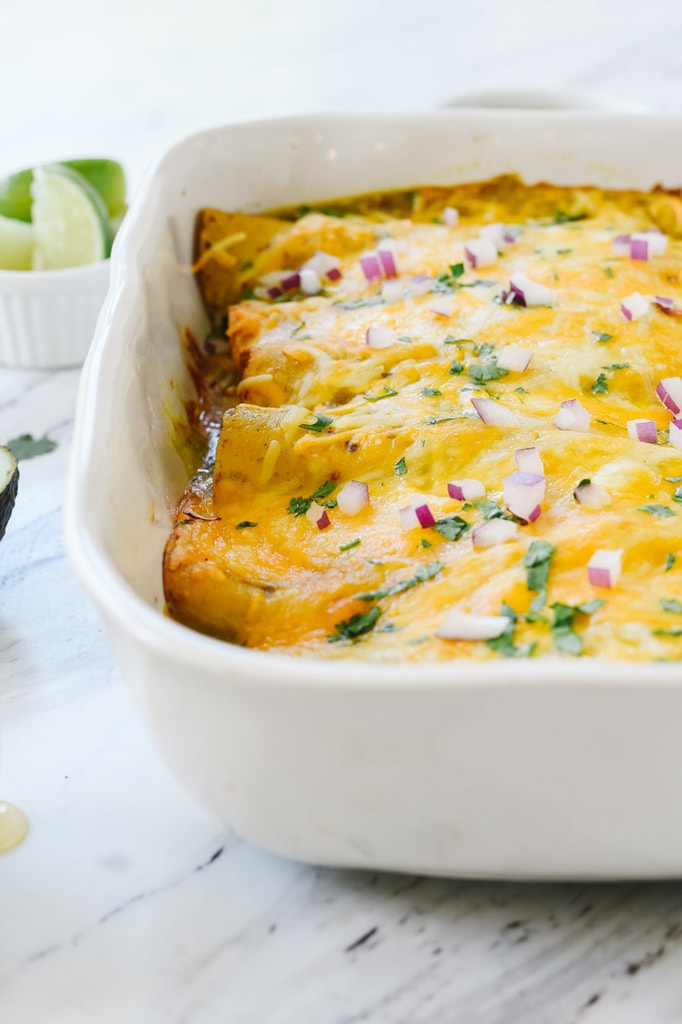 How do I Make Honey Lime Chicken Enchiladas?
Pour your enchilada sauce into a pie plate or a shallow bowl.
After quick frying the tortillas (see above) I dip both sides of the tortilla into the enchilada sauce and then place it into the baking dish. Place a generous spoonful of the honey lime chicken and some cheese into the center of the tortilla.
Roll up the enchilada and repeat until your pan is full.
Pour more enchilada sauce over the top of the rolled enchiladas before baking but not too much. You want them covered in sauce but not swimming in it. Too much sauce will make the enchiladas soggy. You can always add additional sauce after they bake, before serving, if you think they are a little dry.
Sprinkle generously with more cheese.
Bake at 350 degrees F for about 20 minutes or until bubbly and heated through.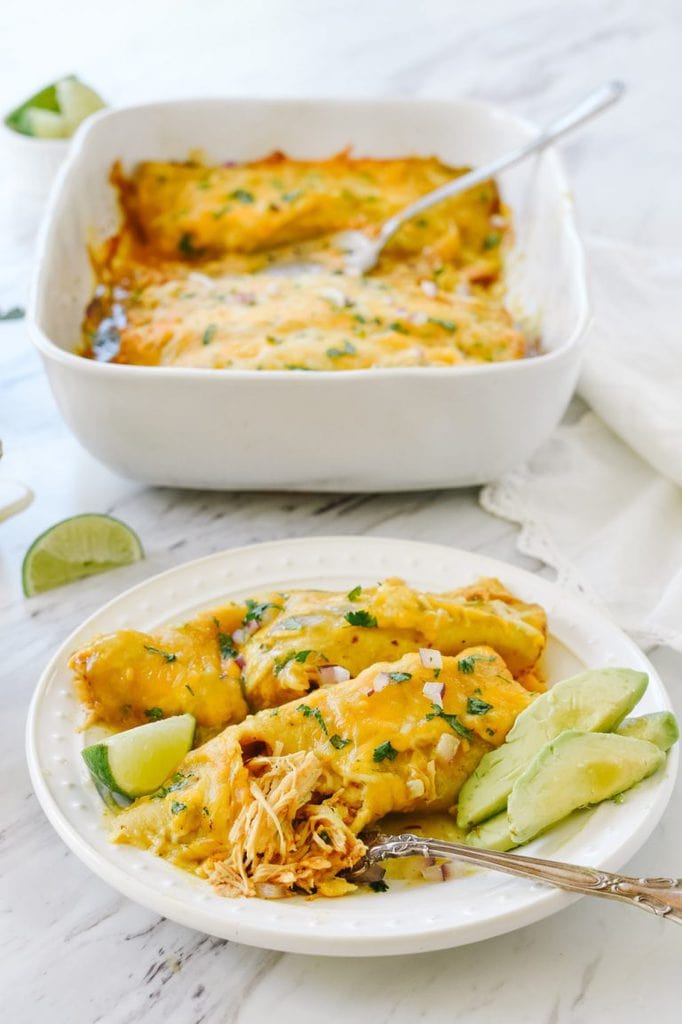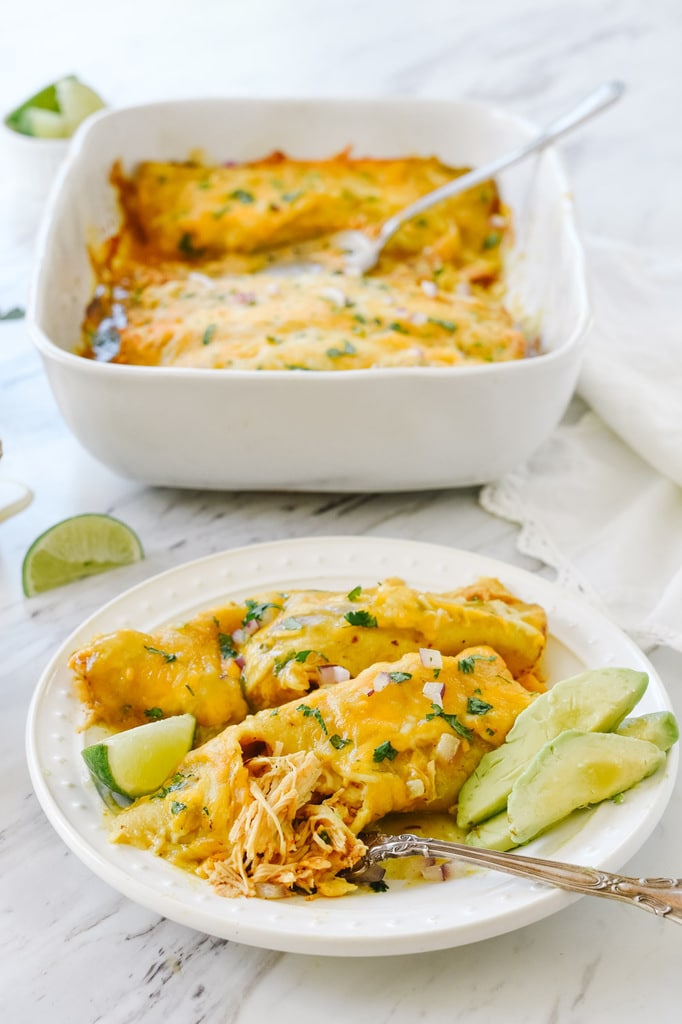 For all of my other favorite kitchen products and tools visit my Amazon Store.
Did you know I wrote a cookbook? Check out the Holiday Slow Cooker Cookbook for 100 delicious recipes
Honey Lime Chicken Enchilada Recipe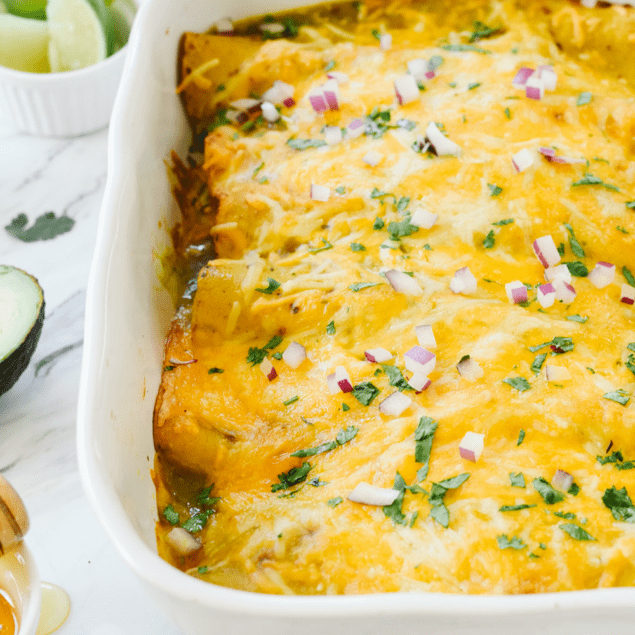 Honey Lime Chicken Enchiladas
Honey Lime Chicken Enchiladas are a fun twist on a traditional enchilada. The honey lime marinade gives the chicken a unique and delicious flavor.

Ingredients
6 Tbsp honey
5 Tbsp fresh lime juice 1-2 limes
1 Tbsp chili powder
1 tsp garlic powder
2 chicken breasts shredded
8-10 tortillas corn or flour
1 lb Mexican blend cheese monterey jack, colby, cheddar, shredded
20 oz green enchilada sauce
Instructions
Mix the honey, lime juice, chili powder and garlic powder together with the shredded chicken. Allow it to sit for at least 1/2 hour or you could do it hours before and just cover and refrigerate

If using corn tortillas, quick fry them in a couple tablespoons of vegetable oil over medium heat. Fry on each side for about ten minutes just until the edges begin to brown. Blog between layers of paper towels.

Pour a thin layer of enchilada sauce into bottom of baking dish.

Dip tortilla into enchilada sauce coating both sides and place flat into baking dish.

Place a spoonful of chicken and cheese into middle of a tortilla and roll up. Place seam side down in the baking dish. Repeat until pan is full.

Pour enchilada sauce over the top of rolled enchiladas, just enough to coat the enchiladas. You don't want them swimming in sauce. (reserve a little bit to add after they are baked)

Reserve about 1-2 cups of cheese to sprinkle on top of enchiladas

Bake at 350 degrees for about 20- 25 minutes or until lightly browned and bubbly and heated through.
Nutrition Facts:
Calories: 440kcal (22%) Carbohydrates: 36g (12%) Protein: 29g (58%) Fat: 19g (29%) Saturated Fat: 10g (63%) Cholesterol: 90mg (30%) Sodium: 1297mg (56%) Potassium: 346mg (10%) Fiber: 2g (8%) Sugar: 19g (21%) Vitamin A: 1160IU (23%) Vitamin C: 4.9mg (6%) Calcium: 413mg (41%) Iron: 2.2mg (12%)
* Disclaimer: All nutrition information are estimates only. Read full disclosure here.