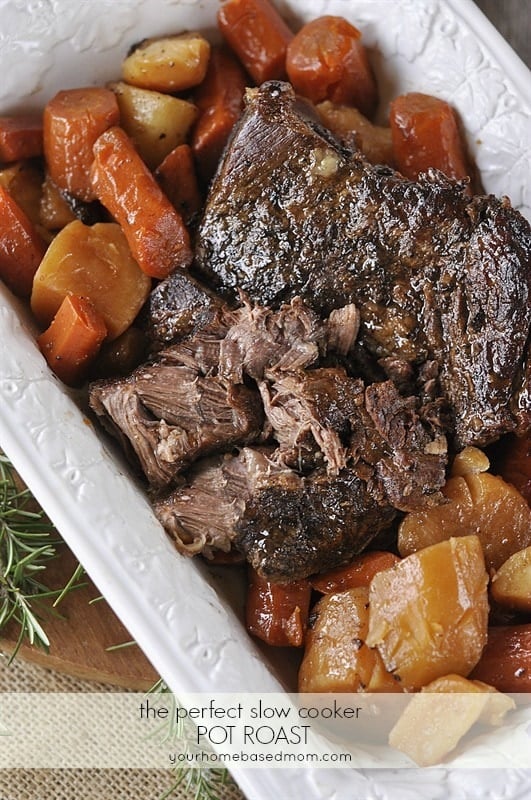 If you are looking for a delicious and easy pot roast recipe, this slow cooker pot roast is perfect. So easy to make and always so delicious.
There is something about pot roast that just SCREAMS comfort food. It doesn't just say it, it screams it! Growing up there was always some kind of roast on Sunday. Sunday was a special day and it was the day we had roast.
You may have noticed that I called todays recipe "perfect". Now I realize that perfect is a very subjective term and I realize that many of you may have a pot roast recipe that you consider perfect and I respect that. But for those of you who may be looking for one, give this one a try. Even if you already have a recipe you love, I promise you won't be disappointed.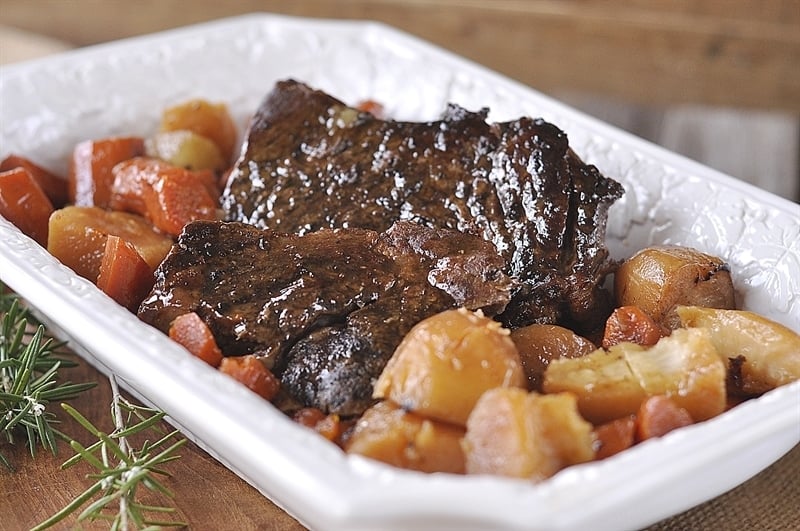 There are a couple of things that are perfect about this slow cooker pot roast. First is how easy it is to make in the slow cooker. Just pop it in first thing in the morning and then don't think about it the rest of the day. And dinner is ready when we are!
The second thing that makes it perfect is the flavor and the texture. A good pot roast requires no knife. It basically falls apart when you cut into it with your fork. The slow cooker helps to achieve that fall apart texture. Remember you can't rush a pot roast. It requires about 8 hours in the slow cooker.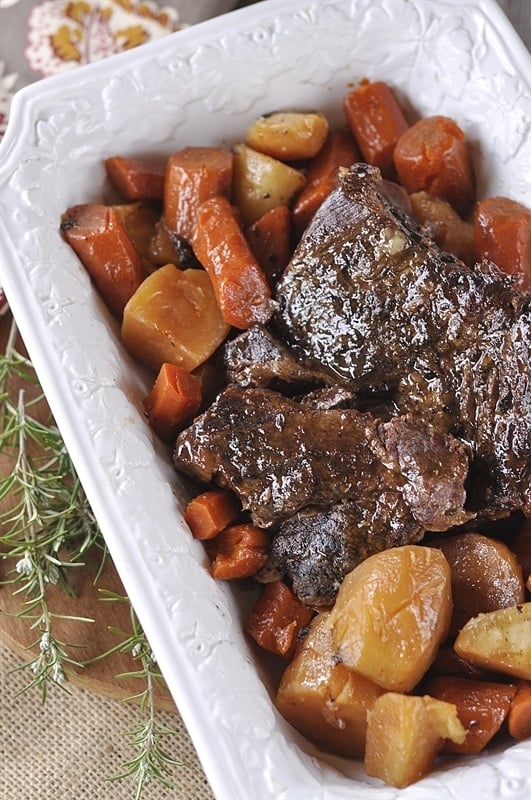 Besides the roast, carrots and potatoes (all crucial ingredients to a perfect pot roast) there are only three other things you will need for this pot roast. A can of Coke or Pepsi. a cup of water and some McCormick's Slow Cooker Savor Pot Roast Seasoning packet. I found the seasoning packet at Fred Meyer here in Portland. Buy a couple when you find it, you will be glad you did.
Unfortunately the seasoning packet is not gluten free so I am working on creating my own seasoning mix to use for this recipe and I will be sure and post it when I get it figured out.
Just peel your potatoes and carrots and put them into the slow cooker. One of the tricks to a perfect pot roast is to braise your meat first. Just heat up some olive oil in a pan and sear both sides of the roast before adding it to the slow cooker.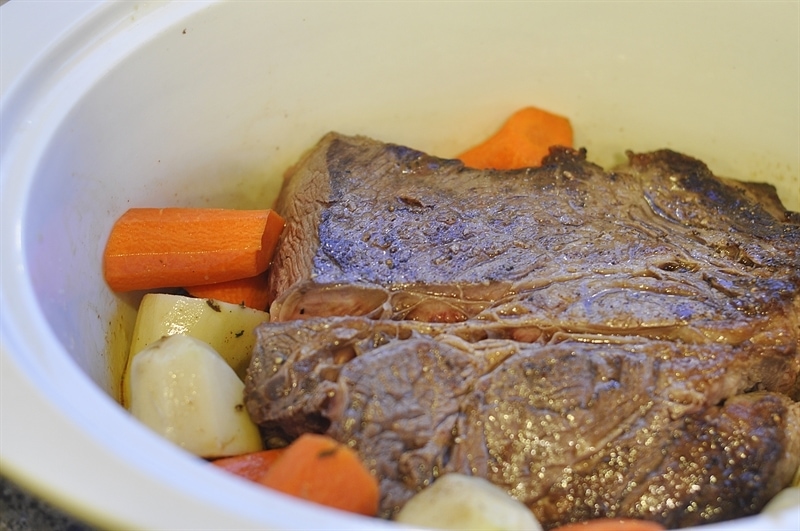 Mix your seasoning packet into the cup of water and add it to the slow cooker and then pour your can of Coke or Pepsi over the top. The soda helps to tenderize the meat.
Then put on your lid, turn your slow cooker to low and forget about it for 8 hours!
The only thing left to do is enjoy dinner!
Check out more of my favorite crockpot recipes:
My favorite kitchen tools to make the PERFECT SLOW COOKER POT ROAST:
SLOW COOKER – My favorite one is the classic, the Rival CrockPot. In fact, I love it so much I own three of them. Two 6 qt and one 4 qt.
CROCK POT LINER BAGS – These liner bags are a life saver and make clean up so much easier and faster! Stock up on them!
HOLIDAY SLOW COOKER COOKBOOK – For more delicious slow cooker recipes check out my new cookbook – 100 recipes!
Pot Roast Crockpot Recipe
Slow Cooker Pot Roast
Another easy and delicious slow cooker recipe for you – the perfect slow cooker pot roast.
Ingredients
4 lb chuck roast or pot roast
12 oz Coke one can
1 C water
1 pkg McCormick Slow Cooker Savory Pot Roast seasoning
5 carrots peeled and cut into large chunks
4 potatoes peeled and cut into large chunks
Instructions
Place carrots and potatoes in bottom of slow cooker.

Heat 1 Tbsp of oil in a heavy pot and braise both sides of pot roast

Place meat into slow cooker

Mix seasoning into water and pour of meat

Pour Coke over meat

Cover and cook on low for 8 hours.
Nutrition Facts:
Calories: 501kcal (25%) Carbohydrates: 21g (7%) Protein: 47g (94%) Fat: 26g (40%) Saturated Fat: 11g (69%) Cholesterol: 156mg (52%) Sodium: 224mg (10%) Potassium: 1315mg (38%) Fiber: 4g (17%) Sugar: 6g (7%) Vitamin A: 6399IU (128%) Vitamin C: 14mg (17%) Calcium: 83mg (8%) Iron: 8mg (44%)
* Disclaimer: All nutrition information are estimates only. Read full disclosure here.