Making easy mashed potatoes doesn't mean you have to skimp out of the flavor and creamy texture. Making the perfect mashed potatoes is a cinch with this step by step tutorial.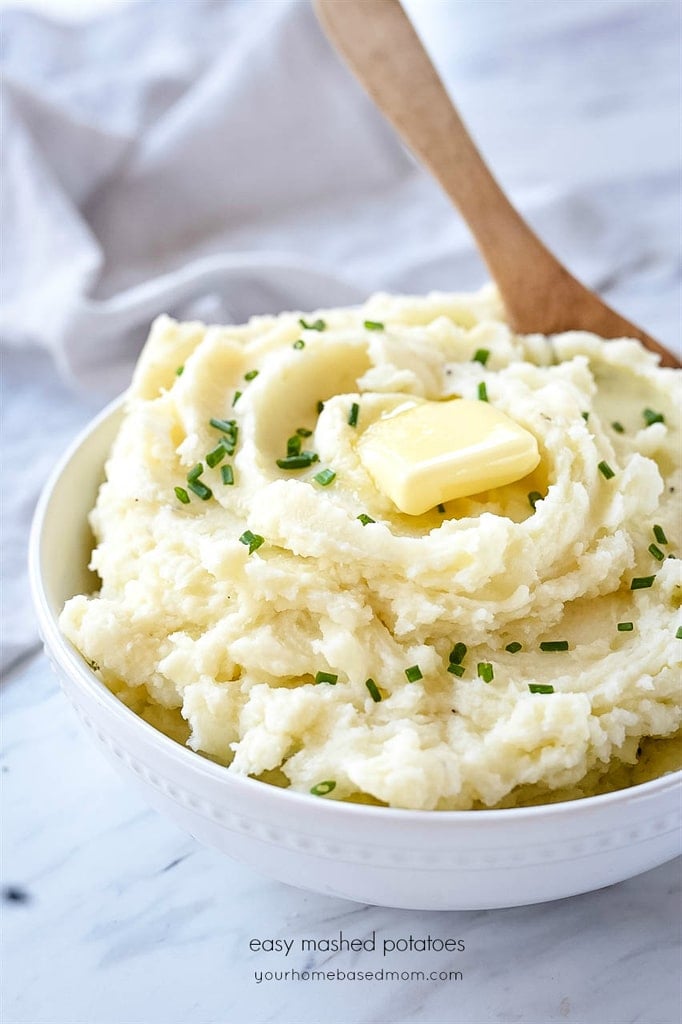 Mashed potatoes are a staple in most homes and are required to appear at all holiday dinners at our house. Being married to the grandson of an Idaho potato farmer, potatoes are a frequent visitor to our table in all their variations. I think I can honestly say my children and husband's favorite way to eat potatoes is mashed potatoes. I remember one year, one of my daughters requested a big bowl of them all to herself for her birthday dinner. She didn't want to share!
To be totally honest with you, my husband is usually the one to make the mashed potatoes at our house. They are not my favorite potato dish, so my family has discovered they can have them more often if they help make them!
Knowing how to make mashed potatoes is a pretty important life skill. So today I want to walk you through the process of making perfect mashed potatoes every time and my top mashed potato making tips.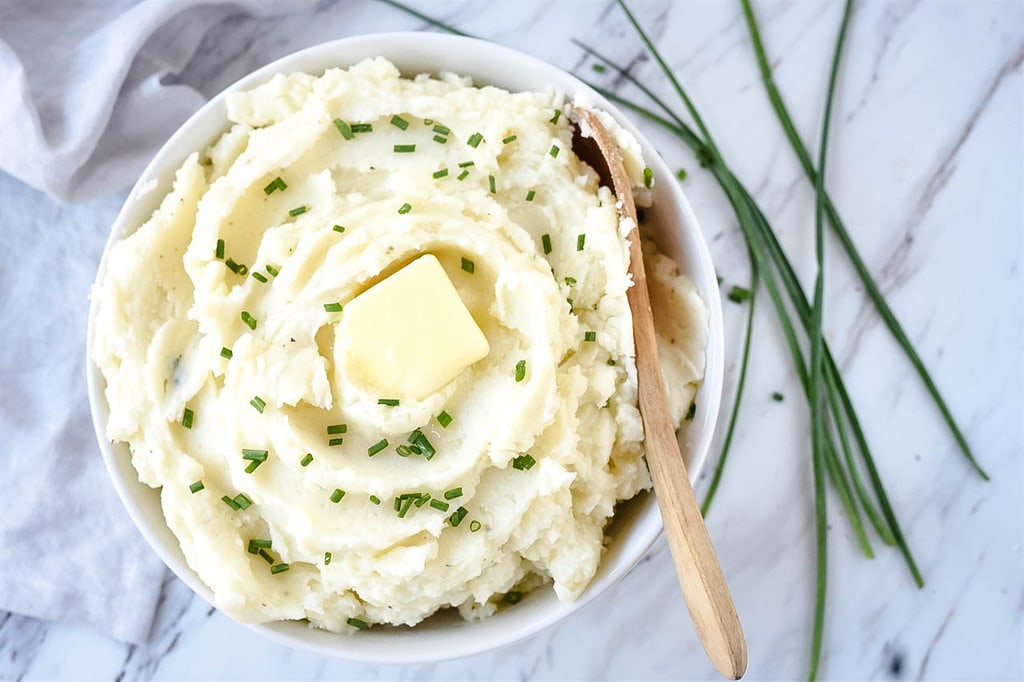 Ingredients
Russet Potatoes
Milk
Whipping Cream
Butter
Salt and Pepper
Chives, for garnish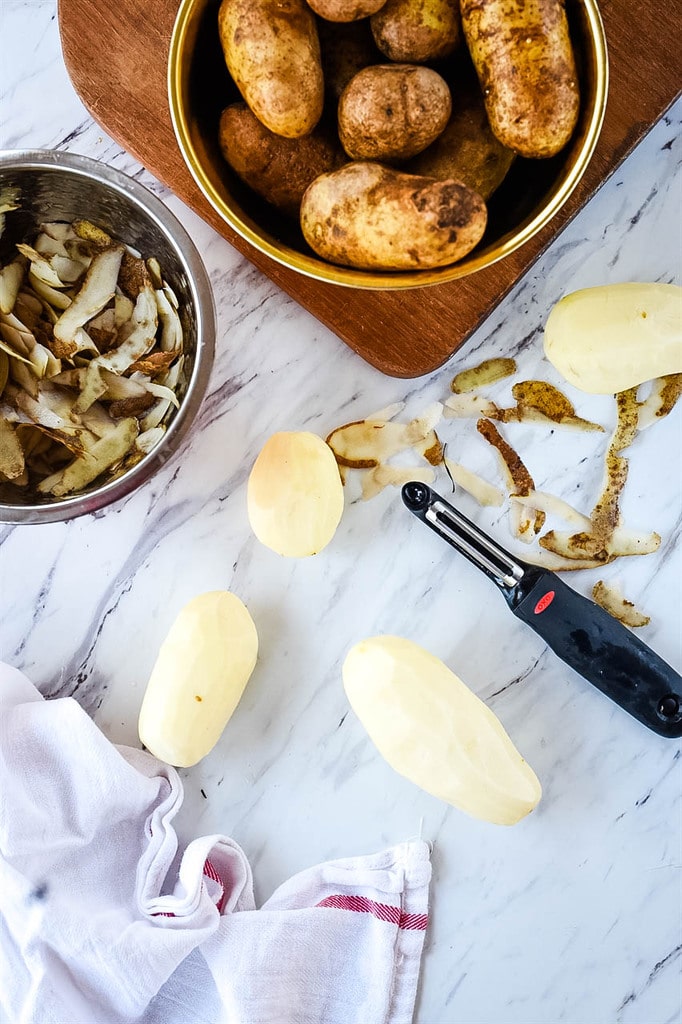 How to Make Mashed Potatoes
Wash, peel and cut up the potatoes. Cutting your potatoes up into even size pieces will help them cook more evenly. I cut my potatoes into 1-1 1/2 " pieces.
Fill a large pot with cold water. Yes, cold water! Put the potatoes into the cold water and make sure the water level is 1-2 inches above the potatoes.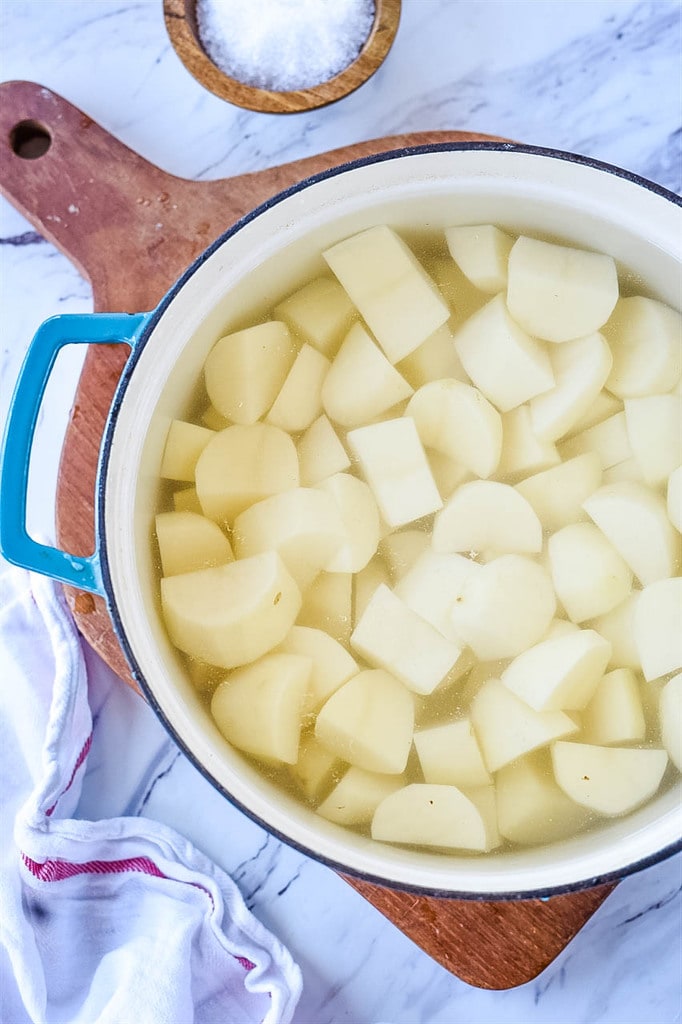 Bring the water to a gentle boil. You can cover the pot to help the water boil faster. You don't want a hard boil, a nice gentle one will provide more even cooking and better texture to your potatoes.
Cook until the potatoes are fork tender, the fork should slide right through the potato without any resistance.
Drain the potatoes.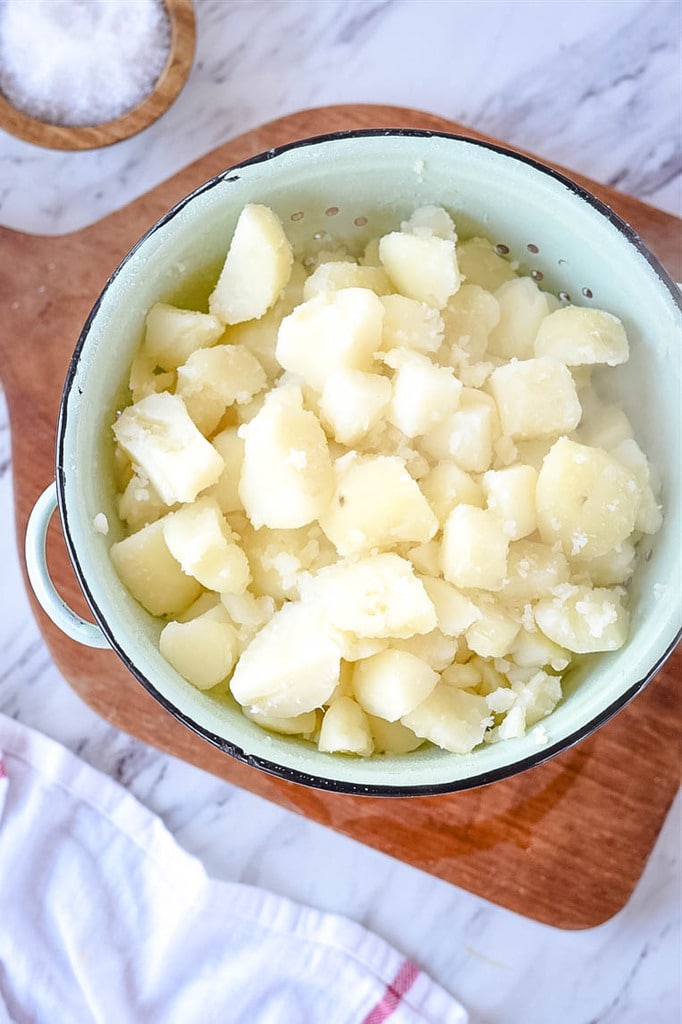 Mash the potatoes by hand. Using a mixer you run the risk of over beating them, which can cause the starch to break down too much. You want a light and fluffy potato.
Add in room temperature butter and allow it to melt into the potatoes as you mash them.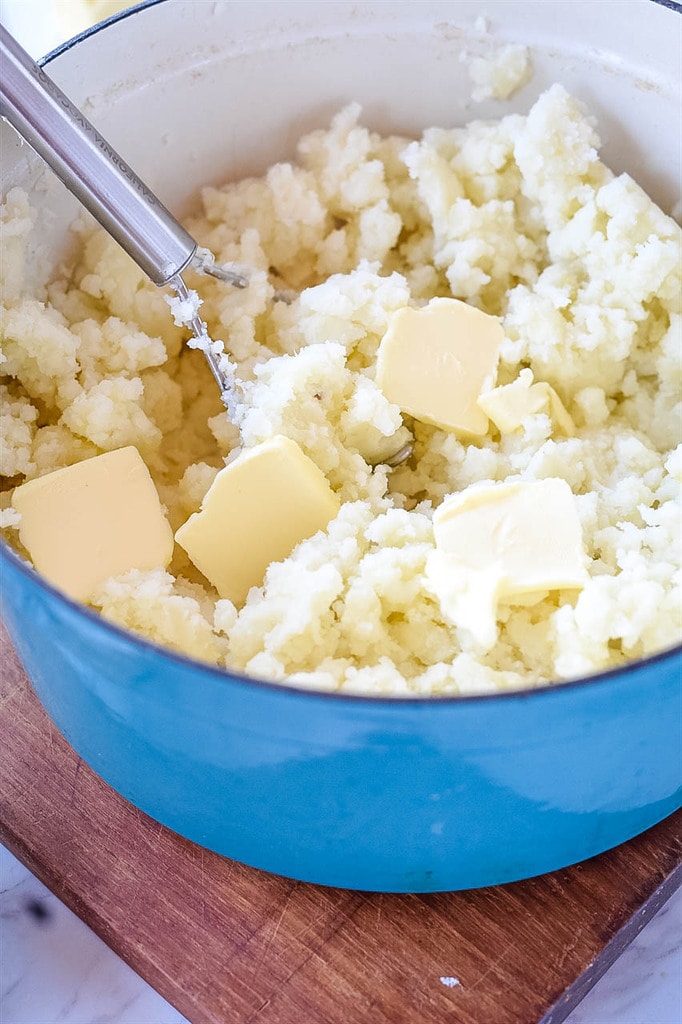 Add in room temperature milk and whipping cream. The addition of cream gives you a creamier mashed potatoes.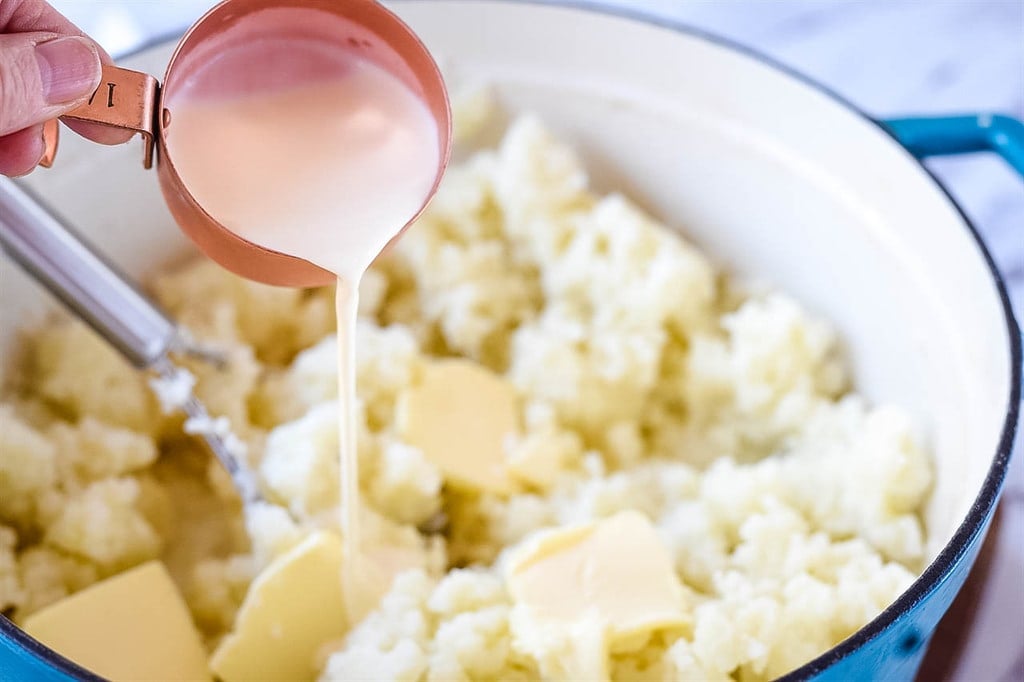 Before serving, top with some additional butter and some chopped chives for some extra flavor and texture.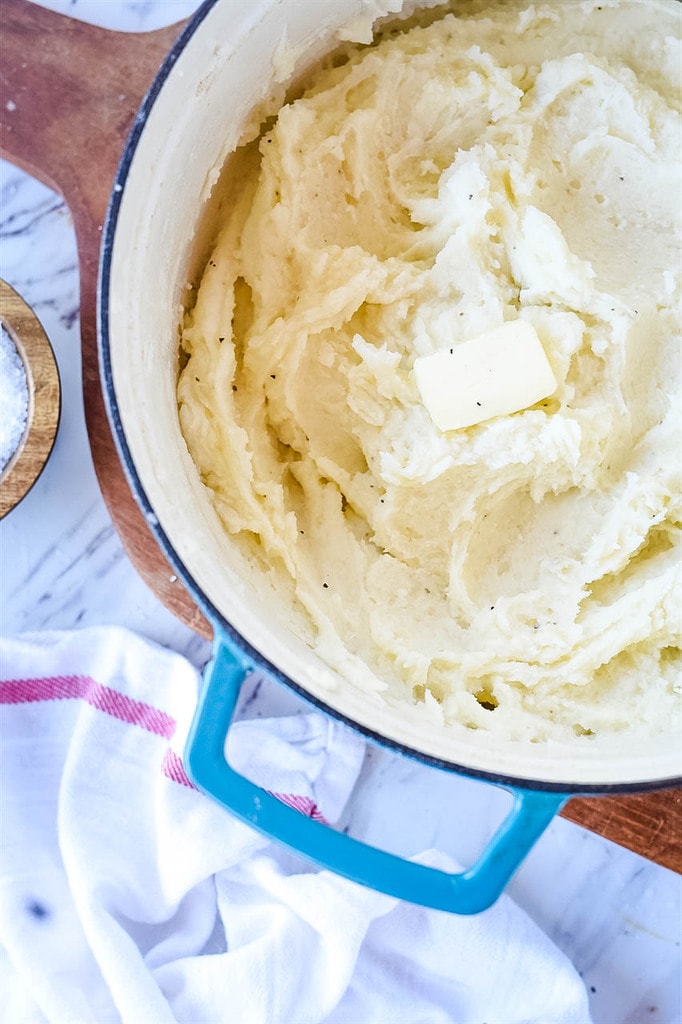 Frequently Asked Questions
How many potatoes do I need to use for mashed potatoes?
I like to plan on 1/2 pound per person.  My people love their potatoes.  A five pound bag should feed 10 people.
What are the best potatoes to use for mashed potatoes?
We like the traditional russet, but you can also use Yukon gold.  You want a starchy potato because they break down easier and make a fluffier and creamier potato.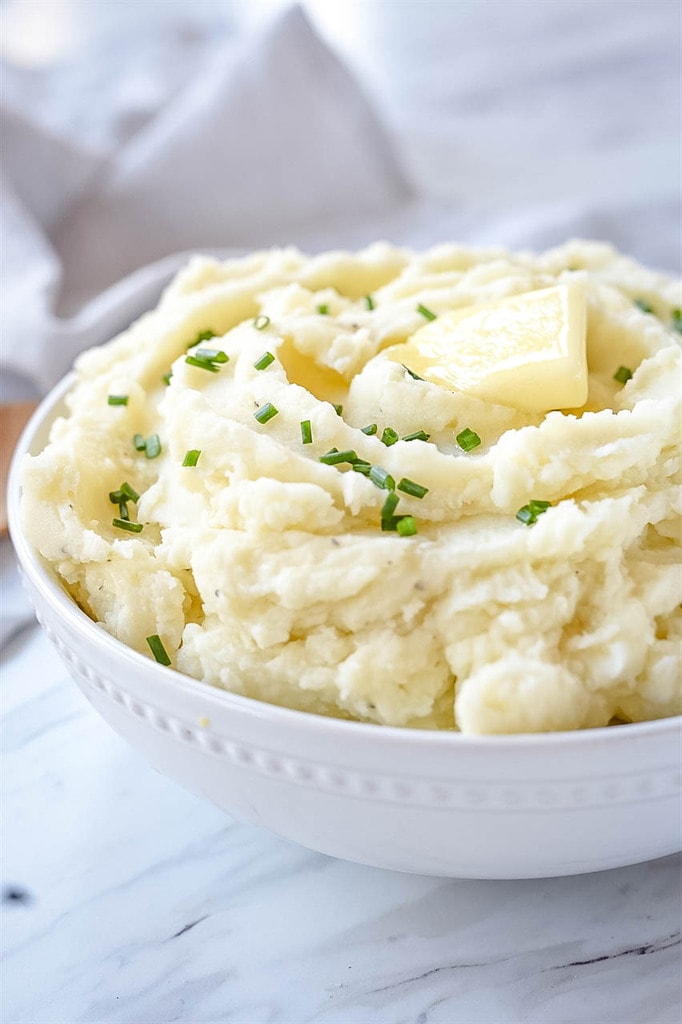 How to Reheat Mashed Potatoes
Mashed potatoes are best served immediately. If you would like to make them ahead of time, here is are the best ways to reheat them:
Crock Pot – my favorite way is the crock pot. Heat them on low for 2-4 hours, stirring occasionally. The slow cooker is the perfect way to keep them warm up until serving.
Microwave- this is the easiest and fastest way to reheat. Just place in a microwave safe bowl and heat at medium power for 4-5 minutes. Stir halfway through.
Stove Top – this method needs the most attention. Place in a large pan and heat on low to medium heat and stir frequently.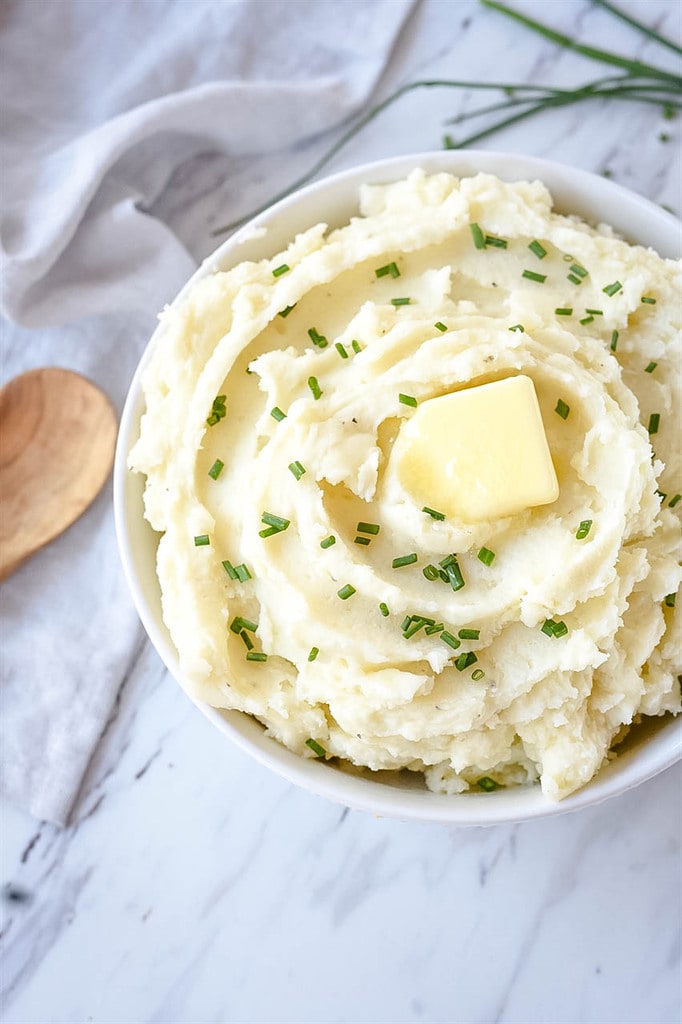 If you like, you can add in roasted garlic, cream cheese, grated cheese and other herbs.
Check out more delicious potato recipes:
Did you know I wrote a cookbook? Check out the Holiday Slow Cooker Cookbook for 100 delicious recipes
Be sure and follow me over on You Tube for weekly cooking demos.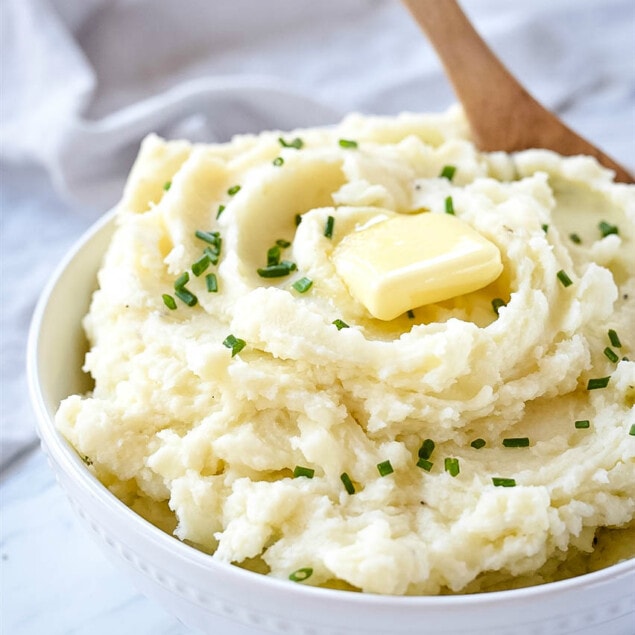 Mashed Potatoes Recipe
Making creamy mashed potatoes is easy with this step by step tutorial. All my best tips and tricks for perfect mashed potatoes every time.
Ingredients
5 lbs russet potatoes washed, peeled and cubed
1/3 cup milk
1/3 cup whipping cream
4-6 Tbsp butter
salt and pepper
chives garnish
Instructions
Place cut potatoes into a large pot of cold water. Be sure water covers the potatoes by 1 -2 inches. Bring to a low, slow boil and boil until potatoes are tender. A fork should slide right through them with no resistance.

Drain water from potatoes and return potatoes to pot. With a hand masher, mash potatoes. Add in butter, milk and cream to achieved desired consistency.

Salt and pepper to taste.

Garnish with chives. Serve immediately.
Nutrition Facts:
Calories: 252kcal (13%) Carbohydrates: 41g (14%) Protein: 5g (10%) Fat: 7g (11%) Saturated Fat: 4g (25%) Cholesterol: 23mg (8%) Sodium: 58mg (3%) Potassium: 962mg (27%) Fiber: 2g (8%) Sugar: 1g (1%) Vitamin A: 270IU (5%) Vitamin C: 13mg (16%) Calcium: 45mg (5%) Iron: 1.9mg (11%)
* Disclaimer: All nutrition information are estimates only. Read full disclosure here.