Roasted vegetables is an easy and delicious way to prepare vegetables. They are perfectly cooked and full of amazing flavor.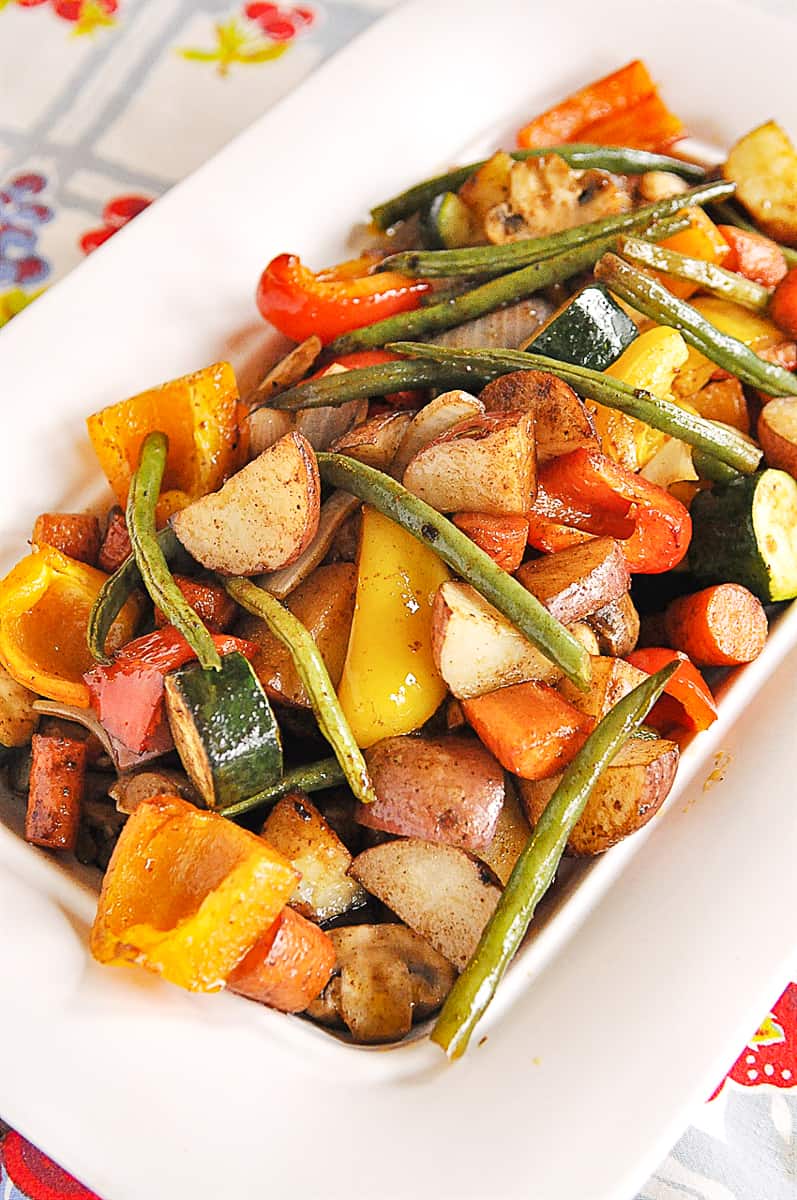 Oven Roasted Vegetables
One of our favorite ways to enjoy our vegetables in the winter is roasted. It is actually our favorite way to eat them any time of year but especially in the winter. This recipe was given to me by a friend who caters large events. Her recipe used 20 lbs of vegetables butI cut it down so that it only calls for about 12 cups (not sure on the weight)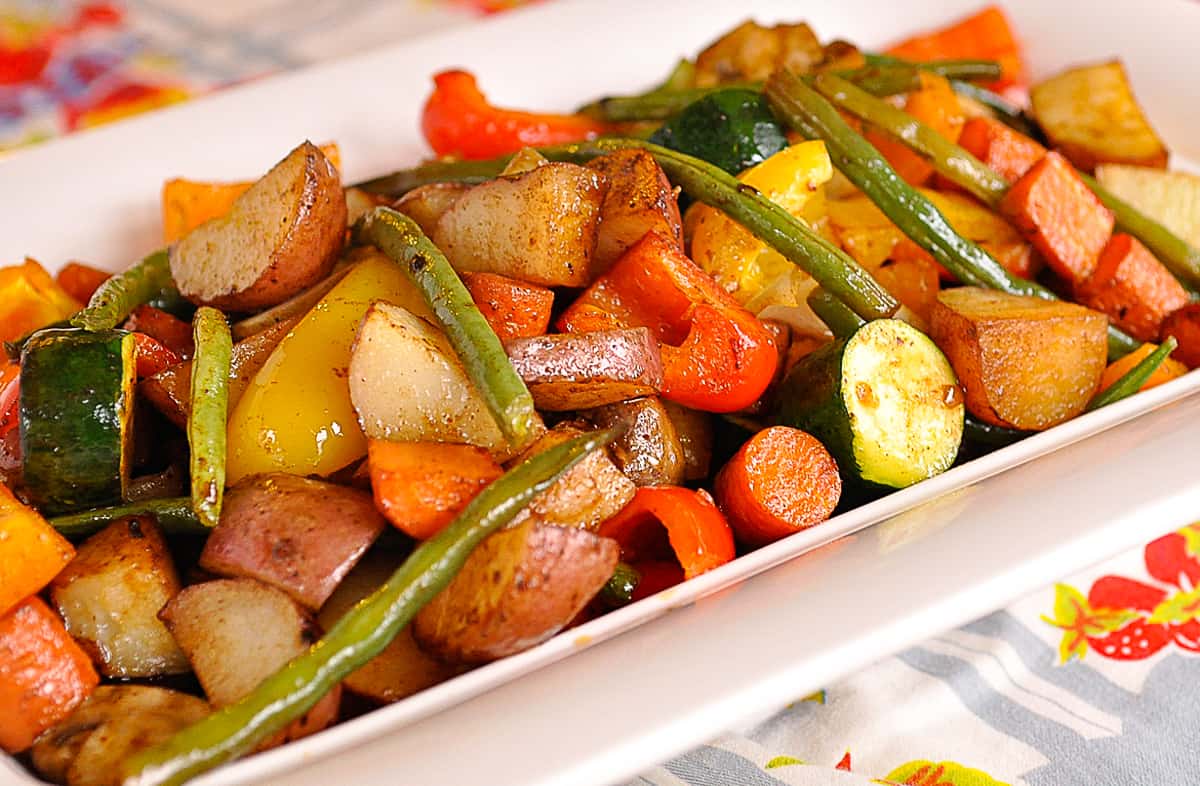 What Kind of Vegetables Do I use?
Root Vegetables
Red Potatoes
Carrots
Turnips
Rutabaga
Yams
Beets
Parsnips
Soft Vegetables
Peppers (red, orange and yellow)
Onion
Green Beans
Asparagus
Garlic
Zucchini
Brussels Sprouts
Tomatoes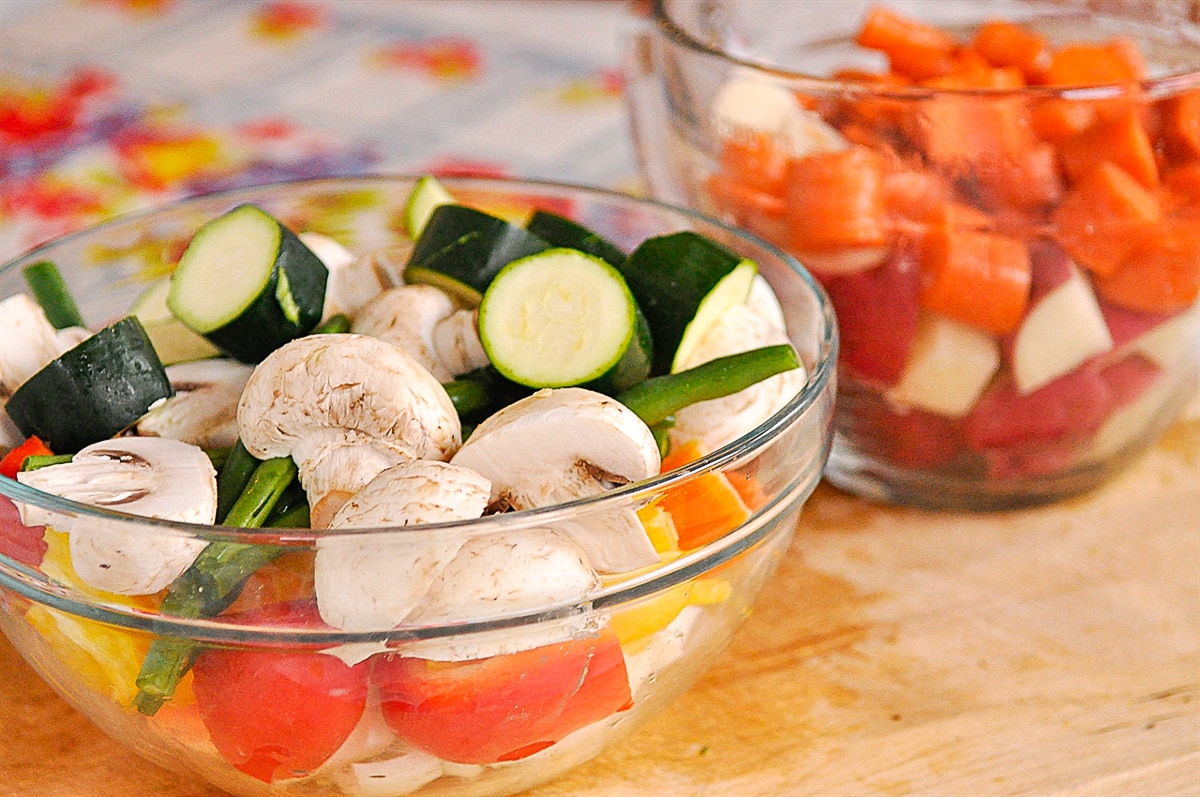 Tips for Perfectly Roasted Vegetables
Separate your root vegetables from your softer vegetables because the root vegetables will take longer to cook.
Wash and pat dry.
Cut vegetables in to similar size pieces.
Spread vegetables in an even single layer on the baking pan to ensure they cook evenly. If you crowd them too much they will not crisp up and you will have mushy vegetables.
Cook at a high heat, 425 degrees F. I will often put my baking sheet into the oven as it preheats and then add vegetables to a hot pan which helps get the outside of the vegetables crisper.
Add softer vegetables in half way through the cooking time as they don't need as much cooking time. Flip the root vegetables before adding in the soft vegetables.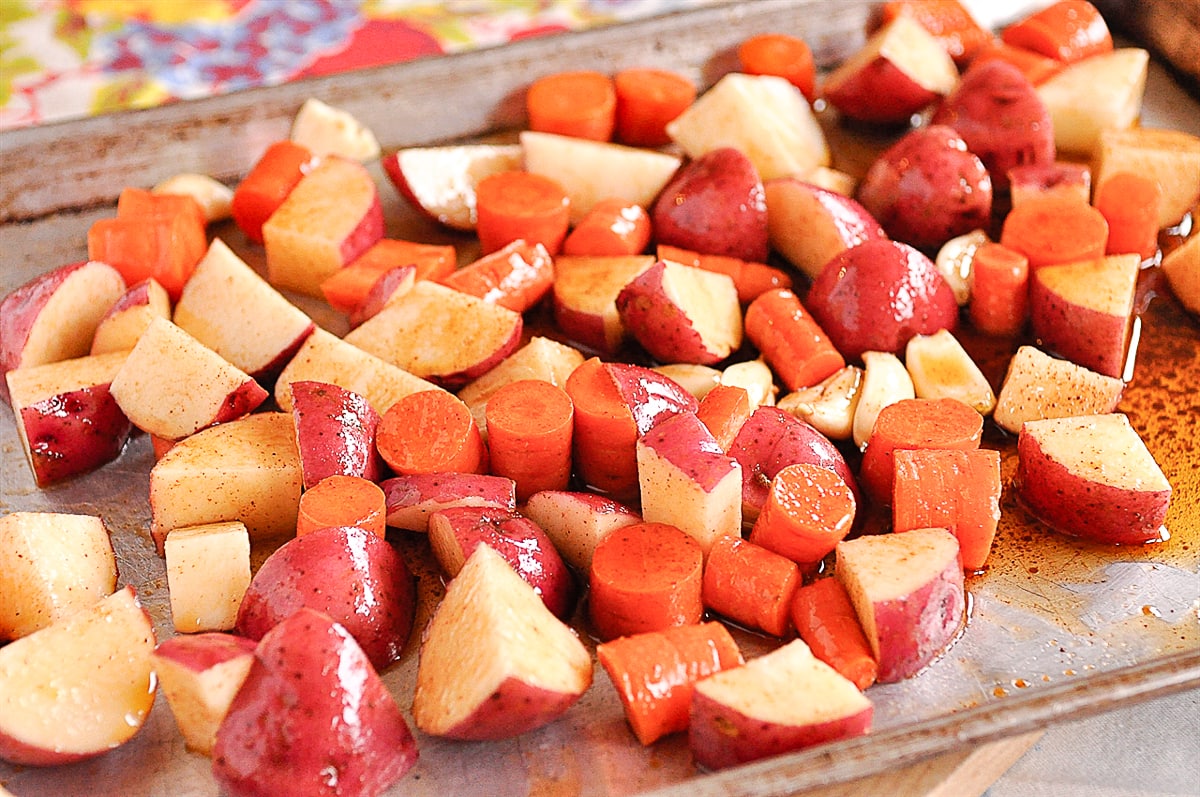 How to Make Roasted Vegetables
Divide the liquid mixture between the two bowls.
Place the root vegetables on a cookie sheet and bake at 425 for about 15 minutes or until the veggies just begin to get tender.
Add in the softer veggies and stir to combine. Be sure all the vegetables are coated with the liquid mixture.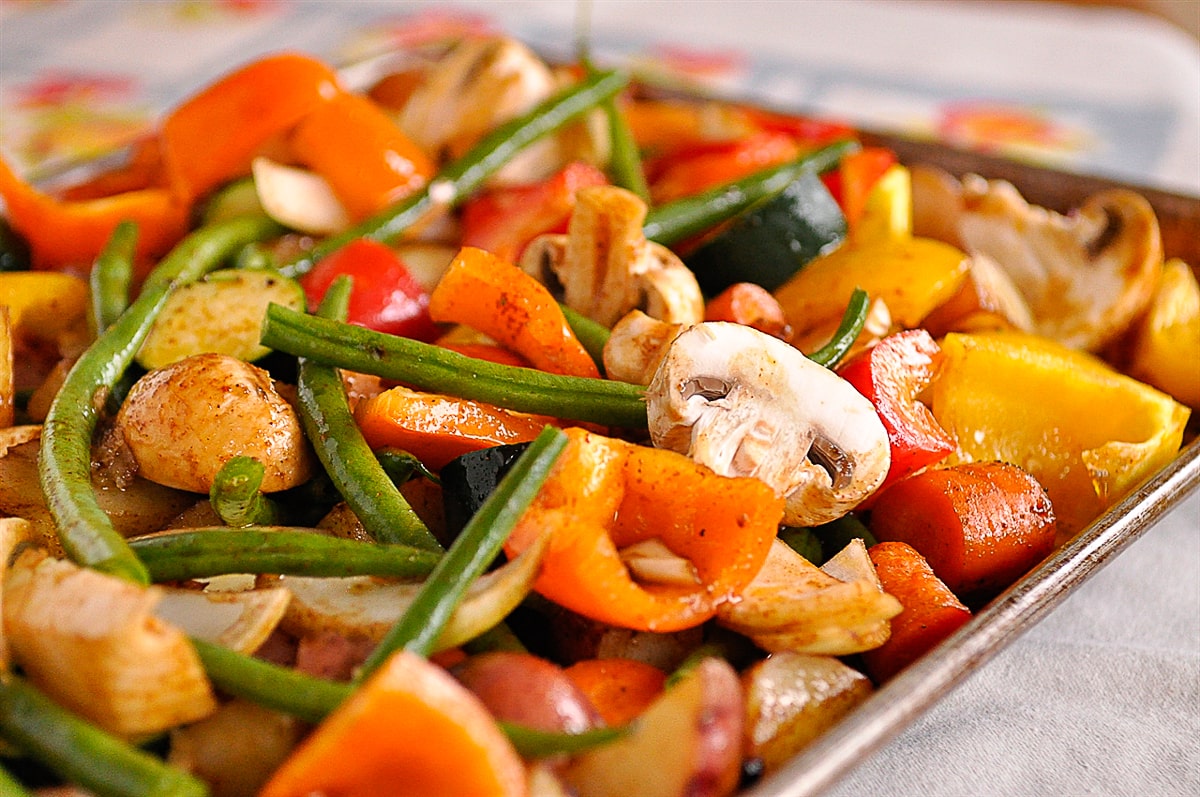 Bake for another 15 minutes or so until the root veggies are nice and tender.
How to Store Roasted Vegetables
Store any leftovers in the fridge in an airtight container. They will keep for up to five days. Add leftover roasted vegetables into salads and soups.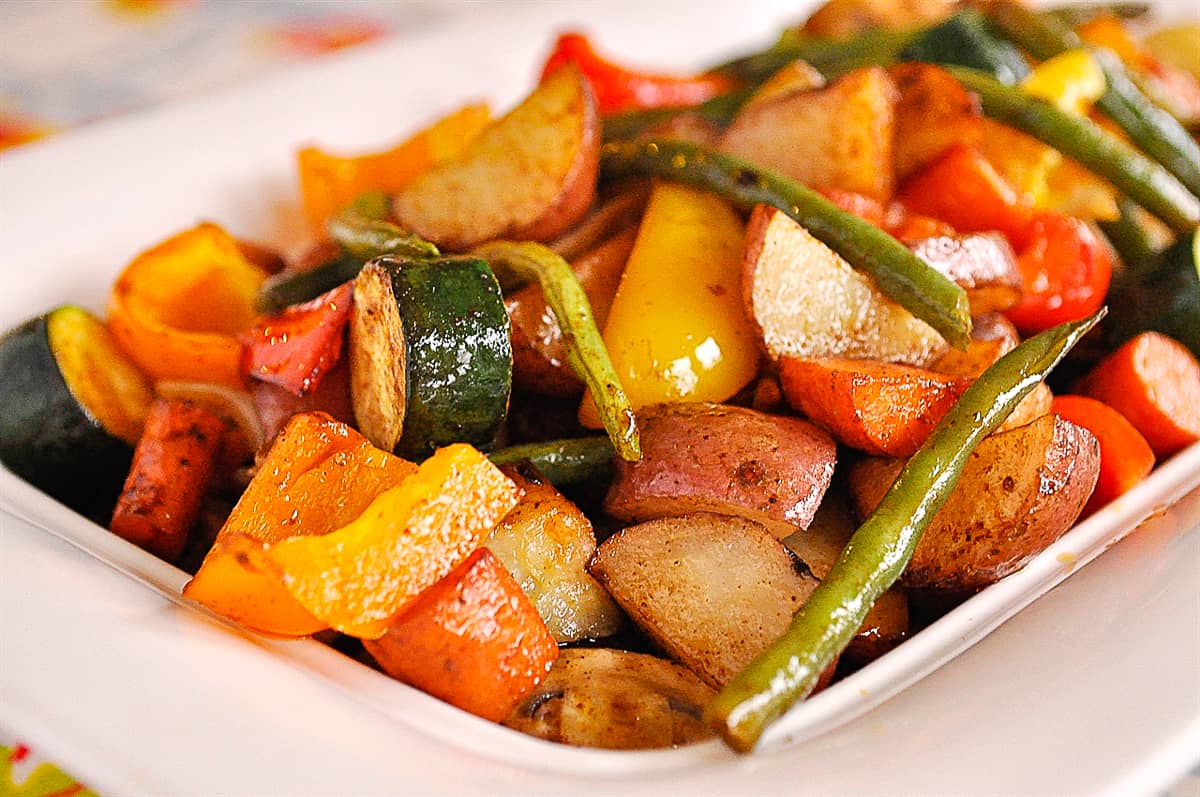 How to Use Roasted Vegetables
Vegetables never tasted so good. You may or may not need a main dish to go along with this.
Some of our other favorite roasted vegetables recipes include:
For all of my other favorite kitchen products and tools visit my Amazon Store.
Did you know I wrote a cookbook? Check out the Holiday Slow Cooker Cookbook for 100 delicious recipes.
Roasted Vegetables Recipe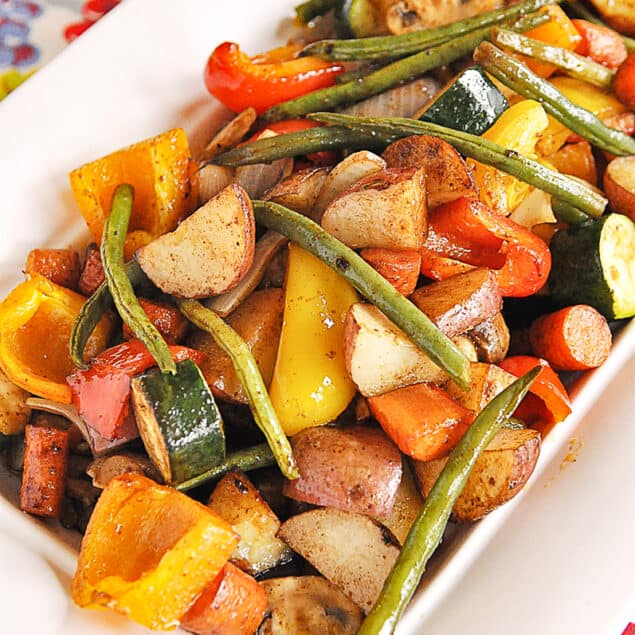 Roasted Vegetables
Winter roasted vegetables are an easy and delicious way to prepare all of the delicious vegetables that are available in the winter.
Ingredients
12 cups vegetables cut into similar size. Use potatoes, sweet potatoes, carrots, peppers, onion, garlic cloves, mushrooms, zucchini, green beans.
3/4 cup olive oil
1/8 cup Worcestershire sauce plus 1 Tbsp
1 1/2 Tbsp paprika
1 Tbsp garlic salt
Instructions
Cut vegetables into similar size pieces. Keep root vegetables (potatoes, carrots) separate from softer vegetables.

Mix together olive oil, Worcestershire sauce, paprika and garlic salt. Pour over vegetables.

Place root vegetables on cookie sheet and bake at 425 degrees for about 15 minutes or until they begin to soften.

Add in softer vegetables and turn vegetables on baking sheet making sure they are all coated in liquid mixture.

Bake another 15 minutes or until the veggies are fork tender.
Nutrition Facts:
Calories: 481kcal (24%) Carbohydrates: 51g (17%) Protein: 12g (24%) Fat: 29g (45%) Saturated Fat: 4g (25%) Sodium: 1392mg (61%) Potassium: 856mg (24%) Fiber: 15g (63%) Sugar: 1g (1%) Vitamin A: 19321IU (386%) Vitamin C: 39mg (47%) Calcium: 101mg (10%) Iron: 4mg (22%)
* Disclaimer: All nutrition information are estimates only. Read full disclosure here.