Blueberry Crumble Bars are a delicious layer of blueberries sandwiched between sugar and butter!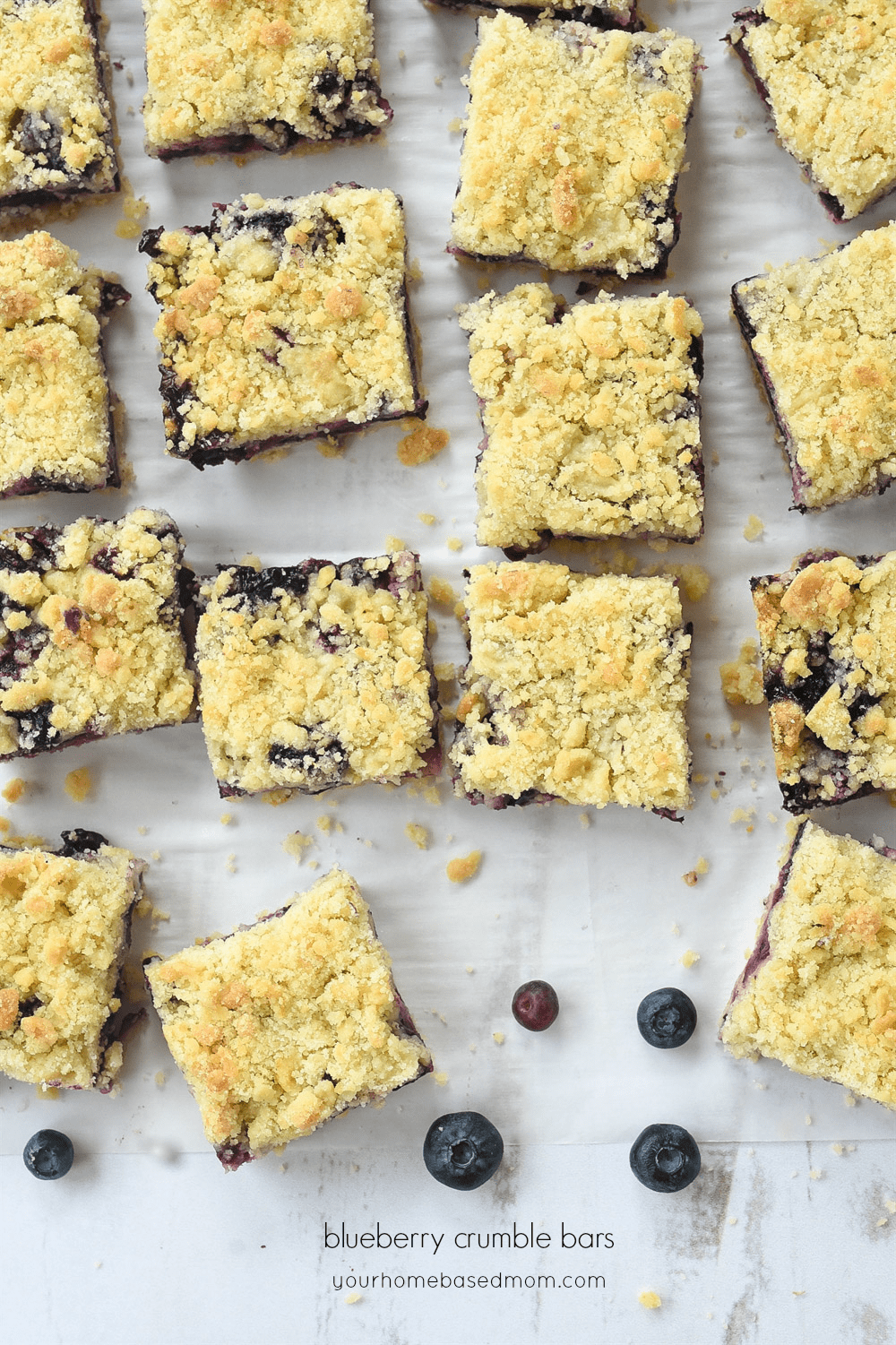 Blueberry season has arrived here in Oregon! We move pretty quickly from season to season around here, starting with strawberry season, then raspberry and now blueberry!  Raspberries will make a come back later this summer for their second season!  One of my favorite flavor combos is blueberry and lemon and I love a good blueberry pie, top it with some fresh blueberry ice cream and you pretty much have heaven on a plate.  These blueberry crumble bars taste just like a eating a delicious slice of blueberry pie.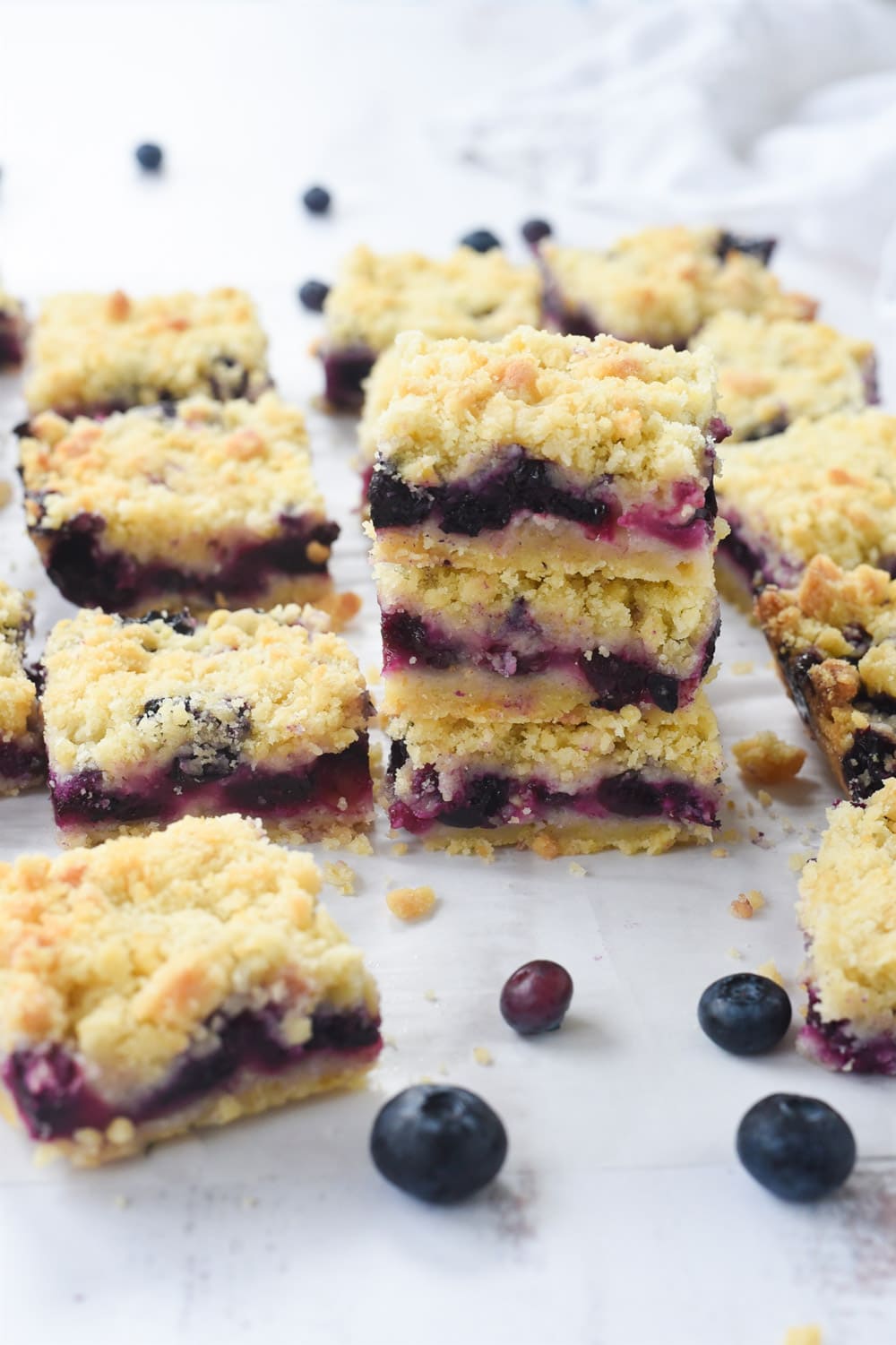 How to Make Blueberry Crumble Bars
Just like the blueberry muffins I shared before, these bars can be made with fresh or frozen berries in a 9 x 13 pan.  If you use frozen berries, just thaw and drain them really well. Making this crumble bars with frozen blueberries allows you to enjoy it all year long.  The berries are coated in sugar, cornstarch and lemon juice.  The cornstarch helps to thicken the mixture as it cooks.
If you'd like some tips on freezing berries check out my post on how to freeze berries here.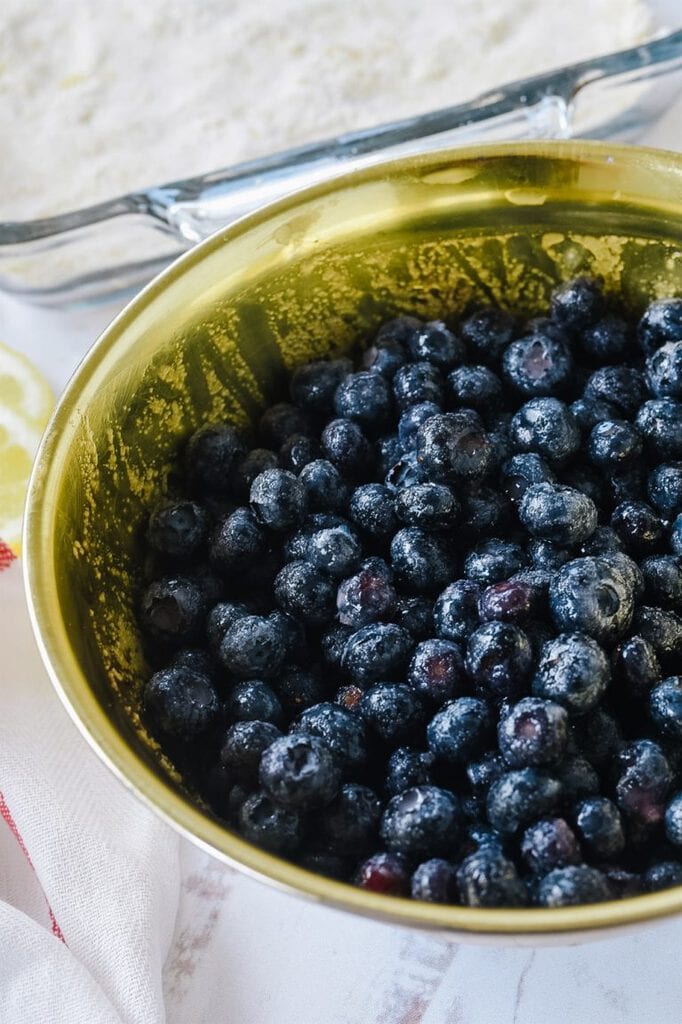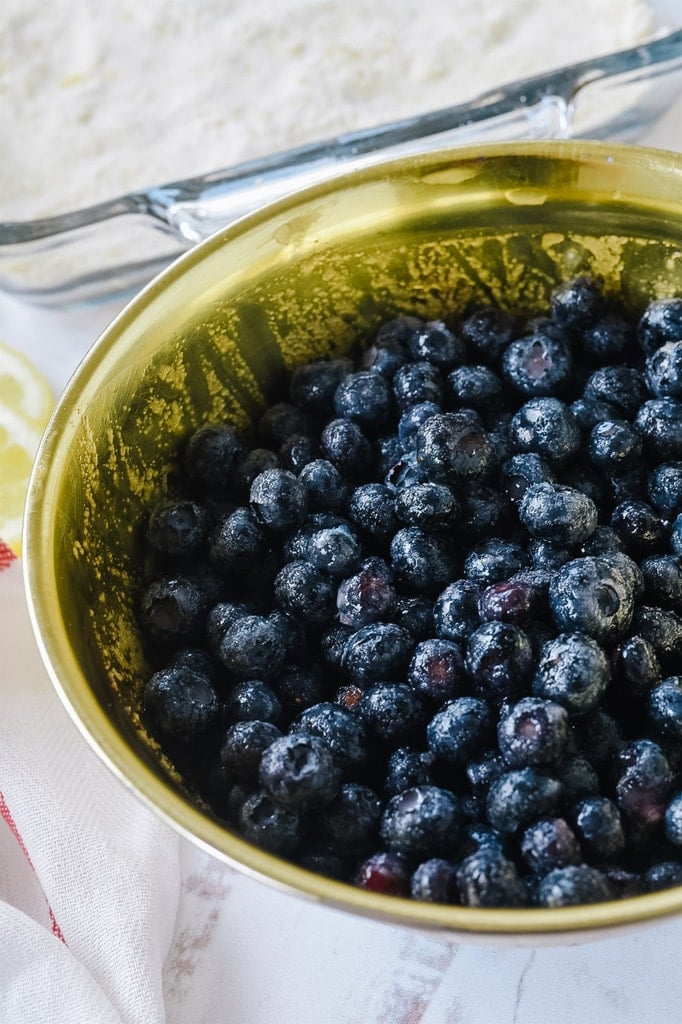 These blueberry crumble bars start with a layer of sugar,flour and butter that has been mixed together to form a crumble mixture, half  of the mixture goes on the bottom of the pan.  Add the berry mixture  on top of it and then add the remaining crumble mixture on top!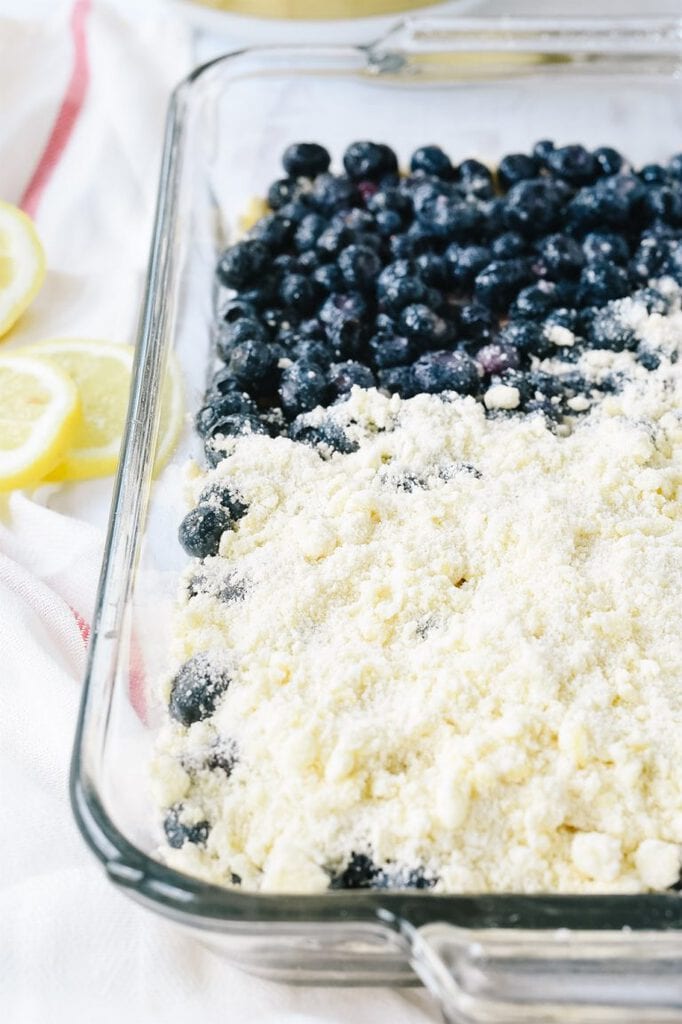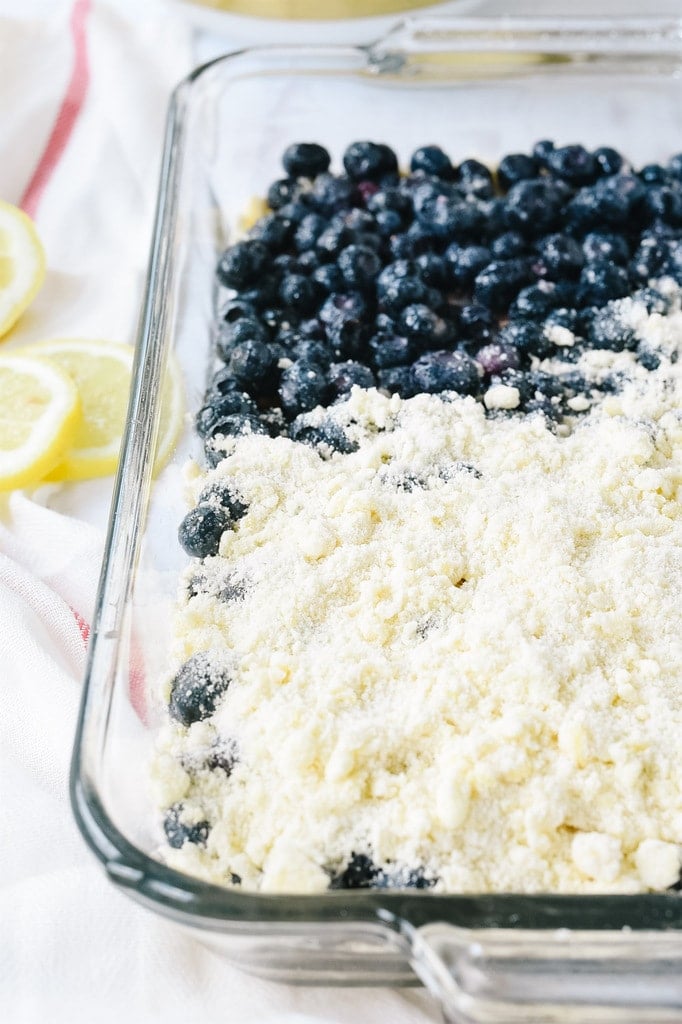 Bake at 375 degrees F for about 45 minutes or until they are nice and golden brown.  Allow them to cool before slicing.  You can put them in the refrigerator if you need them to cool faster.  You can slice them warm but they will be easier to handle and slice if they have cooled.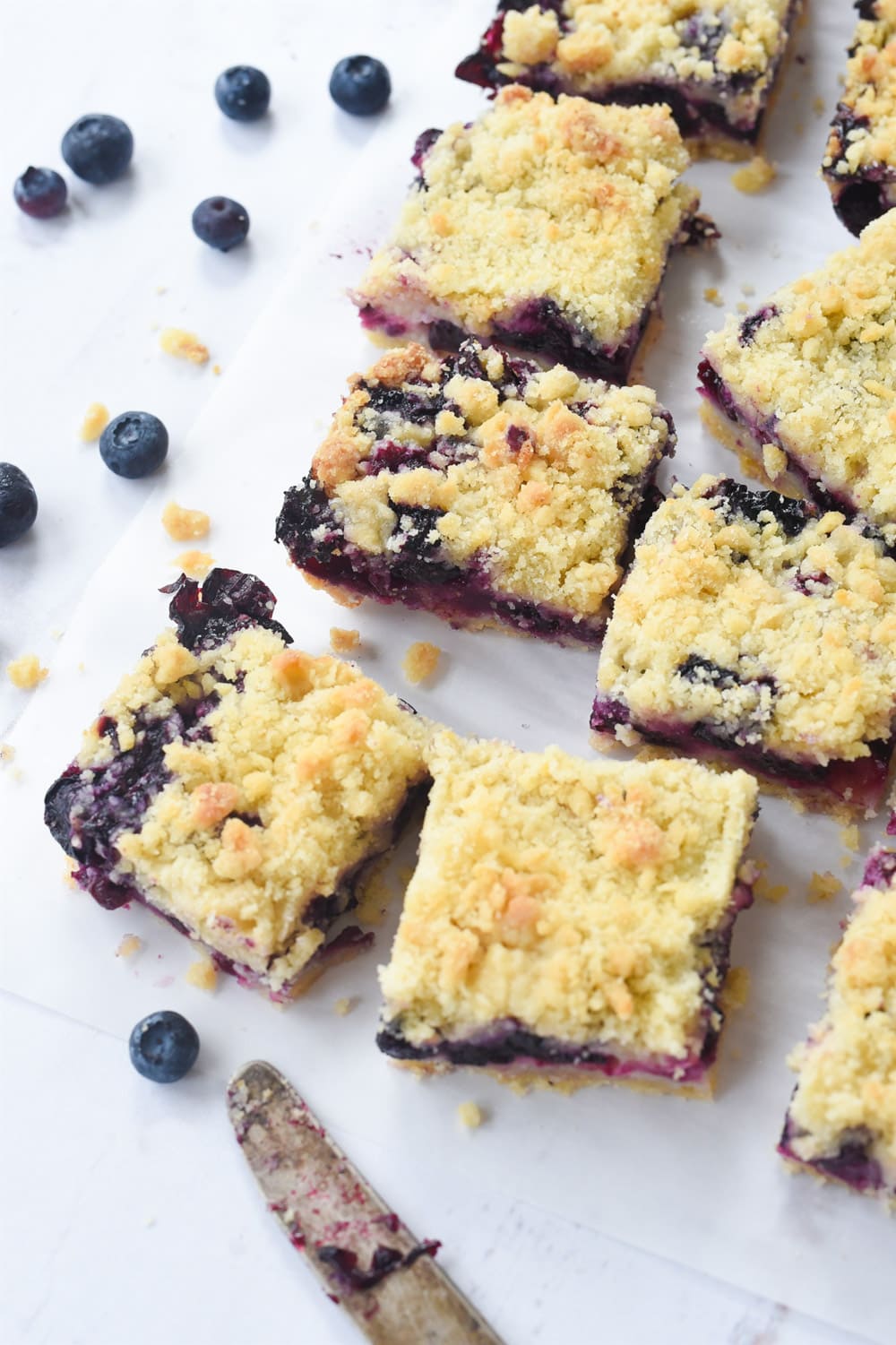 Blueberry Bars are just like eating a slice of blueberry pie in a bar form.  The only thing missing is a scoop of ice cream.  So add a scoop of ice cream to the top of a bar and enjoy!  Or maybe a blueberry crumble bar ice cream sandwich!?!?!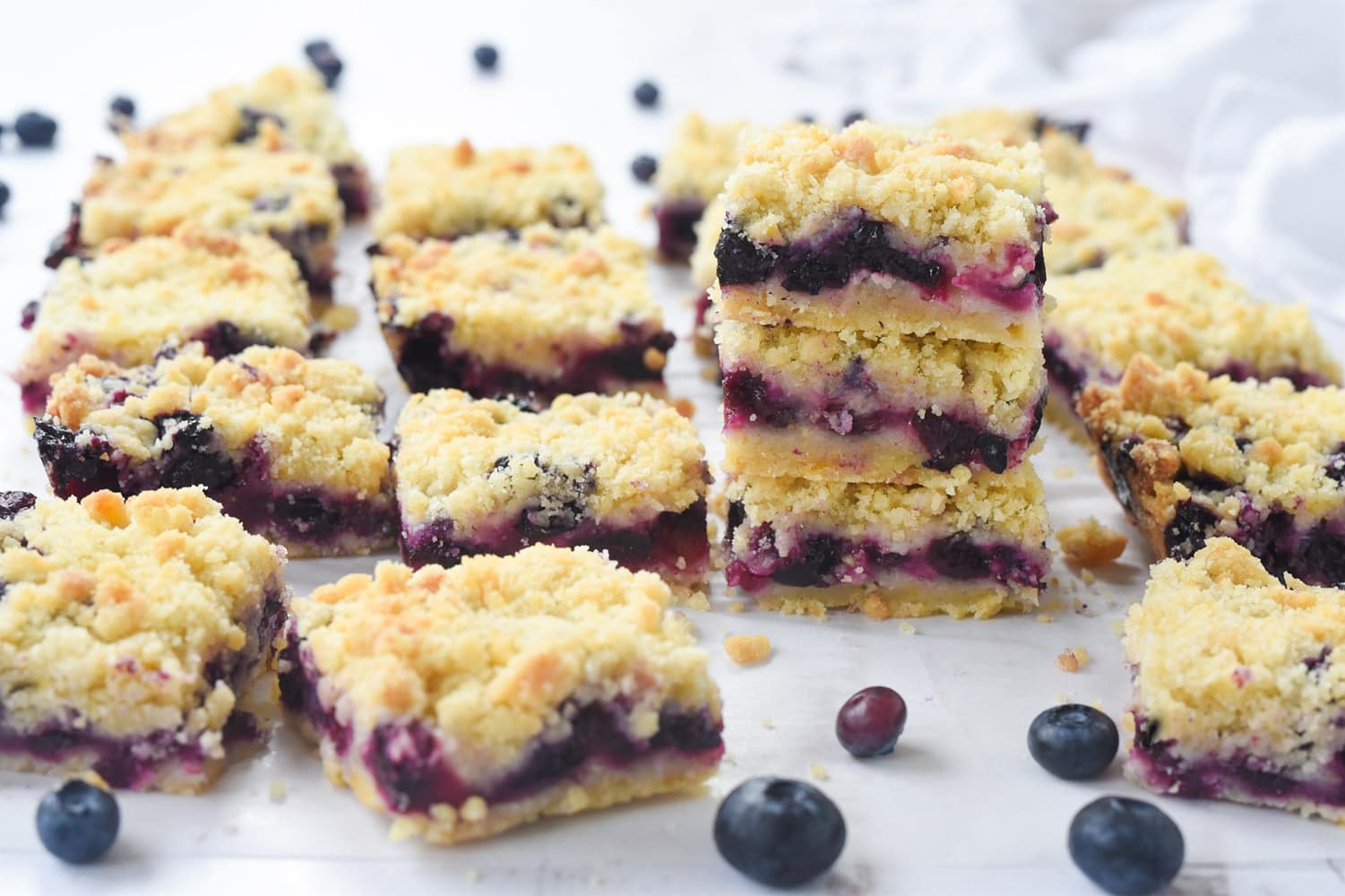 I've also been enjoying my blueberries on top of my yogurt and granola in the morning.  And for another fun blueberry treat you might want to try them with some Brown Sugar Cream.  This Fresh Blueberry Ice Cream is amazing!!
What's your favorite thing to do with blueberries?
Blueberry Crumble Bar Recipe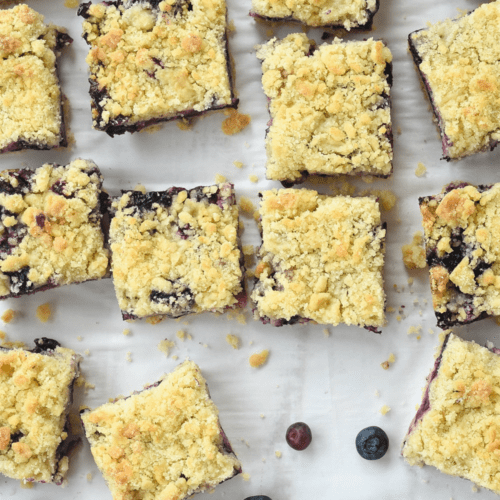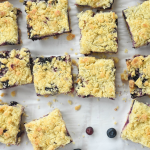 Print
Blueberry Crumble Bars
Ingredients
1

C

white sugar

1

tsp.

baking powder

3

C

all-purpose flour

1

C

cold butter

2 sticks

1

egg

1/4

tsp.

salt

Zest and juice of one lemon

4

C.

fresh blueberries

1/2

C

white sugar

4

tsp.

cornstarch
Instructions
Preheat the oven to 375 F. Grease a 9×13 inch pan

In a medium bowl, stir together 1 cup sugar, 3 cups flour, and baking powder

Mix in salt and lemon zest

Use a fork or pastry cutter to blend in the butter and egg

Dough will be crumbly

Pat half of dough into the prepared pan

In another bowl, stir together the sugar, cornstarch and lemon juice

Gently mix in the blueberries

Sprinkle the blueberry mixture evenly over the crust

Crumble remaining dough over the top

Bake in preheated oven for 45 minutes, or until top is slightly brown

Cool completely before cutting into squares