This artisan bread made from a no knead bread recipe will impress all of your dinner guests.  And I know because I was the impressed dinner guest.
Be sure and scroll down to see the video on how to make this No Knead Bread.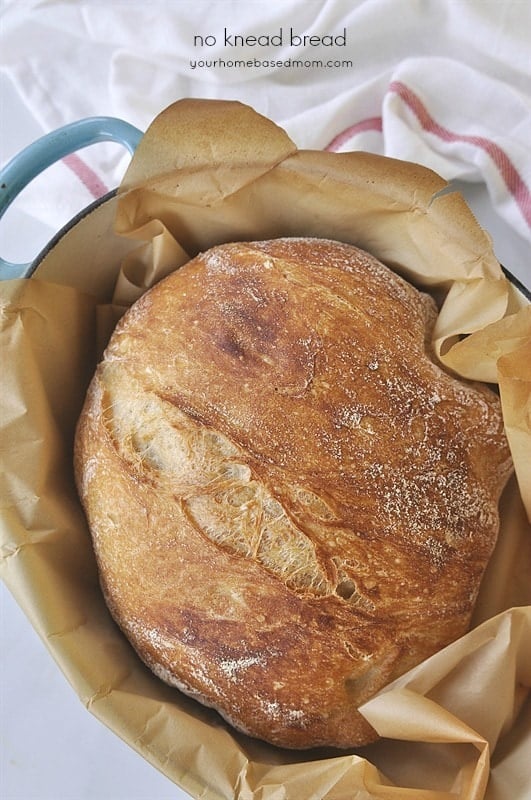 The first time I had this delicious artisan bread was at a dinner party hosted by my friend Shauna.  All the food was amazing, but this bread was definitely the highlight for me and the other guests!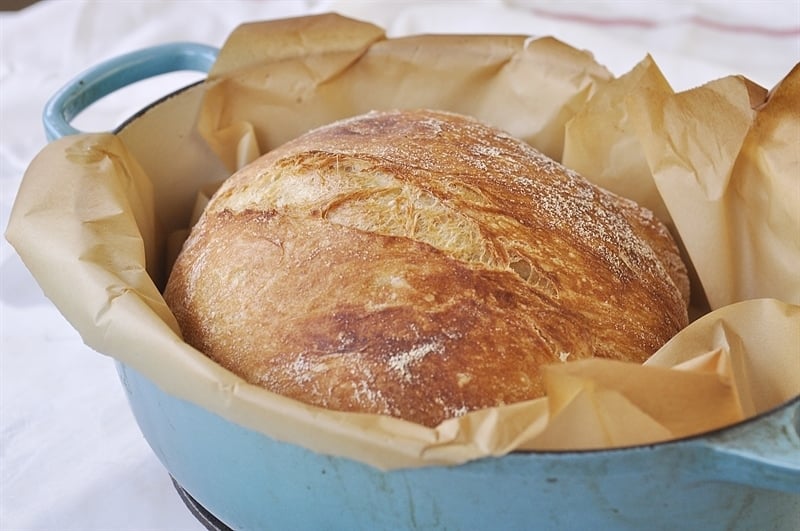 This artisan bread has a beautiful crispy crust and is moist and chewy on the inside.  I loved it so much I went right home and made it twice the week after the party.  And it has become a regular at our house ever since!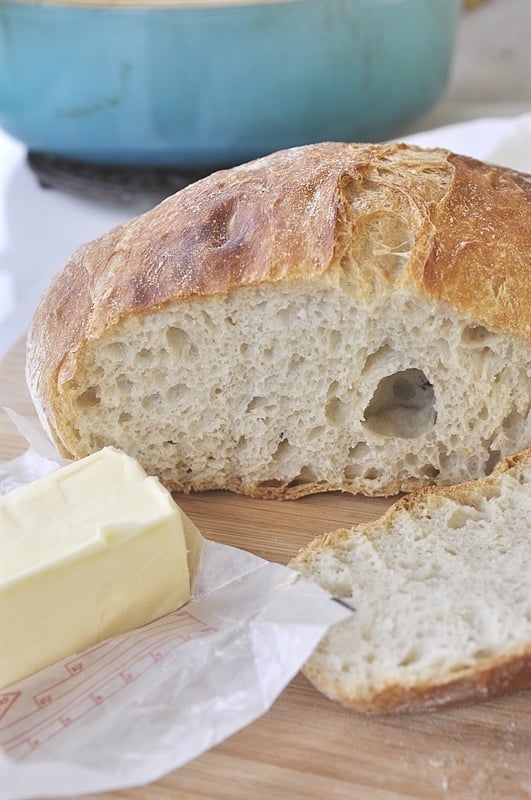 How to Make Artisan Bread
This bread is incredibly easy to make because there is no kneading. All it requires is some planning and time.  About 12 -18 hours to be exact!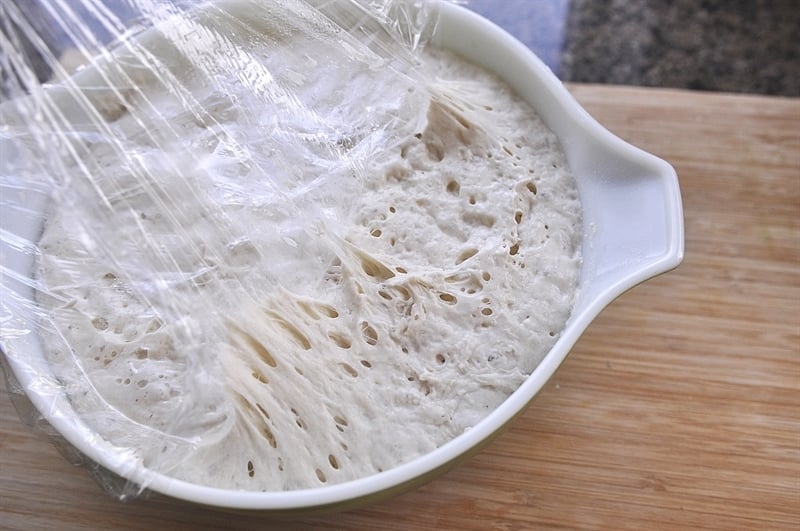 I mix up the dough the night before.  Then I let it rise all night and through half of the next day.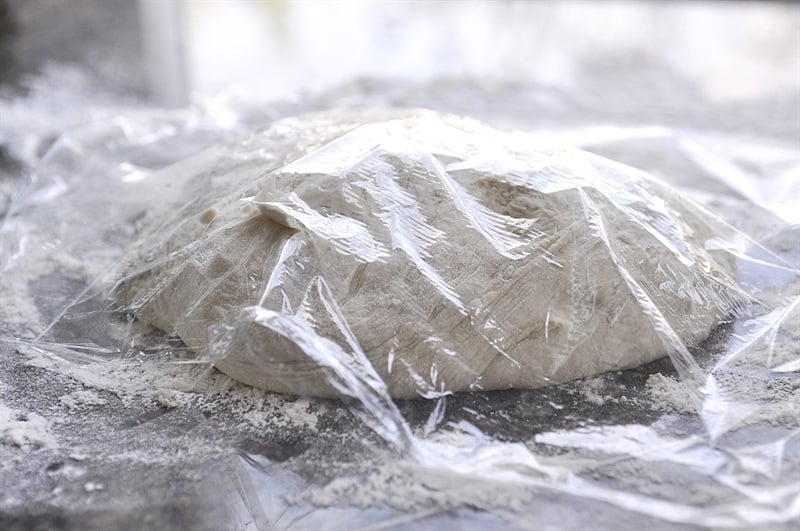 After the dough has risen overnight, place it onto a lightly floured surface. Turn the dough a few times until the surface of the dough is covered in flour,  then cover with plastic wrap and leave it to rest for about 15 minutes.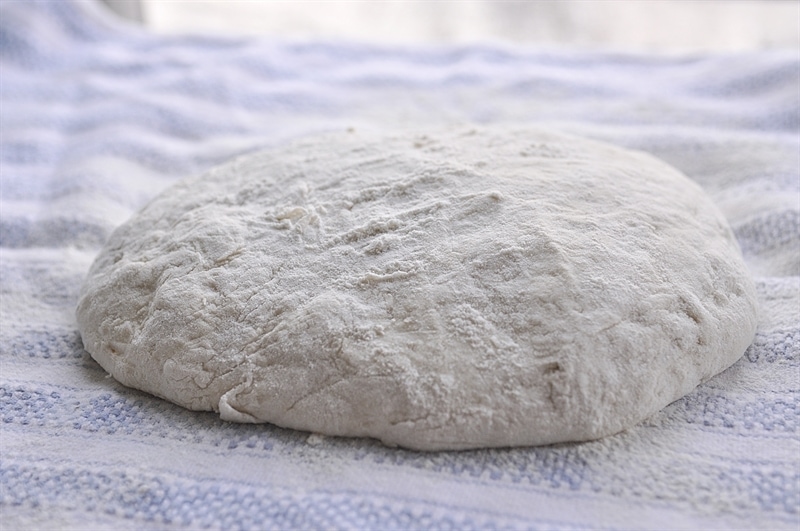 After the 15 minutes is up, transfer it to a well floured towel and cover with another towel.  Then let it rise for 2-3 more hours, until it has doubled in size.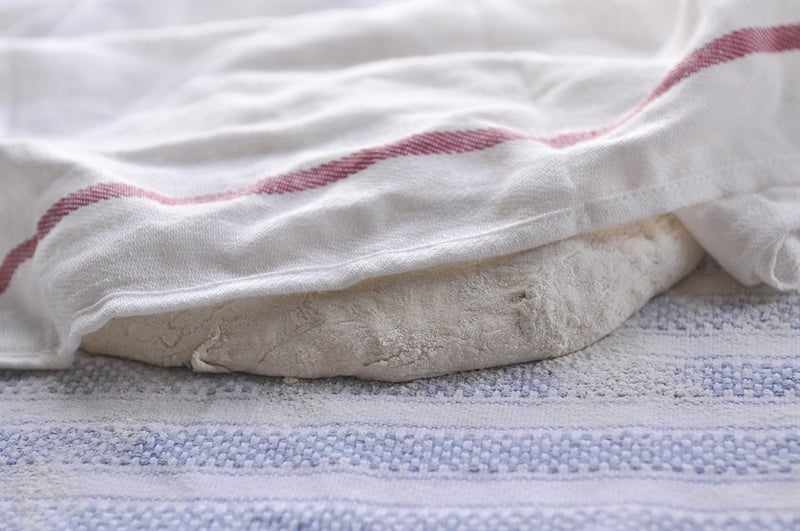 After rising, transfer the dough to the hot, 3 to 6 qt. heavy covered pot.  Bake, covered, for 30 minutes.  Then, remove the lid and bake for an additional 15 minutes.  Baking the bread covered allows the steam to create a bread that is chewy but with an amazing artisan style crust.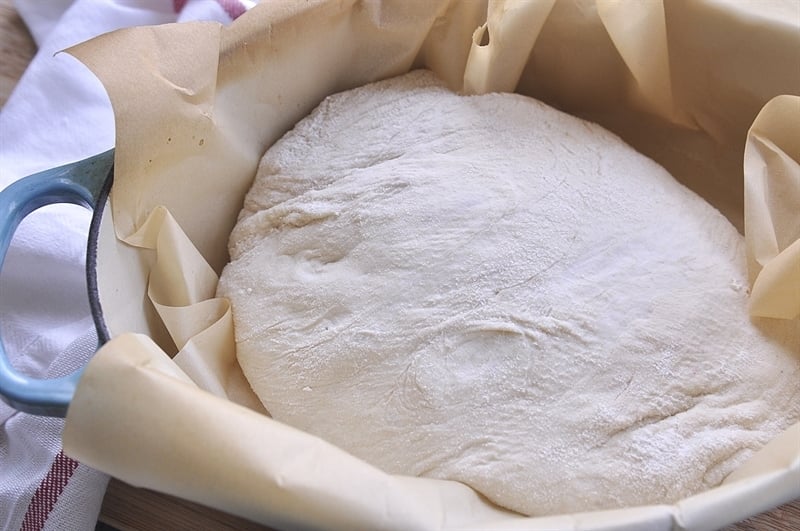 No Knead Artisan Bread
If you have never attempted yeast bread before, this is the recipe to try.  This recipe is pretty much no fail!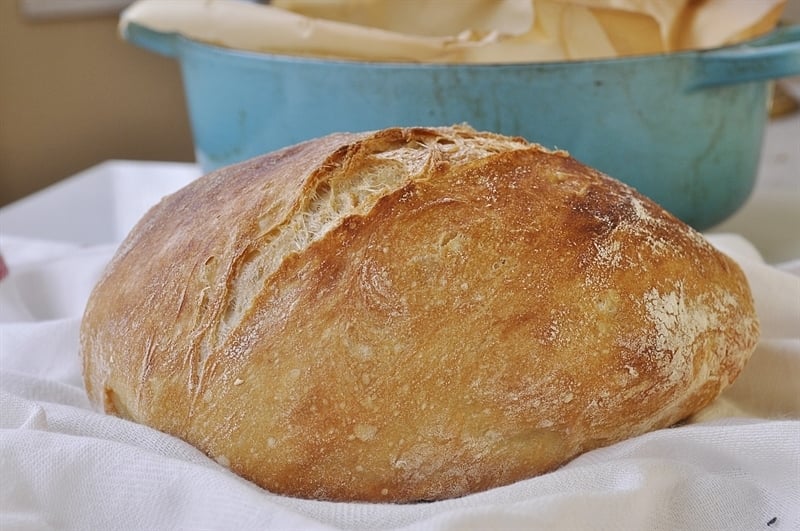 Once you have tried this delicious artisan bread recipe, check out:
Also, check out my favorite kitchen tools to make NO KNEAD BREAD:
6 PIECE MEASURING CUP SET
– Everyone needs at least one set of measuring cups, I have 4 sets!
MAGNETIC MEASURING SPOONS – I love these  measuring spoons because they are magnetic and stay together in the drawer!
7 ¼ qt CAST IRON PAN – this baby is a beauty and has so many uses in the kitchen.
For all of my other favorite kitchen products and tools,visit my Amazon Store.
No Knead Bread Recipe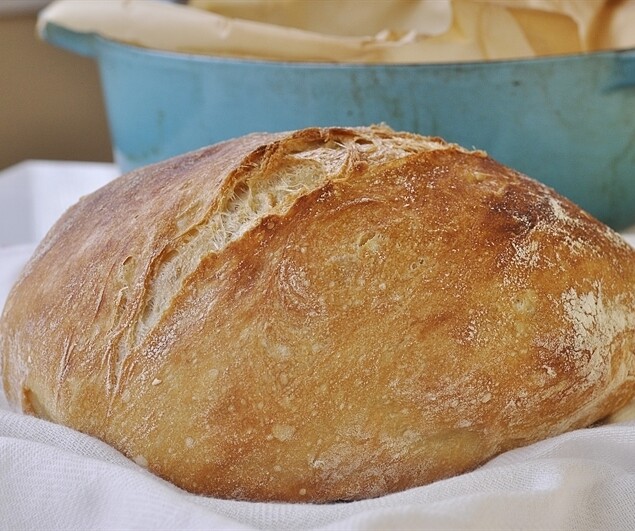 No Knead Bread
Impress your dinner guests with Artisan Bread from a No Knead Bread recipe. Recipe Yields one 1 1/2 pound loaf of artisan bread.
Total:
14
hours
30
minutes
Ingredients
3 cups all-purpose or bread flour more for dusting
1/4 teaspoon rapid rise instant yeast
1 1/4 teaspoons salt
1 5/8 C water, warm out of tap
Cornmeal or wheat bran as needed.
Instructions
In a large bowl combine flour, yeast and salt

Add 1 5/8 cups water, and stir until blended; dough will be shaggy and sticky.

Cover bowl with plastic wrap. Let dough rest at least 12 hours, preferably about 18, at warm room temperature, about 70 degrees.

Dough is ready when its surface is dotted with bubbles.

Lightly flour a work surface and place dough on it; sprinkle it with a little more flour and fold it over on itself once or twice.

Cover loosely with plastic wrap and let rest about 15 minutes

Using just enough flour to keep dough from sticking to work surface or to your fingers, gently and quickly shape dough into a ball.

Generously coat a cotton towel (not terry cloth) with flour, wheat bran or cornmeal; put dough seam side down on towel and dust with more flour, bran or cornmeal.

Cover with another cotton towel and let rise for about 2 hours.

When it is ready, dough will be more than double in size and will not readily spring back when poked with a finger.

At least a half-hour before dough is ready, heat oven to 450°.

Put a 6- to 8-quart heavy covered pot (cast iron, enamel, Pyrex or ceramic) lined with parchment paper in oven as it heats. When dough is ready, carefully remove pot from oven.

Slide your hand under towel and turn dough over into pot, seam side up; it may look like a mess, but that is O.K.

Shake pan once or twice if dough is unevenly distributed; it will straighten out as it bakes.

Cover with lid and bake 30 minutes. Then remove lid and bake another 15 to 30 minutes, until loaf is beautifully browned.

Cool on a rack
Nutrition Facts:
Calories: 170kcal (9%) Carbohydrates: 34g (11%) Protein: 5g (10%) Sodium: 367mg (16%) Potassium: 46mg (1%) Fiber: 1g (4%) Calcium: 9mg (1%) Iron: 0.4mg (2%)
* Disclaimer: All nutrition information are estimates only. Read full disclosure here.