Learning how to cook the perfect steak is an art but it's an easy art to learn. We've got all the tips and tricks you are going to need to learn how to cook the best steak.
Best Steak to Make at Home
One of my favorite things about visiting my adult children is watching them in the kitchen. I love seeing my kid's cook. My two son's have become amazing cooks and do a lot of the cooking in their homes. Let's just say they didn't learn that from their father! Both of my boys are really good with the grill and one son has mastered the Traeger.
Whenever we visit one of my boys and they ask me what I'd like to have for dinner, I always suggest they make something on the grill. During a recent visit to one of my son's I asked him to walk me through his process for cooking the perfect steak, something he has truly mastered! I was surprised to learn there was no grill involved.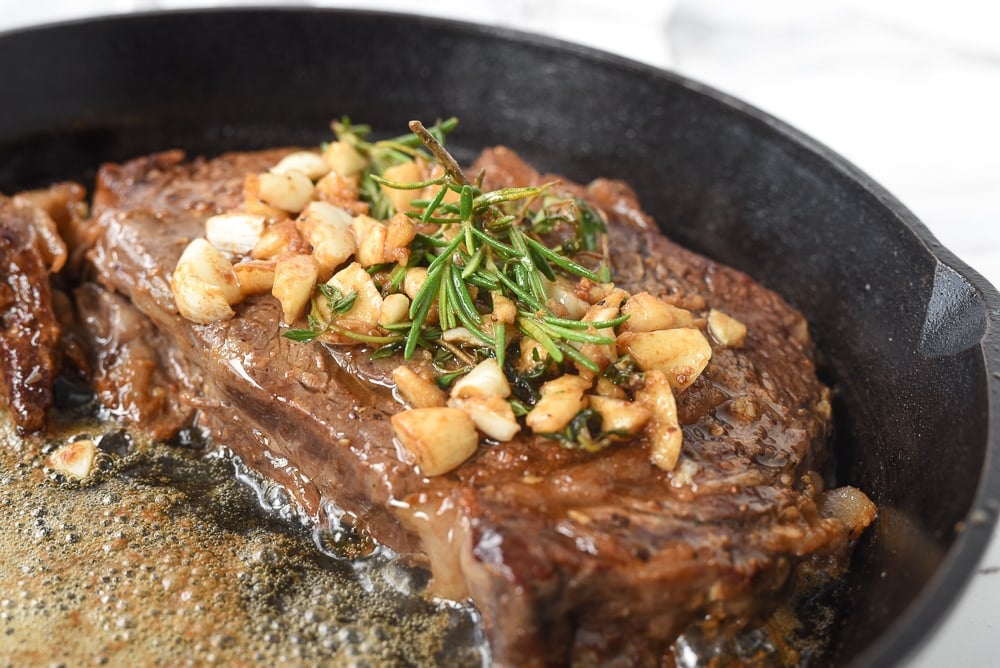 How to Make Steak
The process we are using today is called the "reverse sear" and uses the oven and the stove top, you don't need a grill or a smoker.
Use a good quality steak, our favorite is the rib eye. Buy the best quality steak your budget will allow.
Purchase your meat at least 24 hours before you want to cook it.
Apply a liberal coating of coarse Kosher salt to the top of the steak and wrap in plastic wrap and refrigerate. This can be done 24 hours ahead of time but at least 4 hours before you plan to cook it. The salt will melt into the meat giving it lots of flavor and making it tender.
Remove from the refrigerator 30 minutes before cooking.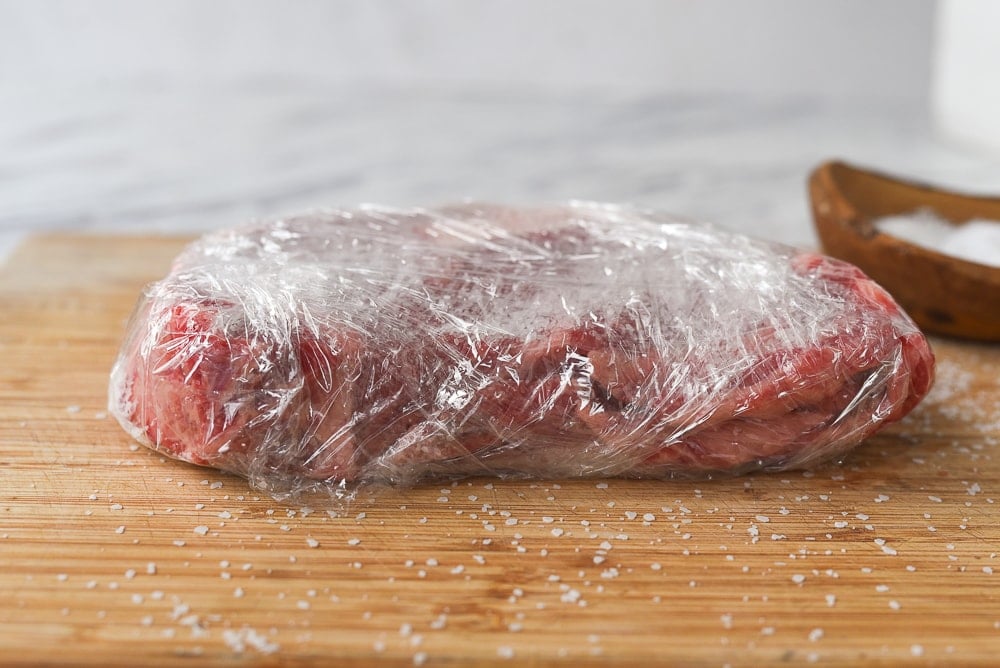 How to Make the Perfect Steak
In addition to your steak you will also need:
Canola oil -Canola oil has a higher smoke point than olive oil or vegetable oil and the oil is going to get hot!
Butter – 2 Tbsp per steak
Fresh sprigs of rosemary and thyme – 1-2 sprigs per steak
Garlic – 2 cloves per steak
Cast iron pan. To get a good sear on the steak, a cast iron pan works the best. If you don't have a cast iron pan you could sear the meat on a really hot grill.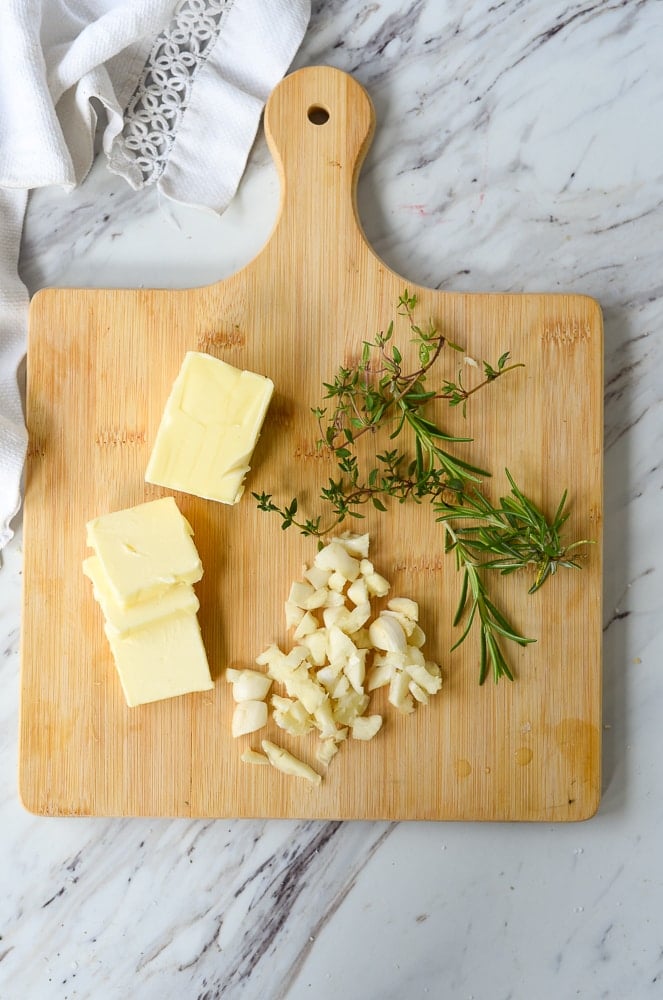 How to Cook Medium Rare Steak
Our favorite way to enjoy a good steak is medium rare but you can of course cook it to your desired temperature. In order to get the right temperature we highly recommend using some kind of meat thermometer or probe. My favorite ones are from Thermoworks.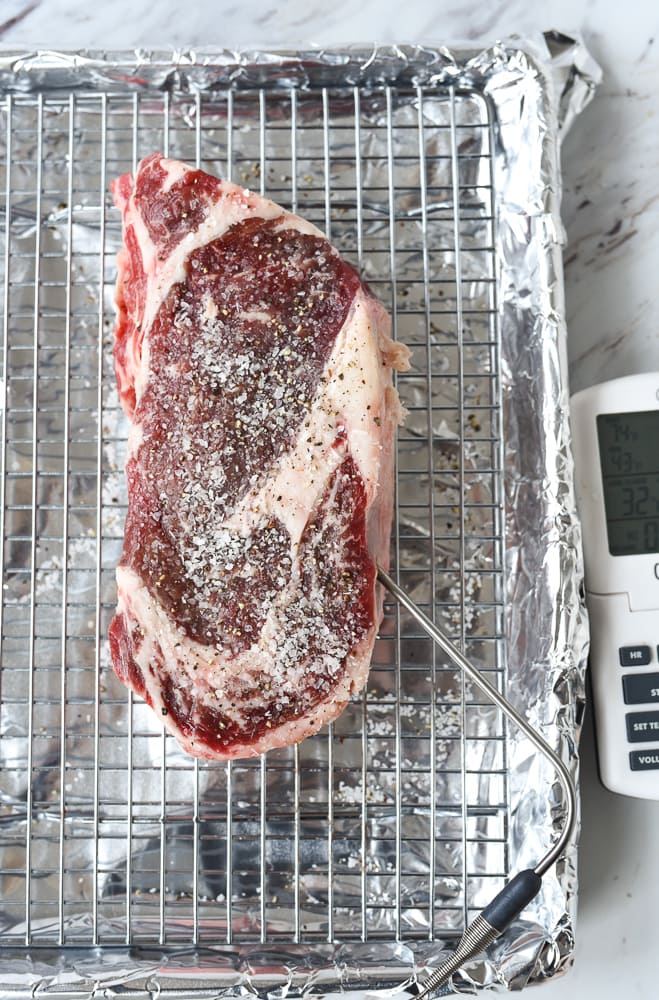 Place your steak on a baking rack inside of a foil covered baking sheet. If you have a meat probe, insert it into the thickest part of the meat. Give the meat a sprinkle of more Kosher salt and pepper.
Bake in the oven at 250 degrees F and bake until the meat reaches 125 degrees F. which will take about 30-45 minutes depending on how thick your piece of meat is.
For well done meat, let the temperature reach 10-15 degrees below your desired end temperature before removing it from the oven.
Heat canola oil in a cast iron pan until the pan begins to smoke. Be sure to turn on your stove fan or open a window because it's going to get a little smoky and you don't want to set off that smoke detector!
Place the steak into the hot pan and sear both sides of the steak, about 30-60 seconds per side. The steak will loosen from the pan when it is seared and ready to flip. It will have a nice crusty coating on it.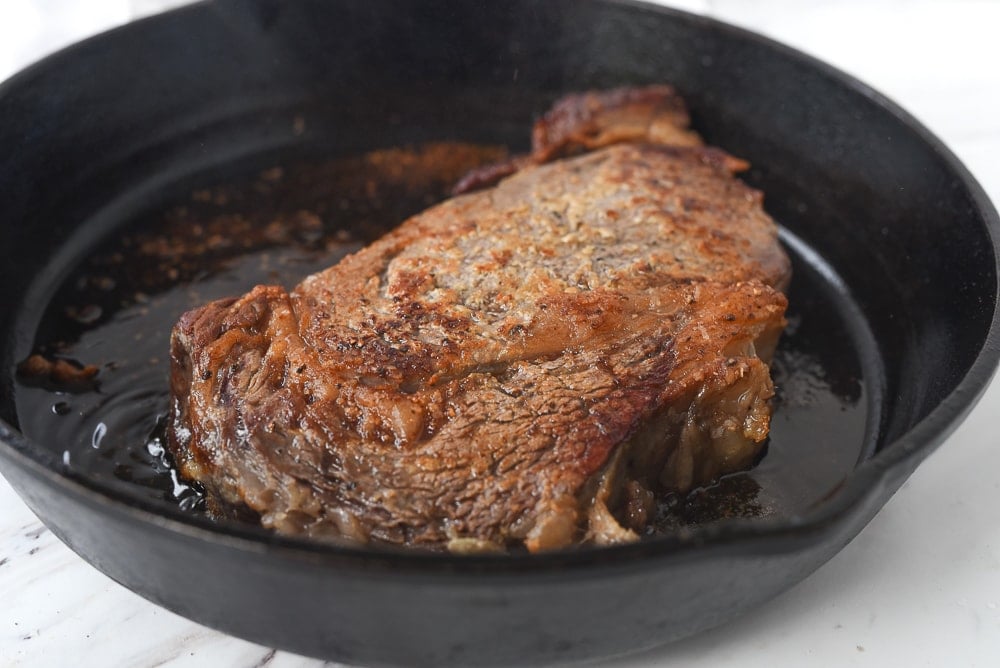 Add butter, herbs and garlic into pan and allow butter to melt and brown. It's going to smell so good!
After butter is melted and lightly browned, place herbs and garlic on top of steak and using a spoon, spoon melted butter onto the steak, basting the steak with all that good flavor. You want your final temperature to be 130-135 degrees F.
Steak Temperature
Medium Rare Steak – 130-135 degrees F.
Medium Steak – 140-145 degrees F.
Medium Well – 150-155 degrees F
Well Done – 160 degrees F
I use to always think I wanted my steak well done. I finally tried a steak that was medium to medium rare and it was life changing. The flavor and texture are so much better!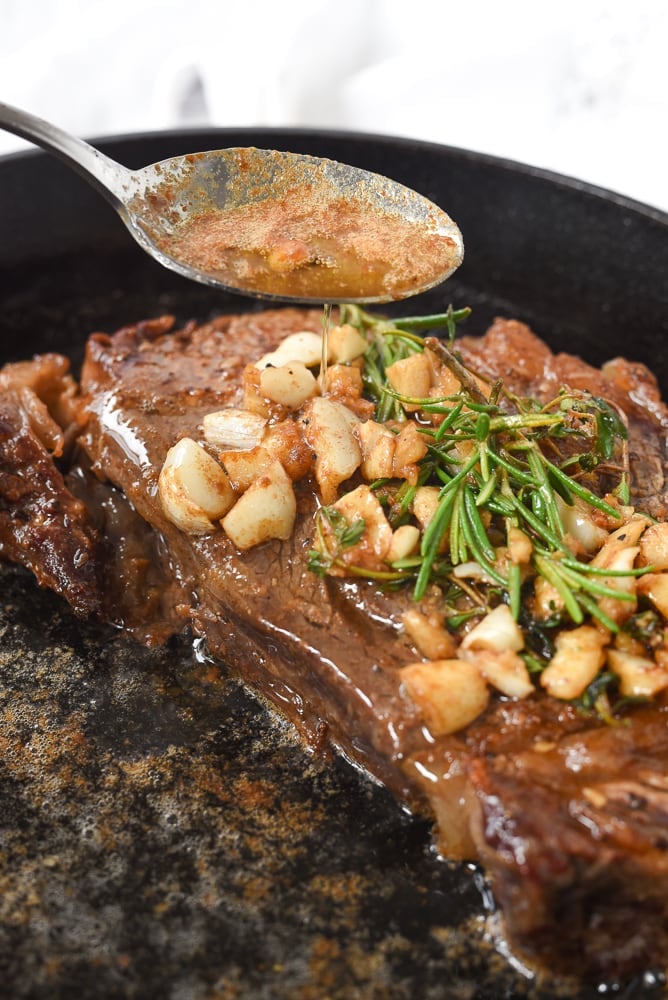 Remove the steak from the pan onto a cutting board. You can let the steak rest for a few minutes but we have found that it doesn't really make that much difference so we cut into it right away because who wants to wait!. We like to slice our rib eye and then serve it. Slicing it allows the meat to go farther and you don't need as much steak (budget tip!)
The steak pictured below came out a little more medium than medium rare but it was still delicious!
Some of our favorite sides to serve with the perfect steak:
For all of my other favorite kitchen products and tools visit my Amazon Store.
Did you know I wrote a cookbook?  Check out the Holiday Slow Cooker Cookbook for 100 delicious recipes.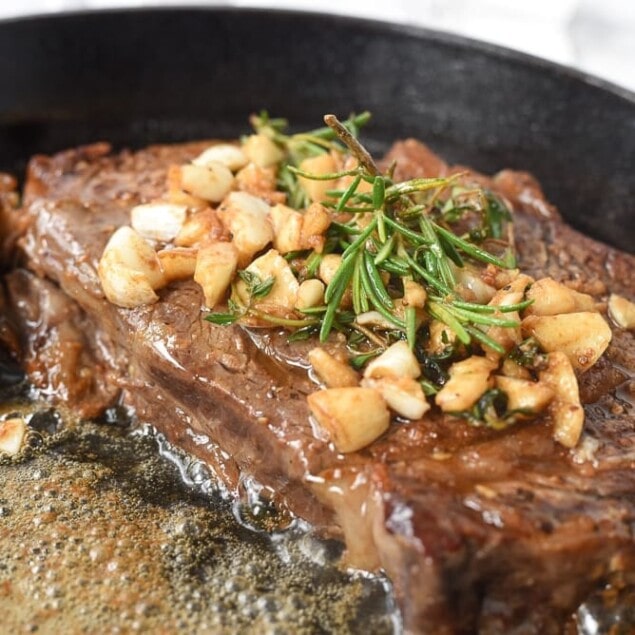 How to Cook the Perfect Steak
Learning how to cook the perfect steak is an art but it's an easy art to learn.  We've got all the tips and tricks you are going to need to learn how to cook the best steak.
Ingredients
1 rib eye steak
kosher salt
pepper freshly ground
2 Tbsp canola oil
2 Tbsp butter
2-3 sprigs rosemary
2-3 sprigs thyme
2 cloves garlic smashed, roughly chopped
Instructions
Salt steak and wrap in plastic wrap. Refrigerate for 4-24 hours to allow salt to melt into the meat.

Remove steak from refrigerate. Salt and pepper both sides. Place on a baking rack placed on a foil wrapped baking sheet and place in a 250 degrees oven for 30-45 minutes or until meat reaches 125 degrees F. for a medium rare steak. For other temperatures, remove meat when it has reached 10-15 degrees below the desired end temperature.

Heat canola oil in a cast iron pan, you want the pan hot and beginning to smoke.

Place steak into pan and sear the meat on both sides, the meat will get a lovely golden brown crust on it.

Add butter, herbs and garlic into pan and allow butter to melt and begin to brown. Stir to coat herbs and garlic with butter.

Place herbs and garlic on top of steak and baste steak with melted butter.

Remove steak from pan and slice. The end temperature of the meat should be 130-135 degrees for medium rare. See above for other temperatures.
Nutrition Facts:
Calories: 232kcal (12%) Carbohydrates: 1g Protein: 1g (2%) Fat: 26g (40%) Saturated Fat: 8g (50%) Cholesterol: 31mg (10%) Sodium: 102mg (4%) Fiber: 1g (4%) Sugar: 1g (1%) Vitamin A: 402IU (8%) Vitamin C: 3mg (4%) Calcium: 5mg (1%) Iron: 1mg (6%)
* Disclaimer: All nutrition information are estimates only. Read full disclosure here.