Strawberry Cream Pie is the perfect summer time dessert. A delicious creamy filling topped with fresh strawberries and a strawberry glaze.
We love this pie so much at our house that I came up with a Strawberry Cream Pie for Two version so that Jim and I can still enjoy the pie without being tempted to eat too much pie!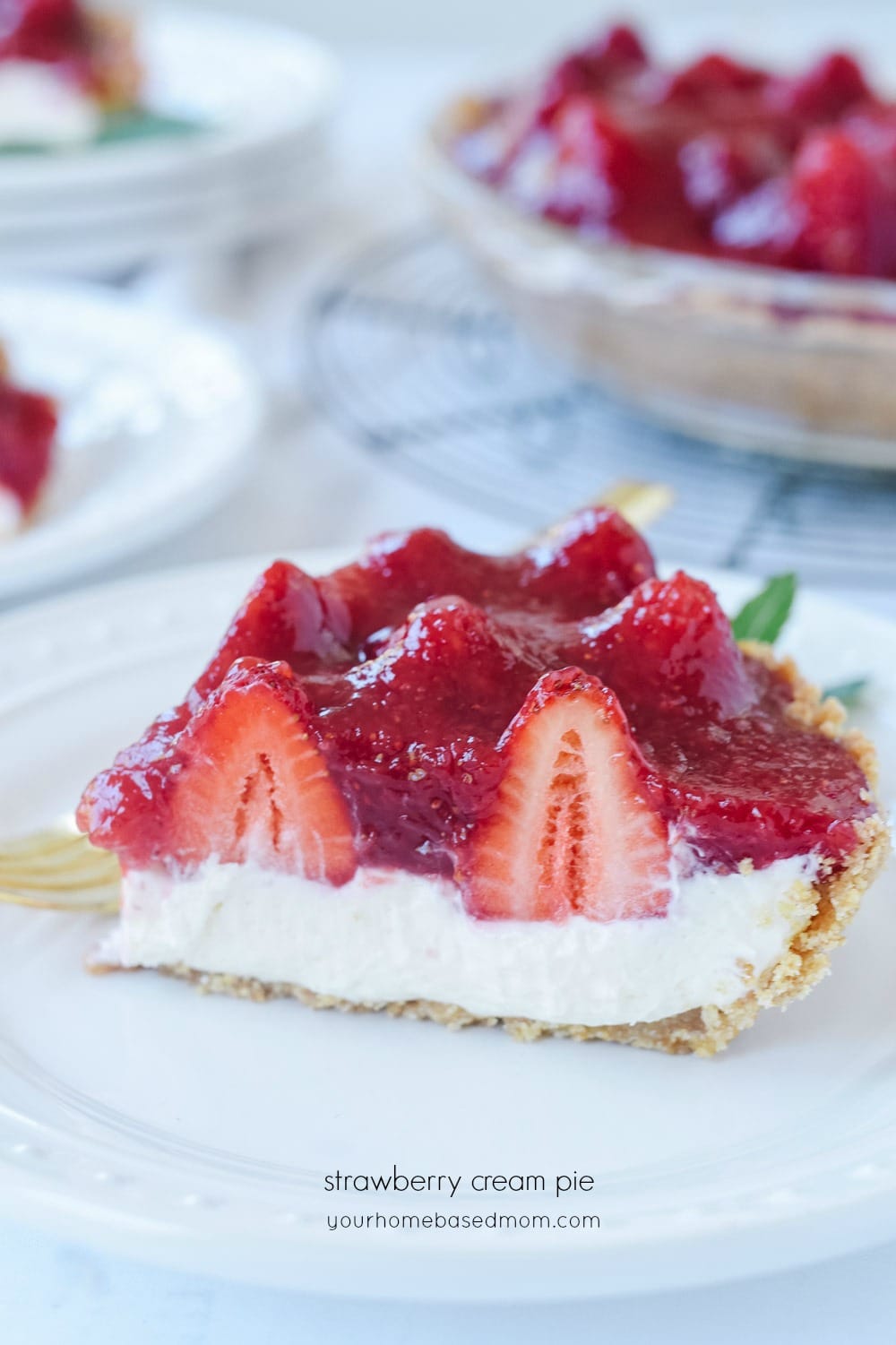 Why You'll Love This Recipe!
This has been a favorite at our house for years! It is the dessert my husband has requested every year for Father's Day for as long as I can remember. The recipe originally came from a friend of my mother's who won dozens of blue ribbons at the county fair for this pie and lots of her other creations. It was there family favorite, it is now our family favorite and I hope it will become your family's favorite!
Tips from Leigh Anne
You have options when you make this delicious strawberry cream pie. You can make it with a graham cracker crust or with a pastry crust. I prefer a graham cracker crust but if you want to use a pastry crust be sure and use my Perfect Pie Crust Tutorial and check out the video at the end of the post. They both are delicious, you'll have to try it both ways and let me know.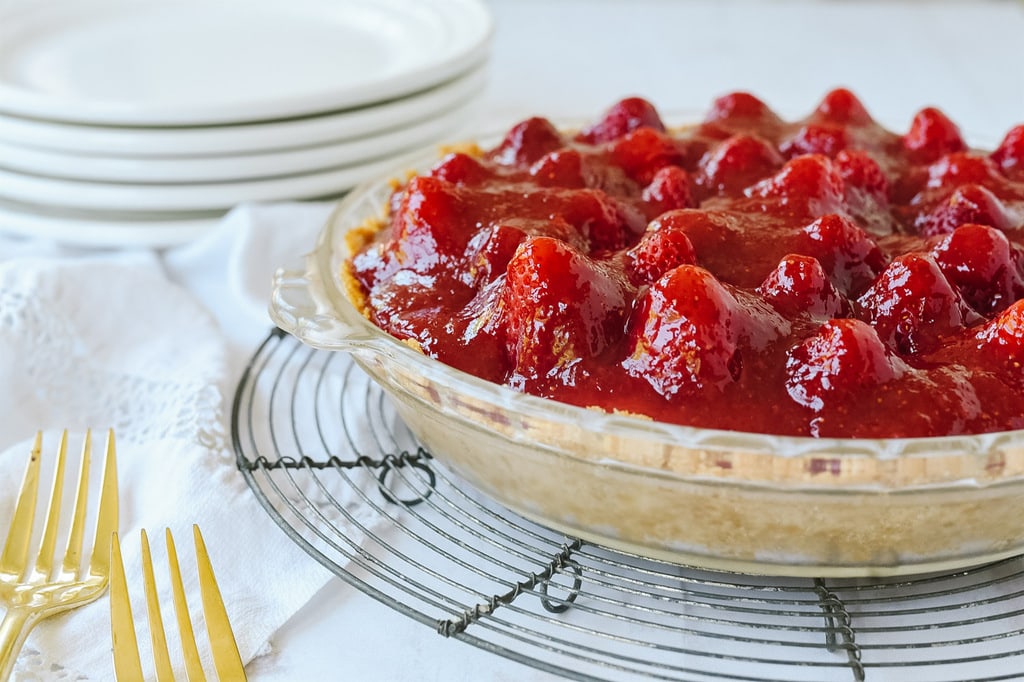 Ingredients Needed
Strawberries. You will need about 5 cups of strawberries (depending on size of strawberries), four cups for the pie and one for the glaze.
Sugar. Granulated sugar.
Cornstarch. This is used to thicken the glaze.
Cream cheese. Be sure it is softened at room temperature for an hour or so.
Vanilla Extract
Heavy Cream
Graham Cracker Crust or Pastry Crust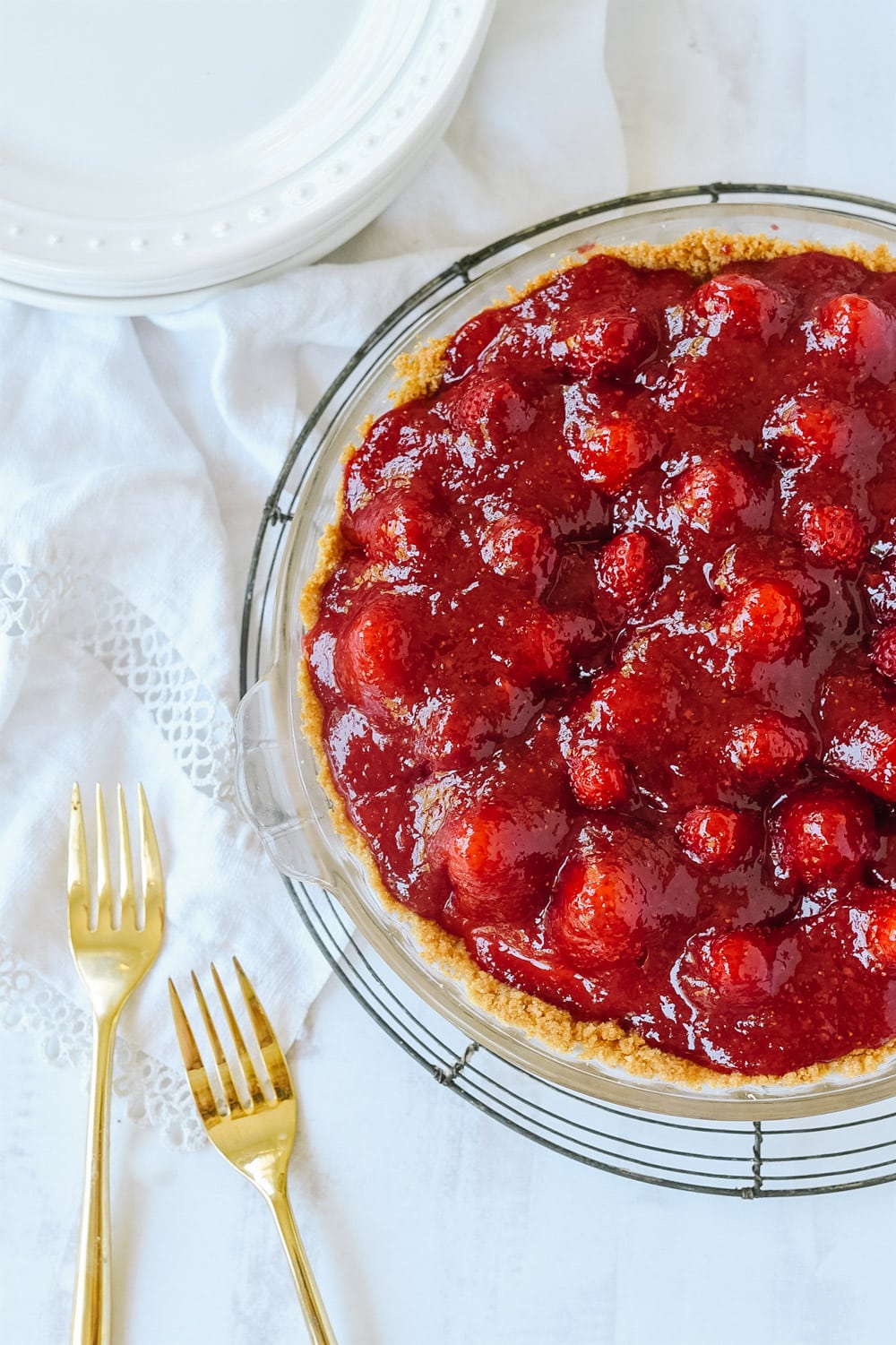 How to Make a Strawberry Cream Pie
Pie Crust
Make a graham cracker crust. You can buy a premade one at the store but it is so easy to make at home and so much better. You can follow my graham cracker crust tutorial for more details.
Cream Cheese Filling
Mix together softened cream cheese, sugar and vanilla. This filling is so good, I could eat it by itself but adding the berries is even better.
Spread filling into the cooled graham cracker crust and let it chill in the refrigerator for about 30 minutes to set up a bit.
Strawberry Layer
Arrange whole berries on top of cream cheese mixture pressing them lightly into the cream cheese layer. Since the berries came from my garden they were not all perfect and uniform like the ones you may find in the story but they were so delicious!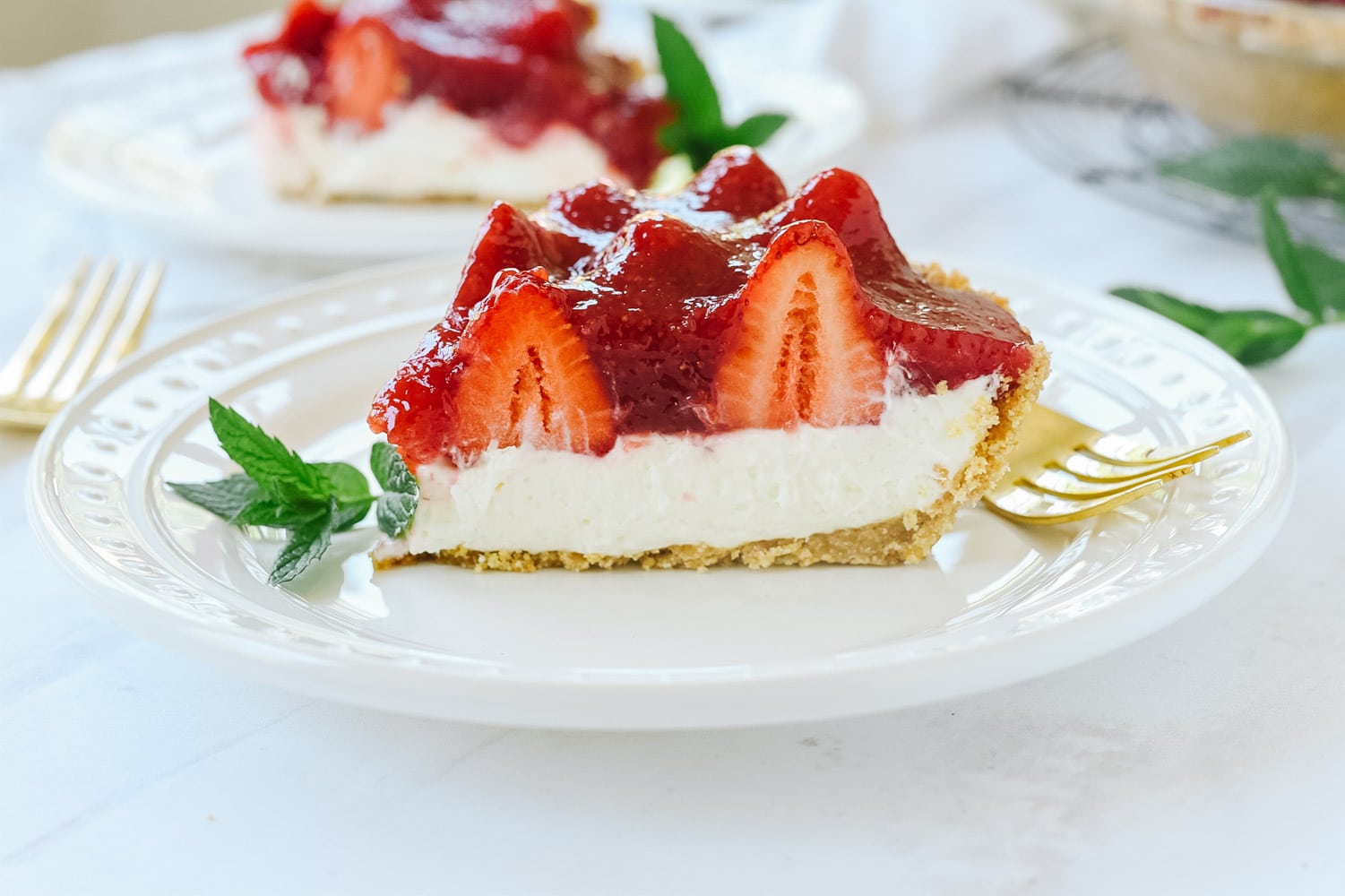 Strawberry Glaze
Mix together mashed strawberries, water, cornstarch and sugar in a small sauce pan.
Stir the glaze over medium heat until it turns shiny and glossy. Stir constantly so it doesn't burn. Allow it to cool until room temperature.
Pour glaze over the strawberries.
Chill pie until ready to eat, at least a couple of hours.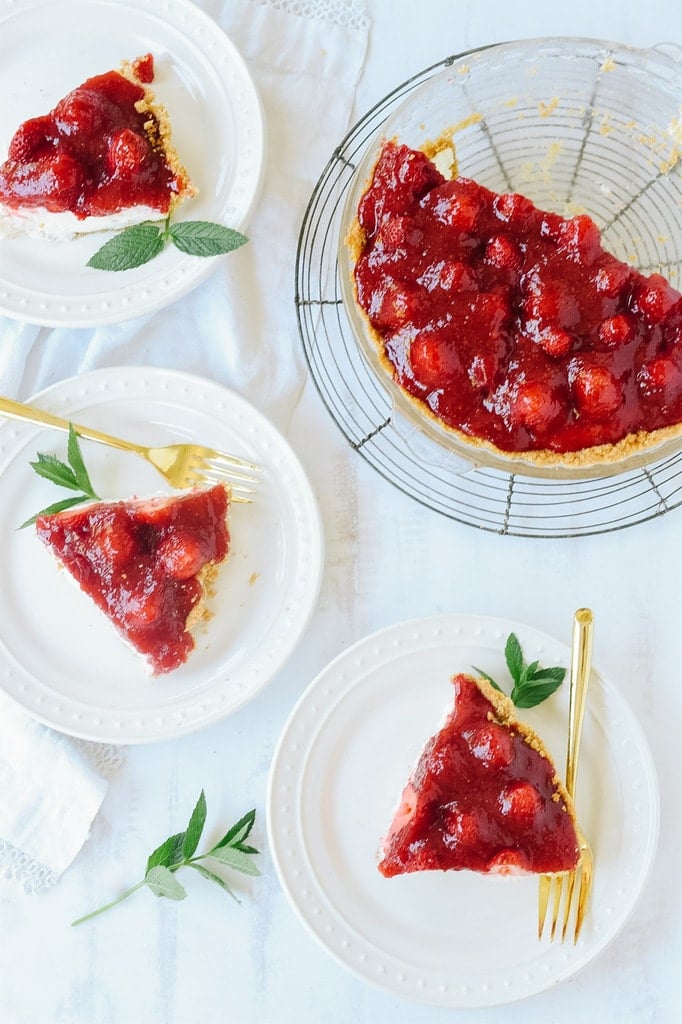 All that is left to do is grab a fork and dig it!
Frequently Asked Questions
Can I use a store bought crust?
You can use a store bought graham cracker crust or pastry crust if you prefer.
Can I use other fruit?
This fruit is delicious made with raspberries and you can also do a combination of berries including strawberries, raspberries and blueberries.
How long will the pie last?
The pie should be kept in the fridge and will last 2-3 days. I don't recommend freezing this pie.
My glaze looks cloudy.
It will look cloudy or opaque but keep cooking it and will get more clear and translucent.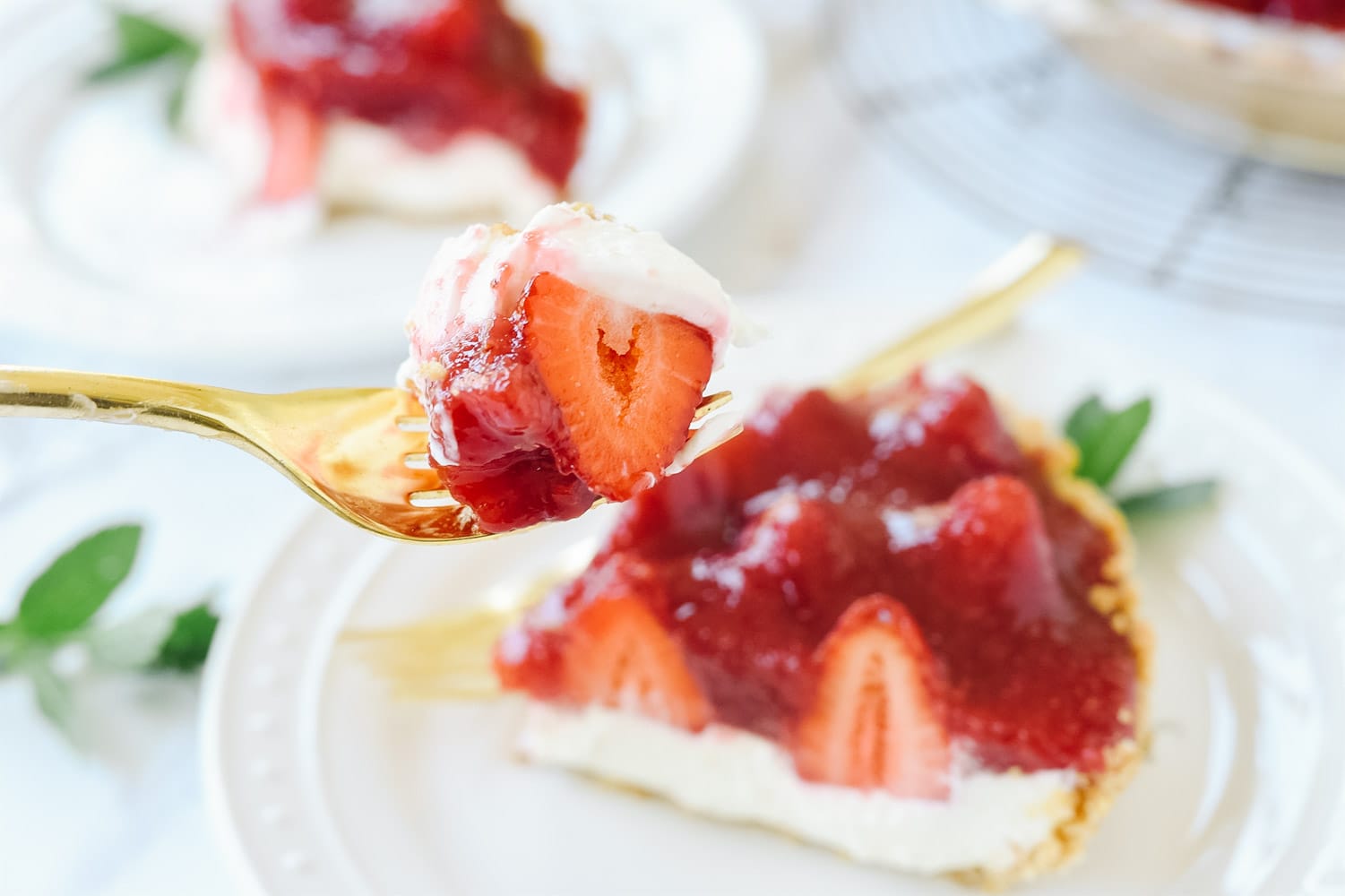 This pie is a sure sign it is summer at our house. When one of my kids saw the photo on Instagram I received a test asking that I had to make it again when they came home to visit! You won't find any argument from me!
Check out these delicious strawberry desserts:
Be sure and follow me over on You Tube for weekly cooking demos.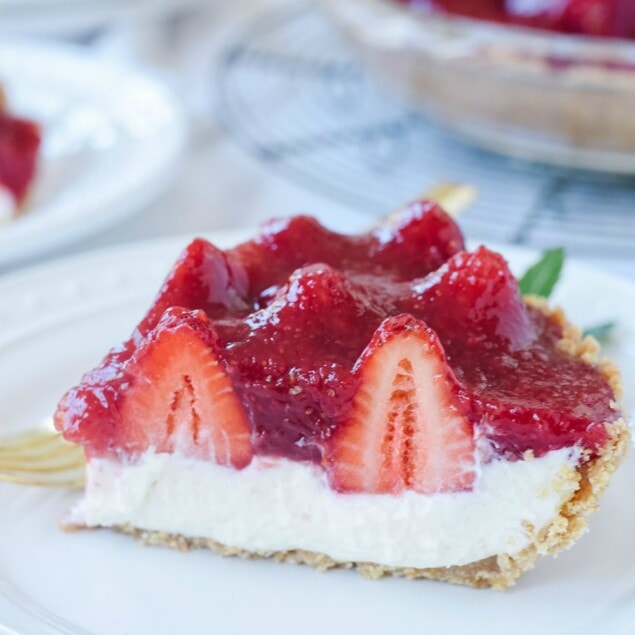 Strawberry Cream Pie
Delicious creamy filling, fresh strawberries, and a yummy glaze makes this the perfect strawberry cream pie recipe.


Ingredients
Graham Cracker Crust
1 1/4 cups graham cracker crumbs this is one package of graham crackers, 8 sheets
1/4 cup sugar
6 Tbsp. butter melted
Pastry Crust (alternate crust option)
1 1/4 C flour
1/4 C butter
1/4 C shortening
pinch of salt
ice cold water add teaspoon by teaspoon until right consistency has formed
Glaze:
1 cup strawberries mashed
1 cup sugar
3 Tbsp. cornstarch
1/2 cup water
Cream Filling
8 oz. cream cheese softened
1/2 cup sugar
1 tsp. vanilla
1 cup heavy cream whipped
4 cups whole strawberries
Instructions
Graham Cracker Crust
Combine the above ingredients and press firmly into a 9 inch pie plate. Bake at 375 degrees for 5-8 minutes or until the edges are lightly browned. Cool.
Pastry Crust (Alternate crust option)
Place flour, salt, butter and shortening in bowl.

Use your hands to combine ingredients until small pebbles form

Add cold water a teaspoon at a time until the dough begins to hold together and form a ball.

Do not over handle the dough. Dough should be soft, moist but not wet.

Place ball of dough onto wax paper and flatten. Place another piece of wax paper over the top and roll out the pastry into a circle. If your pie pan is 9 inch make sure your circle is bigger than 9 inches so you have enough for the edging..

Remove the top layer of wax paper and place pastry into pie tin. Remove other piece of wax paper and press pastry into pan. Use your fingers to crimp the edge of the crust.

Freeze for 30 minutes to firm up the pastry. This helps prevent pastry from shrinking during baking.

Prick the bottom of crust to prevent bubbling during baking.

Bake at 400 degrees. For the first 10-12 minutes keep the edges of pie covered with foil and then remove for the last 15 minutes. Bake until golden brown.
Glaze
Crush 1 cup strawberries. Combine 1 cup sugar and cornstarch in small saucepan. Add water and crushed strawberries. Cook and stir over medium heat to boiling, stir constantly until clear and slightly thickened.
Cream Filling
Blend cream cheese and sugar. Stir in vanilla.

Whip cream until soft peaks form. Fold whipped cream into cream cheese mixture.

Spread mixture evenly in cooled crust. Refrigerate

Place whole strawberries stem side down on top of creamed filling, pressing slightly.

Spoon glaze over the berries. Chill for 3 hours.
Tips & Notes:
Use either a graham cracker crust or a pastry crust.  I prefer a graham cracker crust. This fruit is delicious made with raspberries and you can also do a combination of berries including strawberries, raspberries and blueberries.
Nutrition Facts:
Calories: 457kcal (23%) Carbohydrates: 47g (16%) Protein: 4g (8%) Fat: 29g (45%) Saturated Fat: 16g (100%) Cholesterol: 74mg (25%) Sodium: 215mg (9%) Potassium: 162mg (5%) Fiber: 2g (8%) Sugar: 26g (29%) Vitamin A: 855IU (17%) Vitamin C: 35.4mg (43%) Calcium: 53mg (5%) Iron: 1.3mg (7%)
* Disclaimer: All nutrition information are estimates only. Read full disclosure here.
Originally shared June 2008