These Sour Cream Biscuits are some of the best biscuits I've ever made.  They are soft, tender and flaky with a touch of sweet from the brown sugar and crunch from the pecans.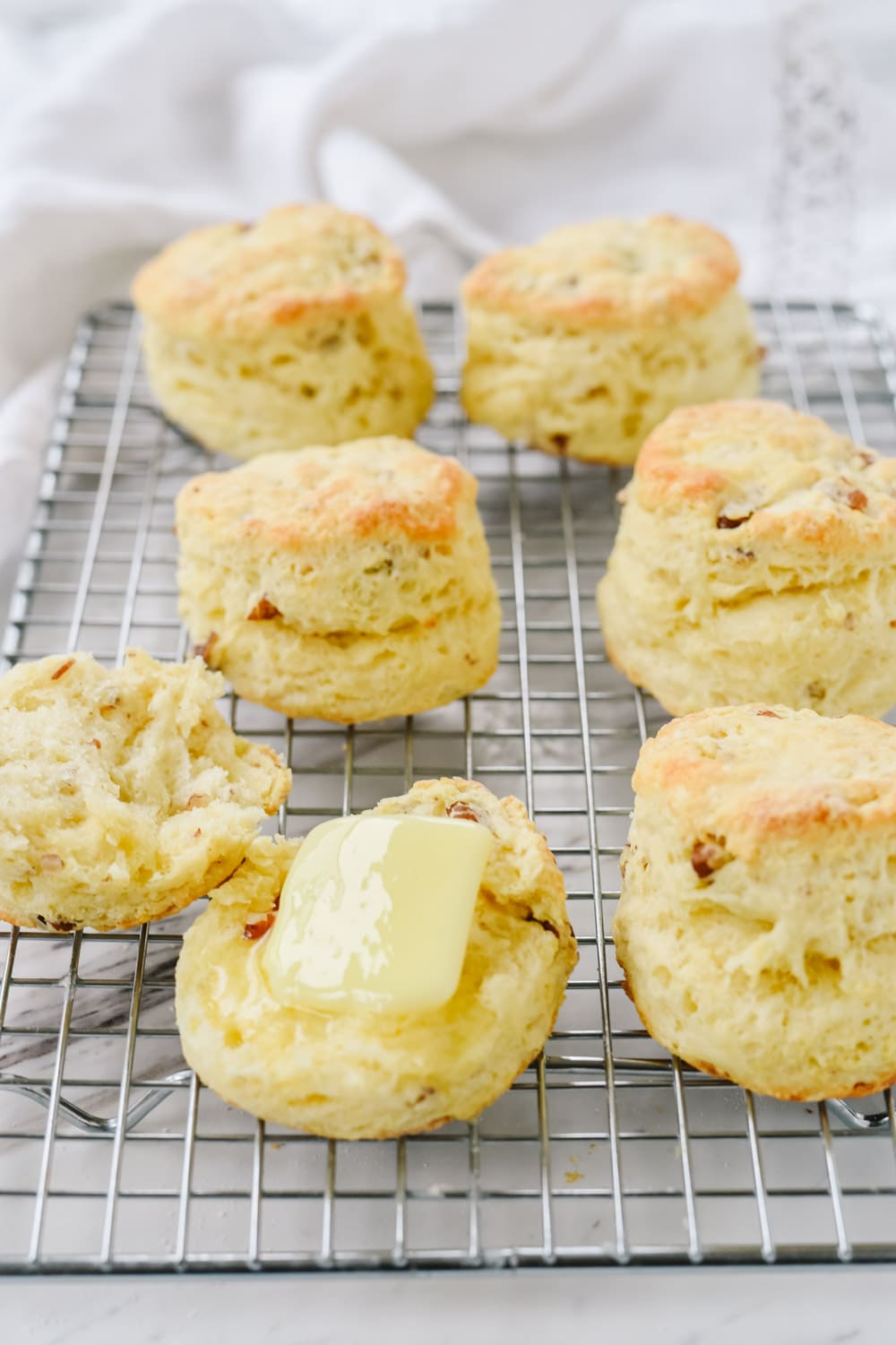 Over the Thanksgiving holiday we visited Charleston, South Carolina. I haven't spent a lot of time in the south but one thing I know about the south is they love their biscuits! We had fun scouring Charleston for the best biscuits and we found a lot!
Today's recipe is one that was given to me by my southern, biscuit loving friend Sherra. Don't all good southern girls love biscuits?
Nothing beats a fresh, warm, flaky biscuit right out of the biscuit. Especially when it's smothered in butter or jam!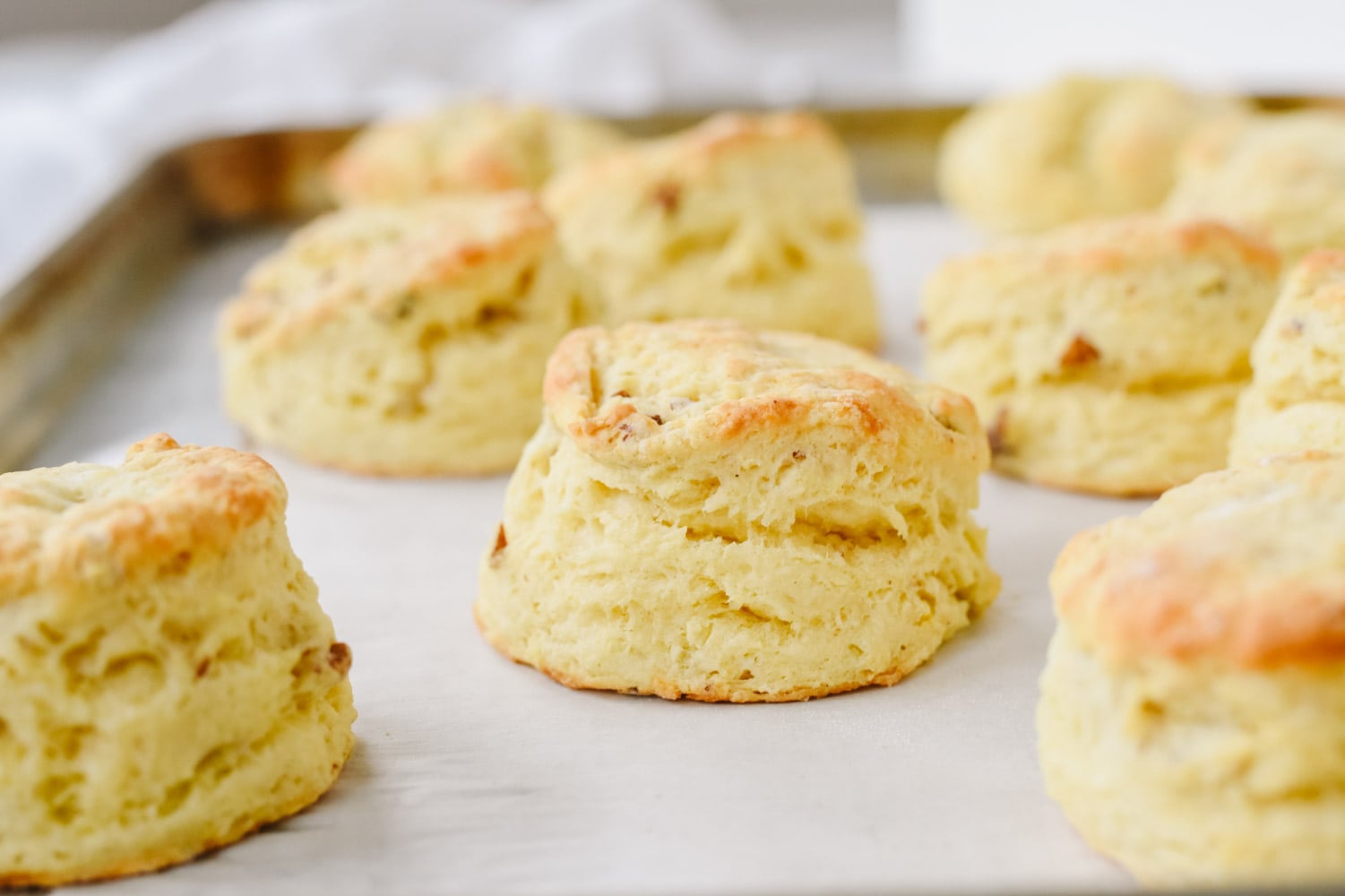 My husband commented not once, but twice at the dinner table on how amazing they were. Later in the day I overheard him on the phone to his mother when he told her that I had made "the best biscuits he had ever tasted" for dinner that day.
Now, my husband is not a southern boy, he is an Idaho boy, but he sure liked those biscuits!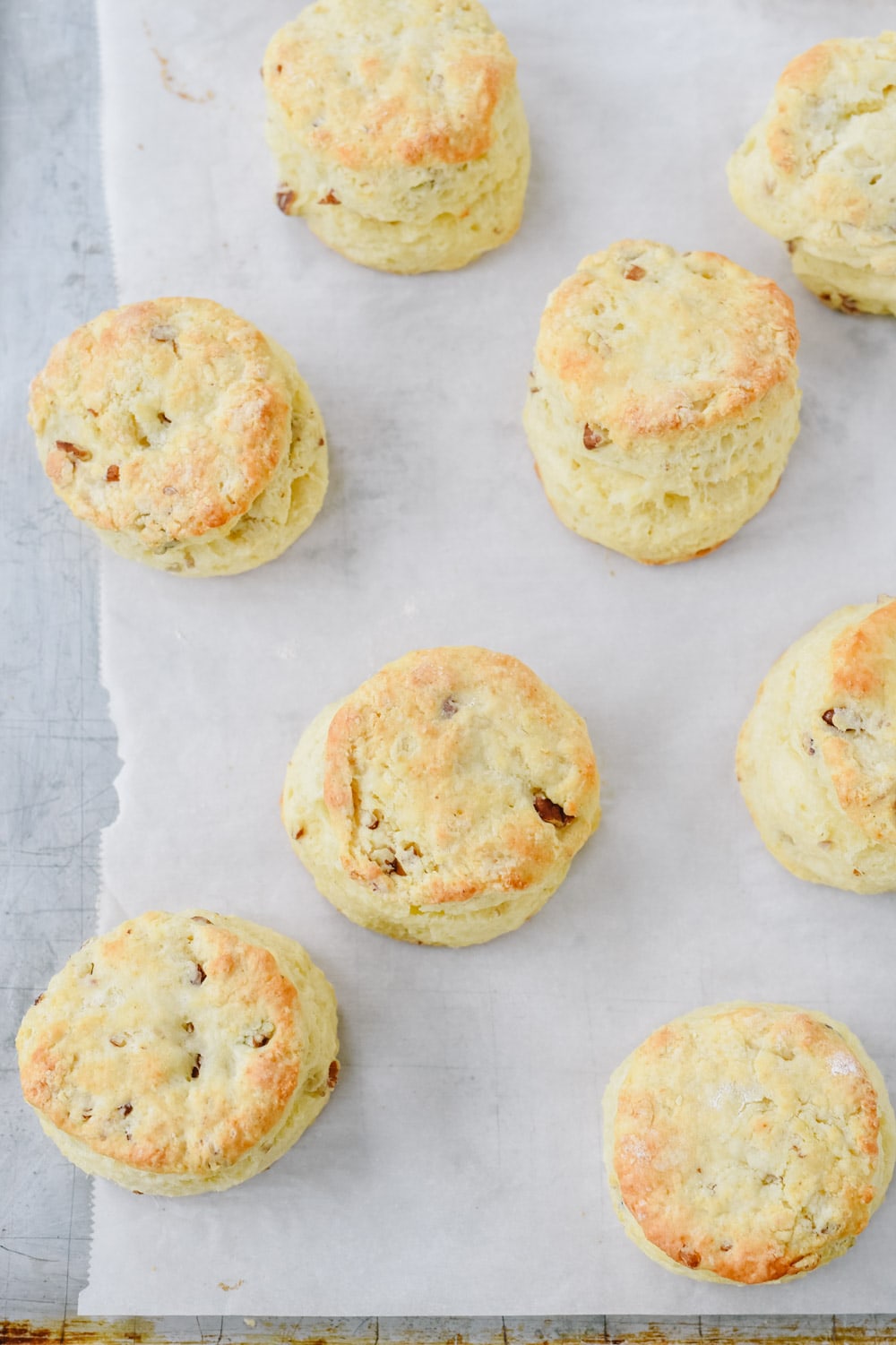 How to Make the Perfect Biscuit
Butter – Use cold or even frozen butter. You want the butter to stay chilled in the biscuit dough, seeing little chunks of butter in your dough is good. I like to use a pastry blender to incorporate my butter into my dry ingredients. You want to see little pea sized pieces of butter in the dough.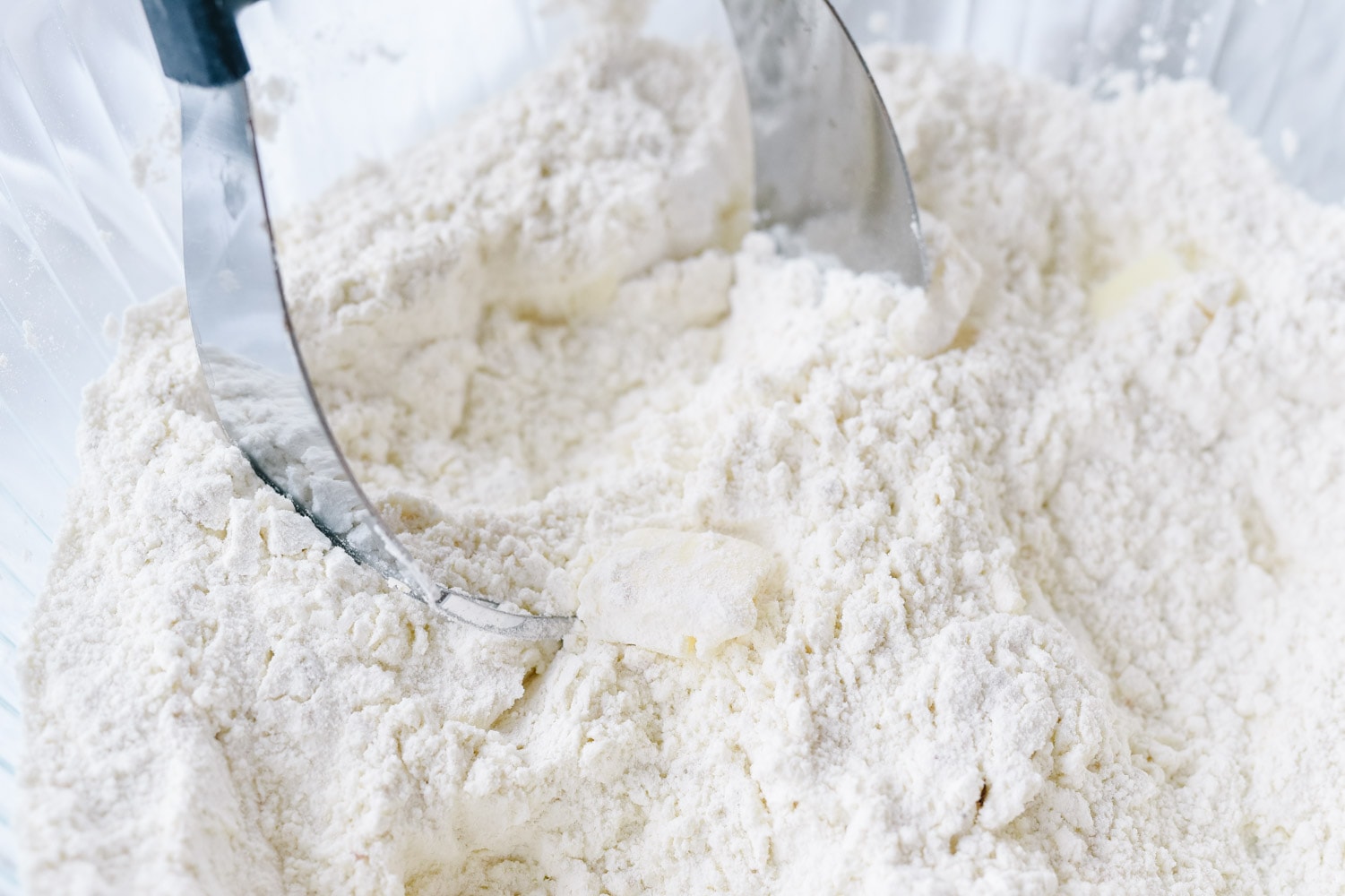 Dough – Handling your biscuit dough as little as possible is the key to a light, flaky biscuit. The less you handle it the fluffier the biscuit. If your dough feels too sticky add a little bit more flour to it but don't go crazy. Too much flour will dry the biscuit out.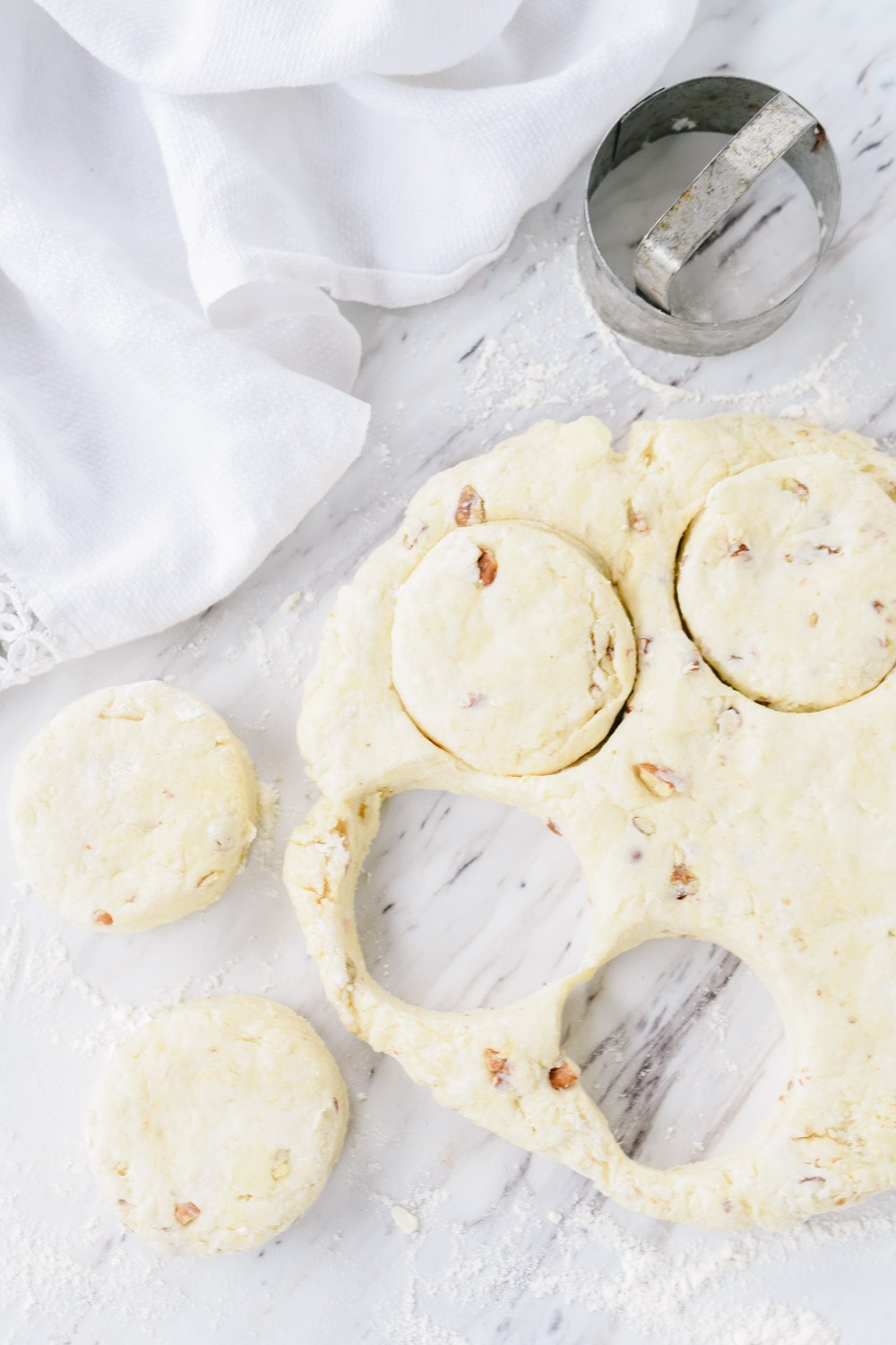 Sour Cream – If you don't have sour cream you can use plain Greek yogurt.
Nuts – I use toasted pecans, if you don't like nuts just leave them out.
Milk – If you don't have whole milk, use what you have on hand and you can even use buttermilk. Buttermilk is thicker so you may need to use a bit more to get the right consistency.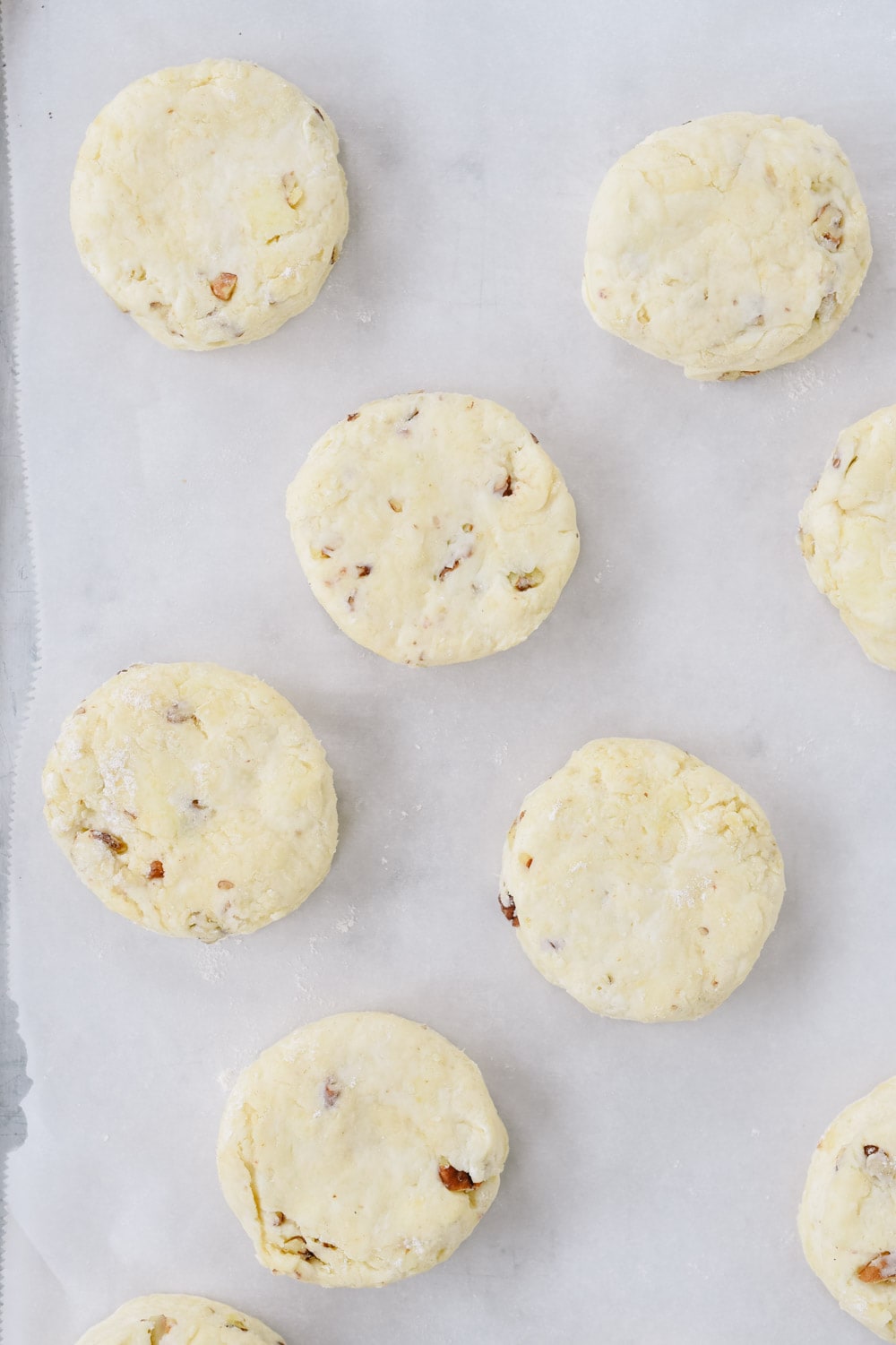 Pat your dough out into a circle, about 3/4″ to 1″ thick. This will get you a nice tall, flaky biscuit. Use a 2″ biscuit cutter, mine belonged to my grandmother.
Bake on a parchment lined baking sheet at 425 degrees F for about 15 minutes or until golden brown.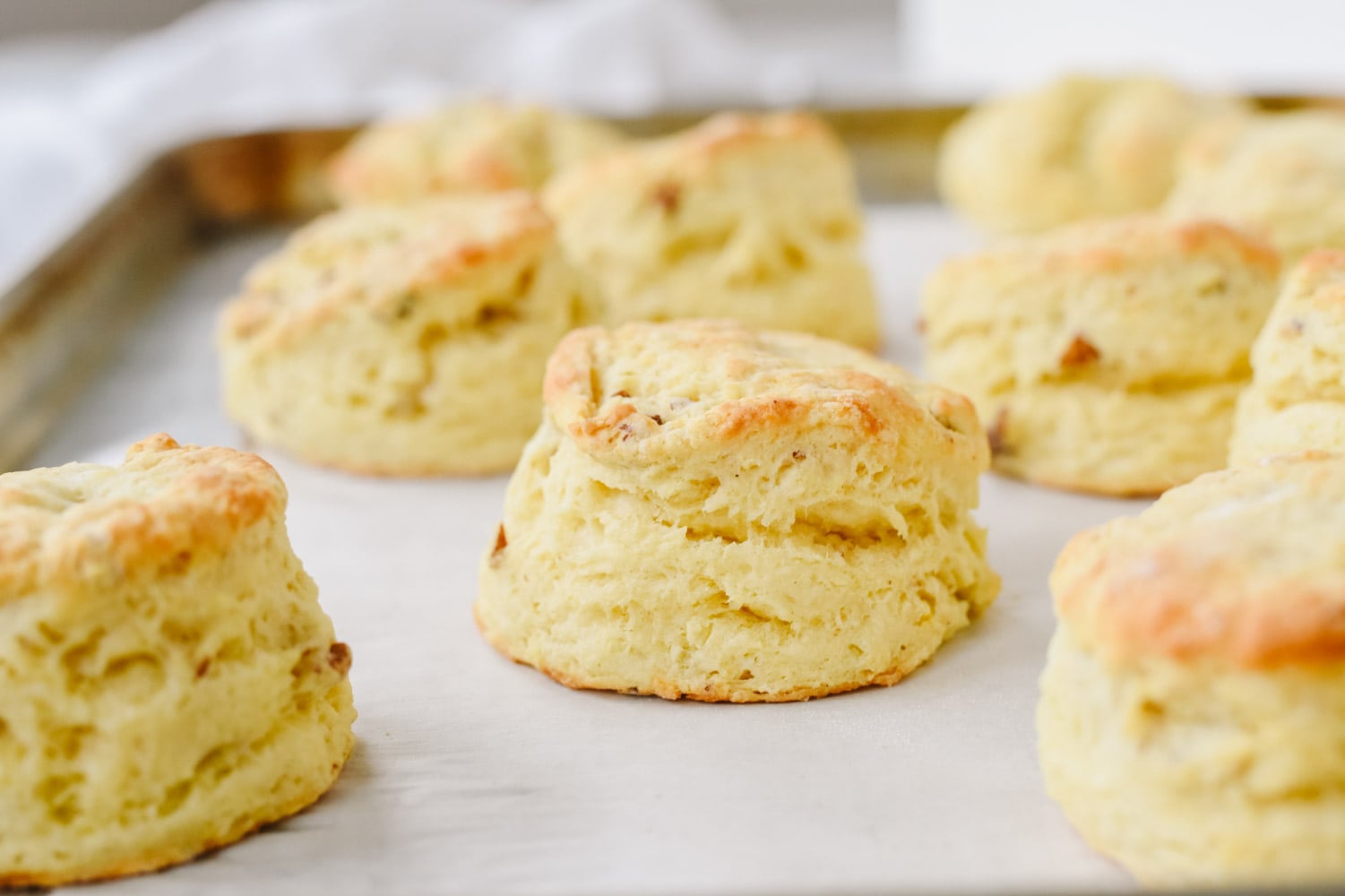 Can I Freeze Biscuits?
If you want to freeze them, I recommend freezing the dough before baking them. Cut the biscuits out and then place them on a baking sheet and place in the freezer until dough is frozen through. After the dough is frozen, place the individual biscuits into a zippered freezer bag. They will last in the freezer for 2-3 months. When that biscuit craving hits, just grab a few out of the freezer and bake! You can bake them frozen, they will just take about 5 minutes longer.
Just add butter or jam and you have a delicious treat!
Try these delicious breakfast treats:
For all of my other favorite kitchen products and tools visit my Amazon Store.
Did you know I wrote a cookbook?  Check out the Holiday Slow Cooker Cookbook for 100 delicious recipes.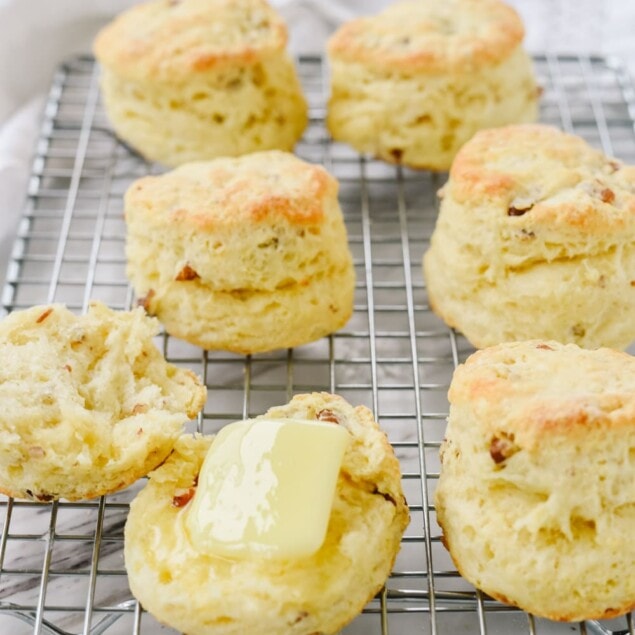 Sour Cream Biscuits
These Sour Cream Biscuits are some of the best biscuits I've ever made.  They are soft, tender and flaky with a touch of sweet from the brown sugar and crunch from the pecans.
Ingredients
2 cups all-purpose flour
1 Tbsp baking powder
1/2 tsp salt
1/4 tsp baking soda
1/4 cup brown sugar packed
5 tbsp cold butter cut into small pieces
1/2 cup sour cream
1/4 cup whole milk can also use buttermilk
1/3 cup pecans toasted and finely chopped
Instructions
Preheat oven to 425 degrees F.

Line baking sheet with parchment paper

Mix together the flour, baking powder, salt and baking soda together in a bowl

Stir in the brown sugar, making certain there are no lumps

Add in the butter and use a pastry blender to incorporate. Blend until you have pea sized pieces of butter.

Stir the sour cream and milk together and pour over the dry ingredients

Use a fork to mix the ingredients together until you've got a nice soft dough. Using your h ands, knead the dough 3-4 times to make sure all the flour is incorporated.

Toss in the pecans and knead another 2 to 3 times to incorporate them

Lightly dust a work surface with flour and turn out the dough.

Dust the top of the dough very lightly with flour and pat the dough out with your hands until it is even and about 3/4 inch high

Use a 2 inch biscuit cutter to cut out as many biscuits as you can

Gather together the scraps, working them as little as possible, pat out to a 3/4-inch thickness and cut as many additional biscuits as you can; transfer these to the sheet

(The biscuits can be made to this point and frozen on the baking sheet, then wrapped airtight and kept for up to 2-3 months. Bake without defrosting – just add a couple more minutes to the oven time.)

Bake the biscuits 14 to 18 minutes, or until they are tall, puffed and golden brown
Nutrition Facts:
Calories: 177kcal (9%) Carbohydrates: 22g (7%) Protein: 3g (6%) Fat: 9g (14%) Saturated Fat: 4g (25%) Cholesterol: 18mg (6%) Sodium: 174mg (8%) Potassium: 161mg (5%) Fiber: 1g (4%) Sugar: 5g (6%) Vitamin A: 214IU (4%) Vitamin C: 1mg (1%) Calcium: 70mg (7%) Iron: 1mg (6%)
* Disclaimer: All nutrition information are estimates only. Read full disclosure here.