Quiche Lorraine is a must have brunch item in our house. This easy quiche recipe uses a prepared pastry crust. You get a delicious quiche in a fraction of the time.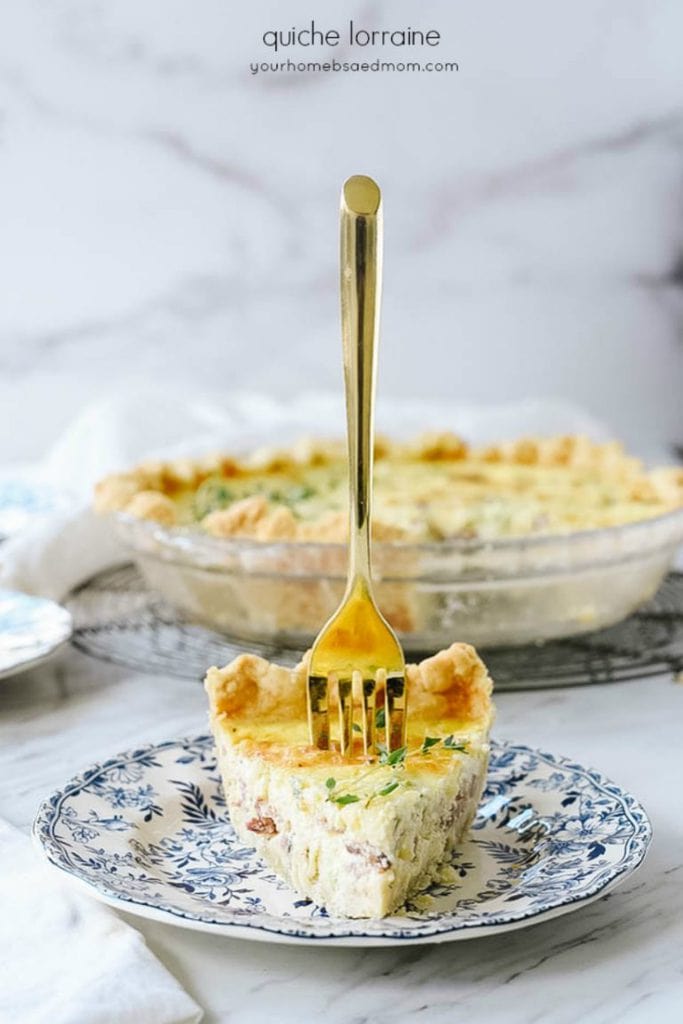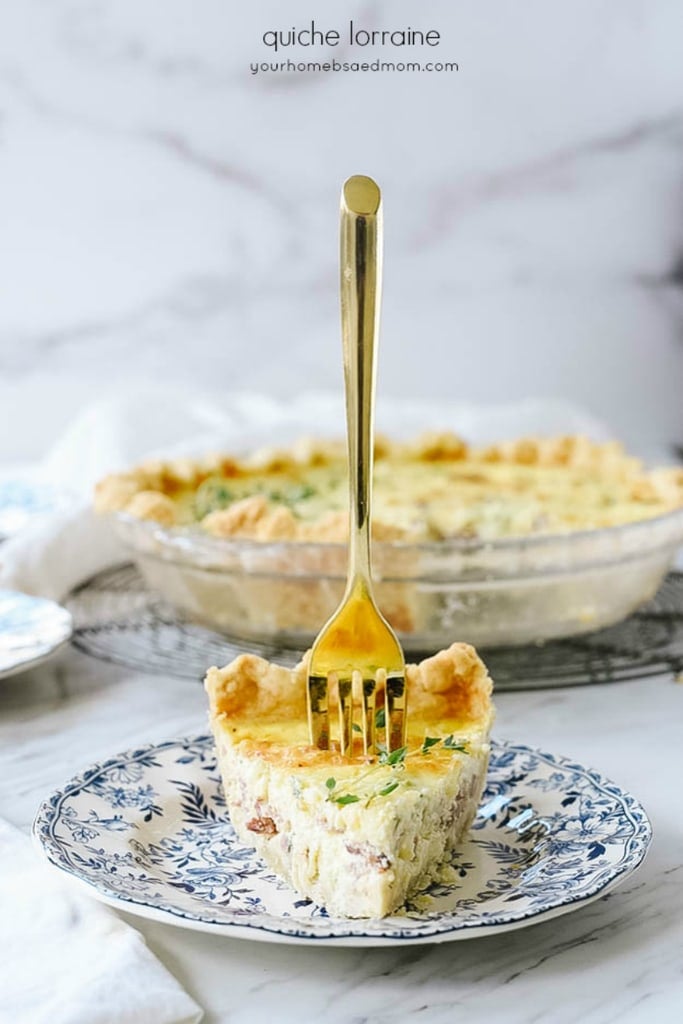 For year I searched for the perfect quiche recipe. I wanted a go to recipe that I could play with and try different flavor combinations. And I finally found the one. This Quiche Lorraine is filled with yummy ham, bacon and Swiss cheese. But with this easy quiche recipe, the possibilities are endless.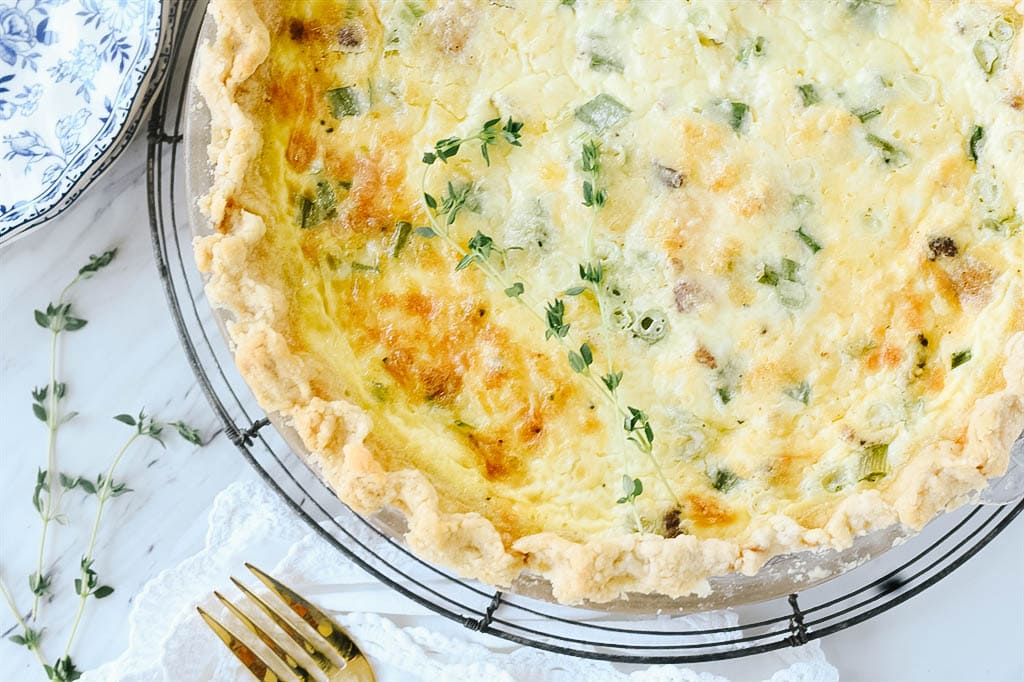 Quiche Lorraine makes a delicious dish for any brunch. Easy enough to make on a lazy Sunday, but delicious enough to serve for any holiday gathering. If you want to make it extra special, you can use my perfect pie crust recipe instead of a store bought crust.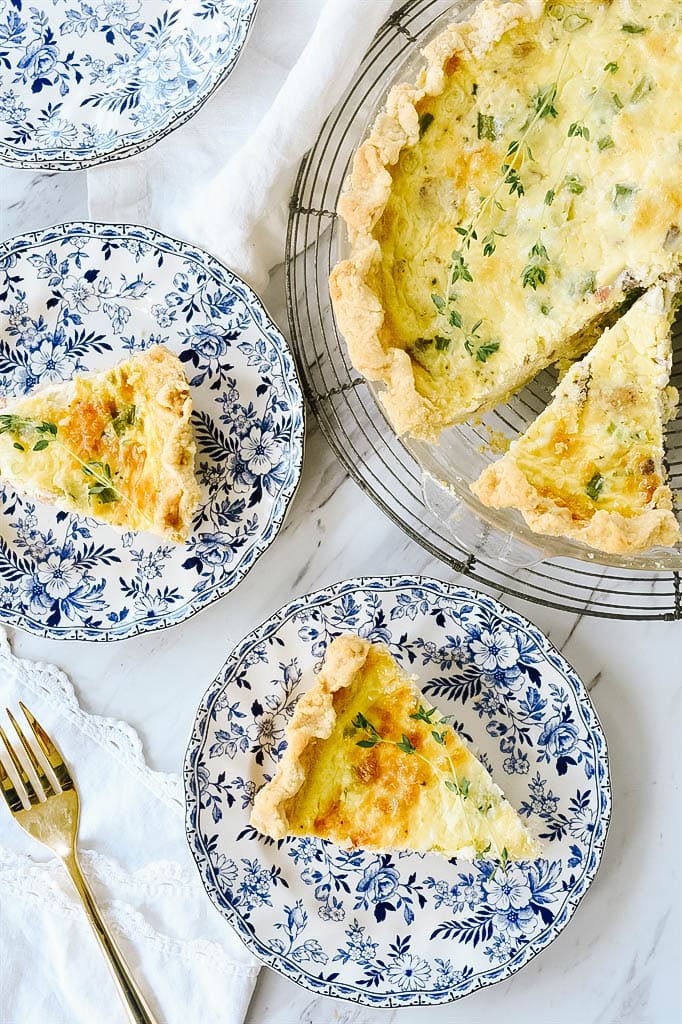 How to Make A Quiche
The perfect quiche starts with a good crust. If you are going to use a premade crust, I prefer the Marie Callendar brand. Bake the empty pastry shell according to directions on the package. Remove the shell from the oven and follow the directions below for filling the crust.
If you are making the crust from scratch follow my Perfect Pie Crust tutorial. And use the directions for blind baking the crust.
How to Make a Quiche Lorraine
For Quiche Lorraine, you will use bacon, ham, green onions, and Swiss cheese.
To make your own flavor combination, use 1 1/2 cups of cheese and 1 cup of meat and 1 cup of veggies along with 3 eggs and 1 1/2 cups of whipping cream or half and half. In this recipe I used 4 eggs to 2 cups whipping cream since I wasn't using a cup of veggies, I needed more filling for the quiche. If you are making your own flavor combaintion use 3 cups to 1 1/2 cups cream if you are using a full cup of meat and a full cup of veggies.
You want your meat and veggies to be precooked and as dry as possible. Cook your meats and saute your veggies.
In a bowl, mix together the eggs, cream, lemon peel, salt and dry mustard.
Next, Layer 1/2 cup of cheese in bottom of blind baked crust. Add meat and veggie mixture. Add remaining cheese and slowly pour the egg mixture evenly over the filling ingredients.
Then carefully put the filled quiche into the oven to bake until set. I often put it on a baking sheet to make it easier to get in and out without spilling. Bake on the bottom rack at 350 degrees F for about 35-40 minutes. Let stand for 10 minutes and then serve or refrigerate over night. I can also be served at room temperature.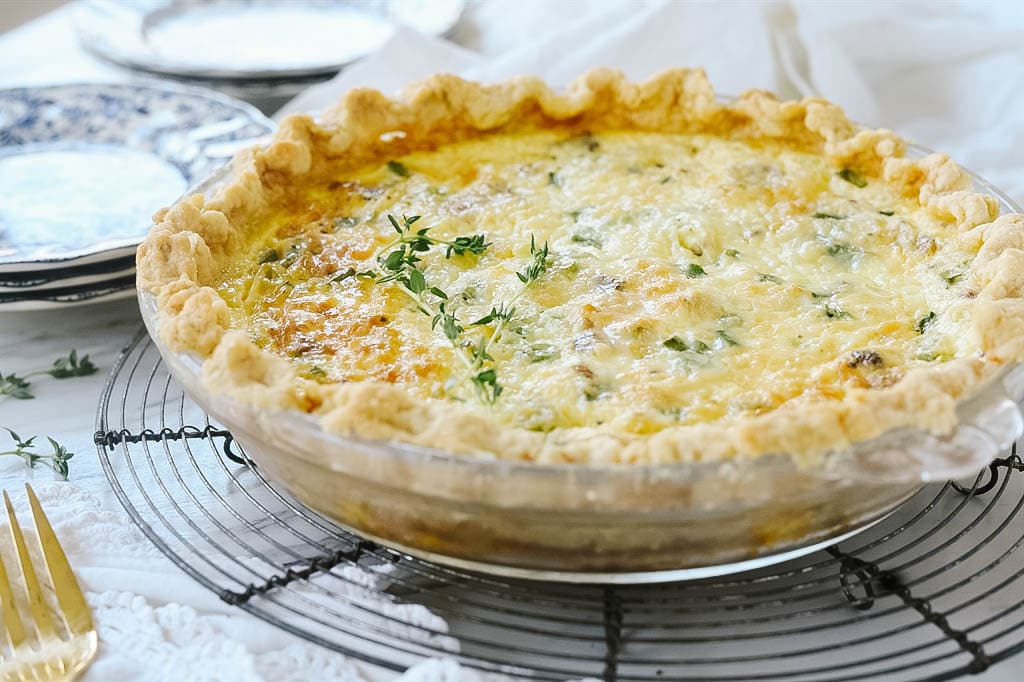 How to Tell a Quiche is Done?
First, slightly jiggle the quiche. The edges should be golden brown and set but there will be a slight movement to the center of the quiche. It will continue to cook after you remove it from the oven.
Next, insert a knife into the quiche, about one inch from the middle of the pie. The knife should be clean. If you have a lot of cheese in your quiche, this may not be an accurate indicator as some of the cheese will be on the knife.
Finally, Insert a thermometer into the center of the quiche and the temperature should be between 165 and 185 degrees F.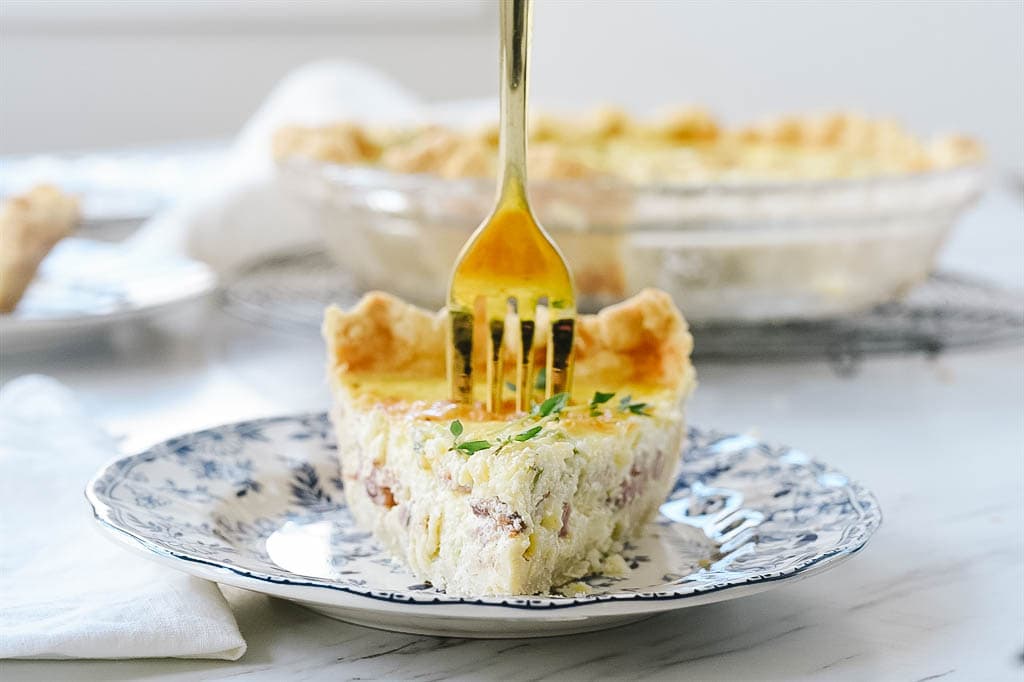 Check out more of my favorite breakfast recipes:
Quiche Lorraine Recipe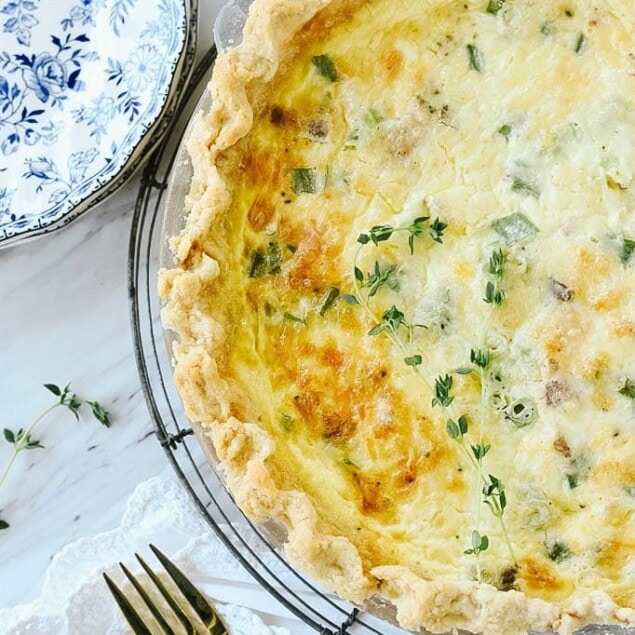 Quiche Lorraine
Quiche Lorraine is a classic quiche filled with Swiss cheese, ham, and bacon.
Ingredients
1 blind baked pie crust 9 inch
1 1/2 C shredded Swiss cheese
4 slices bacon cooked and crumbled
1/4 C ham minced
2 green onions sliced and chopped
4 eggs slightly beaten
2 C half and half
1/2 tsp grated lemon peel
1/2 tsp salt
1/4 tsp dry mustard
Instructions
Bake unpricked pastry shell for 5 minutes at 425 degrees. Allow to cool

Place 1/2 cup of cheese in bottom of pie crust. Add in meats and green onion. Top with remaining cheese.

In medium bowl mix together eggs, cream, lemon peel, salt and dry mustard

Pour evenly over mixture in pie crust.

Bake at 350 degrees F for 40-50 minutes or until set

If the edges of the crust begin to get to brown cover them with foil

Remove from oven and let stand for about ten minutes before serving
Nutrition Facts:
Calories: 257kcal (13%) Carbohydrates: 12g (4%) Protein: 9g (18%) Fat: 18g (28%) Saturated Fat: 8g (50%) Cholesterol: 93mg (31%) Sodium: 401mg (17%) Potassium: 130mg (4%) Vitamin A: 340IU (7%) Vitamin C: 1.2mg (1%) Calcium: 154mg (15%) Iron: 1mg (6%)
* Disclaimer: All nutrition information are estimates only. Read full disclosure here.