It is good to be home, sleeping in my own bed.  The last month has been a whirlwind and so much fun but I'm ready for a little downtime.  At least until the end of the month when I fly to Minneapolis for a Creative Memories convention.  Can't wait to spend some time with my friend Deb who is my kindred spirit!
Today's recipe is one of the dishes I served at my mother's 80th birthday luncheon a few weeks ago – Salmon Hazelnut Quiche.
It was the hit of the party.
The recipe was given to me by my friend Lisa.  I was taking a bit of a risk with this recipe.
First, I had never made it before.  Always a bit of a risk but I do that a lot.  Try new recipes for parties!
Second, I don't like salmon so I knew I wasn't going to be eating it.
I have tried several of Lisa's recipes before and they were wonderful so I put my trust in Lisa and went ahead with it.  She assured me it was awesome.
I am so glad I did because everyone raved about it!
The thing I liked best about the recipe was the crust – no pastry crust.  The crust is made out of hazelnuts, flour and cheese and just pressed into the pie pan – so easy and so delicious!  I can't wait to try the crust with other types of quiche – ones I will actually eat.  I think it would be yummy with almonds or pecans too.
I bought a piece of fresh salmon at the grocery store and my husband grilled it for me but you could probably use canned salmon also.
Thanks to Lisa who shared the recipe.  I hope you enjoy it too!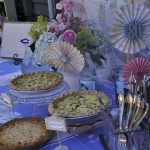 Print
Salmon Hazelnut Quiche
Ingredients
Crust
1

cup

whole wheat flour

1

cup

grated sharp Tillamook cheddar cheese or white Tillamook cheddar

½

cup

chopped hazelnuts

½

teaspoon

salt

¼

teaspoon

paprika

1/3

cup

oil
Filling
2

cups

leftover grilled Salmon

1

cup

grated sharp Tillamook cheddar cheese or white Tillamook cheddar

½

cup

onion

finely chopped

3

eggs

beaten

1

cup

sour cream

½

cup

mayonnaise

1

tablespoon

dill weed

5

drops Tabasco

1

garlic clove

minced
Instructions
Preheat oven to 400 degrees

To prepare crust, combine all ingredients except oil

Slowly pour oil over tip and continue mixing

Press crumb crust into bottom and sides of fluted round mold

Bake 10 minutes

Remove from oven and reduce heat to 325 degrees
Filling
To prepare filling, remove bones and skin from salmon

Break salmon meat into small flakes

Add grated cheese and chopped onion

Mix well

Combine beaten egg with sour cream, mayonnaise, dill, and Tabasco

Mix well and add to salmon mixture

Pour into baked crust and bake 45-60 minutes or until set

Let cool for 10 minutes before cutting

Serves 8. (Unmold or use straight side of cake server knife to cut.)
Get my Weekly Menu Plan for FREE!
Receive my FREE "What's for Dinner?" Meal Planning Course, a copy of my FREE ebook that includes my most popular recipes and my FREE weekly Meal Plan.