Cinnamon Butter Cookies are a delicious combination of butter cookies and cinnamon frosting.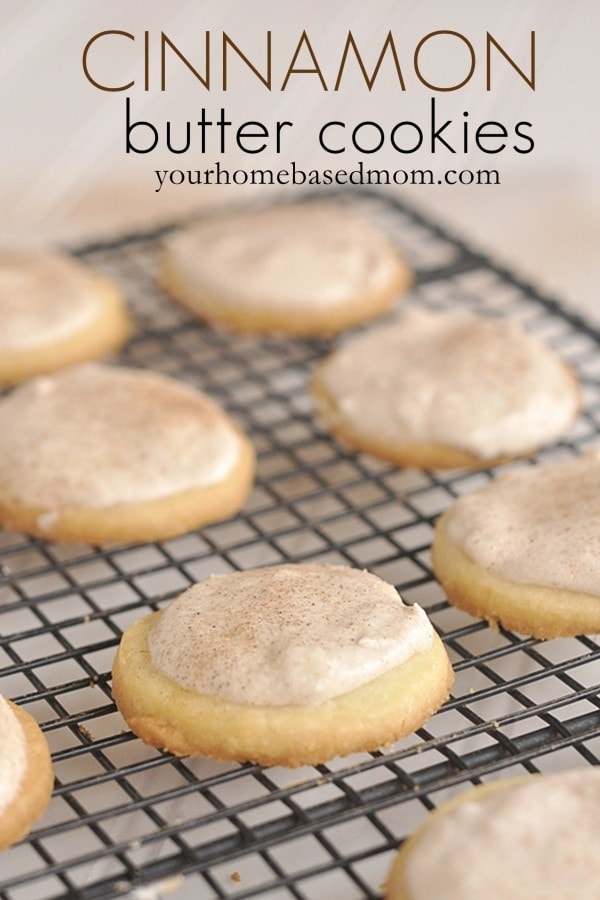 Last week I was having one of those days.  A cookie craving kind of day.  I realized it had been weeks since I had made cookies, maybe even over a month and I figured I was way overdue.
I wasn't quite sure what kind of cookie I was in the mood for.  I am always in the mood for a good chocolate chip cookie but I was also in the mood to try something new so I pulled out my file of "to try" recipes that is always overflowing and pulled out one that had been in there for a while.  Unfortunately, there is no name, website or anything on the recipe.  I have no idea where or who it came from but it was in my file.
This recipe is for a butter cookie made with cornstarch.  The addition of the cornstarch creates a light and delicate cookie that basically melts in your mouth when you bite into it. The dough is very soft.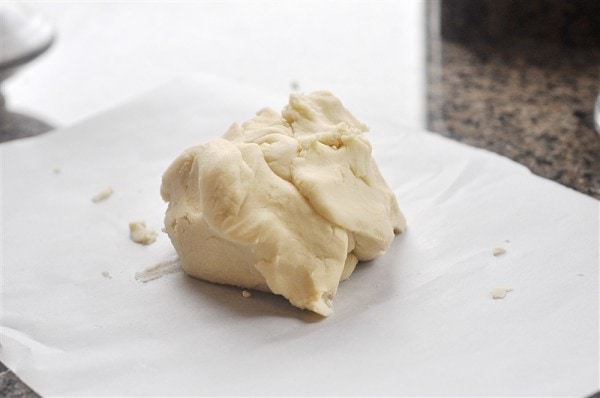 Because the dough is so soft, the easiest way to roll it out is to put it between two pieces of parchment paper and roll it out with your rolling pin.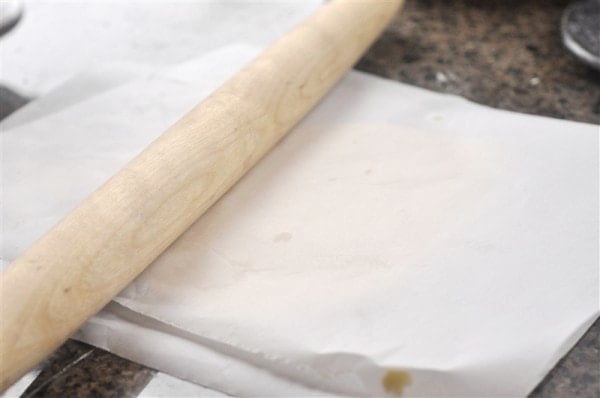 You want your dough about 1/4 inch thick.  I used a round cookie cutter but a star, flower or heart would be fun too.
While they are baking mix up your cinnamon frosting.  You want the frosting fairly soft, not runny, but soft.
You want to frost the cookies while they are still a little warm.  Not too warm though.  If the frosting melts right off the cookie they are still too warm! Having the cookies be slightly warm creates a nice smooth frosting.  I then gave them a little sprinkle of cinnamon sugar.
One of the most common questions I am asked by my blog readers is what I do with all the goodies I make.  How could I possibly eat them all and stay the size I am?  Well, here's my secret.  I don't eat them all.  I have discovered that if I post a photo of what I am making on Instagram, within minutes, I will have neighbor kids knocking at my door.  I love it!!  I think I may enjoy having them come by more than they enjoy the goodies!  These cookies were a total hit with the neighborhood kids and I think one of the boys may have eaten five of them in a matter of a few minutes!!
So that's my best calorie saving tip for you!  Feed the neighbor kids!!
You may also enjoy some of my other favorite cookie recipes:  The Best Peanut Butter Chocolate Chip,  Chocolate Chip Nutella,  Almond Toffee with Browned Butter Icing  and lots more yummy cookie recipes check out my recipe index.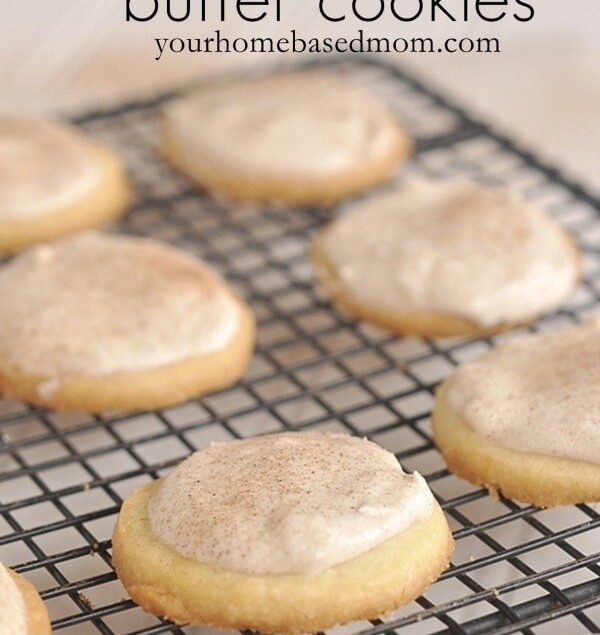 Cinnamon Butter Cookies
Delicious butter cookies with cinnamon frosting.
Ingredients
1 C butter softened
1/3 C powdered sugar
1/3 C cornstarch
1 1/4 C flour
Frosting
1/3 C butter softened
2 Tbsp milk
3 1/2 C powdered sugar
1/2 tsp cinnamon
Instructions
Cookies
In a bowl combine all ingredients and mix together.

Place dough on parchment paper. Cover with another piece of parchment paper and roll dough out to 1/4 inch thick.

Cut with a cookie cutter.

Bake at 375 for 8-10 minutes or until edges are slightly golden brown.

Transfer cookies to cooling rack and frost while slightly warm
Frosting
In a bowl combine all ingredients and mix until smooth.

Icing should be soft and slightly runny but not too runny!

Makes approx. 2 1/2 dozen (depending on size of cookie cutter)
Nutrition Facts:
Calories: 196kcal (10%) Carbohydrates: 26g (9%) Protein: 1g (2%) Fat: 10g (15%) Saturated Fat: 7g (44%) Cholesterol: 27mg (9%) Sodium: 91mg (4%) Potassium: 11mg Fiber: 1g (4%) Sugar: 19g (21%) Vitamin A: 315IU (6%) Calcium: 6mg (1%) Iron: 1mg (6%)
* Disclaimer: All nutrition information are estimates only. Read full disclosure here.