Steak Soup is a quick, easy, delicious, complete and hearty meal that the whole family will love.
For more easy and delicious soup recipes be sure to try Crock Pot Tomato Basil Soup, Tortellini and Sausage Soup which is my most requested soup recipe by friends and family and one of my personal favorites is Chicken and Wild Rice Soup.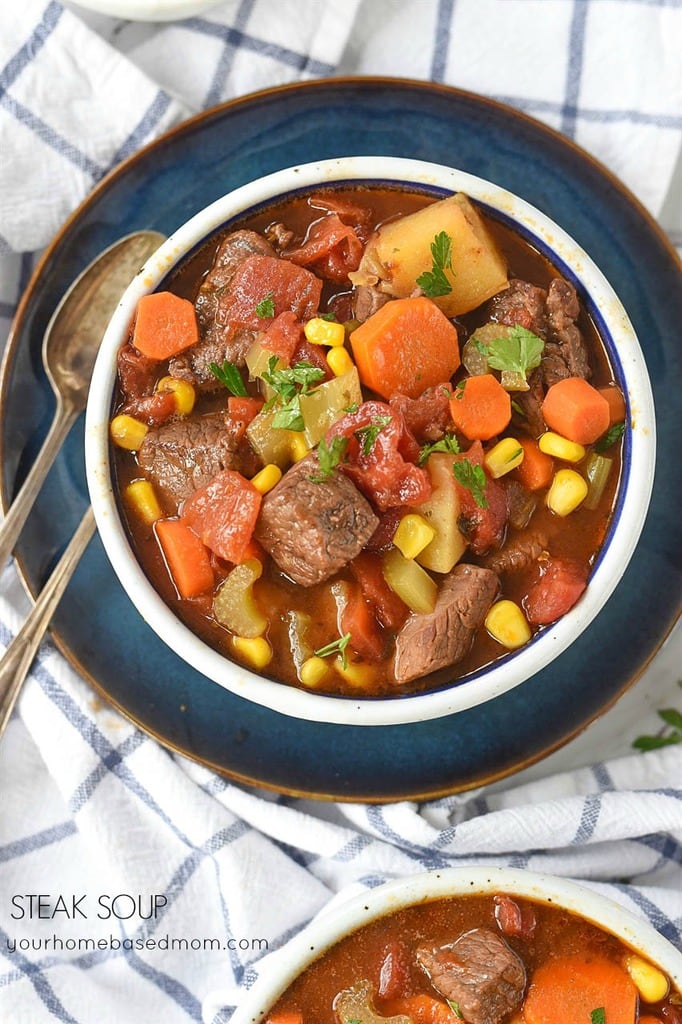 We are definitely in a soup mode around here. My husband loves soup for dinner but I know there are some men that don't consider soup a meal. Today's recipe for Steak Soup is a meal. It is pretty much a complete meal. You've got your vegetables, your starch and your protein all in one bowl.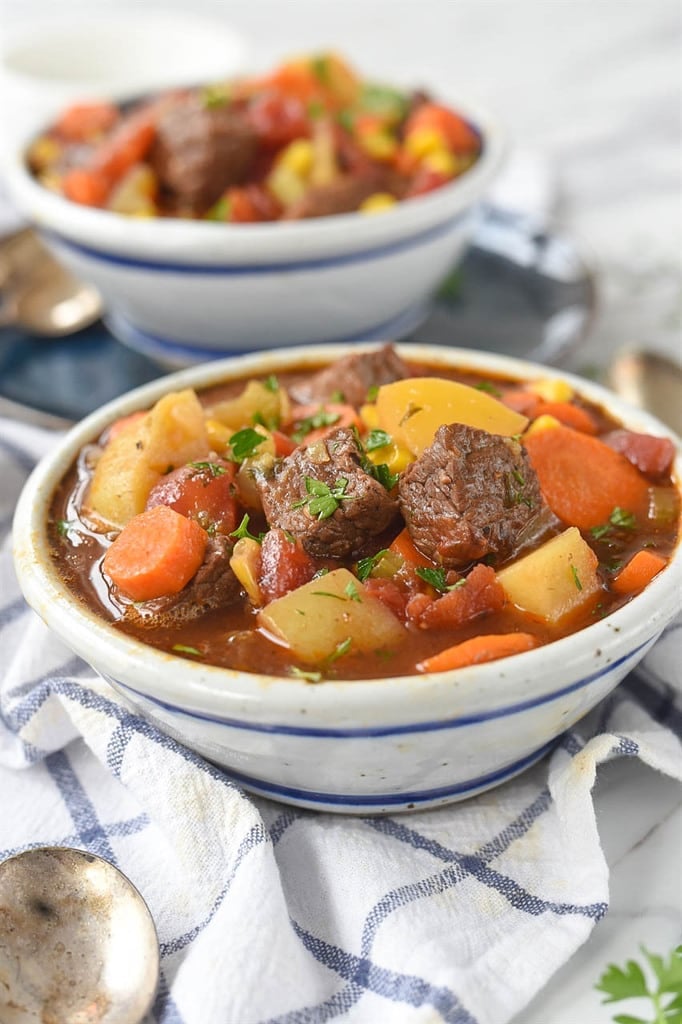 What Kind of Steak is Best to Use in Soup?
Tender cuts of steak are best for soup. I like to use sirloin or a top round steak. You could also buy the precut stew meat you can find in the grocery store. Make sure your meat is cut into uniform size pieces so it cooks evenly.
Tips for Making Beef Soup
Steak. I used sirloin steak cut into even size pieces.
Potatoes. Use a waxy potato such as a red or Yukon Gold. They hold up better in the soup. A russett potato will disintegrate after simmering for any length of time. Cut potatoes into even bite size pieces.
Vegetables. Be sure and cut your vegetables into even size pieces too. I used carrots, celery and corn but you could add any your favorite vegetables.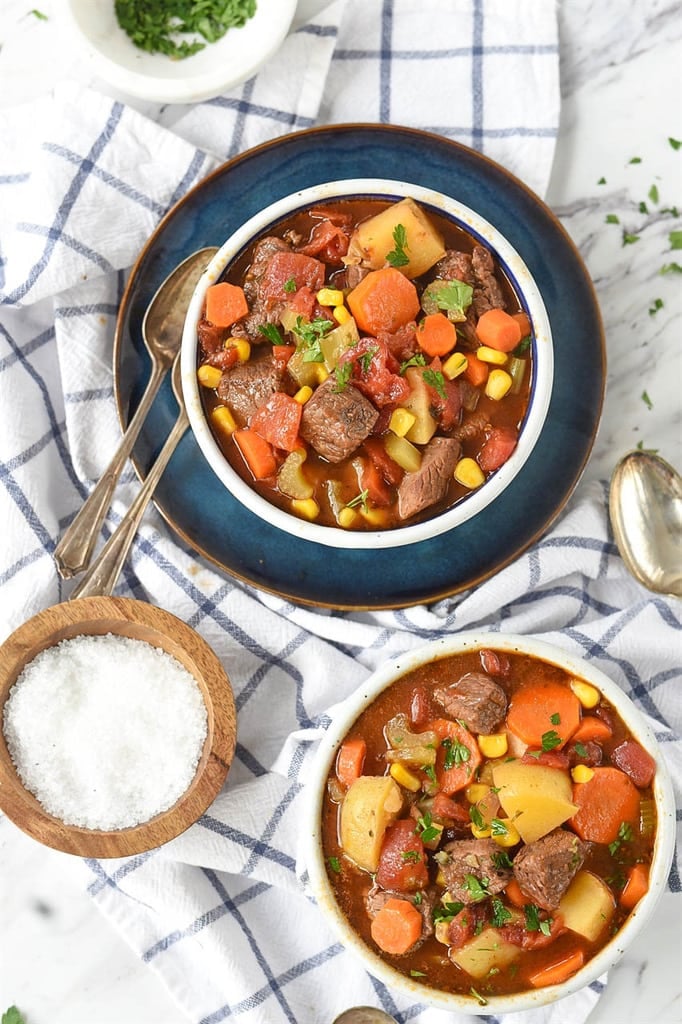 How to Make Steak Soup
This soup comes together in just over an hour.
Brown. Over medium heat, melt butter and lightly brown meat.
Mix. Mix together flour, paprika, salt and pepper and sprinkle over meat, this will act as a bit of a thickener.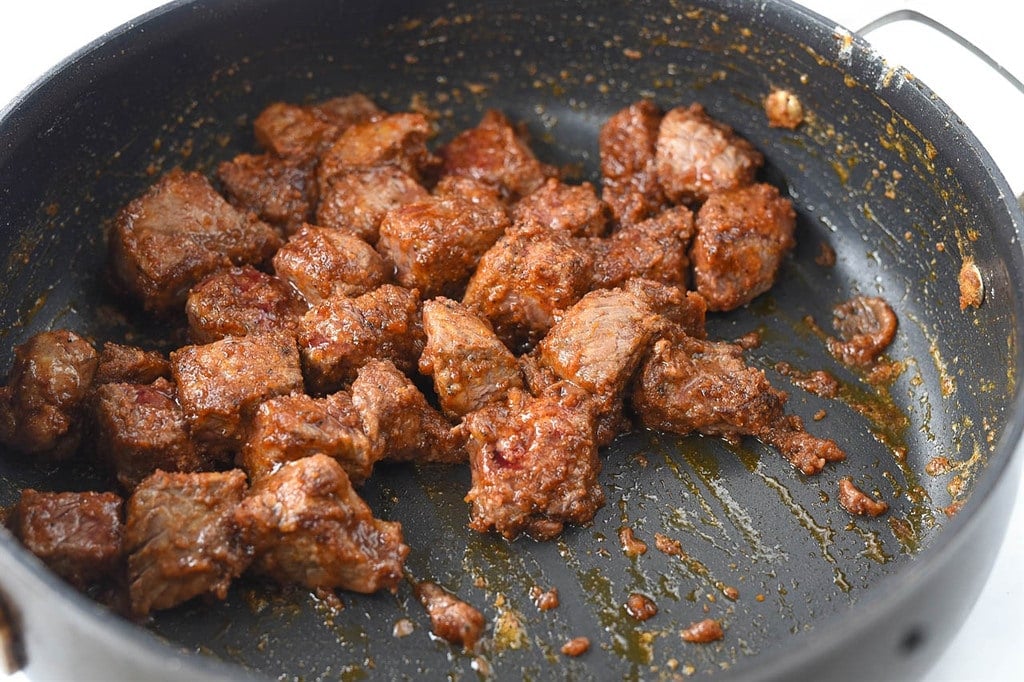 Combine. Add broth, water, Worcestershire sauce, tomatoes, onions and seasonings in a pot along with meat.
Simmer. Simmer for 30-45 minutes.
Add. Add inn vegetables and simmer for another 15 minutes. If you like your veggies a little crisp like we do, just cook them until fork tender.
What to Serve with Steak Soup
Throw together a loaf of No Knead Artisian Bread the night before to serve with your soup. Or as your soup simmers you can quickly make a loaf of Easy French Bread or 30 Minute Rolls. You've got a delicious and hearty meal that will make even your "soup is not a meal" believers happy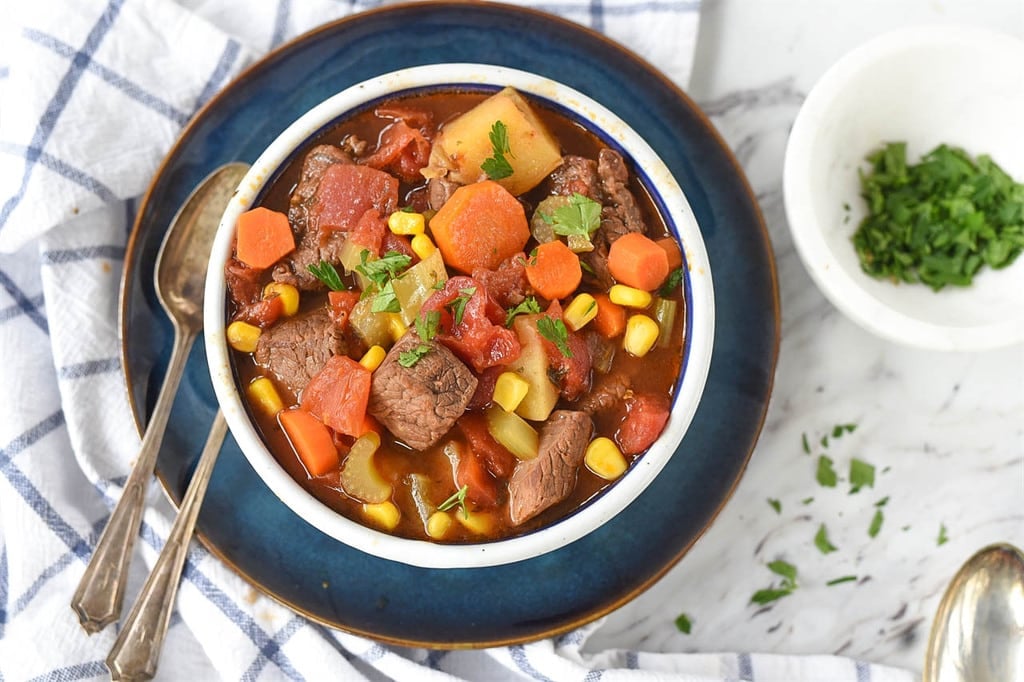 Can Steak Soup Be Frozen?
Yes, steak soup can be frozen. Just place in an airtight container or zippered plastic bag removing as much air as possible and store in freezer for up to three months. If I know I am going to freeze the soup before eating it I will slightly undercook the vegetables so they don't get mushy when I reheat it.
Can I Make Steak Soup in the Crock Pot?
Steak Soup is easy to make in the slow cooker. I have another version of beef soup done in the slower cooker here.
For all of my other favorite kitchen products and tools visit my Amazon Store.
Did you know I wrote a cookbook? Check out the Holiday Slow Cooker Cookbook for 100 delicious recipes
Steak Soup Recipe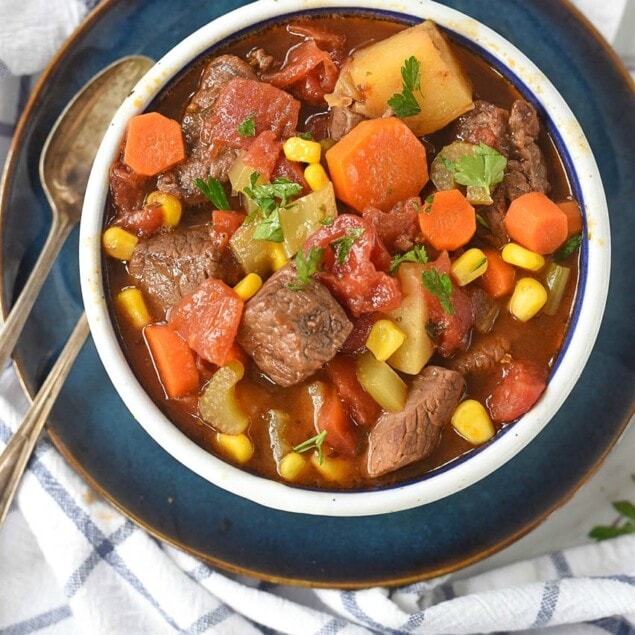 Steak Soup
Hearty and delicious, steak soup is an entire meal in a bowl.
Ingredients
2 Tbsp butter
2 Tbsp canola oil
2 lbs top sirloin steak cut into cubes
1/2 C onion chopped
3 Tbsp flour
1/2 Tbsp paprika
1 tsp salt
1/2 tsp pepper
1 Tbsp parsley
1 tsp oregano
1/2 tsp marjoram
4 C beef broth
2 C water
2 Tbsp Worcestershire Sauce
1 14 oz. can of diced tomatoes
3 Tbsp tomato paste
1 Tbsp brown sugar
1 15 ounce can corn drained
1 1/2 C carrots diced
1 C celery diced
1 1/2 C yukon potatoes diced I left the peel on
Instructions
Melt butter in pan and add oil. Heat over medium heat. Add in steak. Cook until meat is browned. About 10 minutes.

Mix together flour, paprika, salt and pepper.

Sprinkle over browned meat and stir to coat.

In a pot add together steak, beef broth, water, Worcestershire sauce, diced tomatoes,onions and seasonings.

Bring to a boil and then simmer until meat is tender. About 30-45 minutes

Add in potatoes, carrots, corn, celery and tomato paste and brown sugar.

Cook uncovered until vegetables are fork tender. About 15-20 minutes

Adapted from allrecipes.com
Nutrition Facts:
Calories: 484kcal (24%) Carbohydrates: 66g (22%) Protein: 28g (56%) Fat: 10g (15%) Saturated Fat: 3g (19%) Cholesterol: 74mg (25%) Sodium: 1102mg (48%) Potassium: 881mg (25%) Fiber: 2g (8%) Sugar: 51g (57%) Vitamin A: 4495IU (90%) Vitamin C: 10.1mg (12%) Calcium: 71mg (7%) Iron: 4.3mg (24%)
* Disclaimer: All nutrition information are estimates only. Read full disclosure here.
Need some help figuring out what's for dinner tonight?
Come join our Facebook Group! Join hundreds of others who love sharing dinner time ideas. You don't want to miss out on the fun!

You'll find lots of ideas for dinner from all our awesome members and you can share your ideas too! Join the Family Dinner Table today.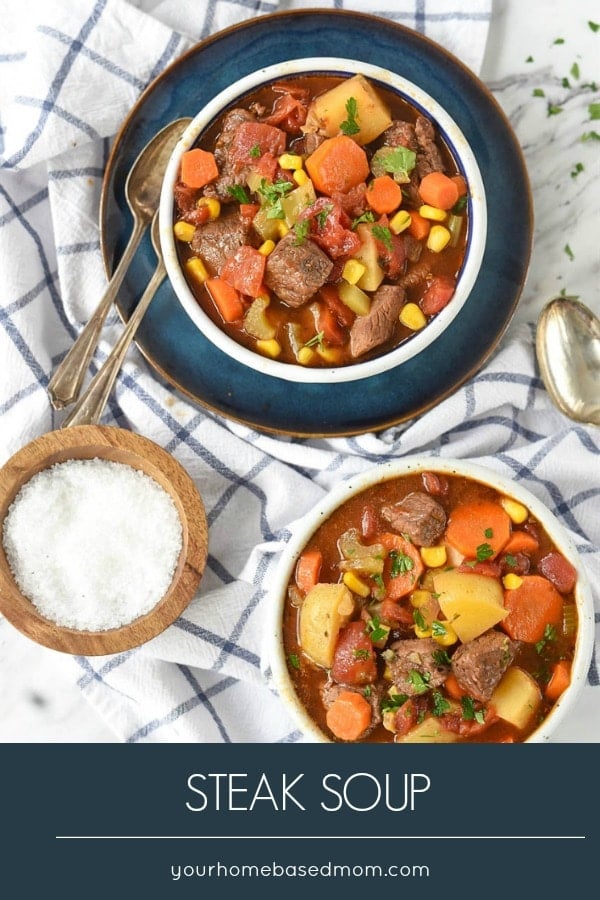 Originally posted October 11, 2013