Who doesn't love fresh, warm cinnamon rolls but sometimes the work of it can be a little overwhelming.  Not with todays recipe for  easy Cinnamon Rolls. They are made with frozen rolls and come together quickly and easily!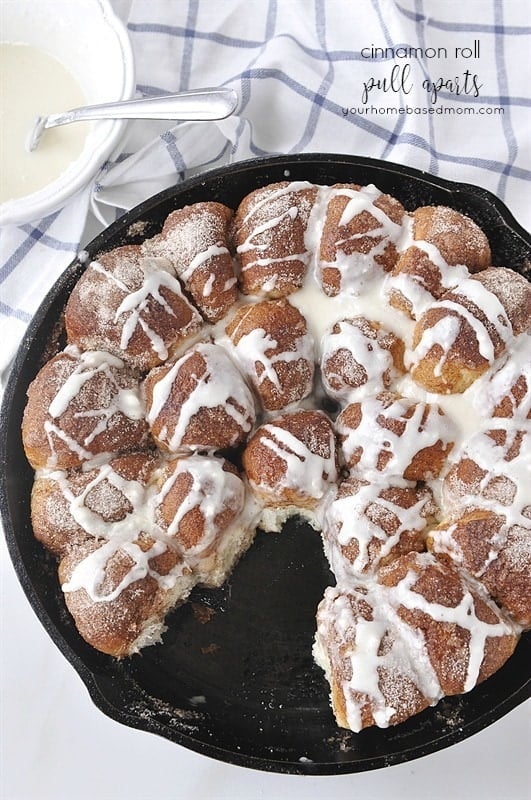 It's that time of year again.  Cinnamon Roll time.  You can pretty much count on me sharing a new cinnamon roll recipe twice a year – the first part of April and the first part of October.  You see, we have a little family tradition that occurs that time of year.  Our church broadcasts their semi annual conference the first of those two months and it is a family tradition that we eat homemade cinnamon rolls while watching!  That and watching in our pajamas!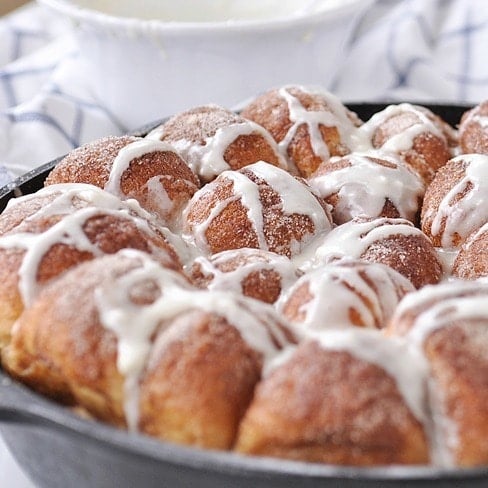 Since this weekend is our April General Conference I decided to take one of my favorite recipes for  Lemon Pull Apart Rolls and change it into Cinnamon Pull Apart Rolls!  It worked perfectly.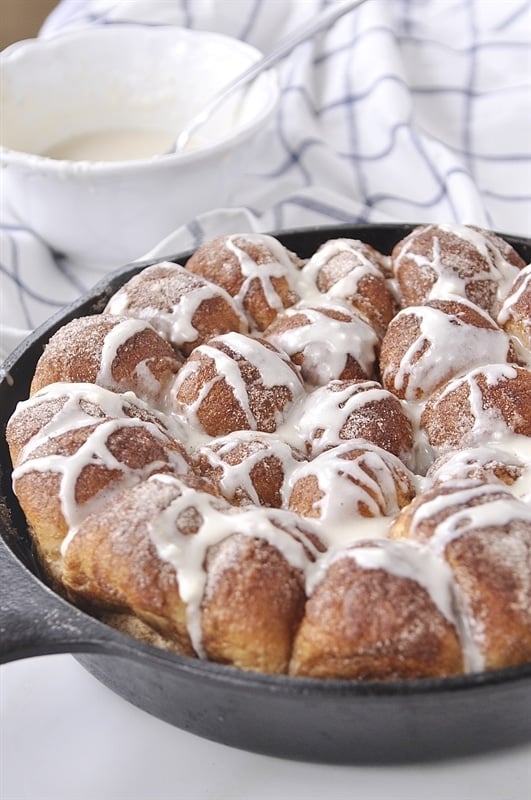 The process is so easy!  Grab yourself a bag of frozen Rhodes rolls, some cinnamon sugar, butter, powdered sugar and milk and you're good to go.  Put 12 rolls out to thaw,  don't let them thaw all the way though.  You want them soft but still cold.  You are going to cut them in half and place them into a cast iron pan.   You can use another kind of baking dish if you don't have a cast iron pan but you really should get yourself one.  It's one of my favorite kitchen items!!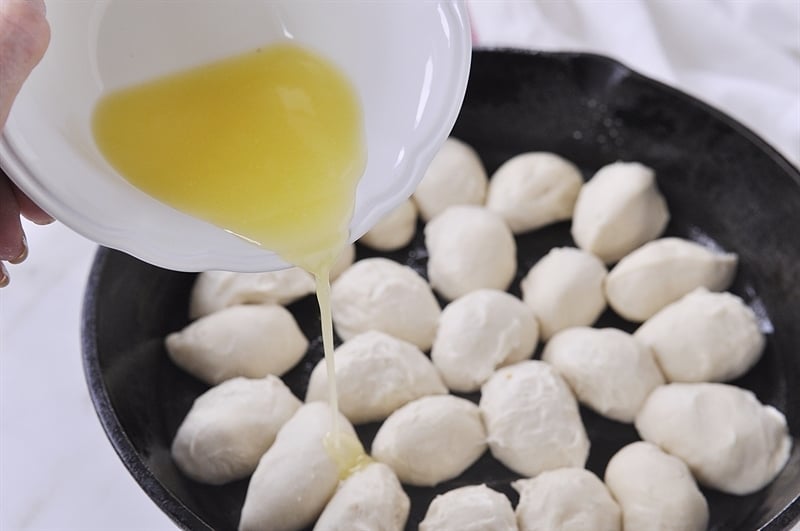 Pour the melted butter over the top and half of your cinnamon sugar mixture and then let them rise.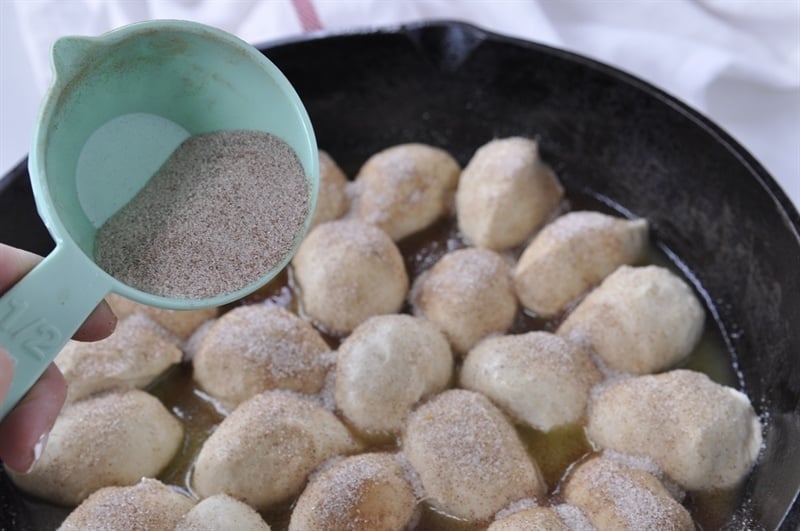 Cover them with some plastic wrap that you have sprayed with baking spray so that they don't stick to the plastic wrap.  Let rise until doubled in size or to the top of the pan.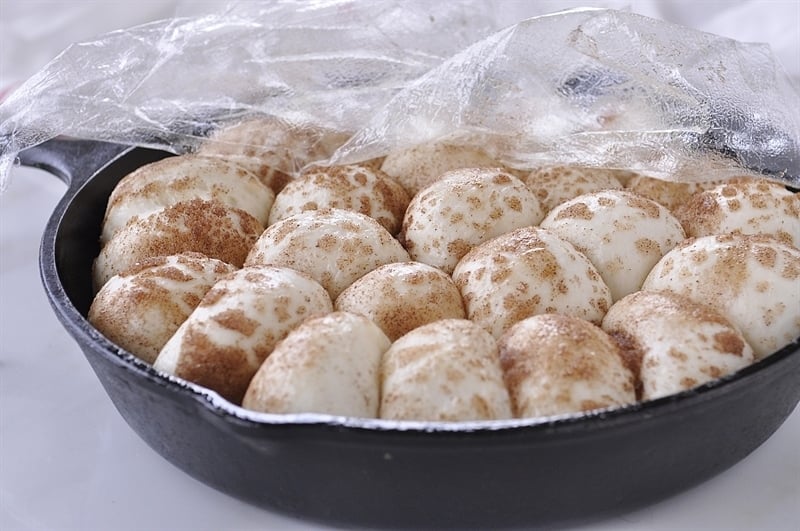 Sprinkle the remaining cinnamon sugar over the top and then bake until golden brown.  Let them cool for a bit and then drizzle with your powdered sugar glaze.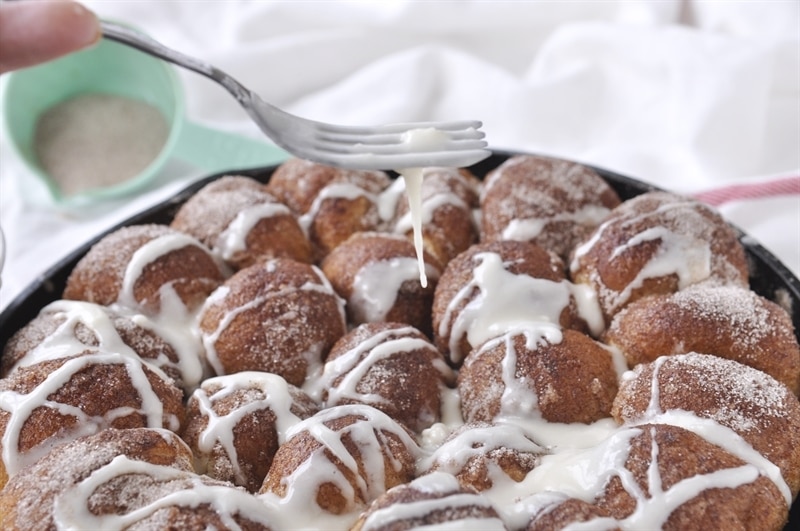 Then all that is left to do is pull yourself off a piece or two or three…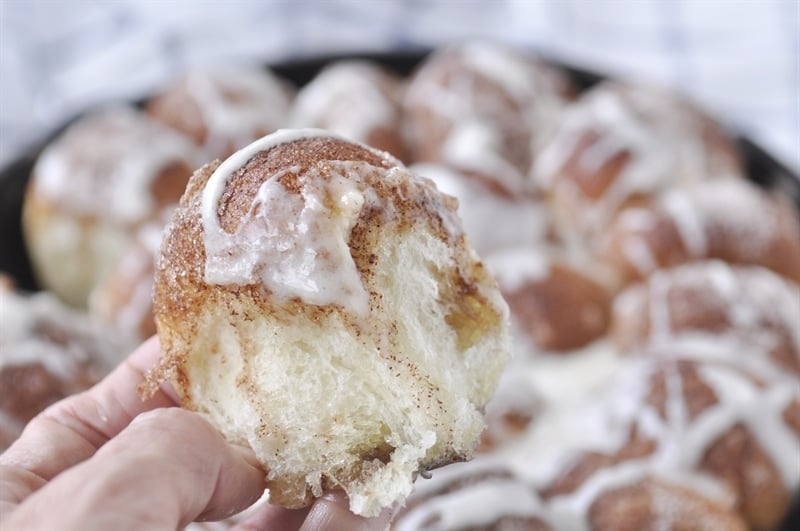 For some more delicious cinnamon roll recipes check out these: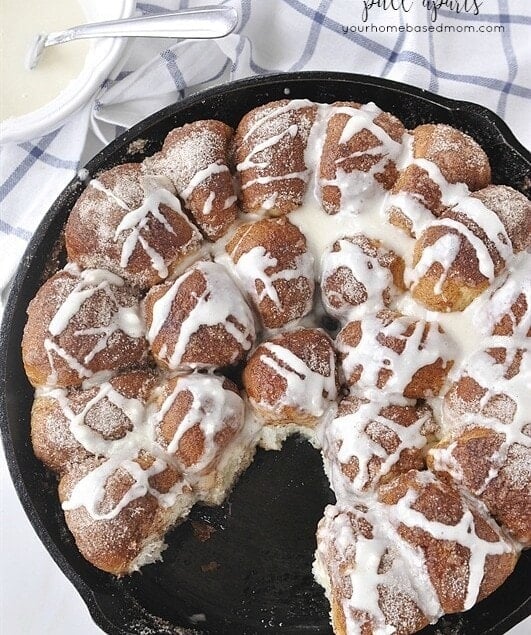 Cinnamon Roll Pull Aparts
Ingredients
12 frozen dinner rolls thawed but still cold
½ cup sugar
2 Tbsp cinnamon
¼ cup butter melted
Glaze
1 cup powdered sugar
1 tablespoon butter melted
2 tablespoons milk or whipping cream
Instructions
Mix cinnamon with sugar.

Cut rolls in half and place in a 12-inch sprayed cast iron pan or 9x13-inch sprayed baking pan.

Drizzle ¼ cup melted butter over rolls.

Sprinkle with cinnamon sugar mixture, reserving ½ of mixture to sprinkle on just before baking.

Cover with sprayed plastic wrap. Let rise until double in size.

Remove wrap. Sprinkle on remaining mixture.

Bake at 350°F 20-25 minutes. Remove immediately from pan and place on cooling rack.

Combine glaze ingredients and mix well. Drizzle over pull-aparts.