Grilled Artichokes are easy to do and grilling them gives them amazing flavor.
Some of my other favorite things to grill include Grilled Pineapple,
Grilled Chicken Skewers, Teriyaki Beef Marinade and Steak Marinade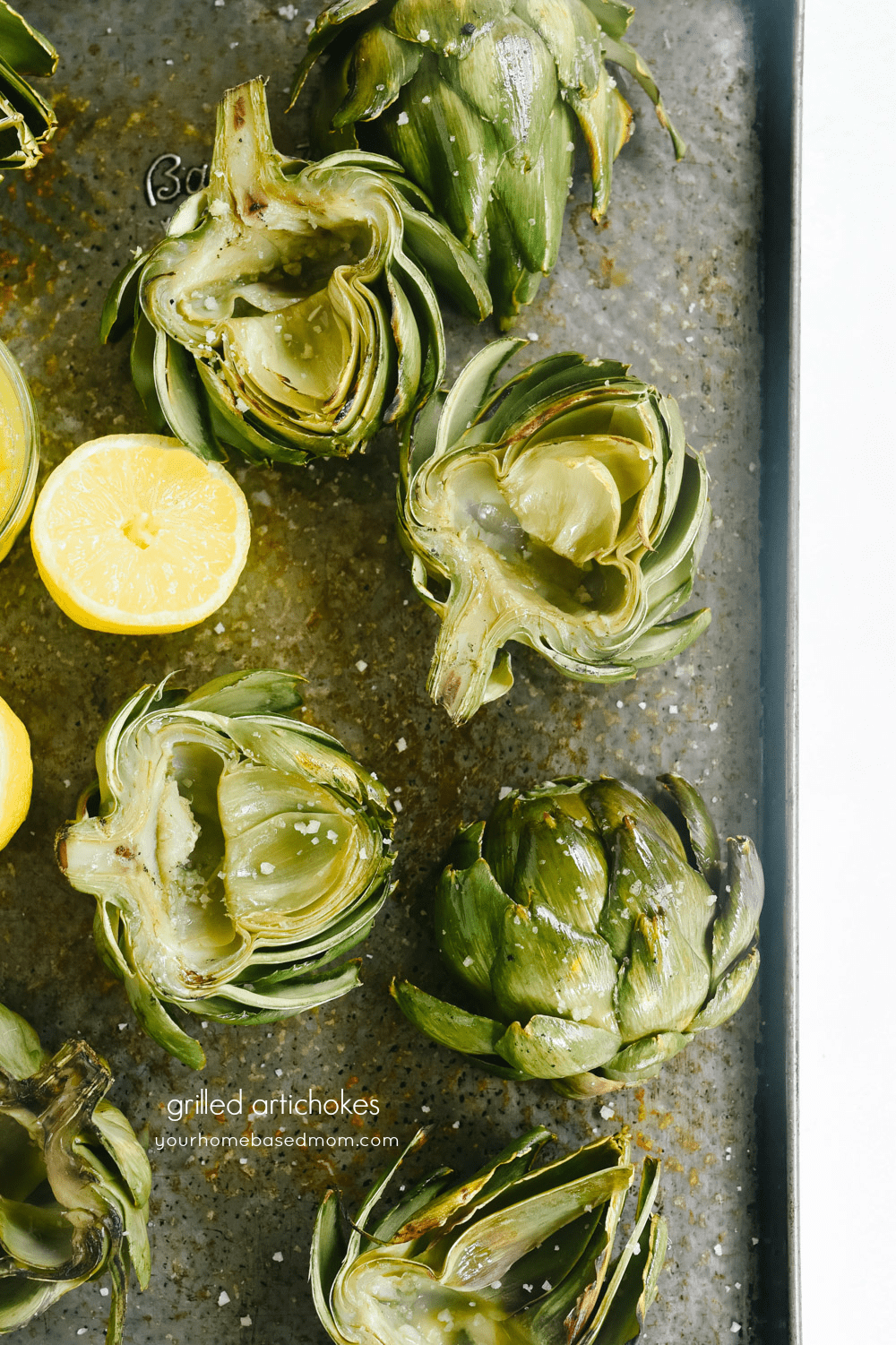 I enjoyed my first grilled artichoke over ten years ago at a friend's home. It was love at first bite. I had never eaten an artichoke before, and I wish I had known what I was missing out on all those years!
Artichokes may be a little labor intensive to prep or some might call it "high maintenance" but they are so fun and yummy to eat. We enjoy them so much we even grow them in our garden. You can also pick them up at the Farmer's Market or your local grocery store. I have even bought them at Costco.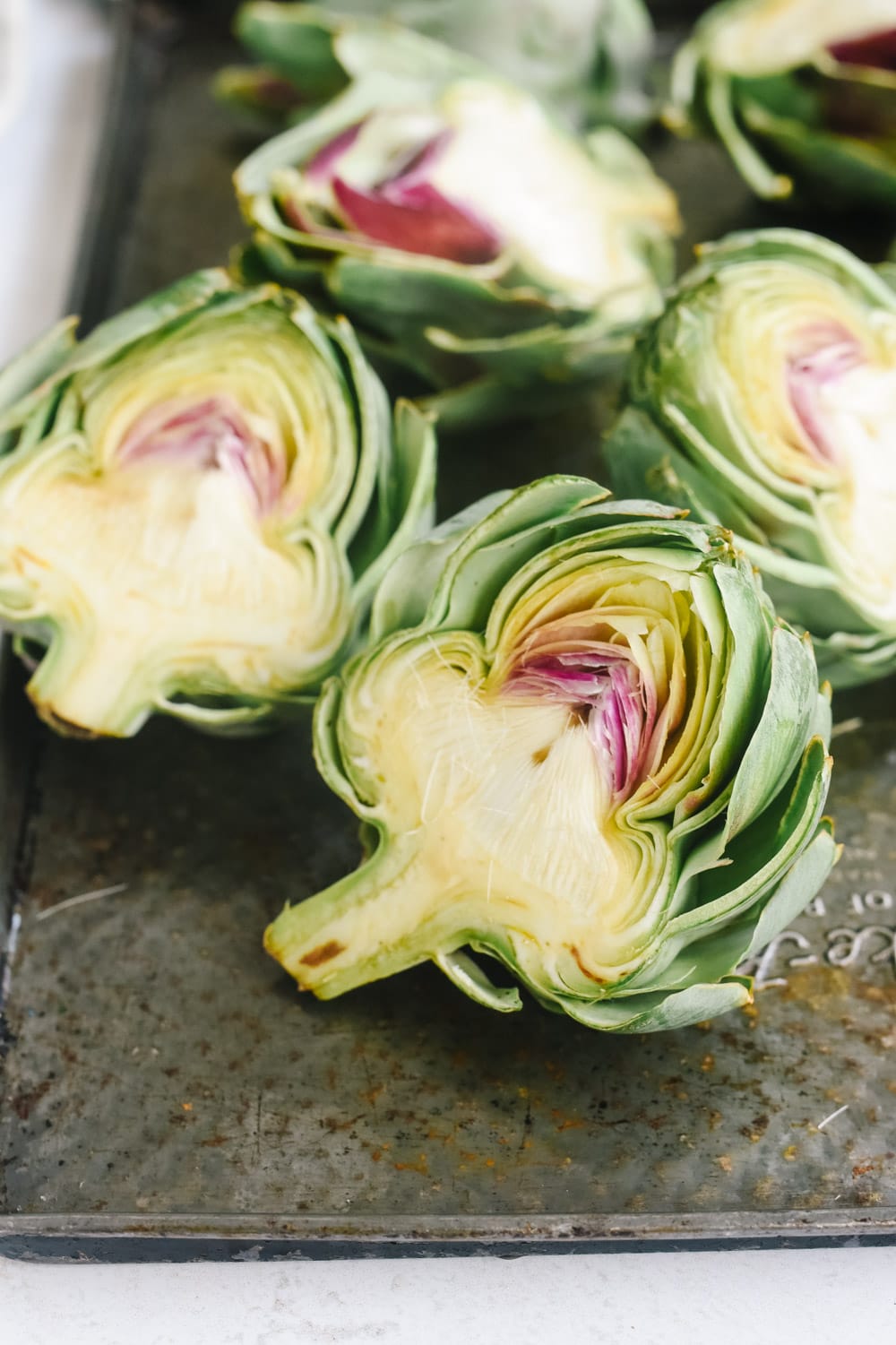 How to Pick an Artichoke
An artichoke should feel firm and heavy. A baby artichoke won't be as heavy though.
The leaves should be green and tightly packed. If the leaves are splayed out from the artichoke it is too old. Some artichokes with have purple a purple tinge which is fine, you just don't want them to have any brown on them.
Fold back one of the outer leaves, if it snaps off it is fresh. If it just bends and returns into place it is an older artichoke.
I prefer artichokes that are small to medium in size.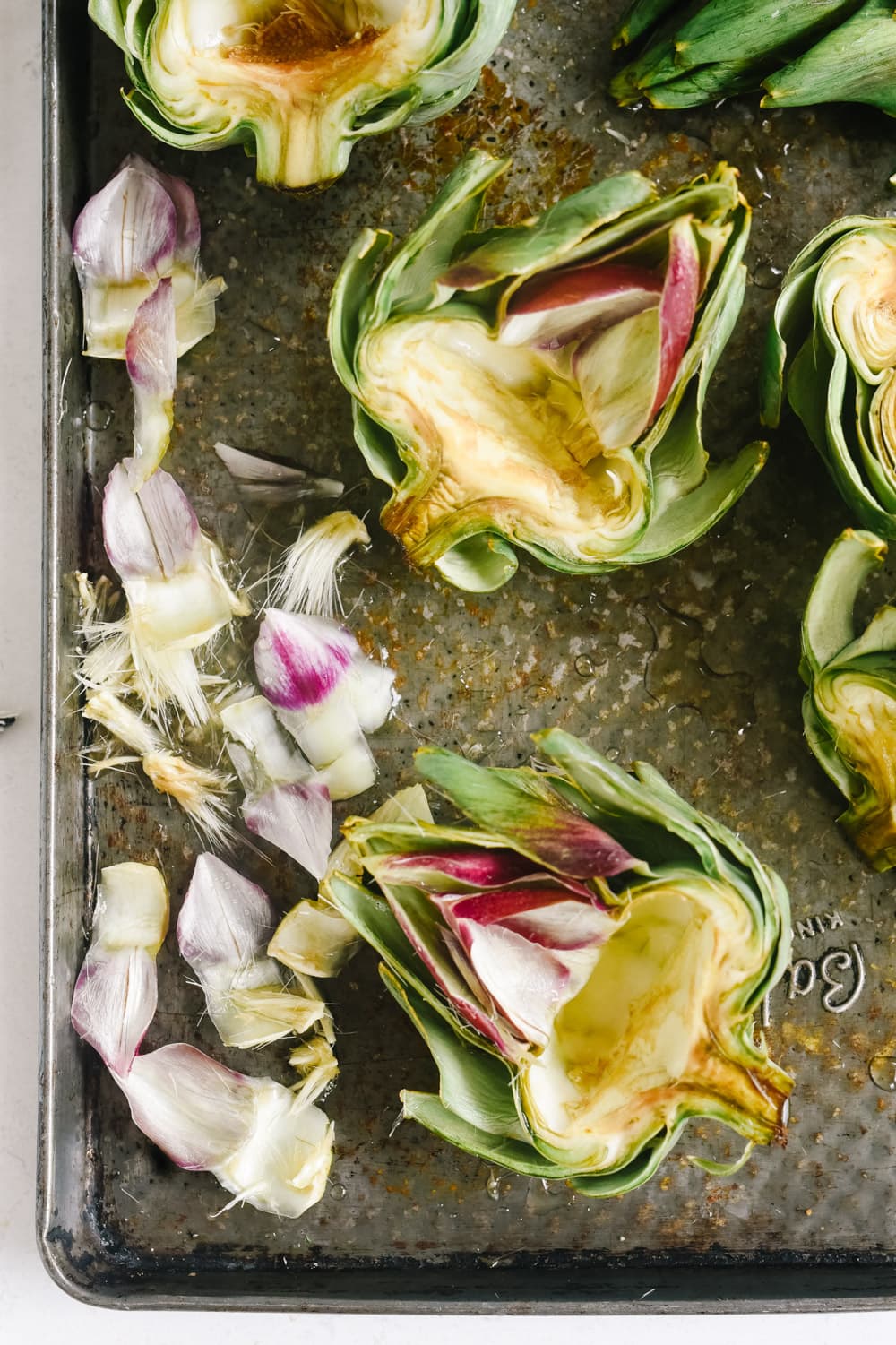 How to Prepare an Artichoke for Grilling
Slice the artichoke in half. Trim off the stem. Some directions will tell you to snip off the tips of the leaves but I don't do that.
Remove the furry choke. With a spoon or melon ball scoop . remove the furry choke and then rinse artichoke to remove any left over furry piecers. You can rub the inside of the artichoke with some lemon juice to help prevent it from turning brown. The brown won't effect the flavor, it is purely visual.
Boil the artichokes. Bring a large pot of water to a oil and add artichoke halves until the heart of the artichoke is fork tender (the heart is located at the lower center part of the artichoke, right above the stem.
How to Grill Artichokes
Remove the artichokes from the water.
Lightly brush both sides of the artichoke with olive oil and sprinkle with some coarse seal salt.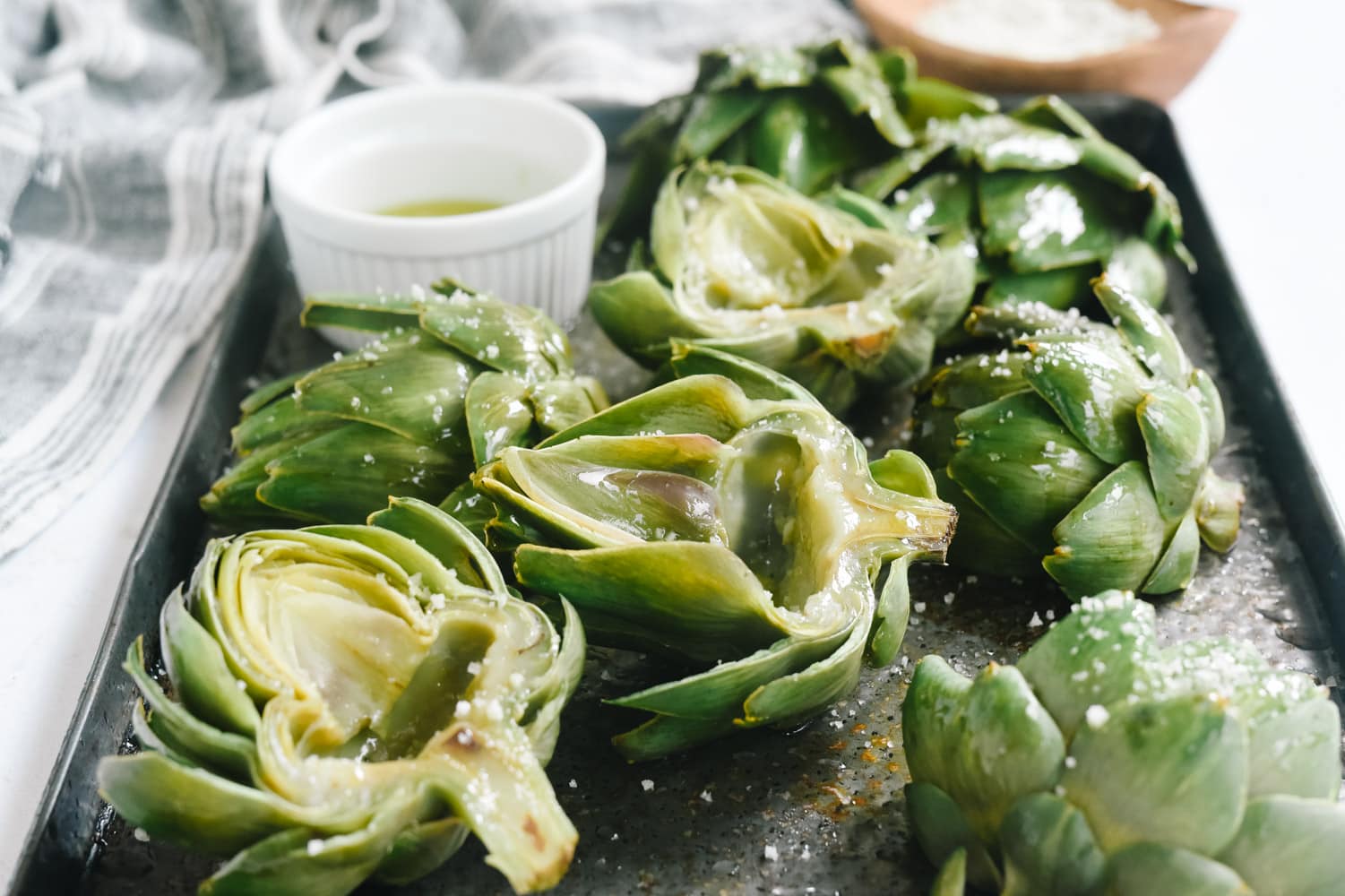 Preheat your grill to a medium high heat. The grilling process doesn't actually cook the artichoke. It is only to add a little smoky flavor to the artichoke and some pretty char marks.
Place the artichokes cut side down on the grill for 4-5 minutes and then flip them to the other side for 4-5 minutes.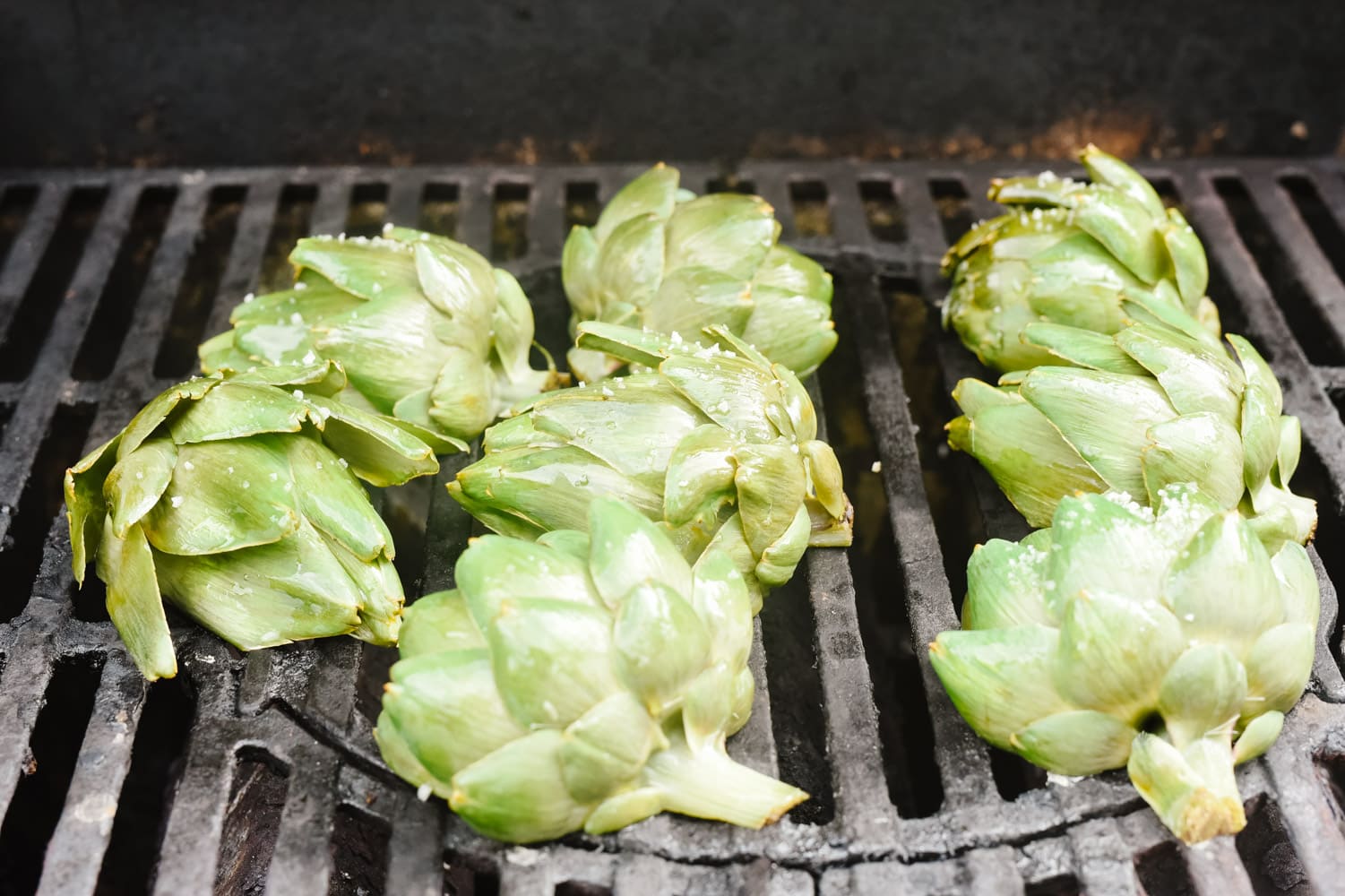 After they are charred just the way you like them, remove them from the grill to a serving platter.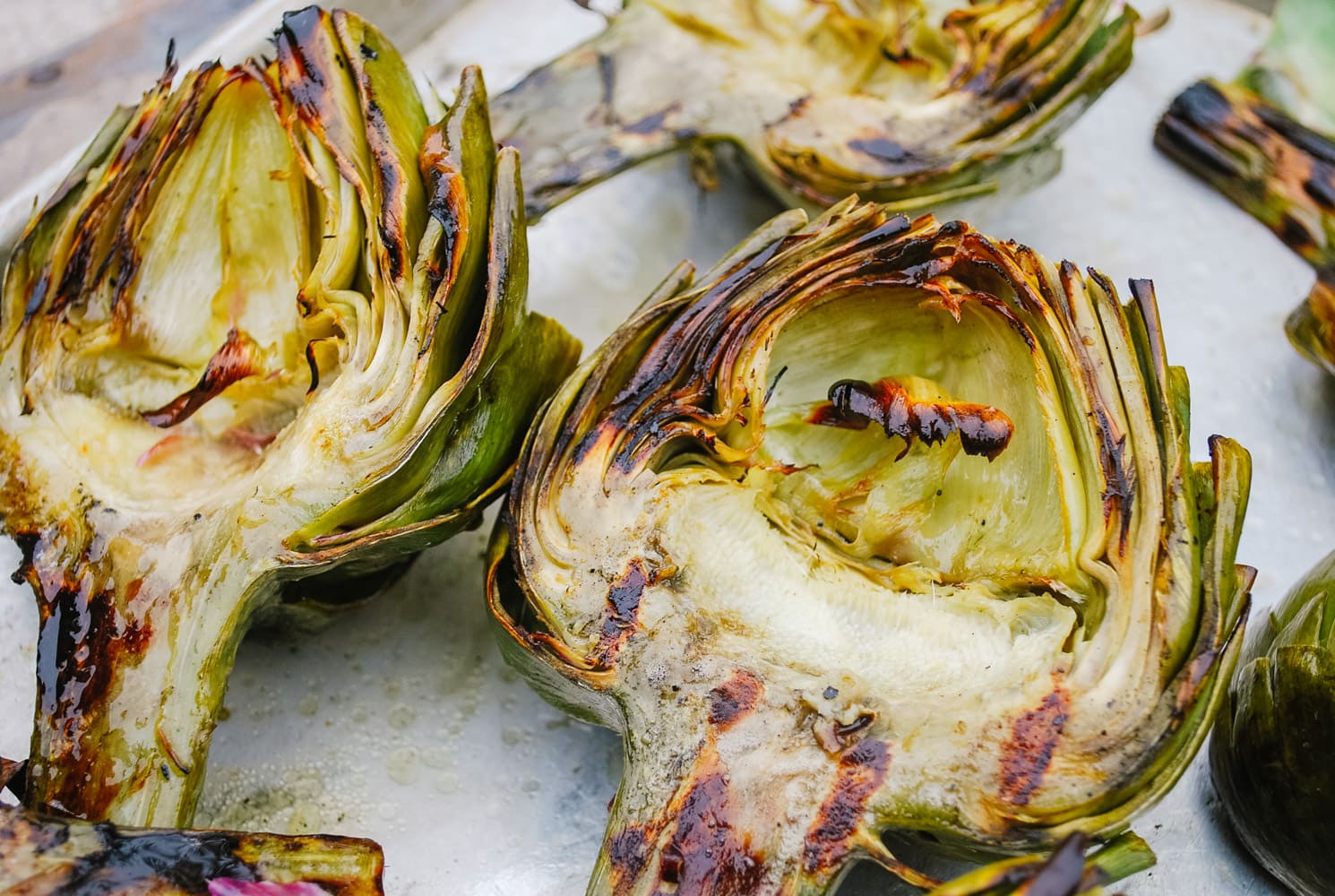 How to Serve Artichokes
Traditionally artichokes are served with melted butter with some chopped garlic added in for flavor but sometimes I will make an amazing dipping sauce, a spicy smoked tomato mayonnaise. It is so yummy I want to dip my entire dinner into it! The recipe is below.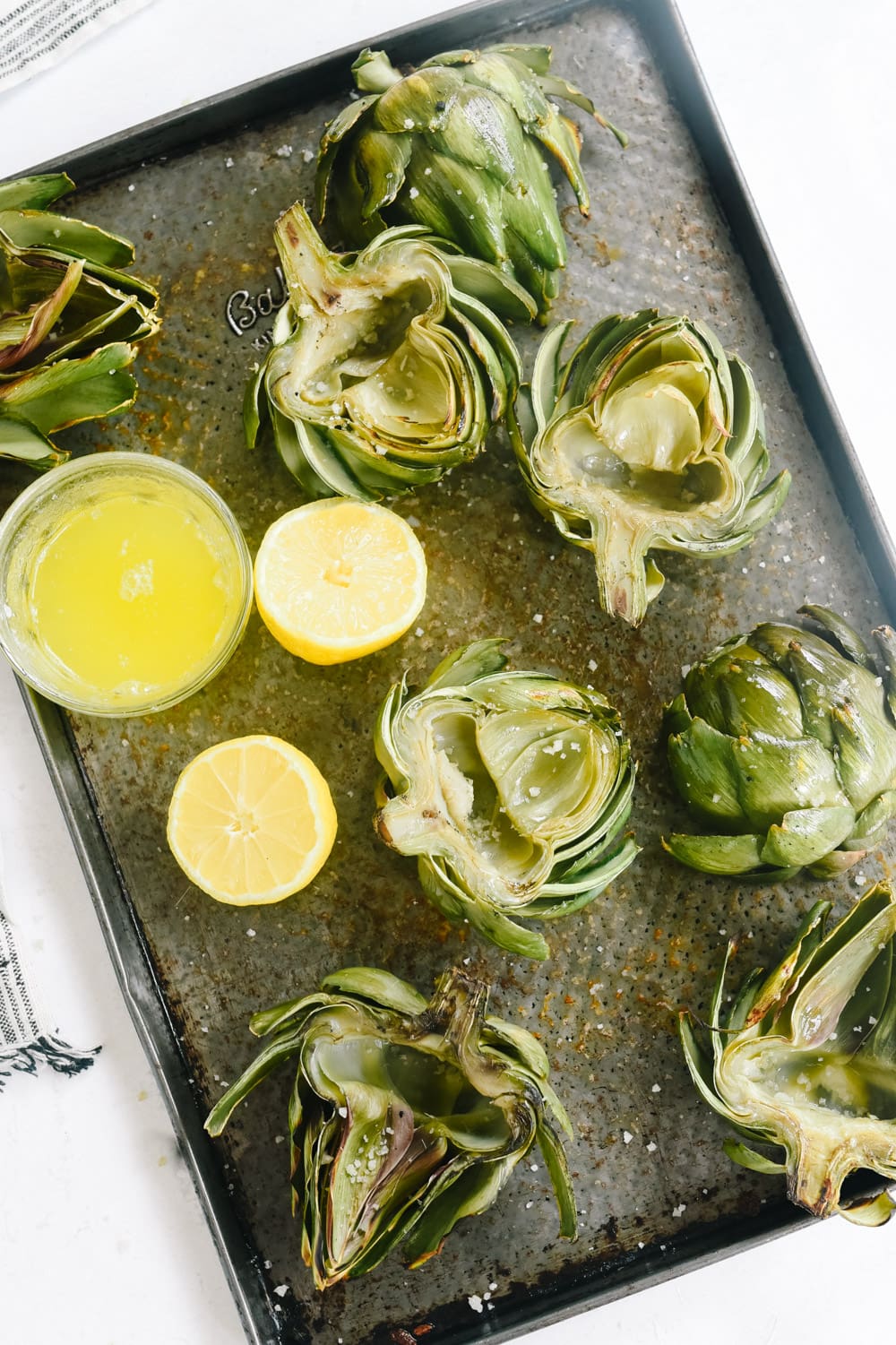 The mayo dipping sauce is a bit labor intensive but totally worth the amazing flavor you are going to get. The mayo uses an ancho or pasilla powder which I found in a cellophane bag in the Mexican food aisle at the grocery store.
How do you Eat an Artichoke?
If you have never eaten an artichoke, all you do is peel off a leaf, starting on the outside of the artichoke. Dip the bottom of the leaf, where the "meat" or heart of the artichoke is into the melted butter and place that end between your teeth and scrape the meat off.
I like to have a bowl on the table for my guests to put their leaves into after they are done with them. After you have peeled off all the leaves you will be left with the heart of the artichoke, the tender, most delicious part of the artichoke. It is the soft, meaty part at the base of the artichoke. Be sure and enjoy that too.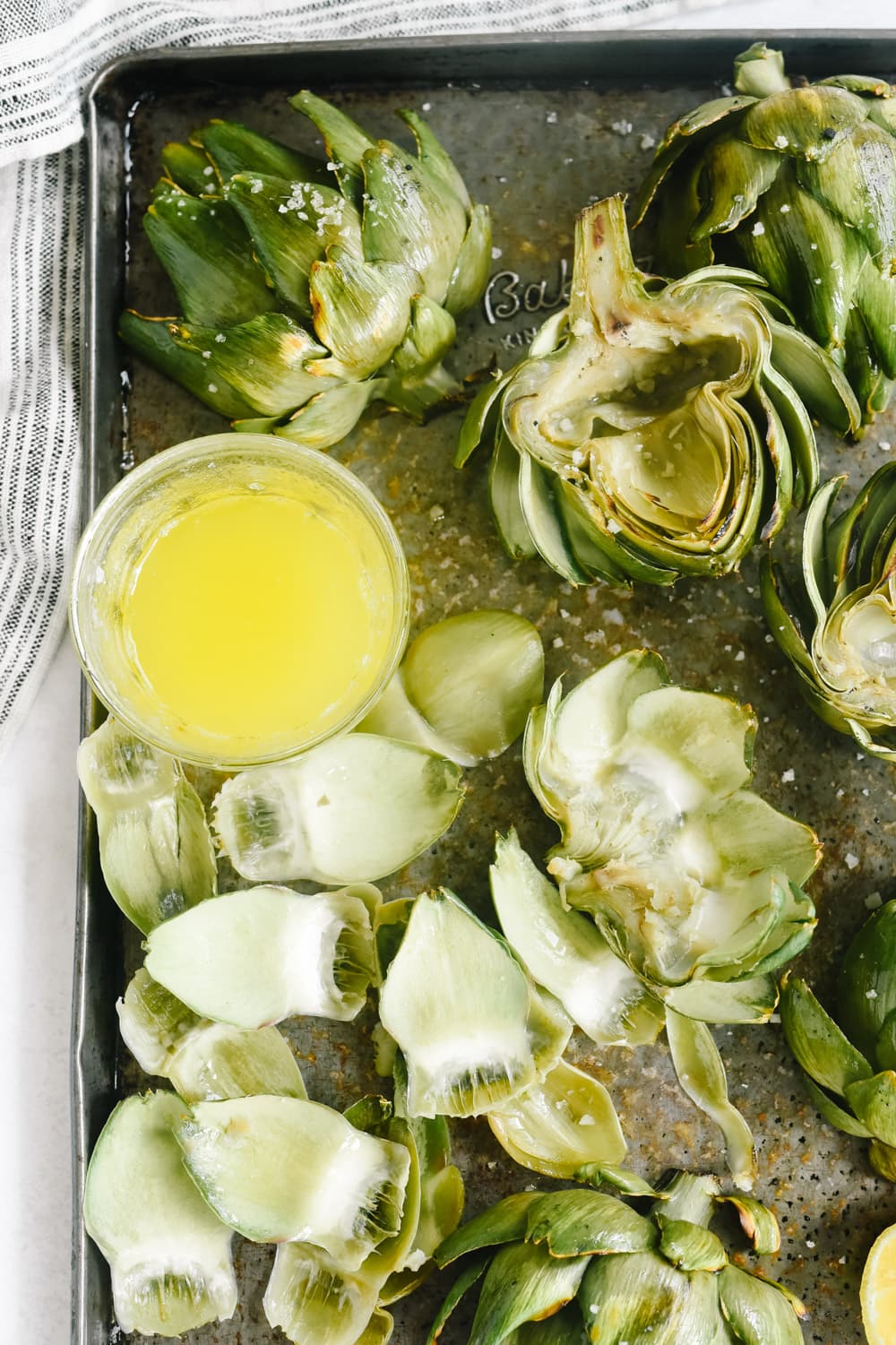 Next time you want to try something new on the grill – give grilled artichokes a try. Eating them is so fun! Just peel and dip!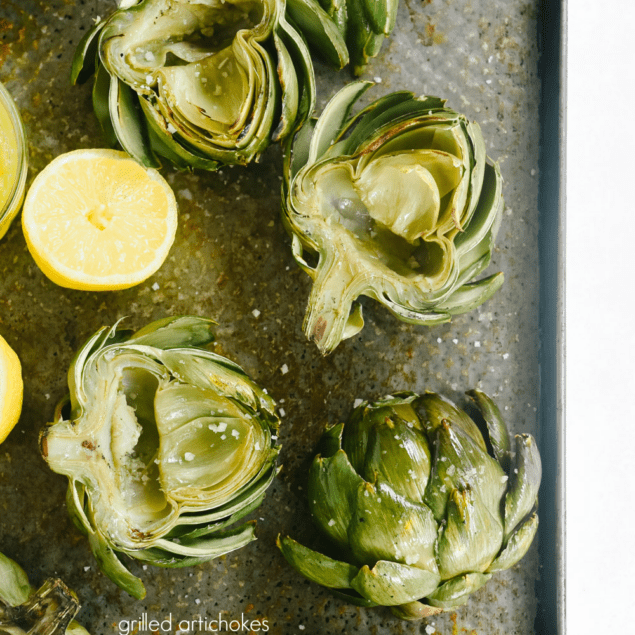 Grilled Artichokes
Grilled Artichokes are easy to do and grilling them gives them amazing flavor.


Ingredients
4 large artichokes
1 lemon halved
2 tablespoons olive oil
4 tablespoons butter for dipping
coarse salt and pepper
Spicy Smoked Tomato Mayonnaise:
2 sun dried tomatoes
1 tsp. ancho or pasilla powder
1/8 cup garlic cloves
1 onion large, sliced thin
1/4 teaspoon cayenne pepper
1/4 teaspoon chili powder
1/4 teaspoon paprika
1/4 teaspoon salt
1 cup mayonnaise
Instructions
Preheat an outdoor grill to medium heat

Cut off the top of the artichoke with a knife and trim the sharp points of the leaves with scissors, rubbing with cut lemon as you go to avoid discoloration

Remove the choke and squeeze with lemon juice

Place artichokes in a large steamer or pot of boiling water until heart is tender, about 20 minutes depending upon size

Allow to cool

Brush both sides of the artichoke with the butter mixture, grill until until golden on the surface and heated through, about 5 to 10 minutes

Season with salt and pepper

Melt butter for dipping

Serve with the Spicy Smoked Tomato Mayonnaise
Spicy Smoked Tomato Mayonnaise:
Wrap garlic and onions loosely in 2 separate foil packets and roast/grill over indirect heat until they are soft, being careful not to burn them.

The garlic should take about 1 to 1 1/2 hours; the onions should take about 30 to 45 minutes.

In a food processor, puree the sun dried tomatoes, ancho or pasilla powder with the garlic and onions.

Add the cayenne, chili powder, paprika and salt.

Mix in the mayonnaise.

Leftover mayonnaise will keep, refrigerated, for up to 3 or 4 days
Nutrition Facts:
Calories: 286kcal (14%) Carbohydrates: 4g (1%) Protein: 1g (2%) Fat: 30g (46%) Saturated Fat: 7g (44%) Cholesterol: 27mg (9%) Sodium: 304mg (13%) Potassium: 70mg (2%) Fiber: 1g (4%) Sugar: 2g (2%) Vitamin A: 268IU (5%) Vitamin C: 9mg (11%) Calcium: 14mg (1%) Iron: 1mg (6%)
* Disclaimer: All nutrition information are estimates only. Read full disclosure here.
Originally share August 18, 2009