The combination of flavors in these lemon white chocolate chip cookies is delicious! Three of my favorite things all in one place.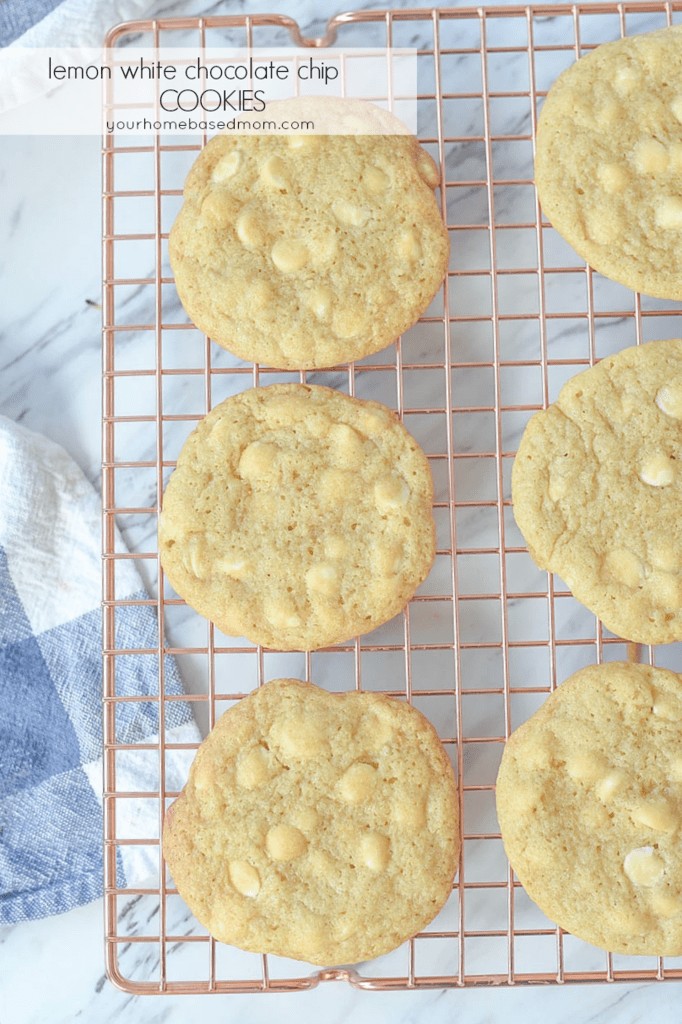 I think you know by now how I feel about lemons – I love them! You may have also picked up on the fact that I love white chocolate too and my favorite all time cookie is a chocolate chip cookie. I've lost track of how many different chocolate chip cookie recipes I have here on the blog. I even shared a new one last week!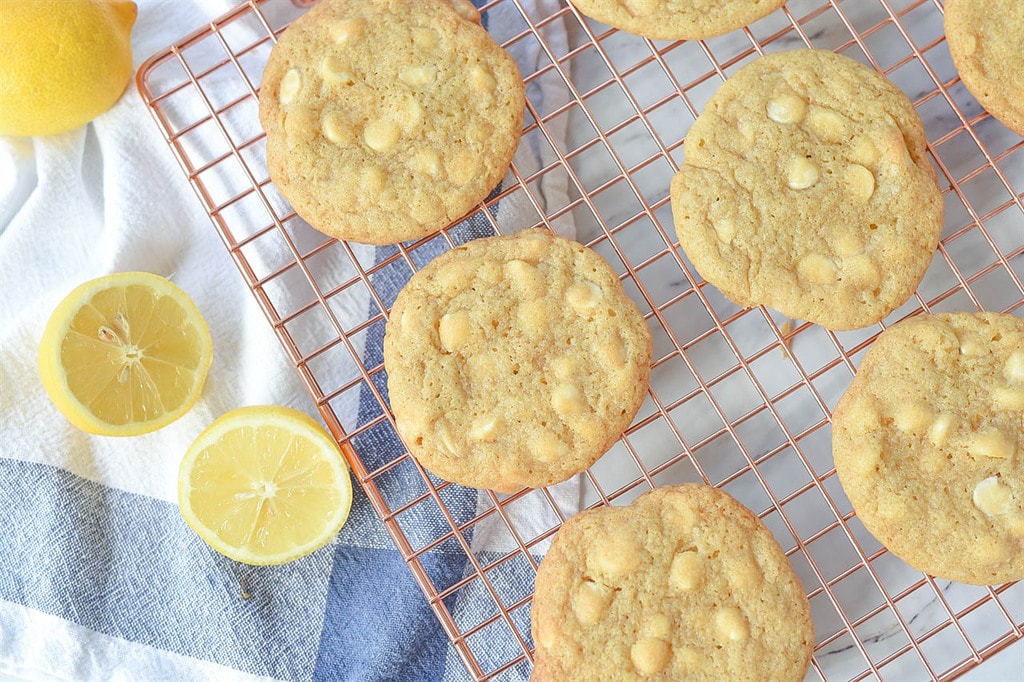 Today's recipe for Lemon White Chocolate Chip Cookies combines all three of my favorite things – lemon, white chocolate and chocolate chip cookies! The combination is definitely a winner.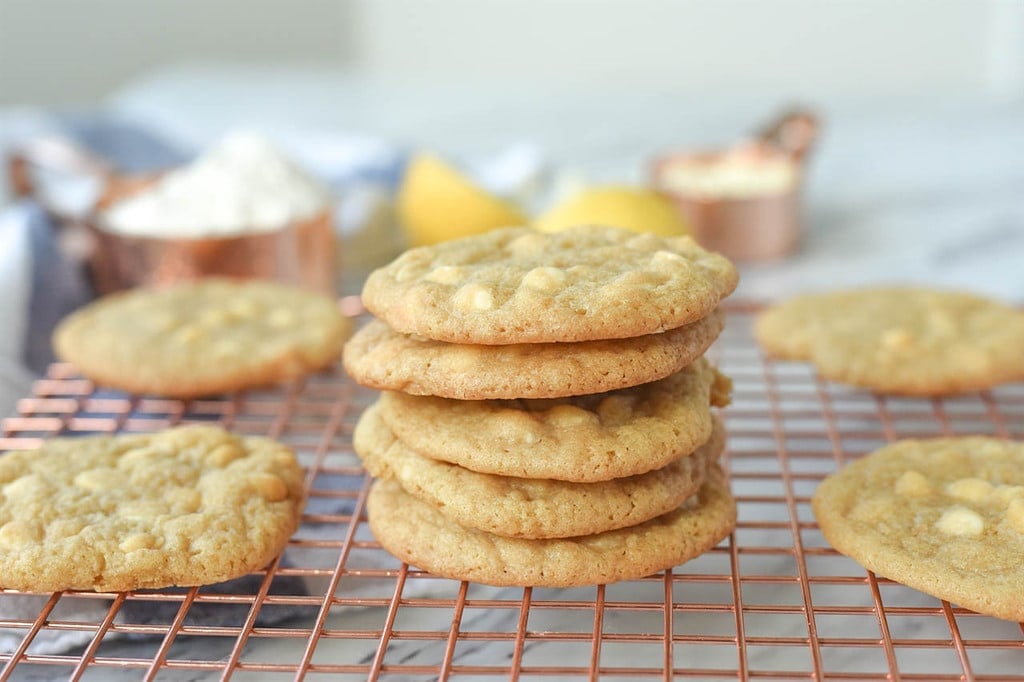 The combination of lemon and white chocolate is one I have combined one other times. This White Chocolate Lemon Cheesecake is delicious. It worked in the cheesecake so I was pretty sure it would work in cookie form too. The lemon in this cookie recipe is subtle but it's there. People get a nice surprise when they bite into this cookie, not expecting the subtle lemon flavor.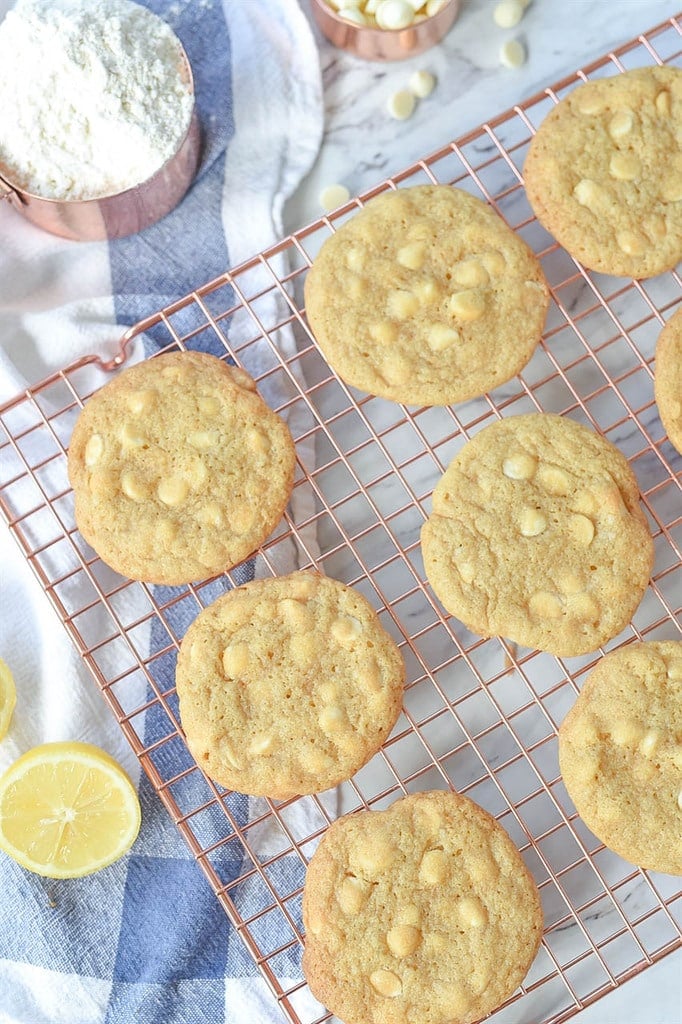 I always judge a cookie by how many I manage to eat when they are fresh out of the oven – this one gets a three cookie rating! Bet you can't eat just one! After eating one, my sweet husband came up to my office and said, "These are really good!"
When the mood for a chocolate chip cookie, some lemon and white chocolate strike all at the same time, I've got you covered with these lemon white chocolate chip cookies.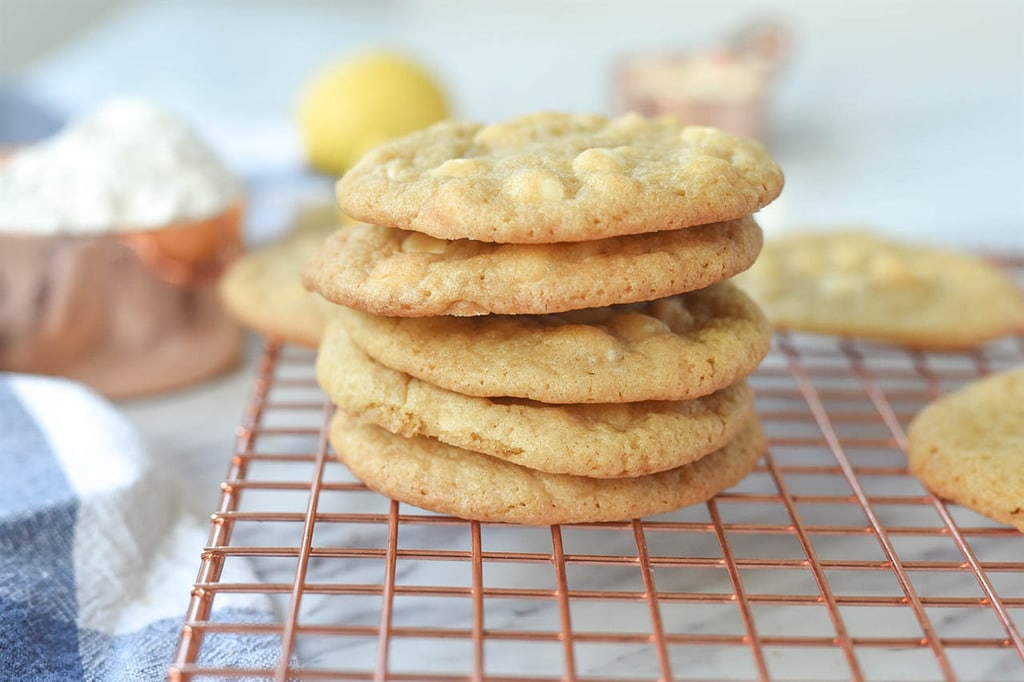 Some of my other favorite cookie recipes are:
Some of my favorite kitchen tools I use to make Lemon White Chocolate Chip Cookies:
PARCHMENT PAPER SHEETS – These precut sheets of parchment paper are a total time saver in the kitchen.
COOKIE SCOOP – I have these in several different sizes but this is the one I use the most and is the perfect size for cookies.
SMALL COOKIE SCOOP – This scoops out 1 Tbsp of dough and is perfect for bite size cookies or cookies that spread a lot.
Did you know I wrote a cookbook? Check out the Holiday Slow Cooker Cookbook for 100 delicious recipes
Lemon White Chocolate Chip Cookie Recipe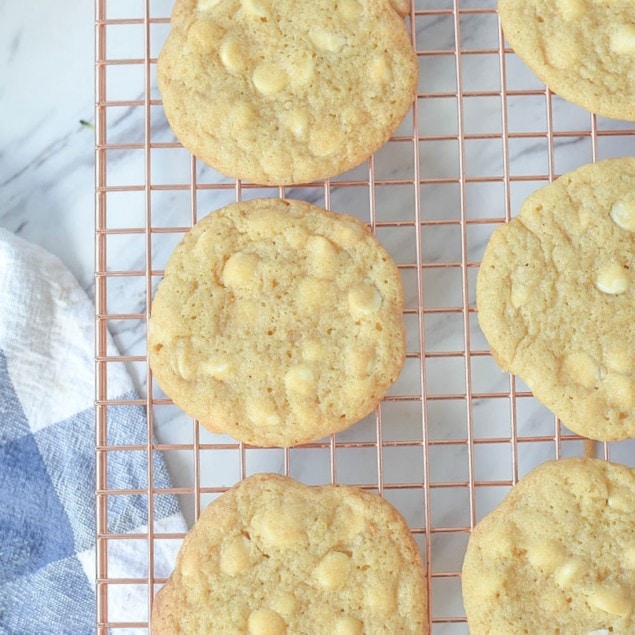 Lemon White Chocolate Chip Cookies
The combination of flavors in these lemon white chocolate chip cookies is delicious! Three of my favorite things all in one place.
Ingredients
1 cup butter at room temperature
1/2 cup brown sugar
1/4 cup granulated sugar
1 large egg
1 1/4 cup all purpose flour
1/4 tsp. salt
1/2 tsp. baking soda
1/2 tsp. pure vanilla extract
1 1/2 tsp. lemon extract
2 cups white chocolatechips
Instructions
Place the butter in a large bowl and cream at high speed until fluffy.

Add the sugars and beat until light and fluffy, about 3 minutes, scraping down sides of bowl occasionally.

Beat in egg and extracts.

In a separate bowl, mix flour, salt and baking soda.

Add to the butter mixture at low speed until just combined.

Beat on medium speed, scraping bowl down, until blended.

Do not over-mix

Add white chocolate chips and mix till thoroughly combined

Preheat oven to 350 degrees and line baking sheet with parchment paper

Drop heaping spoonfuls of batter 2 inches apart on lined baking sheet and bake, turning tray once, until golden brown around edges and soft, about 12 minutes

Cool on wire rack
Nutrition Facts:
Calories: 179kcal (9%) Carbohydrates: 18g (6%) Protein: 2g (4%) Fat: 11g (17%) Saturated Fat: 7g (44%) Polyunsaturated Fat: 1g Monounsaturated Fat: 3g Trans Fat: 1g Cholesterol: 29mg (10%) Sodium: 129mg (6%) Potassium: 50mg (1%) Fiber: 1g (4%) Sugar: 13g (14%) Vitamin A: 250IU (5%) Vitamin C: 1mg (1%) Calcium: 30mg (3%) Iron: 1mg (6%)
* Disclaimer: All nutrition information are estimates only. Read full disclosure here.