Learning how to freeze cookie dough is so easy. Just follow this step by step tutorial.
Instead of freezing cookie dough, you can also freeze baked cookies using these tips and tricks. Some other recipes that freeze well are Drop Sugar Cookies,  Crispy Oatmeal Cookies and this recipe for The Best Chocolate Chip Cookies is definitely a favorite (cookie pictured below)
Why Freeze Cookie Dough?
Satisfy Cravings – I love having cookie dough on hand so I can satisfy that cookie craving no matter when it hits.
Company Stops By – I also love being able to bake up a batch of cookies at a moments notice when friends stop by.  Nothing says welcome better than a batch of fresh, warm cookies!
Last Minute Gift – When you have cookie dough in the freezer you always have a last minute gift for someone too!  I don't always bake the cookies before gifting them to someone.  I often will gift someone frozen cookie dough so they can bake them whenever they want.  They love it!
Dessert -You've always got dessert at a moments notice when there is cookie dough in the freezer.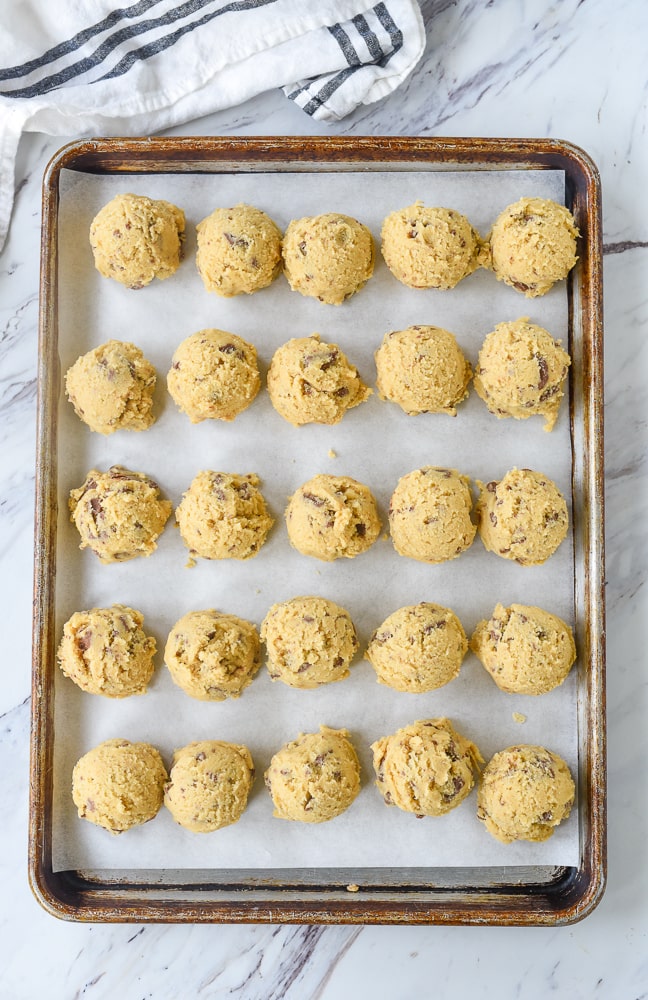 Can You Freeze Cookie Dough?
I have found that freezing works well for almost all types of cookie dough. The only cookie dough I don't recommend putting in the freezer meringue based cookie such as Meringue Hearts or Toffee Meringue Cookies.   A delicate cookie does not freeze well.
How to Freeze Cookie Dough
Form the cookie dough into balls.  I love using my cookie scoop to make evenly sized balls of dough.
Place balls of dough onto a baking sheet.  They can be close together but not quite touching.  Ok, a few of might be slightly touching, but you don't want them to freeze together.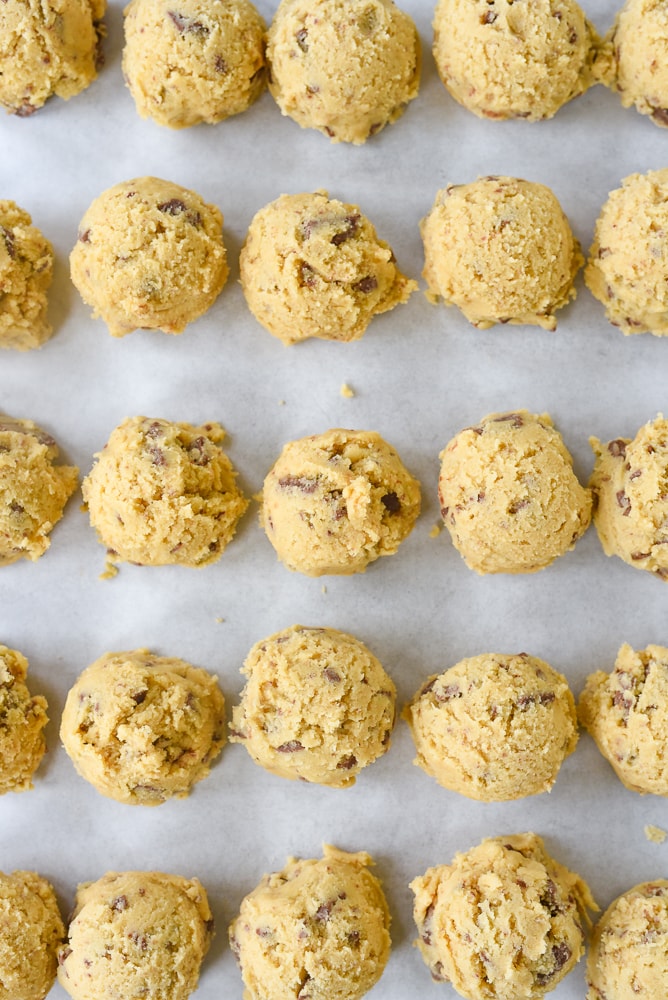 Place in the freezer for about an hour or until firm and frozen.
Once frozen place them in a zippered plastic bag. You want individual balls of dough.
Label the bag with the type of cookie, the date, and the baking temperature and time. This is especially helpful if you are gifting it to someone.
How Long Can I Freeze Cookie Dough?
Cookie dough, when stored properly can be frozen for up to three months.

How to Bake Frozen Cookie Dough
You can remove the cookie dough from the freezer, place frozen dough onto a parchment paper lined baking sheet and allow dough to thaw to room temperature and bake according to regular instructions.
The dough can also be baked frozen, just allow a few more minutes of baking time.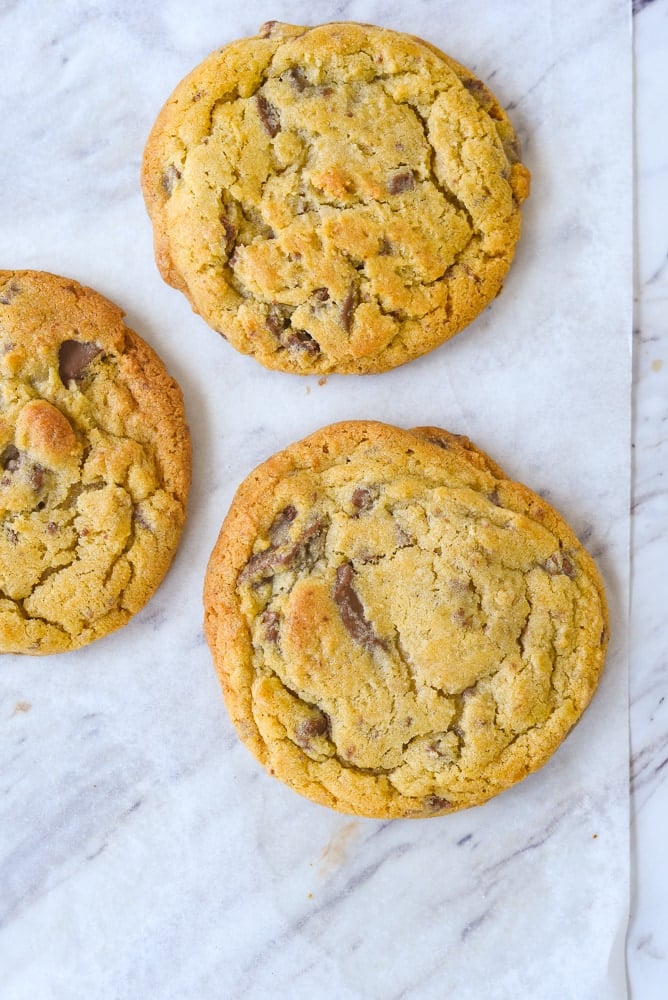 You can find the recipe for the Best Chocolate Chip Cookie recipe (pictured above) here.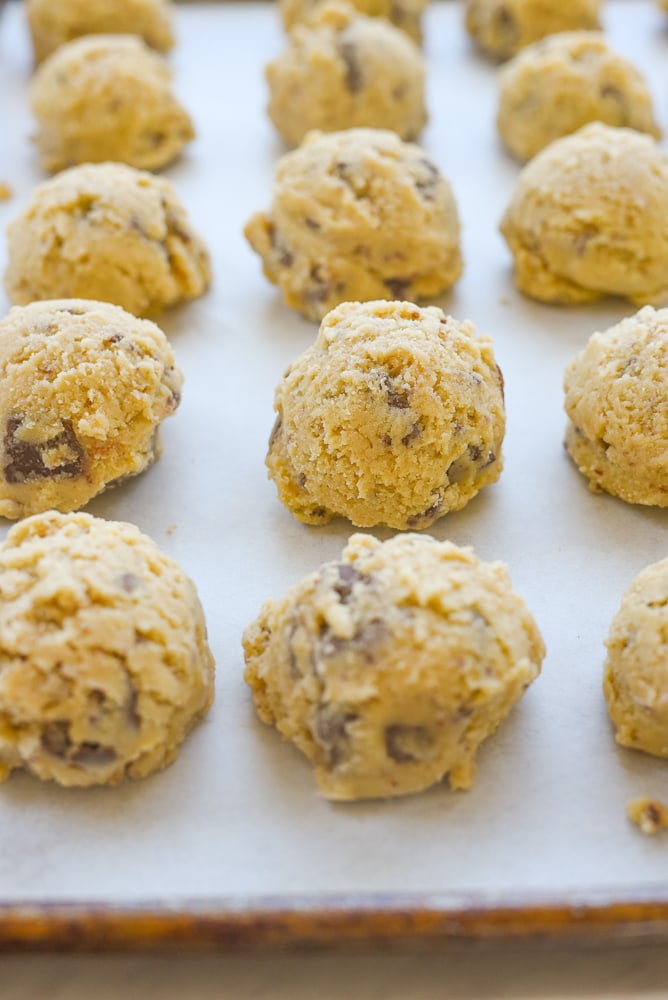 Freezing Baked Cookies
You can find my post with all the information and tips for freezing baked cookies here.
Freezing is the perfect way to prepare for the holidays too.  Freeze your dough a few months ahead of time and then all you have to do is bake!
You can find all my cookie recipes here.  Happy baking!
Some of my other favorite cookie recipes: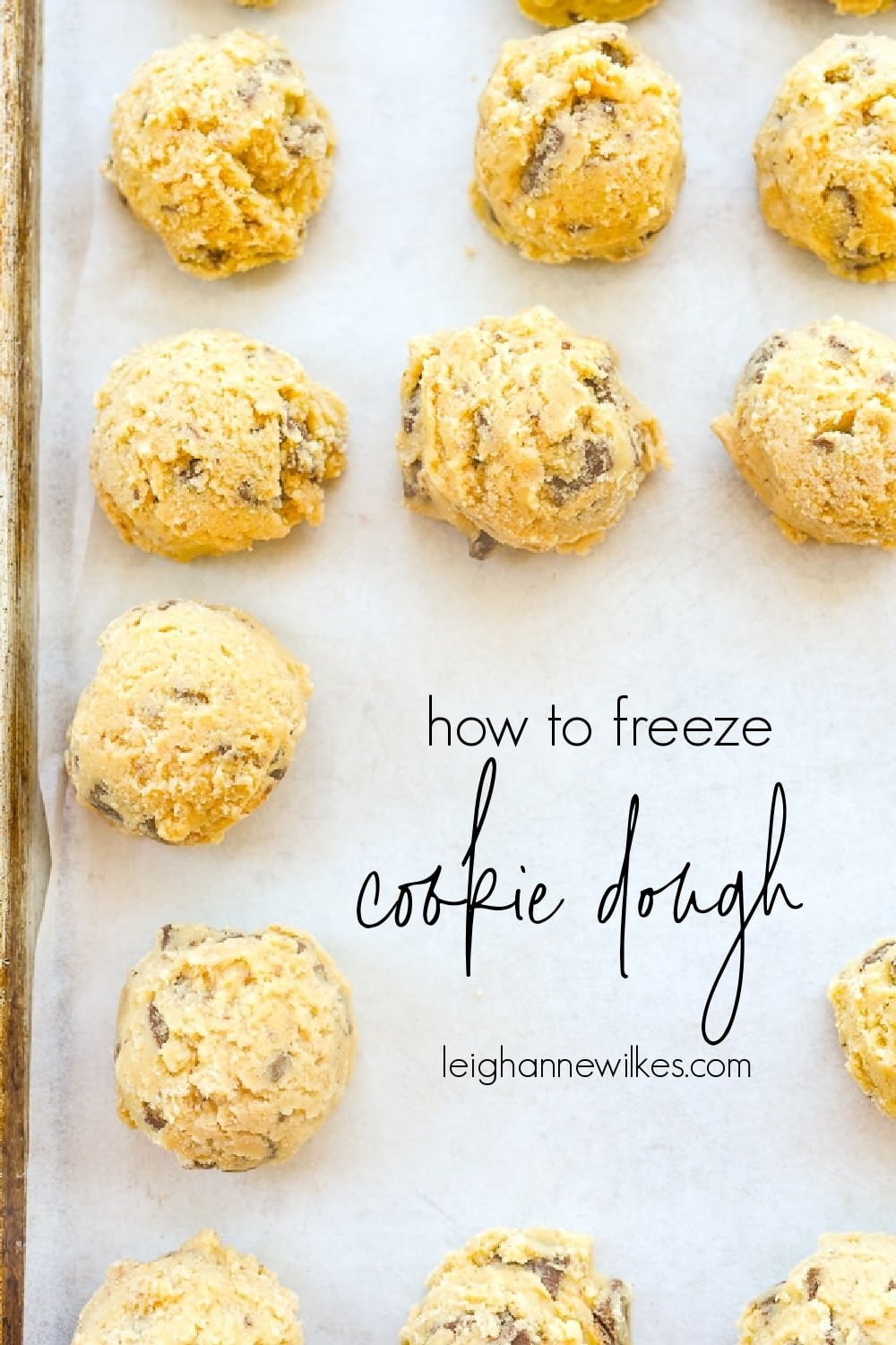 If you've tried this recipe or any other recipe on Your Homebased Mom, then don't forget to rate the recipe and let me know how it went in the comments below, I love hearing from you!
You can also FOLLOW ME on FACEBOOK, INSTAGRAM and PINTEREST to see more delicious food, party ideas and travel tips and what I'm up to on a daily basis!