These Toffee Meringue Cookies are going at the top of my To Bake list this holiday season!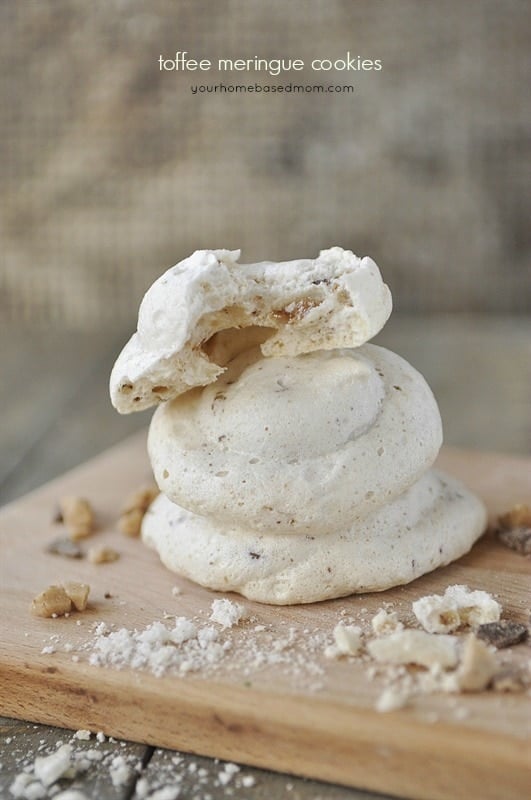 I am a big meringue fan. Whether it comes on top of a lemon meringue pie, or the base of a delicious pavlova or as a cookie, sign me up! Meringue is one of those things that tends to scare people a bit but it really is so easy to make. Your humidity can affect it some but even here in wet, rainy Portland I can make perfect meringue.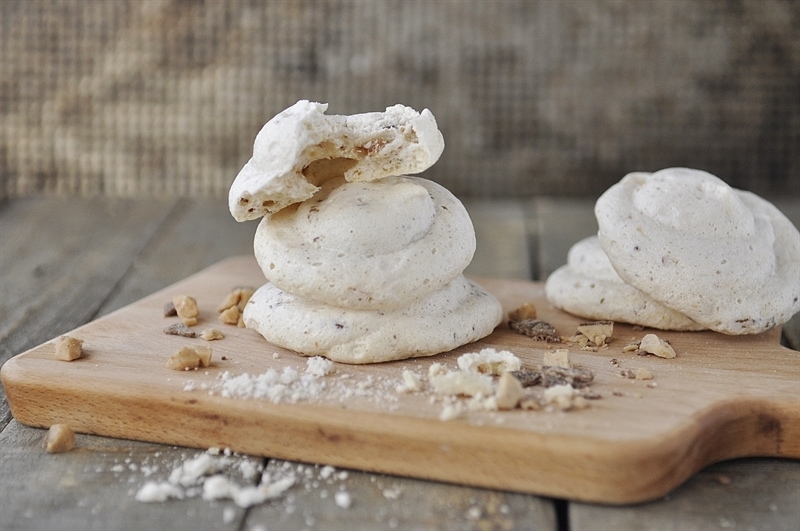 For me, the perfect meringue is crispy on the outside but still chewy on the inside. You don't want a meringue that is so crispy all the way through that it totally falls apart when you bite into it. One of my favorite cookies I make each Christmas is my White Chocolate Peppermint Meringues. These are so good and I'm always tempted not to include them on my cookie plates so I can eat them all! Well, these Toffee Meringue Cookies may not appear on my cookie plate either. Not because they aren't good, but because I ate them all!
One of the great things about these cookies is that they are naturally gluten free. So if you have any gluten free family or friends, make these for them!! The process is simple. You beat egg whites and cream of tartar until soft peaks form and while mixing, beat in the sugar until glossy, firm peaks form..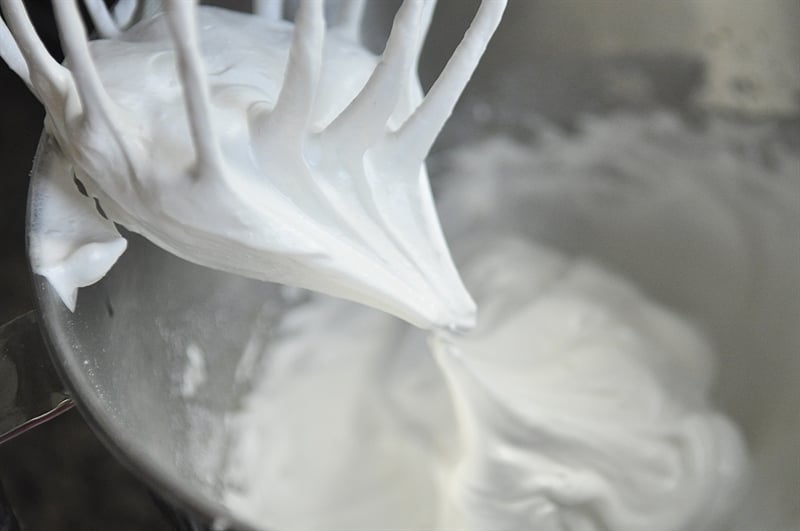 Fold in your toffee bits and then put your meringue into a large piping bag with the largest decorating tip you have. If you don't have a piping bag or large tip, you can just spoon the meringues onto a parchment covered sheet. Use a large tip so that the toffee bits to plug up the piping bag.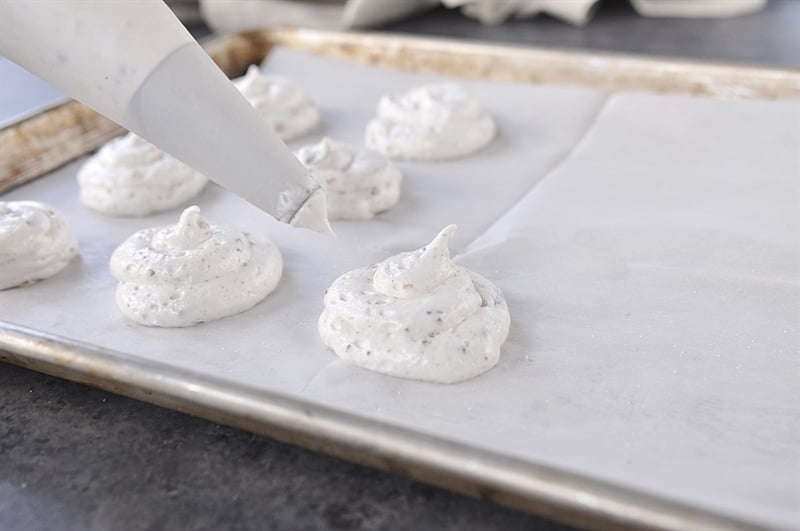 Bake the meringues at 250 degrees F for about 30-35 minutes or until they are dry to the touch but still pale and then turn off the oven and let them sit in the oven as they cool.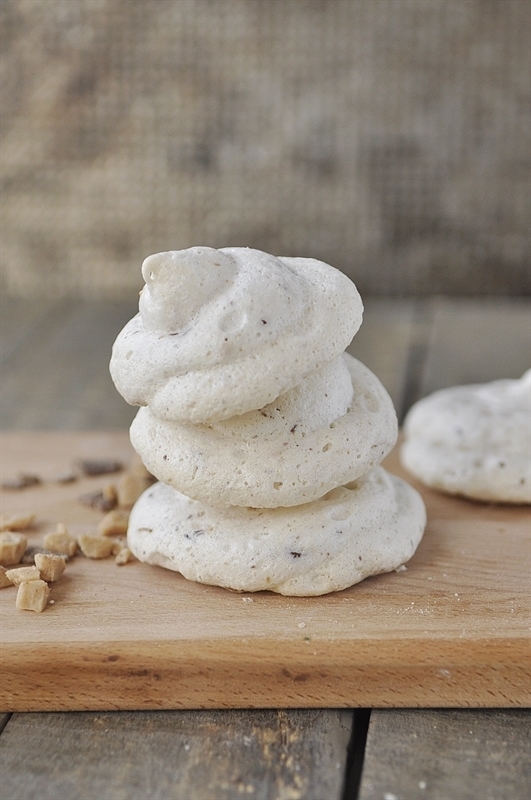 Toffee Meringue Cookies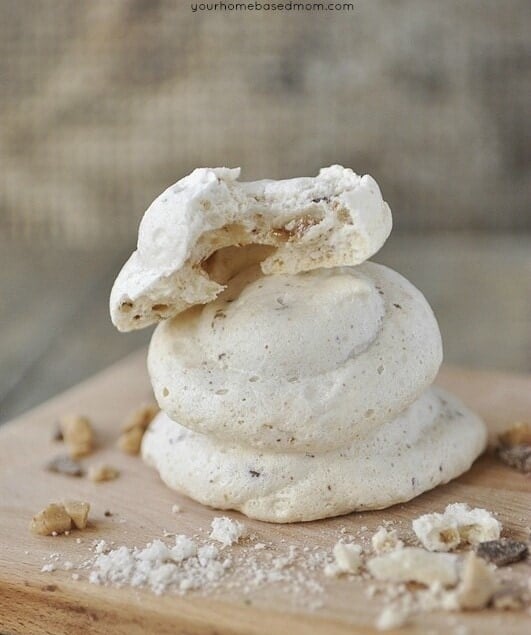 Toffee Meringue Cookies
Ingredients
3 large egg whites at room temperature
1/4 teaspoon cream of tartar
½ teaspoon vanilla extract
pinch salt
¾ cup sugar
1/2 cup chocolate covered toffee bits
Instructions
Preheat oven to 250°.

Beat egg whites and cream of tartar in a deep bowl with a mixer, using whisk attachment if you have one, just until soft peaks form.

Add vanilla and salt. Add sugar 1 Tbsp at a time while mixer is running.

Scrape inside of bowl and beat another 15 seconds. Beat until meringue forms stiff peaks

Fold in toffee bits.

Line 2 baking sheets with parchment paper

Drop meringue by the spoon full (about golf ball size) onto sheets or fill a piping bag with a large tip.

Bake until meringues feel dry and set when touched but are still pale, 30 to 35 minutes, switching pan positions halfway through.

Turn off oven, open door, and let cookies stand about 10 minutes. Let cool on pans.

Make ahead: Up to 2 days, stored airtight.