Pavlova dessert is both pretty and delicious. Crispy on the outside and melt in your mouth on the inside, pavlova is served with whipped cream and fresh fruit. It's a perfect dessert And the perfect way to enjoy fresh berries.

What is Pavlova?
It is a meringue based dessert that is named after the Russian ballerina Anna Pavlova and was created in her honor as she toured through New Zealand and Australia.
Meringue can be a little intimidating to people but it really is easy to make. It is simply a combination of egg whites and sugar with a little cream of tartar and vanilla thrown in. I have found that it is best to make meringue on a dry, sunny day although sometimes those are hard to find in Portland and I have still had success on a rainy day.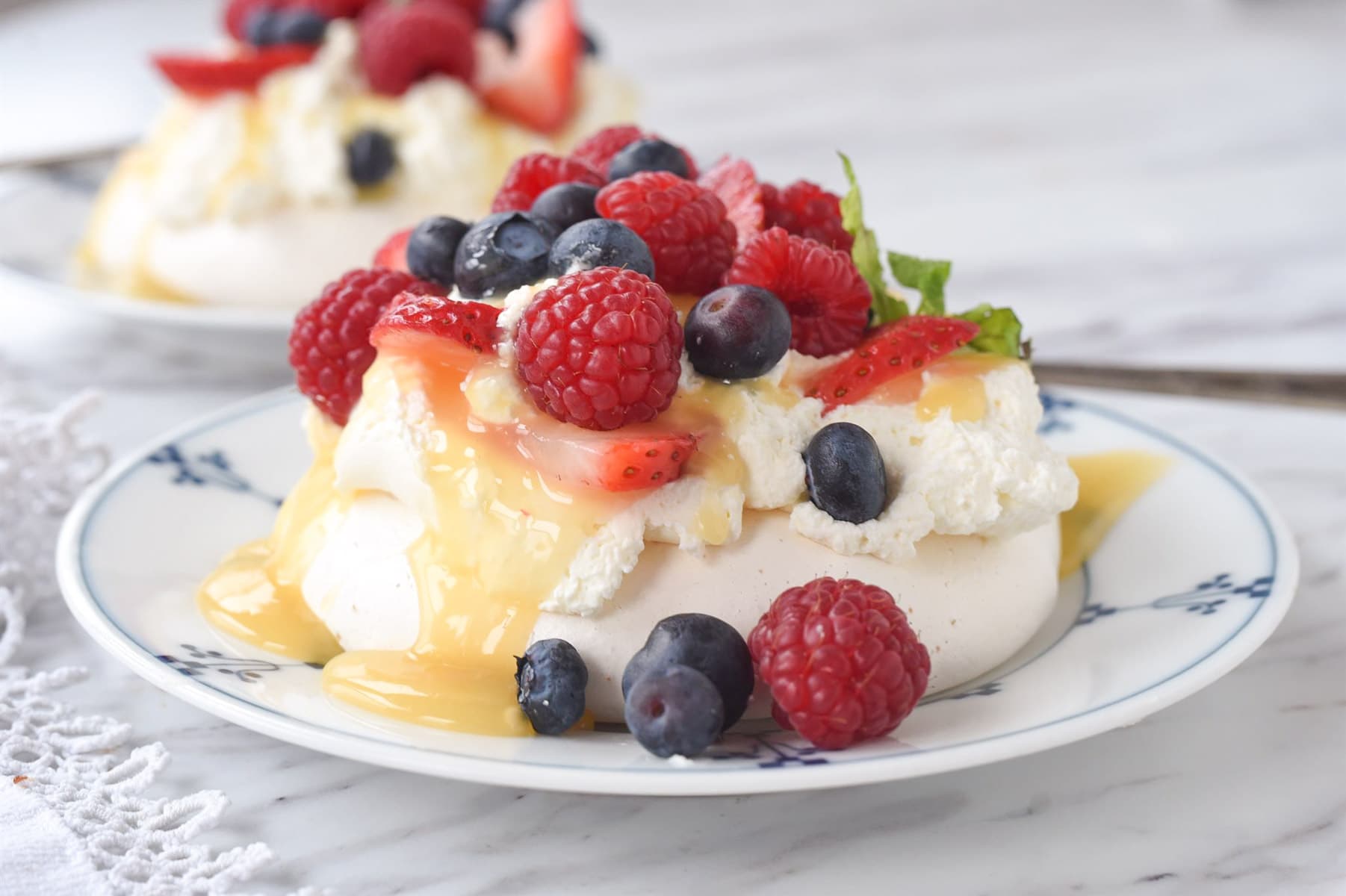 How to Make Pavlova
Line a cookie sheet with parchment paper or a brown paper bag.
Decide on the size pavlova you want and trace around an object that correct size and make some circles. I use a pencil. If I am using parchment paper, I flip the paper over so the pencil marks are on the underside but I can see them through the paper. For individual serving pavlovas I like to make them about 3 1/2 inches across. For one pavlova I usually trace around a dinner plate for size.
Use room temperature eggs. If you forget to take them out the refrigerator, place them in a bowl of warm water and in a few minutes they will be at room temperature. When separating your eggs be sure not to get any yolk into the white, this will prevent the whites from whipping correctly.
Be sure your mixing bowl and beater are nice and clean. Dirt in the bowl can cause your egg whites not to whip properly.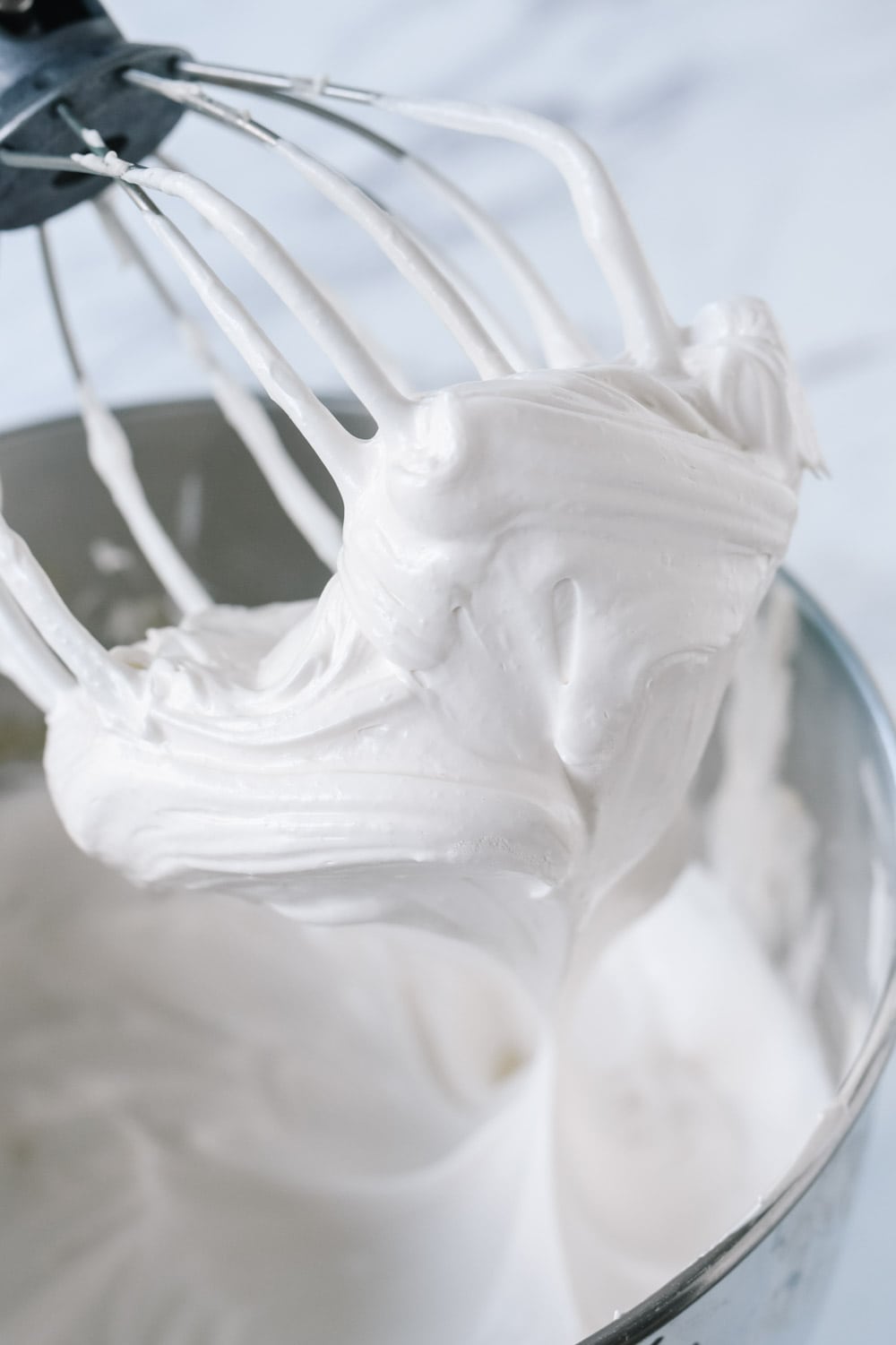 Whip your egg whites and cream of tartar until foamy. Then gradually add your sugar in a tablespoon at a time, don't just dump it all in!
Beat for about 4-5 minutes until your egg whites are stiff. Add in vanilla.
Use a spoon to place meringue onto the baking sheet and fill in the circles you drew on the paper. Use the back of spoon to create a slight indentation into the circle (that's where all the berry and whip cream goodness will go). You don't want the middle to be too thin though as then it will cook quicker than the rest of the meringue. Leave an 1-1 1/2″ between each meringue.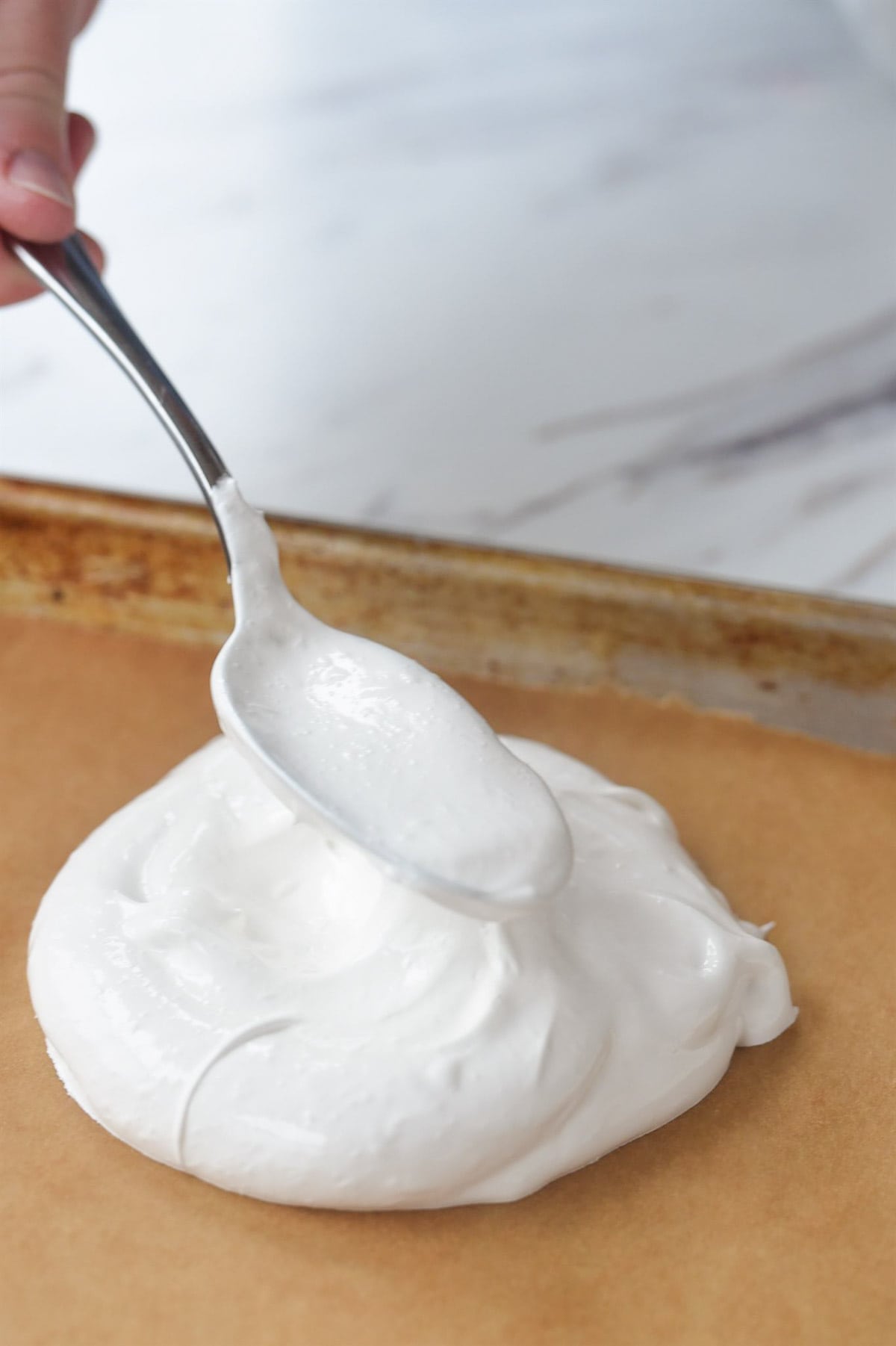 Preheat your oven to 300 degrees F but as soon as you put them into the oven, reduce the heat to 250 degrees F. and bake for 45-60 minutes or until they feel dry to the touch. Don't let them turn golden brown.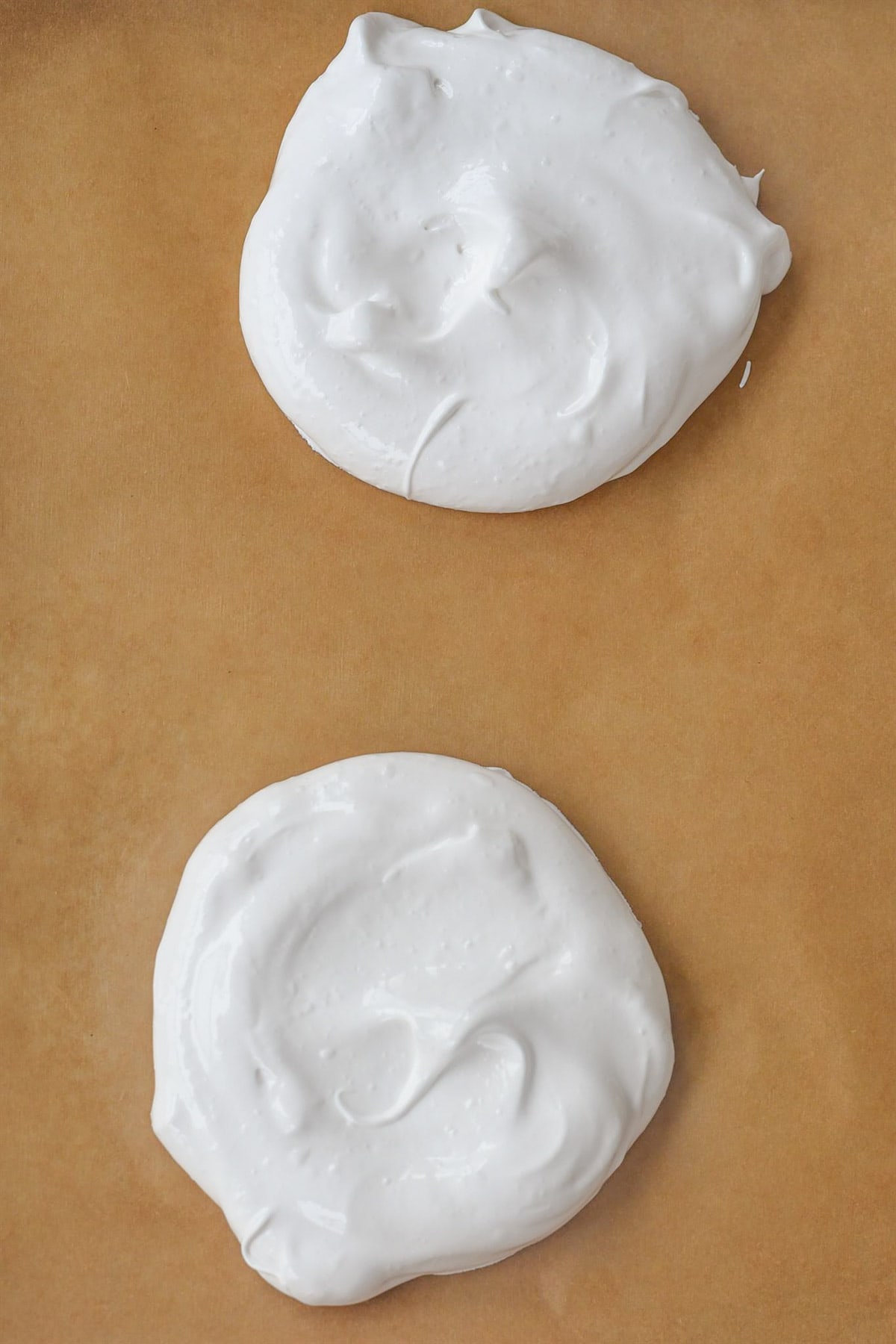 The length of time this takes will be determined by how big and thick you make your circles. After they are done, turn off the oven and let them sit in the oven for a while longer to dry out a bit more. If I am making them the day before I just let them sit in the oven all night – it is nice and dry in there.
A perfect meringue is light and crispy on the outside with a center that is still slightly sticky and chewy.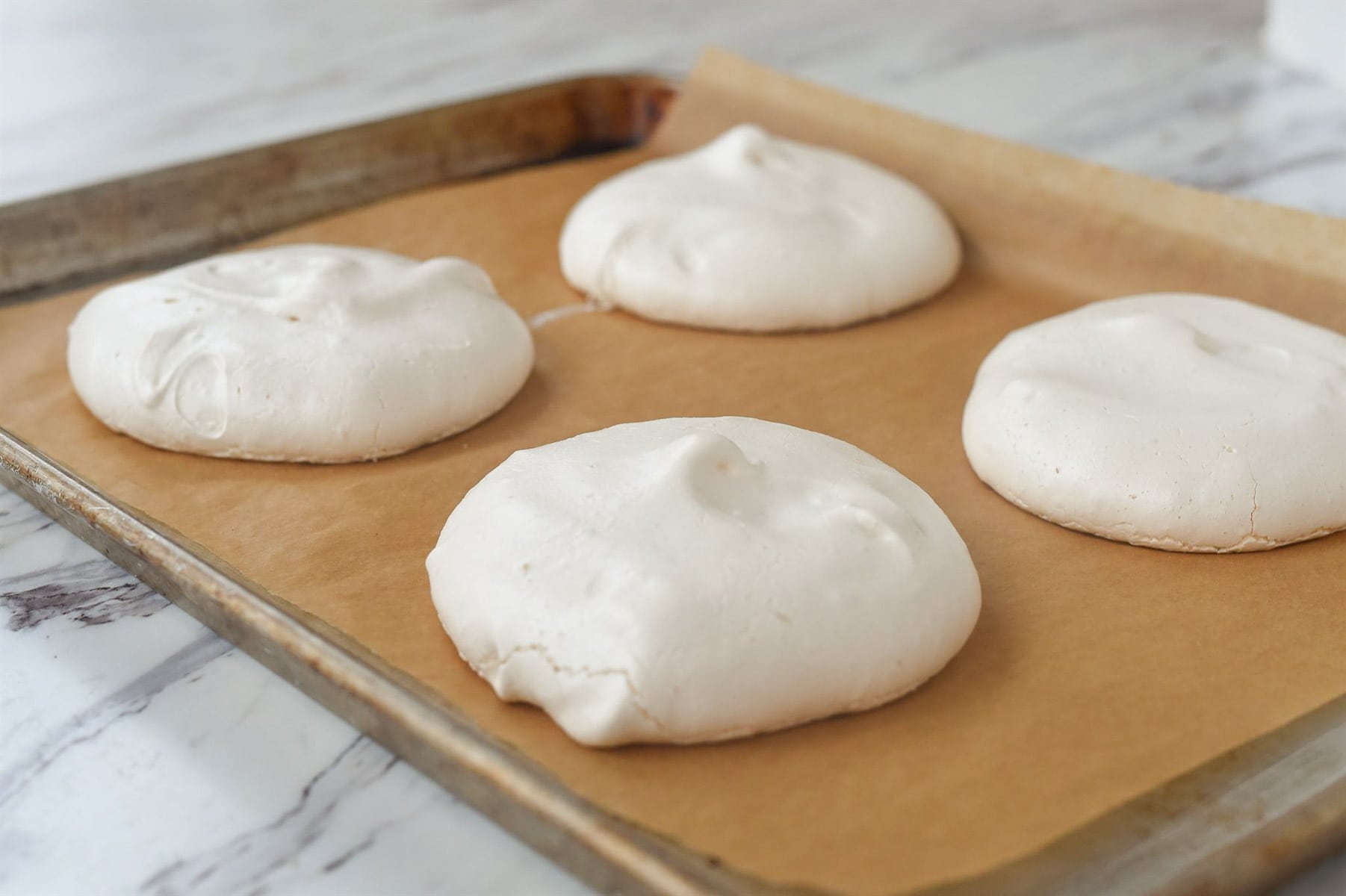 Let them cool on the paper and then gently loosen them from the paper, if they are still a bit sticky use a spatula to slide underneath them. They should be easy to remove from the paper. If they are really stuck they are probably not cooked enough. Just beware, they will be fragile so if they crack a bit, don't worry. It gives them character and the whipped cream and berries will cover up the cracks.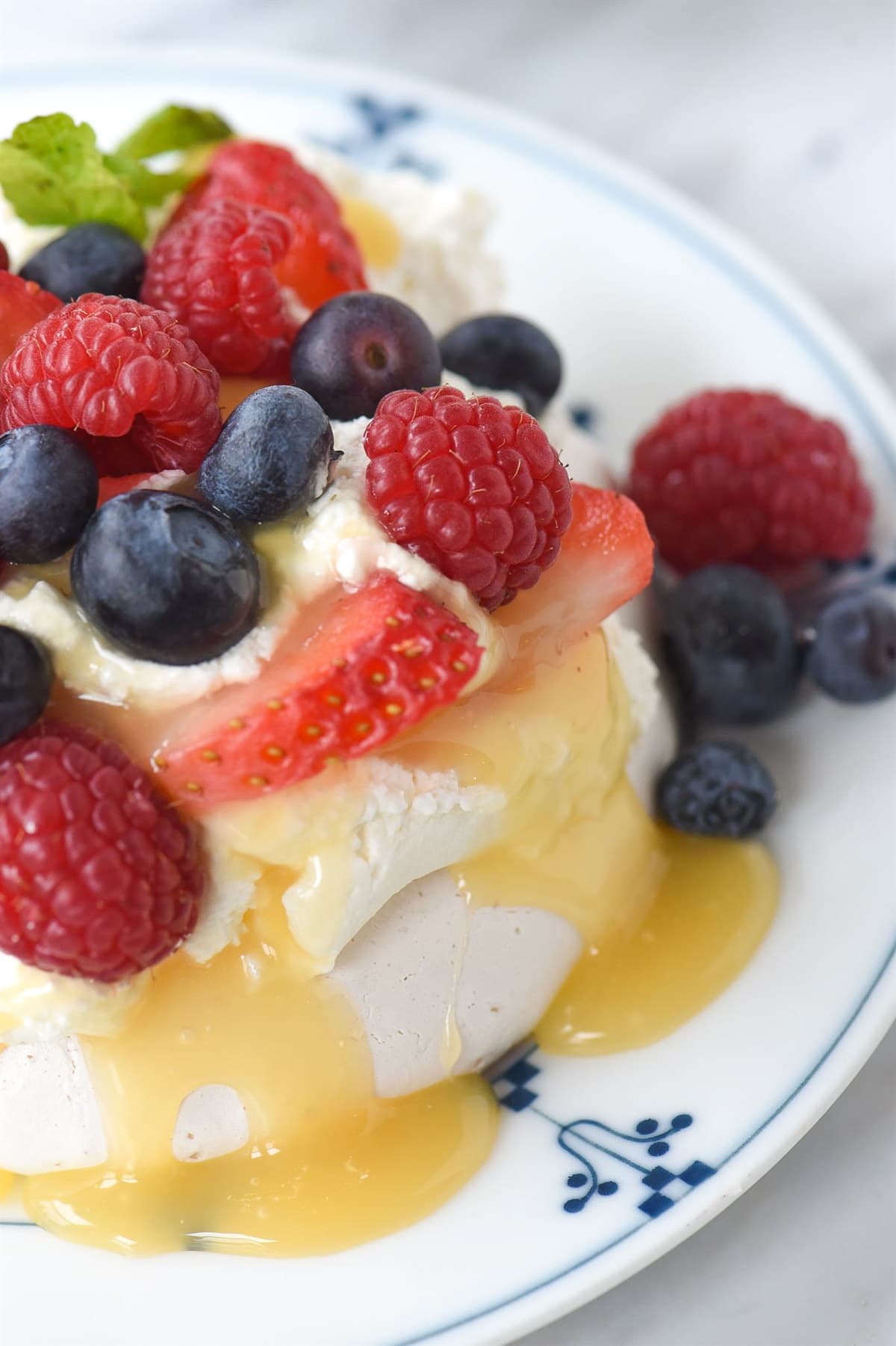 Pavlova Dessert Toppings
Now it's time to get creative. Place your pavlova on a plate and add a layer of whipped cream on top. Next, I like to add a drizzle of lemon curd or chocolate. Then add your fruit such as berries, bananas, orange segments etc.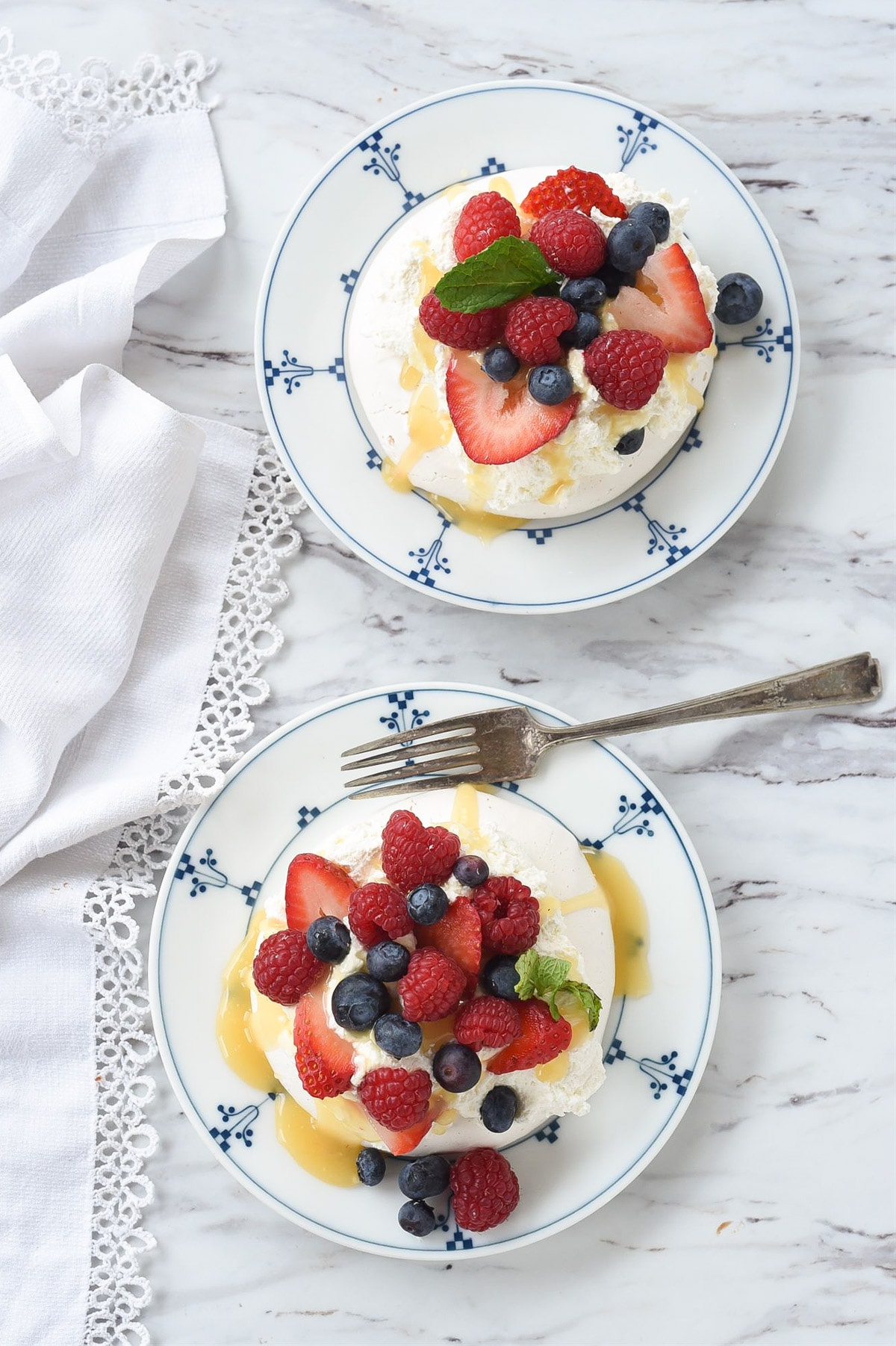 Here are some other fun meringue desserts:
For all of my other favorite kitchen products and tools visit my Amazon Store.
Did you know I wrote a cookbook?  Check out the Holiday Slow Cooker Cookbook for 100 delicious recipes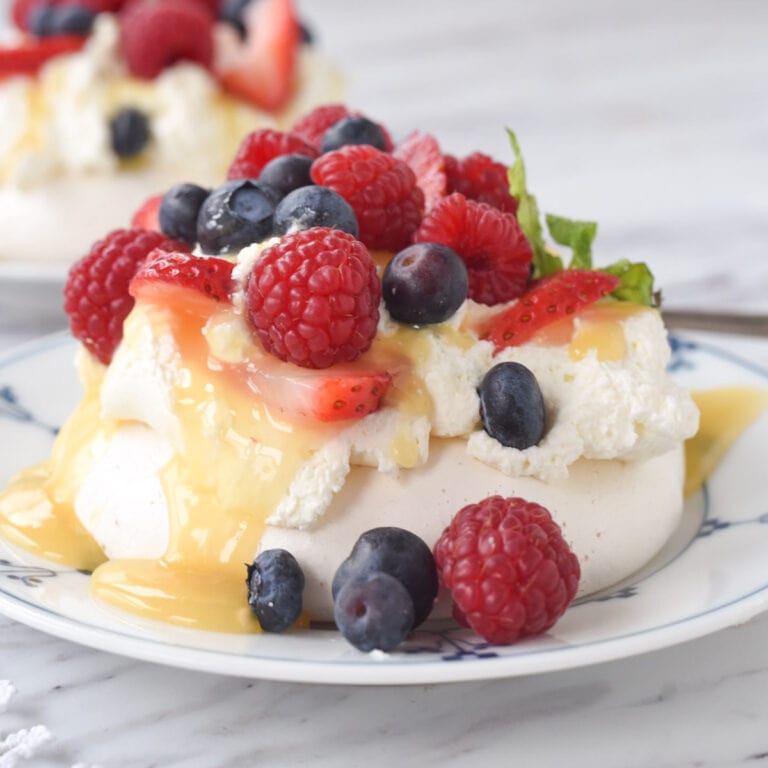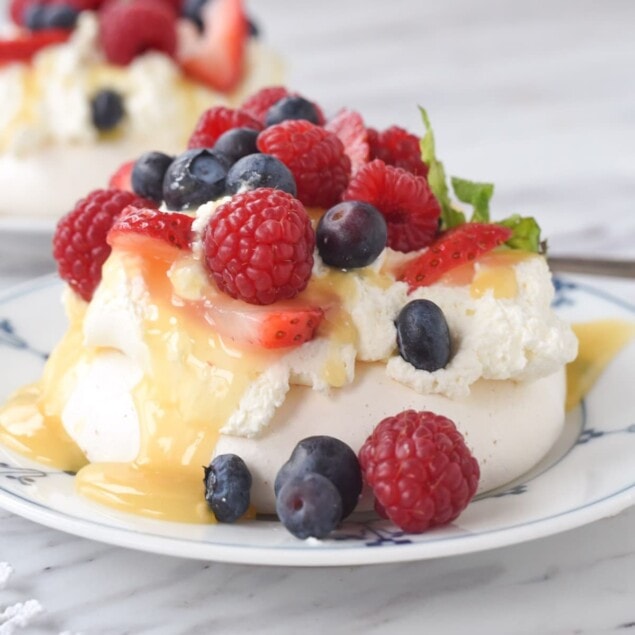 Pavlova Recipe
Pavlova dessert is both pretty and delicious. Crispy on the outside and melt in your mouth on the inside, pavlova is served with whipped cream and fresh fruit.  It's a perfect Valentine's Day dessert or the perfect way to enjoy fresh berries.


Ingredients
Pavlova
6 egg whites room temperature
1/2 tsp cream of tartar
1 1/2 cups sugar
1 1/2 tsp vanilla.
2 cups whipping cream whipped
assorted fruit
1/2 cup lemon curd
Instructions
Pavlova
Heat oven to 300 degrees

Line a large cookie sheet with brown paper bag or parchment paper

Draw the desired size circle or circles using a pencil onto the paper

In large bowl, beat egg whites and cream of tartar until foamy

Gradually add sugar, 1 Tbsp at a time, beating continuously at high speed until sugar is dissolved and stiff peaks form, about 5 minutes or so

Beat in vanilla

Spoon meringue onto circles on prepared cookie sheet building up sides with back of spoon

Place in 300 degree oven and reduce heat to 250 degrees

Bake for 40-60 minutes or until firm and dry to touch (inside of meringue will be soft) I allow mine to sit in oven for up to an hour afterwards to firm up a bit more

Remove from oven; cool completely

Carefully remove meringue from paper

Place on serving plate and fill with whipped cream and fresh fruit

Refrigerate until serving or eat right away!!
Nutrition Facts:
Calories: 412kcal (21%) Carbohydrates: 48g (16%) Protein: 4g (8%) Fat: 23g (35%) Saturated Fat: 15g (94%) Cholesterol: 82mg (27%) Sodium: 103mg (4%) Potassium: 112mg (3%) Sugar: 46g (51%) Vitamin A: 875IU (18%) Vitamin C: 1mg (1%) Calcium: 40mg (4%)
* Disclaimer: All nutrition information are estimates only. Read full disclosure here.