This Pavlova Wreath is a show stopper! Not only is it gorgeous, it is also delicious and your guests won't be able to stop raving about.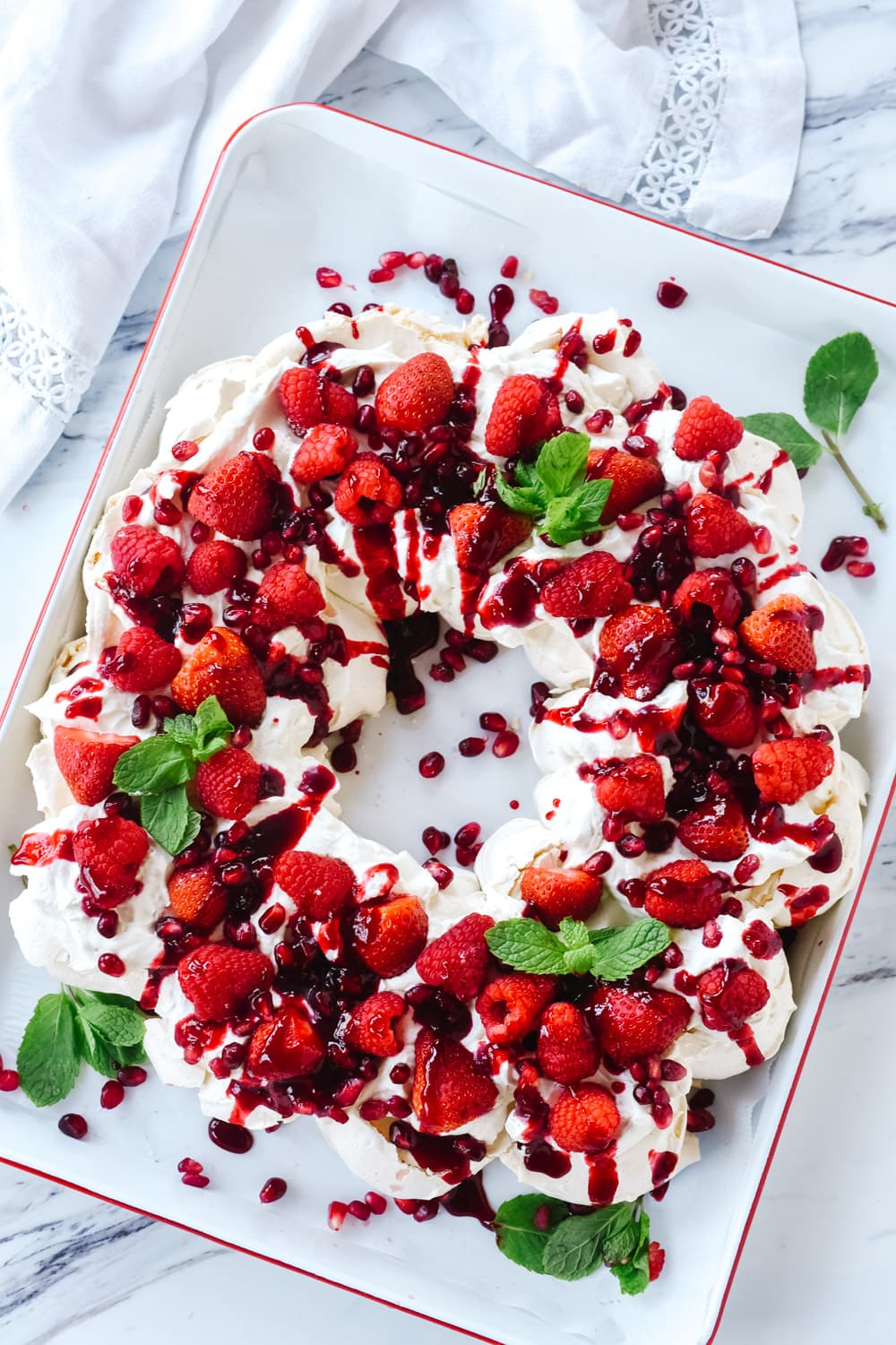 What You'll Like About This Recipe
This amazing holiday Pavlova Wreath dessert is made with a meringue base, topped with whipped cream and then garnished with fresh berries. It looks pretty and festive along with being light and airy and is a great dessert to serve after a big holiday meal.  It is also naturally gluten free.
Ingredients
Egg Whites
Cream of Tartar
Granulated Sugar
Vanilla
Heavy Whipping Cream
Raspberries
Strawberries
Pomegranate Seeds
Raspberry Sauce
Mint Sprigs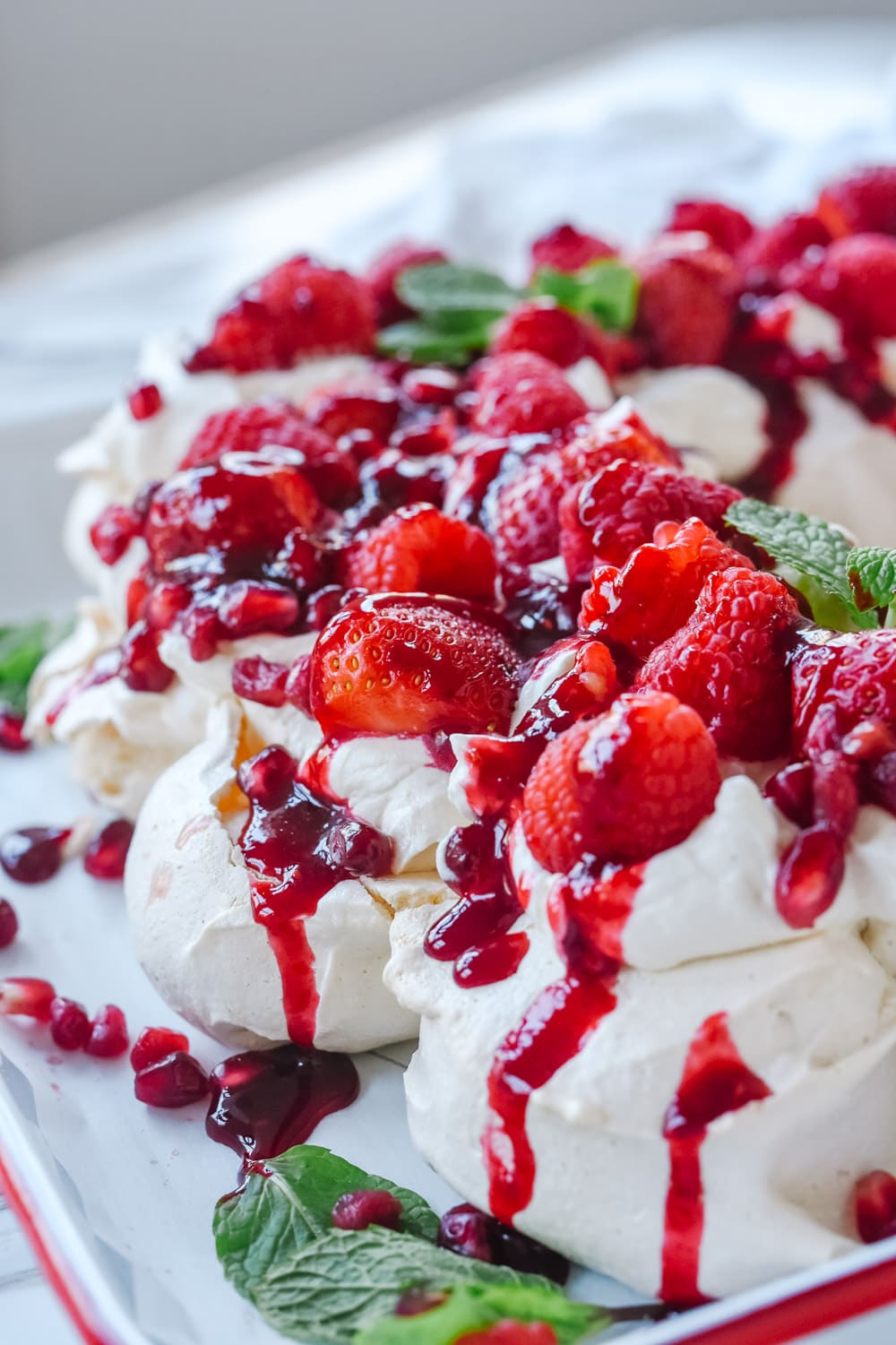 How To Make Pavlova
Trace a dinner plate with a pencil to make a circle on parchemnt paper.  
Place parchment paper, pencil side down, on a baking sheet.
Beat the egg whites and cream of tarter until egg whites are foamy.
Add the sugar in gradually, a Tablespoon at a time, while beating. Beat until the mixture is glossy and thick, and the peaks are stiff.
Mix in vanilla.
Scoop pavlova onto the circle traced on your baking sheet, with a cookie or ice cream scoop. Then add a second row of meringue on the inside of the first row, close together.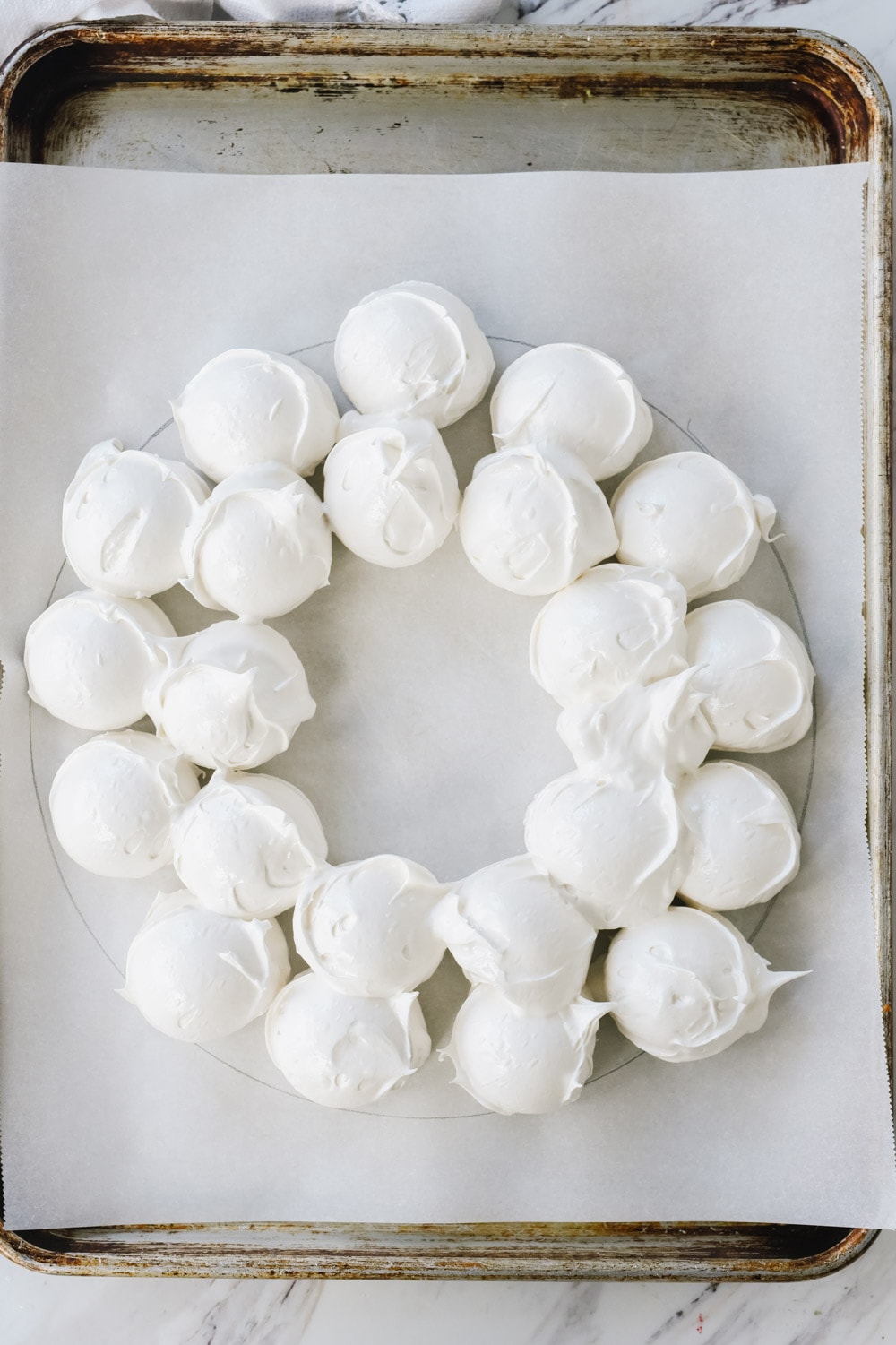 Smooth the top using a knife or an offset spatula, to connect the scoops together.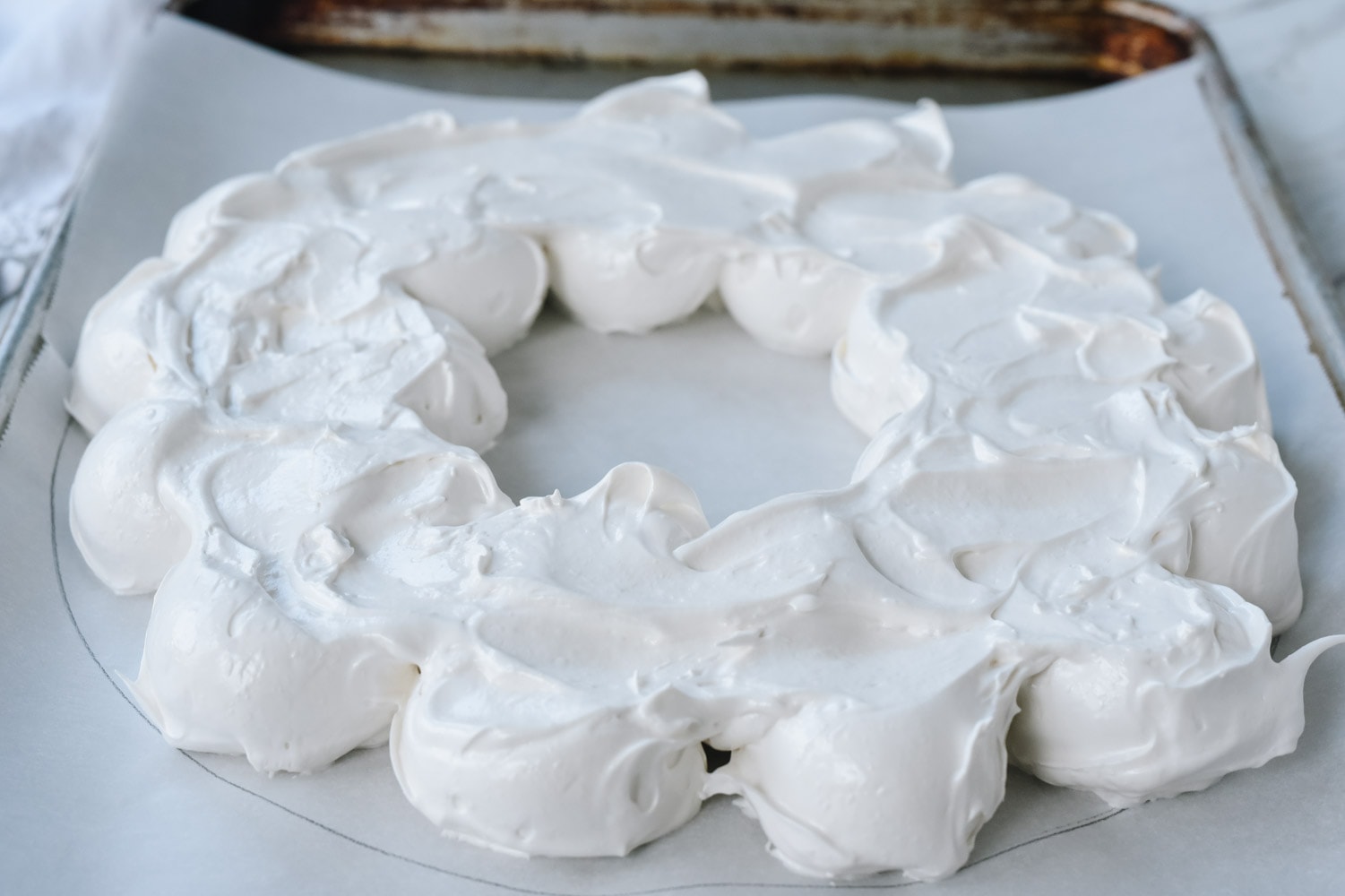 Preheat ove to 300 degrees.
Place Pavlova into the oven and reduce the temperature to 250 degrees.
Bake for one hour and then turn off the oven. 
Let meringue wreath sit in oven for an additional hour.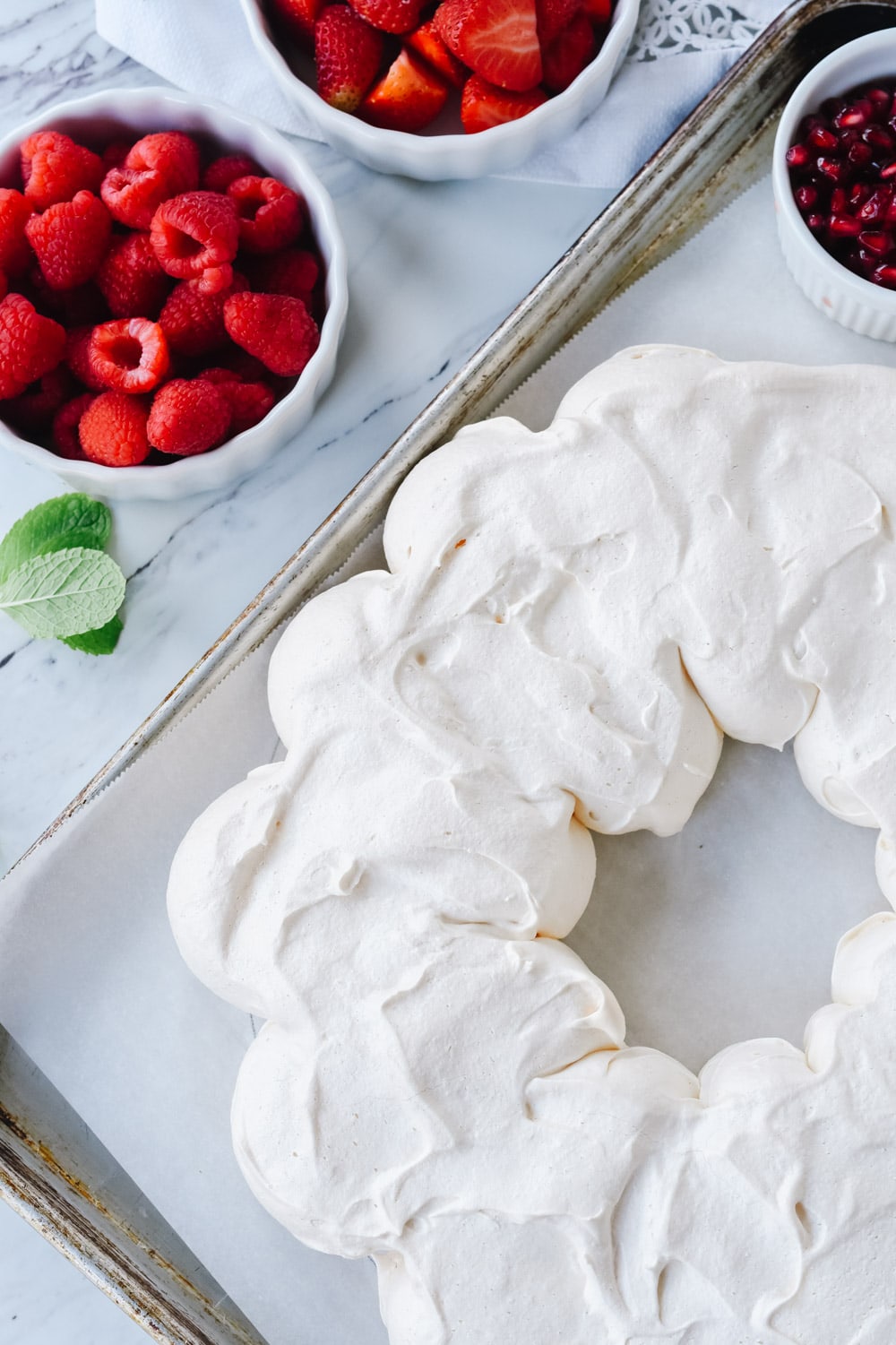 Allow the pavlova to cool completely and then transfer to a serving plate. Beware that it will crack as  you move it. Cover any cracks and breaks with the whipped cream.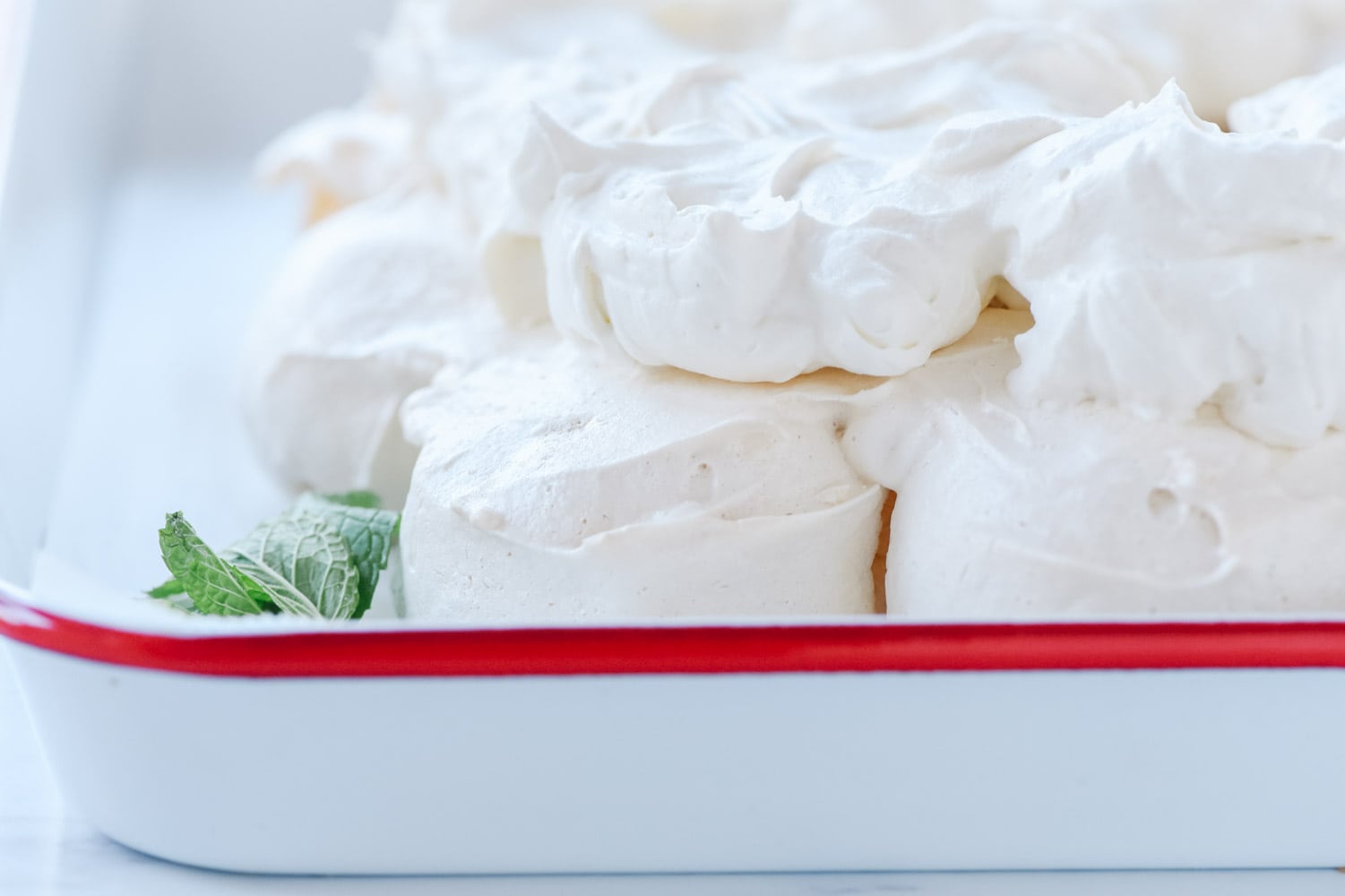 Top with whipped cream, fresh raspberries, strawberries and pomegranate seeds.  Drizzle with raspberry sauce and garnish with sprigs of mint.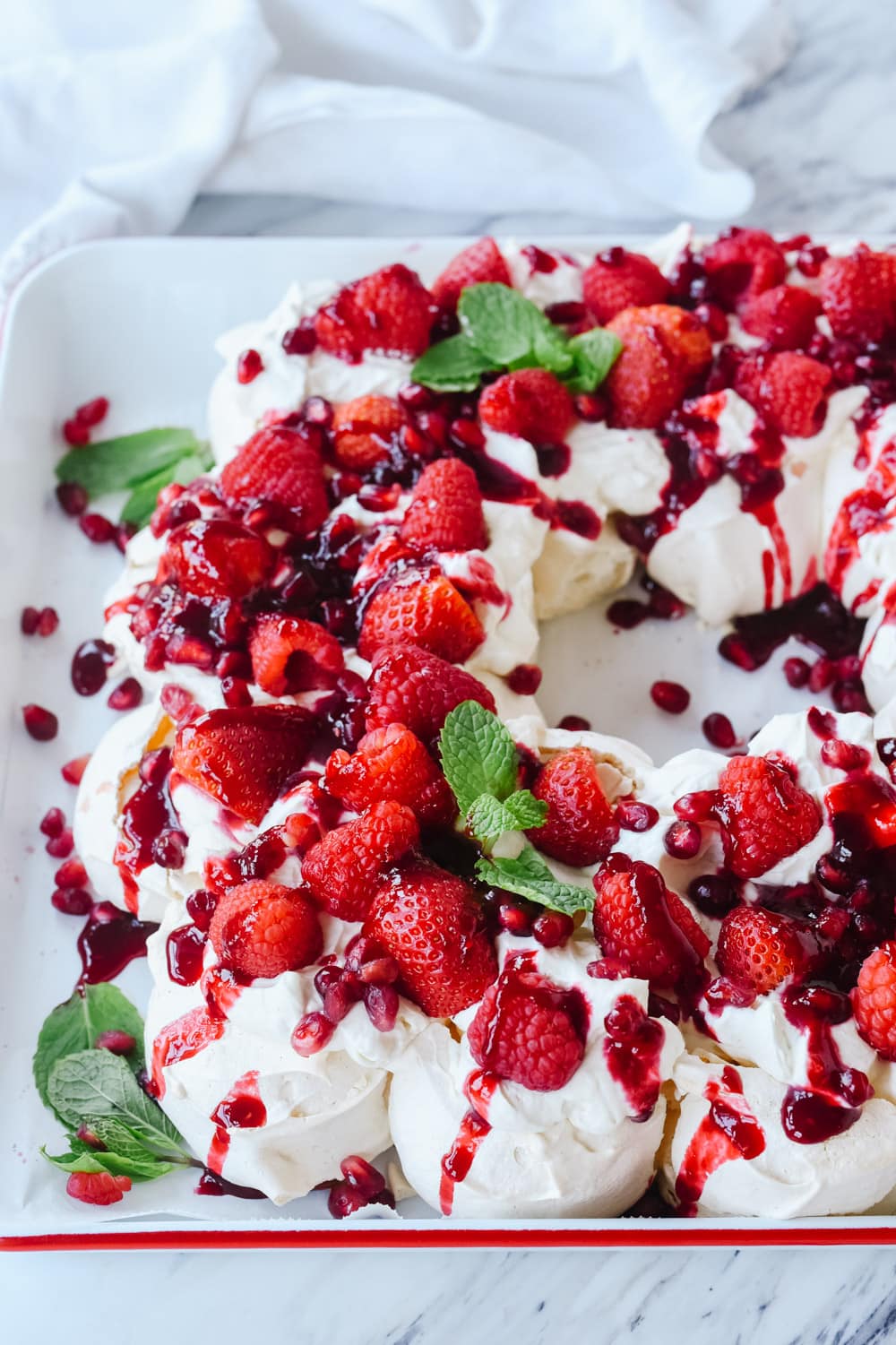 Frequently Asked Questions
What is Pavlova?
Pavlova is a meringue dessert that was named after the Russian ballerina Anna Pavlova. Pavlova is a crispy meringue shell that is usually topped with whipped cream and fresh fruit.
Can I make Pavlova ahead of time?
The meringue can be made ahead of time and just stored in a dry place (not a refrigerator) for up to two days. The oven is a great dry place to store it.  Just don't forget and turn your oven on!
How do I store leftover pavlova?
Store leftover pavlova in an airtight container in the refrigerator. Once it is topped it doesn't keep very well. Enjoy it while it is fresh!
How can I tell Pavlova is done baking?
Gently touch the meringue and if it seems dry. If it is and you can see cracks on the top and sides, it is done.  A meringue should be dry and crunchy on the outside and soft and chewy on the inside.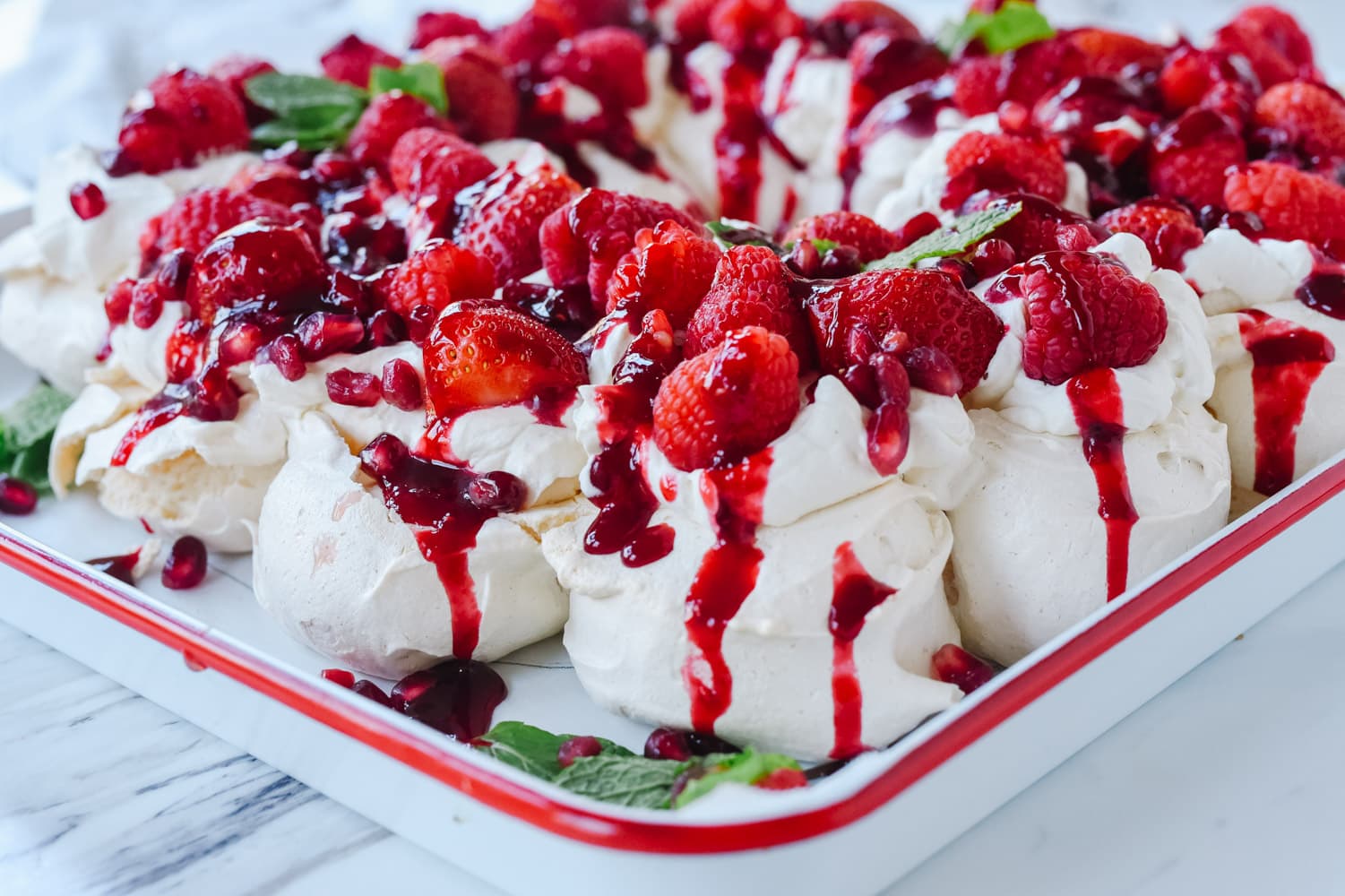 Pavlova is best served right after adding the whipped cream and berries but will hold up for a while in the refrigerator if needed.  Use a sharp serrated knife to cut the meringue.  It will crumble and fall apart a bit when you cut it but it still tastes amazing!
Other favorite holiday desserts:
For all of my other favorite kitchen products and tools visit my Amazon Store.
Did you know I wrote a cookbook?  Check out the Holiday Slow Cooker Cookbook for 100 delicious recipes
Be sure and follow me over on You Tube for weekly cooking demos.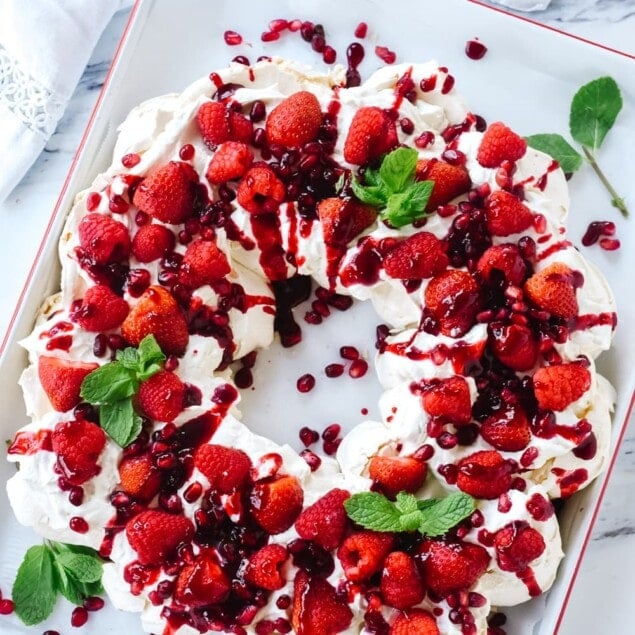 Pavlova Wreath
This Pavlova Wreath is a show stopper!  Not only is it gorgeous, it is also delicious and your guests won't be able to stop raving about.


Ingredients
6 egg whites
1/2 tsp cream of tartar
1 1/2 cups granulated sugar
1 1/2 tsp vanilla
1 pint heavy whipping cream whipped
1 cup raspberries
1 cup strawberries sliced in half
1/2 cup pomegranate seeds
raspberry sauce see recipe below
fresh mint springs
Raspberry Sauce
3/4 cup raspberries
1/3 cup granulated sugar
1 tsp lemon juice
6 Tbsp water
Instructions
Preheat oven to 300 degrees F.

In a clean, dry mixer bowl, beat egg whites and cream of tartar until foamy.

Gradually add sugar, 1 Tbsp at a time, beating continuously at high speed until sugar is dissolved and stiff peaks form, egg whites will be glossy.

Beat in vanilla

Cover baking sheet with parchment paper and trace around an 11" dinner plate with a pencil to make wreath shape. Turn parchment paper over so pencil is on the bottom side but you can still see it through the paper.

Use an ice cream scoop to scoop meringue onto parchment covered baking sheet placing scoops of meringue inside the wreath line. Place a second row of scoops of meringue inside the first row.

Use a knife or offset spatula to gently connect the scoops of meringue on the top.

Place in oven and immediately lower the heat to 250 degrees F. Bake for one hour. The meringue should be dry to the touch and may have small cracks. Turn off the oven and let the meringue sit in the oven for an hour or overnight.

Right before serving, top meringue with whipped cream and add berries.

Drizzle over top of berries with raspberry sauce. Garnish with fresh mint.
Raspberry Sauce
Add raspberries, sugar, lemon juice and water into a small sauce pan.

Cook over medium heat, smashing berries with the back of a spoon.

Bring to a boil and then simmer for five minutes.

Pour mixture into a fine mesh strainer and strain juice into a bowl. Throw away the seeds left in the strainer. Refrigerate until cooled. It will thicken as it cools.
Nutrition Facts:
Calories: 424kcal (21%) Carbohydrates: 54g (18%) Protein: 4g (8%) Fat: 22g (34%) Saturated Fat: 14g (88%) Cholesterol: 81mg (27%) Sodium: 62mg (3%) Potassium: 203mg (6%) Fiber: 2g (8%) Sugar: 50g (56%) Vitamin A: 869IU (17%) Vitamin C: 19mg (23%) Calcium: 49mg (5%) Iron: 1mg (6%)
* Disclaimer: All nutrition information are estimates only. Read full disclosure here.