You'll never buy eggnog at the store again after you see how easy it is to make your own delicious homemade egg nog!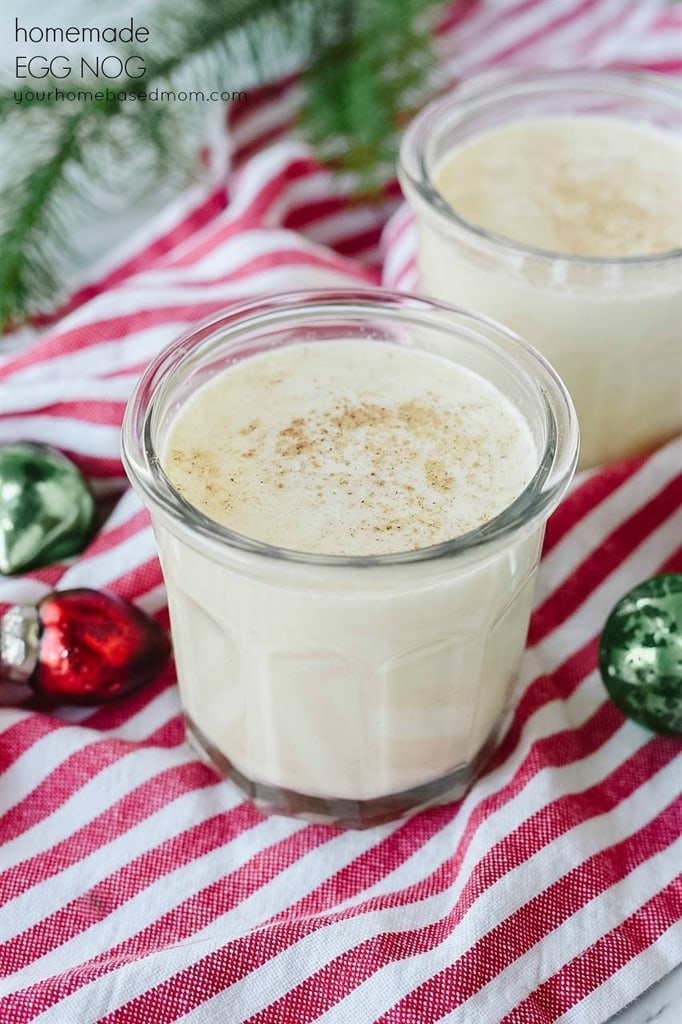 What is Eggnog?
Eggnog is the drink of the season.  I am always excited to seeegg nog hit the shelves at the grocery store after Halloween along with all the rest of the Christmas decorations! Eggnog is basically a drink that is made of eggs, sugar, milk, cream, nutmeg and sometimes rum.  I don't like the flavor of rum and don't drink alcohol so I don't use rum or rum extract in my egg nog.
I am a bit of an eggnog snob.  Because I have texture issues, the consistency of my eggnog needs to be just right, also the flavor.  I have found one store brand of eggnog that I like, and I've pretty much tried them all.  Some of them are too thick, others are too strong on the nutmeg.  I know eggnog can be a hot topic, it has it's lovers and it's haters.  I'm a lover.

This holiday season I set out on a quest to make the perfect homemade eggnog.  I tried lots and lots of different recipes and different variations.  The recipes that used whipped cream were too thick for me.  And they got even thicker as they cooled.  Eggnog should be delicious and the right consistency, both served warm and cold.  I really prefer my eggnog fairly thin, thicker than milk but not too thick.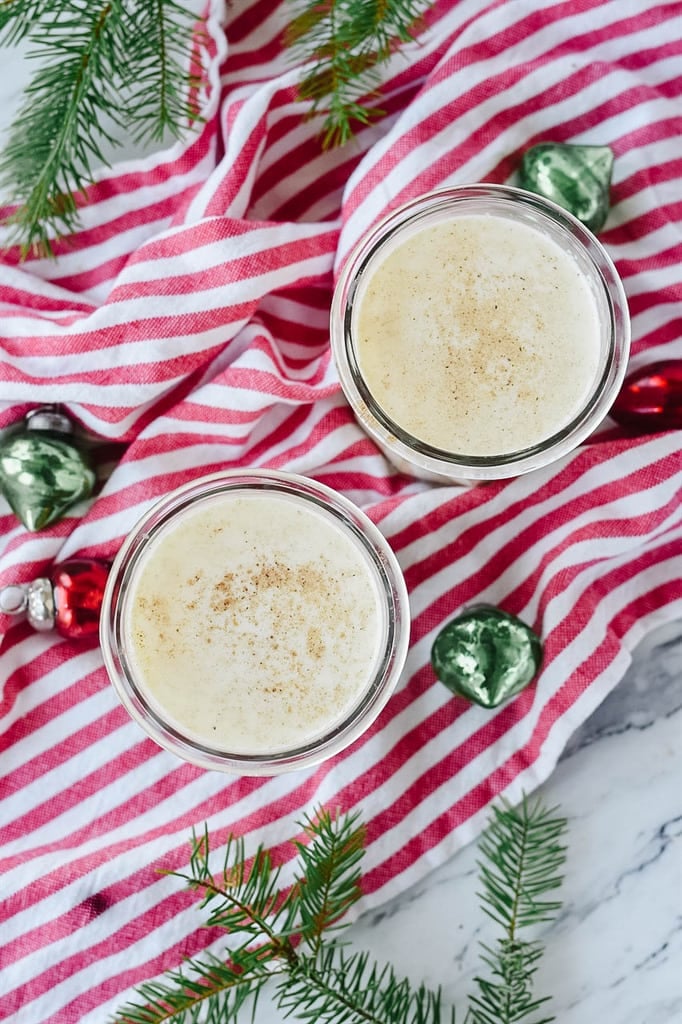 I think my husband was about ready to hold an eggnog intervention after he commented on the amount of eggnog in our refrigerator.  Part of my eggnog recipe testing was to drink it warm and to drink it cold.  I found that the flavor usually improved and intensified after chilling the eggnog.  Because of food safety issues, it needs to be cooked prior to drinking to make sure the eggs are safe.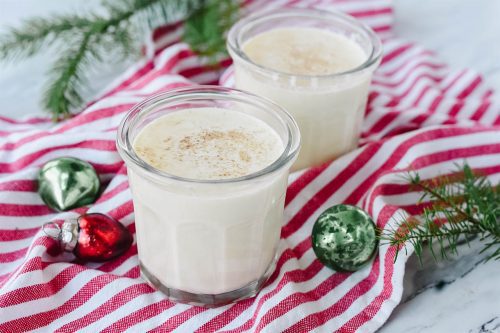 How To Make Homemade Eggnog
The process from making homemade eggnog is quicker and simpler than you would expect. This recipe can beg made in about five minutes.
First, heat your milk and cream to 115-120 degrees F.  You don't want it to come to a boil.
Next, in a mixer, beat your egg yolks until they are the color of a lemon and slightly thickened.
You need to "temper" your eggs by pouring about 1 cup of the heated milk into your egg mixture.  Be sure and stir constantly.  You don't want your hot milk to start cooking your eggs.
Nest, pour this egg/milk mixture back into the remaining heated milk and stir.  Add in sugar, nutmeg and salt.  Heat on stove until it reaches 160 degrees F.  This it the temperature it needs to get to to make sure the eggs are safe to consume.  Use a candy or meat thermometer to check the temperature.
Finally, enjoy the egg nog warm or place in the refrigerator to chill.  Sprinkle with more nutmeg before serving if desired.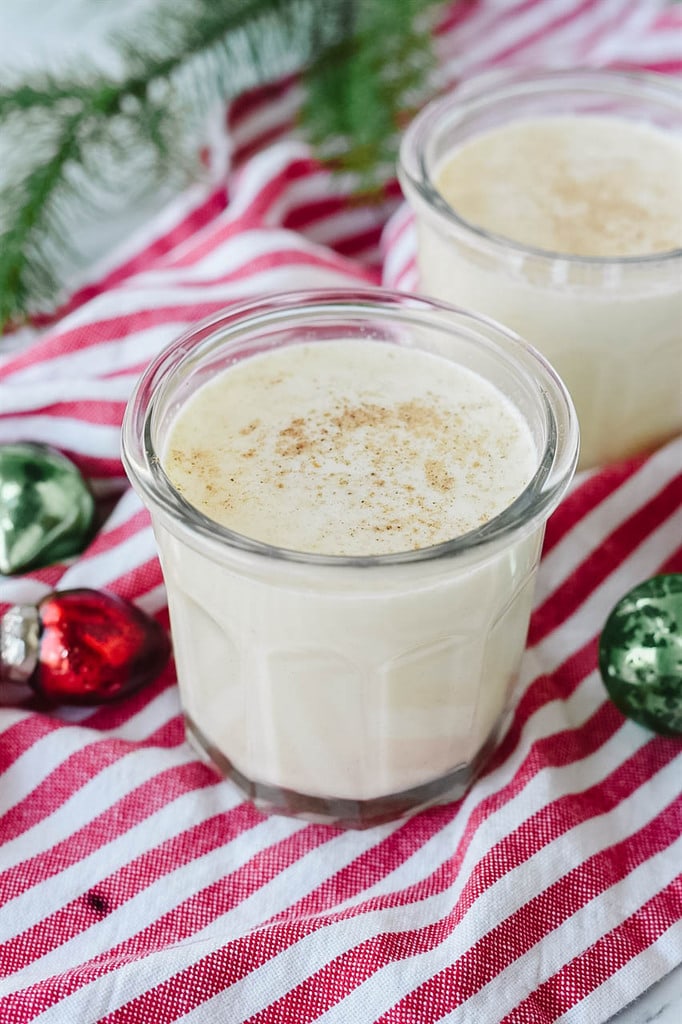 So after, multiple batches of eggnog I found a winner.  If you prefer a sweeter eggnog, add more sugar or less if you like it less sweet.  For thicker eggnog, increase the amount of heavy cream. This version comes together quick, in just about five minutes and you probably have all the ingredients on hand. It is my new go to egg nog and I don't think I'll ever buy egg nog again when I can make this delicious version at home.
Check out more of my favorite holiday drinks:
For all of my other favorite kitchen products and tools visit my Amazon Store.
Eggnog Recipe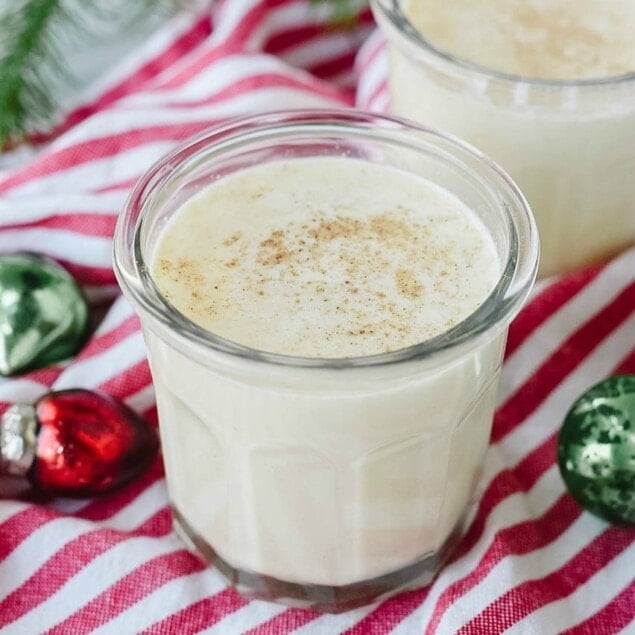 Eggnog
Creamy and delicious homemade eggnog. So good you will never buy eggnog again!
Ingredients
4 egg yolks
1/2 cup granulated sugar
1/8 tsp nutmeg
1/8 tsp salt
4 cups whole milk
1/2 cup heavy cream
Instructions
Heat the milk and cream in a saucepan over medium heat. Heat until it is 115-120 degrees F.

With your mixer, beat egg yolks until they are slightly thickened and lemon yellow, a couple of minutes.

Pour 1 cup of heated milk into egg mixture, stirring constantly to prevent eggs from cooking. Pour this mixture back into remaining milk. Add in sugar, nutmeg and salt.

Heat mixture to 160 degrees F. Chill if desired.

Sprinkle with additional nutmeg.
Tips & Notes:
Recipe adapted from LizzyT.com
Nutrition Facts:
Calories: 274kcal (14%) Carbohydrates: 25g (8%) Protein: 9g (18%) Fat: 15g (23%) Saturated Fat: 8g (50%) Cholesterol: 152mg (51%) Sodium: 167mg (7%) Potassium: 270mg (8%) Sugar: 24g (27%) Vitamin A: 715IU (14%) Calcium: 213mg (21%) Iron: 0.6mg (3%)
* Disclaimer: All nutrition information are estimates only. Read full disclosure here.
Need some help figuring out what's for dinner tonight?
Come join our Facebook Group!  Join hundreds of others who love sharing dinner time ideas.  You don't want to miss out on the fun!

You'll find lots of ideas for dinner from all our awesome members and you can share your ideas too!  Join the Family Dinner Table today.