My Cranberry Bliss Bars are even better than the coffee shop version.  The combination of cranberry, ginger, and white chocolate with a touch of orange zest is spot on. Enjoy this seasonal Starbucks treat all year round by making it yourself.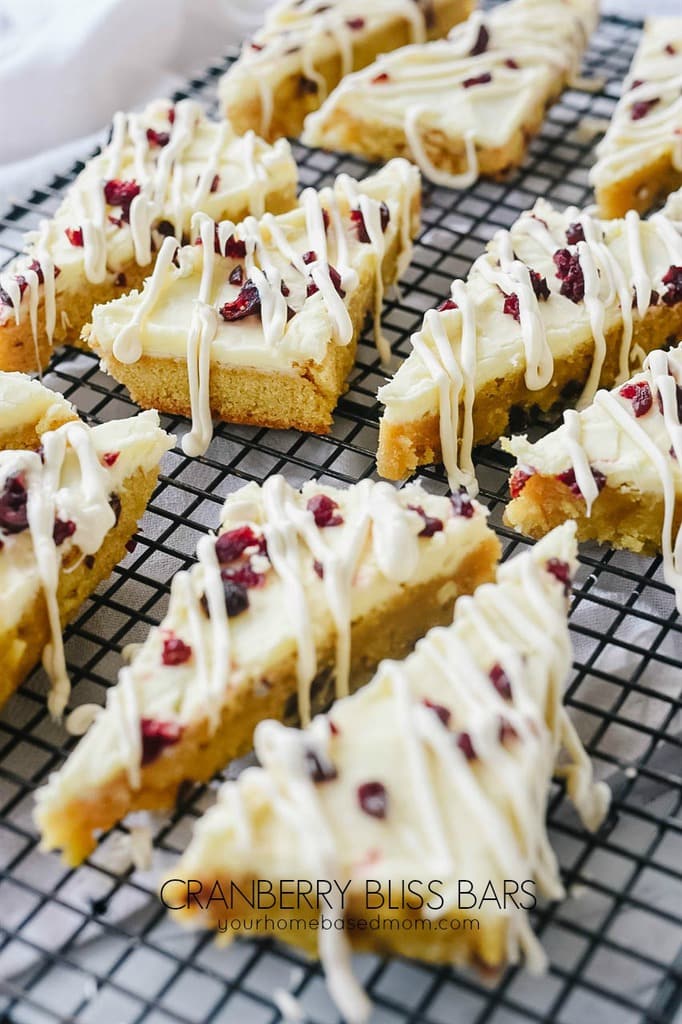 I get a lot of requests for recipes.  And often times it is a request for a copy cat recipe.  Do I have a recipe for one of their favorite store or restaurant foods?  Over the last few weeks I have had two different friends ask me if I had a recipe for Starbucks Cranberry Bliss Bars.
As I am not a coffee drinker, nor a frequent visitor to Starbucks, I had never had a Cranberry Bliss Bar until I bought one to try out for this recipe. In my recipe stash, I had a recipe I had cut out of the newspaper  years ago for a Cranberry Ecstasy Bars.  I gave them a try and they were delicious.
I had a friend stop by so I had them help me with a side by side comparison of the cranberry bars.  They looked pretty much the same. But the final verdict was mine were better!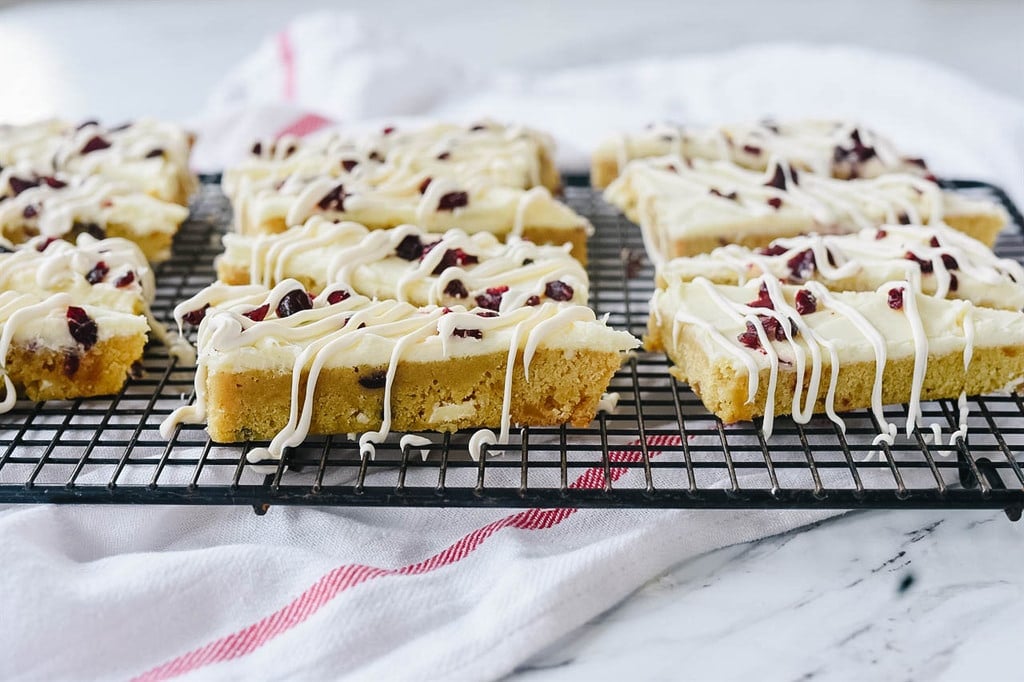 I delivered a plate full of the bars to my friend who is a Starbucks Cranberry Bliss Bar fan.  She stores an entire box of them in her freezer.  And even she agreed!  The cake on the homemade version is lighter and not as dense, which everyone preferred.
When I did the taste comparison between the real one and the homemade one the only difference I could detect was that the store bought one had some orange zest in the cream cheese frosting.  But other than that I think there were spot on.  So I added the orange zest into the frosting recipe below to make them even better.
How to make Cranberry Bliss Bars
The bar begins with a blondie cake base with dried cranberries, chunks of white chocolate and candied ginger.  I found the candied ginger in the bulk food section of my grocery store
After the cake base is cooked and cooled, a cream cheese frosting with a touch of orange zest is added.
After frosting, sprinkle with some chopped dried cranberries and then give it a drizzle of melted white chocolate. I melt the white chocolate in the microwave and then put into a freezer zippered plastic baggie, zip close and then push chocolate into one corner of the bag.  Snip the corner off and then drizzle over the cut bars.  I use a freezer bag because it is heavier and easier to hold the hot, melted chocolate.
You will want to keep the Cranberry Bliss Bars refrigerated because of the cream cheese frosting.
Allow them to cook completely before cutting.  Cut them into rectangular shaped pieces and then cut each rectangle in half diagonally.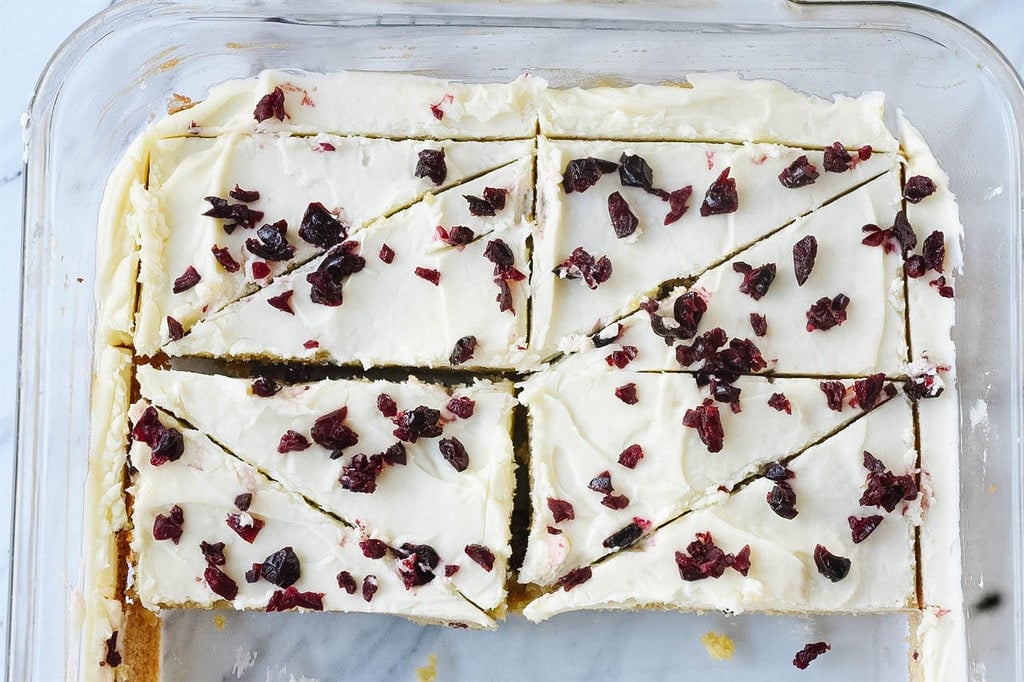 I also like to cut the edges off of all four sides to give it a nice clean finish.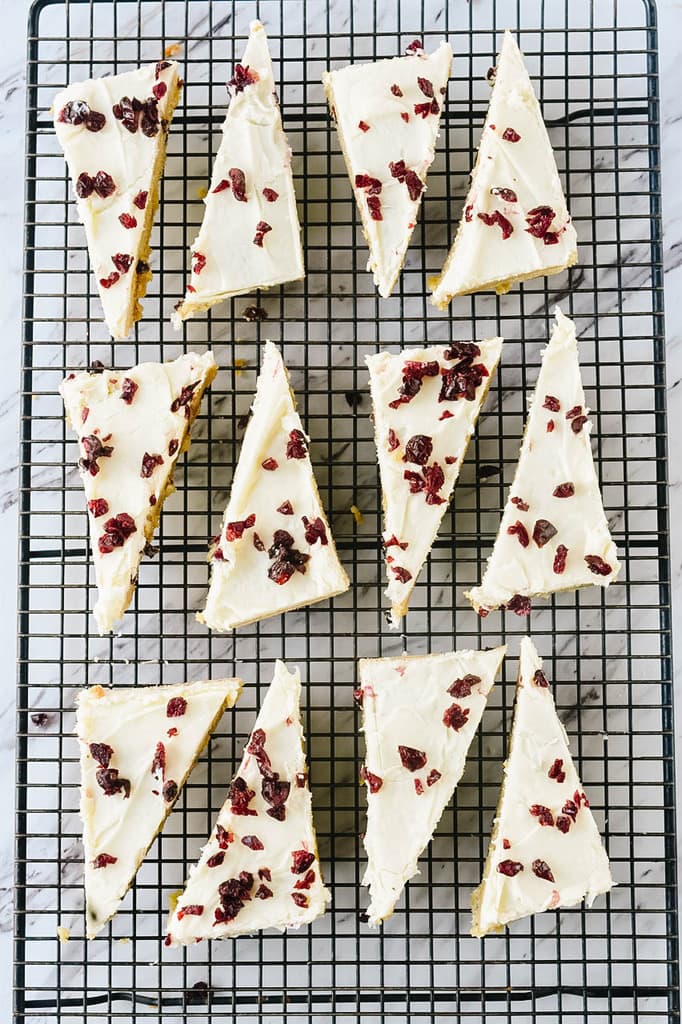 The Cranberry Bliss Bar would make a great addition to a cookie plate too – they are pretty.  So if you are looking for some Bliss in your life – give these a try.  If you are a Starbucks Cranberry Bliss Bar fan I'd love to know what you think!
Check out more delicious cranberry treats:
Cream Cheese Cranberry Cake Bars
For all of my other favorite kitchen products and tools visit my Amazon Store.
Cranberry Bliss Bar Recipe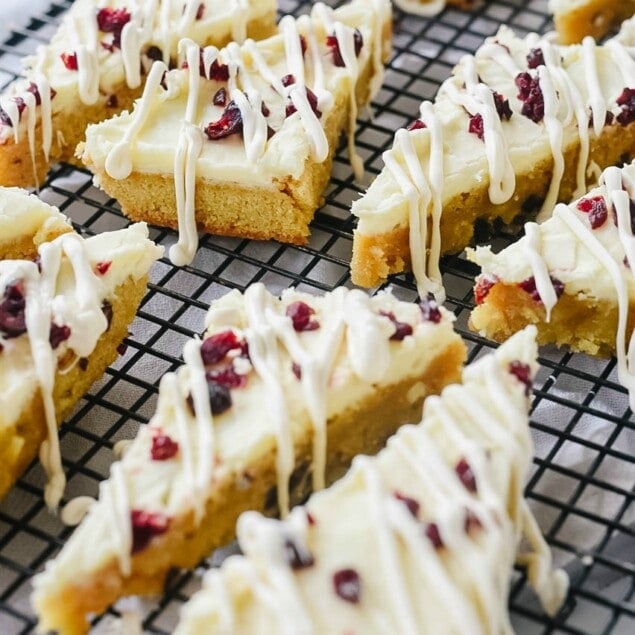 Cranberry Bliss Bars
Coffee shop style cranberry bliss bars with white chocolate and cranberries.
Ingredients
Cake Base:
1 cup butter softened
1 1/4 C brown sugar packed
3 eggs
1 tsp ground ginger
1 tsp vanilla
1/4 tsp salt
1 1/2 cup flour
1/4 cup minced dried cranberries
1/4 cup quality white chocolate bar coarsely chopped
1/4 cup minced candied ginger
Frosting:
4 oz. cream cheese softened
1 1/2 cup powdered sugar
2 Tbsp butter softened
1 tsp vanilla
1 tsp grated orange rind
Drizzle:
2 Tbsp minced dried cranberries
1/3 cup white chocolate melted
Instructions
Preheat oven to 350 degrees and grease a 9 x 13 pan

Beat together butter and sugar and then add eggs and vanilla beating until light and fluffy

Add flour, powdered ginger and salt. Mix well

Fold in the cranberries, chocolate chunks and minced candied ginger

Spread batter in pan and bake for about 20-25 minutes or until light golden brown

After cake cools, mix all frosting ingredients together and spread over top of cake

Sprinkle with minced cranberries

Use a cake decorating bag of melted chocolate with a small round decorating tip to drizzle the chocolate over the cake

Cut into bars
Nutrition Facts:
Calories: 318kcal (16%) Carbohydrates: 39g (13%) Protein: 2g (4%) Fat: 17g (26%) Saturated Fat: 10g (63%) Cholesterol: 73mg (24%) Sodium: 192mg (8%) Potassium: 67mg (2%) Sugar: 29g (32%) Vitamin A: 540IU (11%) Calcium: 36mg (4%) Iron: 0.9mg (5%)
* Disclaimer: All nutrition information are estimates only. Read full disclosure here.
Need some help figuring out what's for dinner tonight?
Come join our Facebook Group!  Join hundreds of others who love sharing dinner time ideas.  You don't want to miss out on the fun!

You'll find lots of ideas for dinner from all our awesome members and you can share your ideas too!  Join the Family Dinner Table today.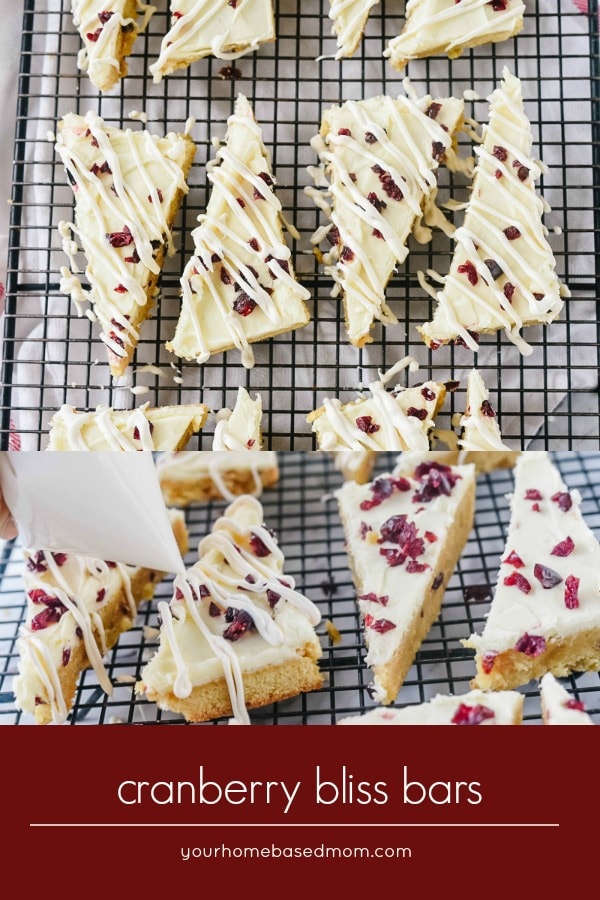 Originally shared  December 2, 2009